Adam Shepherd to Benjamin Stansbury - 100 Acres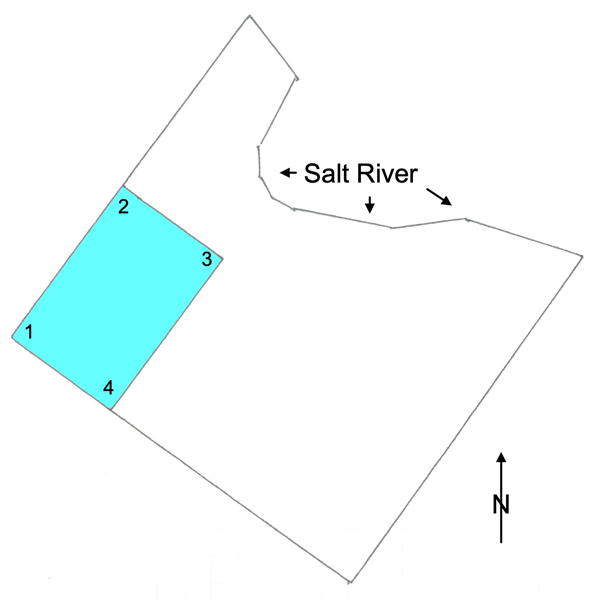 On 25 Jul 1797, Adam Shepherd sold 100 acres of the 600 acre survey of his father, Peter Shepherd, to Benjamin Stansbury who had originally surveyed the entire tract. The part sold to Stansbury lay on the southwest corner of the main tract, as shown in this drawing. It also adjoined another tract of 456 acres claimed by Stansbury.
---
Bullitt County Deed Book A1, Pages 9-10
This indenture made this 25th day of July 1797 between Adam Shepherd of Bullitt County of the one part and Benjamin Stansbury of the same county of the other part, both of the state of Kentucky, witnesseth that the said Adam Shepherd for and in consideration of the sum of two hundred pounds to him in hand paid at and before the sealing and delivery of these presents, the receipt whereof the said Adam doth hereby acknowledge, the said Adam hath granted, bargained and sold and by these presents doth grant, bargain, sell, alien, and confirm unto the said Benjamin Stansbury and his heirs and assigns forever all his right, title and interest of in and to a certain tract or parcel of land (situate lying and being in the said Bullitt County, it being part of a six hundred acre survey adjoining the falls of Salt River) containing one hundred acres of land and bounded as follows. Beginning at [1] a honey locust and hickory being at the last end of the second line of the original 600 acre survey and running thence North 36° East 156 poles to [2] an elm, beech and sweet gum standing on the bank of Salt River, a corner of Stansbury's 456 acre survey, thence South 54° East 102 poles and 15 links to [3] a stake, thence South 36° West 156 poles to [4] a stake in the line of the original, thence North 54° West 102 poles and 15 links to the beginning to have and to hold all and singular the premises above described unto the said Benjamin Stansbury, his heirs or assigns forever to his and their proper use and behoof and the said Adam Shepherd the said tract of land with the appurtenances unto the said Benjamin Stansbury and his heirs and assigns from him the said Adam Shepherd and his heirs or assigns and from the claim of all and every person or persons whatsoever shall and will warrant and forever defend by these presents. In witness whereof the said Adam Shepherd hath hereunto set his hand and seal the day and year first above written. (signed) Adam Shepherd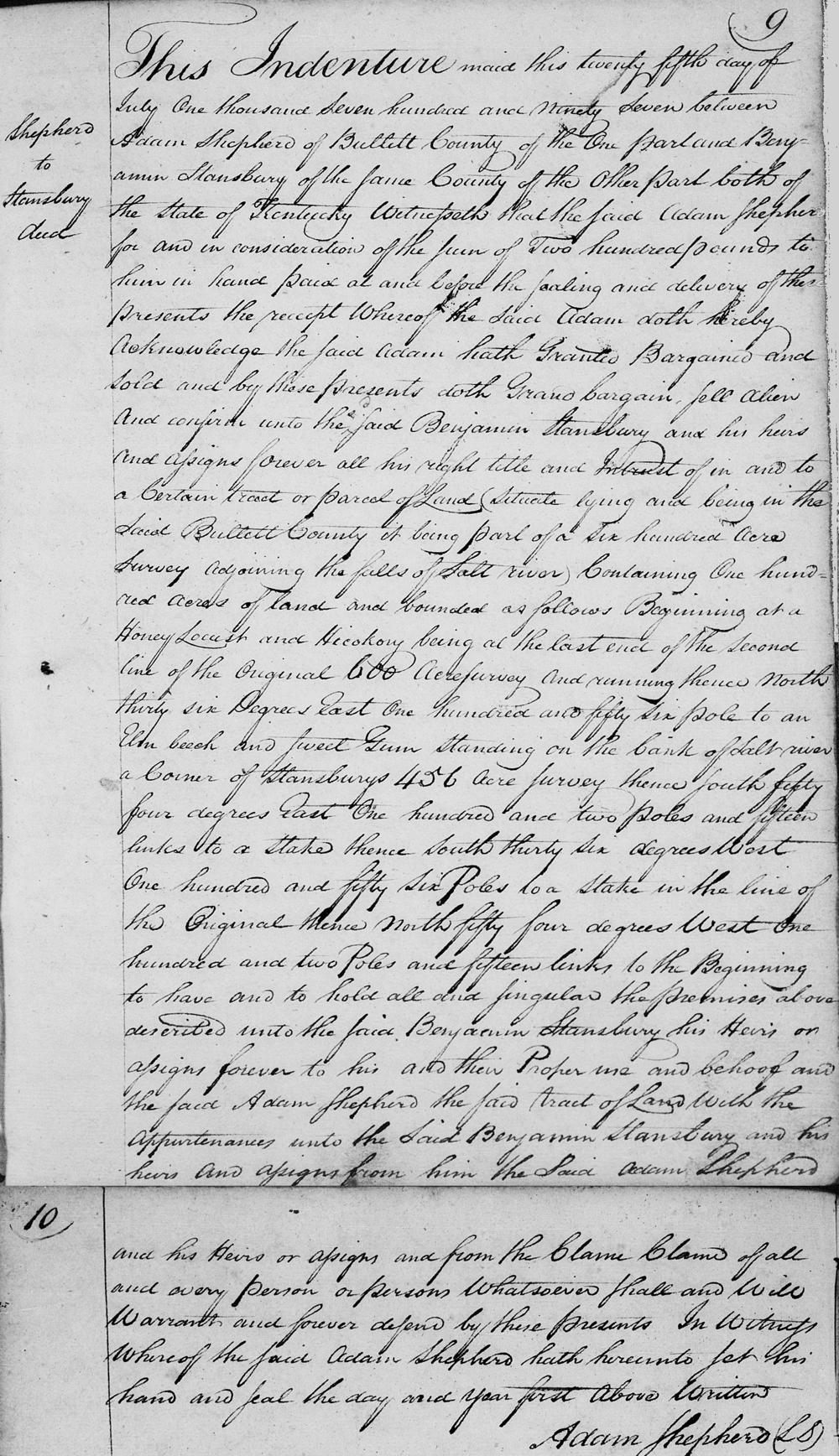 ---
If you, the reader, have an interest in any particular part of our county history, and wish to contribute to this effort, use the form on our Contact Us page to send us your comments about this, or any Bullitt County History page. We welcome your comments and suggestions. If you feel that we have misspoken at any point, please feel free to point this out to us.