Museum Newsletter - 29 July 2011
Friends of the Bullitt County History Museum
E-Newsletter
July 29, 2011 (Volume 7, Number 8)
Dear Friends,
Announcements...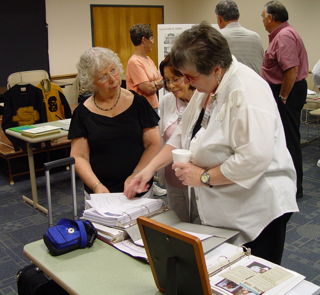 >>Family Fair August 20.
Come to the Bullitt County Genealogical Society Family Fair Day. August 20, starting at 10:00 a.m. at the Ridgway Memorial Public Library in Shepherdsville. Displays of family heirlooms, histories, photos, and other family memorabilia will be there and you can display items of yours as well. Reserve your free table before the limited space is filled.
Trivia Question...
Actually I have two challenges for you this month.
1. When was the last time that there was a state Senator from Bullitt County, and who was it? (Hint: It's been a long time, and a county street is named after him.)
2. Did you know there was a Kentucky Governor that was from Bullitt County? Who was it? (Hint: Both a Kentucky city and a Kentucky state university are named after him.)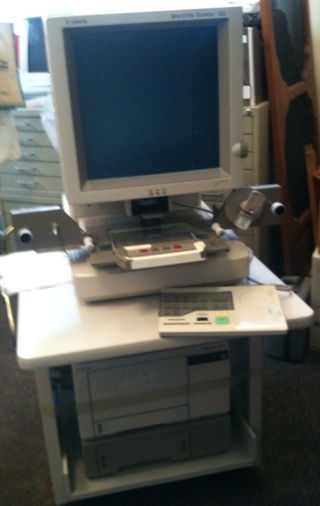 Tell me if you know. Answers in next month's newsletter.
Activity...
>>Microfilm Reader for Sale.
Really don't even know what to ask yet, but our museum has an extra microfilm reader/printer and we probably want to sell it. A nice Cannon library-grade model, with laser printer and stand. Works fine! If interested, contact me and we'll talk.
>>Burlyn and Joan Pike photo collection donated.
Joan Pike, widow of local historian Burlyn Pike, came by the museum the other day and donated a collection of roughly a hundred photographs. Examples of the photographs include a couple of photos of a mill that once was in the Zoneton area. There are also a number of photos that were originally from T.C. "Tot" Carroll. We really do appreciate this kind donation.
>>Obits Donated.
The museum was recently given a collection of obituaries from 1915-1929 from Mary C. Brewer. Volunteer Barbara Bailey has placed them in our obit files. Barbara has recently taken charge of keeping up our Bullitt obit collection, which fills several card file drawers. Thank you Barbara! Barbara covers the museum for us on Fridays.
>>New Interstate 65 Rest Stop Display.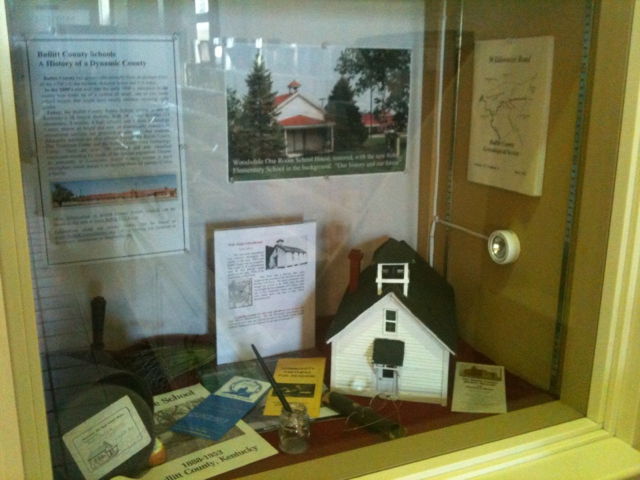 For a couple of years, our museum has been allowed to have a display at the travelers rest stop on I65, just south of Shepherdsville. We recently changed that display; this time focusing on the history (and bright future) of our school system. A photo in the back of the display features the old Woodsdale one-room school house, and behind it, the beautiful new Roby Elementary School. Next time you're driving along that area, stop in the rest stop and take a look!
>>Scanning of 35mm Slides.
Brenda Rittman is doing some boring but important work for us by scanning a collection of over 2500 35mm slides. I say boring, but Brenda tells me this project is actually a good county history course for her, since many of the photos are copies of old photos of the county. She has already done an eighth of the slides, including embedding text info into the files, but there's still a long way to go. These slides, donated by Penny Pack, will be a great addition to our growing collection of digital (and text-searchable) photographs, now numbering over 10,000. In addition to this work, Brenda has been doing some great research and support work, and staffs the museum on Thursdays. Additional Volunteers are welcome to help Brenda on this project!
>>Web Site Additions.
Additions to our web site have grown since last time. To see what is new, visit our Latest Additions page.
>>Speaking of our web site, here is some interesting information from our web master Charles Hartley:
As of Thursday, July 28, for the previous 30 days, the web site has had 1,765 visitors. While most of them have come from the USA, 22 visited from the United Kingdom, 10 each from Germany and Canada, 8 from Australia, 6 from India, 5 from the Philippines, 3 each from China and the Russian Federation, and 2 from the Czech Republic.
Other than the front page and the table of contents, the most viewed page has been the album viewer page where people look at the pictures we have online. Coming in next in popularity is our Latest Additions page with 225 views which indicates that quite a few people check often to see what is new.
Perhaps surprisingly, the next most popular page is the one on the Valley of the Drums which has received 218 views. Next in popularity are the 1917 train wreck page followed by the cemeteries page, and then the Wilderness Road page.
By and large our visitors come to us mostly from search engines (912 visitors) and directly by entering a page address in their browsers (710 visitors). Coming in a distant third are visitors who follow links from other web sites (107).
>>Ever hear of Shortsville?
Volunteer Lynn Eddington recently came across a mention of a Bullitt County community called "Shortsville", and that was a new one to us. A couple of our Volunteers delved into the mystery and found a listing of Shortsville Post Office, and census listings from 1860 that lists Shortsville in Bullitt County and in Jefferson County. The community and perhaps the post office might have been named after William Short. Our guess is that Shortsville was on the Bullitt/Jefferson County line, somewhere just north of Mt. Washington. If you know anything on this community, especially specific location, please let us know. Details of what we know can be found on our web site at this page.
For Your Information...
>>Never touch photos with your bare fingers. It might not show up for years, but if your photographs are important to you, never touch the surface of the picture itself. Always hold them by the edge or use cotton gloves. I have seen many older pictures that would have been great pics, but now virtually ruined with fingerprint stains and smudges. Skin oil is devastating over time to photographs. Take care when handling them.
>>Floyds Fork park expansions.
You might not know it, but Floyds Fork, a tributary of the Salt River, starts way back in Henry County, meandering 62 miles through Henry, Oldham, Jefferson and Bullitt Counties before finally entering the Salt River just above Shepherdsville. Some people have said that Floyds Fork really should have been respected as a river in its own right. Well, Floyds Fork (named after explorer John Floyd, who was killed by Indians in Bullitt County in 1783) is finally getting its due in a modern conversion into parklands. The effort currently covers some 4,000 acres in Jefferson County, and some people hope to see those parks expand into Bullitt County. Check the Kentucky Living site, the Parklands site , and the Floyds Fork Watershed site for more info, and search our web site as well.
>>New Mt. Washington web site.
The Mt. Washington Historical Society has started a new web site, I believe hosted by Melissa Thompson. Check it out.
Finally...
Summer and Air Conditioning
Boy, it's a hot summer in ol' Kentucky this year! I've lost track of how many days in the 90's with humidity making it feel in the hundreds. I'm not complaining, mind you. I promised not to back in the winter when we were having record freezing temps that seemed to never stop. I'm just saying....It's HOT for Kentucky. Plenty hot.
Everyone around here is briskly walking from air-conditioned car to air-conditioned building, and sincerely feeling sorry for roofers, mowers and all the other folks who have tough outside jobs right now.
Air-Conditioning (AC) is everywhere nowadays. So much so it's hard to imagine what it would be like without it. I've enjoyed AC most all my life, since my Dad put a window unit in our family home back in the '60's. But the history of AC is really quite short, as many of us know.
I remember back somewhere in 1970's I decided I could save some money and get by with a new car without AC (I don't think that's even an option anymore). So I bought a little orange Ford Pinto, less AC.
Boy, that was a mistake! The car was actually pretty good, but when summer came on I quickly swore to never be without AC again!
At the Museum this summer, we have set up a small display about the history of air-conditioning. It's simply an old sign we have, from days when a fan was considered air-conditioning. Next to that is a brief history; and next to that is a photo of Lebanon Junction during a heavy snow in the 1950's (the ultimate AC!). As early as around 1890 there was sort of air-conditioning. A company that made ice started making a contraption that blew air over a block of ice. In the 1940's pretty much only a few commercial buildings had AC. The Lebanon Junction movie house, the St. Clair, in the summer of 1948, advertised to come into their "Cool" indoor theater with AC (the ad showing ice hanging around the edge).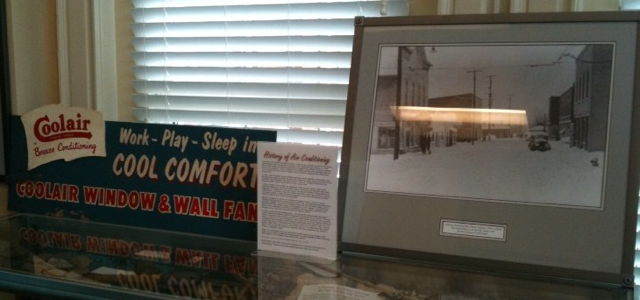 It wasn't until the 1960's that most anyone beyond the wealthiest of people had home AC. By the 1980's it was pretty common and usually even built in to the house ("Central" air-conditioning).
And of course today in Kentucky, it pretty much goes without saying that a new house or car has AC and plenty of it.
Because it's hot in Kentucky in the summer. Plenty hot.
I'm not complaining now mind you.
I'm just saying.
It's hot. Plenty hot. And thank goodness for air-conditioning!
Thank you for being a Friend of the Bullitt County History Museum.
David Strange
Bullitt County History Museum
Executive Director
Museum Phone: 502-921-0161
E-Mail address: David.Strange@BullittCountyHistory.org