The Spanish Influenza
The following article by Charles Hartley originally appeared in The Courier-Journal on 23 Mar 2014. It is archived here with additional information for your reading enjoyment.
---
As World War I entered its final year, a new deadly influenza threat was making itself felt first in Europe and then later in our country. To maintain morale, wartime censors held back early reports of its effects in Germany, Britain, France, and the United States, but newspapers could report on its effects in neutral Spain, leaving the impression that Spain was especially hard hit. Thus it became known as the Spanish flu.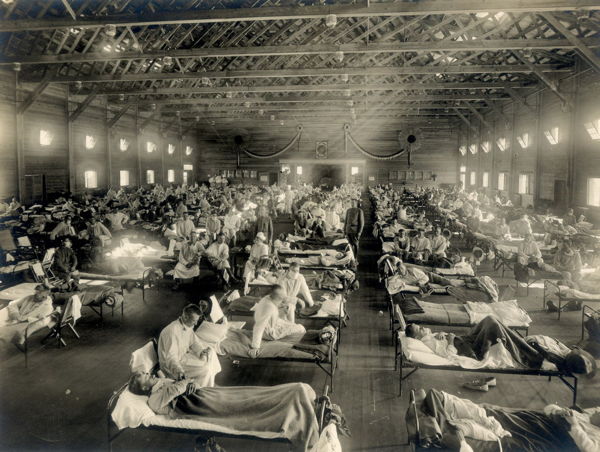 Emergency hospital during influenza epidemic, Camp Funston, Kansas
Influenza is the name we give a group of viruses, including the most lethal influenzavirus A which itself may be classified into a number of different forms. The 1918 influenza is identified as H1N1. You may recall a version of it that struck in 2009 and was called Swine Flu.
Today flu vaccines help to prevent or reduce the severity of the flu, but a century ago there were no flu vaccines available, setting the stage for a pandemic that would sweep the world, killing millions.
When the flu appeared in Louisville, the city had about a thousand cases during late September. By the third week of the epidemic, Louisville was experiencing about 180 deaths a week from influenza. Soldiers at Camp Taylor were hit harder than the city itself with soaring infections.
Sandra K. Gorin, a Glasgow historian and genealogist, asked me to examine the death certificates for Bullitt County as a part of the research for her two volume set titled A Time for Prudence Rather Than Panic that detailed the effects of this pandemic in Kentucky. Her first volume follows the spread of this virus in Kentucky through newspaper accounts and books, and the second volume provides specific information taken from the death certificates of those who died in Kentucky. For more information, go online to A Time for Prudence Rather Than Panic on the Kentucky Records page
The outbreak quickly spread from the larger cities to smaller communities, and over a six month period beginning in October 1918, it killed 68 people within Bullitt County. An analysis of these 68 people shows that about a third of them were under the age of 10, while another third were between the ages of 20 and 40.
We can't begin to describe the heartache that swept community after community, but a few examples from Bullitt County may serve to help us understand it.
John Langley, like so many of his Lebanon Junction neighbors, worked for the railroad. He and his wife Lilly had nine children, but two of their youngest were snatched away by influenza, first Gilbert on Oct 16, and then Harland two days later. Gilbert was seven, Harland six.
When John Richard Ferguson, a farmer at Brooks, registered for the draft in September 1918, he listed "three children" as his nearest relatives. Less than four months later John was crushed by the loss of those children. On Thursday, January 9 his 14-year-old son Earl died of pneumonia. Then the following Sunday both Hazel (11) and Viola Mae (5) lost their battle with influenza.
Henry Priddy's sons, Abner and Robert, were working at Camp Knox when they were stricken with influenza. They returned home in the Hebron community and their whole family became infected. Abner died on Oct 28, 1918; his brother Robert followed two days later, and their father died the next day. It was thought that Mrs. Priddy and the four remaining daughters would survive, but the baby, Lilly May succumbed three weeks later.
Everett and Blanche Armstrong of the Pleasant Grove community were a young couple with three small children when influenza swept through their home. Blanche died of pneumonia on Dec 9 and Everett followed two days later, leaving behind three small orphans.
To learn more about those from Bullitt County whose lives were lost during this terrible time, visit our page titled "Deaths by Influenza, Pneumonia, & Tuberculosis September 1918 - June 1920."
The influenza virus sometimes seems to lull us into complacency with milder versions, but make no mistake, the form that killed thousands of Kentuckians in 1918-1920 is still alive and capable of returning with a vengeance. Today we have better methods of dealing with these viruses, but only if we use them.
---
Copyright 2014 by Charles Hartley, Shepherdsville KY. All rights are reserved. No part of the content of this page may be included in any format in any place without the written permission of the copyright holder.
---