Bullitt Memories: Leaches District
The following article by David Strange was originally published on 18 Jan 2015. It is archived here for your reading enjoyment.
---
Leaches.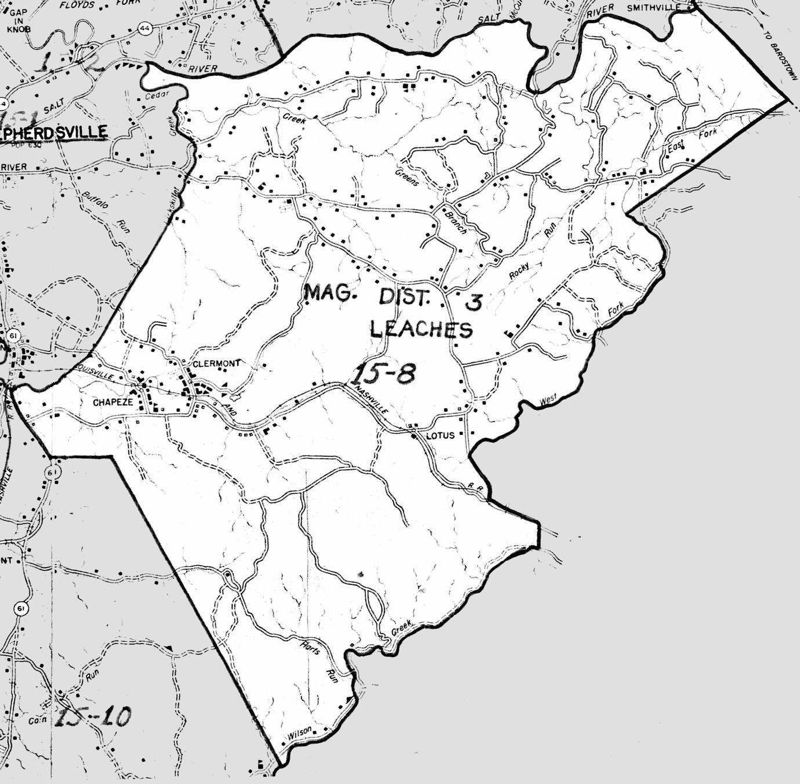 Leaches District (See all districts on the map down below.)
No, I don't mean the creepy blood-sucking worm, the leech. I am talking about a political district that once existed in Bullitt County, Kentucky.
Bullitt County has had four magisterial districts, I believe, since it was created out of Jefferson and Nelson Counties in 1796. The borders and names of the districts have changed over the years, but from as early as 1870 through as late as 1940, one district was known as Leaches (or Leachs). Some folks incorrectly think the name somehow comes from the worm. It does not. "Leach" is a family name.
The district name might come from a family line tracing back to Enoch Leach in 1850.
But is that really where the district name originates? I wonder.
You see, there was also a Major David "Leitch," who has some interesting connections to Bullitt County, and to a city 55 miles to its southwest.
This is where the plot thickens.
Major David Leitch was born in Glasgow, Scotland, in 1753. According to his tombstone in Southgate, Kentucky, near Lexington, he and his brother, James, migrated to America at an early age. During the American Revolutionary War, David served as an aide-de-camp to General Lawson. After the war, he moved to Kentucky and settled near Lexington, and then on a large estate of land near Newport, called Leitch's (sometimes erroneously recorded as "Leaches") Station.
David Leitch was a delegate to Kentucky's first constitutional convention in 1784 and a co-signer of a petition to the General Assembly of Virginia in 1782, concerning land warrants and the need for a superior court in Kentucky. Interestingly, his name at the time is also reported as "Leach".
During this time, David Leitch obtained land warrants and grants for huge amounts of Kentucky land. Just a few examples include over 30,000 acres along Licking Creek, where he settled; thousands of acres in Jefferson County (which at the time included a large part of Kentucky); over 14,000 acres "along the Salt River" in what is today Bullitt County; and a large amount of land in what is today Grayson County.
Those last two parcels of land are what caught my attention.
That huge plat of land in Bullitt County was located partially in an area that became known as, you guessed it, Leaches District. And that land in Grayson County? Ever hear of a fine little city named Leitchfield? After David Leitch (sometimes recorded as Leach) died of pneumonia in 1794, his widow donated land for a new city, provided the city would be named after her late husband. And thus the new Grayson County seat of Leitchfield was born.
To the best of my knowledge, Major Leitch never lived in the Grayson County area, or in Bullitt. But his vast land holdings, along with his activity throughout the state, made the Leitch/Leach/Leech/Leatch name well known.
Anyone who studies genealogy learns quickly that spelling was not a strong suit of most people in pioneer days, if ever. Family names often changed over the years due to illiteracy, unconscientious record keepers, or choice. I will have to tell you about my "strange" name sometime.
Mystery remains, for the moment, as to the exact reason for the name of Leaches District. My research convinces me that, one way or another, "Leach" came from "Leitch". Whether the district name came from David Leitch, or maybe from the family of Enoch Leach, I do not yet know for sure. Perhaps you have the answer.
Meanwhile, I think I'll chalk this one up to having fun exploring connections.
---
After David wrote this article, he received additional information from a gentleman in Brazil. Follow this link to David's follow-up article.
---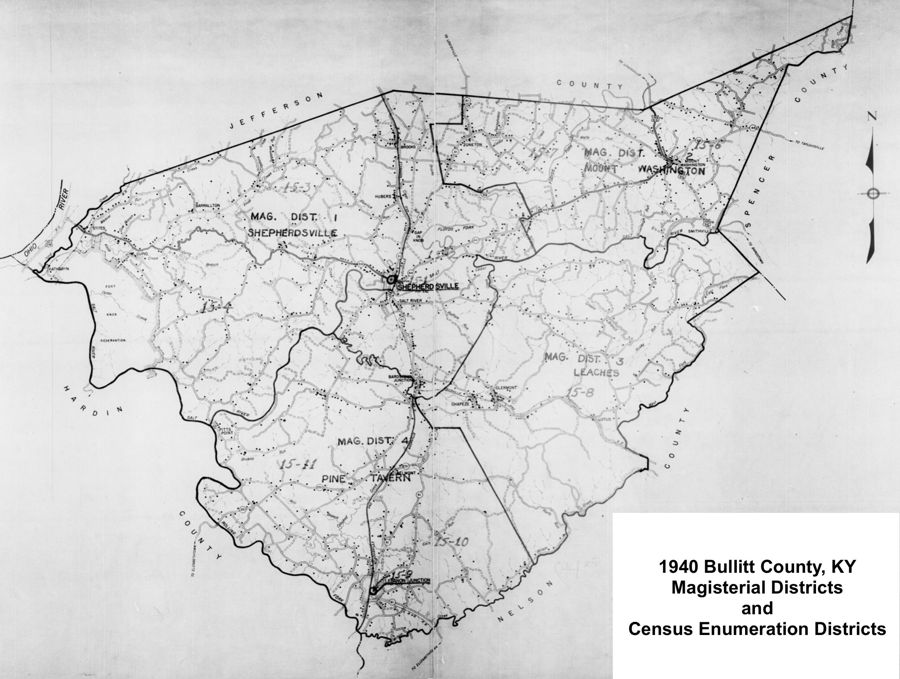 Magistrate Districts in 1940
---
Copyright 2015 by David Strange, Shepherdsville KY. All rights are reserved. No part of the content of this page may be included in any format in any place without the written permission of the copyright holder.
---