Bullitt Memories: Leaches District, Again
The following article by David Strange was originally published on 1 Feb 2015. It is archived here for your reading enjoyment. We have updated this page on 10 Jul 2018 to include information about Mr. Dewees' book. Scroll to the bottom of this page for information about it.
---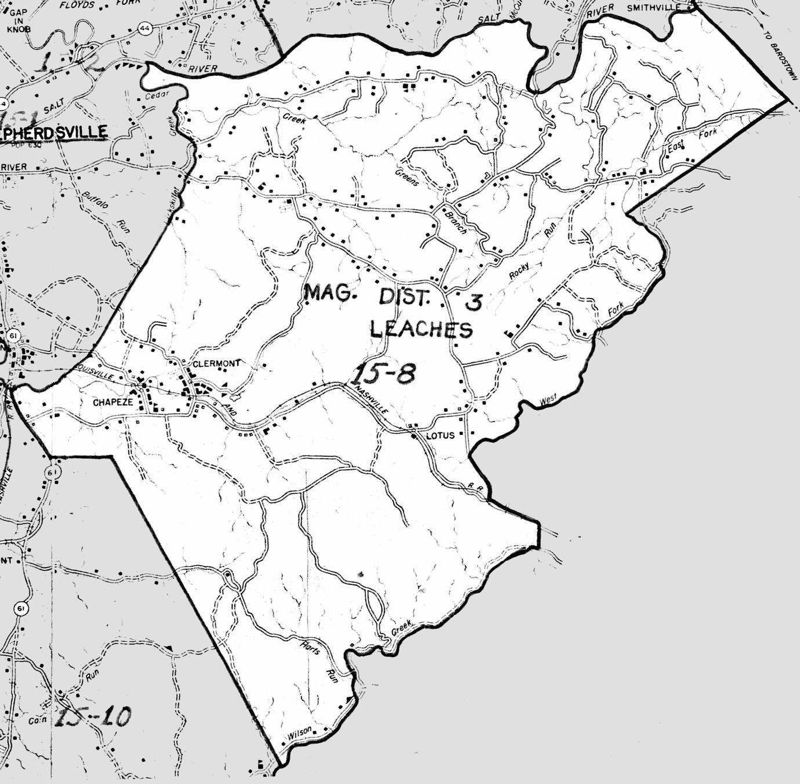 Leaches District
Some of the joy of writing this column comes from the people I meet and the new things I learn every day.
A couple of weeks ago, I wrote about a Bullitt County magisterial district once known as "Leaches".
In that story, I speculated about possible sources of the unusual title, since there is no known community by that name in the county. I knew it had nothing to do with the leech worm, even though some people over the years have thought so.
I wrote that the district name might have come from a family line tracing back to Enoch Leach in 1850. Or perhaps the name had derived from Major David Leitch, for whom the Grayson County town of Leitchfield is named. Major Leitch had land warrants for some 15,000 acres in the "Leaches" and Mt. Washington area, so a possible shift of the spelling seemed possible.
I closed that story hoping that some reader might know the answer. As usual, you did not disappoint me. The surprise was not that I received an answer, but from where it came.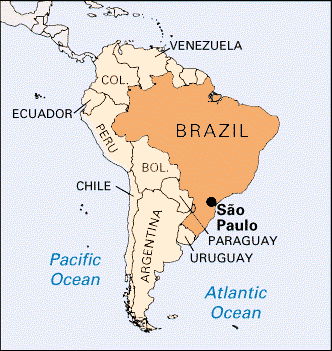 You see, a few days after publication of the story, I received a call from São Paulo, Brazil.
Yes, Brazil. Mr. Curtis Dewees, who once lived in Kentucky, including a short time in Bullitt County, currently resides in that exciting South American nation. Despite the distance, Mr. Dewees remains a contributing author for the Hardin County Ancestral Trails quarterly and the Grayson Record on the history of Grayson County. He is currently writing a book about David Leitch. When my story mentioning Leitch was published, a friend relayed the story to him in São Paulo.
Mr. Dewees confirmed the Enoch Leach connection to Leaches District, specifically citing an act of the General Assembly of the Commonwealth of Kentucky, approved February 16, 1849, "That an additional election precinct is hereby established in the county of Bullitt, at the house of Enoch Leach, which shall be governed by the laws now in force in relation to elections." Another act, dated March 3, 1856, follows, stating "That the place of voting in Leache's precinct, No. 4, in Bullitt County, now at the house of Enoch Leach, be and the same is hereby changed to the house of Frank Crist, in said precinct." I found a third such act stating that the Leach's voting place was to be "at or near A. L. Harris's store in Solitude".
So, it is settled. "Leaches" (also spelled as "Leachs") seems to have clearly originated from Enoch Leach. According to a DuVall family history, and a few other postings, Enoch was born in Virginia in 1783. He married Leticia Holtzclaw (daughter of James and Bethia Holtzclaw) in December 1808 and died in Bullitt County on August 18, 1856. I assume his death precipitated the second act, moving the place of voting from his house. Enoch had a mill in the county, and the Leach family name survives in the county to this day.
There is an important side note to this story. While writing about David Leitch last time, I quoted from widespread accounts that said he had a brother, named James. Mr. Dewees has determined fairly convincingly that those oft-repeated histories of David Leitch are in error.
I appreciate hearing from Curtis Dewees, so far from home, and I have enjoyed reading preliminary excerpts from his important in-depth work. I very much look forward to the book's publication and plan to let you know when it comes to print.
Keep up the good work, friends!
---
We recently discovered that Mr. Dewees' book, David Leitch Mysterious 18th Century Kentucky Land Speculator is now available from the Campbell County Historical & Genealogical Society in Alexandria, Kentucky. Ordering information is available on another page on their web site.
---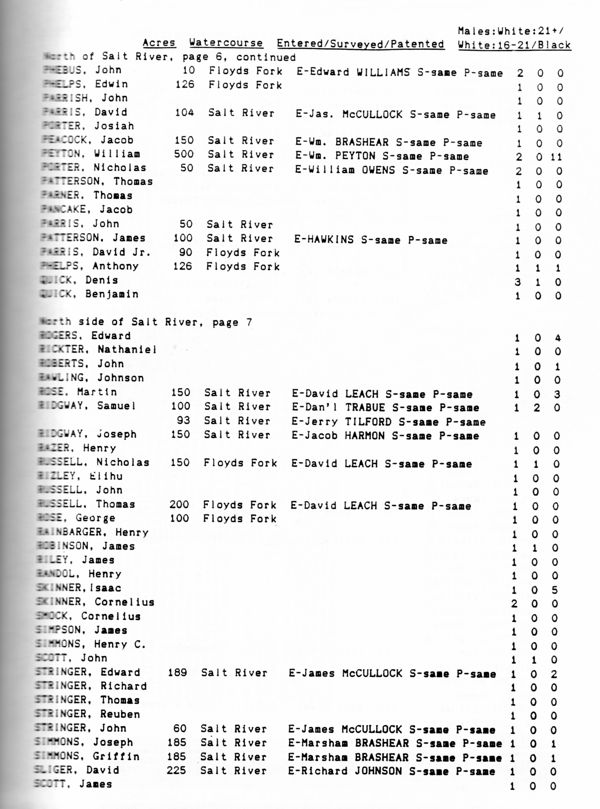 Addendum. At this time, there continues to be some question about the possible Leitch/Leach connection to Leaches District. Mt. Washington historian, Bobby Darnell has found documents, such as this 1801 county tax list, that shows David Leitch's name spelled "Leach."
In addition, Hunus Shain wrote to me from Grayson County, saying in part, "I own part of the original David Leitch (Leach) land grant in Grayson County in the community of Pine Knob. Several years ago we had to research land titles over a land dispute and we learned that if you write L e i t c h, when you cross the "t" the combination of the "i" and the "t" made an "A." We saw this happen in one of the old land grants."
These points, along with others, does leave open the possibility that "Leaches" and David Leitch might yet be found to be connected.
---
Copyright 2018 by David Strange, Shepherdsville KY. All rights are reserved. No part of the content of this page may be included in any format in any place without the written permission of the copyright holder.
---