Froman's Ferry at Pitt's Point
The following article by Charles Hartley originally appeared in The Courier-Journal on 15 May 2013. It is archived here with additional information for your reading enjoyment.
---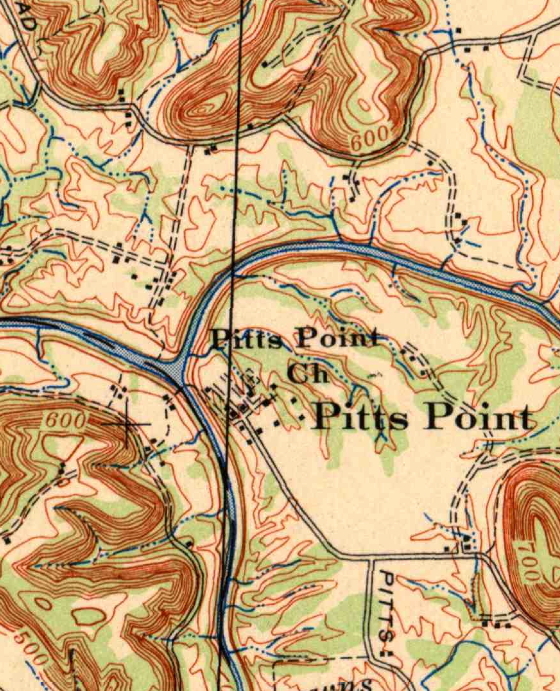 This excerpt from a 1936 topo map shows the Pitt's Point area at that time.
A hundred years ago, crossing Salt River in Bullitt County anywhere downstream from Shepherdsville meant you either rode in a boat or got wet; there were no bridges. Today, with Fort Knox occupying most of that stretch of river, there's almost no civilian traffic in that area, but a century ago there were numerous rural roads, and occasionally one of them intersected with the river.
This was especially true at the junction of Salt River and the Rolling Fork where the community of Pitt's Point once stood. Here, for many years, anyone needing to cross the river could do so on a ferry operated by the Froman family. This was called to my attention recently when I received a transcription of an old 1893 contract between Mrs. Phoeba Froman and the state, granting her the right to operate the ferry.
It was fascinating to learn that a horse and rider could cross for 15 cents, while it would cost a quarter for a horse and wagon. Interestingly, a head of hogs or sheep would cost 2 cents each, but a head of cattle would cost a dime. The contract also set the rate for a wagon drawn by six animals at 75 cents, but it's unlikely the ferry ever saw such a large load.
Phoeba Froman was the widow of Bayliss Froman who had operated the ferry for many years, as had his father before him. When Bayliss died in 1892, it was left to his widow and sons to continue the operation. I soon discovered that this Froman family had deep roots in Bullitt County.
In the spring of 1779 Paul Froman and his younger brother Jacob, along with Paul's son Isaac, were among a group who ventured to the banks of Floyd's Fork just upstream from Salt River where they constructed a rude fort. Although the fort went by several names, including Froman's, the name that stuck was Brashear's Station, probably because the Brashears laid claim to the land surrounding the fort. [Brashear's Station link.] Within a couple of years, Paul Froman and his son Isaac moved to a site on a branch of Cox's Creek in Nelson County where he built another fort.
Meanwhile, Jacob Froman continued to speculate in land grants locally, including a large tract on the north side of Salt River adjoining the Bullitt's Lick tract owned by William Christian. He likely built a fort on this land, just across from Long Lick Creek. However, as was frequently the case, there were conflicting claims to the land, and an earlier claim by William Farmer was judged superior. Farmer's claim included the fort's location, and this likely led to that fort becoming known as "Froman's Folly" or "Fort Nonsense" as Jacob Froman lost what he had built. [See details on another page.]
Paul Froman was more successful. Using an old 600 acre treasury land warrant he had obtained in 1780, Paul had James Cox survey a tract of that size at the juncture of Salt and Rolling Fork rivers in December 1796. Then Paul assigned it over to his brother, Jacob in August 1797 and Jacob received his deed on it the following year. [See details on another page.]
Jacob moved to Woodford County with part of his family, but at least three of his sons, Abraham, Absalom, and Isaac remained behind. In 1815 Jacob transferred the 600 acre tract to Abraham who was actually living across the river in Hardin County.
It's unclear exactly when the Fromans began operating a ferry here, but it seems likely that it was at least as early as 1815 when Abraham took possession of the 600 acres. The location had been used for years as a staging area for transporting salt and other products down the Salt River to the Ohio when the river was too low for most vessels to travel further upstream.
Despite its good location, it seems that little attempt was made to develop the site until 1828 when Abraham Froman had the tract re-surveyed [link]. Then in 1831 Froman transferred title to the tract to James G. and John Pitts, and together they began selling lots in a new Pitts Town. The exact relationship between Froman and the Pitts is unclear, but Froman continued to sell lots in the town until he decided to move to Missouri about 1835. Then he left matters in the hands of his son Bayliss Froman, granting him a power of attorney to act in Abraham's stead.
This son's unusual name likely comes from the surname of a Bayliss family who had been associated with the Fromans back in Virginia.
Bayliss continued to operate the ferry, and tend to his father's business until Abraham died in 1859. The ferry operation seems to have been his throughout the slow growth of what was now called Pitt's Point.
Bayliss and his first wife, Mary had at least six children. When she died in 1861, he married Phoeba Russell who was 27 years younger than he was. Together they had 10 children including two sets of twins. When Bayliss died in 1892, Phoeba was left to manage the family and the ferry business.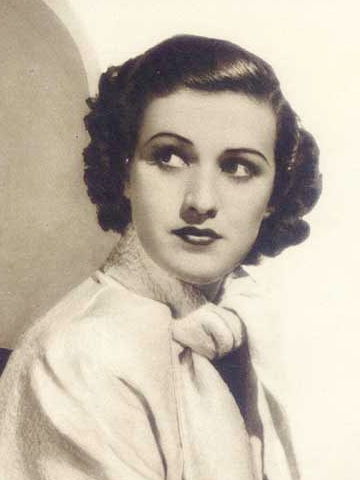 Jane Froman
We're not sure how long the Froman ferry continued, but it was certainly gone by the time Phoeba died in 1918. Later, a Druin family would operate a small johnboat and take passengers across, but by that time there was little traffic.
From here the Froman family scattered across the country. In researching this article, I learned that one of Abraham Froman's descendants was Jane Froman, the singer and actress who was known for her beautiful contralto voice in the forties and fifties.
Another Froman descendant of note was Edgar Erskine Hume, Major General, United States Army. He was a 2g grandson of Rachel Froman who married Patrick McGee. Details of his career are given on this off-site page. Hume believed that Rachel Froman's father was Jacob Froman, but later research seems to indicate that she was a daughter of Paul Froman Jr.
From the pioneers in our state's early history to their descendants today, the Fromans have made their mark.
---
Copyright 2013 by Charles Hartley, Shepherdsville KY. All rights are reserved. No part of the content of this page may be included in any format in any place without the written permission of the copyright holder.
---