An Abandoned Cemetery Restored
The following article by Charles Hartley originally appeared in The Courier-Journal on 29 Jun 2014. It is archived here with additional information for your reading enjoyment.
---
Mention cemeteries and most people think of the sprawling, well-manicured ones like Cave Hill Cemetery or Zachary Taylor National Cemetery, and we have a few fairly large cemeteries in Bullitt County as well. But as any genealogist will tell you, there are a lot more small family-sized graveyards scattered about, often in remote places, and many times largely forgotten by the descendants of those buried there.
In Bullitt County alone, our cemetery committee has located and visited 255 cemeteries. Many are small, single or multiple family sized graveyards. And while many of these are also well-maintained, there are far too many that are overgrown with trees, bushes, briers and brambles.
Of course this is not just a local problem for our county. I've visited several counties in other parts of the state in search of the burial places of distant relatives, and found myself surrounded by weeds, briers, and fallen trees while examining the tilting, broken remains of tombstones of long ago.
One such plot lay at the top of a small overgrown rise within 50 feet of a main highway; yet it was unknown to most of the people who lived nearby. Another was equally overgrown, even though it sat only a dozen yards from a farmer's home. He knew about it; but, you see, it wasn't his kinfolk buried there.
Cemeteries don't start out to be abandoned. Even the smallest family plot begins with a reverence for the dead. And for a time it is carefully tended as additional family members come there to their final rest. But, sooner or later, the family dies out, or moves away, and slowly nature reclaims the land again; or worse, man deliberately despoils the site.
But every once in a awhile something good happens; and that's our story today.
It was in November 1973, and Harold Meredith had a crew clearing land in preparation for a development when work came to an abrupt halt. The two-man crew was surprised to find a rectangular creek-stone wall about four feet high and in excellent condition hidden within the thickets and brambles.
Mr. Meredith said, "The wall was of creek stone. Whoever laid that stone were certainly skilled masons. It was some of the most beautiful work I've ever seen."
Within the wall, amid the remaining thicket, were several visible tombstones. At one end were two stone pillars about six feet tall to which was attached an ornamental iron gate. And on the back side they found a wrought iron fence surrounding three additional graves. According to Mr. Meredith, "The old fashioned filigree and decorative work in this fence is really outstanding. The rust was minimal, and the paint wasn't even flaked. Whoever did the work here were expert artisans and we want to preserve their handiwork."
And preserve it they did. The brambles are gone, replaced by neighboring manicured lawns; and there in their midst is the cemetery, just as it had been intended so long ago.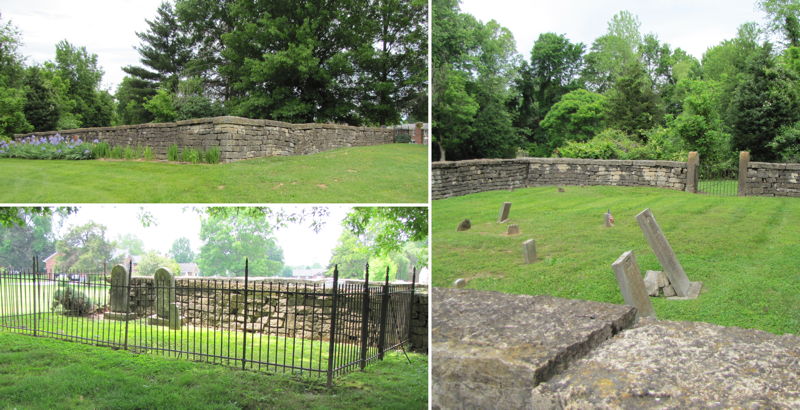 This composite photo shows two sides of the stone wall in the upper-left photo; the Simmons' graves inside the metal fence next to the east side
of the stone wall on the lower-left; and the interior of the Stallings cemetery with the metal gate in the righthand photo.
It was 1838 when the first tombstone was set in the ground. Young Hardin Stallings was just ten years old when he died. His parents, Samuel and Ann Stallings chose a little rise of ground not far from the family home for his gravesite. Then eight years later, Samuel died and the family buried him near his son.
A decade would pass before the ground was disturbed once again. Tabitha Stallings Hough had two daughters. Her youngest, Adaline Hough, died before her second birthday and was carried to the graveyard to join her grandfather. Then Mary Ann Hall, Tabitha's twelve-year-old daughter by an earlier marriage, died five months later, and she was laid beside her sister.
Anna James Stallings died in 1872, shortly before her eightieth birthday, and the dwindling family buried her next to her husband Samuel.
By this time the remaining Stallings family members had scattered. My research has not determined the connection between them and the family of James and Frankie Simmons, but their daughter Dulcia Simmons died in 1892 and was buried just outside the stone wall. Then in 1899 her mother, Rebecca Ann Francis "Frankie" Simmons died and was laid beside her daughter and within the wrought iron fence. James W. Simmons lived another fifteen years before joining his family inside that fence.
That stone wall had been built to accommodate several more burials, but we find only one additional tombstone within it.
In 1915, Janus White Stallings was living in Louisville where he had been a grocer for many years. He died in September of his eighty-sixth year, and was brought back to the family graveyard and laid within that old stone wall.
It's not clear who was tending to the grounds after that, but we know that Janus' wife and daughter were both buried at Cave Hill. As is often the case, the land around the cemetery was tilled by succeeding farmers who were careful to plow around the cemetery, but allowed the weeds and brambles to grow within and next to it. Then, as years passed, the whole area was left untended until that fateful day in 1973 when Harold Meredith's crew found it once again.
Additional pictures and information about this cemetery may found on another page located in our cemetery section.
---
Copyright 2014 by Charles Hartley, Shepherdsville KY. All rights are reserved. No part of the content of this page may be included in any format in any place without the written permission of the copyright holder.
---