Stallings/Simmons Cemetery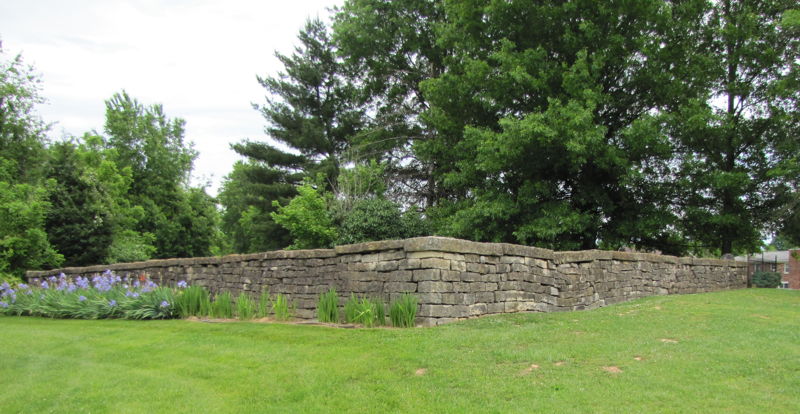 Stallings/Simmons Cemetery - Location: 149 Owl Creek Court (N 38 0.6339 W 85 38.6674);
Elevation: 564 feet; Date Visited: 25 May 2014; [Cem #232]. Photos taken by Betty Hartley.
This cemetery actually appears to be two separate ones. The Stallings family related burials are all within the stone walls, while the three Simmons burials are on the east side, outside the stone wall, but inclosed within a metal fence.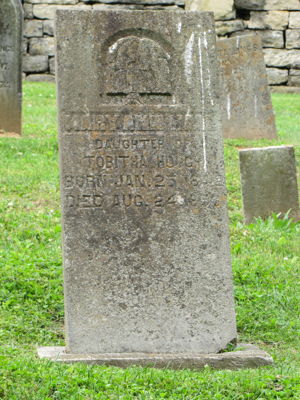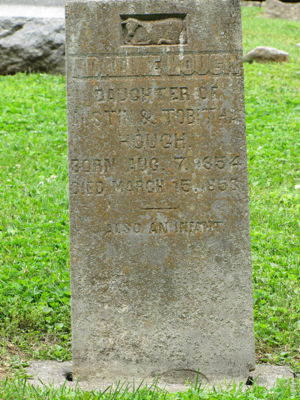 Mary Ann Hall and Adaline Hough
Within the stone walls are six identifiable graves. However these are all in the southern half of the enclosed area, leading one to suppose that other, perhaps older graves are located here as well.
Mary Ann Hall was 14 when she died on 24 Aug 1856. She was born 25 Jan 1842 to David and Tabitha (Stallings) Hall. David and Tabitha had married in Bullitt County on 24 Dec 1840. They divorced on 10 Mar 1843, and Tabitha reclaimed her maiden name.
Adaline Hough was an infant when she died on 15 Mar 1856. She was born 7 Aug 1854 to Austin and Tabitha (Stallings) Hough. Austin and Tabitha had married on 6 May 1852 in Bullitt County. It was the second marriage for each of them. Austin was born 27 Apr 1816 and died 5 Nov 1892. Tabitha was born 30 Nov 1823 and died 4 May 1893. Both are buried in the Mt. Washington Cemetery.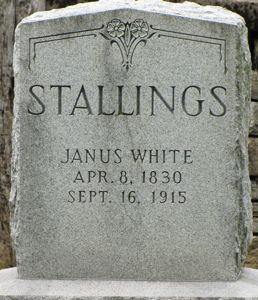 Samuel Stallings Jr. was born 17 Sep 1780 and died 13 Oct 1846. The son of Samuel and Sarah (Ogden) Stallings, Samuel is buried next to his second wife Anna, who is described below. They were the parents of Tabitha Stallings (named above), and of both Hardin Stallings and Janus White Stallings, also buried in this cemetery.
Anna Stallings was born 10 Sep 1792 to Richard and Elizabeth James (according to one source). She married Samuel Stallings on 12 Mar 1820 in Bullitt County. They had six children: Woodford, Tabitha, Samuel James, Hardin, Janus White, and Worden Pope Stallings. Anna died on 17 Jul 1872
Janus White Stallings was born 8 Apr 1830 and died 16 Sep 1915. His parents were Samuel and Anna Stallings. He married Fannie Amelia Frederick on 3 Jul 1879. They moved to Louisville where he was a grocer.
Hardin Stallings was born 28 Feb 1828 and died 9 Sep 1838. Of the stones and dates available to us, Hardin's was the earliest burial in this cemetery.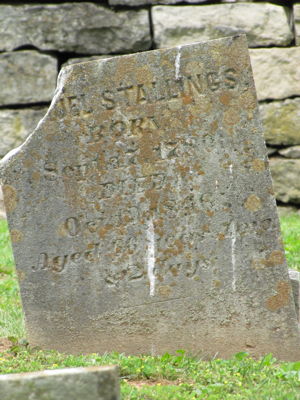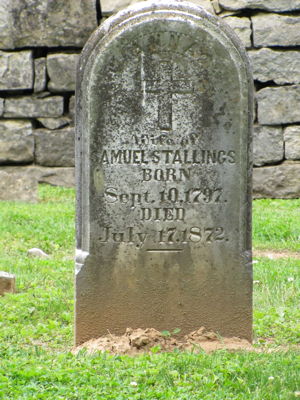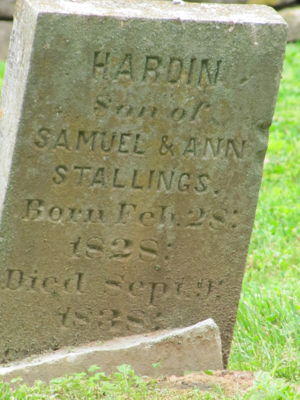 (left to right) Samuel Stallings, Anna Stallings, and Hardin Stallings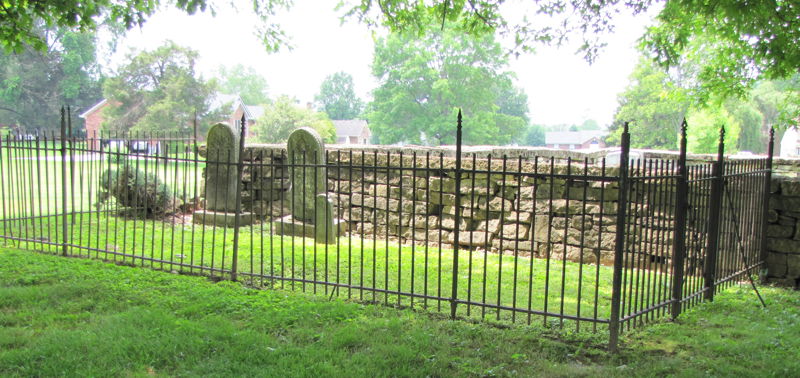 The Simmons graves are located within a fenced area as shown in the photo to the right. Buried here are James W. and Frankie Simmons, and their daughter Dulcia.
Julius C. James married Nancy Simmons on 18 Dec 1828 in Bullitt County. Their daughter, Rosamond James married Joseph Perry Simmons on 30 Nov 1847 in Bullitt County. Perry and Rosamond were the parents of James W. Simmons who is buried here. He was born 28 Sep 1848 and died 18 Aug 1914. It is possible, although not yet confirmed, that Julius James was a sibling of Anna James who married Samuel Stallings Jr.
Rebecca Ann Francis "Frankie" Deacon married James W. Simmons 24 Sep 1873 in Bullitt County. She was a daughter of James William and Lucinda B. (Thompson) Deacon according to one source. Frankie was born 21 Jun 1853 and died 29 Aug 1899. James and Frankie had seven children including Dulcia Simmons who is buried beside them. She was born 16 Sep 1885 and died 9 Oct 1892.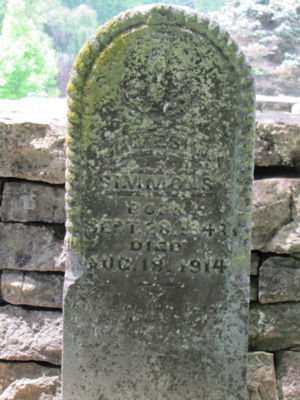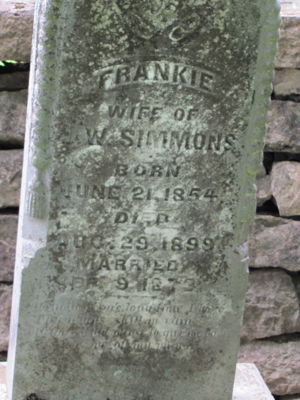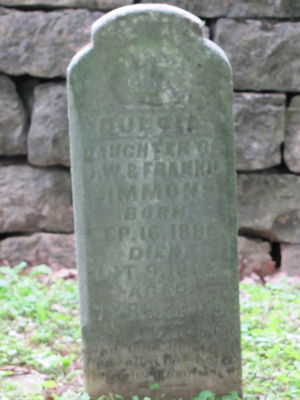 (left to right) James W. Simmons, Frankie Simmons, and Dulcia Simmons
Below is an image insert from Google showing the location of this Bullitt County cemetery. You can use the arrows in the upper left corner to move the image, or use the plus and minus signs to zoom in or out. You may also put the cursor on the map and drag the image to where you want it. Click on the marker to get cemetery details.