Alma Wallace Lesch, A Remarkable Artist
The following article by Charles Hartley originally appeared in The Courier-Journal on 1 May 2013. It is archived here with additional information for your reading enjoyment.
---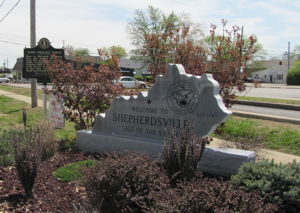 Follow
this link
for more on the marker.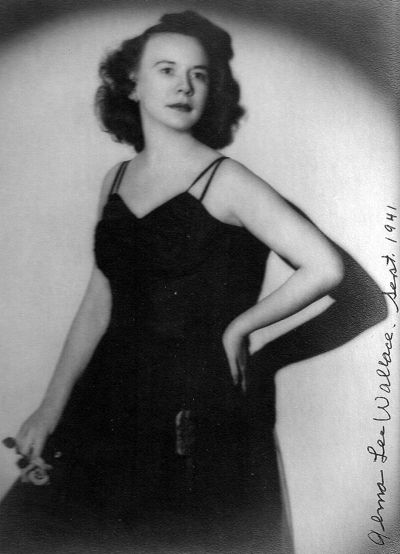 Alma Lee Wallace in 1941
Photo courtesy Dennis Shaffner.
Hundreds of people pass by the Alma Wallace Lesch historical marker in Shepherdsville each day with little awareness of its message; and I must confess that, until I began preparing this article, I knew very little about her either. However, after talking with her Lesch cousins and her close friend and student, Dennis Shaffner, and after reading what others have written about her, I realize just how accomplished an artist she was.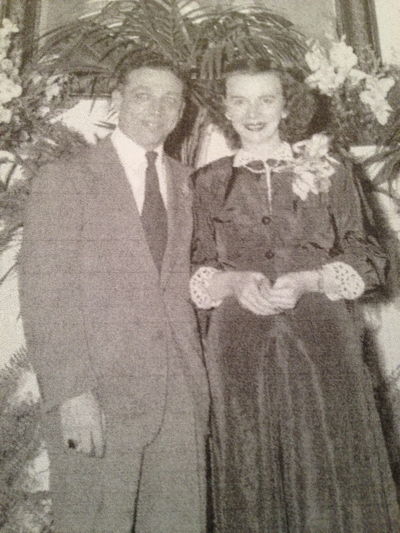 Wedding Picture
Photo courtesy Jerry Lesch.
Alma Wallace, a native of the Paducah area, received her teaching degree from Murray State in 1941, and soon thereafter came to Louisville where she taught elementary grades for several years. Here she met and married Ted Lesch, a pharmacist, and together they moved to Shepherdsville about 1948 when he took over the corner drug store.
Leaving her teaching career behind, so she thought, she enrolled at the University of Louisville where she studied art. Upon graduation, she accepted a teaching position with the Louisville School of Art where she taught from 1961-1978.
Alma Lesch shared a 30-year arts friendship with Dennis Shaffner until her passing in 1999. Shaffner, who maintains a blog dedicated to Lesch's work, shared that "Lesch, who transformed handcrafted American textile art over the course of 50 years, commanded a no-nonsense attitude that provided maximum studio time for production of hundreds of fabric collages, sculptures and banners that have been collected across the country and cherished in permanent collections. Her signature invention, the fabric portrait, evolved from America's roots in stitchery and crafts."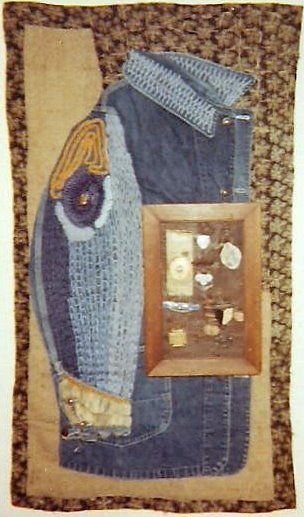 Uncle Bob
Photo courtsey Dennis Shaffner.
For much of the remainder of this piece I am indebted to at least three people who knew Alma well. They include Sarah Lansdell who, as art critic for The Courier-Journal, wrote about Alma in 1974 during one of Alma's shows; and two ladies, Diane Heilenman and Lynn S. Renau, who wrote about her following her death in 1999.
In 1974, Sarah Lansdell wrote, "Alma Lesch makes portraits of people―of individuals as well as types―out of pieces of costume: buttons, dresses, blouses, spectacles on chains, books in pockets, lace collars, glass beads, torn pages from books, and fans. She also makes tapestries, or hangings, of rich roseate pieces of fabric joined with stitchery. Fabric collage is one way of documenting costume historically. Alma Lesch tries to make period of costume relate well to the character she is trying to portray."
Regarding a piece Alma had named "Uncle Bob Shows his Medals," Lansdell wrote, "'Uncle Bob' was a real person who lived at Shepherdsville. The blue denim jacket is turned sidewise. The sleeve is stitched with yarn so that the jacket becomes something more than the original. There is an insignia on the shoulder, but the military bearing comes from the set of the jacket as much as that. The medals are framed under glass and hang from the front of the jacket. Alma Lesch doesn't know or care what the medals were for, they are the right character and shape. She remembers Uncle Bob as a man of military posture though he was a farmer when she knew him."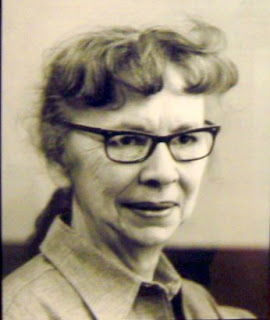 Alma Lesch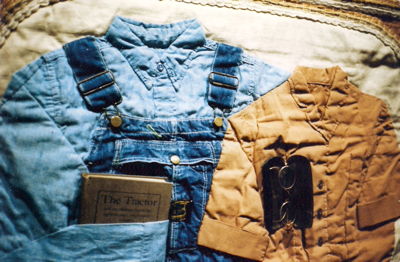 Detail of "Southern Gothic," U of L Hite Art Library
Photo courtesy Dennis Shaffner.
Regarding these portraits, Alma said, "They are all plain people, simple. Simple meaning honest, pure, hard-working. Uncomplicated."
According to Lansdell, Lesch's portraits were "partly inspired by Grant Wood's painting, 'American Gothic,' and by old daguerreotypes, but she always interpreted her 'old portraits' in entirely contemporary style. It is not the authenticity of period she is after, but the authenticity of the thing itself."
Following Alma's death in 1999, Diane Heilenman wrote, "Lesch's works were featured on the covers of American Craft and Craft Horizons magazines. Her stitchery collage, 'Like Father Like Son,' illustrated the 1975 Reader's Digest 'Story of America' and eight of her works were used to illustrate the 1974 Viking Press book Stitchery, Needlepoint, Applique and Patchwork by Shirley Marein."
---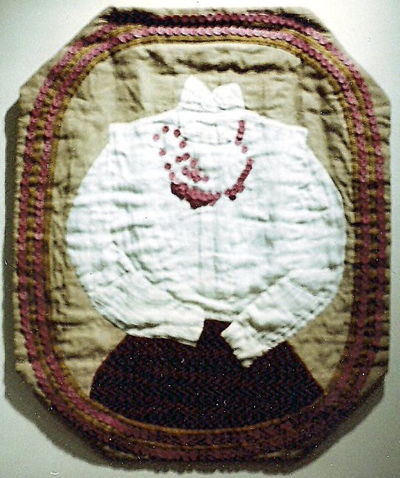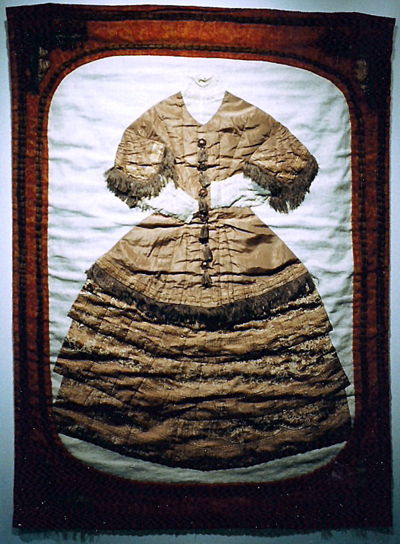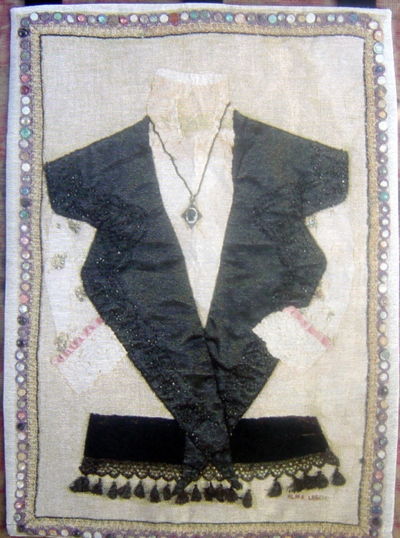 (left) "Lily," 1989, owned by Anne Ogden, Louisville; (center) "The Colonel's Lady," 1979, Kentucky Museum of Art and Craft;
and (right) "Sallie," 1996, original in collection of Dennis Shaffner. Pictures courtesy of Dennis Shaffner.
---
Heilenman continued, "In 1974 she was named a Master Craftsman by the World Crafts Council and was one of five U.S. artists to have fiber work in the First World Crafts Exhibition. In 1986 she was named an Honorable Fellow of the Kentucky Guild of Artists and Craftsmen. In 1987, Lesch received the Kentucky Governor's Award for Lifetime Contribution to Visual Arts and the Sallie Bingham Award from the Kentucky Foundation for Women.
"Lesch was the first recipient of the Rude Osolnik Award from the Kentucky Art and Craft Foundation in 1996. The next year she was among the subjects of Eugenia K. Potter's edited essays on 'Kentucky Women: Two Centuries of Indomitable Spirit and Vision.'"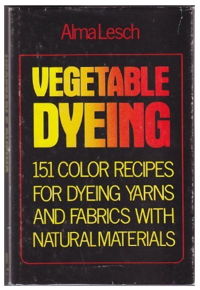 Lynn S. Renau quoted Mary Zena, another fiber artist, who said, "Alma was a born teacher. If you came to her she would listen and say, 'keep working, if you're an artist you must do a lot of work.'"
Martin Rollins of the Speed Museum was also quoted by Renau as describing Alma as "A wonderful unassuming person." He continued, " She imparted a vision. Her down-to-earth approach gave her credibility. She was the real thing. She took us out to the fields, where we chose the plants that filled steaming cauldrons of stewing organic matter from which she made dyes."
Regarding Alma's 1997 retrospective show at the Kentucky Arts and Craft Gallery, University of Louisville fine arts professor, Lida Gordon, wrote, "Lesch's images are extremely personal, speaking directly to her native Kentucky, and at the same time universal in their portrayal of human emotion and the passage of time."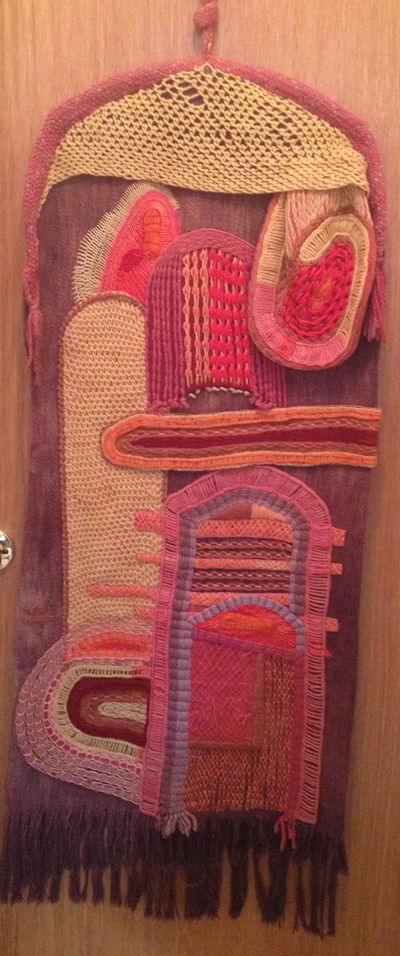 There is much more that can be said about Alma Lesch's amazing career, but I'll leave you with her own words, spoken in 1996: "Students motivated and challenged me until it was difficult to keep up. It is abundantly true in my life that one is the product of those we encounter. My lifelong experience with textiles has been full because I have done what I wanted to do."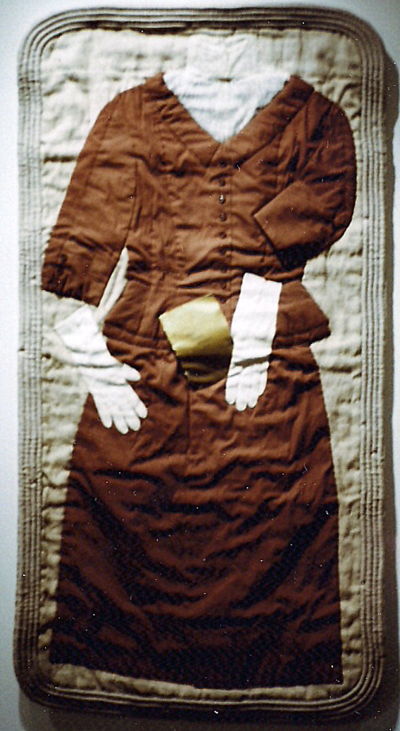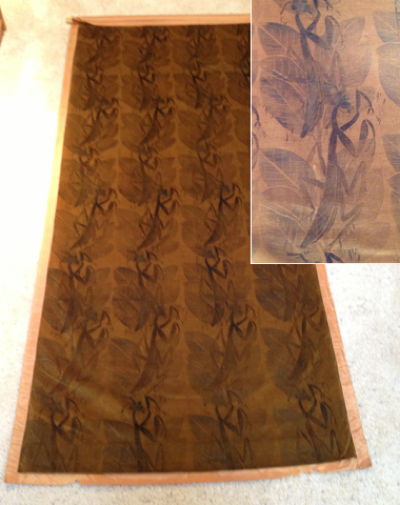 On the left is "Minutes of the Last Meeting," 1978, (perfect example of Shepherdsville history) from the collection of Eugenia Potter; picture courtesy of Dennis Shaffner. "Praying Mantis" (center) and "Joseph's Coat" (right), both owned by Jerry Lesch who provided the pictures.
---
Copyright 2013 by Charles Hartley, Shepherdsville KY. All rights are reserved. No part of the content of this page may be included in any format in any place without the written permission of the copyright holder.
---