1937 Lebanon Junction High School Annual - Page 31
The Flood of 1937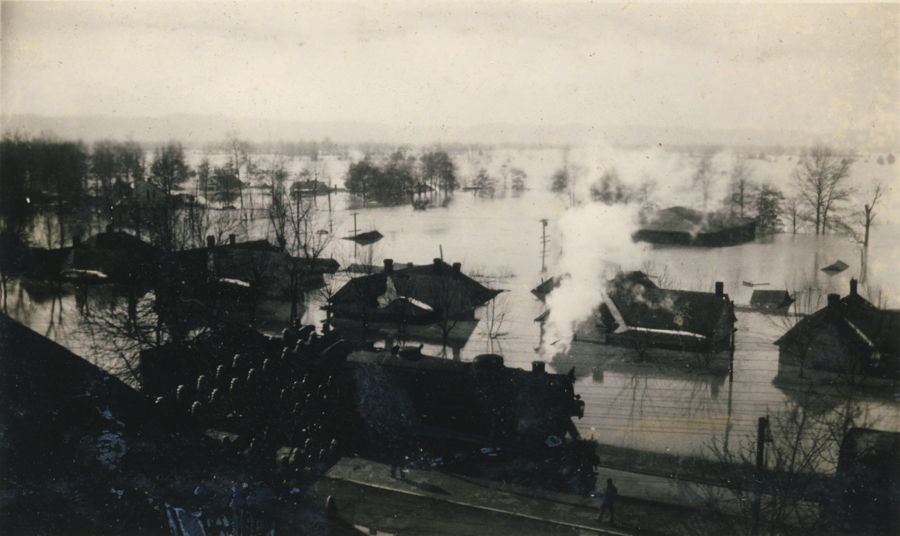 Day and night the cold rains fell
On many a wintry hill,
And on many a quiet lonely dell
Or city street, until
The waters rose on valleys wide
By many a winding riverside.
We saw the muddy waters rise
For seven nights and days,
While drifting clouds in winter skies
Were dark with mist always
Till flooding waters cold and brown
Had covered more than half our town.
The people moved away from home
To escape the waters there,
For on those winter days had come
Destruction everywhere;
And many came to find a home
In the high school building on the hill.
At last receding waters left
Destruction far and wide,
But bravely all withstood loss
Wrought by the raging tide,
And since those days of floods are gone
L. J. rebuilds and carries on.
- W. C. Shultz.
Our Thanks
We, the seniors, wish to thank the subscribers, advertisers, and everyone who helped to make this annual possible. We hope that our friends and the friends of our school will patronize the advertisers, because without their help we could not have published this annual.
THE EDITOR.
---
Page Image Below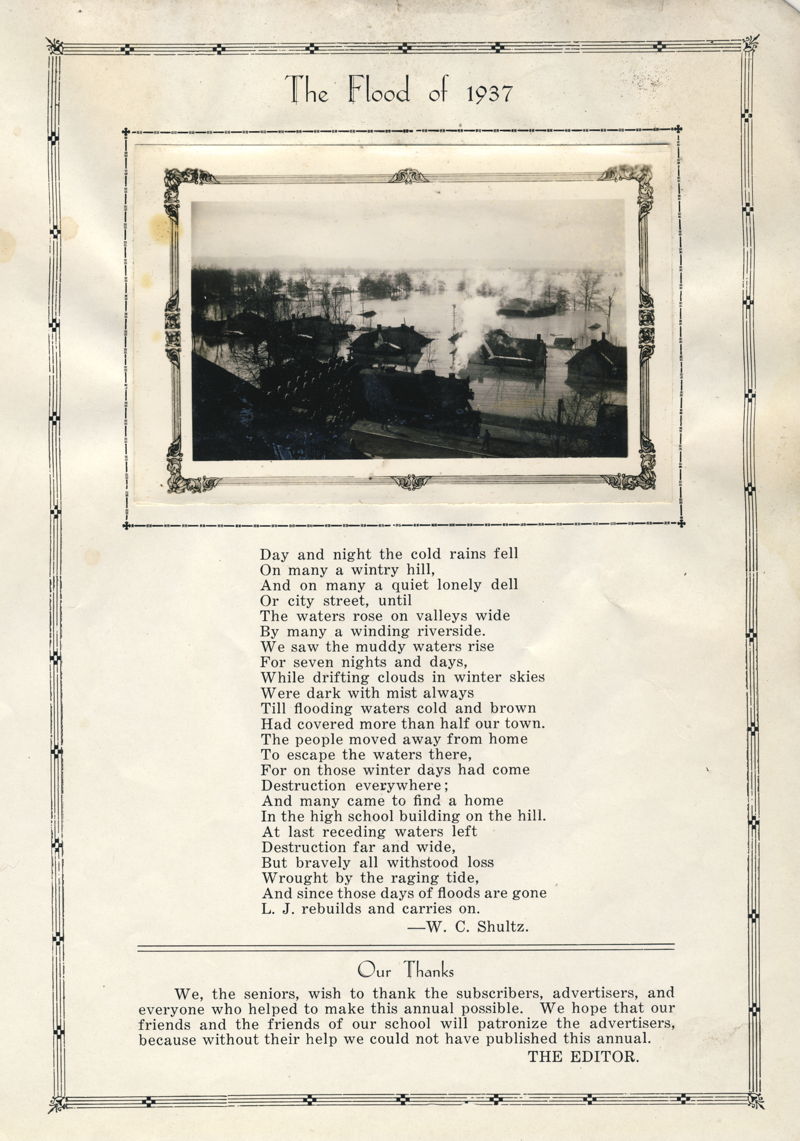 The Bullitt County History Museum, a service of the Bullitt County Genealogical Society, is located in the county courthouse at 300 South Buckman Street (Highway 61) in Shepherdsville, Kentucky. The museum, along with its research room, is open 9 a.m. to 4 p.m. Monday, Tuesday, Wednesday and Friday; and from 9 a.m. to 6 p.m. on Thursday. Admission is free. The museum, as part of the Bullitt County Genealogical Society, is a 501(c)3 tax exempt organization and is classified as a 509(a)2 public charity. Contributions and bequests are deductible under section 2055, 2106, or 2522 of the Internal Revenue Code. Page last modified: 28 Jan 2021 . Page URL: bullittcountyhistory.org/lj1937annual/p31.html