It Happened in September
The following article by Charles Hartley originally appeared in The Pioneer News on 28 September 2015. It is archived here for your reading enjoyment.
---
We will look back 25, 50, 75 and 99 years to capture glimpses of what was happening in Bullitt County in each of these years. Today we will focus on the month of September.
1990 - 25 Years Ago.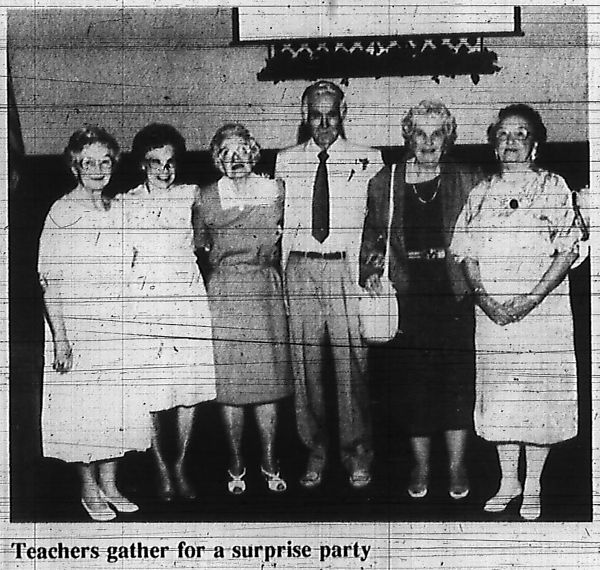 Elsie Cox Beeler was surprised with a "This is your life" party by five of her former Mt. Washington teacher colleagues. Elsie, who taught music, was joined by her husband, Francis K. Beeler, Martha Weller Lloyd, Myrtle Shake Wheeler, Nell Bell Porter, and Myrtle Stansbury Harris. These folks taught together fifty years ago!
Lois Simmons of Pleasant Grove wrote that "Clara Simmons' company last week included Sandy Lanham, Juanita Proctor, Ellen Givhan, Peggy Williams, Hazel and Wallace Armstrong, Clifford Foster, Birdie Moore, Elizabeth Travis, Jack Stallings and Evelyn Stallings. Mr. and Mrs. George Ward came by to help mow the yard."
Clifton Whitmer broke around left end and scampered 75 yards for a touchdown as the Bullitt Central Cougars defeated Nelson County for their third straight win.
Brenda Quesenberry was honored as the 1989-1990 American Red Cross Volunteer of the Year for her work with the Mt. Washington Bloodmobile Drive effort.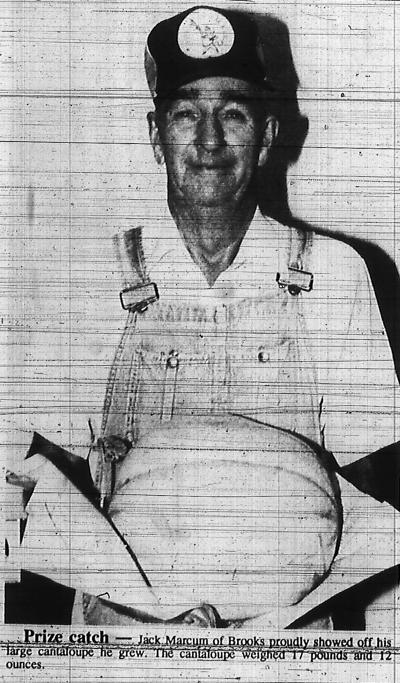 During the Kentucky State Fair, the Bullitt Central FFA chapter had the following first place finishes. Potted Flower Division: Scott Kidd and Carol Price. Mechanics Division: Tim Stillwell, Paul Hall, Tommy Luttrell, and Joey Rogers. The chapter won the state title for its mechanics exhibit.
Judith Frisby, a first grade teacher at Brooks, was named Bullitt County Elementary Teacher of the Year. She joined her teaching colleague Jennifer Hicks who had won the honor two years earlier.
Jack Marcum was pictured showing off his 17 pound, 12 ounce cantaloupe.
Did you see Bernard and Louise Bischoff's new glasses? The Hebron correspondent mentioned them in her column.
Quarterback Jeff Miller found tight end Jimbo McCubbins all alone in the end zone to break a 7-7 tie against Daviess County and secure Bullitt Central's fourth straight win.
Mt. Washington Boy Scout Troop 100 held a Court of Honor to recognize scouts' advancement at summer camp. The following boys earned multiple merit badges at Camp Crooked Creek: Brian Huff and Chris Maddox, six badges each; Troy McDonald and Dan Hatfield, five badges each; John Bania, Chad Jones, John Childress, Robbie Hardin, Donnie Price, Sam Wigginton, four badges each; and Josh Coleman, three badges. Great job guys!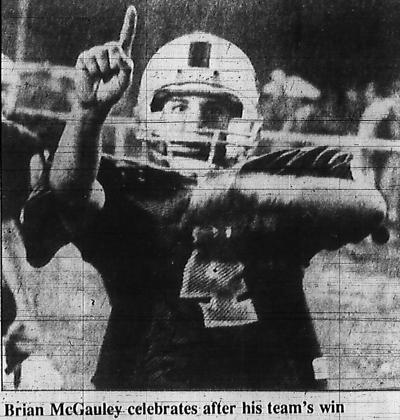 According to Oretha Ridgway of Nichols, Roger and Linda Wilkins, with Stephanie and Austin, were moving into the community from Rineyville.
Rebecca Keller was pictured painting Rachel McClearn's face at the Shepherdsville Middle School barbecue.
John and Eileen Philpot's daughter, Alice was a member of the 82nd Airborne S & T Division. She was stationed in Saudi Arabia at the time.
Mike Waters' 29-yard field goal in the third quarter, followed by a stout defensive effort that included four interceptions, gave Bullitt Central a 9-8 victory over Shelby County, giving the Cougars a 5-0 record.
Everyone was proud of James McPherson of Bullitt East who qualified as a National Merit semifinalist.
And Clyde and Bertha Patterson celebrated 73 years of marriage. Wow!
1965 - 50 Years Ago.
Seniors on the S.H.S. football squad were pictured in the paper. They included Lynn Rhea, Terry Woods, David Price, Willard Burden, and Bobby Hurst. The team was coached by Nick Diachencho, with Tom Collins and Richard Martin as his assistants.
The team's cheerleaders included Becky Sanders, Carol Korfhage, Sara Lutz, Marilyn Moran, and Karen Cundiff.
The 1922 S.H.S. class held a reunion hosted by Gabe E. Summers and Samuel J. Stallings. Those attending included Mrs. Ruth Patterson Scroggins of Shepherdsville, Mrs. Mary Blanche Hill Wine of Lebanon Jct., Mr. Brooks Tyler of Shepherdsville, Mr. Stallings of Louisville, Mr. Summers of Jacksonville, Florida, Mrs. Grace L. McAllister Mooney of Bardstown Jct., Mrs. Mary Buckman Cook of Shepherdsville, Mrs. Ruth Crenshaw Hayes of Coxs Creek, Mrs. Julia Ann Ashe Rodgers of Lebanon Jct., and Mrs. Buryl Hall Porter of Mt. Washington.
Mr. and Mrs. Johnny Williams, Mrs. Robert Carnes, and John Carnes went to the Smoky Mountains and Gatlinsburg, and then traveled to Cherokee NC to attend the drama, Unto These Hills.
The Hawks, Lebanon Junction's softball team, received trophies from their league. The players included Roger Smith, Kevin Miller, Charlie Bowman, Wayne Boone, Chuck Waters, Gary Bryan, Doug Roberts, Donald McCubbins, H. B. Brown, William Waters, Edgar Sullivan, Gary Wilson, William Whitsell, Charles Wilson, and Jimmy Lee. James Wilson was their coach.
In Shepherdsville, Mr. and Mrs. J. C. Thompson and sons moved into their new home on Combs Court.
Mrs. Ida Holclaw of Hebron reported that Vaughn Smith had an accident with his tractor, resulting in a broken leg for him.
In the Lebanon Junction and Colesburg News, Mrs. Charles Wheeler reported that the Streble family had their homecoming at the Phil and Van Streble home with 64 present.
She also reported that Mr. and Mrs. LeRoy Hughes had moved into the house near Colesburg Road owned by Mrs. Hallie French. And, she also congratulated Mrs. Kate T. Brooks on her 99th birthday.
Continuing her news, Mrs. Wheeler reported that Jack Plenge was recovering from surgery on his knee, and that C. T. Korfhage had to have stitches in cuts on his face.
Butch Johnson of the Shepherdsville FFA Chapter placed fourth in the state welding contest at the State Fair.
And little Jeffrey Tucker fell off his bicycle and injured his leg. He had to have it x-rayed.
1940 - 75 Years Ago.
Miss Essie Swearingen and her nephew, Athol Lee Taylor, returned home from a visit to Oklahoma where they visited with her niece, Mrs. W. A. Criswell.
Homer Jordan cut his knee seriously while getting out walnut logs.
Russell Jenkins' corn crib burned while he was on a weekend trip to Central City.
Herbert Ockerman, Foster Sanders, and Reason Newton were assigned the task of selecting football officials for the Salt River Valley Conference.
Mrs. A. M. Tate, Annie Perkins, and Burlyn Pike attended the Baptist Young Peoples Union Convention at Hodgenville.
Mrs. Stony Weller and sons returned from a visit in Louisville with Mrs. W. L. Sayers.
Mr. and Mrs. Arthur Harris and little Betty Sue of Leaches visited at the Trunnell House one Saturday.
Rev. E. F. Goodson, son of Rev. Jacob Godson, who was pastor at Mt. Washington and Bethel about seventy years ago, preached at Mt. Washington while the pastor, Rev. C. K. Dickey was away.
The Rev. Albert Carnett, pastor of the Shepherdsville Baptist Church, tendered his resignation, and planned to move to Daytona Beach.
Miss Lillie McClure rented rooms from Miss Lizzie Wright in Mt. Washington. She moved there from High Grove where she had lived for more than fifty years.
C. S. Morrison, Bullitt County Coroner, advertised in the paper that he was taking a trip to Michigan, and anyone needing a coroner should contact his deputy, Mrs. C. S. Morrison.
The paper reported that Dan Carroll had returned to school in Cincinnati after spending the summer with his grandfather, J. N. Brooks. It seems that he took some "hearts" with him.
The paper was pleased to note that Fiscal Court had formally endorsed a new State Highway from Louisville to Shepherdsville, paralleling the railroad tracks on the west side.
Miss Ola Gray purchased a 1940 Chevrolet.
The dentist, R. A. Weir, had his office over the Peoples Bank building in Shepherdsville. He was available at night by appointment.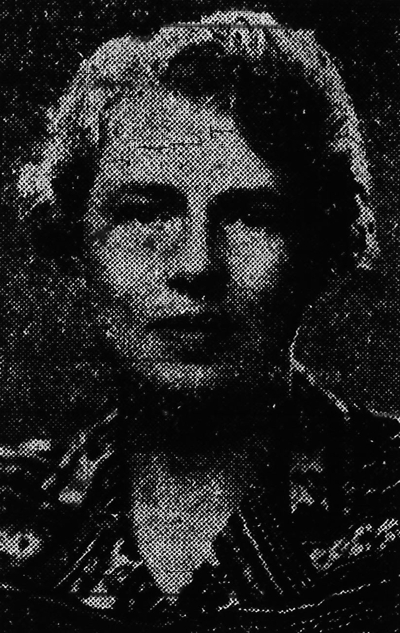 Mrs. T. C. Carroll
Judge and Mrs. C. P. Bradbury were visited by both Dr. J. W. Bradbury of Louisiana, and Charles Lee Bradbury of Shelbyville.
Charles Maraman, son of Mrs. Mina Maraman, and Margaret Philpot, daughter of Mr. and Mrs. P. P. Philpot, were married at the Baptist parsonage by Rev. Carnett. Mrs. Chester Deacon, sister of the bride, was matron of honor, and her husband, Chester was best man.
Mrs. T. C. Carroll, who had served as President of the Kentucky Federation of Women's Clubs for two years, was appointed Woman Chairman for the State Democratic Campaign.
A new fire escape was built in the back part of the Elementary School at Shepherdsville. It was connected to two rooms, making available an exit for the first and second grades.
And when Lester Porter set out on the Jackson Highway, it seems that his mules took a notion to follow him. His grandmother, Lydia Hardy saw them, and fearing that they might be killed by traffic, hurried to the door to warn him, but fell and injured herself. The paper reported she was some better. Not sure about the mules.
1916 - 99 Years Ago.
The paper reported that the Shepherdsville school was adding two new rooms, making a total of nine large rooms for a school that a few years ago had only two teachers.
The paper also reported that two weddings occurred at the recent County Fair. Herbert Lee married Eva Bailey, and Simmons Cochran married Maud Barrall.
Miss Nadine Melton, the teacher at Clermont, was just getting over a bout with typhoid fever that affected her and three of her sisters.
Mayme Stephens, who graduated from the Shepherdsville school last spring, was moving to Irvine, Kentucky to become a music teacher. The community would miss her piano playing.
The County Directory listed the following officials: Circuit Judge D. A. McCandlass, Commonwealth's Attorney Lewis Williams, Circuit Clerk V. S. Rouse, Master Commissioner J. F. Combs, County Court Judge A. E. Funk, County Attorney C. F. Bradbury, County Court Clerk Lindsay Ridgway, Jailer R. E. Lee, Sheriff W. S. Rouse, Deputy Sheriffs Calvin Rouse, Lawrence Roby, and Charles Long, County Assessor W. W. Stallings, Deputy Assessors R. H. Miller and Preston Parrish, School Superintendent O. L. Roby, Surveyor W. C. Herps, Coroner C. A. Masden, Magistrates C. R. Smith (1), W. A. Gentry (2), J. H. Bolton (3), and J. L. Kenny (4).
Miss Anna Pierce retired as assistant post mistress after fourteen years of faithful service. The paper said she would be greatly missed.
Zella Owen, the teacher at the Green Briar school invited everyone to a box pie and candy sale at the school. And Alma Forrest, the Zion School teacher announced an ice cream supper and country store at her school. Proceeds at each event helped support the schools.
The Shepherdsville Brass Band, led by Woodford Troutman, provided the music at the Gwynn school reunion at Pitts Point.
The paper reported that Mr. and Mrs. Emerson Welch entertained Mr. and Mrs. Robert Ice, Miss Beulah Welch and Emmitt Coakley of Belmont.
Bertha Trunnell, who was teaching school at Victory, was at home for the weekend with her parents, Mr. and Mrs. J. L. Trunnell.
Dr. and Mrs. Bates, W. T. Lee, Mrs. Curtis Lee, C. P. Bradbury and family, O. W. Jasper and Newton Pearl and many others from Bullitt County motored to Hodgenville to see and hear President Wilson's address at the Lincoln Farm celebration.
Percy Mumford of Belmont announced that he was a candidate for county jailer.
C. C. Daugherty, Professor Jack Sanders, Willie Mae Ridgway, Dr. Bates and many other teachers and trustees attended the Gwynn School reunion.
Miss Otis Mae Porter of Bardstown Junction, who was the principal of the high school at Mt. Washington, was moving to Auburn, Iowa to become principal of the Auburn school.
W. B. Gwynn, former professor at the Gwynn school at Pitts Point, and the first editor of the Bullitt Pioneer, gave a moving speech at the school reunion. He followed it up with a very nice letter to the editor of the Pioneer News.
The paper declared that Charlie Shoptaw was an artist in and at skinning squirrels, making John Buckman look slow in comparison.
And out at Pleasant Grove someone visited Edna Hall's chicken house twice. Apparently they didn't get everything the first time.
---
Copyright 2015 by Charles Hartley, Shepherdsville KY. All rights are reserved. No part of the content of this page may be included in any format in any place without the written permission of the copyright holder.
---