It Happened in September
The following article by Charles Hartley originally appeared in The Pioneer News on 29 Sep 2014. It is archived here for your reading enjoyment.
---
We will look back 10, 20, 40, and 80 years to capture glimpses of what was happening in Bullitt County in each of these years. Today we will focus on the month of September.
2004 - 10 Years Ago.
Bill Thixton of Mt. Washington turned a hobby into a rewarding experience when the mandolin he made for his son earned him a first place ribbon at the State Fair.
Dr. Mohanna Arla, who began practicing medicine in Lebanon Junction in 1980, was proud to have his daughter, Dr. Latha Arla Polavarapu join him here in Bullitt County.
The Bullitt County Genealogical Society elected officers. They were Barbara Bailey, president; Sam Hardy, vice-president; Edith Blissett, recording secretary; Lynn Eddington, corresponding secretary; Mary C. Brewer, treasurer; Edna Hardin, programs and publicity; and Directors David Strange, Mary Lee Thorp, and Ken Bailey. Betty Darnell continued as the editor of the society quarterly.

Doris Cornell was pictured mugging for the camera at her birthday luncheon held for her by the staff of the Circuit Clerk's office.
Bullitt Central's girls' soccer team defeated Bullitt East 3-1 with goalie Kandice Ratliff stopping shot after shot for the Cougars.
The Bernheim Chapter of the National Wild Turkey Federation presented Nick Simon with a special recognition award for his service to the group. The group's active original members included Todd Buckingham, Darnell Hatfield, Billy Mudd, Bobby Mudd, Jerry Raley, John Raley, and Mike Shepherd.
Buddy Gaddle led a volunteer crew from Pleasant Grove Baptist Church in an effort to clean up the Ridgway Cemetery located not far from his home.
Leigh Anne Florence announced the release of her second book in the Woody the Wiener Dog series.
North Bullitt defeated Bullitt Central 33-21, scoring the last 21 points of the game. Were you there? Did you see Chris Westfall kick those extra points?
Sara Edison, daughter of Janet and Perry Robison of Shepherdsville, completed her doctoral program in chemistry. She accepted a position with Borden Chemicals in Cincinnati.
Tom Jeffries, a long-time educator who served as Bullitt County School Superintendant, died on 12 Sep 2004. He was also Professor Emeritus at the University of Louisville School of Education.
The Jim Beam plant at Boston was renamed the Booker Noe Distillery in honor of Master Distiller Booker Noe who died in February.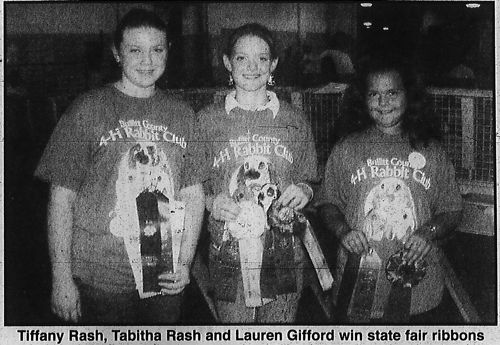 After fumbling three times and trailing 6-0, the Bullitt Central Cougars turned things around enroute to a 74-12 thumping of Trimble County, with Preston Cissell scoring their first of many touchdowns.
The Bullitt County 4-H Rabbit Club cleaned house at the State Fair. Tiffany Rash took Best of Breed in Open Youth, Lauren Gifford won Best of Breed in the 4-H Show, and Tabitha Rash won Reserved Grand Champion in the show.
Bullitt East junior Corey Rakes was part of a powerful Charger rushing attack in their 55-7 victory over Jeffersontown.
And David Strange wrote an interesting article about how the Bivens brothers repeatedly broke out of the old stone jail in Shepherdsville.
1994 - 20 Years Ago.
Seven members of the Boots-n-Saddles 4-H Horse Club placed highly in the State 4-H Horse Show. They included Tara Webb, Terri Mudd, Erica Rogers, Amy Hood, Julie Bischoff, Kelly Humphrey, and Jeremy Pate.
Others who participated in Cloverville in the West Wing of the Fairgrounds included Heather Bischoff, Cheyenne Bischoff, Tashia Rash, Renee Shaw, Latoka Redden, Tisha Collins, and Tiffany Rash.
Thirteen-year-old Carl Lausman of Mt. Washington won the 1994 Kentucky State Goose Calling Championship and the 1994 Grand American Junior Goose Calling Championship. While many other goose callers used manufactured goose calls, Carl used his own mouth and voice to accomplish this.
Louise Bischoff, the Hebron correspondent, shared that Bernard and Irvin Vittitow went fishing and had a good catch; and that Mrs. Georgia Sadler was in Tennessee recording some more books of poems.
Lois Simmons, the Pleasant Grove correspondent, reported that Joyce Gentry fell at work and broke her nose. Ouch!
Maria and Mark Jones were pictured as they manned the cameras during the Bullitt County Fair's miniature horse show.
Jimmie Sartin took on the duties of Day Camp Director at Camp Crooked Creek.
Milton Bagwell, Jr. of Shepherdsville was pictured with his 85 pound watermelon which was the winning entry at the Kentucky State Fair.
4-H teams from across the state gathered at the Mt. Washington farm of Claude Cornell for the State 4-H Land Judging Contest. This was the fourth year that Cornell's farm had been chosen for the site of the fair event.
Ruby Curtsinger, Cully Harlow, and Kim Cheatham of Mt. Washington; Billy Hardy and Della Kulmer of Shepherdsville; and Joan Miller of Belmont were all in agreement that Bullitt County should continue its active role in economic development in the paper's Pioneer Poll.
Jacque Wallace's talents at satisfying the sweet tooth were evident in the State Fair competitions where she earned three firsts, a second, and three third places which placed her first in the pie category.
Will Hardy's 36 paced the Bullitt East golf team in a victory over Bullitt Central. Central's Joe Brown was a stroke behind Hardy at 37.
Jane Faith, the Knob Creek correspondent, reported that the Nichols school had two new instructional assistants: Mary Holland and Lisa Dalton.
Lebanon Junction's Mayor, Steve Masden, watched as a caboose was moved from the Lebanon Junction Hardware Store to a lot next to The Peoples Bank of Bullitt County.
Gerald Tamme and Joe Laswell were pictured with Nick Simon as he was being honored as the Red Cross's top volunteer for the year.
Kathy Lewis of Mt. Washington won the Shoe Carnival Ladies Races Championship at the Louisville Motor Speedway.
And Sandy Francis married Larry Murphy at the BP Station in Hillview owned by Chris Hardy and Jim White. Imagine that!
1974 - 40 Years Ago.
The Lebanon Junction Memorial Park celebrated its first anniversary with a lively party. Among the activities was a horseshoe tournament, won by Allen Ewing and Bill Kennedy of Boston. Winners in the tennis tournaments included Bobby Thurman, Lonnie Engle, and Julie Crawford.
Tommy Van Vactor won the beautiful birthday cake baked by Mrs. Gwen Sweat.
G. K. Bass, the Mt. Washington correspondent, reported that Miss Sue Swearingen was at St. Joseph's Infirmary, and that Mrs. Louella McFarland was recovering at home.
Clara B. Simmons, the Pleasant Grove correspondent, reported that Mr. and Mrs. Harley Proctor and Ella, and Rev. and Mrs. Noah Benningfield had returned home from a vacation trip to Gettysburg. She also said that Karen Sue Grant had her tonsils removed.
Two Jeffersontown men came to Schuffletown Hollow, near Belmont, to go squirrel hunting, and promptly got lost overnight. Fortunately for them, each found his way out. Unfortunately they found no squirrels.
The whistling overhead that Mrs. Susie McCubbins and her daughter Pam heard in the Belmont community turned out to be an 8-inch howitzer projectile misfired from the Army range nearby.
Ed Woodfin and Ken Bailey of Bullitt County served in the honor guard at the "Civil War" wedding of Ordra Satterly and Jacqueline Sue Gilbert. This unique event occurred at Mumfordsville at a gathering of the First Kentucky Orphan Brigade which re-enacts Civil War battles. Rev. Bruce Hartzell of Shepherdsville performed the ceremony.
Tommy Goldsmith was pictured presenting Dennis Butler with the FFA Member of the Month medal.
The Hebron correspondent reported that Miss Sallie Brooks, daughter of Mr. and Mrs. Neil Brooks, Jr., had returned home from France where she attended school during the summer.
Roby Elementary School Principal Ron Murphy was pictured looking on as Eva Smith demonstrated the use of various audio-visual equipment for volunteer students from Bullitt Central.
C. V. Sanders and Tom Waller were pictured with Governor Ford at Frankfort where Sanders was sworn in as Circuit Judge, and Waller as Commonwealth's Attorney. Among those attending the ceremony were Mr. and Mrs. T. C. Carroll, Mrs. Nancy Strange, Tom Givhan, Mr. and Mrs. Art Hartlage, Mr. and Mrs. J. P. Hatzell, Judge Arson Moore, J. Chester Porter, Bill Robey, Nina Mooney, Bill Moore, and the families of Sanders and Waller.
Gladys Shepherd, the Bullitt Lick correspondent, expressed sympathy for the family of Henry Skidmore, recently passed, and encouragement to his brother, Howard Skidmore who had been ill.
Dr. M. J. Cundiff of Shepherdsville filed as a candidate for re-election to the school board in the Shepherdsville and Brooks precincts.
Mrs. Elizabeth "Betty" Larimore, vocational business instructor at Bullitt Central, was recognized as Bullitt County Teacher of the Year.
And J. C. Thompson, proprietor of the Hardy Super Market in Shepherdsville, advertised fresh whole fryers at 39 cents a pound, and sliced bacon at 89 cents a pound. You could get a 25 lb bag of flour for $3.59 and a quart jar of sweet pickles for 69 cents. Let's go shopping!
1934 - 80 Years Ago.
Miss Ida Lee Ball was hired to teach at Sugar Valley, replacing Miss Bessie Marie Harris who was attending the University of Louisville.
Miss Cora Ney Hardy was hired to teach the primary room at Hebron provided there was sufficient attendance; and Miss Georgia Alford replaced her sister Miss Evelyn Alford at Mt. Elmira School. Miss Evelyn was attending Western Kentucky Teacher's College.
Miss Elizabeth Harned, daughter of Mr. and Mrs. Frank Harned, was hired as the head of the Home Economics Department at the Lebanon Junction School.
Prof. W. F. Russell was the new principal of the Shepherdsville School, and impressed everyone with his energy. Teaching with him were Mr. Yates, Mr. Romer, Misses Thomas, Smith, Griffin, Wheatley, Mitchel and Hudson, while Miss Maggie McClaskey taught piano lessons, and Miss Jennie Carpenter was in charge of the State Nursery School.
Thomas Hall, Preston Parrish, and Randolph Porter of Mt. Washington attended the World's Fair. Also attending the fair in Chicago were Rua Larimore, Pauline Daugherty, Beulah Barrall, Johnny Lee, Millard Deacon, Jim Davis, and the C. F. Troutmans.
Robert Wade and Mildred Harris of Mt. Washington were married.
Mary Harned, Myrtlean Brown, James Merrifield, Clifford Samuels, Georgia Edwards, Martha Harned, William Samuels, and Leonard Waters all made the August honor roll at the Harned School taught by Mary C. Holsclaw.
Dr. T. P. Sloan of Lebanon Junction took his mother on a tour of Washington, D.C., New York, Niagara Falls, Chicago, and other places. He reported that it did both of them "worlds of good."
Hardy Cruise and several others were working hard to try and have a county fair that year.
H. E. Jarboe, the Methodist preacher in Shepherdsville, advertised for sale an electric refrigerator, and iron, a sweeper, and a radio, all at bargain prices.
The Sanders Family, featuring the Sanders Sisters who sang on WHAS, appeared at the McAbee Hall in Mt. Washington.
And thieves who had stolen a load of pears out of Mrs. Susie Weller's orchard were overtaken by D. J. Crumbacker and J. W. Holsclaw near the Evergreen Cemetery. The Sheriff was called and the thieves escorted to the Shepherdsville jail.
---
Copyright 2014 by Charles Hartley, Shepherdsville KY. All rights are reserved. No part of the content of this page may be included in any format in any place without the written permission of the copyright holder.
---