It Happened in September
The following article by Charles Hartley originally appeared in The Pioneer News on 24 Sep 2018. It is archived here for your reading enjoyment.
---
We will be looking back 25, 50, 75, and 100 years to see what was being printed in The Pioneer News in 1993, 1968, 1943, and 1918 in the month of September.
1993 - 25 Years Ago.
Several Bullitt County truck drivers earned awards in the Kentucky Motor Transportation Association's championships held in Lexington. Among them, Donny Wethington claimed first place in twin trailer; Chris Blanford was first in the three axle division; Marty Blanford place third in five axle van; and Robert Neal took third in five axle flat bed.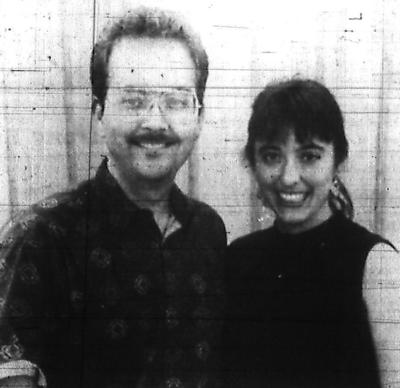 Kevin & Melissa
Kevin and Melissa Mooney, along with Joe Wantland were participants in the American Lung Association's annual Wilderness Road Bike Trek, a 100-mile excursion that included a tour of Shakertown, and a cruise down the Kentucky River on a paddle wheeler. The trek's purpose was to raise funds for the Lung Association.
Jason Reynolds caught all seven of Bullitt East's completions, two of them for touchdowns, as the Chargers defeated Bullitt Central 37-18.
Tony Whitfill and his sons, T.J. and Mike returned from the Bluegrass games with a total of five gold medals. Tony's medals were in the Sporting Rifle and High Power Rifle divisions; T.J.'s came in the same events in the junior division; and Mike brought home gold in the Sporting Rifle unclassified division.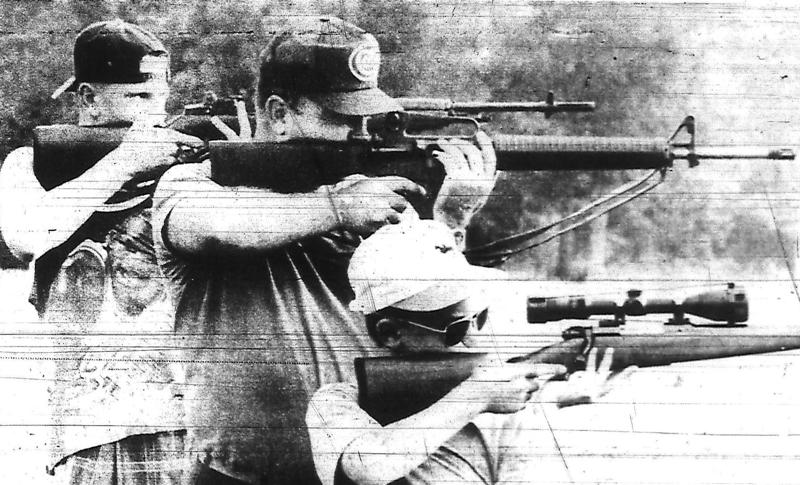 Whitfills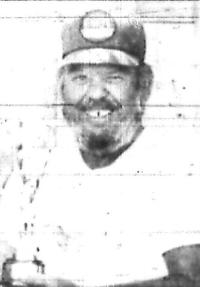 Kenny Dishon
Marty Cox was especially proud of one of his students, 55-year-old Kenny Dishon whose determination to learn to read led to a trophy just three months after their work together had begun. Dishon, an employee at Bernheim would meet with Cox at the forest for literacy sessions, and during those three short months his reading skills had reached the point that he was reading a Jesse Stuart novel.
Louise Bischoff, the Hebron/Zoneton correspondent, extended sympathy and prayers to the family of George Bishop, and to the family of "Jippy" Hatzell. She also reported that Pat Higdon visited Jess Perkins at Colonial Home.
Lois Simmons of Pleasant Grove reported that Mr. and Mrs. Ray Armstrong went to Washington and California to see his son, and to show off his big apple.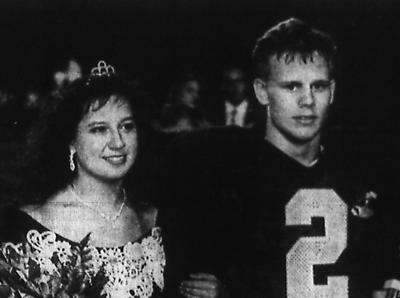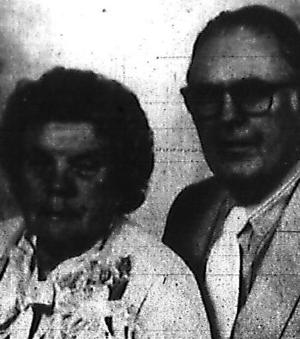 The Perkins
Forrest and Elizabeth Waller, parents of Tom Waller, celebrated their 65th wedding anniversary.
Mr. and Mrs. Stanley Perkins celebrated their 50th wedding anniversary.
Samantha Raymer, daughter of Mr. and Mrs. Leonard Raymer, and Nathan Chappell, son of Mr. and Mrs. James Chappell, were homecoming royalty for Bullitt Central's football homecoming game.
Bullitt Central's FFA students participated in the State Fair. Bobby Stivers and Robert Cox earned white ribbons in mixed hay; Hyte Rouse, David Greco and Bobby Stivers entered in tobacco; and Joe Pat Lee earned a blue ribbon in alfalfa.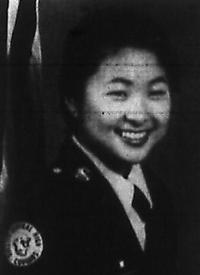 John Martin was a state winner for his loading chute shop project; Jeremy Lyons gained a blue ribbon for his hay carrier; Roger Peck earned blue for his truck rack; Chris John got blue for his round bale loader, and Jason Williams earned blue for tractor boom.
Jean Wood, a senior geography major from Lebanon Junction, received numerous honors for her performance in EKU's Army ROTC program.
And Cadet Katina Chesser completed the "Beast Barracks" course at the U.S. Military Academy at West Point.
1968 - 50 Years Ago.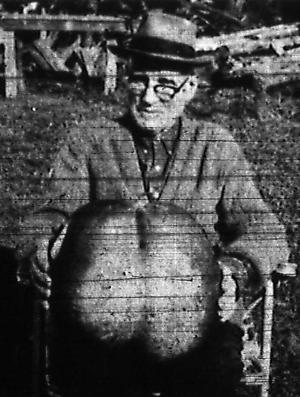 Frank Mings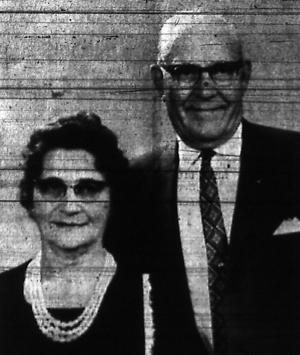 Eula & Willie
Frank Mings, 80 year old Lebanon Junction farmer, displayed an unusual twin watermelon that he grew on his farm.
In Mt. Washington news, Mr. and Mrs. Owen Tyler hosted a dinner at their home for Mr. and Mrs. Everett Stevens, Rev. and Mrs. Earl Cotton, Mr. and Mrs. Roy Smith and sons Jeffry and Tommy, Mrs. Ada Tyler, and Mrs. Eunice Grasch.
Also, Miss Geneva McFarland and Miss Emma Slaughter visited Geneva's brother Grigsby McFarland and wife during a vacation stay in Mt. Washington. They also visited her niece, Mrs. Eleanor McFarland Troutman.
At Lebanon Junction, Mr. and Mrs. Floyd Bryant announced that they had opened their back lot for a picnic ground for all senior citizens to come and take part in the games, including croquet, checkers, rook and a marble game.
Willie Marrow Cundiff and his wife, the former Eula Mae Ice, celebrated their 50th wedding anniversary.
Calvin Cundiff of Lebanon Junction and his wife, the former Georgia Fay Stanley, will also celebrate their 50th wedding anniversary.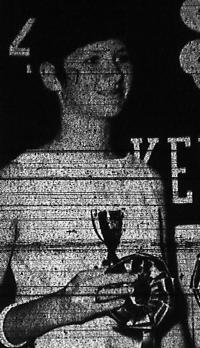 Cheryl Cundiff
Did you know that the Hebron Presbyterian Church kindergarten was collecting S & H green stamps to support their work?
Ricky Holsclaw fell off his pony and had to start school with a cast on his arm.
Cheryl Cundiff scored the highest of any senior competing in the 4-H clothing division at the State Fair.
Principal Marvin Stewart of Lebanon Junction reported that the school's enrollment had topped 700. He named his school's new teachers as Candice Putnam, Shirley Babcock, Sally Beeler, Ann Damron, William Lile, Anne Thomas, Janice Nafziger, Cleveland Taylor, Anita Morgan, Jane Cowan, Robert Hollingsworth, Mrs. Lorz, and counselor William Kolb.
Mr. Shirley Milligan was building a new home in the Wilson Creek area.
Dr. B. C. Moser, who retired as president of the Kentucky Association of Chiropractors, Louisville Division, was elected to the group's Board of Directors.
The local Jaycees named two outstanding young men: Charles T. "Chuck" Crume, and Moise L. Napier.
Sammy Hardy wrote that, despite good efforts by Ray Hammon, Larry Hodge, and Wayne Fearnback, the SHS Rams were defeated by Old Kentucky Home 29-0.
In the Hebron newsletter, we learned that Mr. and Mrs. H. M. Taylor had received word that their son had returned to California after being stationed in Guam. Also Jeff Crumbacker suffered a broken shoulder while playing football.
In Wilson Creek news, Sam Myers' home was damaged by fire.
And vocational business classes began at Shepherdsville High School using the very latest in business equipment including the I.B.M. Selectric, a dictaphone listening station for shorthand instruction, and rotary and tape calculators and Royal electrics.
1943 - 75 Years Ago.
Some of the local boys in the service wrote home to the local paper, thanking the editor for sending them copies. They included Joe C. Hoagland, Leslie H. "Bobby" Rice, William A. Lutes, John D. Harned, John B. Viers, Louis E. Felker, James B. Dawson, Thomas Sipes, Hansford Milligan, Willie L. Samuels, James Noe, Dexter Hatfield, Vernon Druin, Earnest L. Harris, and Morris A. Lambe.
The following school enrollments and teachers for schools that had opened included ...
SCHOOL
ENROLLMENT
TEACHERS
Nichols +
Sunny Side
110
Junia Mae Kneisler, Christina Whiteman, and Glessie Luker
Brooks
39
Doris Beard
Pleasant Grove
54
Beryl Porter and Ruth Newman
Mt. Washington
340
Thomas Omer (Principal), Ann Jones, Margaret Duncan, Madeline Rapier, Ruth Franklin, Anna McGee, Frances Armstrong, Kathleen Harris, Martha Weller, Vivian Omer, Geraldine Simpson, and Mabel Owens
Cedar Grove
103
Eulah Mae Wise, Thelma Roby, and Dorothy Calvert
Clermont
60
Lillie Vertrees and Wilma Bailey
Beech Grove
30
Ruth Armstrong
Cane Run
20
Augusta Dawson
Belmont
85
Mary B. Hill, Zardetti Dawson, and Christine Cruise
Woodsdale
19
Clara Childress
Shepherdsville
573
H. T. Peterson (principal), James A. Hayes, Annie L. Jenkins, Layne Wigginton, Clara Myers, Mary Sodeman, Mary Dawson, Sara Fay Myers, Ruby K. Cooper, Mary F. Jones, Myrtle Frick, Evelyn Masden, Susan Avritt, Eula Mae Matthews, Sarah Newman, Beulah Harned, Laura Richardson, Nell Miller, and Catherine Applegate
Bowman's Valley
62
Thelma Hall and Mattie Owens
The paper anticipated additions in all the schools.
Privates Roy Larimore, Ray Masden, Raymond Coakley, and Burrell Coakley of Ft. McPherson, Georgia, were home on furloughs.
In Mt. Washington news, Maurice Harris entered the hospital where Dr. Hall was scheduled to remove a cataract from his left eye, hopefully restoring vision in that eye.
Lt. Teddy V. Rouse of Rhode Island was with his wife at the home of her sister, Mrs. C. L. Stansbury and his parents Mr. and Mrs. Max Rouse.
And Charles R. Owen of Mt. Washington was promoted to Sergeant at the Fourth Ferrying Group stationed at Memphis. He was a son of Mr. and Mrs. Chester Owen.
Shepherdsville Baptist Church planned a revival led by Rev. J. Lester Lane of South Carolina, with Bro. Sodeman, pastor of the church, leading the music.
In the personal column we learned that Mr. and Mrs. Hugo Maraman and Mrs. Ethel Crenshaw spent a day in Louisville with friends; that Pvt. William Russell of Camp Bowie, Texas, was home on furlough; and that J. L. Raymond and his daughter Zora, and Mesdames Kate Greenwell and Myrtle Barrall were guests of Mr. and Mrs. A. V. Greenwell.
Henry Maraman advertised that he had twenty high producing Holstein cows to freshen within four weeks, and would sell bull calves at $15 to $25 each.
Major Woodford B. Troutman, Army Air Force, visited friends in Shepherdsville.
And W. R. French purchased the Gulf Service Station at the city limits north of Shepherdsville that had been formerly operated by "Pop" Koebke.
1918 - 100 Years Ago.
More than 15,000 acres of land in Bullitt County adjoining the West Point Rifle Range would soon be taken over by the Government. It would cause more than 100 families to have to move. The line started at the Pond Creek Bridge, following the county road up Knob Creek to the Joe Vaughn Ford, then nearly straight to the Mt. Eden Church, then south to Salt River near the John Quick place and then down Salt River. Much of the land was Salt River bottoms and includes some of the best farms in Bullitt County. Much fruit and tobacco was raised on the hill land.
James Davis announced a public sale with this notice: "As the Government has taken over my land, I will sell to the best bidder at my place 5 miles West of Pitts Point, about 6 miles East of West Point on Salt River the following stock, farming implements, household and kitchen furniture." He would not be alone.
John Henry Warden wrote two letters home from Anniston, Alabama where he was stationed. In the first to his mother, Mrs. Ellen Warden, he wrote "Mamma, you see that Maggie and my baby are well cared for, for I may never get to see it again, but I believe I will."
To his wife, he wrote "Tell Beulah May when Papa comes home, he will sing some new songs for her."
John Henry did come home, and he and Maggie lived a full life with several childen on their Bullitt County farm.
During a thunderstorm, lightning struck one of the flues of Leslie Figg's dwelling house, the brick was crumbled and fell, some shingles were torn off. No one was hurt.
Mr. and Mrs. George Armstrong used their auto to take a bunch of chickens to market which brought something over $30.
Miss Lillian Pitman left for Rochester, New York, where she would enter college. She graduated from Shepherdsville High School, and had one year's experience in teaching school. Everybody wished her bon voyage, a successful term in college and safe return to her Old Kentucky Home.
Lt. Irvin Funk spent several days home before leaving for France.
The school at Mt. Washington opened with the following teachers: Prof. McGowan of Eminence, Ky, Principal, with Miss Ethel Wise and Nancy Trunnell as assistants.
This county had a visit from Prof. McHenry Rhoades, State High School Inspector for Kentucky. He reported the Shepherdsville High School as an "A" or first grade, which was the greatest honor ever yet brought to Bullitt County.
Mr. Fred Rush, the popular butcher, bought a bunch of fine cattle and would have extra choice beef for his many customers for several weeks. He was a fine butcher and had a clean and up-to-date meat shop.
J. F. Combs, food administrator for the county, announced that the allotment of sugar to the State of Kentucky for canning and preserving purposes was increased. Every family was entitled to twenty-five pounds.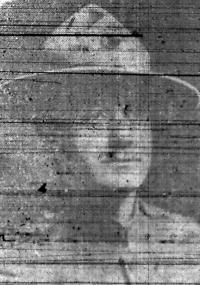 David Millard Troutman
Mrs. Lora Lee Bates and daughter, Miss Evelyn, left for New York, where they would join Dr. S. W. Bates, who was to be stationed there for several months.
Mrs. Maria Foster moved into the S. W. Bates house, on the corner of Main and Water Street, and resumed the keeping of boarders, regular and transient.
And the paper wrote, "This is a good likeness of our esteemed townsman, Millard Troutman, eldest son of Mr. and Mrs. C. F. Troutman. Millard entered the Service in January of this year and was sent over in April. He has been 'Over the Top' several times and writes enthusiastically of making the Germans run. It is very gratifying to know that Millard is making a brave soldier. A letter received by a Louisville man from a soldier in France speaks in high esteem of young Troutman of Shepherdsville who is in his company and how bravely he fights. Millard was always a good boy, polite and obliging to everybody and everybody is glad he is making a fine record and is wishing him a safe return to Old Kentucky." But war has a way of making young men die young. David Millard Troutman lost his life in battle in October.
---
Copyright 2018 by Charles Hartley, Shepherdsville KY. All rights are reserved. No part of the content of this page may be included in any format in any place without the written permission of the copyright holder.
---