It Happened in September
The following article by Charles Hartley originally appeared in The Pioneer News on 26 September 2016. It is archived here for your reading enjoyment.
---
We will look back 25, 50, 75 and 99 years to capture glimpses of what was happening in Bullitt County in each of these years. Today we will focus on the month of September.
1991 - 25 Years Ago.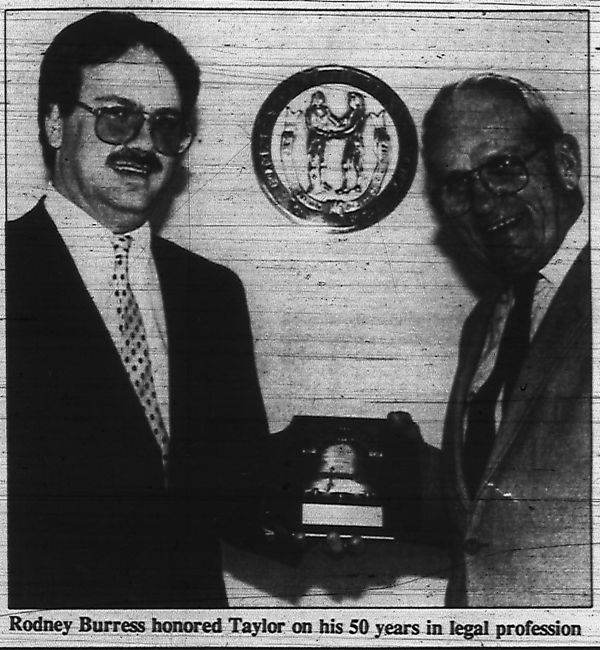 The paper reported the death of Circuit Judge Athol Lee Taylor. The article said that "he was a source of wisdom, like a big brother, and a great storyteller, but would be best remembered as a person who loved the legal profession.
Bullitt Central defeated North Bullitt 26-6 in a game marked by intense heat. North's only score came when Central's quarterback, Nathan Chappell fumbled the ball, and Ryland Hoke recovered it, and then lateraled to Tommy Cox who raced for 45 yards for the touchdown. Central's first score resulted from a pass from Chappell to Bo McCubbins to the Eagle 4, followed by Clifton Whitmer's power run for the touchdown. Kevin Gathof scored their second TD. The final TD came near the end of the game when Chappell hit Chris Murphy for 25 yards and Gathof ran the ball in. Mike Waters' second extra point kick accounted for the final score.
Mr. and Mrs. Chester Knight celebrated their 50th wedding anniversary. The residents of Hebron Estates had one daughter, Mrs. Carol Lee, wife of Daryl Lee, and two grandsons, Robbie and Jason Lee.
Jean Cox of Cedar Grove congratulated Danny Meredith for his purchase of a miniature filly named Holly.
Oretha Ridgway of Nichols reported that the family of the late Albert and Birdie Griffin held their reunion at Sun Valley Country Club. She also reported that Adrian "Flops" Larimore had raised a watermelon that weighed 45 pounds. They served it to 17 guests on Labor Day. She also mentioned Howard Moore who raised a cantaloupe that weighed 24 pounds.
Louise Bischoff of Hebron reported that Mr. and Mrs. John Wigginton of Florida spent a weekend with V. J. Jones and family.
Lois Simmons of Pleasant Grove reported that Fern Lloyd's company included Rita Bandy, Ethel Proctor, Brad Armstrong, and Mary Bell Pate.
Bob Schildknecht was hired by the school system to head up its drug and alcohol prevention program. He led that program until his untimely death in 1996 from a stroke.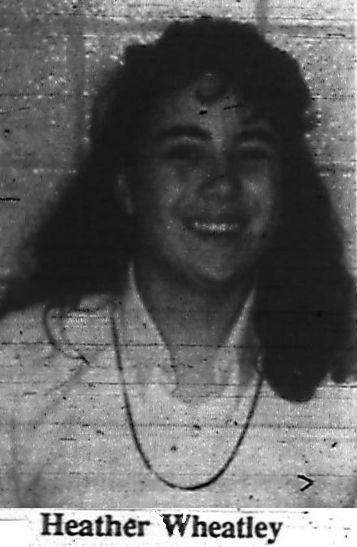 Bullitt East pulled out an 18-16 win over Bullitt Central that came down to a perfectly executed fake punt by the Chargers that had lineman Steve Miles running for a 36-yard touchdown.
On Friday the thirteenth, Bullitt East lost a heartbreaker to LaRue County 21-20. In the closing minute, East quarterback Keith Brogan lofted a pass to Troy Wood in the end zone, but the two-point conversion try failed, leaving East a point short. Meanwhile Bullitt Central defeated Nelson County 35-18 behind Clifton Whitmer's 143 yards on 23 carries. And North Bullitt fell to Marion County 14-7.
Heather Wheatley was named a National Merit Semifinalist. She was the seventh Merit Semifinalist at Bullitt East since the school opened.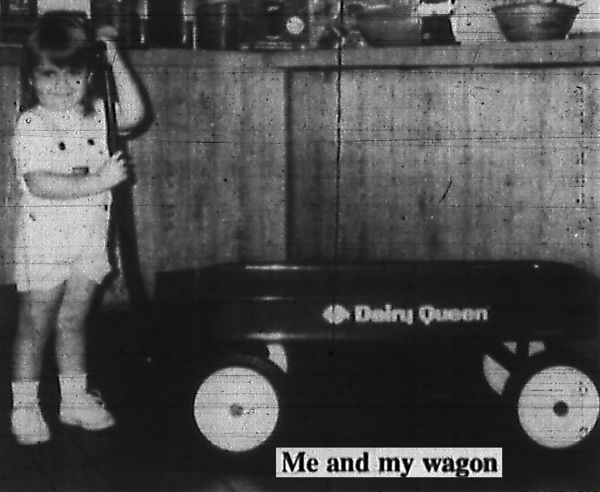 Bridget Spencer of Mt. Washington won the "Radio Flyer" wagon sponsored by Dairy Queen.
Mae Hoagland Cummings, unofficially the county's oldest citizen, passed away at the age of 104. She was survived by two daughters, Mildred Meyers of Florida, and Helen Shields of Shepherdsville.
The Shepherdsville Middle School cheerleaders won the junior high division at the Kings Island 7th Annual Cheerleading Championship. The participating girls included Bethany Adkins, Angie Hundley, Katie Richardson, Gayle Mattingly, Kathy Coy, Melanie Jewell, Nikki Light, Amanda Bennett, Christy Bowling, Johnnie Newton, Jeni Marcum, and Angi Rogers. Rebecca Keller was their sponsor.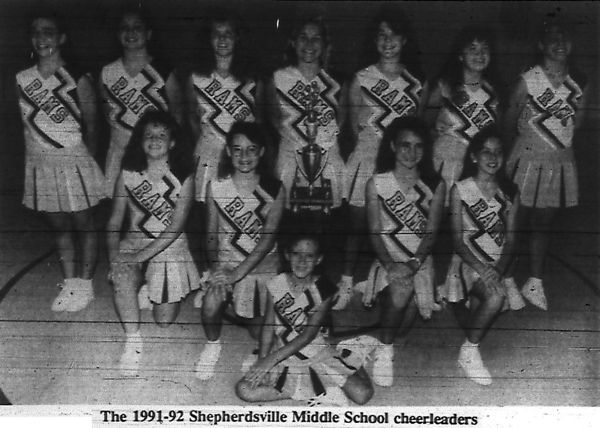 Mona Tamme was named the 1990-91 Volunteer of the Year during the annual recognition dinner held at the VFW Post 5710 of Shepherdsville, for her volunteer work with the Red Cross.
And Janet Gonterman won the apple pie division of the culinary arts competition at the Kentucky State Fair. Yum Yum!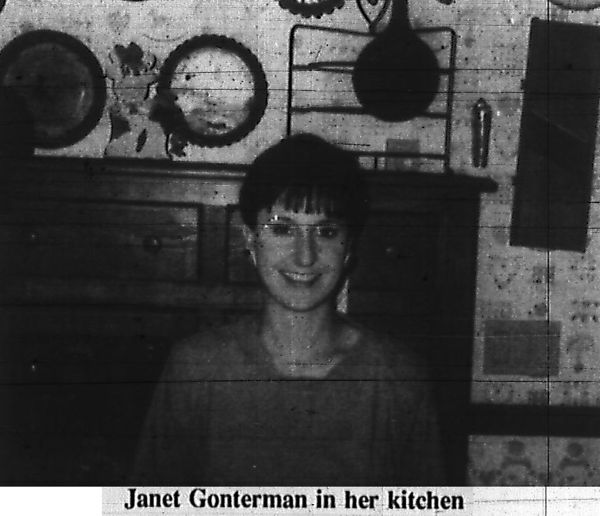 1966 - 50 Years Ago.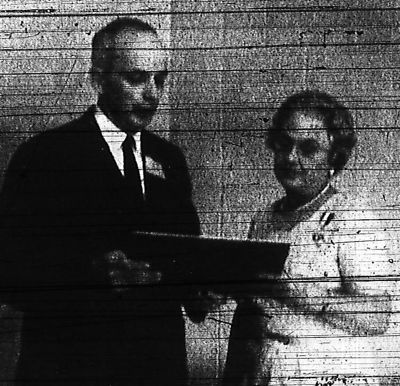 Thomas Jeffries & Mary McClure
Mrs. Mary McClure of Mt. Washington was honored by the Freedom Foundation for her exemplary citizenship qualities as evidenced by her teaching. She was presented with a plaque by Superintendent Thomas Jeffries.
Mrs. Jane McAfee, Mrs. Nell Porter, and Miss Edna Lake greeted third graders to the Mt. Washington school; while the fourth graders were greeted by Mrs. Myrtle Ruth Harris, Mrs. Frances Armstrong, and Mrs. Beryl Porter.
The 1933 S.H.S. graduating class held their reunion at the home of Mr. and Mrs. Charles Croan. Those present included Mr. and Mrs. W. L. Napier, Mr. and Mrs. Freddie Sadler, Mr. and Mrs. Louis Crigler, Mr. and Mrs. Otis R. Ratliff, Mesdames Maurice Crigler, Mildred Robards, Wilma Hatfield, Miss Helen Rhea, Mr. Edward Deacon, Mr. and Mrs. Arthur Church, and Mr. and Mrs. J. E. Smith.
The Lebanon Junction correspondent reported that Mr. Herbie Koch was leaving Kentucky to travel to Stone Mountain GA where he would be in charge of what was probably the world's largest carillon. Both Miss Frances McAllister and her niece, Mrs. Dunlap Roney studied with Mr. Koch.

Mrs. Melissa Ormes
Mrs. Mary C. Holsclaw reported that Bill Roby won a trip to Tokyo, and that Larry Roby won a scholarship to the University of Kentucky.
Margaret Foster of Bardstown Junction reported that Mrs. Ruby Bergen of Akron, Ohio, Mrs. Dee Bergen of Shepherdsville, and Mrs. Edith Cundiff of Bardstown Junction spent a day visiting with Mrs. Inez Williams.
Clyde N. White and Charles C. Myers were selected to be the first guidance counselors for Bullitt County's high schools.
Bullitt County boys did well in FFA competitions at the State Fair. James Frans placed 6th out of 103 participants in the seed identification and judging contest. Charles Bowman placed third in the Brown Swiss Junior Calf competition, and Daryl Bowman placed second in the 3 year old Brown Swiss Cow division. John Price Jr. earned a red ribbon in the Angus Heifer division. Charles Bowman won in the Senior Hampshire Sow division. Dalton Lundy showed three Duroc hogs and took home a blue and two red ribbons. Finally, Charles Bowman, Leeland Stevenson, and Gerald Fulkerson placed third in the FFA Meat Judging Contest.
Wayne Thomas Kappel received his diploma from the Kentucky School of Mortuary Science, and was serving his apprenticeship in Campbellsville.
The following students were 4-H Area Champions: John Price, Linda Tate, Peggy Isgrigg, Steve Tichenor, John Ice, Carol Metcalf, Gail Becnel, and Jimmy Dawson.
Mrs. Melissa Ormes of Lebanon Junction celebrated her 99th birthday. She was the widow of Phillip Ormes and mother of Mrs. Leona Spillman.
James E. Underhill was selected as president of the Nichols P.T.A.
And I wonder if Eric Farris remembers sitting in the Governor's chair when he and his Dad visited Frankfort?
[He does! And he shared this pic with me.]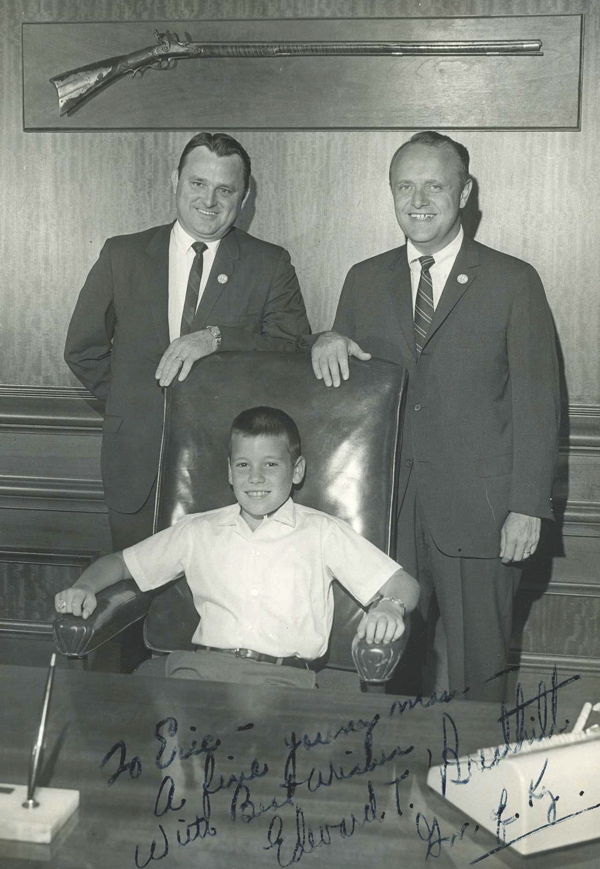 1941 - 75 Years Ago.
The Mt. Washington correspondent reported that Mr. and Mrs. Francis Beeler were at home in their apartment at Vernon Troutman's. Mrs. Beeler was Miss Elsie Cox. Both taught school in Mt. Washington last year and will do so in the coming year.
H. P. Wigginton bought the Write property on Jackson Highway, made some needed repairs, and had two apartments taken by Mrs. Lillie McClure and Mr. and Mrs. Roger Shelburne.
William Longacre and Thomas Preston Joyce were ushers at the wedding of Miss Beulah Barrall to Mr. A. Raymond Logsdon. The Logsdons were making their home in Shepherdsville.
The Shepherdsville school was staffed by Clyde T. Lassiter, Foster J. Sanders, James A. Hayes, Mrs. Annie Laura Jenkins, Miss Beulah Tinnius, Mrs. Frances Hayes, Miss Dorothy Wolfe, Mrs. Lonie Wigginton, Mr. Lafe Monroe, Mrs. Catherine Applegate, Mrs.Sara Fay Myers, Mrs. Nancy Masden, Mrs. Jessie Basham, Mrs. Ida Lee Sellers, Mrs. Louise Bischoff, Miss Carolyn Muir, Miss Cora Ney Hardy, and Mrs. Pauline Williams.
Miss Eula Kathryn Ridgway and Mr. Harold Winston Hardy were married in the Shepherdsville Baptist Church by the Rev. J. Roy Robinson.
In Lebanon Junction, Uncle Otis Dobson resigned his job as janitor of the local high school to accept "an easier job" at the local Baptist Church. He figured that might be a bit easier on a 72 year old man.
The Belmont correspondent reported that Kenneth McCubbins and Clinton Etherton would be greatly missed by their friends as they left for military training.
Miss Jane Hall of Mt. Washington won first prize in the Red Hair Contest at the State Fair. Also, Mrs. J. C. Gentry received first prize on checkerboard cake at the fair.
W. T. Stephenson wrote a letter from Michigan where he and the following men were enjoying a fine fishing trip. They included Uncle Billie Morrison, Carl Daugherty, James Hardaway, Howard Roby, Dick Wathen, Will Howard Nusz, and Dr. Kirk. He reported that Jim Hardaway caught the biggest Pike.
Miss Elizabeth Robertson of Lebanon Junction moved to Louisville to begin clerking at Kaufman & Straus. And Mr. Sam Myers of Wilson Creek was working at the L. & N. Shop in South Louisville.
Rev. E. J. Risinger, who had been pastor of the Sunnyside Church in Barralton for 17 years, resigned.
The Mayme Burkhalter Circle had a program given on missions by Mrs. Mary Collings and Mrs. Cora Roby.
The paper ran an advertisement for the Renfro Valley Barn Dance to be held at the Shepherdsville Auditorium for the benefit of the Pitts Point School. Homer and Jethro would be there.
And Mrs. Martha Dawson and daughters Zardetti and Augusta spent several days at West Baden Springs in Indiana. (A quarter-century later, the two daughters taught this fellow a thing or two about teaching school.)
1917 - 99 Years Ago.
Mrs. Mary Elizabeth Richardson Brooks, widow of Shep W. Brooks, passed away 19 Aug l9l7. They were married 26 Dec l855, and lived more than 50 years together. To them were born l3 children, ll of them surviving: Mrs. Mary Price, Okolona; Mrs. Mattie Ridgway, city; Mrs. Richard Priest, Indianapolis; Mrs. W. J. Bell, Miss Irene Brooks; Chas. and Ben Brooks of Indiana; Joe, John, Clarence, and Tom Brooks. Her remains were interred in Hebron Cemetery, and the pall bearers were six grandsons, Lieut. Arch Priest, Preston Ridgway, Logan and Jesse Brooks, Charles and Clarence Priest. Mary Elizabeth was born 8 Jan 1838 in Harrison County IN to Thomas and Martha (Warner) Richardson.
Mr. F. O. Carrithers, aged 83 years, one of the wealthiest and most prominent farmers of Bullitt County, died at his home near Mt. Washington, September 3rd. He was born in Indiana, but came to this county where he spent the greater part of his life. He left the following children: Charles and Alfred of Louisville, Will, George, and Adam Carrithers of Mt. Washington and two daughters. Mrs. John F. McClure and Mrs. Charles Fisher of Mt. Washington.
The first ten young men from Bullitt County left for Camp Taylor - the place of mobilization for Kentucky drafted men. They included George J. Stephens, Dudley Spangenberg, Richard J. Metcalfe, Robert Browning, Bert Jones, William Hopewell, Edward Stillwell, George E. Simmons, James P. Lee, and James L. Williams.
The second contingent from Bullitt County included Clemmens Manning, Thomas. J. Tyler, Irving D. Snelling, Frank W. Field, Elmer Samuels, William G. Lee, Orren W. Roby, Rufus H. Alcorn, John Salmon, William H. Masden, Bert T. Quick, Hugo Crenshaw, Roy W. Applegate, and John. W. Wade.
W. M. Logsdon of Clermont advertised that he had a new ton and one-half truck and could haul sheep, hogs, or anything else. You could contact him at Murphy, Barber & Co. at Clermont.
Joe Dickey and wife, Will Gentry and wife, Herman Owen and wife, T. H. Wise and wife, Miss Wava Dickey, little Misses Ina Fern Gentry, Leola Owen, Ruby Dickey and Master G. C. Owen were guests of Mr. and Mrs. George Armstrong.
Miss Janie Chappell, a former teacher of this county and a daughter of J. E. Chappell of the County School Board was recently married to Mr. Roy Masden, a well known young farmer of the Hays' Flat section. Miss Verna Snawder and Mr. Vernon Holsclaw were also married at the same time and place.
Miss Lillian Miller gave a party in honor of Miss Edna Millett, Saturday evening, Sept. lst. It was a lawn party and held on the spacious lawn of Mr. O. Scott. Miss Lillian was assisted in receiving by Miss Mary Scott and the two pretty visitors, Misses Edna Millett and Aline Bush of the city. Dainty refreshments were served.
Dr. S. H. Ridgway, Miss Bertha Trunnell and Miss Willie May Ridgway were in Louisville Sunday, visiting Miss Maggie Ridgway, who was operated on and who is improving very satisfactorily.
And S. B. Simmons placed a warning in the paper. It said, "To the people using Paraquet Water. If my gates are found open any more, I will close the place to the public, and no one will be allowed in the grounds." It seems that the water was still popular, years after the Paroquet Springs Spa closed.
---
Copyright 2016 by Charles Hartley, Shepherdsville KY. All rights are reserved. No part of the content of this page may be included in any format in any place without the written permission of the copyright holder.
---