It Happened in September
We will be looking back 20, 45, 75, and 90 years to see what was being printed in The Pioneer News in 2001, 1976, 1946, and 1931 in the month of September.
2001 - 20 Years Ago.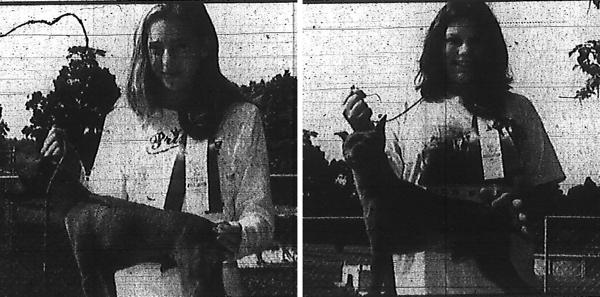 Jennifer & Penny
Jennifer Cundiff and Penny Bullock of Brooks had "best in breed" wins at an Ohio Kennel Club show. Both were pictured in the paper, Penny with her Fox Terrier Skippy, and Jennifer with Newbie.
Phil Yochim, staff writer for the newspaper, wrote an interesting article about Peg's Therapeutic Ponies located on Wales Run Road, and operated by Peggy Edwards. The article described the work of a horse trainer named Paul Vance who used "the natural way" to train horses and prepare them for the saddle.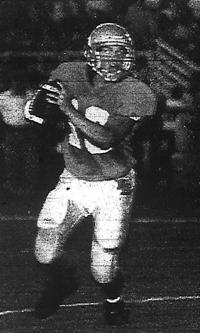 Landon Collins
Senior running back Jon Kirk of Bullitt Central found himself running the offense against a superior Bullitt East team when quarterback Gary Vanhoozer and backups Justin Crady and Nic Owens all suffered injuries.
Bullitt East quarterback Justin Broughton also went down early in the game, but Landon Collins, an experienced back-up, led the Chargers to an easy home victory.
One of the few bright spots for Central was when Brandon Close darted 20 yards to near mid-field for a first down. Otherwise it was mostly East as they cruised to an 86-0 win.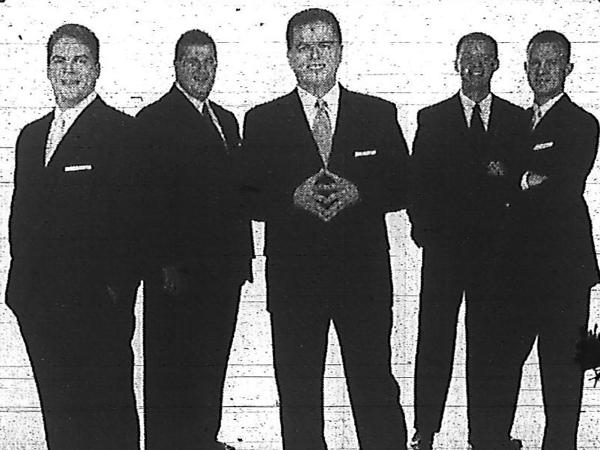 The Journeymen
In their game against Fairdale, Bullitt East came away with a 30-24 victory largely based on two kick-off returns for touchdowns. In the first half, Shawn Holbert returned a kick-off 80 yards for a TD. Then, with two seconds left in the game, Matt McIntyre picked up the kick and raced 70 yards to the end zone for the victory.
Tom Barr wrote that all but a 25 foot portion of the courthouse could fall victim to the wrecking ball. County Judge Ken Rigdon said it would be too costly to try to renovate the old courthouse. Magistrate Dewey McClearn suggested that the front portion be used for some kind of museum.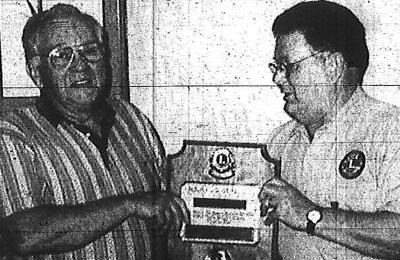 Bill Cox & Bill Monhollon
Stacey Murphy, David Grant, Michael Mardis, Anthony Facello, and pianist Brad Kemp of the Journeymen celebrated the group's 18th year with a concert at Pleasant Grove Baptist.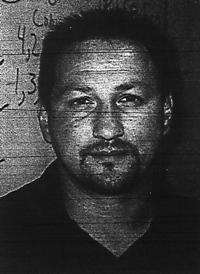 Jeff Phelps
Jeff Phelps went from being a regular volunteer at Mt. Washington Middle to being one of its new teachers. Phelps had also served as an assistant football coach for the community's youth football team. Earlier he had spent more than 15 years working on aircraft for the Air Force.
Long-time North Bullitt Lions Club member Bill Cox received the highest honor the organization can bestow on a member by receiving the Melvin Jones Fellowship honor. It was presented to him by fellow-member Bill Monhollon.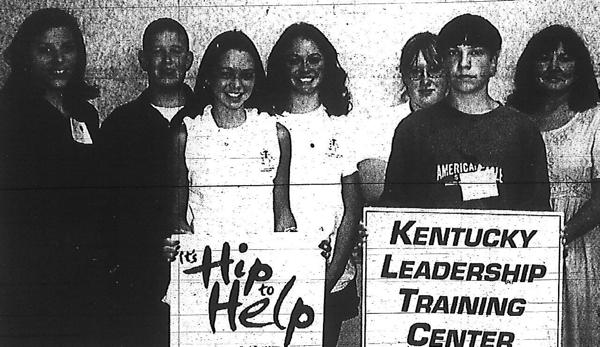 Red Cross Youth Awards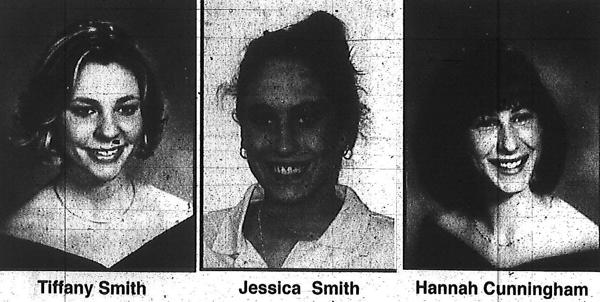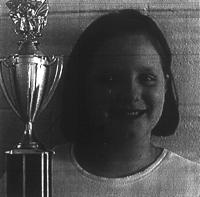 Toni Wheeler
Toni Wheeler, daughter of Kendra and Darrin Wheeler of Shepherdsville, and a 5th grader at Brooks Elementary, won the North Central Kentucky Spelling Bowl held in Elizabethtown.
Nathan Britt, Lynsey Wurzel, Whitney Wurzel, Amanda Phelps and Matt Morrison were honored by the local American Red Cross Service Center for their service to the chapter. Pictured with them were Amy Olson and Susie Fields.
Bullitt East students Tiffany Smith, Jessica Smith, and Hannah Cunningham represented their school's FBLA chapter at the national meeting in Florida.
Jon Burleson, staff writer for the newspaper, wrote about Shepherdsville police officers Dan Patchin, Greg Terry, and Adam Wheeler, along with Bullitt County Deputy John Meyers who were serving as School Resource Officers.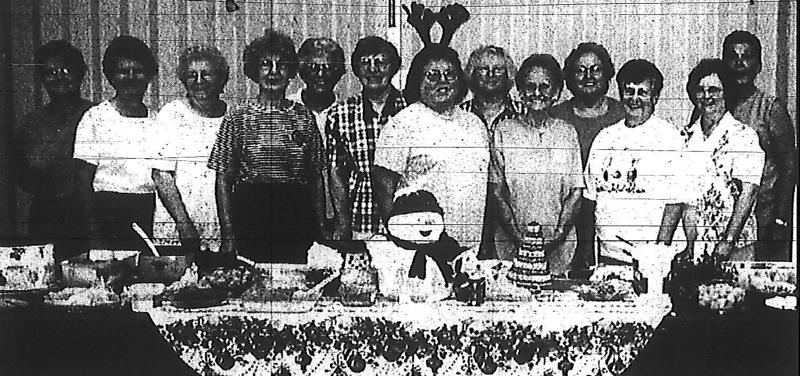 Heritage Homemakers
The Heritage Homemakers group was pictured in the paper. They included Wanda Cox, Lucy Combest, Kathleen Potts, Roxie Bishop, Opaline Roark, Jennettia Crigler, Nora Etta Kleinhelter, Doris Hargrove, Rosa Cornett, Doris Edgar, Kathy Etherton, Betty Brinner and Brenda Eddington.
And lest we ever forget, on September 11th a series of four coordinated terrorist attacks included two that brought down the World Trade Center in New York City, and another that significantly damaged the Pentagon in Washington, D.C.
1976 - 45 Years Ago.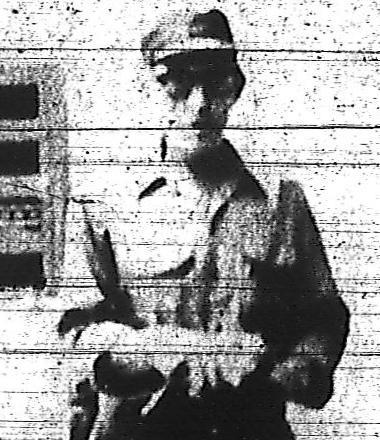 Theodore Harris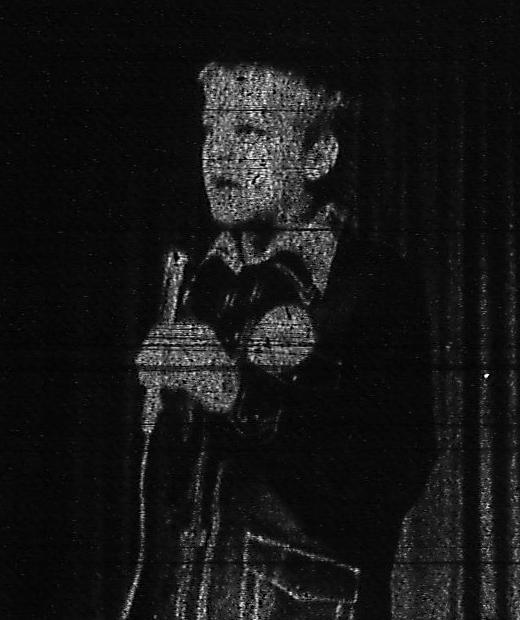 John Shafer
Theodore Harris, who had served as custodian at Lebanon Junction Elementary for 14 years, was pictured at his retirement from the school.
Clara Simmons of the Pleasant Grove community wrote that Ronnie Horsley, choir director at Pleasant Grove, sang "Rock of Ages" for J. B. Proctor in honor of J. B. and Rosco Proctor's mother, Mrs. Ora Proctor who had died 37 years earlier.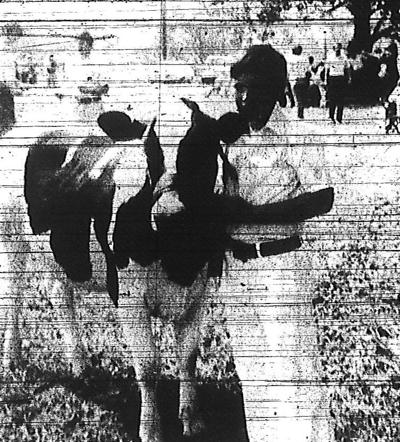 Tony Koch
Tony Koch, a student at St. Aloysius School, was pictured in the paper with the dairy cow he showed at the 4-H show in Shelbyville.
Oretha Ridgway of Nichols wrote that Gary Miles, son of Mr. and Mrs. Raymond Miles Jr., was leaving for Florida to enter the Florida Institute of Technology to study marine biology.
John Shafer, a 12-year-old from Cedar Grove, won the County and Area 4-H Talent Show. A son of Mr. and Mrs. Wayne Shafer, John was a student at SJHS.
Mary Whitworth of the Cedar Grove community wrote that Mr. and Mrs. James Orkies and son Christopher were returning to Germany after visiting her parents, Mr. and Mrs. James Kuykendall and other relatives.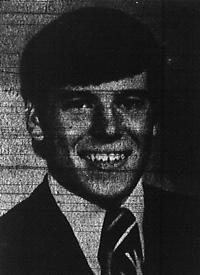 Eric Farris
In the personals column we learned that Mr. and Mrs. Rogers Shelburne visited Mr. and Mrs. Headie Lee and family in Midland, Michigan. We also learned that Mrs. Myrtle Jackson and brother were moving to their new home on 44 East; and that Mr. and Mrs. Bill Owen Jr. and family returned home from a trip to Opryland.
Eric Farris, a 1975 graduate of Bullitt Central, was pictured along with comments about his success in his freshman year in college.
The Hebron community correspondent wrote that Eva Garr, J. A. Crumbacker, Floyd Tinnell, Bobby Dever and Walter Crumbacker drove to Bardstown to see a performance of the musical "Hello Dolly." They also dined at the Talbot Inn. She also mentioned that the Hebron Church ladies were meeting at the home of Mrs. Bebe Hamilton, and that the Hebron Kindergarten would be starting on September 7th.
In other news, the Zoneton Homemakers met at the library where Mrs. Maurine Fisher gave a detailed lesson on holiday decorating.
About 200 people attended a grand reunion of a school district that first opened in the mid 1800s under the name Log Cabin College. Later the name was changed to Needmore, and still later to Pleasant Grove. The school closed on 12 May 1948.
The oldest reunion attendee was Mrs. Ester (Hoskins) Nutt; the youngest was Mrs. Roxie Clark. They were pictured together. In another picture we found Mrs. Gladys Murphy Tunner of Springfield, Edward Palmer from Cincinnati, Joe Fultz from Bradenton, Florida, and John Hoskins from Memphis who were among those traveling the farthest to attend the reunion.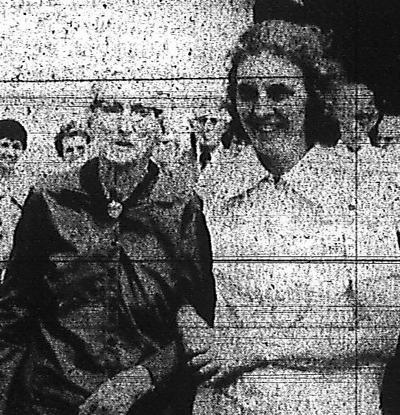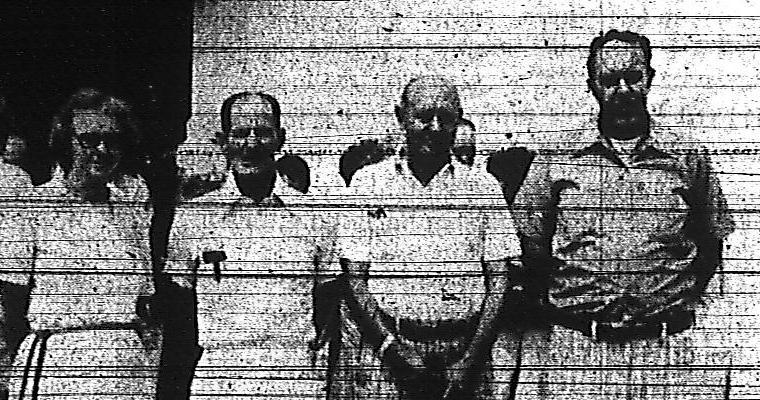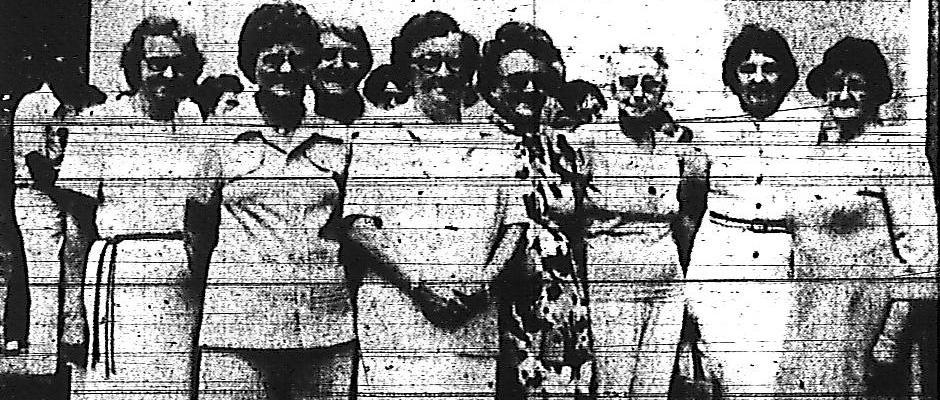 In a third picture, we found a group of former teachers at the school, including Gladys (Murphy) Tunner, Dorothy (Hedges) Fackert, Mary Frances (Hedges) Jones, Myrtle Ruth (Stansbury) Harris, Hilda (Smith) Cornell, Mrs. Beryl (Hall) Porter, Mrs. Neil Vernon (Bell) Porter, and Virginia (Gardner) Shelburn.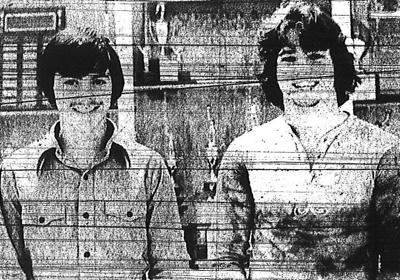 Montgomery & Raymer
Dwayne Montgomery and Tony Raymer were pictured in the paper after winning Bullitt Central Cougar-of-the-Week awards.
In a sad note, Gladys Shepherd of the Bullitt Lick community reminded us of the death of Jasper Keith, who drowned in Salt River.
Mary Kay Shepherd of Lebanon Junction wrote that Dan Meadows had driven to Charleston, South Carolina with Maxine Meadows and Laverne Bryan where Dan's car was shipped to Puerto Rico. The ladies took a flight back home while Dan flew to the island where he had taken a job teaching 2nd grade at the Roosevelt Road Naval Base.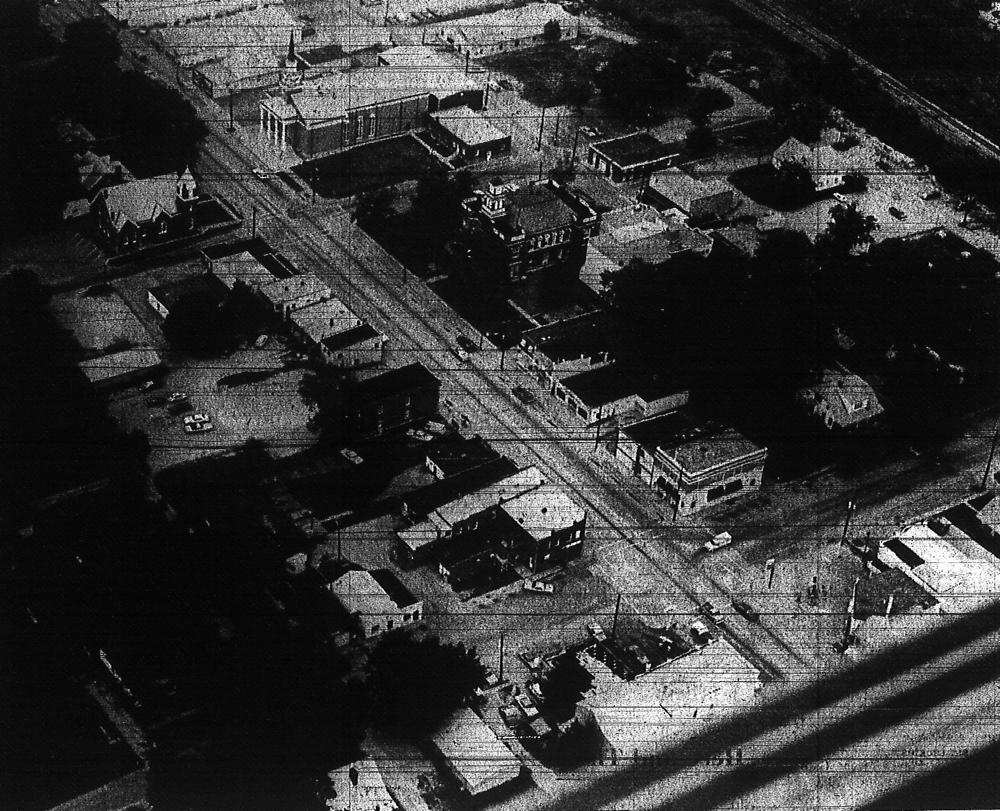 And an aerial photo of downtown Shepherdsville taken from a plane piloted by Dave Harlow reminds us of the many changes that have occurred in the past 45 years. The old courthouse and jail were there, as was the old Western Auto store; not to mention the number of changes just to the west of the railroad tracks.
1946 - 75 Years Ago.
The funeral of Mason Williams was conducted at his home by his pastor, Rev. Shows of the Hebron Church. Mr. Williams was a son of the late Samuel B. and Martha Magdaline (McCloskey) Williams, and was married to Blanche Braithwaite, daughter of the late Richard W. Braithwaite. He was survived by his widow, and two brothers, Burks Williams and Herman T. Williams, as well as other relatives.
The Lebanon Junction correspondent reported that Mr. and Mrs. James William Strange hosted a family reunion at their home with many family guests. Mr. Strange was a retired railroad conductor. He and his wife, the former Bettie Wickershan, had lived in Lebanon Junction all their married lives, as did many railroad folks.
Also at L.J., Billie R. Miller, back from the service, was living with Mrs. A. D. Miller while taking his senior classes under Reason G. Newton, who was also back from the service.
The Hebron correspondent wrote that Meta Riley (Cooper) Emberger, wife of Roman Emberger, had been made a member of the faculty of the University of Louisville College of Liberal Arts.
The home dry cleaners headquartered in Roy L. Maraman's store was managed by Clyde Heskamp who was married to Alice Rhea Sanders, sister of C. V. Sanders.
In Mt. Washington notes, we learned that Mr. and Mrs. Crume Roby held a surprise birthday party for their daughter Jean who was 17. Also Mr. and Mrs. E. L. Ryan held a party for their daughter Mildred.
The Personals column included the note that Mr. and Mrs. Frank Scroggins and son Billy had spent several days with her brother in Lexington; and that Mrs. Opal Simmons and her family had moved to property on Abbott Street.
Bullitt County schools opened with record attendance. C. V. Foreman, county superintendent reported at all schools except Mt. Elmira and Mt. Olive had teachers in place. The teachers met and formed the Bullitt County Teachers Association, and elected W. O. Anderson president, and Ann Taylor secretary.
A lot of property changed hands in Mt. Washington. C. A. Long and J. E. Fisher sold their hotel building to Roy Gentry of Louisville; S. B. Fox sold the log house on Main Street, known as the Bridwell place, to Mr. Drahe and Mr. Schleeter of Buechel; and Jack Barnes purchased a two acre lot from R. E. McAfee where he planned to build a house.
At the Southern States Cooperative meeting held at Shepherdsville High School, more than 180 local farmers attended. A. H. Harned of Bardstown Junction acted as chairman of the meeting. W. C. Harned of Lebanon Junction and Howard Hardin of Shepherdsville were elected to the local advisory board succeeding Russell Jenkins and Henry Maraman. Also Mrs. Tom Huffman of Bardstown Junction and Mrs. J. P. Stark of Lebanon Junction were the new members of the Farm Home Advisory Committee for the area, replacing Mrs. Emmett Coakley and Mrs. Homer Myers.
The sixth grade class at the Shepherdsville school elected officers, including Charles Barnes as president, Ramona Shepherd vice president, Betty Larimore secretary, Martina Coy treasurer, and Burldean Tracy as reporter. Also, the school's high school curriculum had been enlarged to include French, Business Practice, and Agriculture.
And a blurb at the bottom of first page mentioned that Jimmy Hardy, Billy Simmons, and Gay Hamilton were enrolled at the University of Kentucky.
1931 - 90 Years Ago.
Dick Clark, trustee for the Belmont school used the proceeds from an ice cream supper to "tone up" the school building. Correne Beeler and John Cruise were the teachers there.
One of the events of the annual county school fair was the selection of the "ugliest school trustee." In the running were Roy Maraman, Arthur Ice, Claud Hill, Charles Lowe, Granville Welch, Burks Williams, German Branham, James Laveley, Dick Clark, Fisher Harned, Ira Newman, Walter Coakley, Charles Starks and other "notables."
D. E. Wagoner, principal of the Hebron school, and Consuelo Simmons, his assistant, wrote a piece in the paper about the school's planned opening. Pupils were encouraged to bring their last year's books to school on the first day. It read, "The ones you cannot use will be sold if you so desire. Fifty to sixty percent of the original cost is a fair price for second hand books. Books that are not sold will be returned to their owner or turned over to Superintendent Ora L. Roby for distribution among the poor children of Bullitt County."
Schools did not all open at the same time. The Bardstown Junction school had opened on August 8th, and reported that the following students had been present and on time every day of the first month of school: Dorothy Ricketts, Etta Pearl Stansbury, Junior Perkins, Conie Pugh, Altha Perkins, Samuel Hatfield, Walter Ricketts, Elenora Hatfield, Burford Rice, Leslie Shaw, Billy Moser, Dorothy Cruise, J. W. Hatfield, Evelyn Masden and Richard Shaw.
Their teacher, Mary Blanche Hill, listed members of the school honor roll which included Richard Shaw (8), Evelyn Masden and Jimmy Cruise (7), Billy Moser (6), Leslie Shaw and Buford Rice (5), Walter Ricketts (4), Altha Perkins and Alma Larkins (3), Junior Perkins (2), and Alberta Hoagland, Dorothy Ricketts, Etta Pearl Stansbury and Dorothy Larkins (1).
Thelma Philpot, the teacher at the Victory school also identified the school honor roll: Thelma Close (8), Emma V. Harris and Francis Simpson (6), Pari Lee Roby (5), Mary D. Roby and Anna B. Harris (3), J. B. Close, William McCubbins, Loretto Simpson, and Cecil McCubbins (2), and Johnnie Harris, Willie Mae Hilton, Leroy Sharp, Sammie Roby, Henry McCubbins and Agnes Light (1).
The Cedar Grove correspondent offered sympathy to W. C. Lanham's misfortune in sticking a pitch fork in his foot. She also wrote of several members of the Bolton family. Lucile Pulliam spent a week with her mother, Mrs. J. H. Bolton. Bertha Mae Bolton was visiting in Louisville. Mrs. Mary Bolton was among those visiting Mr. and Mrs. Rudell Troll. And Mrs. Jennie Bolton was also visiting in Louisville.
J. R. Zimmerman, local attorney, began his series of articles under the title of "Prepared by the Devil's Devil." In it, he remembered what things were like when he arrived 40 years earlier to supervise the construction of the old stone jail. He began by saying, "The small court house was down in the middle of the public square. Troutman's frame store was the most imposing looking building in town, while the building in which 'Deacon' J. F. Collings sells his wares was the newest."
The title comes from the nickname "printer's devil" given to an apprentice in a newspaper's print room whose tasks ranged from preparing the ink, paper and type for the presses, to cleaning the machines, and running any other errands delegated by the printer.
He would continue this column for quite a spell, and Betty Darnell has collected these columns into a booklet with the same title which can be purchased from her or from the Bullitt County History Museum.
---
Copyright 2021 by Charles Hartley, Shepherdsville KY. All rights are reserved. No part of the content of this page may be included in any format in any place without the written permission of the copyright holder.
---