It Happened in September
The following article by Charles Hartley originally appeared in The Pioneer News on 28 Sep 2020. It is archived here for your reading enjoyment.
---
We will be looking back 24, 50, 75, and 100 years to see what was being printed in The Pioneer News in 1996, 1970, 1945, and 1920 in the month of September.
1996 - 24 Years Ago.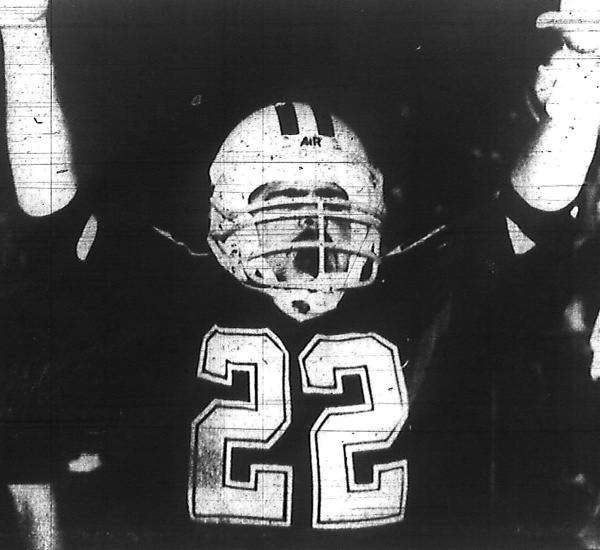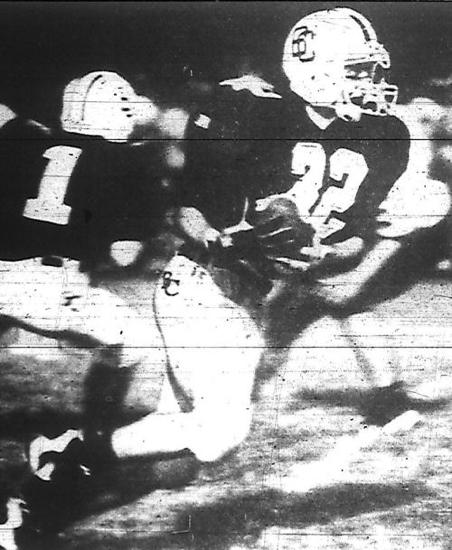 Bullitt Central senior Jason Thiel was pictured whooping it up during his school's 41-13 football victory over Bullitt East. Also pictured was junior Scott Etherton who rushed for 181 yards and three touchdowns for B.C.
North Bullitt opened their football season with a 29-7 win over Bourbon County. The Eagles were led by quarterback Ricky Spears who rushed for one touchdown and passed for two others. Brennan Conway added a 36-yard field goal.
A week later, the Eagles put a whipping on Bullitt East 66-22 with Spears hitting junior Danny Bell with three touchdown passes.
Tom Pack, Bud Settles, Tom Kelly, Trina Summers, and Elaine Wilson were members of a committee making plans for the county's bicentennial celebration.
The Roby Raiders cheerleaders had a baby pageant with a number of winners including Megan Walls, D. J. Keith, Dustin Kole Wyssbrod, Raven Cothern, Brennan Nevill, Keisie Jean Simmons, John Cody, and Deaven Brutsher.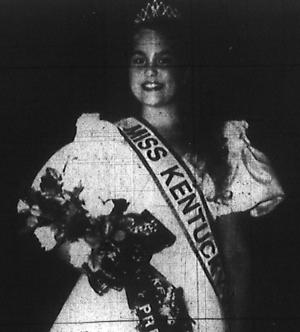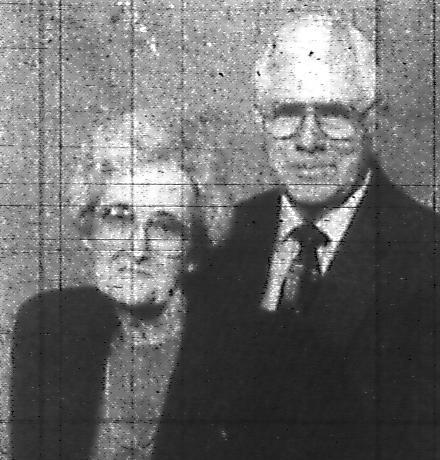 John and Anna
Autumn Gabrielle Napper was crowned Miss National Pre-Teen Princess for Kentucky, and would compete in the national pageant in November.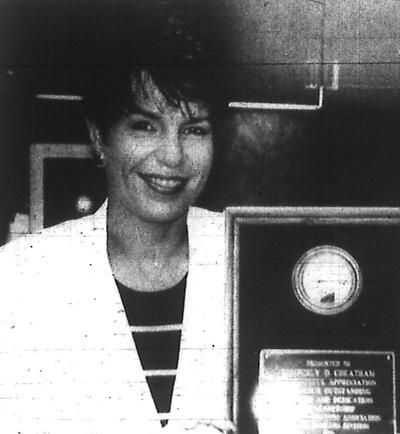 C. A. Hourigan of Lebanon Junction bought half an alley for a dollar. John L. Thompson had purchased the other half for a dollar in 1976.
Kim Cheatham of the People's Bank of Mt. Washington was selected as the 1996 Young Banker Division Leadership Award winner by the Kentucky Bankers Association.
John and Anna Rhea (Adams) Settles of Mt. Washington celebrated their 50th wedding anniversary. Their children included Cathyann Pike, Norma Rae Mattingly, and Randolph Settles.
Ann Marie and Melissa Thompson, daughters of John and Diane Thompson rode away with several honors at the State Fair 4-H competition. Ann Marie rode Me Nifty Cash, a gray gelding, to a first place award in showmanship, while Melissa rode a sorrel mare called Shesa Noveltee to first place in horsemanship.
The Red Cross golf classic held at Bardstown was won by the team of Dave White, Phil Boyd, Bill Kegerreis, and Russell McCubblins. The second place team included Ralph Miller, Brandon Filiatreau, Wes Wilkinson, and Donald Coy. Finishing third were Ray Mattingly, Buddy McCubbins, Martin Tucker, and Patsy Grigler.
Rebecca Sexton was pictured in an article about her job as assistant principal at Mt. Washington Middle School.
In other school news, Roger Hayes left his job as assistant principal at North Bullitt to take on the role of Roby Elementary principal, replacing Larry Belcher who had become the system's buildings and grounds director.
And Leslie McIntosh, a long-time Hebron Middle School teacher, became the new principal of Lebanon Junction Elementary, replacing Linda Littlejohn who left to take a job with the Department of Education.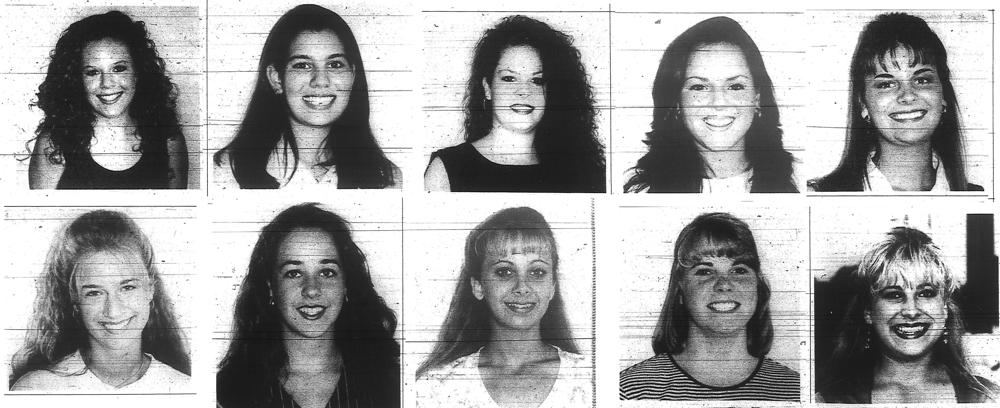 The 1996 Junior Miss Scholarship Program was held at Bullitt East High School in September. The contestants included Leslie Anne Rowland, Marcie Lynn Downs, Traci LaGail Rupard, Laura Lee Ferguson, Jodi Anne Harris, Jennifer Marie Duranceau, Leanna Gayle Walker, Julie Marie Anderson, Amanda Janae Long, and Casey Marie Underhill.
Jodi Harris was selected as the winner, Leslie Rowland placed second, and Leanna Walker was third.
And at the annual Red Cross Volunteer Recognition, many were awarded pins for their service including Helen Underwood (25 years), Willie Mae Hackett, Gerald Tamme, and Mona Tamme (20 years), Peggy Childers, Betty Jo Fisher, and Evelyn Hale (15 years), and Carol Douglas, Mildred Hatfield, and James Wilson (10 years). James Wilson received the Exceptional Volunteer award for his tireless efforts, and Joseph Rhea was awarded as the Volunteer of the Year.
1970 - 50 Years Ago.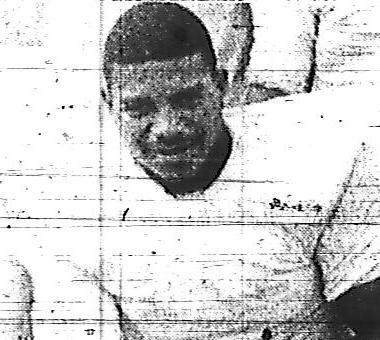 Gary Roberts
Gary Roberts was picked by the Kentucky High School coaches as a potential All-State Player. Gary played fullback for Bullitt Central. A senior, he was president of his junior class, and also an all-district basketball player the previous season.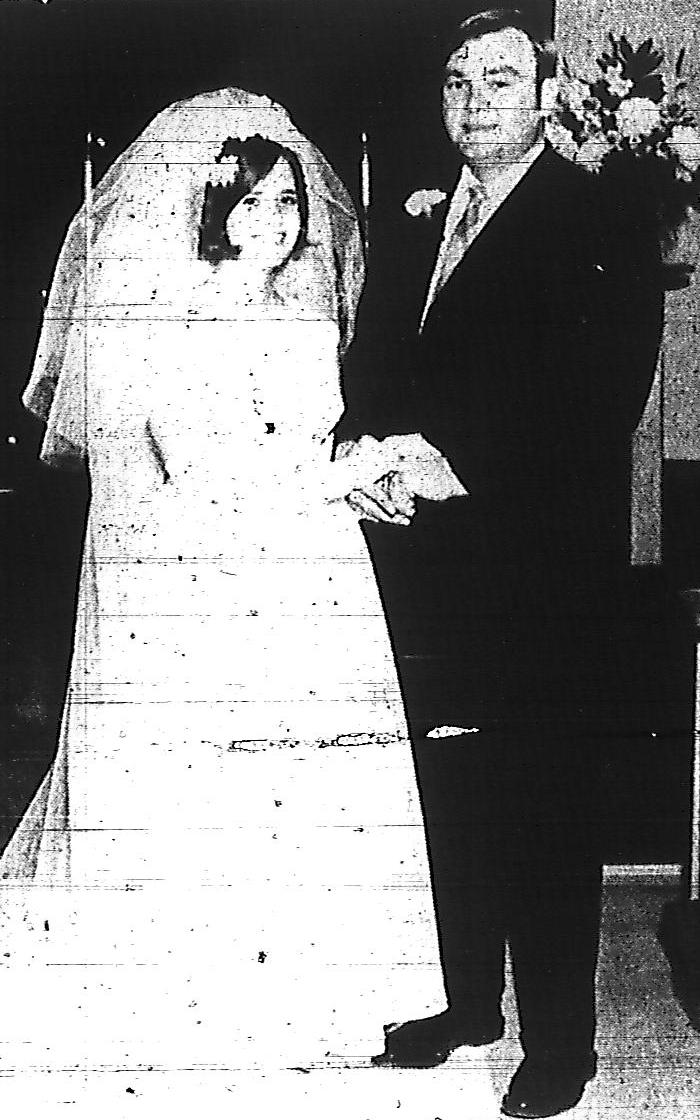 Rick and Martha
Roberts gained 202 yards in his team's victory over Eminence 6-0. Also performing well was Danny Deweese who had nine unassisted tackles, including two on the quarterback behind the line of scrimmage.
Rev. Dan Masden officiated the wedding of Miss Martha Kerns to Mr. James Richard Cundiff. The couple would be living in an apartment at the University of Louisville where Rick was a student at the medical school.
The Pleasant Grove correspondent, Clara Simmons reported that Mr. and Mrs. Wallace Armstrong hosted Mr. and Mrs. Dale Gentry and family, Ronnie Bleemel, Mr. and Mrs. Shirley Armstrong and family, and Mr. and Mrs. James Robinson for a Sunday dinner. She also reported that Mr. and Mrs. Jessie Jones spent a day with his sister, Mrs. Elbert Bass.
Clara also reported that Brad Newton and David Proctor had been her dinner guests, and described them as "mighty fine boys."
The Hebron correspondent reported that Mike and Steven Robey, and Wayne Jenkins had returned to school at University of Kentucky; that Mrs. Paul C. Smith was recovering from a bout with pneumonia; and that Mrs. Sue Jolly and children were guests of Mr. and Mrs. Robert Ball.
She later reported that Elizabeth Brooks and Mary Cynthia Holsclaw were luncheon guests fo Ethel Ridgway.
The obituary of Arthur M. Fischer mentioned his children, including Wilbur "Bill" Fischer. Most of the area's sportsmen (and women) knew Bill and Mary Fischer well, as they owned and operated Fischer's Sporting Goods on Buckman Street in Shepherdsville.
Susie Cave of Lebanon Junction congratulated Jerry and Sharon (Geoghegan) Sweat on the birth of a baby boy. She also reported that Mrs. John Abell had returned from a visit with her grandson, R. L. Abell, at Independence, Kentucky where he was assistant principal at the local high school.
She later reported that Mr. and Mrs. Mike Russavage were the proud parents of a baby boy; and that made Mr. and Mrs. Richard Walter grandparents, and Ella B. Abell and Edith Walker great-grandmothers.
Bullitt Central cheerleaders Kay Alcorn, Ellen Givhan, Libby Cardwell, Terri Boston, Terri Caudill, and Gayle Britt had a profitable summer camp at Vincennes, bringing home many ribbons.
The newspaper Personals column reported that Mrs. Betty Larimore was at St. Joseph Infirmary, and her son Craig was preparing to enter Western Kentucky University. Also reported was that Mrs. Hallye Hibbs had returned home from visiting with her sister, Mrs. Elizabeth Figg in Indiana.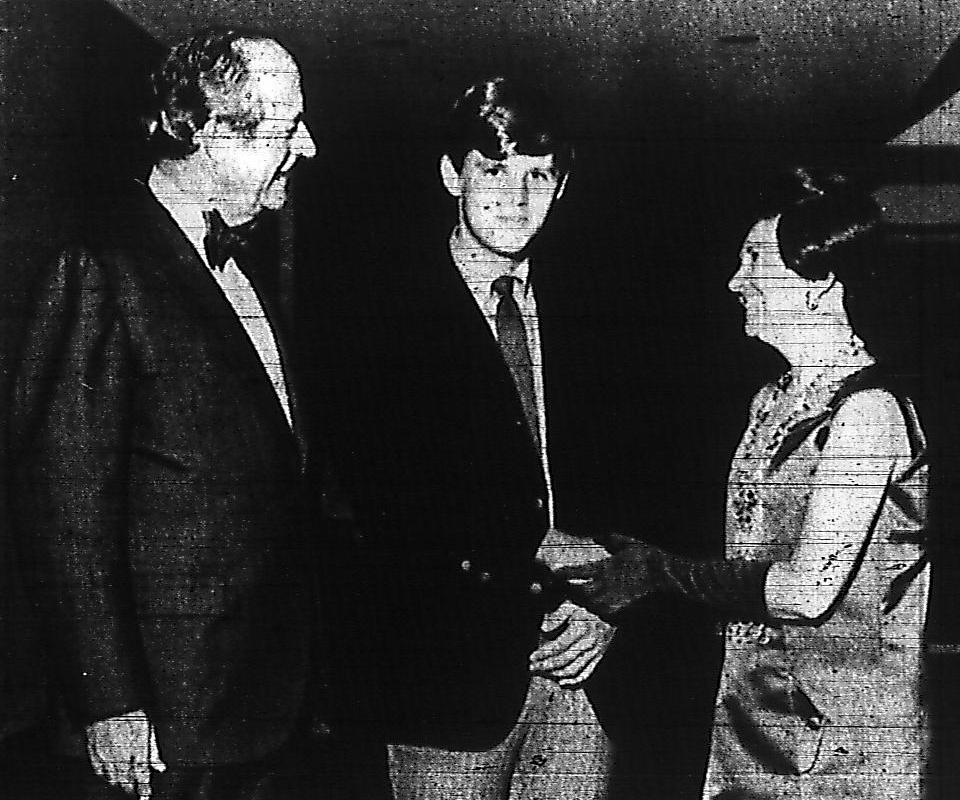 Also reported in that column, Thelma Bergen, Evelyn Mapother, Wilma Hatfield, and Geneva Mann spent a weekend at Rough River.
G. K. Bass of Mt. Washington reported that Geneva and Royce Swearingen had moved into their newly constructed brick home; and that Virginia and Leo Bleemel were almost ready to move into their new home.
Fonda and Gene Harrod moved into Royce Swearingen's old home.
And Scott Morrison of Shepherdsville enrolled at Morehead State University where he was pictured with MSU President and Mrs. Adron Doran during a reception for new students.
1945 - 75 Years Ago.
Diphtheria, which had been spreading in Kentucky, took the life of Madeline Devers, a two-year-old living in Lebanon Junction. She was a daughter of Ernest and Nanie (Gray) Devers.
School opened in Mt. Washington with a new principal, Mr. Anderson. He and his wife rented an apartment from Henry Biven. The former principal, Mr. T. R. Omer, was substituting for an ailing Mrs. Lindsay Jones before leaving for his new work in Cincinnati.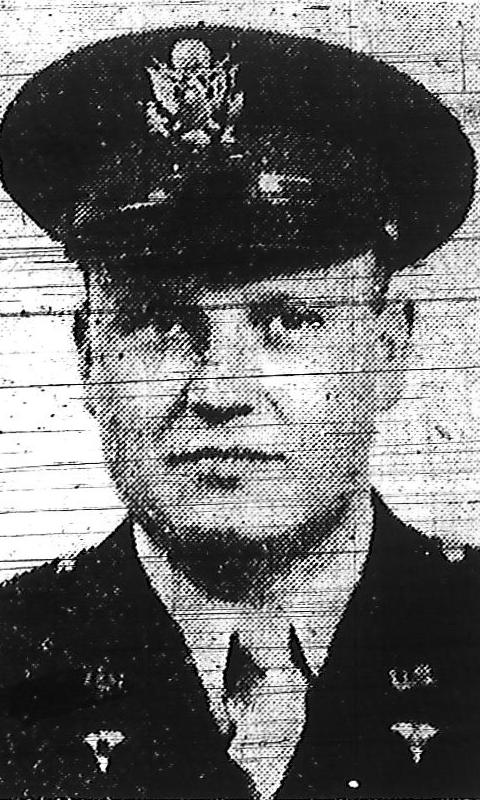 Captain Cundiff
The Lebanon Junction schools also opened with a new superintendent, Mr. L. A. Johnston. His teachers included Miss McKendree, Mrs. Thompson, Mrs. Johnston, Miss Beeler, Mrs. Maris, Mrs. Dalton, Misses Martha Masden, Emma Schirmer, Frances Herndon, and Anna Mae Burkhead.
Bert Pope brought six potatoes to the County Agent's office that weighed a total of seven and a fourth pounds.
M. J. Cundiff, son of Rev. and Mrs. R. B. Cundiff, was promoted to the rank of Captain in the army Dental Corps. He was a graduate of Shepherdsville High School, Western State Teachers College, and received his doctor's degree from the University of Louisville.
Inez Hibbs, daughter of Mr. and Mrs. Tom Hibbs of Shepherdsville, was promoted to Yeoman Second Class.
John Saar and his daughter Mina Maraman hosted Mr. and Mrs. Edward Heinzeman, Mr. and Mrs. Charles Martin and three children, Mrs. Rose Blatz of Louisville, Mrs. Anna McAhron, Mr. Albert McAhron, Mrs. Noah E. Whittle and son, Mrs. Ida Troutman and Mr. Troutman and two children, Mr. and Mrs. Charles Maraman and little daughter. Sounds like a family gathering.
The Hebron correspondent wrote that Mrs. J. C. Gardner and daughter had canned 300 quarts of fruits and vegetables. She went on to say that she canned hers by the pints so it would sound like more.
The paper identified a number of service men who were either discharged or awaiting it. They included Cpl. Emmett Shepherd, Sgt. William Lamb, Pvt. Robert H. "Lasses" Simmons, S-Sgt. Glendon Hall, T-5 Edward Richardson, Sgt. Waverly Waters Jr., Sgt. Leonard Waters, Cpl. Raymond Hoskinson, PFC John E. Hibbs, PFC Emmitt Q. Shepherd, Sgt. Ecel R. Owen, T-Sgt. Lee E. Howlett, T-5 Charles H. Brown, and T-5 Charles Smith. There were likely others that I missed.
A number of locals ventured north to Michigan on a fishing trip. They included J. W. Hardaway, Howard Roby, Neil Trunnel, W. H. Nusz, Ralph Henderson, C. C. Daugherty, W. C. Morrison, Jack Barnes, and J. M. Larimore.
In Needmore Road news, we learned that Roberta and Arbedela Gentry entertained Theodora Cook, Blondena and Dortha Ray Stallings, Jene Armstrong, Joy Smith, Ruby Stallings, and Carolyn Armstrong at a Sunday get-together.
S-Sgt. Emmett Q. Harned, husband of Mary Evelyn (Lee) Harned, was in Berlin, a member of the battalion helping establish the American headquarters there.
Ephran G. Quick died at the age of 85. A former county jailor, and frequent election official, he was survived by his wife, one daughter, Mrs. Gussie Ridgway; two sons, Fred and Bert Quick; a sister in California, and a grandson, Cpl. Carl Quick who was overseas.
And in the classified section we found that William Swearingen had an "extra good" Jersey cow for sale; that Luther McCubbins wanted to sell eight weaning pigs; that W. R. French was selling Balboa rye seed; and Henry Greenwell was selling monuments.
1920 - 100 Years Ago.
Mrs. T. C. McAllister of Bardstown Junction advertised a "bay mare perfectly gentle. Safe for women and children to drive."
The Hebron correspondent reported that Dr. and Mrs. Holsclaw, Dr. and Mrs. Albert Arnold, and Charles Arnold were guests of Mr. and Mrs. T. Arnold.
The Bullitt's Lick correspondent wrote that Miss Ada Burke spent a day with Misses Eva and Hettie Ferguson near Brooks; and Otis Hoard was visiting his parents, Mr. and Mrs. Bud Hoard.
And the Pleasant Grove correspondent shared that Miss Elizabeth Weller of Shepherdsville and Miss Ruthie Owen were entertained by G. W. Armstrong and wife.
In the Personals column we learned that Mr. and Mrs. Claud Barrall received a letter from their son Edward who was then located in Constantinople, Turkey.
And Mr. and Mrs. K. S. Formhals entertained at dinner the following guests: Mr. and Mrs. Henry Formhals of Louisville, Judge C. P. Bradbury, Messrs Gibb Daugherty, Howard Holsclaw, Charles Ashby, Samuel Ridgway, Millard Daughter, Mr. and Mrs. E. E. Holsclaw and daughter, Mary Louise. The occasion was the 22nd birthday of their son, Milton.
Mr. Bramlett, the contractor, reported that he would have the new Peoples Bank building in Shepherdsville finished in about sixty days.
The newspaper editor wrote, "If we had fifteen empty houses, they could be filled in less than a week. There is a demand for houses in this town, but no supply. Our good school has drawn people here."
J. C. Jeffries and Sid Bell bought an interest in the Shepherdsville Motor company and went there to work.
The County School Board awarded the building of the new school room at Whitfield to Mr. J. R. Ball, of Zoneton. The editor wrote, "Joe Ball is a first class contractor and will erect a good substantial house for the children of that district."
A number of obituaries identified the following deaths: Charles Fillmore Troutman, a member of the Troutman Brothers family; Anna Masry Tatro, wife of A. O. Tatro of Lebanon Junction; and Emma Saunders, widow of Dr. E. Miles Saunders of Zoneton.
Professor Jack Sanders was on the receiving end of a lot of praise, but this time the editor elected to call attention to his wife. He wrote, "Mrs. Maggie Sanders, meaning Mrs. Jack Sanders, of course, is surely deserving of much praise for the admirable manner in which she trained and taught her actors and actresses for the play last Friday night. She had all sorts of difficulties to overcome and almost everything to contend with, but she did all was necessary and more and no one was more pleased with the success of the play than she. She is a most capable little woman and you just cannot lose her. At the organ or piano in church, in the chapter room, sick room, in the choir - anywhere, everywhere, she is there, ready and capable of doing her full share in the best manner possible."
He also had praise for another lady as well, writing, "Miss Thelma Lee will teach at Lebanon Junction this session. Miss Thelma is a splendid teacher and the Trustees of the Lebanon Junction school made no mistake in securing her services in their school."
And Dr. David Smith advertised a Ford Runabout for sale, cheap. Any takers?
---
Copyright 2020 by Charles Hartley, Shepherdsville KY. All rights are reserved. No part of the content of this page may be included in any format in any place without the written permission of the copyright holder.
---