It Happened in October
The following article by Charles Hartley originally appeared in The Pioneer News on 26 October 2015. It is archived here for your reading enjoyment.
---
We will look back 25, 50, 75 and 99 years to capture glimpses of what was happening in Bullitt County in each of these years. Today we will focus on the month of October.
1990 - 25 Years Ago.
Tammy Hester, the new volunteer coordinator for Roby Elementary School, greeted school volunteers at an orientation luncheon.
Bullitt Central's FBLA officers attended an officer's camp at Hardinsburg. In attendance were Tonya Hines, president; Sonya Hash, vice president; Sharon Smith, secretary; Rick Woods, treasurer; Cheri Sinclair, reporter; Shannon Mitchell, historian; and Christy Quire, parliamentarian. They were accompanied by their advisers, Sherry Reesor and Christy Coulter.
Beverly Cairnes, B.C.'s academic coach was looking for a Commodore 64 computer for their academic meets. Wonder if they found one?
Add Ice N Stir, a pacer owned by Fred Robinson of Shepherdsville, won the first race at Louisville Downs. The horse had five wins, five seconds, and three thirds in 29 starts.
Hungarian dancers, members of the Buckner Grays re-enactors, and the Shepherdsville Middle School band were all part of the events surrounding the Shepherdsville Olde Tyme Homecoming. Award winners at the event included Shelia and Jessica Leigh Kearney of Shepherdsville in the Parent and Baby Pageant; Katina Marie Chesser as Miss Shepherdsville Pageant; Misty Jo Newman as Junior Miss Shepherdsville Pageant; Melissa Noel Payne as Miss Pre-Teen Shepherdsville Pageant; Jeana Kay Richardson as Little Miss Shepherdsville Pageant; and Tiffany Marie Bruce as Tiny Miss Shepherdsville Pageant. Also, Abe Lincoln (a.k.a. Charles Long) made an appearance.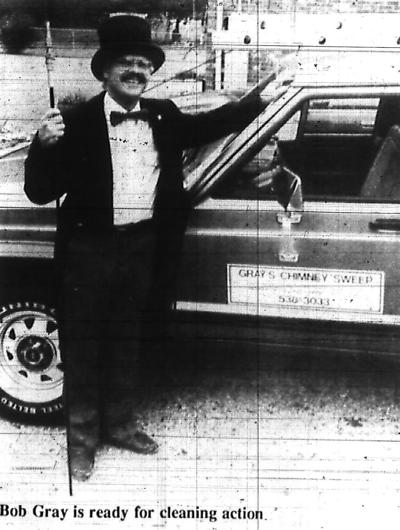 Gordon Carter of Louisville walked away from serious injury following the crash of his single engine plane at the Blue Lick Airfield. Besides the plane itself, the fence belonging to Kenneth Hester sustained significant damage.
Bob Gray, owner of Gray's Chimney Sweep of Mount Washington, was pictured in the paper in his top hat and coat tails in the image of an old-fashioned chimney sweep.
Lois Simmons of Pleasant Grove thanked Bill Wiseheart and Carl Thomas for the fish they brought her.
Young Larry Coy Jr. participated in a production of "Romeo and Juliet" at Morehead State University. He played the role of Balthasar in the production. I know that his parents, Larry and Thelma Coy were really proud of him.
The Kiwanis Club elected their new officers. Lynn Martin of Salt River R.E.C.C. was elected president; Linda Hobbs of ALLTEL became vice president; Janis Gentry of the Red Cross Chapter was treasurer; and Tom Barr of The Pioneer News was secretary.
The paper carried a nice article about the old Cyclone store in Mt. Washington that was being demolished. It mentioned Mrs. Marion Porter who was then 100 years old.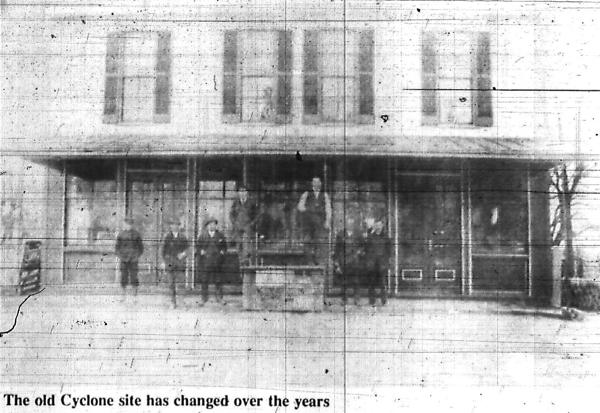 In Lebanon Junction, the Elementary Kindergarten float was a winner in the Old Fashion Days Festival. It was built by Lloyd Mattingly on a wagon donated by Sam Maraman. It was pulled by Butch Sweat's tractor, driven by Buster Sweat.
And I don't usually write about weddings, but this one is too good to pass up. It seems that Darlene Collier and Robert Bohannan got hitched at the Nelson County Fairgrounds. The members of the wedding party were all mounted on horseback, and Joe Evans, owner of Rooster Run General Store performed the ceremony from the back of a horse-drawn wagon (he was a Nelson County magistrate). The bride and groom honeymooned (along with their horses) on a friend's horse farm.
1965 - 50 Years Ago.
Pat Lee was the Shepherdsville High School Football Homecoming Queen. Her attendants included Teresa Ann Tinnell (7th grade); Susan Crumbacker (8th grade); Pam Simcoe, Freshman; Rhonda Farmer, Sophomore; Lana Bagby, Junior; and Jan Braden, Senior.
The banks in Shepherdsville and Lebanon Junction announced that they would begin closing on Wednesdays.
Dr. John Carter, President of Campbellsville College, preached at a revival at Shepherdsville First Baptist.
Mrs. J. B. Spangler of Mt. Washington received her 25 year pin from the Eastern Star.
Rev. C. G. Sledge, pastor of the Mt. Washington and Bethel Methodist Churches, participated in a workshop in Louisville.
Mrs. Gladys Sprinkle and her daughter Vickie Ann visited Mrs. Nellie Hubbard, and were glad to see her progressing nicely after a recent operation.
Joe Kelley won a trophy as the oldest man rider in the trail ride from Munfordville to Hodgenville. Mrs. Bernard Bischoff also participated in the ride.
Jane Dawson of Mt. Eden reported that Jerry Coy spent a few days at the hospital following his motorcycle accident. She also reported that Carolyn Poppell was present at church services, and was "flying around" in her "red bird" (a new car).
Mrs. W. G. Lanham of Cedar Grove reported that Mr. and Mrs. Gilbert Miller spent their 30th wedding anniversary at Renfro Valley.
New officers serving the Mt. Washington Lions Club were President W. O. "Bill" Carrithers, Secretary J. E. Fisher, Treasurer C. N. Tichenor, Publicity Chairman Charles Able Long, Lion Tamer Sidney Griffin, and Tail Twister Billy Romine.
Mrs. Vernon McAfee was in charge of the anniversary program for the 25th anniversary of the Woman's Society of Christian Service in Mt. Washington.
L. W. "Doc" Jenkins of Salt River took a job with Mt. Washington Motor Company.
The Shepherdsville High School P.T.A. met with Mrs. Jeff Ice presiding. She introduced the school's new principal, Frank Hatfield.
The Wilson Creek correspondent reported that Mr. and Mrs. Walter Magruder went to Deatsville to help Oliver "Dude" Leach celebrate his 85th birthday.
Rev. Ralph S. Griswold, a Methodist minister for nearly 50 years including time at Brooks, died in Louisville.
The Democratic candidates for office in 1965 were pictured as a group.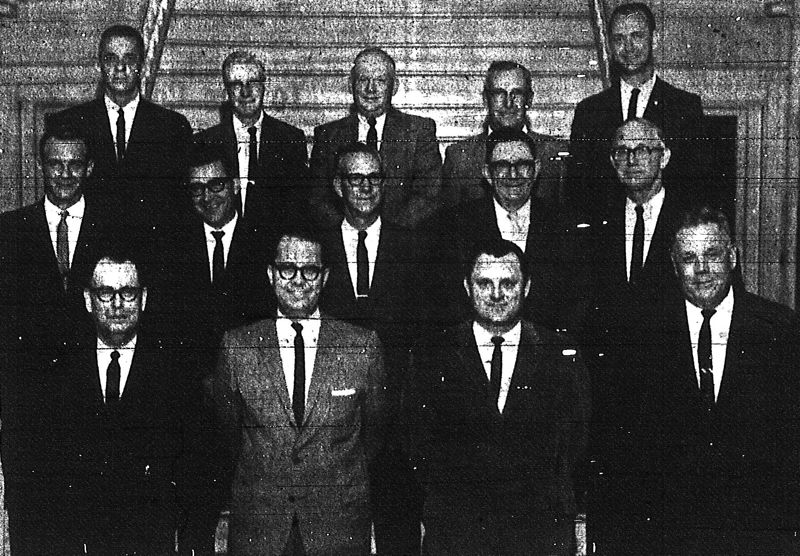 Front row left to right: T. L. Cook, County Court Clerk; Tom B. Givhan, County Attorney; Neil Farris, County Judge; Stuart Kelly, Representative; second row: Ralph Bleemel, Magistrate District 1; Walter Keith, Coroner; Clyde Roby, Tax Commissioner; Everett Heffley, Jailor; W. R. (Bill) French, Sheriff; back row: Forrest (Bay) Moore, Magistrate District 2; Russell Crenshaw, Magistrate District 3; Walter Magruder, Magistrate District 4; J. W. (Bill) Armstrong, Constable District 1; Frank Carey, Constable District 2; absent when picture was made: J. D. (Jiggs) Buckman, State Senate; Wendell Hawkins, Constable District 3, William Mullins, Constable District 4.
David Williams, a senior at the University of Kentucky, received the American Farmer Degree at the National F.F.A. Convention, the nation's top F.F.A. award.
And Mr. and Mrs. Jimmy Cruise announced the birth of their daughter, Christy Rena.
1940 - 75 Years Ago.
Millard Cundiff, fourth grade teacher at Shepherdsville, resigned to enter the school of dentistry in Louisville. He had previously taught at Cedar Grove.
The many friends of Jimmy Cruise were happy to hear that he was racing at Winston-Salem, N.C. and then at Spartansburg, S.C., but planned to be home in November.
Tomy Wilson, Bullitt County Court Clerk, was assigned the responsibility for supervising the registration of all male citizens in the county between the ages of 21 and 35 years inclusive. Bullitt County teachers served as registrars.
The Draft Board consisted of five members: Charles Rodgers, Conrad Maraman and Dr. Ridgway of Shepherdsville; Bert Hall of Mt. Washington; and Andrew Mann of Lebanon Jct. Miss Wanda Adams was the board clerk.
Houston Froman up on Brooks Hill had a pair of work mules for sale.
Need a typewriter ribbon? Check at the Pioneer News office.
The Mt. Washington correspondent reported that Mr. and Mrs. Herman Mothershead, Mr. and Mrs. J. T. Grant and baby, and Miss Mariana Mothershead were guests in the home of Mr. and Mrs. Will Markwell at Okolona.
Rev. Roy L. Puckett, pastor of the Mt. Washington Baptist Church for the previous five years tendered his resignation.
The Lebanon Junction six-man football team easily defeated Mt. Washington 86-0. They followed up that win with a 92-7 win over Shepherdsville. Shepherdsville then defeated Mt. Washington 18-14.
Clarence "Buck" Dawson and Tomy Wilson began a new business as agents for public sales. They sold the Feidler farm below Belmont.
Mr. and Mrs. Ben Crenshaw moved to their property at Salt River.
The paper reported that Jack Crenshaw was making sorghum molasses.
Monzey Harned and Roy Rodgers of Pitts Point were in Shepherdsville on business.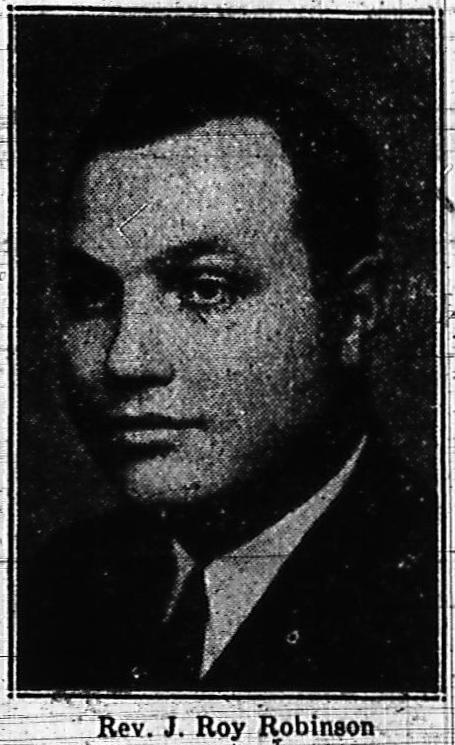 In what might have been the first "All-County Music Festival" Frances Wake, Lillie Lee Miller and Elsie Cox, music teachers at the three county high schools, put together the festival that was held in the Shepherdsville gym.
1,091 men between 21 and 35 registered in Bullitt County in the first peace time registration.
Bro. Roy Robinson was called as pastor of the Shepherdsville Baptist Church.
Out at Barrallton, Harold Atkisson picked 33 bushels of pears.
Mr. and Mrs. H. H. McAfee and children of Cincinnati were weekend guests of his parents, Judge and Mrs. R. E. McAfee. They attended a banquet and barn dance in Louisville given by the organization of railway mail clerks of whom Mr. McAfee was a member.
Folks just loved to surprise Mrs. Georgia Bridwell of the Valley View neighborhood because she was always so surprised. They did it this time on her birthday.
And P. W. Berry, who lived on Bells Mill Road at Floyd's Fork, had large White English Leghorn pullets, seven months old and starting to lay, for sale, $1.00 each.
1916 - 99 Years Ago.
The paper identified the members of the junior class at Shepherdsville High School: Evelyn Bates, Kathlyn Croan, Kathryn Griffin (class vice-president), W. C. Herps, Chester Hardin, C. F. Troutman Jr. (class treasurer) and Nancye Trunnell of the Shepherdsville district; Myrtle Childers, Ursa Funk (class secretary), and Muir Funk of Brooks; Myrtle Crenshaw of Cedar Grove; Aileen Swearingen of Victory; Patti Pope, Elizabeth Weller (class president), and Roy Thompson of Glen Ella; and Lillian Wiggington of Hebron. The paper later reported that Kathlyn Croan had to leave school due to health problems.
J. H. Tucker sold his blacksmith shop, along with a buggy, and two spring wagons.
Ethel Mae Cundiff and Willie T. Armstrong, a popular young Beech Grove couple were married in Louisville.
William Phelps, the oldest man in Bullitt County, celebrated his 96th birthday on October 8th. He was born in Pennsylvania, and came to Bullitt County when he was 16. He married Susan Murray in 1847.
The paper expressed heartfelt sympathy to the family of William Wolfe of Lebanon Junction who sadly met his death while on duty at the switch yard.
Miss Lena Ice and Miss Bertha Trunnell opened their schools at Beech Grove and Victory. Beech Grove school was closed for a time due to the presence of scarlet fever among the children.
Buck Hutchens of Pitts Point was locked up for failing to send his children to school in violation of the new school law.
Howard, William, and Grover Maraman, sons of the late Coroner Charles Maraman, opened up a new, up-to-date slaughter house at Salt River to offer fresh meat to the public.
Mr. and Mrs. T. C. Coleman, and sons Thomas C. Jr. and William, prepared to leave their home at the Meadows at Gap-in-Knob to spend the winter in Louisville.
The paper remarked on the big white wagon from Belmont drawn by four black horses and driven by Harve McCubbins that was seen in Shepherdsville during the school rally.
There were a lot of good spellers at the school rally including Sudie Ridgway and Virgil Mattingly (1st grade), Allard Armstrong and Helen Burks (2nd grade), Norma Ridgway and Margaret Good (3rd grade), Anna Combs and Marshall Stallings (4th grade), Flora Chaddic and Josie Garr (5th grade), Susie May Parrish and Lillian Roney (6th grade), Della Ridgway and John Hoagland (7th grade), and James Morrison and Virginia Duvall (8th grade).
Editor Barrall complained that he was having a hard time getting paper at any price. He was having to print on whatever size paper he could get.
And Embra Deacon had a good cow for sale. Any takers?
---
Copyright 2015 by Charles Hartley, Shepherdsville KY. All rights are reserved. No part of the content of this page may be included in any format in any place without the written permission of the copyright holder.
---