It Happened in October
The following article by Charles Hartley originally appeared in The Pioneer News on 27 Oct 2014. It is archived here for your reading enjoyment.
---
We will look back 10, 20, 40, and 80 years to capture glimpses of what was happening in Bullitt County in each of these years. Today we will focus on the month of September.
2004 - 10 Years Ago.
Amy Parker, the new Bullitt Central choir director, earned three gold medals as part of the University of Louisville Cardinal Singers when they traveled to an international competition in Germany.
With all three county high schools' cross country teams competing at the Hillbilly Run in Bardstown, the local schools called it their Bullitt County Cross-Country Championships. Individually, Lance Biddle of Bullitt East narrowly beat Jared Aubrey of North Bullitt in boys' competition. Betsy Hines of North Bullitt beat Bullitt Central's Allison Sanders for the girls' crown.
The 1954 S.H.S. graduates held a 50 year reunion at Paroquet Springs. Attending were Baker Beam, Darrell Bridwell, James Burden, Carolyn Carpenter Hardy, Roy Carpenter, W. T. Coy, Richard Crigler, Nora Mae Dever Shepherd, Eugene Elder, Rose French Shumate, Sam Hardy, Selvie Hodge, Neva Kalwat Milam, Rose Koch Stallings, C. L. Lane, Lloyd Maraman, Bob Milam, Arthur Miller, Wanda Dean Myers Whitworth, Darrell Parrish, Sarah Price Scott, Anna Belle Rarden Croan, Ruth Ann Riley Younger, Ina Charles Roby Carpenter, Alice Ryan Armstrong, Mildred Shepherd Pressley, Clifford "Buddy" Shepherd, Beverly Simpson Claunch, Berniece Smith Greenwell, Shirley Jo Stansbury Hall, and Margaret Summers Foster.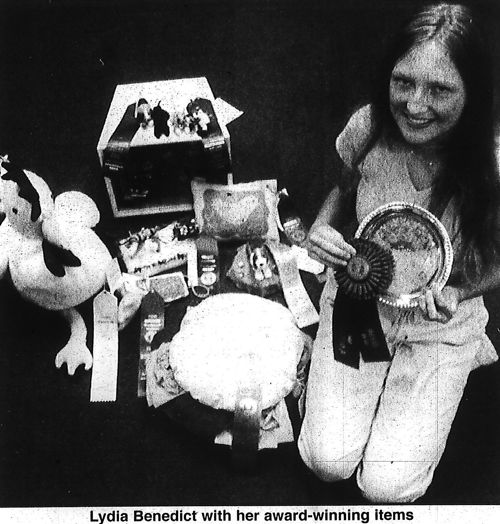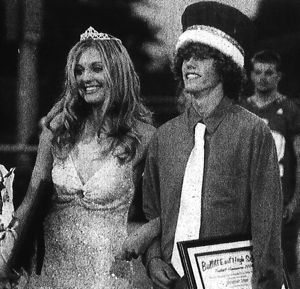 They were joined by former classmates: Roma Graham Houchin, Mildren Howlett Bishop, Loretta Jones Stansbury, Shirley Lee Troutman, Louise Pugh Armstrong, Joyce Shepherd Mann, Paul Thomas Shepherd and Pete Wise.
A tribute was given to deceased class members: Norman Troutman, Inez Shepherd Huff, Yvonne Huffman Troutman, Ed Wigginton, Ronald Hatfield, Vernon Goodwin, Norma Lee Williams Stansbury, Lois Norris Krebs, John McGill, and Betty Moore Sallings.
Lydia Benedict of Zoneton was a big winner at the Kentucky State Fair. Altogether, she collected four blue ribbons, and one each of red, white, pink, and green ribbons. She also received the Junior Textile Sweepstakes Rosette, a special blue ribbon for overall achievement.
Bullitt East football defeated Fairdale 38-7 with Jacob Porter scoring three touchdowns in their homecoming game. Seniors Mollie Bolin and Jonathan Sapp were crowned Queen and King in ceremonies before the game.
Boy Scout Troop 848 of Shepherdsville honored their most recent Eagle Scout, Florencio Athualpa Olives, at a special Court of Honor.
Pioneer News staff writer Robert White wrote about a local legend, told by Charlie Long, about a group of ghostlike Indians, a bend in the river, and some local gossip. Guess you might ask Charlie what that's all about.
And David Strange wrote about a man named Thurston who found himself locked up in the old stone jail in the mid 1940's. Somehow, Mr. Thurston managed to get drunk despite being in jail for several days. Ask David to tell you the rest of the story.
1994 - 20 Years Ago.
The paper reported that J. I. Samuels had died. He served 27 years on the Lebanon Junction City Council.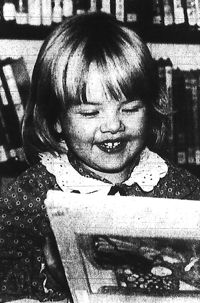 Carissa Shavers, age 2, was pictured enjoying a good book at the Ridgway Library.
Dr. Penny Masden, Director of Primary Education with the Kentucky Department of Education, was the guest speaker at the Bullitt County Retired Teachers' meeting.
Mark Robinson of Mt. Washington was selected as a National Merit Semifinalist based on his PSAT scores. He was the only Bullitt East student so honored.
Lots of folks received recognition at the Lebanon Junction Old Fashioned Days Pageant. Beginning with the babies, Karyssa Fleming and Alexander Spalding were selected in the 0 to 6 months category. Erin Russavage won the 7-12 months category. Kelsey VanVactor and William Ray Maraman won the 13-17 months category; and Shauntel Snellen and Damion Moore took the 18-23 months section. Ages 2-3 went to Hailee Janine Allen and Edward Wayne Johnson III.
In the princess categories, Savannah Browning represented ages 4-6; Lindsay Harned, ages 7-9; and Tasha Etherton, ages 10-12. Brandy Myers was crowned Junior Miss in the ages 13-15 group; and Brandi Spurling was crowned Miss Lebanon Junction.
North Bullitt's Trent Coleman earned a spot in the state golf tournament with an even par 35 on the back nine which led to a playoff in which he took third place overall.
Dorothy Hartsell retired as music director of Eastside Baptist Church, concluding nearly a half century of service to the Bullitt-Nelson region.
Judy Hayden of the Mount Washington Lioness Club was honored as Lioness of the Year for District 43-N, and the entire Mount Washington club was honored as club of the year.
Barrie Wagers won a $5000 scholarship by winning the 14 year old division national championship of the NHRA Junior Drag Racing League.
Bullitt East Chargers crushed Fort Knox 42-6 in football, placing them in second place in the Associated Press Class AA poll. In the first quarter, defensive back John Gutman stripped the ball from a Fort Knox back and ran 43 yards for the touchdown. Then Brandon Egan hit Jason Reynolds with a touchdown pass; and then Egan himself raced 78 yards for another score.
And Cody Seng was congratulated for his sharp eyes when he suggested to his Dad, Deputy Jailer Tim Seng, where an escaped prisoner might be hiding, and sure enough, there he was. Way to go, Cody!
1974 - 40 Years Ago.
Charles Hamilton filed as a candidate for re-election to the County School Board. He was currently Executive Secretary of the Bullitt County Farm Bureau.
With Judge Moore, Bay Moore, Walter Magruder, Hiram Gibson, and Ralph Bleemel present, Fiscal Court voted to employ Billy Couch to construct an office facility in the northwest corner of the courtroom in the Courthouse for an office for Judge Sanders.
Donna Ryan was pictured in the paper taking tolls on the Kentucky Turnpike.
Steve Plenge was elected as District 14 Director of Kyana Division, Dairymen, Inc. which was a milk marketing cooperative.
Donnie Miller, son of A. J. Miller, was pictured in the paper with his junior calf which was chosen as the top heifer in that class at the show in Atlanta.
Keith Lewis kicked three extra points and a 37 yard field goal to lead Bullitt Central to victory over Shelby County. In the game Gary Conway scored on a 25 yard dash up the middle, with Curt Firkins making the key block to break him free. Jim Troutman also scored on a seven yard run behind the blocking of Firkins, Tom Clemons, and Mark Hardy. Other Cougars who played a prominent role included Steve Larimore, Larry McDonald, and Wayne Skaggs.
James Skipper of Pine Creek Forest was pictured showing off his five pound large-mouthed bass that he caught in a farm pound at Samuels.
Glen Karsner and Dave Blackburn coached the Shepherdsville Junior High School Rams to an 8-0 victory over the Lebanon Junction team. The Rams scored on a 33 yard touchdown pass from Robert Williams to Don Bray.
Mr. and Mrs. Bates Samuels celebrated their 56th wedding anniversary. Also, Mrs. James Lanham's parents, Mr. and Mrs. R. L. Bailey of Louisville celebrated their 50th anniversary. Continuing the celebrations, Mr. and Mrs. Herman Calvert celebrated their 50th. They were married in Lebanon Junction. And, Charles and Mary Ann Ash also reached that half century milestone.
Rev. Bob Crady returned to Bardstown Junction Baptist Church for the second time as their pastor. Prior to entering the ministry, he was a successful athlete in several sports.
Teresa Tyrell, a sixth grader at Overdale, had just recorded a song on the Caprice label in Nashville. She performed at the school's P.T.A. meeting, and was pictured in the paper.
Donna Sweat of Lebanon Junction mentioned that that town's Boy Scout Troop had spent the weekend at the river. They were led by Wayne Goodlett and Gary Wilson.
Kathy Long, the talented wife of Charlie Long, was pictured in the paper. The article was about her paintings, including her first oil painting of "My Old Kentucky Home." Kathy also designed the medallion for the Bicentennial of Bullitt County.
The paper reported that Judge Cassius Marcellus Clay Porter had recently died in California. Judge Porter was Bullitt County Judge from 1929 to January 1934.
Out Nichols way, Mrs. Marjorie Gagel and Mr. Marvin Hopewell spent a Saturday afternoon with Mrs. Oretha Ridgway; and Mr. and Mrs. Morris Hopewell spent a Sunday with the family of Clarence Dawson.
And Gladys Shepherd of Bullitt's Lick let us know that Mrs. Minnie Heath spent a day with Mrs. Nannie Raymond recently. Now that's the good kind of news!
1934 - 80 Years Ago.
Rev. H. E. Jarboe performed the marriage ceremony for Frank Crigler and Maurine Froman at the M. E. parsonage. Miss Charlotte Froman and Mr. Tom Crigler were the attendants. Maurine was a 1933 graduate of Shepherdsville High School.
The Woman's Club of Bullitt County sponsored the restoration of the Old Shepherdsville Cemetery. It seems like that project needed several takes.
Golden Carter of Lebanon Junction said his car lights blinded the deer he struck and killed near Belmont. The game warden cautioned him not to drive so fast.
Emmett Lee Raney, a Lebanon Junction senior, won the prize for best piano solo at the school fair at Mt. Washington. Evan McKinley of Shepherdsville High won the saxophone solo contest. Twenty-one of the county's thirty-six schools were represented at the fair.
The first issue of the "Shepherd's Echo" was published this month.
Walter Crumbacker was seen driving his new Chevrolet sedan in the Hebron community. Nice car.
Professor and Mrs. McFarland of Mt. Washington went on a motor trip to Bardstown with Miss Argenbright.
William and Marjorie (Prucell) Becker returned from their two week honeymoon in Florida. She was a former teacher from Belmont; he a farmer from the Zoneton area.
Ida Lee Ball, the teacher at Sugar Valley, invited the public to a fish fry at the school.
John Summers of Shepherdsville had lots of pears for sale.
The Hebron and Shepherdsville school bus had between 65 and 70 pupils on it for at least part of the trip!
Edgar Stansbury, a former S.H.S. graduate, was appointed head of the manual arts department at Western Kentucky Teacher's College. Also, Samuel Ridgway, Dr. Ridgway's son, was appointed divisional supervisor for the Southern Bell Telephone Company.
Ethel Mae Cochran joined A. J. Beeler and Catherine Triplett as teachers at the Glen Meadow school after they added on a new classroom.
Dennis Mitchell celebrated his 97th birthday with family and friends. He was a pioneer school and road builder, and built the first road over Mitchell's Hill into Bullitt County about 60 years earlier. That name sounds familiar.
The paper's editor wrote, "Dr. J. R. Holsclaw passed his 84th milestone Thursday. He is so hale and hearty that he may live to be an old man."
Magistrate Robert Armstrong of District 1 held court during October. Each magistrate did this on four months out of the year. The other magistrates were J. R. Cornell, Amp Mudd, and John Samuels.
And Miss Lounetta Stansbury who plays the alto saxophone, brought her talents to the church orchestra at the Shepherdsville Baptist Church. Miss Lounetta, can you still play that horn?
---
Copyright 2014 by Charles Hartley, Shepherdsville KY. All rights are reserved. No part of the content of this page may be included in any format in any place without the written permission of the copyright holder.
---