It Happened in October
The following article by Charles Hartley originally appeared in The Pioneer News on 29 Oct 2018. It is archived here for your reading enjoyment.
---
We will be looking back 25, 50, 75, and 100 years to see what was being printed in The Pioneer News in 1993, 1968, 1943, and 1918 in the month of October.
1993 - 25 Years Ago.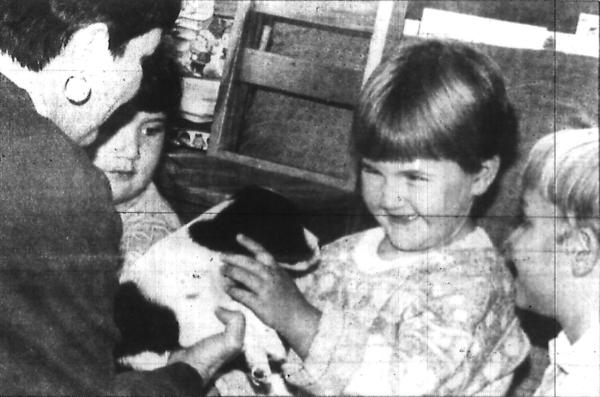 Puppies and Kittens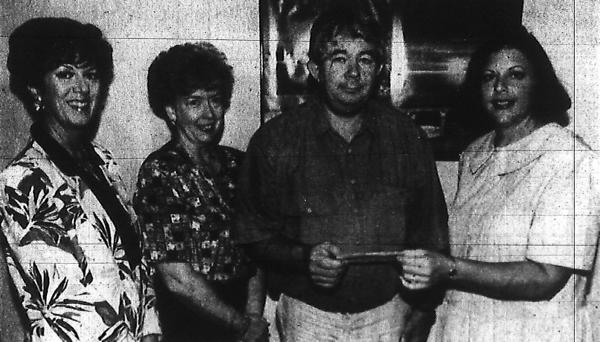 Riverview School Support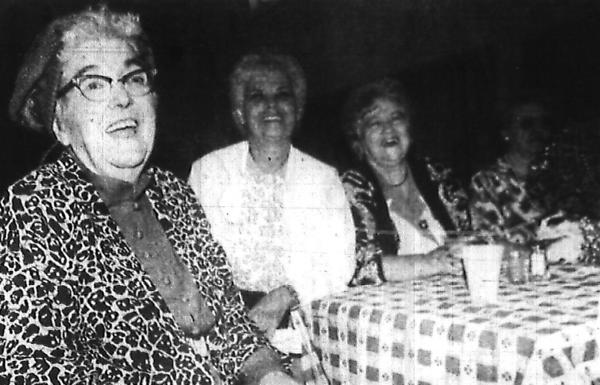 Nichols Celebration
I wonder if Leslie Holsclaw, Josh McDonald, Chris Rose, Tiffani Hall, Ty Bratcher, Nathan Tate, Kayla Curry, Evan Yunt, Ross Whitaker, Alex Young and Amber Robertson remember when Diana Yeager of the Kentucky Humane Society brought puppies and kittens for them to enjoy at First Baptist in Shepherdsville?
Janet Teensma, Jan Stewart, and Barb Plenge were pictured with Lonnie Dawson as the Woman's Club presented a check to help support the Riverview school.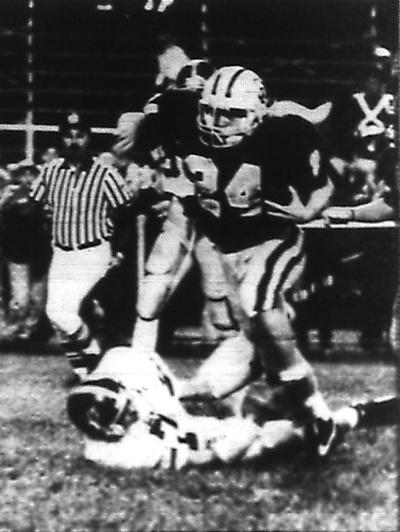 Moses Malone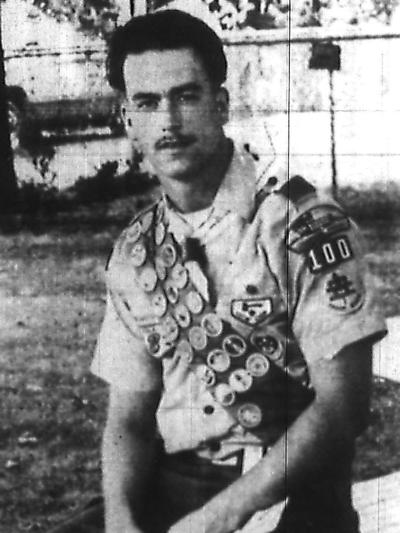 John Bania
Bullitt Central senior Moses Malone was pictured on a 24-yard run as his tean defeated North Bullitt 35-14. Malone rushed for a total of 183 yards on 17 carries and scored two touchdowns. Quarterback Nathan Chappell added 105 yards on nine carries and scored three touchdowns.
With the Chargers down by a point with less than three minutes left in the game, Willie Foster recovered a Fort Knox fumble near midfield, and Bullitt East went on to win after Jason Reynolds dashed for 24 yards, Heath Mayes got 11 yards on a screen, and Brandon Egan found Eric McCawley open at the five yard line.
John Bania both kicked goals in soccer at Bullitt East, and achieved goals in his pursuit of the Eagle rank in Boy Scouts. As part of his Eagle project, he built five benches for Mt. Washington Methodist Church who sponsored his troop.
Oretha Ridgway, Gerry Eaves, Katherine Roy, and Patsy Larimore were among those who helped celebrate the 75th anniversary of Nichols Elementary School.
Jim Palmquist of Pennsylvania wrote a letter to the editor seeking information about the location of Solitude where his Rouse ancestors once lived. Wonder how many of our readers today could answer his question?
Interestingly enough, the same paper announced the 50th wedding anniversary of Ray and Birdie Rouse of Mt. Washington. She was the former Birdie Onetta Shelburne. Bet they could have answered Jim's question.
Terry Lee Whitaker of Shepherdsville graduated from Kentucky State Police Cadet school, and was assigned to Carroll County.
Lebanon Junction's Old Fashion Days pageant winners included Bethany Masden as Miss Lebanon Junction, Casey Walker as Junior Miss L.J., and Michelle Thompson as Little Miss L.J. In the Beautiful Baby Contest for boys and girls, ages 0-3, Brandon Duckett placed first, Elizabeth Egan was second, and Whitney Burton was third.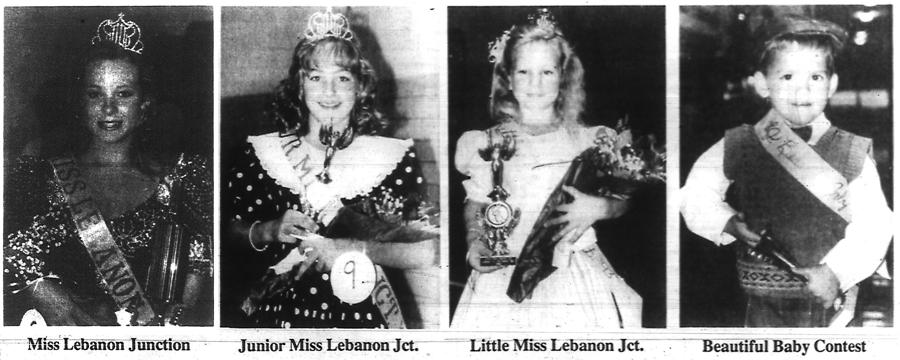 North Bullitt's Trent Coleman qualified for the state golf tournament.
The Bullitt East student body picked Michelle Simms and Mike Bass as their football homecoming royalty.
Cotton and Rua Shouley celebrated their 50th wedding anniversary at the home of Betty Larimore.
Greg Beamer was honored by fellow Board of Education members at his final meeting.
Bullitt East earned their first ever football district championship with a 35-21 victory over Elizabethtown, giving them a 4-0 record in district competition. Strong running from Scott Johnson gave them a balanced attack.
According to Louise Bischoff, Garland and Pat Higdon had dinner with Mr. and Mrs. Frank Lawson who provided a "most delicious dinner."
According to Lois Simmons, Jim and Florence Goldsmith, Bill and Mary Bland, and Charlie and Roberta Gaddie spent a weekend in Berea and attended the sorghum festival and took in two shows at Renfro Valley.
And Shot Dooley climbed into the ring against professional wrestlers, and won (with a little help).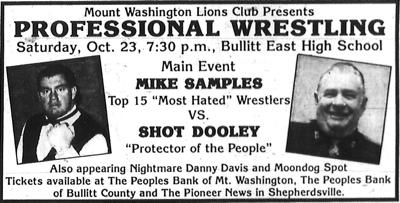 1968 - 50 Years Ago.
The 1968 S.H.S. homecoming queen was Janet Stivers. Her attendants were Brenda Stottman, Susan Crumbacker, Lorona Huber, Ellen Givhan, and Helen Blankenship. The cheerleaders were also honored at halftime. They included the varsity cheerleaders Brenda Heath, Rita Wilson, Pat Smith, Donna Holt, and Sheri Mullins; and the J.V. squad Paula Sue Cundiff, Sarah Nell Hamilton, Gayle Britt, Lynn Hardy, and Jennifer Williams.
First Baptist Church of Mt. Washington laid the corner stone for their new church building; and Victory Baptist on Ridge Road celebrated its 50th anniversary. A highlight of that program was the solo titled "Lifeboat" sung by Mr. Oral P. Basham who was 91. His wife Alma, who was 81, played "When the Roll is Called Up Yonder" by memory on the piano.
In other church news, Rev. William Thomas began his ministry at the Cedar Grove Baptist Church. And in that community, Clifford Bell and wife, along with Annie Bolton and Della Scott, visited Bob Grant on a Wednesday; Della had also visited with Enoch Webb.
The Bullitt County Junior Miss candidates included June Ann Halk, Brenda Heath, Judy Isgrigg, Lee Nalley, Geneva Parris, Theresa Reid, Pam Simcoe, Pat Smith, Janet Stivers, Brenda Stottman, Barbara Thompson, and Rita Wilson. Brenda Stottman was the winner. (Sorry for the quality of the pictures, but they come from old microfilm.)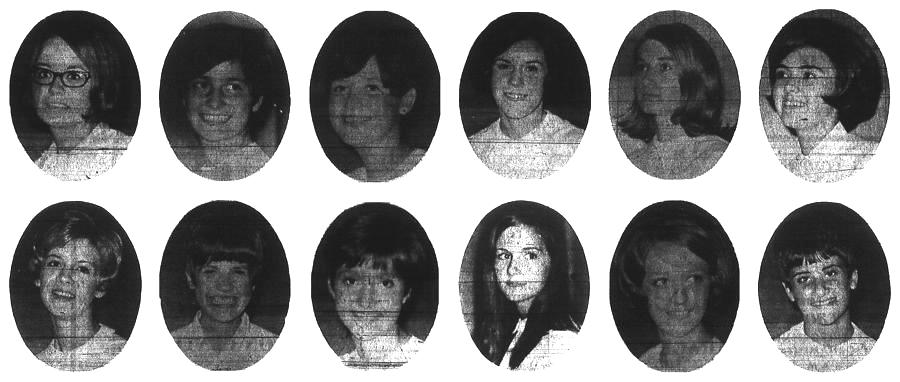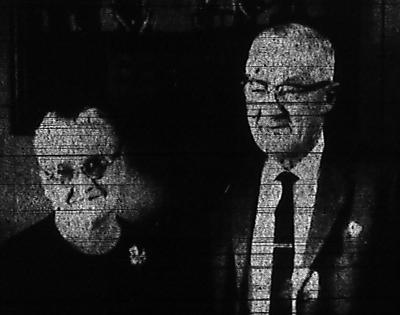 Flora and Bates
Billy Masden was visiting his grandparents, Bill and Ruth Masden, when he caught a 25 pound catfish in the lake on Elizabeth Holsclaw's farm near Lebanon Junction.
Bates Samuels and Flora Erma Skaggs were married in October 1918, and celebrated their 50th anniversary at their home on Route 1, Shepherdsville.
In the Personals column we learned that Paula Crigler, Stevie Crigler and Jeffrey Owen all had the chicken pox; that Myrtle Hibbs was very ill at home; and that Mrs. Charles Maraman was leaving for Ohio to make her home with her brother. We also learned that Mrs. Fannie Bell Henderson moved into her new home on Centerview Drive.
Bill and Mary Fischer's daughter Sharon was one of twelve chosen to represent the Kentucky Association of the F.H.A. at the Youthpower Conference in Louisville.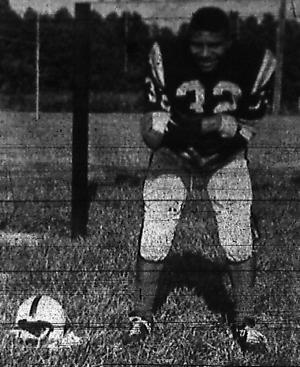 Gary Roberts
Robert E. McDowell was the guest speaker at the Bullitt County Homemaker's Annual Meeting. Mr. McDowell, a local author and historian, was an important researcher in Bullitt County history.
Gary Roberts, sophomore fullback for the S.H.S. Rams, was recognized in the paper as a key player for the team.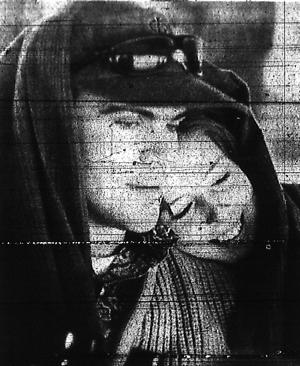 Lee and Connie
Seniors Pat Browne, Wayne Fearnbach, Mary Lou Hatfield, Teresa Keith, Bill Magruder, Linda Miller, Judy Phillips, Terri Stine, and Gloria Wilburn made the all A's honor roll at S.H.S. for the first grading period.
Lee and Connie Shuffett were pictured wrapped in a blanket to keep warm at the World Series in St. Louis. In case you've forgotten, Detroit won that series.
And Jim's Little Giant Food Store in Lebanon Junction was selling chuck roast for 43 cents a pound, and 5 pounds of Henderson sugar was 39 cents. Better stock up.
1943 - 75 Years Ago.
In the third round of war bond sales, the paper noted with pride that the county had oversubscribed its quota by 35%, and particularly named Ben Crenshaw for leading the effort in his Salt River district as he and his helpers visited every household and sold 101 bonds, nearly one per house.
In Belmont community news, we learned that both J.C. Watts and J. J. Napper, and their wives, have moved to Lebanon Junction. We also learned that Clinton Etherton was at home with his parents after having been wounded in the Pacific the previous winter.
The community was also shocked and saddened by the death of a local boy, Millard Wineholder, who died in an automobile accident.
Another local boy, Sgt. Samuel S. Gore was killed in an airplane accident at a training camp in Colorado. He was buried at the Hebron Cemetery.
Rev. Paul Horner and his wife Lillian Porter Horner were visiting with her mother, Mrs. Marion Porter in Mt. Washington.
Pvt. John R. Miller wrote from Hawaii to express his thankfulness at receiving the local paper. Pvt. Emmett H. Brown was in New York when he too thanked the paper. Pvt. Charles T. Reesor was "working in the motor pool" somewhere, and he too was grateful for the paper. Pvt. Morris A. Lambe was in California when he wrote his thanks.
Other servicemen who wrote with their appreciation included PFC Arthur H. Waters, Lt. William H. McFarland, Sgt. A. T. Raymond, Willie Samuels, M. H. Masden, Cpl. Roscoe "Bill" Noe, Pvt. James V. Miller, Lindsay M. Wigginton, Pvt. Howard P. Jackson, James Noe, and Pvt. Erbie H. McNutt.
In the Personal column we learned that Mrs. Emmett Coakley spent a week with her sister, Miss Thelma Lee Welch, who had a position with the U.S.O. at Norfolk, VA. She also expected to visit her nephew, Marshall Welch while there.
The senior class at Lebanon Junction High School elected class officers. They were President Billy Masden, V.P. Florine Carr, Sec. Jean Roberts, and Treas. Jackie Pennebaker.
The junior class elected George Canzoneri as president, Clifford Samuels as V.P., Anna Pearl Routen as secretary, Mary E. Welker as treasurer, Harold Keith Parker as sergeant at arms, and Ora Jean Lawence as pianist.
The sophomores elected Paul Huffman, Richard Walker, Virginia Sidebottom, T. J. Sweat, and Bobby Kidwell in that order. And the freshmen selected James Montgomery, Gwendolyn Purcell, Patty Masden, and Billy Boone.
PFC and Mrs. Burlyn Pike were the proud parents of a baby girl they named Burnell.
The paper announced the death of Congressman E. W. Creal who was best remembered by Bullitt County folks as the prosecutor in the Browningtown murder trial some fifteen years earlier.
And the paper reported the marriage of Miss Evalena Bergen to Pvt. Charles Fletcher Hagan. Miss Addie Mae Hagan, sister of the groom, was maid of honor. The bride was the youngest daughter of Mr. and Mrs. Dee Bergen.
1918 - 100 Years Ago.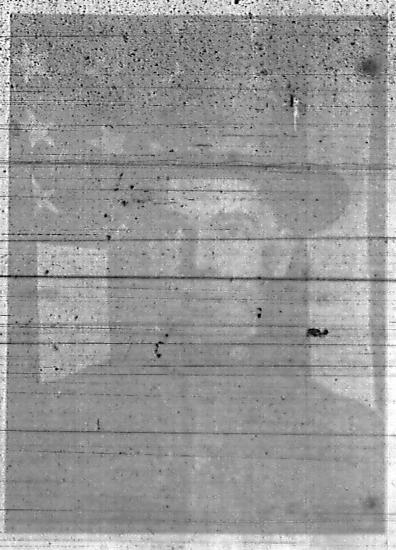 Bert Quick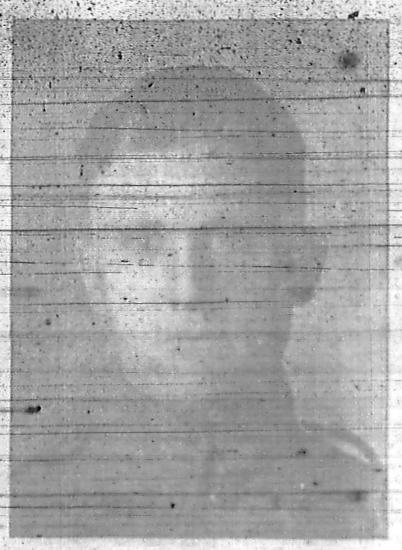 Walter Cundiff
B. B. Ball, one of the most popular men in town and who had carried the mail between the post office and railroad for several years had resigned and the mail would be carried by Pate Swearingen.
Bert T. Quick, son of F. G. Quick, arrived overseas safely. He had been promoted several times. And relatives of Mr. Walter Cundiff received word that he had arrived safe in France and doing his part. He was a brother of Ben Cundiff of Bardstown Junction.
Stoney Weller of Shepherdsville wanted to buy one good "suckling mare mule."
Brother Wilhoit of the Mt. Washington Baptist Church delivered the dedicatory sermon for the dedication of the Victory Church. Miss Rouse played the violin.
Clarence Holsclaw and Charles Shoptaw reported the woods were full of squirrels and they were ruining the corn crops. Hunters could certainly square themselves with the hill farmers by going out and slaughtering a few hundred squirrels, and it could be done, as they were as thick as reported.
It was reported that Leslie Herps, who was at the Great Lakes Training Camp was very low with the Spanish Flu. He was one of the lucky few who survived it.
L. M. Barrall and daughter, Josie, were with their cousin, R. C. Bagby and family near Louisville, having been called there by the death of Richard Bagby Jr. in Philadelphia. He was training for service with the Marine Corps, having volunteered nine months earlier. Spanish influenza caused his death. It would take many more.
Mrs. Mack Jones received a card stating the ship on which her son, Paul Jones sailed had arrived safely overseas with the 22nd Engineers.
Rev. C. J. Oleander, the new pastor at Little Flock, was holding a series of meetings at the church.
J. R. Holsclaw sold two milk cows and calves to Andy Kulmer for $165.00.
Cristian Schaefer received a telegram stating that his son, Oscar Schaefer, was killed on August 28, somewhere in France.
The State Board of Health ordered all schools, churches, and other like places to be closed in an effort to combat the spread of the Spanish Influenza.
The many friends of Rev. Cunningham were delighted to welcome him back to Hebron, if only for a brief time.
Ed Raiser was found dead lying by the side of the road, near Smithville, Tuesday morning by Ike Boston and several others. Raiser was well known in that neighborhood where he had been working. Dr. J. H. Shafer was called and held an inquest.
Troutman Bros. bought a new Ford Auto Delivery Truck.
And F. G. Thomas finished beautifying the residence of Mr. J. C. Holsclaw and left there to paint Mr. Price Smith's residence.
---
Copyright 2018 by Charles Hartley, Shepherdsville KY. All rights are reserved. No part of the content of this page may be included in any format in any place without the written permission of the copyright holder.
---