It Happened in October
The following article by Charles Hartley originally appeared in The Pioneer News on 30 Oct 2017. It is archived here for your reading enjoyment.
---
We will be looking back 10, 30, 50, 70, and 90 years to see what was being printed in The Pioneer News in 2007, 1987, 1967, 1947, and 1927 in the month of October.
2007 - 10 Years Ago.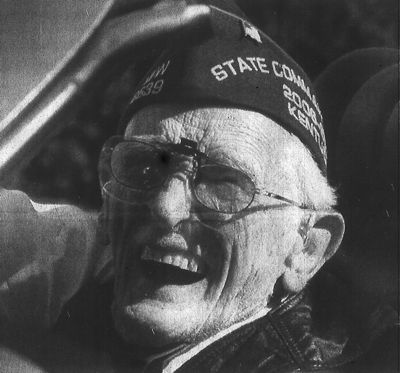 Robley Rex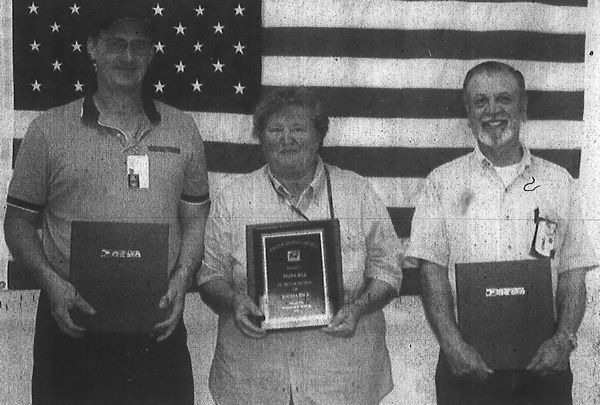 Postal Workers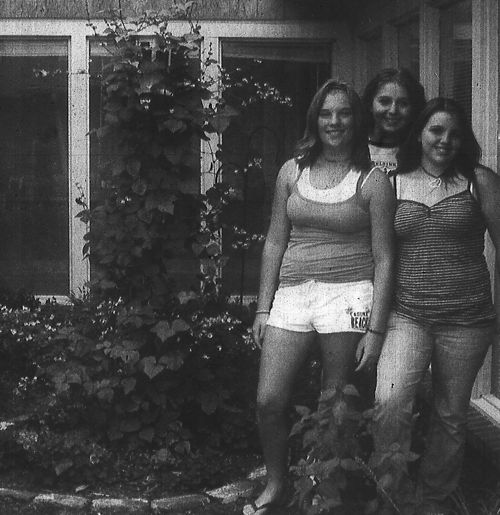 Girl Scouts
The Lebanon Junction Old Fashion Days festival parade featured two grand marshals: Robley Rex and Danny Fackler. Mr. Rex, a veteran of World War I, was instrumental in starting several Kentucky VFW posts, and had been honored for volunteering more than 7,500 hours at the VA Medical Center. Mr. Fackler had recently been recognized as the 2007 Kentucky Jailer of the Year.
At the festival, Cadence Shoptaw, daughter of Marsha Shoptaw, was selected as the most beautiful baby; Jenna Mattingly, daughter of Kenny and Shelly Mattingly, was selected as Tiny Miss LJ; Alanis Morgan, daughter of Pamela Morgan, was Little Miss LJ; Madison Black, daughter of Jamie and Amy Black, was Junior Miss LJ; and Matt Hagan, son of Jeff Hagan and Dana Duckett, was declared Tiny Mister LJ.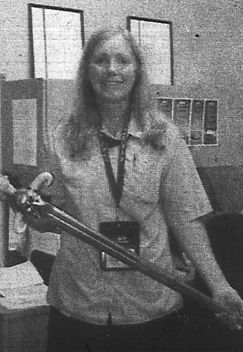 Lisa Fedenko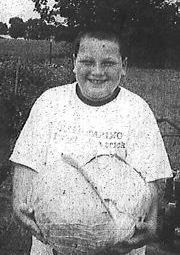 Jake Cox
Three postal workers from Mt. Washington were honored by receiving the United States Postal Service Eagle Spirit Award. They were Jim Sparks, Diana Bill, and Garey West. And Lisa Fedenko provided a little muscle at her post office job, muscle developed in competitive weightlifting that saw her set some powerlifting records.
Jake Cox was mighty proud of his cabbage! His teacher at Pleasant Grove, Ms. Stansbury, provided him with the plant, and he nurtured it in his papaw's garden until it reached the size of 22 pounds, and 14.5 inches across.
At the North Bullitt football homecoming, seniors Cara Hefty and Trey Phelps were chosen as homecoming queen and king. Meanwhile, over at Bullitt East seniors Kendra Clark and Boaz Johnson took the honors.
Bullitt East senior Kelly Harrod was pictured preparing to slam the volleyball in a match against Bullitt Central.
Bullitt East freshmen, Rachel Allgeier, Beth Maddox, and Kayla Curtsinger of Girl Scout Cadette Troop 790 spent the summer building a hummingbird and butterfly garden in the courtyard area of the Green Meadows Health Care Center as part of their requirements to receive their Girl Scout Silver Awards.
Kyle Evanow provided a key block that enabled Bullitt East senior Nate Hanson to score on a 75-yard play against North Bullitt. East won the game 42-35.
Seventeen members of the Shepherdsville High School class of 1950 gathered for a reunion. They included Sonny Crowe, Albert Black, Arthur Hilbers, Glendon Hall, Kenneth Raymond, Prince Ryan, Lindsay Croan, Betty Berman Begley, Willa Burns Fougnie, Marilyn Miller Ferguson, Norma Layeers Myers, Dolores Bradbury Hall, Evelyn Buckman Frisby, Emily Thompson Ford, Ramona Simpson Troutman, Merrill Cundiff Roberts, and Joan Wise Shawley.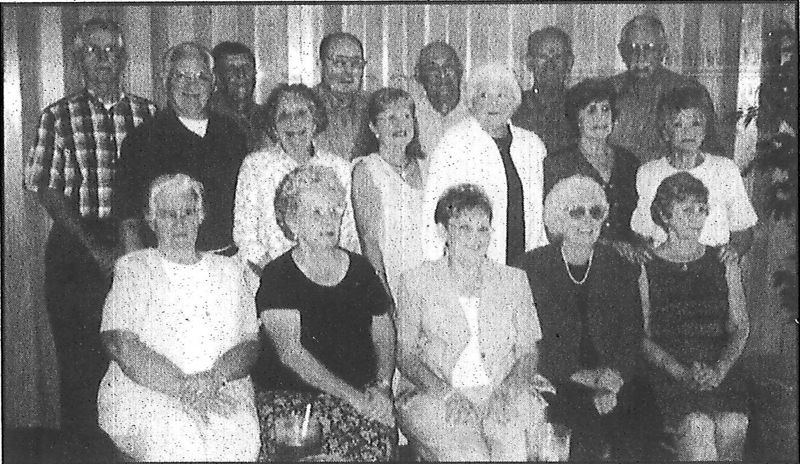 S.H.S. Class of 1950
Also, the S.H.S. Class of 1957 had their reunion as well. There was not room in the print version of this article to include all their names, so we are including an image of the 2007 article here.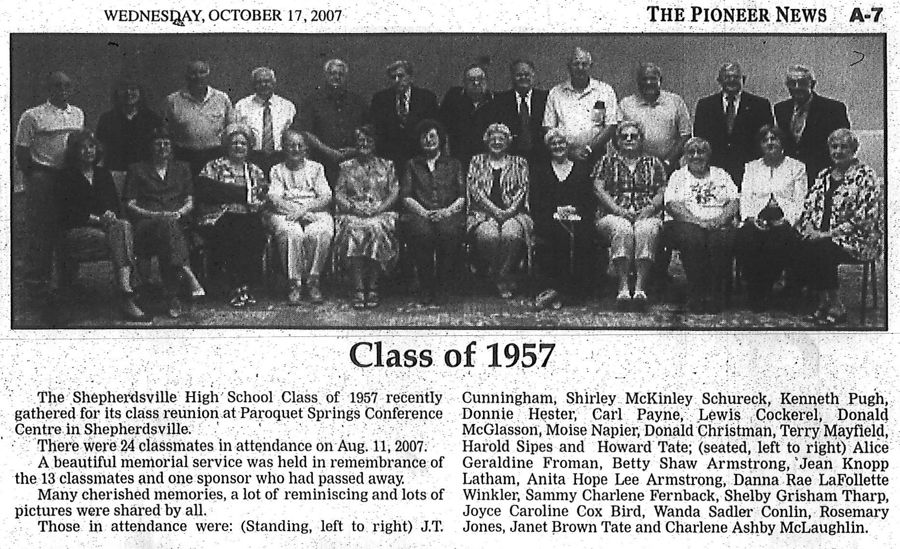 Bradley Frans received a $1,000 employee scholarship from local McDonald's owner/operator Rick Peters.
And a number of enduring marriages were celebrated in this month's papers. Shirley (Shag) and Anita Hope (Lee) Armstrong celebrated their 50th wedding anniversary, along with James and Carolyn (Armstrong) Robinson of Shepherdsville.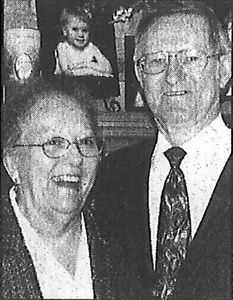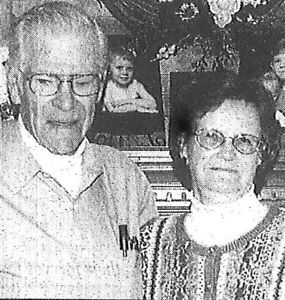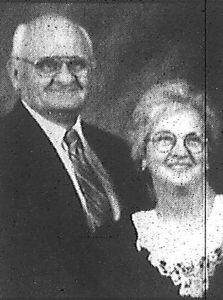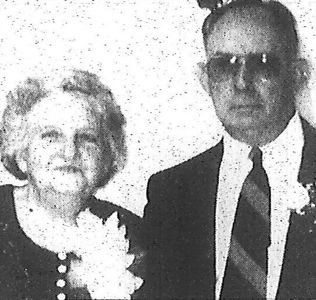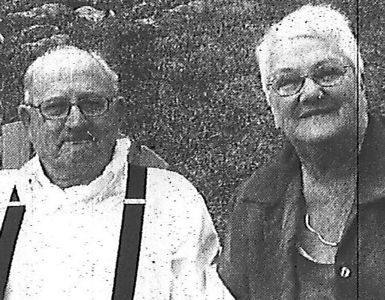 Not to be outdone, John and Elizabeth Durall of Lebanon Junction celebrated their 55th wedding anniversary; Joseph and Ida May Redemann, also of LJ, celebrated their 60th anniversary; and J. L. and Jenrose Sturgeon added a year to that, with their 61st anniversary!
1987 - 30 Years Ago.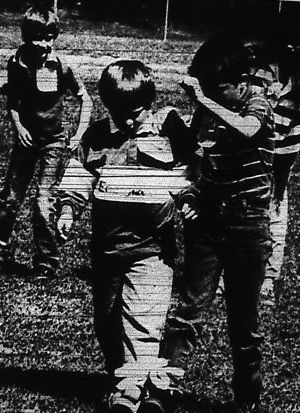 Freddy and Shannon
Freddy Holladay and Shannon McMichael of Mt. Washington Elementary School participated in a three-legged race with an apple balanced on their feet at the school's annual apple festival.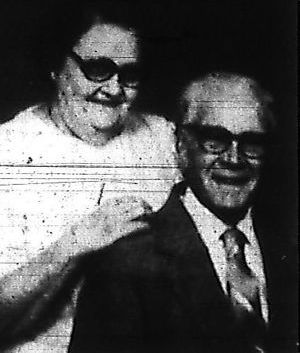 Crumbackers
There were lots of beautiful and handsome winners in the Olde Tyme Homecoming Baby Contests, including Amanda Michelle Coy, Ashley Sharp, Joni Leigh Burden, Tiffany Bruce, Elizabeth Porter, Megan Price, Christopher Halstead, Donald Caudill Jr., Ken Sanders, Tasha Lynn Etherton, Jessica Michelle Moore, Amy Nicole Halstead, and Chad Tucker Lanham.
While the Eagles lost to Anderson County, a highlight for them was Ambrose Mendoza's kicking. He scored all of their points on three field goals.
Judge Executive Clifford Haley underwent bypass surgery at Audubon Hospital.
Walter and Elizabeth (Ferring) Crumbacker celebrated their 50th wedding anniversary. They've lived at the top of Crumbacker Hill on Zoneton Road for almost all of those years.
Lebanon Junction Mayor Gerald Tamme was pictured looking over a replica L&N locomotive at the 1986 Old Fashion Day festival.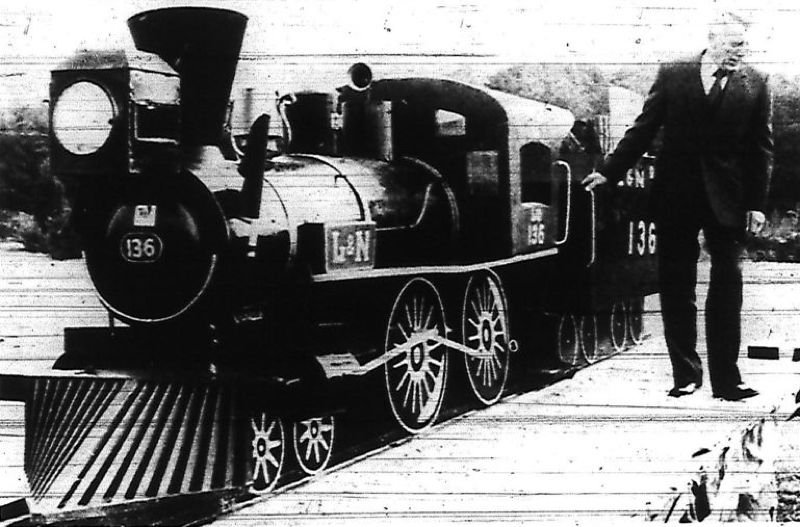 The LJ correspondents wished happy birthdays to Mattie Allen, Mary Lou Snellen, Kevin Collins, Emily Sullivan, Guy Snellen, and Jimmy Carnes.
Volunteers at the LJ school included Marge Barker, Carol Bibee, Carol Greer, Craven Durham, Cathy Geary, Cindy McCrary, Aubrey Maddox, Billie Raley, Billie Jo Ricketts, Connie Bailey, Carol Beeler, Mary Bowman, Carolyn Caudill, Gail Decker, Lois Hines, Debbie Metcalf, Brenda Underwood, and Brenda Vittitoe.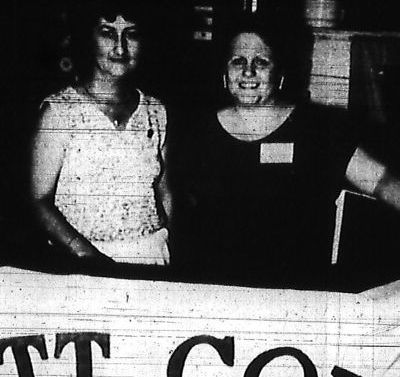 Jean Hagan and Brenda West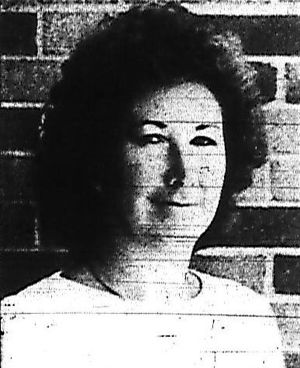 Judy Seigle
At the Nichols Family reunion at Cupio, the oldest attendee was Miss Minerva Pendleton, and the youngest was Clayton Andrew Dawson.
Jean Hagan and Brenda West were two that represented the Bullitt County Chamber of Commerce at the Bullitt County Fair.
Lebanon Junction Mayor Gerald Tamme shared the spotlight with WHAS news co-anchor (and Grand Marshal) Melissa Forsythe at the Old Fashion Days festival parade.
Commonwealth Attorney Tom Waller was honored by State Attorney General David Armstrong when he was named Outstanding Prosecutor of the Year.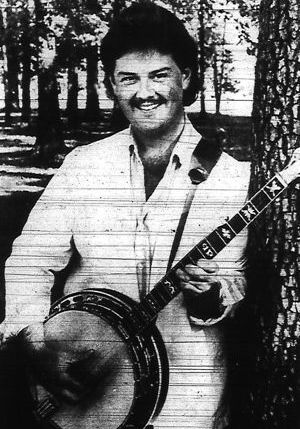 Marke Richardson
Dickie Hay was featured in an article by Bobbi Woloch on his songwriting aspirations. His song "Who Gets Custody of the Memories?" placed third in the American Songwriting Festival in 1976.
Louise Bischoff of the Hebron Community shared that Lisa McDowell was traveling to Lexington for the Fall Classic Horse Show. She also reported that Bernard and Jimmy Bischoff and Hubert Meredith enjoyed two days of fishing at Barren River.
Judy Seigle was named Homemaker of the Year by the Bullitt County Homemakers.
Marke Richardson "picked" his way to a second-place finish in the senior division of the Kentucky State Banjo Championship.
New Lebanon Junction School Principal Larry Belcher was pictured aboard the school float in the Old Fashion parade. Belcher, a 1965 graduate of S.H.S., described himself as a "people person" which certainly proved to be true in his later endeavors.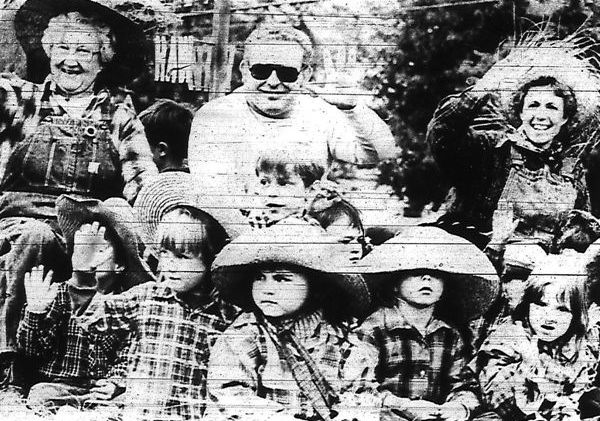 And Jane Sanders was named Outstanding Citizen of the Year by the Bullitt County Chamber of Commerce.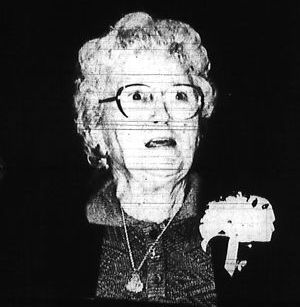 1967 - 50 Years Ago.
At the S.H.S. Homecoming, Linda Mann was the Freshman attendant, Linda Deats was Sophomore attendant, Rita Wilson was Junior attendant, and Pat Williams was Senior attendant. The Homecoming Queen was Patsy Hodge, a senior and member of the cheerleading squad. She was escorted by varsity players William Price and Tony Blunk. Paula Shepherd was the flower girl; Dale Howlett was crown bearer.
Mrs. Evelyn Shaw, teacher representative on the Roby Elementary PTA Executive Committee, presented an American flag to Principal Woodrow Masden, assisted by students Stevie Hart and Charles Phelps.
Diana Moore, Connie Buchanan, Judy Anderson, and Faye Bacon presented a twirling routine at the Shepherdsville High School Homecoming at halftime that featured batons saturated with gasoline and lighted for the performance. The young ladies were members of the school drill corp and majorette team.
Gladys Sprinkle, news editor for the Mt. Washington column, devoted her column to the death and memory of her father, Goodloe Searcy Bass.
We learned from Mrs. Lanham, the Cedar Grove correspondent, that Mrs. Essie James visited Mrs. Jo Bland, that Yvonne Vincent married Raymond Hodge of Lebanon Junction, and that Nancy Mattingly married Joe Bowman at the Cedar Grove Baptist Church.
The Wilson Creek correspondent wrote that "Mr. Marvin Masden took Mr. and Mrs. R. T. Milligan and Miss Grace Chadwich on a very enjoyable and interesting trip to Masden's Mobile Homes Court at Radcliff." (No, folks, I don't make this stuff up!)
At the annual Roby School Fall Festival, Paul King and Jennifer Trammell, first graders, were named King and Queen. Mark Hardy and Sylvia Davidson, fifth graders, were declared Prince and Princess. Also, Mrs. Retha Freeman won the delicious jam cake donated by Mrs. Dudley Shelburne.
At the Cedar Grove Fall Festival, Robert Stolts and Sherrie Dunnavan (sixth graders) were King and Queen, while Ronald Jobe and Lisa Cundiff (first graders) were Prince and Princess.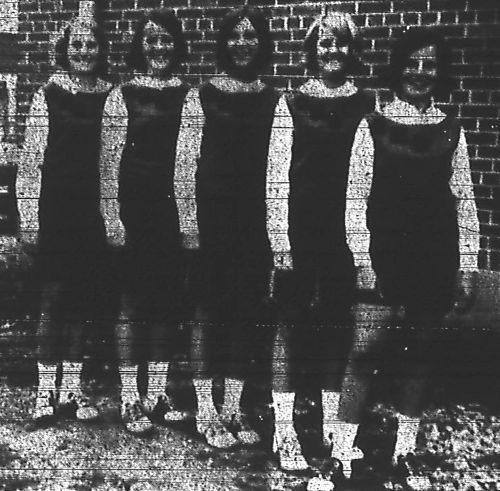 The S.H.S. Junior Varsity Cheerleaders were named. They included Diane Pieller, Paula Sue Cundiff, Judy Myers, Roxanne Pieller, and Sarah Nell Hamilton.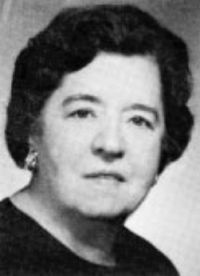 Bertha Trunnell
The Lebanon Junction High School Senior Class presented a comedy-drama at the town's elementary school. Participating as actors were Jean Johnston, Carolyn Simms, James Spillman, Edgar Sullivan, Jerry Van Vactor, Rod Willings, Kathy Crady, Linda Engle, Violet Masterson, Pat Wise, Merrell Coleman, and Anna Waters. Their director was Miss Mona Johnson.
Long-time teacher and Bullitt County native, Miss Bertha Trunnell was honored by having a new elementary school in Jefferson County named in her honor.
Members of the Bullitt County Sheriff's Posse were identified. They included Jimmy Hite, Norman Peacock, James Skidmore, Billy Troutwine, Norman Philpot, Martin Coy, Raymond "Tee" Howlett, Roman Philpot, Roy Polston, Irvin Maddox, Lester Philpot, Everett Ferguson, C. L. Croan, Leroy Skaggs, Donald McKee, Charles "Bud" Howlett, Ronnie Parker, and Buster Coy.
And the war came home to Bullitt County with the combat death of Spec. 4 Danny Dale Burkhead who was fatally wounded in Vietnam on Friday, October 6, 1967.
1947 - 70 Years Ago.
The Junior Conservation Clubs of Shepherdsville and Lebanon Junction met and elected officers. At Shepherdsville, 64 boys met and elected Charles Wood president, Gerald Bergen vice president, Bardy McCubbins secretary, and Billy Brown treasurer. At LJ, 60 boys met and elected Bill A. Beeler president, Joe Sweat vice president, Joe McMillen secretary, and Bobby Pike treasurer.
The F.H.A. girls displayed the articles of clothing they had created in the store window of Roy Maraman's store. Girls whose articles appeared included Georgia Clark, Betty Beeman, Helen Fields, Evelyn Buckman, Merrill Cundiff, Sharleen Lanham, Norma Ratliff, and Ramona Simpson. Also, below is an image of one of the newspaper advertisements that Mr. Maraman had printed in the newspaper.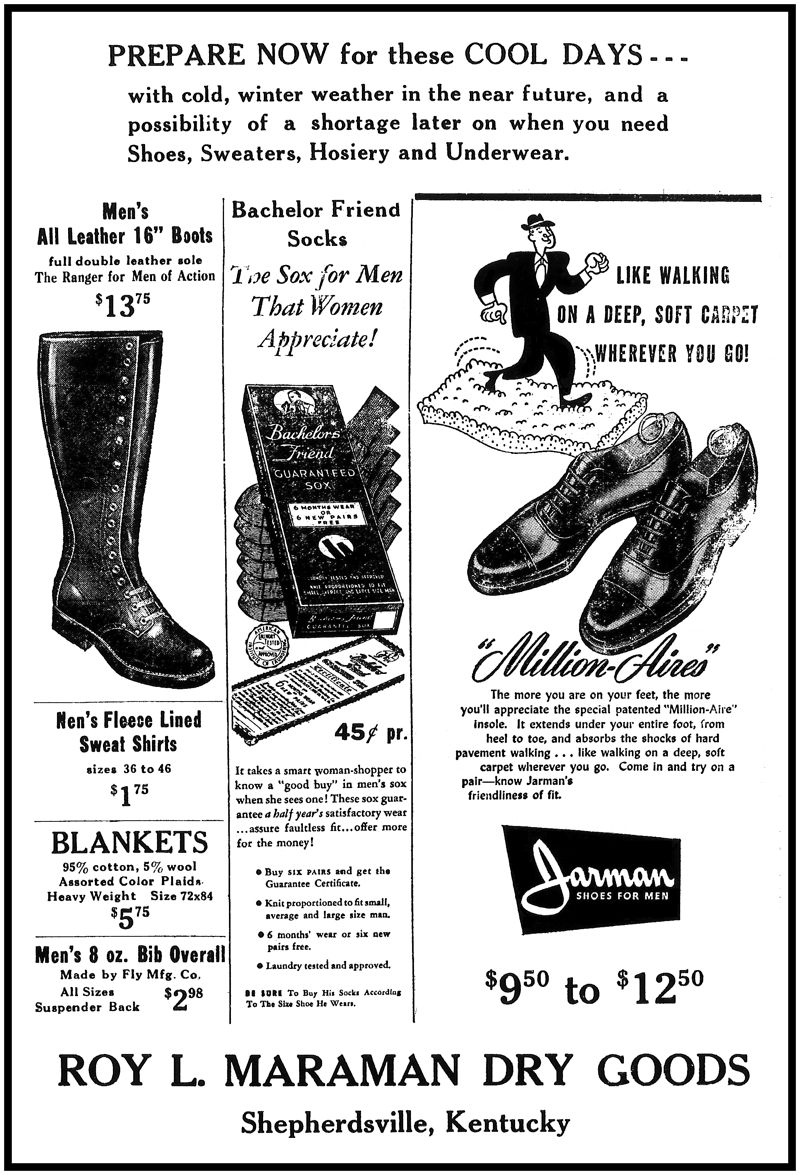 Below is an advertisement announcing the grand opening of a new car dealership in Shepherdsville in October 1947.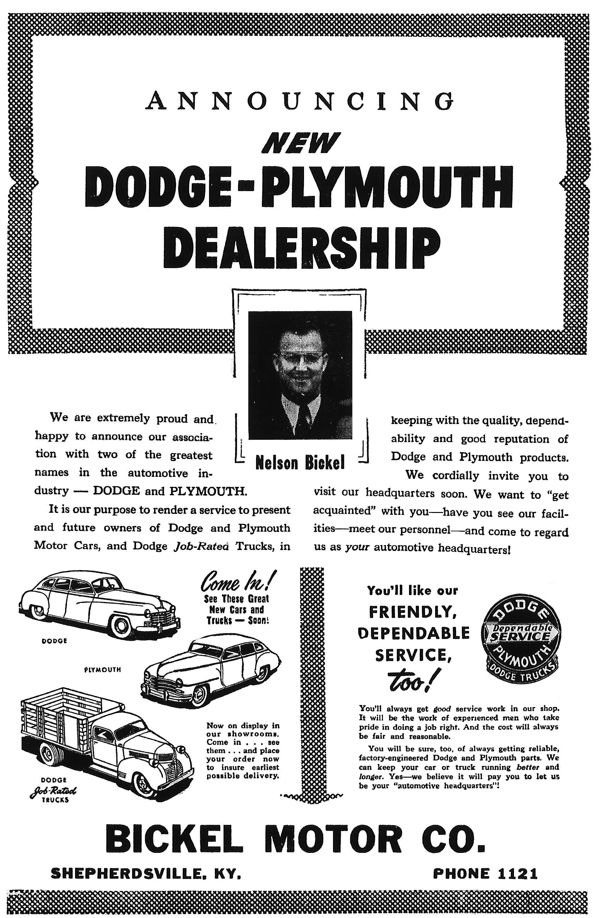 Miss Mary D. Porter was hired to work as county Home Demonstration Agent. Her first tasks were to organize Community Homemaker Clubs, and assist 4-H girls with projects.
At Mt. Washington, Mrs. Will Pierson was finally able to be out and about on crutches. She had been confined to her home and bed for more than a year from injuries received in a motorcycle accident.
Miss Eleanor Jackson, a teacher at the Shepherdsville school, announced that her sixth-grade students had elected class officers, including Alice Ryan as president, Ina Roby vice-president, Doriscella Myers as secretary and treasurer. Louise Pugh, Shirley Lee, and Shirley Stansbury were named as reporters; and Robert Stallings was sergeant at arms.
Mrs. Dorothy Glenn Bullock and her sister, Miss Frances Cruise flew to New York to visit with Jimmy Cruise who was racing there on the harness racing circuit.
The High Grove correspondent shared that Albert Spratt and wife had returned home from Miami, Florida; that the Chester Raymond's had moved into Arch Raymond's house, and that Bessie Berkhead was staying awhile with them; and that Mrs. Bell Troutman was getting along well after a fall that broke several ribs.
Items listed for sale included Burl Coakley's smokeless Dixie Coal stove, Viola McCubbins' Victrola and records, and Mrs. L. M. McKinney's kerosene burner for a hot water heater. Also, Dick Pope had lost his wallet and was offering a reward for its return.
In the personals column we learned that Mr. and Mrs. C. A. Masden entertained for dinner Mrs. Ida Roby, Mrs. Howard Roby, Mr. and Mrs. O. H. Masden, and Mr. and Mrs. George Quick; that Bernie C. Milam had returned to the University of Kentucky; that Alvine and Beulah Foster attended a wedding in Louisville; and that Mrs. Ben Richardson and Mrs. Fredie Hoagland spent a Sunday with Mrs. Jessie Foster.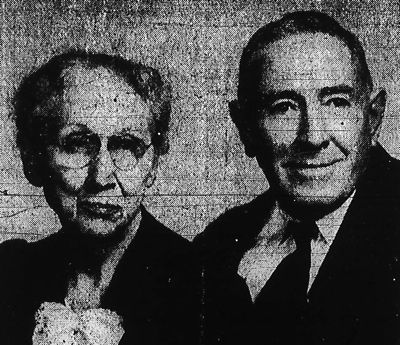 The Scotts
The Lebanon Junction Lions Club put on a home talent hill-billy comedy at the high school gym for the benefit of Spastic paralysis. Performers included Dick Hocker as Cousin Linney Pearl, Russell Argenbright as Elviry Judkins, Andy Blankenship as Sue Judkins, Earl Ryan as Miss Twitty, Barrett Murry as Aunt Bessie, Stanley Muir as Mazie Mae, Raymond Tatum as Henry Judkins, Fred Whitehead as Elmer Judkins, Samuel Pottinger as Bob Sandrock, and Edward Thompson as Squire Hicks. Bet that was a load of fun!
Mr. and Mrs. O. N. Scott got their picture in the paper by celebrating their 50th wedding anniversary. Front page too!
And the Bullitt Lodge of Masons No. 155 celebrated its 100th anniversary with a banquet and some 250 guests. T. C. Carroll was master of ceremonies. Pendleton Jones was the guest speaker, with Bruce Hartsell providing the music along with a group of singers from the Baptist Seminary.
1927 - 90 Years Ago.
In the School News column we learned about the Nichols family reunion held at Cupio. This was the family of Lemuel W. Nichols who died in 1923, and for whom the Nichols school was named.
In the same column we learned that, before Dick Wathen's death, he transferred a part of his "magnificent lawn" at Bardstown Junction to the county for a location for the new school and an area for a playground.
The reporter from the Victory community wrote that Steve McCubbins lost a fine cow from eating green corn. To make matters worse, his wife fell and hurt her arm.
The Mt. Washington correspondent wrote that "Mrs. Basil Scott is some shot when it comes to killing squirrels. She killed six one day last week with five shells."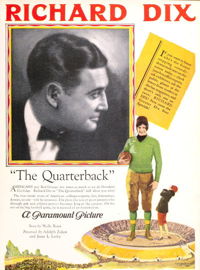 Mrs. Ed Ashe was walking near her home near Solitude when a grey fox came at her. She was able to fight it off with a heavy tobacco stick, and finally killed it. Her son Johnson took the fox to the board of health to be examined, and it was determined that it was mad. This was the second fox attack in the county that summer.
The paper announced that the 1926 silent comedy, "The Quarterback" would be shown at the Fraternal Hall.
W. M. Combs had fruit tree seedlings for sale. You could get an apple tree for 20 cents, or a peach tree for 15 cents, but pear, plum, and cherry trees would cost you 40 cents apiece.
We learned in the personals column that Charlie Bridwell was able to be out again after being laid up for several days; that several children in town had measles; that Bert Shepherd had been busy the past week erecting tombstones; that Charlie Hatzell's friends were happy to see him out again; and Will Shaw was wearing a real smile that just wouldn't come off.
J. C. Thornton of Clermont wanted to sell his one-ton Ford truck, or trade it for a touring car.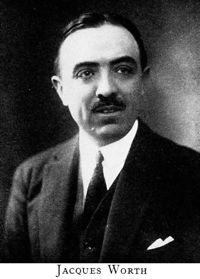 C. P. Bradbury and Tom Adams moved to their new homes, Bradbury to the Lee property he had recently purchased, and Adams into Bradbury's old place.
I found it interesting that the local paper was reporting that a Paris fashion designer named Jacques Worth had declared that women's skirt hems should be two inches below the knee in daily wear.
The Hilltop reporter said that Miss Hettie Shepherd was recovering from her operation for appendicitis; that Chester Shepherd was recovering from typhoid fever; and that Owen Shepherd and family, along with Stoney Keith and family, attended an all day meeting at the Mitchell schoolhouse.
The folks at Bardstown Junction were happy to see their new schoolhouse being built, not to mention the new state highway passing their way. Their reporter also mentioned that E. D. Oaks was back at work after being laid up with a severe cold. This was good news for, in those days, a bad cold could quickly lead to pneumonia and death.
And Henry Maraman of Shepherdsville had ten high producing Holstein cows ready to calve, and would sell bull calves at $25 each if taken at ten days old. They came with papers too!
---
Copyright 2017 by Charles Hartley, Shepherdsville KY. All rights are reserved. No part of the content of this page may be included in any format in any place without the written permission of the copyright holder.
---