It Happened in October
We will be looking back 20, 45, 75, and 90 years to see what was being printed in The Pioneer News in 2001, 1976, 1946, and 1931 in the month of October.
2001 - 20 Years Ago.
Tom Pack spoke to the local genealogical society about the first year of the county's existence in 1797.
Bullitt East High School librarian Mary Parker was pictured showing students around the school's new media center.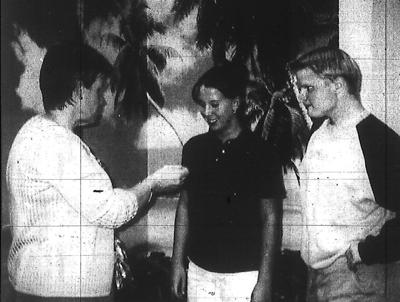 Mary Parker at BEHS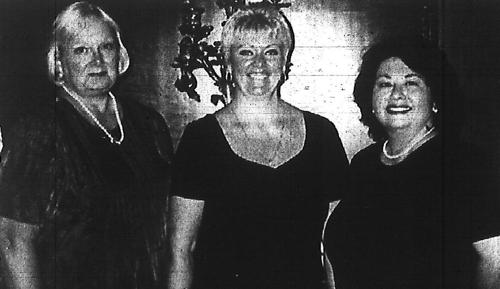 City Clerks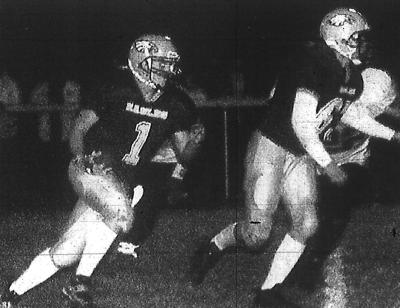 Coleman and Wolff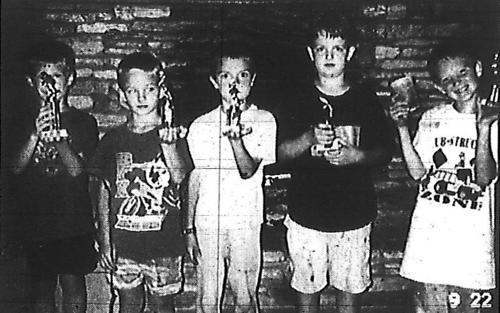 Cub Scouts Fishing
City clerks Betty Bradbury of Hillview, Tammy Owen of Shepherdsville, and Gale Park of Mt. Washington each earned the prestigious Certified Kentucky Municipal Clerk designation at the Kentucky Municipal Clerks Institution.
North Bullitt senior running back Andy Coleman was pictured looking for running room behind the blocking of junior David Wolff in game against Louisville Central High School.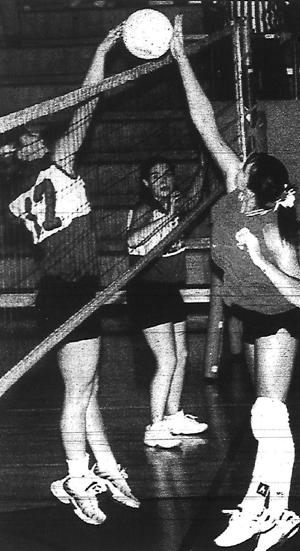 Davis and Goodman
Bullitt Central's Holland Davis and Bullitt East's Jessica Goodman were pictured battling over the volleyball net in a match between the two schools.
Members of Cub Scout Pack 685 participated in a Fall Campout Fishing Tournament where Nicholas Smith caught the biggest fish, Tyler Corbin was second, and Matt Sahl third. Chase Croan caught the most fish, and Kenny Dukes won for the most unusual catch. (Wonder what that was?)
Local resident Wayne Muscar continued his acting career in a production of Agatha Christie's play, The Mousetrap at the Little Colonel Playhouse.
North Bullitt's Homecoming King and Queen were Norman Casse, son of Mark and Jennifer Casse, and Melanie Keith, daughter of Andy and Patsy Keith.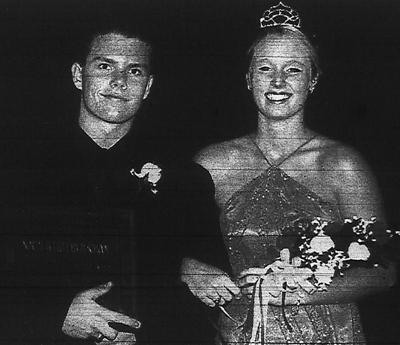 North Bullitt Royalty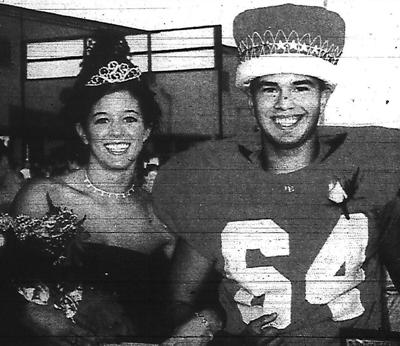 Bullitt East Royalty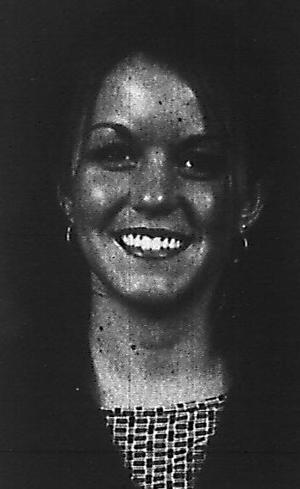 Tara Lewis
At Bullitt East's Homecoming Game, Sallie Mills was crowned queen and Alejandro Castillo, a foreign exchange student at the school, was named king.
Tara Lewis of Shepherdsville was a homecoming queen candidate at Eastern Kentucky University.
At the 2001 Olde Tyme Homecoming in Shepherdsville, Christina Wallace was crowned Miss Shepherdsville. First and second runners-up were Tashia Rash and Jennifer Diane Vittitoe. Winners in younger age categories included Britney Griffitts as Junior Miss, Victoria Lauren Tan as Pre-Teen Miss, Cassie Jo Geary as Little Miss, Lyndsey Michelle Hiter as Petite Miss, Leah Grace Combs as Tiny Miss, Haley Bonn as Toddler Miss, and Shelby Lynn Garrett as Baby Miss. And of course we shouldn't miss Justin Geary who was crowned Mister Shepherdsville.
At the 2001 Old Fashion Day Pageant in Lebanon Junction, Jennifer Vittitoe was crowned Miss Lebanon Junction, Erin Byrd was Junior Miss, Courtney Boston was Pre-Teen Miss, Cassie Jo Geary was Little Miss, Savannah Nichole Downs was Petite Miss, Kerri Anna Sparks was Tiny Miss, Mackenzie Rae Patterson was Wee Miss, Taylor Ann Nalley was Toddler Miss, and Taylor Alexis Wooldridge was Baby Miss. Meanwhile, Justin Todd Geary was Mister Lebanon Junction, Justin Dale Rhodes was Little Mister, Levi Reed was Tiny Mister, Logan William Lee Vittitoe was Toddler Mister, and Jordan Ray Sparks was Baby Mister.
An obituary of note was that of Lillian Samuels of Lebanon Junction who was "a fixture in Lebanon Junction as she was part of many civic organizations." As Lillian Masden, she graduated from Lebanon Junction High School in 1938, and was a former employee of the town.
Mike Egan was pictured with his wife Susie at a special recognition as he announced his retirement as Bullitt East football coach.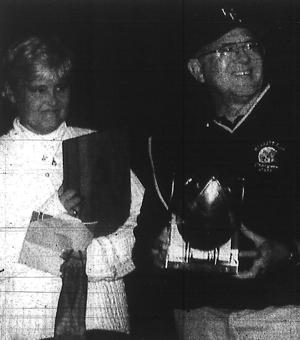 The Egans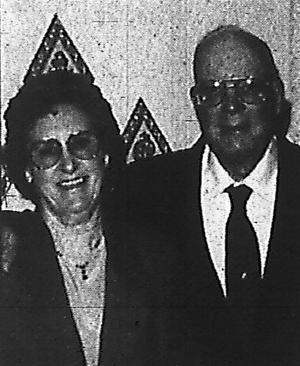 The Howletts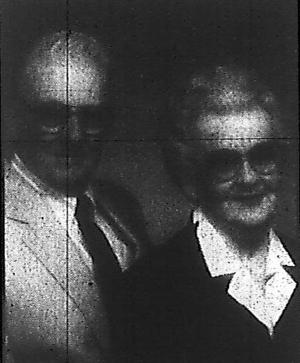 The Scotts
Charles and Lillian Howlett celebrated 55 years of marriage. Their children are Linda Belcher and Charles Curtis Howlett Jr.
Also celebrating their marriage were Basil and Jean (Schwoebel) Scott of Shepherdsville who would reach their golden wedding anniversary in November.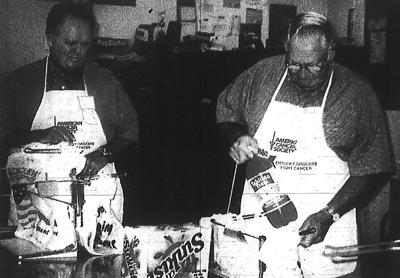 And Moise Napier and Lloyd "Shot" Dooley were pictured bagging groceries at the annual Grocer's Day hosted by the Houchen's store in Mt. Washington in support of the American Cancer Society. I understand no eggs were broken nor any bread smashed at the event.
1976 - 45 Years Ago.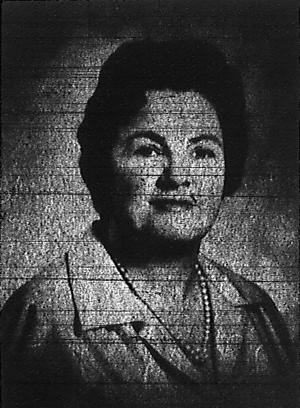 Nell Pike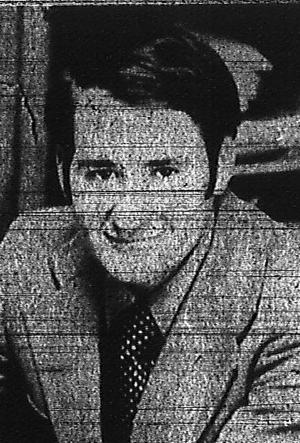 Bill Dawson
Bill Dawson announced that he was running for re-election to the County School Board from the Bernheim, Camp Crescendo and Lebanon Junction precincts. During his first term he served as vice chairman of the board.
Nell Sanders Pike, fourth grade teacher at Roby Elementary, was selected as Bullitt County Teacher of the Year. She was the mother of David Pike, then a student at Depauw University, and Mrs. Burnell Lemme, a teacher at Doss High School.
In news from the Pleasant Grove area, we learn that Owen Risk and wife were the proud parents of a baby boy. Owen was a previous pastor at the Pleasant Grove Church.
The Hebron Area Newsletter informed us that Bernard Bischoff was suffering from an infected eye. We also learned of the marriage of Barbara Sabiston and Rudolph Fisher at the Little Flock Church, and that the bride wore a gold and garnet necklace that had been in the family for five generations.
We also learned that Dr. and Mrs. Harry Goodykoontz were honored at the Hebron Church. He had served as interim pastor for the past year. Also, the women of the church met at the home of Mrs. Herbert Fisher and selected the following officers: President Mrs. Willie Gentry, Vice President Mrs. Jane Williams, and Secretary/Treasurer Mrs. Bebe Hamilton.
The following young ladies were contestants in the Junior Miss competition: Susan Farris, Elisa Deacon, Lynne Firkins, Melanie Sloan, Becky Mitchell, Diana Gillespie, Debbie Fentress and Beverly Smith. Susan Farris the chosen winner.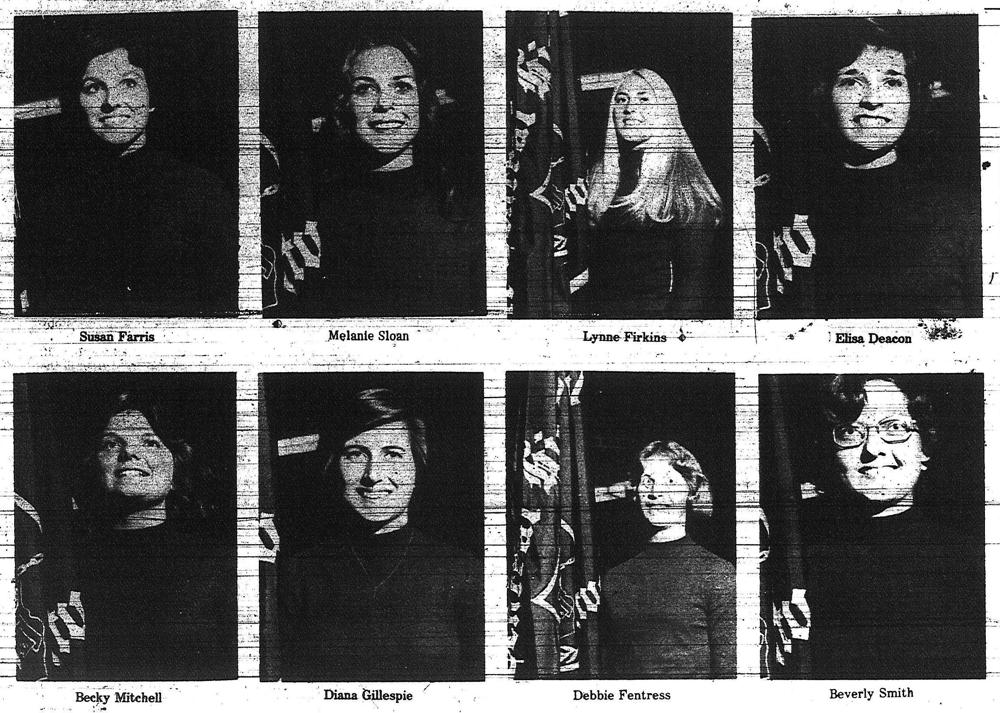 In the Cedar Grove news column we learned that the following people were celebrating birthdays in October: Ida Mae Hilton, James Rogers, Dr. Donald Wood, Mike Thompson, Ella Crenshaw, Bill Flairty, Faron McCubbins, Kathy Overfelt, Margie Jackson, Stacy Ann Knopp, Mrs. Donald Wood, and Alice Shelton.
The Generals of Mt. Washington Junior High defeated Old Kentucky Home 18-0 with Ronnie Shepherd scoring the first touchdown on a screen pass from Jimmy Goodman. Keith Atwood scored the second TD on a five yard run. The third TD was scored by Chris Simmons who intercepted a pass and returned it 40 yards.
The Hebron Junior High Panthers defeated New Haven 28-0 with Billy Corder, Mike Corum, Ronnie Saylor, and Joe Galvin all scoring touchdowns. Coach Sallee complimented his offensive line of Mike Lawson, Robbie Reno, Scott Hawkins, Dwayne Green, Greg Curry, Mike Corum, and Billy Riley.
And the Shepherdsville Rams defeated the Generals 20-0, scoring all their points in the first half. Brett Larimore ran five yards for the first score; the second and third touchdowns came on passes from Damon Blanton to Dennis Johnson.
In Bullitt Lick news, we read that Ida Atkisson, Mrs. Larimore, Mrs. Alcorn, and Gladys Shepherd paid a visit at the Masonic Home.
In Nichols news, we learned that Herbert Haycraft, Walter Ferguson and Ernie McNutt spent a day fishing near Springfield. I wonder if they caught anything.
In the Lebanon Junction news column we read that the St. Benedict 8th graders took a field trip to Phillip Horn's bee farm accompanied by their teacher Jane Crawford and three mothers, Martha Beeler, Frances Ilari and Mary Kay Shepherd.
They called her "Dr. J." as she served as the first certified student trainer at Shepherdsville Junior High. She was Jan Firkins, a freshman at the school.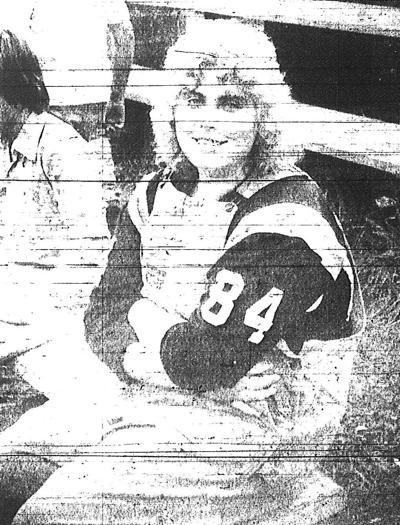 Jan Firkins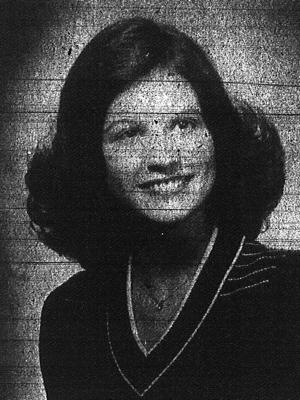 Susan Sloane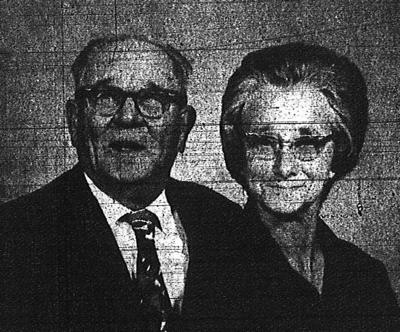 The Sidebottoms
Susan Tichenor Sloane, a 1970 graduate of Mt. Washington High School, was selected as Mistress of Ceremonies for the Bullitt County Junior Miss Pageant.
Clyde and Maranda (Brown) Sidebottom of Lebanon Junction celebrated their golden wedding anniversary.
The Cash's Grill Sandwiches sign prominently appeared in a photo of the Bullitt Central football homecoming parade.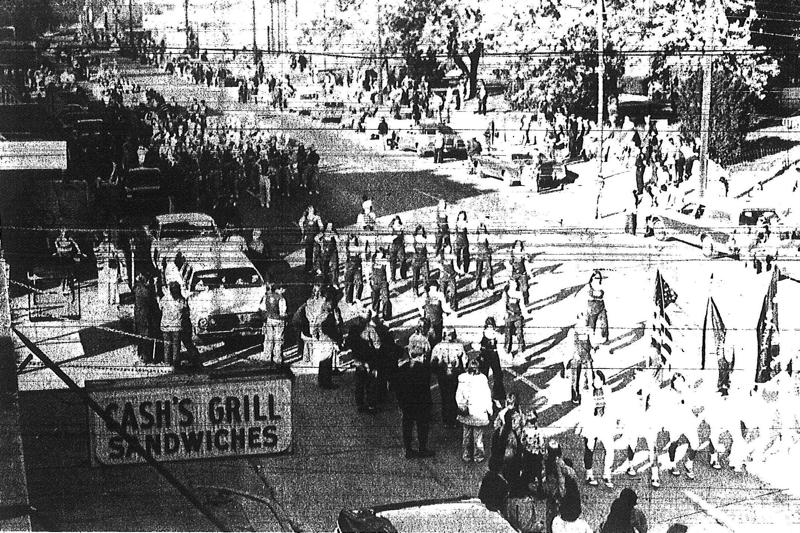 The McNeil Masonic Lodge of Lebanon Junction celebrated its 100th anniversary. Its nine charter members were Charles B. Tydings, H. H. Hart, John L. Thompson, J. E. Ricketts, William H. Mayfield, William Ormes, J. D. McNeal and Luke Howlett. The lodge master in 1976 was Otto Ballou.
1946 - 75 Years Ago.
In Shepherdsville School News, Mrs. Hill's section of the 8th grade elected class officers. J. T. Scott was elected president; Billie Williams, vice-president; Joann White, secretary; and committee members Billy H. Smith, Dean Nicholas and Jimmy Milam who were to plan the program for their next meeting.
In Miss Dawson's 8th grade section, Audrey Jent was elected president; Gerald Bergen, vice-president, Pauline Dever, secretary; Doris Howlett, treasurer; and Billy Brown, chairman.
Phil Shindlebower of Route 1, Shepherdsville, was advertising for two good carpenters and a few laborers. Wonder if he was building a barn?
The Cedar Grove correspondent wrote that Mr. Royce Boes and family had moved back to their home after being burned out a few months earlier. She also wrote that Oral Meredith had bought Herman Crenshaw's farm.
Captain Joseph Brunson Burkhalter, son of Rev. L. L. Burkhalter, former pastor of the Shepherdsville Baptist Church, was married in Wisconsin to Mary Charlotta Goss.
Ack H. Harned, chairman of the Bullitt County Soil Conservation District, announced an essay contest for the children of Bullitt County. It was sponsored by the Louisville newspapers.
In Needmore Road news, Cecil Bridwell, Alvine Foster, Gen Hall, Billie Bleemel and all their wives were entertained in the home of Randolph Porter. And Mr. and Mrs. Harley Proctor, Ella and Don Hill Proctor, and J. B. Proctor Sr. drove to Bardstown to the Old Kentucky Home.
In the personal notes column we read that Mr. and Mrs. Roy Stallings had moved to the Horace Maraman property, and that Mrs. Fannie Croan had moved to the Stallings property that she recently purchased.
The Lebanon Junction correspondent wrote that Emmett Lee Raney had returned to New York City where he was a speech student at Columbia University. She wrote, "Our town is very proud of Emmett Lee."
The Bullitt County Bank hired William T. Finn as cashier, while H. H. Combs moved from that position to that of Executive Vice-President of the bank. Other bank officers include President Woodford B. Troutman and Vice-President W. Howard Roby.
Foster Sanders, principal of the Shepherdsville school, announced the results of the school carnival and festival. The high school queen for the festival was Edith Roby who was escorted by Johnnie Maraman. The elementary queen was Jean Castle escorted by Dickie Williams. The school P.T.A. sponsored the events and raised $1,478.14 to help support school programs.
The Junior Womans Club of Shepherdsville met and elected the following officers: President Mrs. Harold Hardy; Vice-President Miss Catherine Weller; Secretary-Treasurer Miss Swearingen Weller. The president then appointed Miss Frances Nooe as parliamentarian, and a program committee that included Miss Elizabeth Wise, Miss Sara K. McEnnis, and Mrs. Jimmy Powers.
In Mt. Washington school news, the teaching staff included Rosetta Benningfield (1st grade), Martha Weller (2nd grade), Inez Lloyd (3rd grade), Bertha Anderson and Marilyn Maraman (4th grade), Frances Armstrong (5th grade), Gertrude Snider (6th grade), Ann Goodwin (7th grade), Earl Houchin (8th grade), Mary Gertrude Paris (9th grade), Steven Hardin (10th grade), Lucille Insko (11th grade), and W. O. Anderson (12th grade).
Each class elected officers, and the following were elected presidents of their class: Norman Snider (9th), Veleda Stallings (10th), Verneasa Troutman (11th), and Juanita Quinn (12th).
And in other Mt. Washington news, Mr. and Mrs. R. S. Hall purchased the Downs house on Main Street then occupied by Mrs. Bess Owen and daughter Miss Corinne. The correspondent wrote, "Miss Corinne now has double trouble trying to find a home for herself and a new quarters for the post office."
1931 - 90 Years Ago.
J. Tom Foster, 85 years old, a retired real estate dealer, and for many years prominent in Bullitt County politics, died at the home of his daughter Mrs. James H. Wallace. He was buried in the Hebron Cemetery. One writer said, "In his early life, he was a powerful man. Tall, large of bone and active, he was regarded as one of the county's most powerful men."
J. H. Boes advertised that he was opening his store in the Ezra Johnson building in Salt River, and invited all his former customers to visit him there.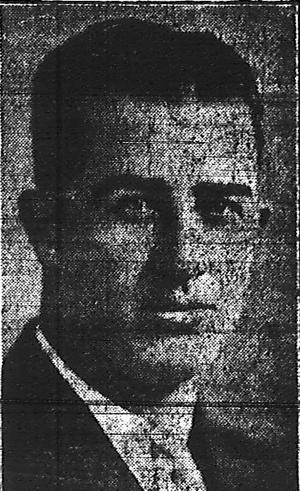 Happy Chandler
We read that Conrad Maraman and family had returned from a trip to Florida, and that he had been the county treasurer for a number of years, a job that paid no salary. The writer stated that "no man could handle this responsible position better."
A. B. "Happy" Chandler, candidate for Lieutenant Governor, addressed the voters of Bullitt County at the court house in Shepherdsville.
Zollie, Brad, and Gussie at Bradbury & Swearingen Company in Shepherdsville would sell you a full pint of milk magnesia for 39 cents.
The Beech Grove correspondent wrote that Mr. and Mrs. Headie Lee and son was guests of Mr. and Mrs. P. T. Momford; that Mrs. Amanda Crigler and son, and Mr. and Mrs. Walter Cundiff and daughter were guests of Mr. and Mrs. A. L. Cundiff.
In the personals column we read that Mr. and Mrs. C. A. Masden entertained Rev. Burkhalter, Herman S. Ray of Louisville, Mr. and Mrs. S. B. Stephens, Mr. and Mrs. O. H. Masden, Mr. and Mrs. C. W. Stansbury, Msses Lois and Virginia Bergen, Ophelia and Orbra Lee Masden and Miss Nellie Dawson.
The following students were selected to represent Bullitt County in the State Rural Tournament in Lexington: James B. Williams (8th grade, Hebron) and Paul Snellen (8th, Belmont) in reading; Martha Howlett (6th, Glen Meadows) and Eva Mae Lee (8th, Oak Grove) in spelling; Helen Armstrong (6th, Glen Meadows) and Richard Shaw (8th, Bardstown Jct.) in English; Mary Goldsmith (6th, Mt. Olive) and Thelma Close (8th, Victory) in arithmetic; Loyd Tinnell (8th, Whitfield) in civics; John D. Harned Jr. (Hays) in history; and Stanley Evans (Clermont) in geography.
According to the Lebanon Junction correspondent, John Argenbright and Floyd Bryant were in an accident in Mt. Vernon in which John suffered a broken leg, and Floyd suffered cuts and other minor injuries.
The Bullitt County fairgrounds were sold to J. L. Everbach who then lived at Clermont.
Pastor L. L. Burkhalter of the Shepherdsville Baptist Church was granted leave by the church to lead a twelve day meeting in New Liberty. Preaching in his place would be the assistant pastor, Rev. H. S. Ray.
The Hebron school under the leadership of Prof. Wagoner, assisted by Miss Consuelo Simmons, gave their school an entertainment. A large crowd was present and a nice sum was made for the school. Burke Williams was the school's trustee.
The following list of local students were attending college classes at Bowling Green: Virginia Raney, Beulah Philpot, Martha Weller, J. W. Bradbury, Madaline Hagan, Dale Carrithers, Wallace Harned, Ida Lee Ball, and Mae Mathis.
And Mr. and Mrs. W. N. Griffin, proprietors of The Quality Inn Restaurant on Main Street opposite the courthouse, advertised that everyone was welcome to listen in on the World Series there, as they had plenty of room.
---
Copyright 2021 by Charles Hartley, Shepherdsville KY. All rights are reserved. No part of the content of this page may be included in any format in any place without the written permission of the copyright holder.
---