It Happened in October
The following article by Charles Hartley originally appeared in The Pioneer News on 26 Oct 2020. It is archived here for your reading enjoyment.
---
We will be looking back 24, 50, 75, and 100 years to see what was being printed in The Pioneer News in 1996, 1970, 1945, and 1920 in the month of October.
1996 - 24 Years Ago.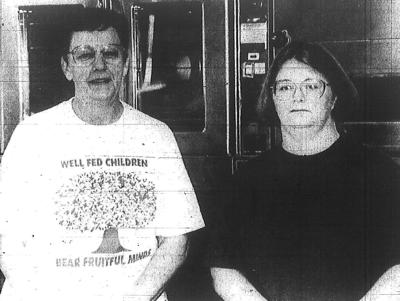 Annette and Roberta
Annette House and Roberta Lee enjoyed their work in the St. Benedict cafeteria, and as former students of the school they had fond memories of it.
The Olde Tyme Festival in Shepherdsville had a number of competitions including a baby pageant won by Kameron Gray Carter, son of Kevin and Denise Carter of Pioneer Village; and a tiny toddler pageant won by Amber Close, daughter of Terry and Susan Close of Lebanon Junction.
The Tiny Miss Shepherdsville contest was won by Emily Noelle VanVactor, daughter of Tommy and Tina VanVactor; and the Little Miss contest went to Amber Gagel, daughter of Billy and Annette Gagel.
The next level, the Miss Pre-Teen contest went to Makensie Nicole Walls, daughter of Jerome and Belita Walls; and the Teen Miss category was won by Amanda Marie Simmons, daughter of David and Tina Simmons of Lebanon Junction. She was also the Overall Supreme winner of the festival.
The Miss Shepherdsville crown went to Jennifer White, daughter of Ron and Pam White; Second place in that contest went to Michelle Danielle Walls, daughter of Steven and Valerie Walls; and third place was Chrystal Pile, daughter of Jerry and Rita Pile.
Ralph Bleemel
Ralph Bleemel had served 11 years as Bullitt County Jailer when he decided to retire and turn the reins over to Tim Seng. Prior to being jailer, Bleemel had served 12 years as First District Magistrate.
Lebanon Junction held their Old Fashion Days pageant with the following winners: Baby Miss Alexandria Skidmore, daughter of John and Lana Skidmore; Baby Mister Tyler Platacis, son of Starla Perkins; Toddler Miss Amber Close, daughter of Susan and Terry Close; Little Mister Corey Goff, son of Richard and Staci Goff; Tiny Miss Kelsie Simmons, daughter of Sherry Simmons and Mike Robison; Little Miss Tiffany Hall, daughter of Pam and Buddy Hall; Pre-teen Miss Makensie Walls, daughter of Jerome and Belita Walls; Teen Miss Heather Hefley, daughter of Debbie Waters and Bruce Hefley; and Miss Old Fashion Days Sabrina Raymer, daughter of Claudette Raymer.
Kelsie Simmons (younger age groups) and Makensie Walls were the Overall Supreme Winners.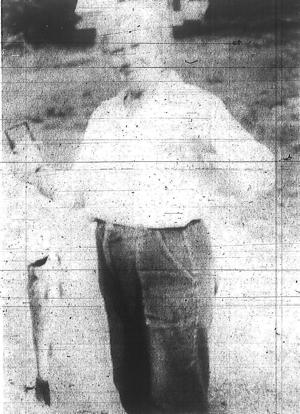 Thelma Ellaby
Thelma Moore Ellaby of Mt. Washington caught a 25-inch Walleye while fishing with her husband Jim at Nolin Lake.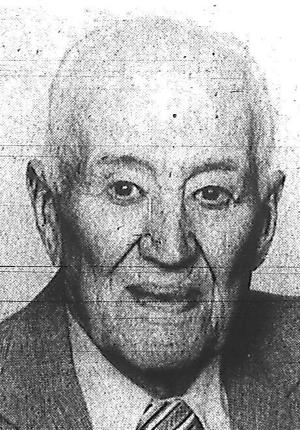 Royce Swearingen
James and Dorothy (McBee) McCubbins of Lebanon Junction celebrated their 65th wedding anniversary.
Royce Swearingen of Mt. Washington was born on October 25, 1896. He celebrated 100 years on that date in 1996. Royce and his wife Geneva (Overall) Swearingen enjoyed 72 years of marriage before her death in 1994. Swearingen was a Dutch name, and Royce got a double dose as both his parents were also Swearingens. His father, James Henry was a son of William and Sallie (Jones) Swearingen; and his mother Cora was a daughter of David and Angeline (Pratt) Swearingen.
Ricky Spears completed 9 of 14 passes for 240 yards, and Kevin Crisp gained 112 yards rushing to lead North Bullitt to a 48-10 win over Bullitt Central.
Meanwhile, in Mt. Washington, the Bullitt East Chargers tasted sweet victory, defeating LaRue County 35-6. Eric Bentley carried the ball for 106 yards, and Travis Gossum added another 100 yards in the Chargers' first victory of the season.
1970 - 50 Years Ago.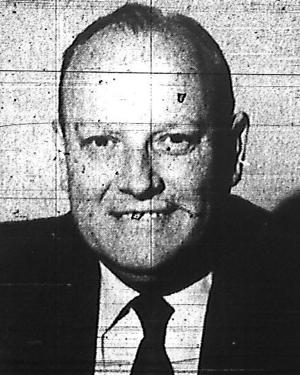 M. J. Cundiff
Doc Cundiff (the dentist) was a candidate for the school board election again. This was just one of the ways this good man served his community.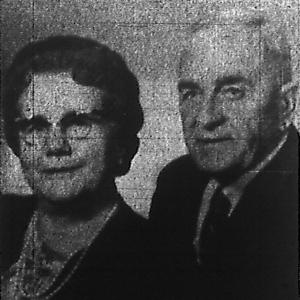 Matt & Wava Bleemel
According to the Lebanon Junction correspondent, Bernheim Forest was the scene for the Golden Wedding Anniversary celebration honoring Mr. and Mrs. W. B. McMillen. Those attending included the families of Don and Joel McMillen, and the two Charles VanVactor families of Lebanon Junction.
Another couple celebrating 50 years were Matt and Wava (Dickey) Bleemel.
The Pleasant Grove correspondent reported that the Pleasant Grove church service was turned over to Steve Fagenbush who had been their song leader for some time, and was departing. She reported that there was a lot of singing during an enjoyable evening.
She also reported that Mrs. Allen Dickey, Mrs. W. A. Lutes, and Mrs. Mildred Dickey spent a pleasant day with Mrs. Waldo Gentry.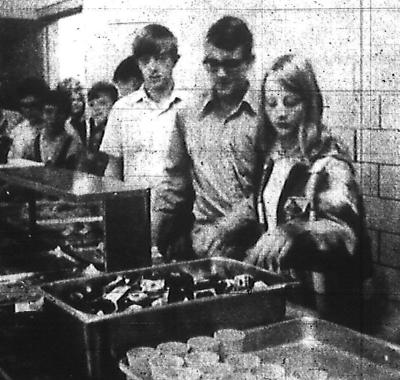 School Breakfast at SJHS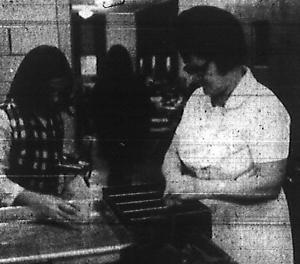 Mrs. Troutman
Kathy Odell, Jeff Hardwick, and David Strawbridge were among the Shepherdsville Junior High students pictured enjoying breakfast at school. Also pictured was Mrs. Edith J. Troutman, lunchroom manager who, along with her great staff, made it all possible. Her staff included Micky Hardin, Elsie Richmond, Hazel Armstrong, Goldie Dishon, Bessie Harris, Ione Hobbs, Margaret Hodge, Tressie Mann, and Dorothy McAllister. (Boy could those ladies cook, and we loved their cinnamon rolls!)
The Hebron correspondent reported that the Hebron Presbyterian Church kindergarten was in full swing with Mrs. Betty Branson as director. Forty-two students were enrolled.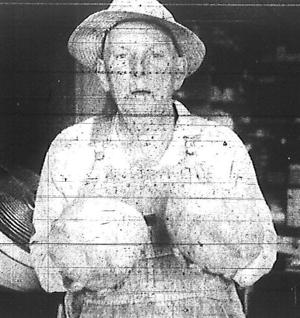 Fred Nalley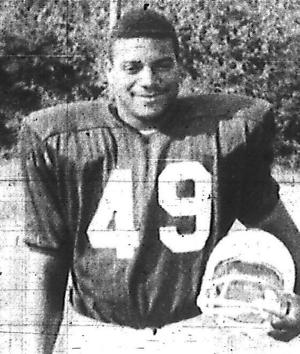 Gary Roberts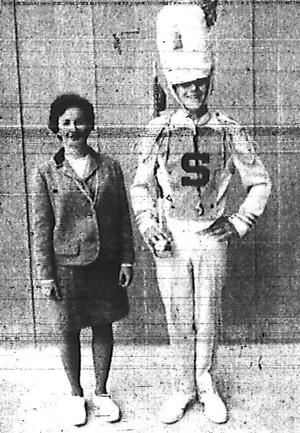 Debbie Murrell & Barry Wilson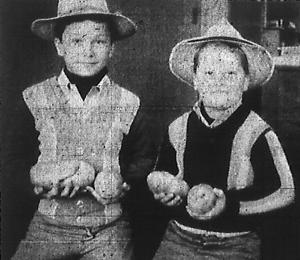 Steve & David Stieben
She also reported that Rosa Brown had been ill at home, that Charles Magruder was recovering from back surgery, that Floyd Tinnell was recovering from knee surgery, and that Josephine Garr had been on the sick list.
Fred Nalley was mighty happy with his three sweet potatoes that totaled about 15 pounds. And Steve and David Stieben of Brooks were proud of their regular potatoes, one weighing two and a quarter pounds!
In the team's first seven games, Bullitt Central fullback Gary Roberts racked up 1108 yards, an average of 6 yards a carry. Gary was an impressive athlete.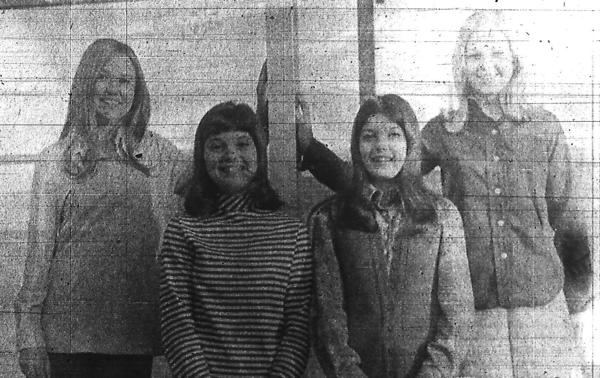 Football Queen & Court
Judy Myers, Sheila Allen, Jill Jasper, and Kathy Perkins were pictured as the queen and her court for the first Bullitt Central football homecoming parade.
Mrs. H. B. Seadoris of Clermont reported that Mr. and Mrs. William Snellen had plenty of company with Mrs. Aline Gutherie from Jacksonville, Mr. and Mrs. William Richy, Mr. and Mrs. J. W. Snellen and daughter, Mr. and Mrs. William Armes, and Mr. and Mrs. David White with son and daughter all attending. According to Mrs. Seadoris, "They sure did enjoy their old friends, and they all had plenty of food to eat."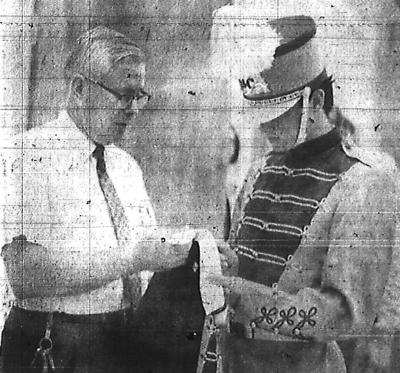 Joe Herde & Ricky Adams
G. K. Bass reported that young Stephen Drake of New Orleans suffered a painful injury to his hand that required surgery. Stephen was a grandson of Mrs. Glenn Sprinkle, and the great grandson of Mrs. Goodloe Bass of Mt. Washington.
SJHS band director Debbie Murrell and drum major Barry Wilson were pictured at the E.K.U. Band Day.
And Bullitt Central band director Joe Herde and drum major Ricky Adams were pictured inspecting the band's new uniforms.
1945 - 75 Years Ago.
The paper reported that Sgt. Sherley J. Parrish, son of Mrs. Hassee Parrish of Mt. Washington, was expected home soon. He had been overseas since February 1943, and seen action in North Africa, and several parts of Europe. Near the end he was stricken with malaria and was quite sick.
The Freshman Class of Lebanon Junction High elected the following officers: President James Murphy, Vice President Norma Shawley, Secretary Geraldine Kapple, Treasurer Wilhelmina Brady, and Sgt. at Arms Kenneth Shawley.
The Sophomore Class elected as officers President Charles Smith, Vice President Alfred Mattingly, Secretary J. F. Murrell, Treasurer Bill Beeler, and Sgt. at Arms J. C. Boone.
The Junior Class selected President Paul Mullins, Vice President James Montgomery, Secretary Billy Boone, and Treasurer William Bishop.
And the Senior Class selected as officers President Frank Booth, Vice President Elsie Lamb, Secretary Helen Wise, and Treasurer Faye Thompson.
Former Bullitt County Sheriff Will Rouse died at the age of 85. He was the oldest son of Mr. and Mrs. Anderson Rouse living at Solitude, and was for many years a prominent political leader in the Leaches district. Will had been married to Minnie Magruder who died many years earlier. They had two sons, Hugo and Calvin who were both also deceased. He left a sister, Mrs. W. B. Ellaby of Mt. Washington.
Out at Cupio in the western part of the county, fire destroyed Elmer Ridgway's stock barn. His home and other buildings were saved with the help of neighbors.
The congregation of Hebron Presbyterian Church welcomed a new resident pastor, Rev. Shows and his wife.
With the war ending, a number of local boys were receiving discharges, including among others Harold Walker, Marion "Buster" Rogers, Samuel Meyers, Freddie Lee Jackson, Alton Trunnell, Oscar Hester, brothers Walter Bishop and Tommy Bishop, Bobby Dever, Junior Daugherty, Otis Ray Ratliff, Asa B. Magruder, Wilson W. Fox, Buck Jackson, Glen Hamilton, June Deacon, Allen Hawkins, Frances Sweat, Andrew Cook, David Durbin, and Charles Edwards Jr. With all the names we've had to say of boys who didn't make it home, it's good to name a bunch who did.
In the Personals column we learned that Cpl. Jerry Bridwell, wife and baby had arrived home to spend his furlough with his parents, Mr. and Mrs. Arvol Bridwell, his sister and grandmother.
We also read there that Mrs. Margaret Ridgway and her grandson Billy Howard Smith joined Lindsay Ridgway, Mr. and Mrs. Conrad Maraman and daughter Dorothy in visiting Mrs. Alice Ridgway in Cloverport.
Alberta Pope Maraman and Marilyn Pope Maraman both enrolled as students at University of Kentucky. And Mrs. Eula Kay Hardy and Miss Jane Ridgway resigned their jobs to enter classes at the University of Louisville.
Spec 1st Class Charles Hamilton, son of H. C. Hamilton was reported to be recovering from pneumonia. He was on patrol duty in the Yellow Sea near Korea.
A family reunion was held at the home of James W. Maraman of Bardstown Junction in honor of their two sons, T-Sgt. Archie Maraman and Pvt. Richard Maraman. Archie had received his discharge, and Richard was home on furlough.
And the marriage of Miss Polly Whitehouse of Chaplin, Kentucky to Capt. Millard J. Cundiff was solemnized at the bride's home by Rev. R. B. Cundiff, Capt. Cundiff's father. Polly was described as one of Chaplin's outstanding teachers, and a sweet Christian girl. I think all us who knew her can say Amen!
1920 - 100 Years Ago.
In school news, we learned that Clay Porter, Sam Ridgway, Elizabeth Weller, Mary Stallings, Gladys Masden, Muir Funk, Thomas Trunnell, Roy Ward, Janice Harned, Mary Dent, Helen Harris and Ollie Lee Maraman were all attending college classes that semester.
The death of Judge A. E. Funk was a surprise and shock to many folks. He was 59, a son of Robert Funk, and served as county judge beginning in 1913. Judge Funk left a widow, the former Eugenia Holsclaw, seven daughters and three sons including Muir Funk, mentioned earlier.
Anna Daniels Jones had not quite reached her 33rd birthday when tuberculosis took her life. She left to mourn her passing her husband Vernon; two daughters, Eva may and Mary Elizabeth; a son Rouse; her father Judge Daniels; two sisters, Mrs. J. B. Buky of Ft. Pierce, Florida, and Mrs. Laura Smith of Colorado Springs; and two brothers, Professor Charles Daniels and Wilson Daniels, both of Ft. Pierce.
Mrs. Eliza Tucker, who ran the Tucker Hotel in Shepherdsville, died at home of stomach cancer. She was the former Eliza McCue who married Joel Tucker in 1893. He preceded her in death in 1919.
Mrs. T. C. Carroll was elected chairman of the first political meeting of Bullitt County women for the purpose of organizing the Democratic women of the county. Others present included Mrs. J. F. Collings who was chosen as secretary, and Mesdames Nannie Rouse, Smith Roby, Dave Parrish, Gertie Masden, Prudence Deacon, Alf Crenshaw, Ida Barger, Sallie Masden, Ben Hatfield, Sola Trunnell, Caddie Shepherd, Ada Ridgway, Kate Lutes, Addie Bradbury, Sallie Lee, Lula Monroe, Fred Harshfield, Bert Shepherd, Willie Quick, Grace Myers, Mary Fisher, Alvin Viers, Hannah Rhea, Irene Carroll, Maggie Quick, Henry Masden, Susie Bridwell, Duke Thompson, Dorsey Hall, Lula Krodel, Rosa Roby, and Misses Thelma Lee, Eddie Edelin, Tommy Edelin, Nell Dempster, Nannie Masden, Frona James and Ethel Newman.
It's interesting to note that some of the married ladies were identified by their own names while others continued to identify themselves by their husband's name.
Some of them were enthusiastic enough to join the list of political speakers for the party which included J. R. Zimmerman, Mrs. Lindsay Ridgway, Mrs. T. C. Carroll, Mrs. Mary Fisher, Miss Bertha Trunnell, Mrs. Ora L. Roby, Ora L. Roby, Charles G. Bridwell, J. F. Combs, T. C. Carroll, Lindsay Ridgway, Judge C. P. Bradbury, J. B. Combs, Mrs. Hannah Rhea, and Mrs. Albert Fisher.
J. Everett Smith announced that he had severed his business relations with O. A. Lutes, and was now in business with his life long friend, Clarence Dawson in the implement business.
And those of you who enjoy driving the four-lane Preston Highway all the way from Jefferson County down into Shepherdsville will marvel that in 1920 private citizens were working to raise $2500 to replace 4-1/2 miles of "miserably rough road" left undone after the county had used up its funds building "3-1/8 miles of splendid pike from Shepherdsville to Brooks Run." Subscription papers were in the hands of Dr. G. W. Kirk, Nat Maraman, Jas. W. Hardaway, H. H. Combs, C. F. Troutman Jr, J. F. Collings, Will Jenkins and others.
---
Copyright 2020 by Charles Hartley, Shepherdsville KY. All rights are reserved. No part of the content of this page may be included in any format in any place without the written permission of the copyright holder.
---