It Happened in November
The following article by Charles Hartley originally appeared in The Pioneer News on 30 November 2015. It is archived here for your reading enjoyment.
---
We will look back 25, 50, 75 and 99 years to capture glimpses of what was happening in Bullitt County in each of these years. Today we will focus on the month of November.
1990 - 25 Years Ago.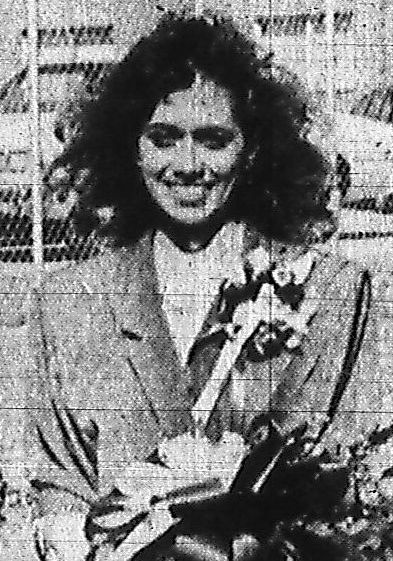 Sharon Thomas
Sharon Gail Thomas, daughter of Carl and Roberta Thomas of Bells Mille Road in Shepherdsville, was selected as the 1990 Homecoming Queen at Campbellsville College. Sharon was a junior majoring in elementary education.
Mrs. Betty Waddell was selected as Mt. Washington Elementary School's Teacher of the Year. She taught band and music.
Over at Nichols Elementary School, Mona Simcoe was selected for the honor. She was a 30-year veteran at Nichols.
And Marilyn Noel of Bullitt East was selected as Bullitt County's High School Teacher of the Year.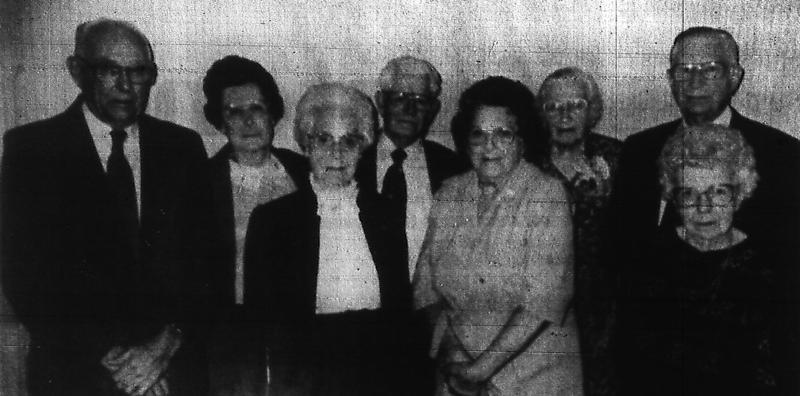 The Mt. Washington School Class of 1929 had a reunion. This was the second graduating class from the school. At the reunion, former teacher Lida Stansbury joined grads Vernon Mothershead, Jeanne Hall Shaw, Darrell Harris, Evelyn Wade Stallings, and their guests, Doretha Mothershead, Jack Stallings and Burledene Harris.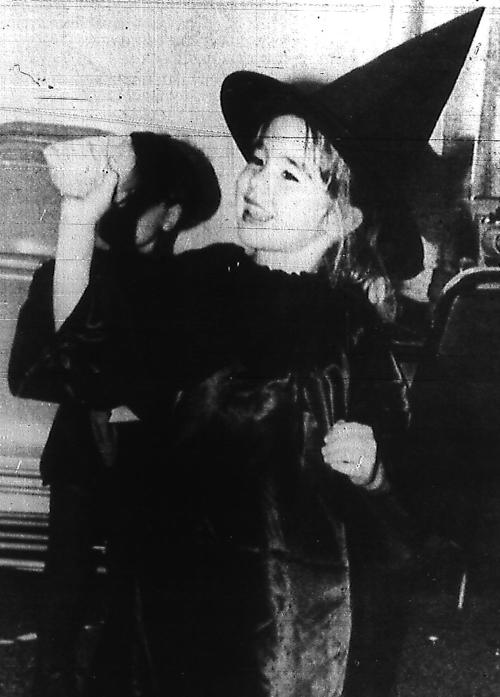 Brittany Caple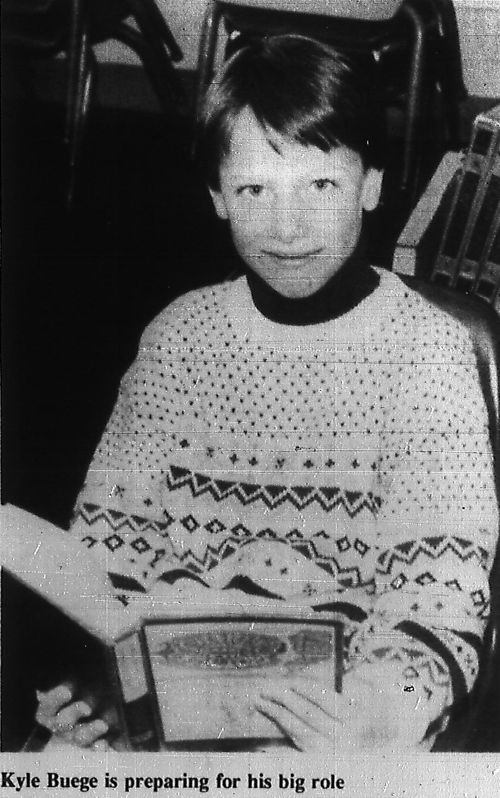 Kyle
The original group of graduates included John Dinguid Coakley and Marvin Porter; making six in all.
In the school board races, Layne Abell defeated Betty Porter in the Mt. Washington district; and Greg Beamer defeated two challengers for the District Four seat.
Burlyn Pike and Steve Masden announced that they were ready to publish their book, Railroad Town: A Pictorial History of Lebanon Junction. It turned out to be a fine volume, and is still available at the Bullitt County History Museum.
The Bullitt Central FFA sold calendar ads as a fund raiser, and Carol Price was the top salesperson with $710 collected.
Lois Simmons of Pleasant Grove reported that Mrs. Ray Grant entertained all her children and grandchildren and great-grandchildren for supper. They were all there to see Kevin Grant who was home from the service.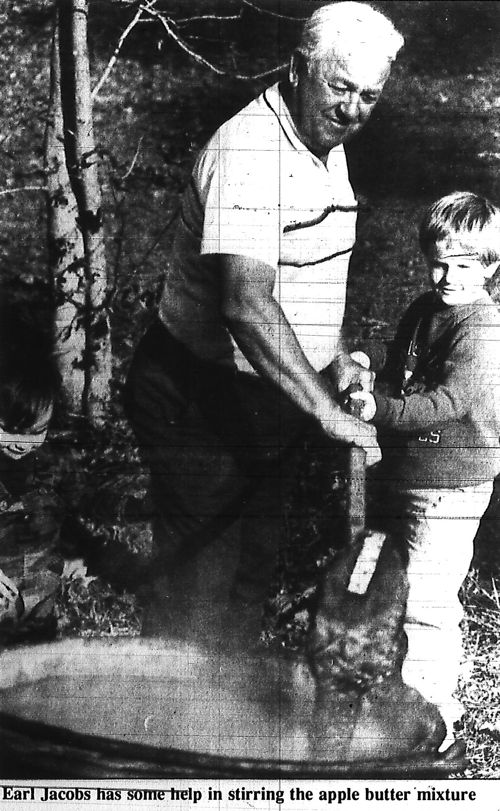 Brittany Caple, age 4, was all dressed up for a Halloween party at the Dorothea Stottman Library in Hillview when John Roberts took her picture for the paper.
We were all saddened at the passing of Pauline Cundiff in November 1990. Mrs. Cundiff was well known for her role in many community activities, and she was selected Kentucky Mother of the Year in 1986. I know that Karen, Paula Sue, and Don still miss her.
Eight-year-old Kyle Buege was selected for the role of Tiny Tim in Actors Theatre's production of A Christmas Carol.
And Bea Jacobs, Stella Millholland, Teresa Baldridge, Joan Watkins, and Lynn Nugent took turns peeling apples for the kettle at Bea and Earl Jacob's place at Nichols where they stirred up a fine batch of apple butter.
They all took turns stirring the mixture, from Carolyn, Joe and Stacy Sedoris to Lisa Hodges, Barry Jacobs, and Larry Corley. Just imagine that 28 gallon kettle nearly plumb full of mouth-watering apple butter!
1965 - 50 Years Ago.
Louis Roby, chairman of the Bullitt ASC County Committee announced the names of the nominees for the community committees who will help administer the various farm programs carried out by the Agriculture Stabilization and Conservation Service. The nominees included the following people.
Knob Creek Community: Perry Gooch, Lewis Knott, S. A. Lowe, Earl McAhron, Herman Mann, and Guthrie Muss.
Shepherdsville Community: Rodger Barger, Matt Bleemel, Alvine Foster, Dudley Marksbury, A. J. Miller, Jr., Roscoe Proctor, and Russell Stallings.
Mt. Washington Community: S. O. Armstrong, Jr., Roy Vernon Cornell, Donald Frey, Darrell Harris, Thomas Knapp, Clyde Crenshaw, and George Maddox.
Solitude Community: Larry Greenwell, Eugene Hall, James Korfhage, Lawrence Light, Hyte Rouse, and Norman Thompson.
Pine Tavern Community: R. E. Brown, E. B. Massey, Clifford Samuels, J. P. Stark, Phil Streble, and Andy Wise.
Dorothy and Melvin Porter of Mt. Washington attended the homecoming celebration at the University of Kentucky where their son Murrell Dean was a junior.
Mrs. Charles Wheeler, the correspondent for Lebanon Junction and Colesburg, expressed her hope that Mrs. Clifford Samuels was doing well after breaking her ankle.
Mrs. Wheeler reported that Mrs. Jack Williams, Mrs. Jack Holton, Mrs. Delmar Eskridge, Mrs. Loraine Dragon, and Mrs. Elmer Bryant of L.J. all attended the annual Homemakers Club meeting in Shepherdsville.
She also congratulated 13 year old Bobby Owens who bagged a four-point buck.
Raymond Abell, Larry L. Belcher, Ray Foster, Terry Hasting, Donna Jean Kerns, Gary Mason, David Anthony Roberts, Carole Elizabeth Smith, Peggy A. Troutman, Raymond VanMeter, and Michael Ray Waters were all identified as students at Campbellsville College by Dr. John M. Carter, the school's president.
The Nichols Teen Club meet and elected Janet Stivers as their president. Dana Faulkner was elected vice-president; Pamela Simcoe was chosen as secretary-treasurer; and Marlene Milby became the group's reporter.
Mrs. W. C. Lanham, the Cedar Grove correspondent, reported that little Tony Wilson had been in the hospital with the croup, but was then home and improving. She also reported that Henry Greenwell and Mrs. Hubert Cox both remained ill at home.
Mrs. Ida Holsclaw of Hebron reported that Mrs. Sammy Bain and family had moved to the Charles McCawley farm. She also told that Mrs. Herbert Satterly had spent a Saturday in Brandenburg looking over saddle horses. Mrs. Holclaw was also grateful to Mrs. Bobby Dover for giving her a ride to the voting place.
In the Social and Personal Notes column we learned that Miss Susan Watkins suffered a gash on her forehead while playing ball. Also, Kenneth Bailey Jr. received a bad cut on his hand at work, and Mrs. Bailey broke a toe, and then was in an accident while returning from the doctor's office. Ouch!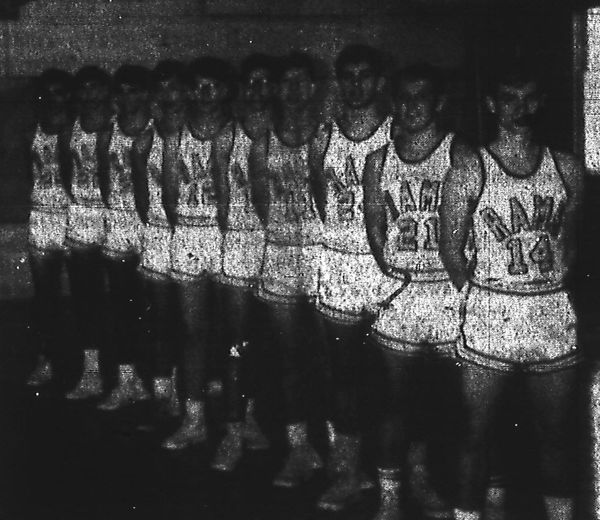 Tom Collins took over the reins as head coach for the S.H.S. Rams basketball team. Members of his varsity team included Tony Lee, David Cundiff, Craig Larimore, Bill Hornung, Fred James, David Price, George Robinson, Tony Spencer, Terry Calvert, and John Price.
And the UNICEF collection committee offered a special "thank you" to little Depp Rasner and his mother who collected for the first time at the Gap-in-the-Knob.
1940 - 75 Years Ago.
The paper reported on the death of Mrs. Jennie Simmons Hardaway, age 77. She was the widow of Henry Z. Hardaway who was killed in the terrible 1917 train wreck in Shepherdsville. She was survived by a daughter, Miss Mary E. Hardaway, and two sons, J. W. Hardaway, cashier at the Peoples Bank, and J. L. Hardaway, a well-known Bullitt County farmer. Her pallbearers were H. H. Combs, Lindsay Ridgway, Henry Hamilton, Richard Wathen, T. C. Carroll, and Conrad Maraman.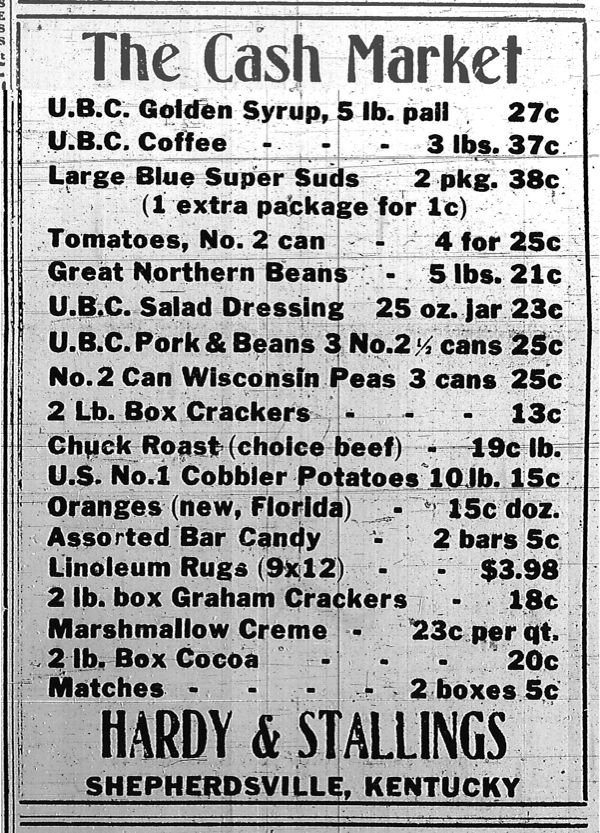 The Hardy and Stallings Cash Market in Shepherdsville was selling chuck roast at 19 cents a pound, and Florida oranges for 15 cents a dozen.
Eva Maraman and Noah Whittle spent a Sunday with Mr. and Mrs. Charles Mauck of New Middletown, Indiana.
Miss Ella Rose Marr was commended for her "eagerness for an education." She regularly walked three miles, morning and evening, to Barrallton, where the school bus picked up the high school students to West Point.
Harlan Brown of Belmont and Doris Cundiff of the Beech Grove vicinity were married. Doris was a daughter of Ralph Cundiff.
Little Lillian Wineholder of Belmont broke her arm while playing at school.
The Belmont Baptist Church members sent $26 worth of chickens to the Baptist Orphan's Home.
Mr. and Mrs. Burke Williams moved into their new home on Blue Lick Road.
T. W. Hoagland was selling ducks and geese for Thanksgiving. Ducks were 60 cents each, geese were $1.50.
Teachers at Mt. Washington were listed. They included Principal H. N. Ockerman, Mrs. Louella McFarland, Mrs. Ann T. Jones, Miss Myrtle Shake, Miss Myrtle Stansbury, Miss Martha Weller, Miss Elsie Cox, Mr. Francis Beeler, Miss Nell Bell, Miss Della B. Crenshaw, and Mr. Sam Goodman.
The Girls Glee Club of Mt. Washington High School elected Garnette Calvert as president, Anna Ruth Harris as vice-president, and Anna Joyce Jasper as secretary/treasurer. The mixed chorus elected Lindsay Wiggington President, Mary Ruth Knapp vice president, and Ann Ruth Harris as secretary/treasurer.
The following were the first 25 men registered for the draft who were sent questionnaires in Bullitt County to establish their potential to be drafted: Chester Thompson, Edward Fredrick Schweckendick, Charles Thomas Van Vactor, Robert Ermon Becker, Walter Lee Samuels, Charles Edward Kyle, Theodore Harris, Stone Wall Keith, William Franklin Porter, Estel Lee Armstrong, Claud Alvin Lynch, Horace Benedict Greenwell, Mell Bivens Cox, Russell Eugene Stallings, Allard Orian Armstrong, Marvin Kenneth Shelton, Grigsby McFarland, James Burton Wise, Joseph Raymond Dawson, Selby Darrell Martin, Robert Shepherd Travis, Paul Edward Rush Sr., Smith Garrow Carrithers, Samuel Thomas Wilson, and Frederick Charles Bleemel. Two volunteers, William Samuel Rhea and William Christopher Scott also received questionnaires.
Mrs. Foster Sanders, Mrs. R. E. Newton, and Mrs. Lindsay Jones were appointed by the county high schools to sponsor Red Cross work in their respective schools.
And William Hilbers of Route 2, Shepherdsville had a stray female shoat, red and black, weighing about 90 pounds in his possession. The owner could claim it upon payment of damages and keep.
1916 - 99 Years Ago.
Miss Geneva Joyce, teacher at Mt. Elmira, near Brooks, married Lee Beard, of the Chappell Ridge section. Miss Birdie Hall took her place at the school.
Mrs. Fronia James entertained Misses Lillian Thompson, Nancye Trunnell and Myrtle Childers, and Messrs. Irvin Funk, Roscoe Tucker and other guests of Shepherdsville, in honor of her niece, Miss Bertha Trunnell.
Little Miss Mable Whitledge spent several days the past week with her grandmother, Mrs. Jennie Whitledge.
The Mt. Washington correspondent wrote that Mr. and Mrs. O. W. Pearl, Mrs. W. L. McGee, Misses Lulie Swearingen, Alberta McFarland, Elma McGee and Carrie Collings were among the shoppers in Louisville the previous week.
Mrs. Lydia Snellen and Miss Emma Snellen entertained a family reunion. Those present were: Mr. and Mrs. R. D. Snellen, Mr. and Mrs. J. F. Snellen, Mr. and Mrs. Joseph Snellen, Mr. and Mrs. W. F. Pyles, Mr. Irving and Pleasant Snellen, Archie, Herbert and Paul Snellen, Leola and Mable Snellen also Mr. and Mrs. Elmer Ridgway and daughter, Ruth. A turkey dinner was served after which the afternoon was spent with music and taking pictures. Mr. W. E. Pyles performed on the violin and Mrs. W. E. Pyles, Misses Leola and Mabel Snellen sang several beautiful selections accompanied by Mr. W. E. Pyles on the mandolin.
A state-wide vital statistics report for the month of September 1916 showed that more children under the age of five to die that month and the number over 65 years. Tuberculosis was by far and away the worst cause of deaths. Other major causes included pneumonia, typhoid fever, cancer, and violence.
The S.H.S. baseball team closed its season with two victories, defeating Boston 6-1, and L.J. 12-3.
Professor and Mrs. Sanders welcomed a new baby girl into their home. They named her Elizabeth.
The paper reported that Commissioner of Public Roads, Rodman Wiley, asked motorist to employ the whole width of the roads, instead of driving in one track, causing ruts, which is the most difficult form of road wear to repair.
Shepherdsville's first intercollegiate indoor track meet was held in the school gymnasium. All young people of Shepherdsville and surrounding country twelve or over were eligible to compete. Captains of the teams were Nancy Trunnell, Laura Daniels, Buren Hardin and Chester Hardin. Officials were Dr. Ridgway, Dr. Bates, Otis Russell, Herbert Glen, and Jimmie Lee Williams. Score keepers were Lindsay Ridgway and Prof. Sanders. P. H. Ryan was the official starter.
In reports for local banks, we learned that at the Peoples Bank in Shepheredsville, R. L. Simmons was President, J. L. Williams, Assistant Cashier. and J. W. Hardaway, Notary Public. At the Peoples Bank, Mt. Washington, Bert Hall was President, H. B. McGee, Assistant Cashier, and W. M. McGee, Notary Public. And at the Bullitt County Bank, J. F. Combs was President, H. H. Combs, Cashier. and T. C. Carroll, Notary Public.
And the Cupio correspondent reminded everybody to "go to the polls and vote for Woodrow Wilson."
---
Copyright 2015 by Charles Hartley, Shepherdsville KY. All rights are reserved. No part of the content of this page may be included in any format in any place without the written permission of the copyright holder.
---