It Happened in November
The following article by Charles Hartley originally appeared in The Pioneer News on 1 Dec 2014. It is archived here for your reading enjoyment.
---
We will look back 10, 20, 40, and 80 years to capture glimpses of what was happening in Bullitt County in each of these years. Today we will focus on the month of November.
2004 - 10 Years Ago.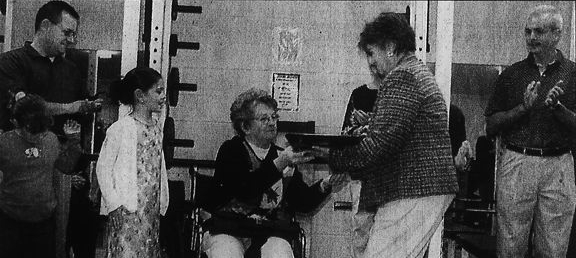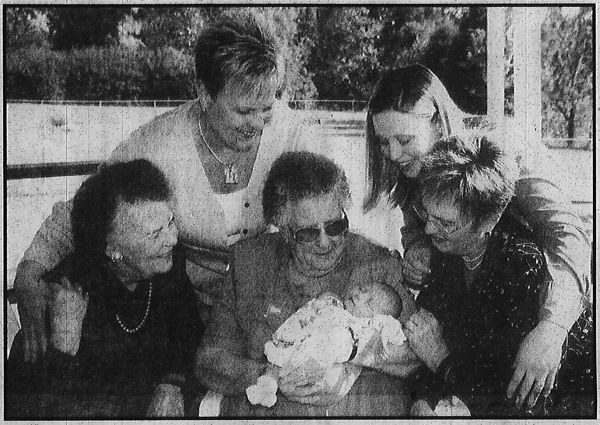 Ten years ago, the football field at Bullitt Central was named in honor of George Valentine, long-time principal of the school. Karen Hayden was shown presenting a plaque to Mr. Valentine's family.
Stephen Thomas, Pioneer News staff writer, wrote a nice piece on the opening of the Bullitt County History Museum in the front of the courthouse in Shepherdsville.
The newest panel of Teen Court members were sworn in by Judge Bailey Taylor. They include Tyler Bratcher, Holly Brewer, Jessica Carnes, Steven Carr, Keith Crecelius, Brittany Forshee, Samantha Frake, Courtney Fried, Brandon Goss, Alelis Guzman, Josh Heffley, Katie Hendricks, Austin Johnston, Nicole Kennedy, Heather Mercer, Amy Mitchell, Shana Peyton, Brad Smith, Danielle Tarter, Chasity Tooley, Chris Westfall, Craig Wheeler, Alisha Roeder, and Toni Wheeler.
Six generations were pictured together with Edna Lane, the great-great-great grandmother, holding the infant Isabelle Lane Jones. Others present were Gen Amerine, great-great grandmother, Verna Atherton, great-grandmother, Terri Lynn Branch, grandmother, and Bethany Jones, mother.
Roland and Venetia Foster celebrated 70 years of marriage, and the newspaper shared it with us. Of their many children were Marilyn Lou of Hillview, and Janie Gail Beam of Lebanon Junction. Roland and Venetia moved to Bullitt County in 1970 and built the Preston Parkway Mobile Home Park.
David Bates, Bob Harned, Ted Korfhage, Joe Raley, Jeff Robards, Kyle Skidmore, and Lewis Skidmore were elected as board members of the Farm Bureau.
The Farm Bureau meeting entertainment was provided by Tori Boles, Audra Hargis, Laura Terry, Kayla Wiedemer, Lacy Arnold, and Jessica Carnes.
Steve Cissell closed out his two decades of coaching with back-to-back titles in the Greater Bullitt County Youth Football League. His Overdale Chiefs won the A division for the second straight year.
And Jailer Martha Knox joined other local celebrities in jail to raise money for "Jerry's Kids."
1994 - 20 Years Ago.
Earl Simpson and Elizabeth Shelburne were married in 1934 and celebrated their 60th Wedding Anniversary in 1994. They were married in Mt. Washington by W. A. Criswell.
The Bullitt East Chargers defeated Russell County 42-18 in the first round of the Class AA playoffs. The win was clinched when Jeremy Jenkins intercepted a pass and raced 99 yards for the touchdown.
The Chargers next defeated the Allen County-Scottsville team 38-7, with Rickard Andersson kicking the Chargers' first field goal in over two years. The second half began with Brandon Egan darting 62 yards. Later Scott Johnson scored from the five yard line. Jason Calvert ran for 161 yards in the game.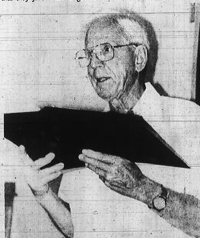 The Chargers continued their winning ways with a victory over Fort Knox, 14-6. Jeremy Jenkins made two fine defensive plays to help lead the team to victory.
Next was Mayfield, the defending state champs, and East won again, this time big with a 49-18 victory, giving them a 13-1 record. As December approached, they were set to meet Danville for the state championship.
Two couples celebrated their 50th wedding anniversary: Ervin and Joyce Cope, and Vertis and Netha Hadley.
Julie and Susan Walls won the 1994 Goblin Ghost Run sponsored by the Bullitt County 4-H.
Nicholas Emerson was pictured playing a game, and Paula Strange helped paint faces at the Non-Scary Halloween party at St. Benedict School.
Jesse Hurt and John Stillwell were two of the former L. & N. railroad men who gathered at Lebanon Junction to celebrate and remember their times on the railroad. Eighty-year-old Jack Eye was present to give the monthly report of the groups activities.
Carl Curtsinger of the Pioneer News wrote about Lasse Steffensen, and exchange student from Bergen, Norway, who was attending Bullitt East High School. He was a member of the school soccer team.
And Lois Simmons of Pleasant Grove reported that Mrs. Elnora Foster had a good birthday with lots of good things to eat. She was 84.
1974 - 40 Years Ago.
Thomas Givhan, Arson Moore, and Frank Hatfield were pictured on the front page of the paper, showing them as they appeared on the Morning Show on WAVE-TV during the station's salute to Bullitt County.
Ray Becnell, James L. Welker, and Lemo Hester were among those who petitioned to have Pioneer Village incorporated as a city.
Marion Farris became only the second woman ever elected to the Bullitt County School Board. The first was Helen Smith who served from 1938-1941.
Fiscal Court passed a motion that Dennis Tate be paid to transport the voting machines. Judge Arson Moore was joined by Magistrates Ralph Bleemel, Forrest Moore, Hiram Gibson, and Walter Magruder in passing this motion.
Mrs. Charles Ridgway of Nichols reported that June Dawson, Janet Belcher, Oretha Ridgway, Craig Dawson, and Clayton Dawson call on Marvin Hopewell, and they had a fine lunch together.
Clara Simmons of Pleasant Grove reported that Mr. and Mrs. J. B. Proctor called on Miss Susie Long Swearingen on a Sunday evening. Also, J. B. joined Clara and Lois Simmons in visiting Mrs. Annetta Culbertson on a Sunday afternoon.
Seven Bullitt Central Cougars were placed on the All Conference Football team for 1974, including Steve Larimore, Jim Troutman, Mark Hardy, David Price, Tom Clemons, Curt Firkins, and Wayne Skaggs.
The Cougars finished a 10-1 season with a 27-0 romp over Washington County. The game started with a razzle-dazzle play with David Price sweeping left, then handing off to Wayne Skaggs who then pitched out to Steve Larimore who finished with a 63 yard pass to Mark Hardy for the touchdown. The defense was led by Greg Armstrong who knocked down one pass and intercepted another one.
Marvin Stewart, Bullitt Central's Athletic Director, was honored as Grand Marshall for the Basketball Kickoff Parade at Houston High School in Shelby County, Ohio where he had coached for ten years.
Jimmy Bennett of Shepherdsville was elected President-Elect of the Campbellsville College Alumni Association. Tara Jasper, daughter of Mr. and Mrs. Tom Jasper, was selected as Homecoming Queen at the college.
The Shepherdsville Junior High girls' basketball team members included Debbie Philpott, Stephanie Deacon, Kim Playforth, Beth Korfhage, Cleda Greathouse, Melinda Howlett, Debra Hillman, Rita Kenny, Jimetta McClure, Kay Thacker, Shirley Eagle, Suzanne Brosick, Terry Combest, and Windy McCubbins.
Kim Sewell, daughter of Mr. and Mrs. Harold Sewell, was crowned Bullitt County Junior Miss. Jacqueline Richardson was first runner-up, and Cathy Lindsey, second runner-up.
Senior-captain Donnie Lomax led the Bullitt Central cross-country team in every meet, and set a new school record for the two mile run. He broke Harold Masden's old record by almost a half minute.
And Mary Whitworth, the Cedar Grove correspondent, reported that Mrs. Otis Ray Ratliff entertained the Esther Sunday School class of Cedar Grove Baptist, and that the class's new teacher, Mrs. Nancy Mitchell, gave a beautiful devotional. Oh, and Mrs. Ratliff served delicious refreshments.
1934 - 80 Years Ago.
Mrs. Louella McFarland's brother, H. B. Cravens, spoke to her students at Mt. Washington High School about his agricultural work in the mountains of Kentucky.
The Bullitt County Woman's Club was sponsoring a play titled "The Girl From Out Yonder" at the Masonic Hall. Miss Thomas was the coach.
Ralph Henderson, John H. Lee, W. N. Griffin, Gib Daugherty, and Roy Maraman were all on the ballot to be school trustees in Shepherdsville.
In Lebanon Junction, S. P. Smith, Wilbur Starks, T. P. Sloan, James Hoagland, and Evermont Fisel were on the school trustee ballot.
Clifford Lee and Loyce Bergen were crowned King and Queen of the Shepherdsville High School homecoming. Bill Lee and Mary Evelyn Lee were first attendants. Loretta Funk, 1933 Queen, crowned Clifford and Loyce.
The R.A. boys of the Lebanon Junction Baptist Church met at the home of W. B. Rexroat where Mrs. Rexroat served chocolate fudge. The boys enjoyed the meeting, especially the candy.
The Belmont reporter told us that Miss Doris Purcell spent a Sunday with her mother, Mrs. Fannie Powers; and Mr. Bill Prestion spent Sunday with Mrs. Bettie Boots.
Attendance at the Brooks school was suffering because Loretta Underwood, Myrtle Underwood, Donnie Warren, Francis Booker, Wanda Barnes, William Barnes, Lucille Caulk, and Henrietta Bollin all had whooping cough.
The Mt. Washington reporter informed us that Mr. Athol Lee Taylor of Louisville spent the weekend back in Mt. Washington with family and friends. Also Mrs. Fronie Harris spent a few days with relatives in Shepherdsville.
On Tuesday, November 6, WAVE radio presented a salute to Shepherdsville.
Cecil Larimore and Lillian Armstrong surprised their friends by getting married last month, but the announcement didn't make the paper until November.
Bill Griffin sold his service station, and thanked all his former customers.
In the Victory community, Miss Pauline Daugherty and pupils of the Victory school gave a musical program at the school that was well attended.
And at the Victory school, J. B. Close and Essie Mae Hawkins won a prize for having the most points over the last two months. Miss Daugherty announced the following students were on the honor roll: Mahlon Harris, Lillian Louise Simpson, Agnes Light, Loretta Simpson, Celci McCubbins, William McCubbins, J. B. Close, Johnny Harris, Geraldine Simpson, and Ruby Close.
And Mr. Robert Ridgway, former trustee of the Cupio school, spent a Sunday in Shepherdsville. Paper said he was "one of the county's most popular men."
---
Copyright 2014 by Charles Hartley, Shepherdsville KY. All rights are reserved. No part of the content of this page may be included in any format in any place without the written permission of the copyright holder.
---