It Happened in November
The following article by Charles Hartley originally appeared in The Pioneer News on 26 Nov 2018. It is archived here for your reading enjoyment.
---
We will be looking back 25, 50, 75, and 100 years to see what was being printed in The Pioneer News in 1993, 1968, 1943, and 1918 in the month of November.
1993 - 25 Years Ago.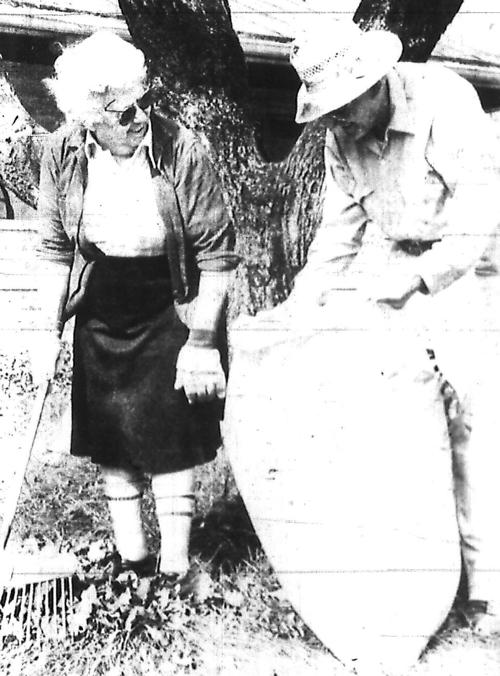 Raymond & Lois
Raymond and Lois Shake were pictured bagging up their leaves at their Buckman Street home just before the snow hit.
John Harper, John Laun, Sherman Tinnell, and James Welker all got their pictures in the paper by winning their respective offices (county judge/executive, district judge, Shepherdsville mayor, Pioneer Village mayor) in the November elections.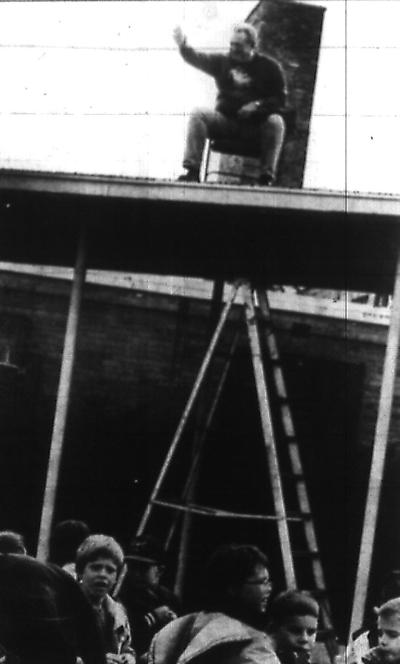 Larry Belcher sat on the roof of Roby Elementary, waving at the departing students. Remember when he kissed a pig; well he wagered that his students wouldn't reach an attendance goal and lost again. Ah, but there was method in his madness! Larry was a fine educator, a good representative, and a really nice fellow.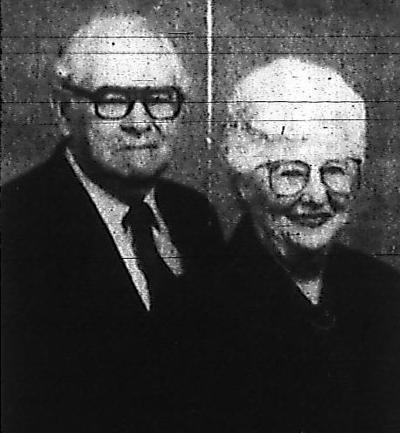 Mutt and Virginia celebrated their 50th wedding anniversary. Carl Lee and his wife came home from North Carolina and took them to the Terrace Restaurant in the Kaden Towers. If you don't know who I'm talking about, read on down in the 1943 section.
What do Jeffrey Crady, Melissa Cundiff, Brittany Korfhage, Marcy Nelson, Amanda Simms, and Shane Skaggs all have in common? They were all eighth graders who made the very first All A's Honor Roll at Bernheim Middle School which opened that year.
A surprise birthday party for Mrs. Elnora Foster was given by her children, grandchildren, and great-grandchildren. Mrs. Foster was celebrating her 83rd birthday.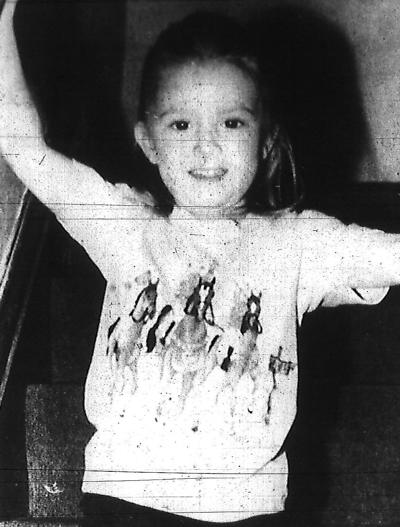 Kelly
Kelly Beglin, age 3, was pictured modeling at the fashion show at the Imagine Tearoom.
According to Mike Farner, Bullitt Central "made history" with a 12-0 victory over Daviess County in a post-season football battle in Owensboro. Moses Malone and Walker Dees combined for 75 yards rushing to gain the first score.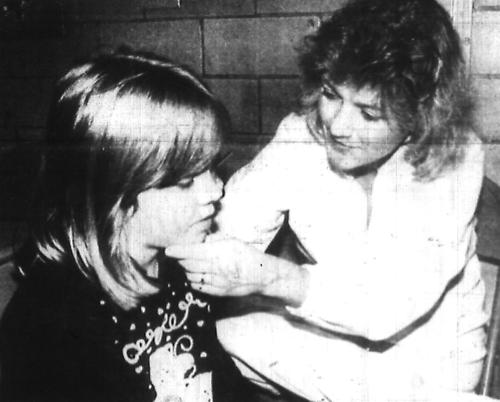 Tonya Ploof had her face painted by Sondra Wilkins at the Nichols Fall Festival.
The following juniors and seniors were inducted into the North Bullitt High School National Honor Society chapter: Brian Brummel, Lee Denny, Vanessa Hester, Rachel Layman, Erica Mindel, Jason Perry, Jason Sheppard, Brad Stivers, Amy Tobbe, Donna Whelan, and Sarah Zinger.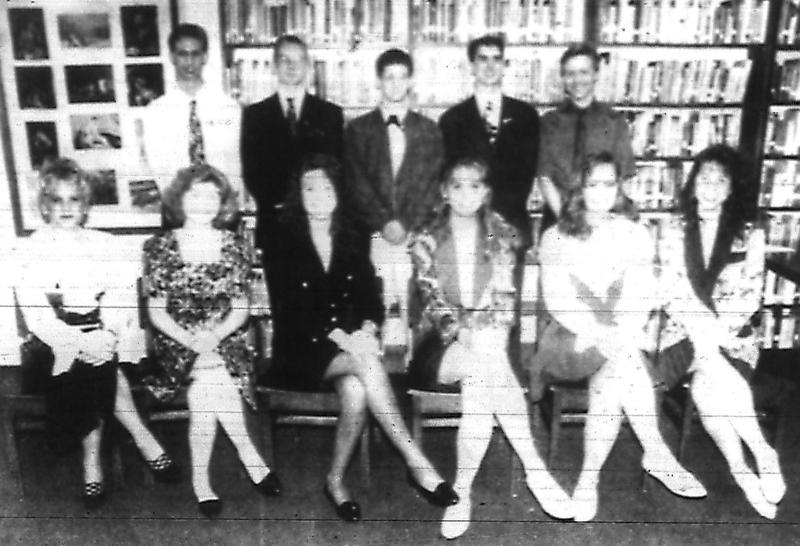 Veterans Day was a special time for one family in Bullitt County. Anderson Lashley, age 97, who served in France during World War I, was pictured together with sons Charles and Presque Lashley who both served in World War II, Charles in the Pacific, and Presque in France.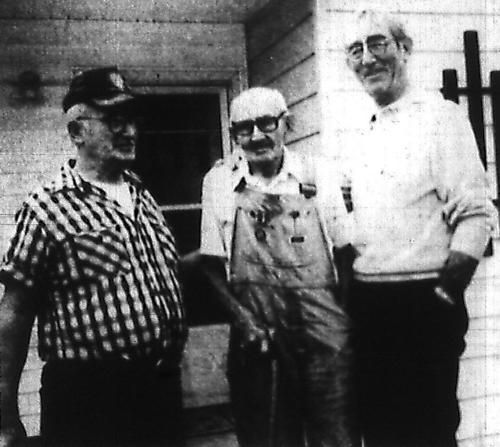 Lashleys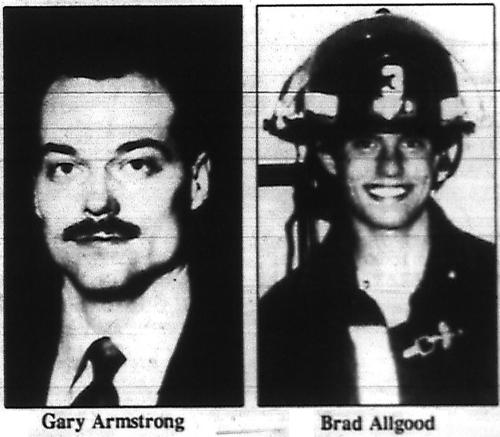 Carol and Leveda Richards were excited about their new shoe store location on Highway 44. Formerly located on Buckman Street for many years, this new store was made possible because Publisher's Printing wanted the former store property and worked with Richards to make this new store possible. Leveda was the store manager with plenty of help from Sheila Doan, Stacy Richards, Amy Michelle Doan, Jeanette Richardson, and Joyce Pickett.
And who among us can forget that tragic evening when firefighters Gary Armstrong and Brad Allgood lost their lives in the line of duty. Earlier Carl Campbell had been struck and killed on Highway 44 near KOA, and the firefighters were traveling to that scene when the second wreck occurred, killing both men.
1968 - 50 Years Ago.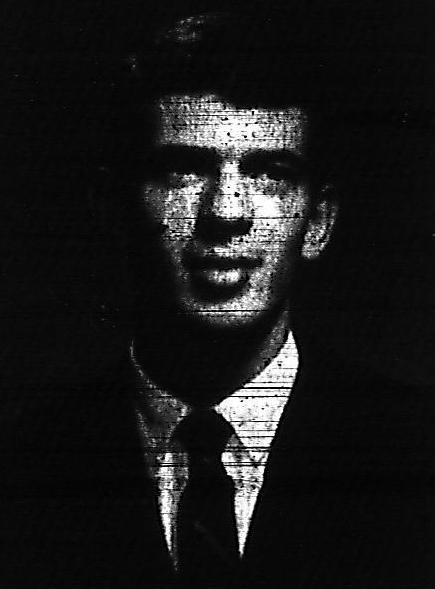 Joseph Burkhead
Joseph Burkhead, son of Mr. and Mrs. Joseph E. Burkhead of Shepherdsville, was selected to be in the 1968 edition of Who's Who Among Students in American Universities and Colleges based on his work at Georgetown College. He was a senior speech and English major there.
The champions of the 4-H Specialty Act Program included Teresa Bryan, Gary Bryan and Colleen Bryan of St. Benedict in the vocal division; Mary Ann Steedley of Shepherdsville in the instrumental division; David Russell of Cedar Grove in the dramatic division; and Robert Bryan and Steve Hinton of St. Benedict in the comedy division.
Charles Capps Sanders, son of Mr. and Mrs. C. V. Sanders of Brooks, enrolled at Centre College, and was on the school golf team.
The paper reported that Cawood Ledford announced the radio schedule for Kentucky basketball on WHAS 840. Coach Rupp's pre-game show would start at 7:30. Mark your calendars!
The Bullitt County Homemakers celebrated their 20th anniversary with a joint meeting at Mt. Washington. The county president was Mrs. Lester Rinkel. Other officers included Vice President Mrs. Harvey Hubbard, Secretary Mrs. Lawrence Howlett, and Treasurer Mrs. Carson Jenkins. Various group chairpersons included Mrs. G. H. Stout, Mrs. Hellen Hollingsworth, Mrs. Marty Korfhage, Mrs. Edna Koerner, Mrs. Myrtle Price, Mrs. Gene Goodwin, Mrs. Val Leadley, and Mrs. Leo Bleemel.
Vickie Ann Sprinkle reported in her School Daze column that Bailey Taylor hosted a Halloween dinner party for guests Mary Kay Brom, Barbara Carter, Kathy McGrew, Charles Dennis, Walton Jones, and Tommy Wood.
The Hebron correspondent reported that the Hebron Church men prepared a fish supper for the members. She also reported that a house on Bernard Bischoff's farm occupied by the Hatfields caught on fire from an overheated stove, but Zoneton firemen put the fire out.
Mrs. Lanham of Cedar Grove reported that Mr. and Mrs. Walter Hilton had the following visitors: Mrs. and Mrs. Joe White, Mr. and Mrs. Charlie Rice and son, and Mr. and Mrs. Hubert Crenshaw of Louisville.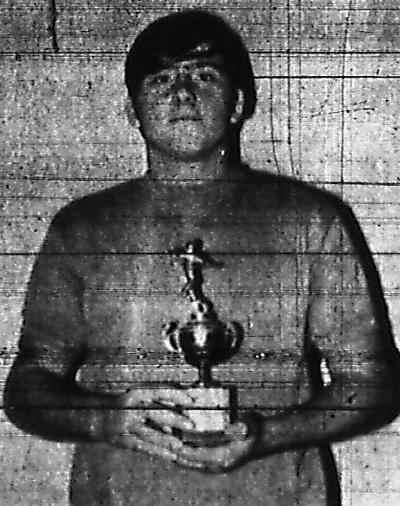 Gary Phillips
Jean Hatzell announced her candidacy for Bullitt Circuit Court Clerk in the Spring primary.
Gary Phillips, a senior tackle on the S.H.S. football team, was chosen for the Mid-Kentucky All-Conference team. Gary Roberts, Mike Perry, Bill Comer, and Ray Hammon all received honorable mention.
Don't you miss the days when folks looked forward to knowing who was visiting who, and who was going to the hospital for tests, and who was back from somewhere after visiting someone whose name you recall?
On that note, Mrs. and Mrs. Russell Crenshaw, Mr. and Mrs. J. V. Shaw, and Mrs. Tom Shaw spent a Thursday in Greenville visiting Mr. and Mrs. Carl Kaufman. Also Mr. Richard Pope of Huntsville visited Mrs. Mabel Adams on Sunday. Dick attended school here and was now teaching art at the University of Alabama.
And if you felt the earth move under your feet in November 1968, you weren't alone. A 5.5 earthquake was felt in 22 states. Here in Bullitt County, at Cecil Smothers' home the jello dessert began to bounce up and down, and the dogs barked at the shaking windows and doors.
1943 - 75 Years Ago.
Roy Stallings was Blood Chairman, H. H. Combs was Chapter Chairman, and Ora L. Roby was Publicity Director for the Red Cross blood drive in Bullitt County.
In Lebanon Junction news, Charles Harry Miller had recovered sufficiently from his accident to walk from home to his mother's home; Mary VanVactor had almost recoverd from a recent fall; and Brother Joe Canzoneri had returned home from holding a revival in Columbia, Tennessee.
The L.J. correspondent listed the names of their hometown boys in the service which included Bill Jackson, Willis Ryne, Paul Brenner, Duke Payne, Charles Ray Masden, and Lenn E. Marr.
The paper reported that folks in Bullitt County had made over 43,000 surgical dressings to be used in the war effort in the previous three months. The names of those who were supervising the effort were listed, including the following from Mt. Washington: Mesdames Lida Stansbury, H. P. Wigginton, S. F. Smith, Eunice Stout, Marion Jasper, Norman Bridwell, Tina Swearingen, Vernon Mothershead, Noah Benningfield, Zella Gentry, Mary Clark, and Miss Georgia Porter.
The Shepherdsville supervisors were Mesdames Gabe Bealmear, Malcolm Harmon, Bettie Welch, Mabel Shepherd, Chester Hill, Roy Stallings, Miss Ethel Newman, and Miss Nannie Hornbeck.
Two recent employees of the Bullitt County Bank received promotions. Woodford B. Troutman, vice-president of the bank, was promoted to Lieutenant Colonel; and Roger E. Alford, assistant cashier at the bank, was promoted to Sergeant.
General T. Wilson, a local businessman, retired from the retail business after over forty years in the business. He was the father of Tommy Wilson, former County Court Clerk for Bullitt County.
In more L.J. news, Maxine Sowders, Jackie Pennebaker, Mary E. Welker, Rita Hayden, and Patty Masden were elected cheerleaders for the basketball team. Also, at the school carnival, Maxine Sowders and Billy Masden were crowned queen and king of the upper six grades, and Mary Lou Beeler and Gordon Sweat, fifth graders, were queen and king of the lower six grades.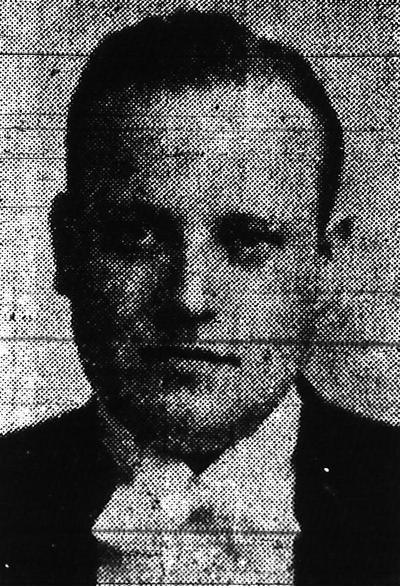 Dr. Millard J. Cundiff
In a bank election, The Peoples Bank of Shepherdsville elected J. W. Hardaway, president; Clarence Dawson, vice president; Isaac T. Mudd, vice president; Leo B. Dawson, cashier; and Lillian T. Swearingen, assistant cashier.
Dr. Millard J. Cundiff, son of Rev. and Mrs. R. B. Cundiff, graduated from the University of Louisville School of Dentistry. Dr. Cundiff graduated from S.H.S. in 1935, Campbellsville Junior College in 1937, and from Western Teachers College in 1940. As a member of the Dental Reserve Corps, he was commissioned a first lieutenant and ordered to Pennsylvania for further training.
In news from Cupio, we learned that Elmer Ridgway had been kicked by a mule, but was okay; and that Little June Ridgway was swinging on a grape vine when it broke, throwing her against a rock. Outside of a big hicky on her head, she was fine. Also, Mrs. Cora Ridgway was regaining her sight after a cataract was removed.
The paper reported that a local owner of a beauty palor, Miss Rua Larimore had married Cotton Shouley in Colorado Springs at the Baptist Church there. She was the daughter of Mr. and Mrs. J. M. Larimore. Cotton was a brother to Thurman Shouley of Bullitt County.
And Miss Virginia Stovall and Mr. Marvin Troutman were married on October 30th by Rev. Sodeman. Mutt and Virginia were a delightful couple.
1918 - 100 Years Ago.
With the Spanish influenza spreading across the nation, the paper was filled with obituaries of local folks including the following:
Miss Teresa Brooks, aged 75, youngest daughter of David Brooks; William H. Cooper died of cancer at the age of 52; Hallie Roby, wife of Mack Roby, died in Louisville at the hospital; Clarence Greenwell, a railroad engineer living in Lebanon Junction, was stricken with the flu and died; Mrs. Maggie Harris, wife of James Harris, died of the flu and pneumonia; Mrs. Martha Compton, aged about 66 years, died at her home in Belmont, Oct. 22, after only a short illness of pneumonia; and little Myrtle Virginia Greenwell, two years and eight days old, was a victim of the flu. There would be many others.
Meanwhile, Mr. and Mrs. C. F. Troutman received a telegram from Washington stating that their eldest son, David Millard Troutman, lost his life on the field of battle in France, on the 4th day of October.
The death reports continued. While William Johnson Jr. was at Camp Knox, his wife died of the flu. Ellis Jasper died of uremic poisoning. Then Abner and Robert Priddy were working at Camp Knox when they became infected. They returned home, bringing the infection with them. In the end both boys and their father Henry died from the flu.
Other deaths attributed to the Spanish flu included William Harvey McCubbins, Katie Raley Engle, Annie Dobson Hays, John Buky, Elrod Baker and L. P. Hibbs.
Near the end of the month, reports were received that Charles Milam, Elmer Monroe and Horrie Thompson had all been killed in action in France.
In other news, Al Miller sold the Zoneton Mill to Messrs. Bridwell and Pearl, who removed it to Shepherdsville and erected a garage. This removed a landmark which would be missed. The original Mill was built by Mr. Peter Smith, of Pennsylvania, grandfather of W. H. and John Smith here. He also had an oven built and made sea biscuits which he took to New Orleans by way of flat boat, starting down Floyd's Fork, near the old Kirk or Brown farm, the then-present farm of John Crumbacker, who owned and operated the Mill for many years. What a history it could have told.
Mr. W. C. Wade had a Jersey cow die, and Dr. Smith was called. He had her skinned and cut open, and on examination, he found a piece of wire run through her heart and also a long black headed pin.
And on a lighter note, there was a break-in at Patterson's store, but the intruders were soon apprehended. George Bowman, clerk at the store, discovered the break-in when he arrived at work. The man and woman responsible were captured with most of the stolen property. We won't name the culprits, but the paper editor remarked that Jailor Monroe had a real, live, female Fox to feed in his stone cage.
---
Copyright 2018 by Charles Hartley, Shepherdsville KY. All rights are reserved. No part of the content of this page may be included in any format in any place without the written permission of the copyright holder.
---