It Happened in November
The following article by Charles Hartley originally appeared in The Pioneer News on 27 Nov 2017. It is archived here for your reading enjoyment.
---
We will be looking back 10, 30, 50, 70, and 90 years to see what was being printed in The Pioneer News in 2007, 1987, 1967, 1947, and 1927 in the month of November.
2007 - 10 Years Ago.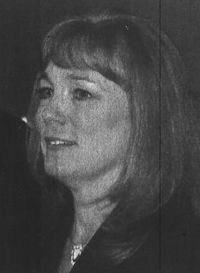 Tammy Spratt
The wrought iron fence around the historic Lone Grave was accidentally destroyed by developers. It is a Bullitt County landmark that had been nearly lost in time. When advised of its significance, the builder readily agreed to have it replaced.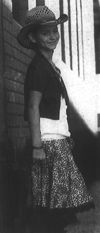 Kayla Brown
At the annual Chamber of Commerce dinner, Bob Hill received the Barbara Cahoe Award, and Tammy Spratt, a fifth grade teacher at Shepherdsville Elementary, was the Chamber/Pioneer News Citizen of the Year.
Mt. Washington's Kayla Brown was pictured with an article about her modeling career.
Coach Brett Newton of North Bullitt received a cool shower from the water bucket after the Eagles defeated Marion County 20-13 to clinch the district football title. R. D. Reynolds rushed for 44 yards, threw two touchdown passes, and intercepted one on defense.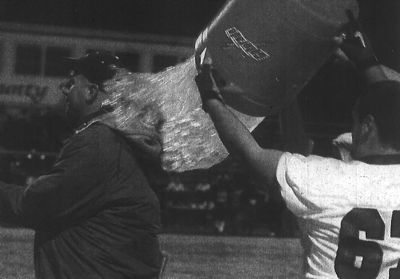 The following Nichols students were honored as students of the month for October: Tessa Patterson, Catie McCaslin, Ashley Roeder, Zachary O'Bryan, Eric Brookshire, Sarah Tomes, Tre Guffey, Rachel Wilkinson, Dalton Gassaway, Samantha Frank, Gabrielle Browning, Jessica Renfro, Cole Hurst, Destiny Nall, Rebekah Carter, and Nich Cain.
Meanwhile, at Mt. Washington Middle, the following students were Generals of the Month: Charice Burwell, Kacie Ledrick, Matt Clarkson, Trevor Troutman, Aaron Jones, Karissa Chambers, Sydney Wiseheart, Trey Adkins, Jamie Braun, Camron Creager, Mason Hellyer,Katie Profitt, Victoria Soto, and Kayla Kelty.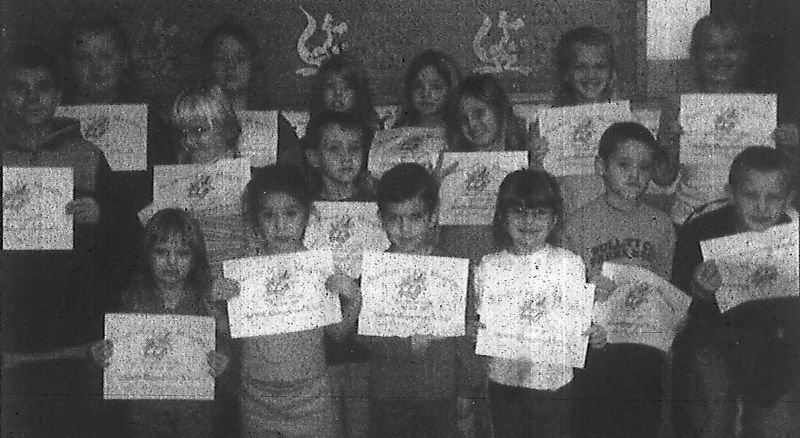 Nichols Honor Students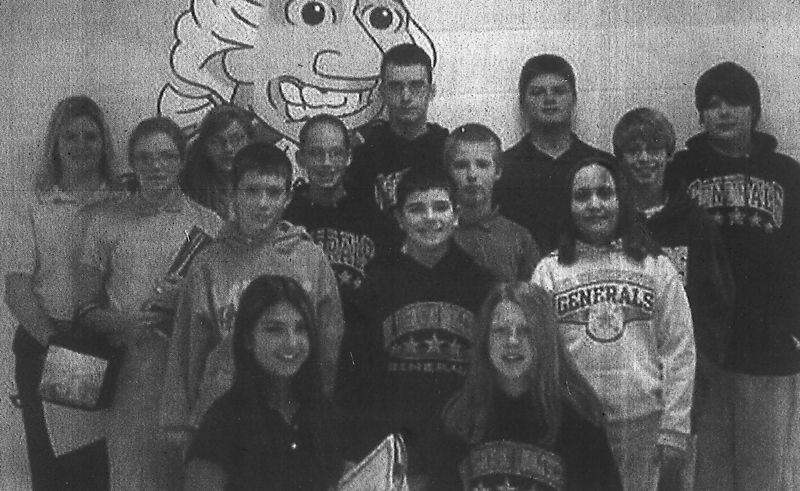 Generals of the Month
Members of the Teen Court, all high school students from Bullitt County, were sworn in by Judge Bailey Taylor. They included Cody Anderson, Amber Burbank, Candice Caulk, Andrew Cochran, Jennifer Connelly, Cornie Coomes, Ben Cresswell, Joanna Cruise, Katie Etherton, Tara Fambrough, Emily Gentry, Leslie Grider, Jarrod Heffley, Brian Hester, Ben Kemble, Melody Kimball, Trina Mattingly, Vanessa McGill, Heather Mercer, Haley Moore, Mallori Puchino, Kayla Robertson, Elizabeth Tatum, Michael Workman and Kayla Worner.

Teen Court
In community activities, Belmont Baptist hosted a gospel sing, Micah Christian School had a craft fair, Mt. Eden Baptist had a revival, Bethany Baptist hosted a parents night out, St. Luke Catholic Church presented the drama, A Christmas Carol, Pleasant Grove Baptist hosted a scrapbooking event, and St. Aloysius had their fall festival.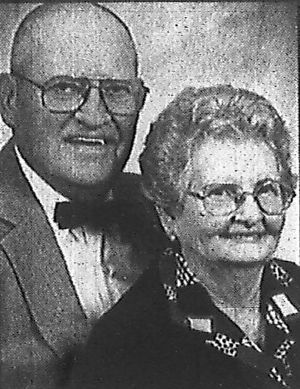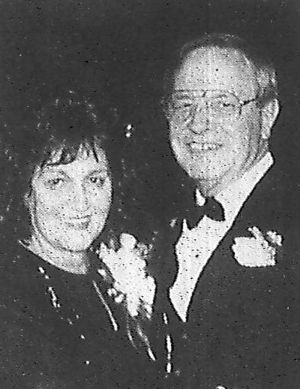 The Keliens and The Strebles
Liz Curtis Higgs spoke at the Mt. Washington Methodist Church, Overdale UMC sponsored a Seniors Day Out and Thanksgiving meal, and the Bullitt County Ministerial Association held their monthly meeting at Mr. Gattis in Shepherdsville.
In the AA Cross Country regional, the following Bullitt County runners advanced to State: Betsy Heines and Gentry Collins from North Bullitt; and Kristen Lewis, Alexis Carey, Eddie Holcomb, Bradley Foster, and Caleb Noe from Bullitt East.
And Marvin and Carrie Kelien celebrated their 50th Wedding Anniversary; while Roy and Juanita Streble celebrated their 60th!
1987 - 30 Years Ago.
Seven of the eight candidates for the Pioneer Village City Council were pictured on the front page of the paper, including Bradley Allen, Donald Coffman, Herbert Eggers, John Noltemeyer, Jonathon Sutton, Eldon White, and Lee Wilborn.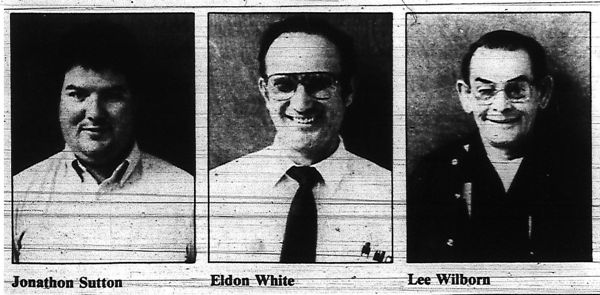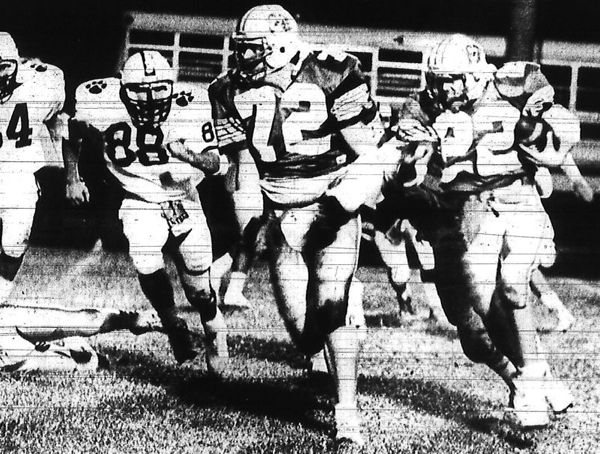 Offensive lineman Micah Redmon was pictured opening a big hole for Kerry Stout in the Bullitt East Chargers' 35-6 victory over Carroll County.
The 1924 S.H.S. class met for their 63rd reunion, along with one of their former teachers, Hester Bell (Anderson) Hardaway. Students mentioned in the article included Virginia Gardner Shelburne, Iva Elliott Roby, Louise Shelton Lamb, Lawrence Feather, and Robert Ball. There had been 17 members of the class originally.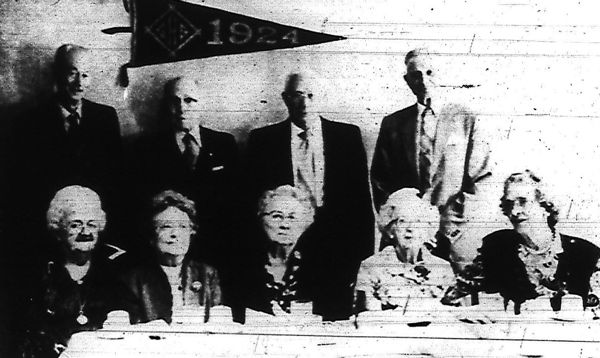 S.H.S. Class of 1924
Kim Burks and Linda Rice were pictured by John Roberts sitting in the pumpkin patch at the Cedar Grove Fall Festival.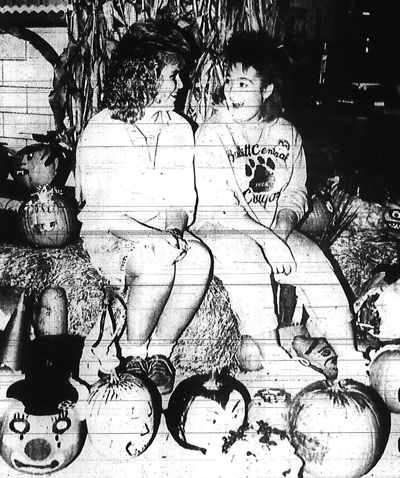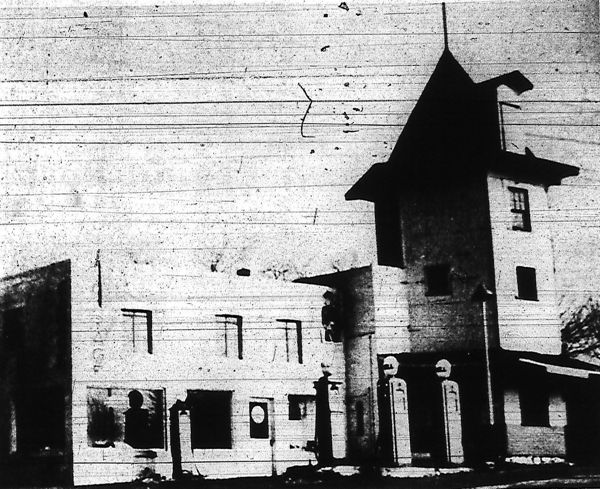 Hocker Building
In Nichols news, Oretha Ridgway congratulated Mark and Clara Thompson on the birth of their son Mark Evan. Oretha reported that she and Marvin Hopewell visited with Thelma Hopewell.
She also listed the names of the Nichols Fifth-graders who made the school honor roll. They included Annie Allgeier, Jason Warner, Tina Burden, Jonathan Cook, Sonya Gillespie, Becky Haiby, Kelly Hurst, Matt McBroom, Jodie Thomas, and Deanna Thurman.
Bob and Ginger Carter reported on the new post office being built in Lebanon Junction on the site of the old Hocker building. A picture of that service station was included. According to Steve Masden, the first building on that site was built by Clyde Duvall and Golden Engle. Dick Hocker bought it about 1938.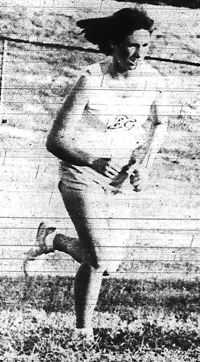 Lois Simmons of Pleasant Grove reported on the death of Mrs. Virgie Jones whose survivors included her son Adrian, and three brothers Harley, Roscoe, and J. B. Proctor.
Lois also reported that Clifford and Helen Foster visited their daughter Lana Jenzen.
Kim Davis and Dwayne Goers of Bullitt Central earned places in the state cross-country competition with strong performances at regionals.
Tonya Hines, with 22 points, led the S.M.S. Rams to a championship victory over the Generals in the Middle School Tipoff Tournament. Meanwhile, Tim Mason's 19 points led the M.W.M.S. Generals to a 47-43 victory over Bullitt Lick in the boys' tournament.
Jeff Reynolds wore a neck brace during rodeo competitions following a throw that nearly broke his neck. The Bullitt Central sophomore from Lebanon Junction enjoyed his participation on the professional rodeo circuit.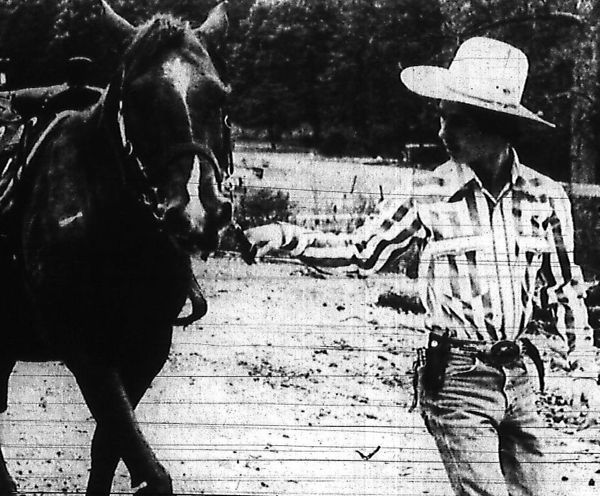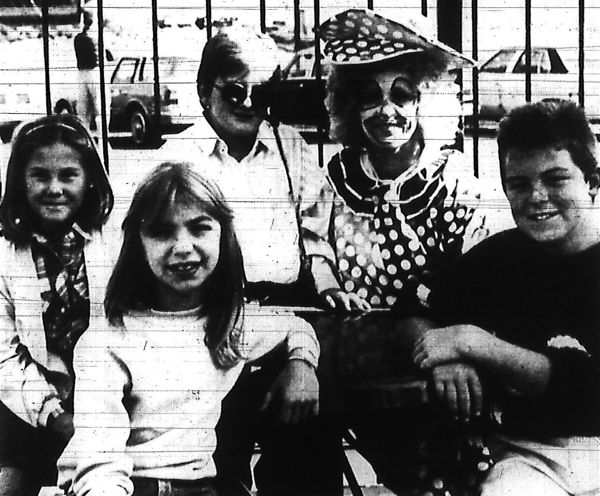 Jamie Vincent, Amy Elzy, Eric Rogers, and Kim Maraman were pictured with Laurie Wilkerson as a clown following their free meal at McDonalds as a prize for their winning entries in a country safety contest.
And First Baptist of Shepherdsville celebrated 150 years of service. The special event was led by Pastor Stephen McSwain. Maggie Bridwell and Thelma Newman were recognized for their membership of 76 years in the church. The church Sunday School attendance was recorded at 414, and more than 600 attended the morning worship service. Following the service the congregation moved to the sidewalk and street in front of the church for a church picture.

And rounding out the day's activities, a historical quilt was presented to the church by Mary Sue Bleemel and the Woman's Missionary Union.
1967 - 50 Years Ago.
Curtis Hagan was pictured as he inspected the new bridge built on Grigsby Lane to replace the one that had been washed out in August.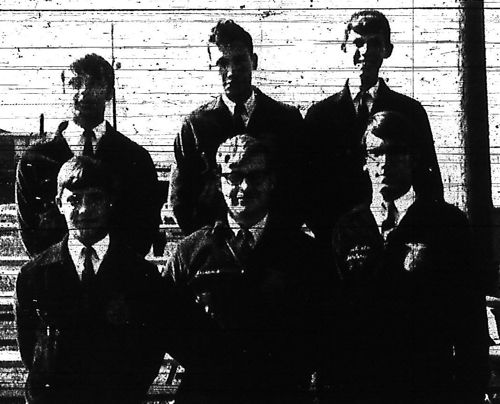 F.F.A. Officers
Local lawyers Tom Givhan and Athol Taylor were participating in Kentucky Bar events. Taylor, who was currently president of the local bar association, was attending a meeting of other presidents from around the state; and Givhan, who was a member of the state association's House of Delegates, attended an "Economic Workshop."
Thirty-five FFA members from Shepherdsville participated in the annual Pest Extermination contest, with eight receiving blue ribbons. These included Charles Tracy, Darrell Lundy, James Frans, Phillip Harris, Gary Moore, and Charles Bowman.
The chapter's officers included President Leeland Stevenson, Vice-President Mike Perry, Secretary John Price, Treasurer Dennis Crenshaw, Reporter Charles Bowman, and Sentinel Gerald Fulkerson.
The Shepherdsville High School First Honor Roll was packed with names that brought back memories. They included Brenda Loyall, Judith Denny, Desie Deschand, Linda Gillespie, Gloria Pile, John Nusz, Daniel Perry, Roxanne Pieller, Lana Murphy, Valya Perkins, Gary Moore, and Teresa Smith from the ninth grade; Donna Holt, Carolyn Jackson, Donna Walls, Brenda Hall, Vickie Ferguson, Linda Hart, Elise Givhan, Ronny Miliner, Debbie Lee, and Brenda Snellen in the tenth grade; Gloria Girtley, Sam Hardy, Pamela Sublett, Sharon Payton, Mary Jane Patterson, Teresa Keith, Randall Denny, Wayne Fearnbach, Sharon Fischer, Brenda Deavers, Pat Browne, and Dareene Barlow from the eleventh grade; and Becky Sanders, Leeland Stevenson, Mary Terrell, Mary Lou Ham, Marilyn Jobe, Judy Hicks, Sandra McMillen, John Puckett, Lois Rice, Carol Korfhage, Rhonda Farmer Cox, Judy Anderson, Judy Coy, Charlie Cash, and Peggy Crocker from the senior class.
The Lebanon Junction School Beta Club's officers included President Jerry Van Vactor, Vice-President Danny Meadows, Secretary Linda Engle, and Treasurer Anna Waters. Mr. Murphy was the club sponsor.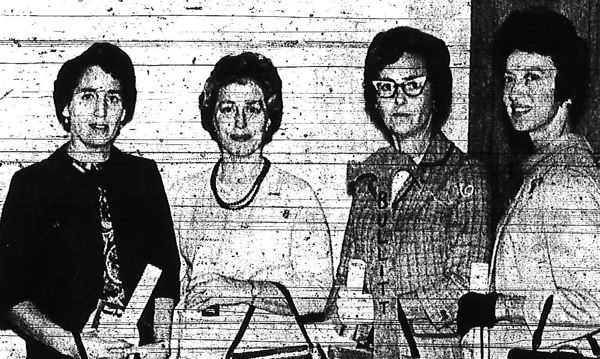 Women for Ward
The L.J. F.H.A. Club welcomed the following new members: Belinda Waters, Joyce Abell, Jo Ann McCubbins, Beverly Masden, Pam Nicholson, Ruth Whitsell, Sculda Georgio, Janet Rexroat, Cindy Samuels, Cathy Beeler, Brenda Bowman, and Roberta Bowman.
Lavenia Skidmore, publicity chairman for the Roby P.T.A., provided the paper with a report on the school's Open House event.
Jean Hatzell, Kathryn Cornell, Kathleen Hartlage, and Betty Robey were pictured as they prepared to attend a luncheon for Woman for Ward in Frankfort.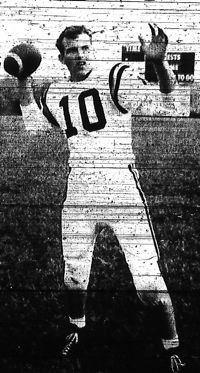 Richard Fetty
In the first year of their program to erect street signs in Bullitt County, the Jaycees published a list of 37 roads that now had signs. Many folks who read this column can remember when most county roads had no signs, and if you didn't know where a place was, you had to just stop and ask someone.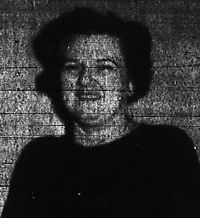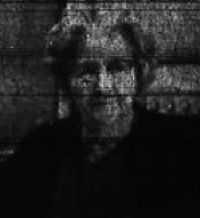 Martie and Nancy
Richard Fetty, the S.H.S. Rams' quarterback, gained 264 yards and scored four touchdowns in the team's final game, a victory over North Hardin.
Mrs. C. T. (Martie) Korfhage received the outstanding 4-H leader award at the annual banquet.
And Mrs. Nancy Strange received a bouquet of roses on her birthday from the folks at the courthouse in honor of her many years of service as Circuit Court Clerk.
1947 - 70 Years Ago.
The Lebanon Junction correspondent reported that Dennie Beeler, son of the local druggist, had improved enough to come home from St. Joseph's after being accidentally shot in the eye.
Six Homemakers Clubs were organized in the county including ones in Brooks, Cedar Grove, Bardstown Junction, Hebron, Nichols, and Mt. Washington. At Nichols, Mary Porter, the Home Demonstration Agent, met with the ladies at Hassie McPherson's home to organize that club. Present were Mesdames Herbert Bennett, Jr., Dorothy Nichols, Virgil Cower, Glenda Bruce, Walter Fletcher, Jr., Charles H. Lowe, Ella Gassaway, and Viola Logsdon.
Meanwhile, at Mt. Washington's meeting, Mrs. C. L. Stansbury was elected club president. Vice President was Mrs. Leo Bleemel; and Mrs. Loyd Tichenor was the secretary/treasurer. Others given responsibilities included Mrs. Louis Roby, Mrs. Dewey Alexander, Mrs. Lyle Rouse, Mrs. S. F. Smith, and Miss Georgia Porter.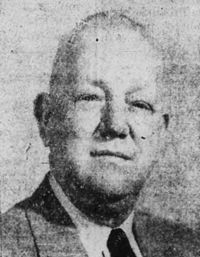 A. E. Funk
Fourteen Bullitt County students were attending the University of Kentucky, including Theodore Caddell, Thomas Carroll, Jerome Dawson, Robert Farris, Charles Hamilton, William Hamilton, Robert Harned, Bernie Milam, Hershel Sailings, William Simmons, Billy Snellen, all of Shepherdsville; Gerald Napier and James Snyder of Lebanon Junction; and Bobby Rouse of Cox's Creek.
A. E. Funk, who was born in Bullitt County, was elected Kentucky's Attorney General on the Clements ticket.
Mr. and Mrs. C. V. Sanders announced the birth of a son they named Charles Capps Sanders.
Laverne Owen and Forrest Burns were scheduled to be married at the Mt. Washington Baptist Church.
The Dawson Realty Company was urging everyone to attend the big Tom Cochrane sale on November 15th.
Remember the Stanley parties? Mrs. Dorothy Lanham of Cedar Grove hosted one with several ladies present. Sorry, but I didn't get their names.
The Mt. Washington correspondent sadly reported that "one of our town's oldest landmarks is no more." It seems that the Bridwell log house on Main Street next to the McFarland Funeral Home, and across from the Baptist Church, had been torn down and hauled away.
Don F. Hawkins reported that the Shepherdsville Rams defeated Old Kentucky Home 29-27 in basketball.
Ben Frank Robards, who had been breeding registered Duroc hogs since he was in high school, added to his herd with a new male pig valued at about $250.
Richard B. Maraman received his diploma from the Kentucky School of Embalming with one of the highest averages of his class.
William Miller and Kathryn Rennison were married at Bardstown Junction by the Rev. R. B. Cundiff. Dr. and Mrs. M. J. Cundiff were the attendants.
Angela Marie Mattingly and Norbert Joseph Noltemeyer were married at the St. Benedict Church of Lebanon Junction.
In the Personals column we learned that Fred Hatzell broke his arm; and that Mrs. Headie Lee and daughter Sandra Sue were guests of Mrs. Lee's sister, Mrs. M. C. Becker of Louisville.
The Shepherdsville Lion's Club renewed its sponsorship of Boy Scout Troop 217. Sam Ridgway was appointed Scoutmaster, and his two assistants were Frank White and Foster Sanders.
The Hebron Church invited everyone to their Thanksgiving Service with a basket lunch to follow.
And the Ladies Auxiliary of Hebron Church announced that they would hold their annual Afternoon Tea and Bazaar in December; and that orders for cakes or chickens should be placed with Mrs. Burks Williams by the beginning of the month. Her telephone number was 6222.
1927 - 90 Years Ago.
The Pleasant Grove correspondent was sad to report that Felix Miller was killed when a tree he and his brother Josh were cutting rolled and caught both men. Ernest Simmons heard their cry for help, and managed to lift the tree with a hand spike so that Josh could get out from under it. Josh was not seriously hurt.
From the Hilltop reporter, we learned that Bob Hardesty attended the Halloween Party at Sunnyside; that Joe Ogle was in Shepherdsville on Saturday shopping; that Mrs. J. B. Myers had arrived home after spending a week in Cincinnati; that Ed Shepherd took a load of tomatoes to town on Monday; and that Misses Hazel and Elizabeth Shepherd spent a Monday night with Misses Dorothy and Kathleen Hardin.
S. T. Hornbeck bought the old Peoples Bank building from C. P. Bradbury and opened a new general store.
News from Bardstown Junction let us know that Miss Lily Mooney of Louisville spent a weekend with her mother, Mrs. Alice Mooney; that Mrs. Nathan Cundiff spent a Monday with Mrs. Ed Oaks; and that Pat Cruise, and L.& N. operator had been working in Shepherdsville.
In Hebron news, we learned that Harry Bell and Patrick Pope accepted positions on the L. & N. R.R.; that Miss Marietta Jackson substituted as teacher for Miss Mary Cynthia Holsclaw who had been quite ill; that D. M. Fitzgerald had sold his farm and moved to the city; and that Alice Pope won second prize, dressed as Little Bo Peep, at the Halloween social at Little Flock.
At Lebanon Junction, E. M. Fain and Valta Bland were married. He worked for the railroad; she worked at the Lebanon Junction Mercantile Company.
The writer of the personal column shared that Dan Nutt of Leaches was in town on Saturday; that Col. Harve Lively of Louisville was in town shaking hands with his many friends; that James Myers of Pitts Point was in town as well; and that Ambrose Skinner of Cupio was also in town on business.
At the "Masquerade Social" given by the Eastern Star Lodge, Mrs. Gabe Bealmear had the best ladies' costume; Dr. Holbrooks, the best men's outfit; and Professor Sanders and Mrs. McAllister, the most comical costumes.
Miss Thelma Dais coached the local basketball team to a victory over Elizabethtown 14-9. Members of the team included Louise Sanders, Anna Gaebb, Mary E. Joyce, Anna Barrall, Imogene Ember, Gladys Shelton, Loraine Wheatley and her sister.
And C. L. Troutwine had a "dozens" sale. A dozen pounds of English Walnuts would cost you $2.40 while a dozen pounds of chocolate drops were only $1.50. Of course, if that was too rich for your pocketbook, you could try the dozen pounds of fresh prunes; they were only 84 cents!
---
Copyright 2017 by Charles Hartley, Shepherdsville KY. All rights are reserved. No part of the content of this page may be included in any format in any place without the written permission of the copyright holder.
---