It Happened in November
The following article by Charles Hartley originally appeared in The Pioneer News on 28 November 2016. It is archived here for your reading enjoyment.
---
We will look back 25, 50, 75 and 99 years to capture glimpses of what was happening in Bullitt County in each of these years. Today we will focus on the month of November.
1991 - 25 Years Ago.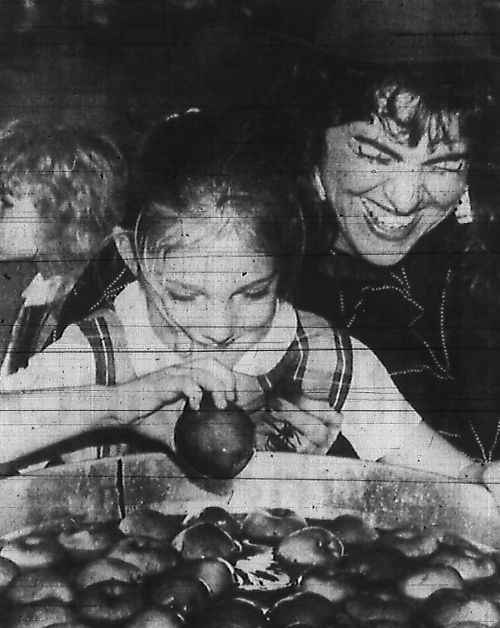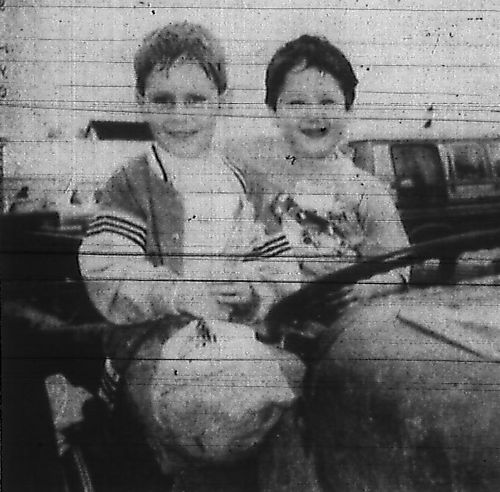 Lori Mann & Julie Adams / Billy Prater & Kennie Caudill
Lori Mann laughed as Julie Adams, who had recently lost her two front teeth, resorted to using her fingers while bobbing for apples at the St. Aloysius carnival. John Roberts took the picture.
Billy Prater and Kennie Caudill were pictured on a kindergarten class trip to Huber's Farm. They were there with Ms. Kelly's Cedar Grove class.
Daniela Canary, Kristi Hester, Robert Schoenlaub, Kristen Mason, Lori Risen, Tonya Squires, Brent Whaley, Christy Vowels, and Paula Lay were inducted into the National Honor Society at North Bullitt High School.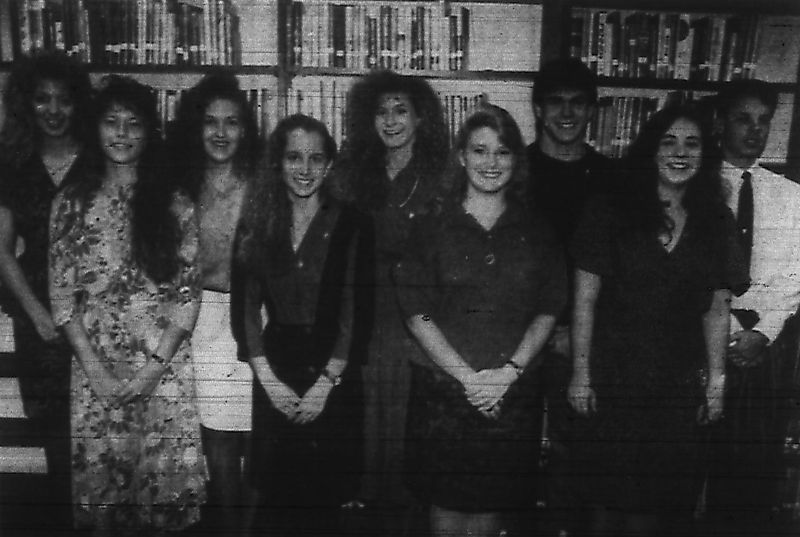 The Hebron/Zoneton correspondent remarked that Don and Betty Woolside spent three days at Niagara Falls, while David and Cheryl Seabolt traveled to Edmonton, Kentucky to visit Ma and Pa Burris.
The Pleasant Grove correspondent reported that Mr. and Mrs. Marvin Moore entertained for dinner the following folks: Mr. and Mrs. Eugene Hall, Madaline Porter, Mrs. Birdie Moore, Mr. and Mrs. Bryant Harris, and Mr. and Mrs. Arson Moore. She also wished Mrs. Mairn Porter a happy 102nd birthday.
Arlie and Bessie Kendall renewed their vows at the Hilltop Baptist Church on their 50th wedding anniversary. Their son Freddie performed the ceremony.
Also celebrating 50th wedding anniversaries were Causby and Grace Grigsby, Bruce and Anna Clark, and Kenneth and Ruby Rowe.
And not to be topped, Arnold and Elnora Koch celebrated their 60th wedding anniversary as well.
In the write-in election for Circuit Court Judge, Tom Waller was victorious. It's interesting to note that Richard Nixon got one write-in vote.
In the first playoff game in Bullitt East history, the Chargers defeated Adair County 26-6. Linebacker Steve Miles was pictured celebrating the victory.
The Mt. Washington Historical Society received three grants that would help in their efforts to open the Lloyd House as a museum. The house had been donated to the society by Mayor Ralph Lutes.
Alan Peavier and Marshall Chasteen were pictured in front of their Bootleg Bar-B-Q sign.
North Bullitt standout, Cora Conn signed a national letter of intent to attend Indiana State University.
Dave Edmonds (as Sonny) and Melyssa McLaughlin (as Cher) were pictured rehearsing for Bullitt Central's Bandstand show.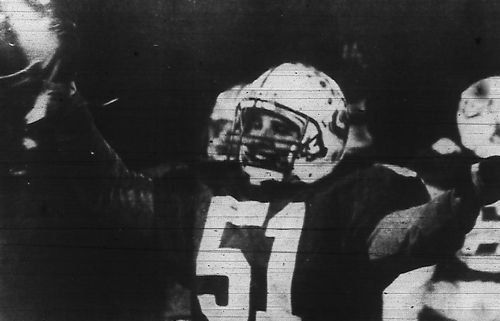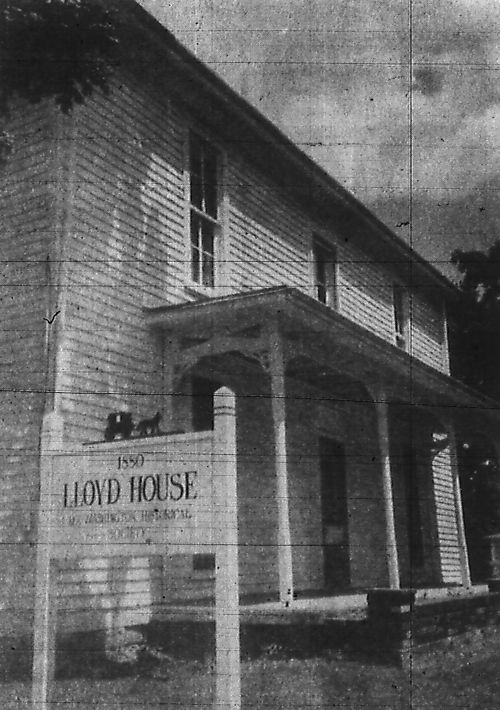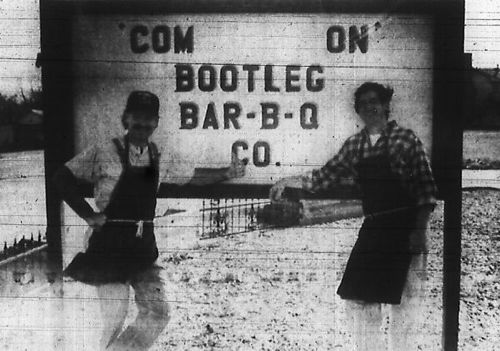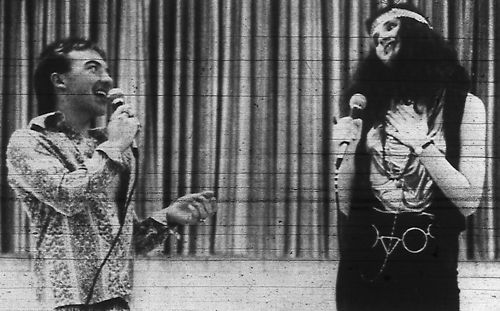 And do you remember where you were when disaster struck on that Tuesday afternoon when the CSX freight train derailed and plunged into the Salt River, taking most of the bridge with it? I sure do!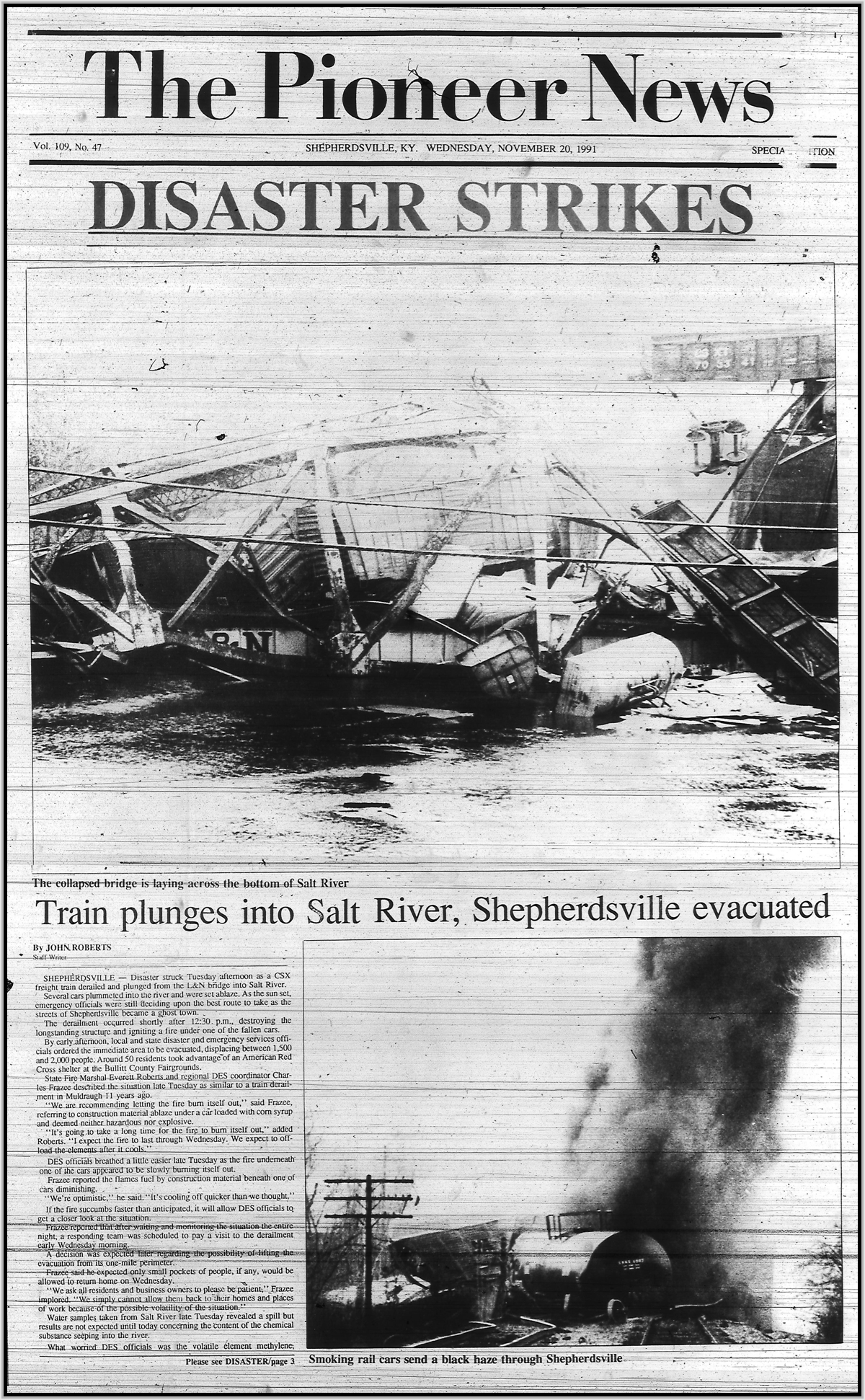 1966 - 50 Years Ago.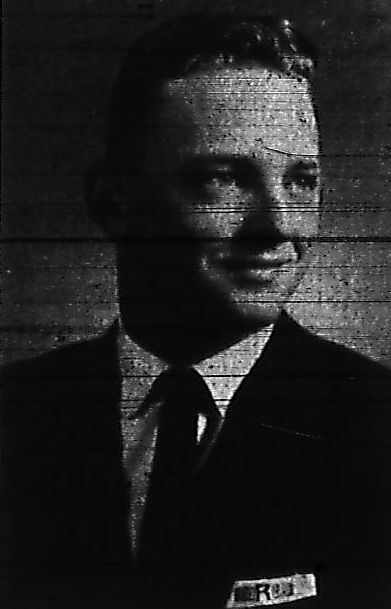 Harry Roggenkamp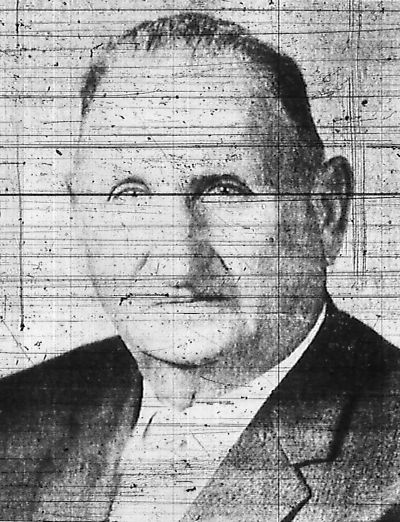 Tom Hibbs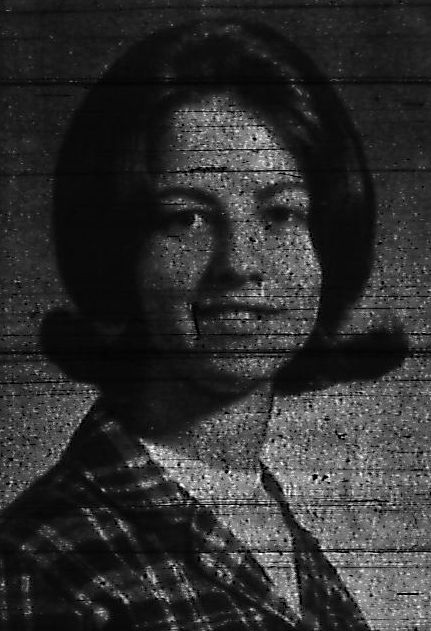 Bonnie Ferguson
The Bullitt County Jaycees selected Harry Roggenkamp as Bullitt County's Outstanding Young Farmer in 1966. Harry and his wife Jean (nee Ashby) were honored at a banquet put on by the Jaycees.
Thomas Givhan was a guest of honor in Lexington as the Henry Clay High School honored former lettermen of the Blue Devil squad from 1941-1945. Apparently his nickname was "T-Bone."
Karen Shaw, daughter of Mr. and Mrs. Richard Shaw, and a student at Lebanon Junction High School, won the junior suit division of the "Make It Yourself with Wool Contest." Karen was president of the Belmont 4-H Community Club.
Tom Hibbs, former jailer and sheriff of Bullitt County, died in November 1966. Survivors included his widow, the former Helen Klapper, and four daughters.
Adrain Jones advertised his "Little Store With the Big Values" located behind the post office in Shepherdsville.
At the Roby School Fall Festival, Dewayne Montgomery and Debra Hillman of Mrs. Mae Cundiff's first grade class were named Festival King and Queen.
Bonnie Ferguson, daughter of Mr. and Mrs. E. L. Ferguson, was elected Miss FHA of the Shepherdsville Chapter for 1966-67. She was also chosen as a member of McCall's Teen Fashion Board. She was nominated by her Home Ec Teacher, Mrs. Helen Underwood.
Richard Maraman and wife attended the Annual Convention of the National Funeral Directors Association in Miami Beach.
Despite touchdown runs by Richard Fetty and Tony Spencer, the S.H.S. Rams lost to Lebanon 39-14.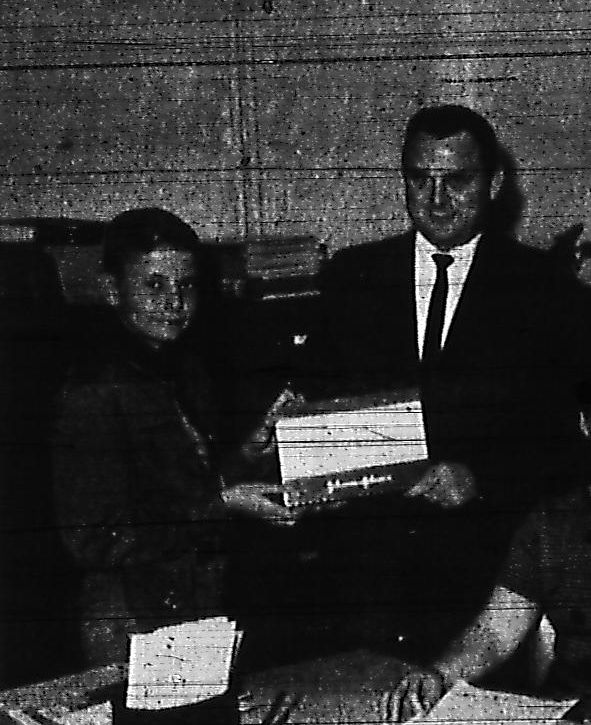 Jimmy Hall with Judge Farris
Jimmy Hall of Boy Scout Troop 5 was pictured donating a first aid kit to Judge Neil Farris as a part of the troop's fund raiser. Jimmy was a son of M. R. and Rose Hall.
The Wilson Creek reporter described the losses suffered by Robert Harned and others following the winter storm that dumped 12 to 14 inches of snow and caused a power loss of several days. Mr. Harned's large laying house of some 5,000 hens was sorely affected.
In social and personal notes, we read that Cora Ney Hardy, who was on furlough from Nigeria as a missionary, would speak at the Lebanon Junction Baptist Church. We also learned that Miss Zollie Swearingen visited Mrs. Myrtle Barrall on a Sunday.
The Building Committee of First Baptist Church in Shepherdsville, led by Burlyn Pike, was largely responsible for the vote by the church to build a new auditorium.
The following members of the Bullitt County Historical Commission paid a visit to the site of Pitts Point: Mrs. Ivy McBride, Mrs. Stewart Beeler, Mrs. W. A. Beeler, Mrs. Nancy Strange, Miss Clara Newman, Mr. Robert McDowell, Mrs. Athol Lee Taylor, Mr. Walter Shepherd, Master Andy Shepherd, Mr. Wilbur Strange, Mr. Clifford Lee, Mr. Paul Talbert, and Mr. Tom Pack.
And you could get a turkey dinner with all the trimmings at the Maples in Deatsville, but you had to made an appointment first.
1941 - 75 Years Ago.
Henry C. Hamilton, Jr., son of Mr. and Mrs. Henry C. Hamilton of Shepherdsville, was promoted to the rank of staff sergeant in the army. He graduated from S.H.S. in 1939.
The "Ollie Hardin Farm" of Beech Grove flats was sold to Sammy McCubbins by C. R. Mattingly.
At the Mt. Washington Halloween Carnival, Anna Joyce Jasper was voted most popular, and Mrs. Elzy Wilhite the best disguised. Meanwhile, down the road in Shepherdsville, Mary Belle Gentry was selected as queen of their carnival.
Colonel H. H. Combs and Conrad Maraman were the guest speakers at a gathering hosted by Clara Hays Simmons to solicit Red Cross members.
The charter members of the Lebanon Junction Lions Club included William T. Adams, William B. Samuels, R. G. Newman, W. A. Beeler, Russell Argenbright, H. S. Beeler, R. M. Hocker, C. E. Burkhead, Neal Jackson, Otho Quick, Fred Whitehead, Elvin Doutaz, Ernest Doutaz, Father Ritter, James Richardson, and Logan Murray.
Bullitt Countians enrolled at the University of Kentucky for the Fall Term included William Bruce Hamilton, Catherine Lucile Hardin, Elmer C. Bryant, Chester Frazier Robards, William R. Simmons, Jim B. Williams, L. J. Rouse, and Lindsay Melton Wigginton.
Fort Knox was proposing to add additional territory, including a large chunk of Bullitt County.
Mr. and Mrs. O. H. Masden and daughters Ophelia and Eugenia spent several days in the Smoky Mountains.
The Belmont Church B.Y.P.U. had a halloween party at the home of Mr. and Mrs. Henry Kneisler. Present were Bro. Walter Brown, Mr. and Mrs. J. J. Napier, Mr. and Mrs. Trainor Roby, Roy McCubbins, Miriam Bradbury, Ada Wineholder, Mary Bradbury, Tena Mae Stitzer, Martha Standbury, Miss Mary B. Hill, Gerald Napier, J. L. Thurman, Walter Ward, Charles McCubbins, James Lee Shoemaker, Irene and Marie Kneisler, Mary Sue and Myrtle Roby, Elizabeth, Jean, and Dorothy Rice, June, Joan and Bonnie Bradbury, Thelma and Carl Delk, Millard and Lillian Wineholder, and Dolores Bradbury.
Mike Smith of Shepherdsville had 5000 used bricks for sale.
Robert E. Lee, J. R. Cornell, A. V. Greenwell, and John L. Samuels were Bullitt County's magistrates in November 1941.
Elijah and Rhoda Carpenter Boyd celebrated their 50th wedding anniversary.
In the Personals column we learned that Inez Hibbs and Mrs. Pauline Hibbs attended the ball game between Manual and New Albany; that Mr. and Mrs. Harlan Brown and baby moved into the apartment over the drug store; that Mr. and Mrs. Dee Bergen and family moved into the home they purchased from Judge and Mrs. C. M. C. Porter; that Mr. and Mrs. Cecil Smothers had purchased the Dee Bergen home and moved there; and that Mr. and Mrs. Minter moved into the new home recently built by Mr. and Mrs. Tom Adams in Salt River.
Meanwhile, down at Lebanon Junction, Mr. and Mrs. Wilber Marr moved into the home they bought from Mr. and Mrs. Nickelson just opposite the L & N depot on the corner.
And Mr. and Mrs. J. R. Buckman were moving to California to live near their daughter, and their 6 room, two-story house and property were up for sale. Dawson Realty was handling the auction.
1917 - 99 Years Ago.
Miss Willie May Ridgway, the popular teacher at Glenn Ella, purchased a new machine. Also, Miss Mary Dawson, teacher at Pitts Point bought one too from a shipment to the Gatton Garage. Others who purchased a Ford from Gatton included Dr. Ridgway, A. C. Viers, W. W. Davis, Robert Ridgway, and Thomas Close.
Neill Brooks and Dick Pope of the Hebron area spent a few days with (lady) friends at Glendale, the Lincoln farm, and Mammoth Cave.
Stanley Wise, Stella Brumley, Zella Owens, Charles Daniel, Sara Jane Buckman, Laura Daniel, Mary E. Bell, Edna Starks, Gussie Quick, Willie Chickering, and Sylvia Phelps all attended the last teachers' meeting at the new high school in Mt. Washington.
The residents of Colesburg and Lebanon Junction were making an effort to have a bridge constructed over Rolling Fork River at the farm of William Fowler about three miles north of Colesburg.
John Hulswitt advertised that he had returned to his blacksmith shop after a bout with typhoid fever, and was hopeful his patrons and friends would bring him their business.
At Bardstown Junction, Mrs. George Duke and daughter Virginia returned home after a visit with relatives in Louisville. And Dr. and Mrs. J. G. Dodds had returned from a visit to relatives in Ohio.
Judge Frank Daugherty of Nelson County delivered an address at the courthouse in Shepherdsville in the interest of the Democratic Party.
Bullitt County draftees at Camp Zachary Taylor were among those quarantined following an outbreak of measles there.
In the general election, W. F. Monroe, the Democrat, defeated the Republican James Roney by 327 votes for jailer. There were no Republican challengers for any of the other local races. For the Democrats, C. P. Bradbury was county judge, T. C. Carroll was county attorney, Lindsay Ridgway was county clerk, James Croan was sheriff, Ora L. Roby was school superintendent, Bert Shepherd was assessor, and Dr. J. H. Shafer was coroner.
J. David Buckman, who ran the Electric Light, Ice and Water Company in Shepherdsville, was able to get the lights back on after several months out.
Myrtle Crenshaw, teacher at Sugar Valley, was ill for a time, and Lounette Stansbury taught in her place.
Dr. David Smith, a local veterinarian, advertised his services in the paper.
And S. B. Simmons lost his black female pup that went by the name Vick. He offered a five dollar reward. Here Vick, here Vick ...
---
Copyright 2016 by Charles Hartley, Shepherdsville KY. All rights are reserved. No part of the content of this page may be included in any format in any place without the written permission of the copyright holder.
---