It Happened in November
We will be looking back 20, 45, 75, and 90 years to see what was being printed in The Pioneer News in 2001, 1976, 1946, and 1931 in the month of November.
2001 - 20 Years Ago.
What did Tyler Anderson, Sharie Ashbaugh, Jesse Barrow, Christian Bartsch, Becky Bartsch, Beth Beasley, Harlen Compton, Holly Coover, Kayee Crecelius, Hank Davis, John Deferraro, Angela Denson, Brian Dockery, Carrie Dugger, Whitney Embry, Stacey Harvey, Noah Heath, Katrina Hensel, Joey Hobbs, James Hood, Chuck Horine, Shane Huddleston, Jessica Hughes, Kim Hurt, Rachael Hurt, Tony Martin, Michelle Logsdon, Quinton Masden, Bryan Matthews, Nancy Murphy, Stacy Nguyen, Scotty Polston, Brendon Reesor, Beth Renfrow, Lee Sanders, Melinda Thomason, Christy West, Gary Whitaker, Joey Whitaker, Jennifer Williams, Jake Wise, Chad Woods, Garrett Woods, Crystal Worman, Lee Woods, Thomas Akridge and Justin Ysunza all have in common?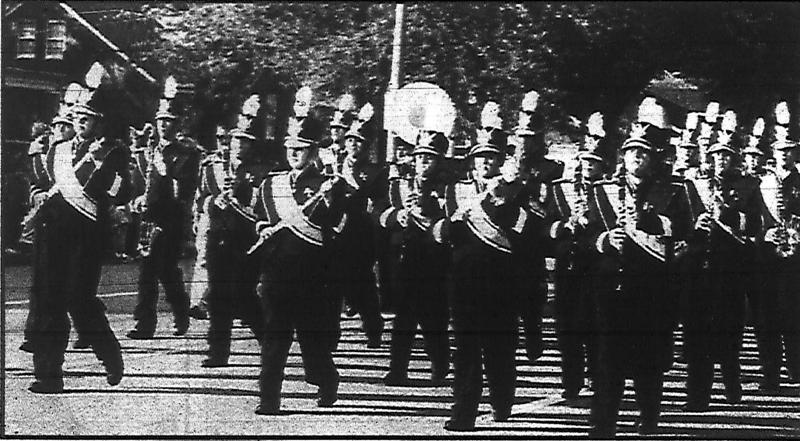 They were all part of Bullitt Central's marching band that won first place at Male High's contest, earning the band a distinguished rating under the guidance of their new band director, Rodney Stults.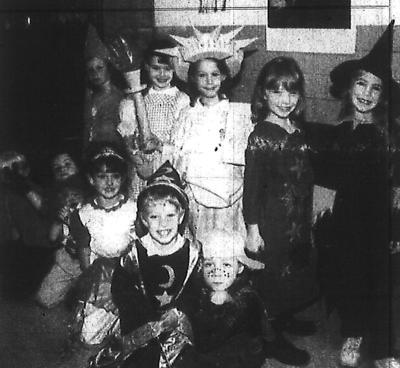 Erica and Friends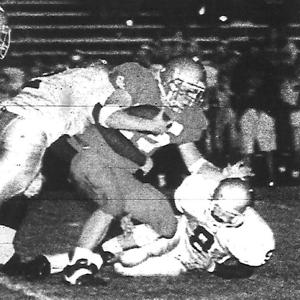 Tommy Schorck
Erica Purcell, a second grader at Roby, was pictured as the Statue of Liberty, along with some of her classmates in Mrs. Hereford's class at Halloween.
Bullitt East senior Tommy Schorck carried the ball 15 times against Pulaski County for 125 yards as the Chargers advanced in the playoffs. Also, Matt McIntyre took a handoff on a fake punt and raced to the end zone for a score.
Former Bullitt East student Ellen Bass, daughter of Bill and Marilyn Bass, was named Morehead University's Homecoming Queen.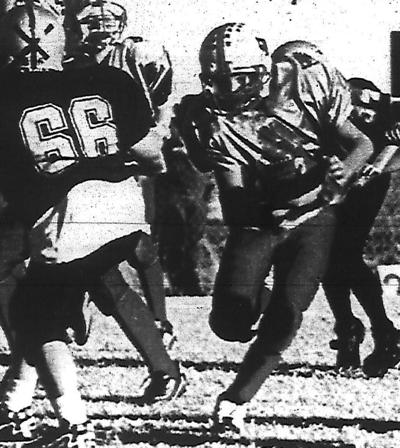 R. D. Reynolds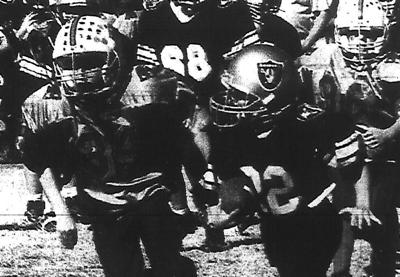 Payne and Gipson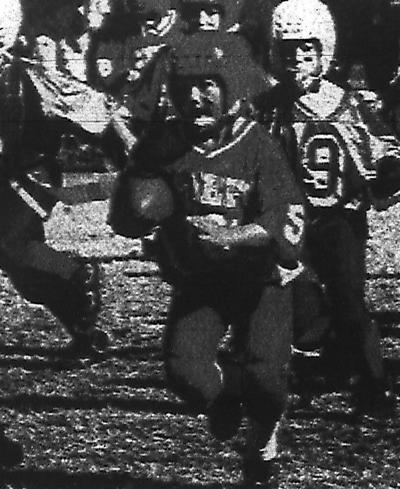 Todd Asbury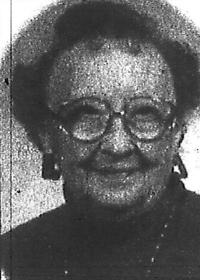 Myrtle Ruth Harris
The Maryville Patriots defeated Roby in the "B" division championship game 13-0. R. D. Reynolds was pictured carrying the ball as he rushed for 84 yards and scored a touchdown.
In the PeeWee final, Maryville's John Payne and Timothy Gipson were pictured giving chase. Their team defeated Roby 6-0.
In the flag football final, Hillview's Todd Asbury had a 53 yard touchdown run to seal their 12-0 win over Maryville.
Myrtle Ruth Harris, nee Stansbury, was 89 when she died, following a 37 year career in the Bullitt County schools. She also taught Sunday School for 43 years at the Methodist Church in Mt. Washington.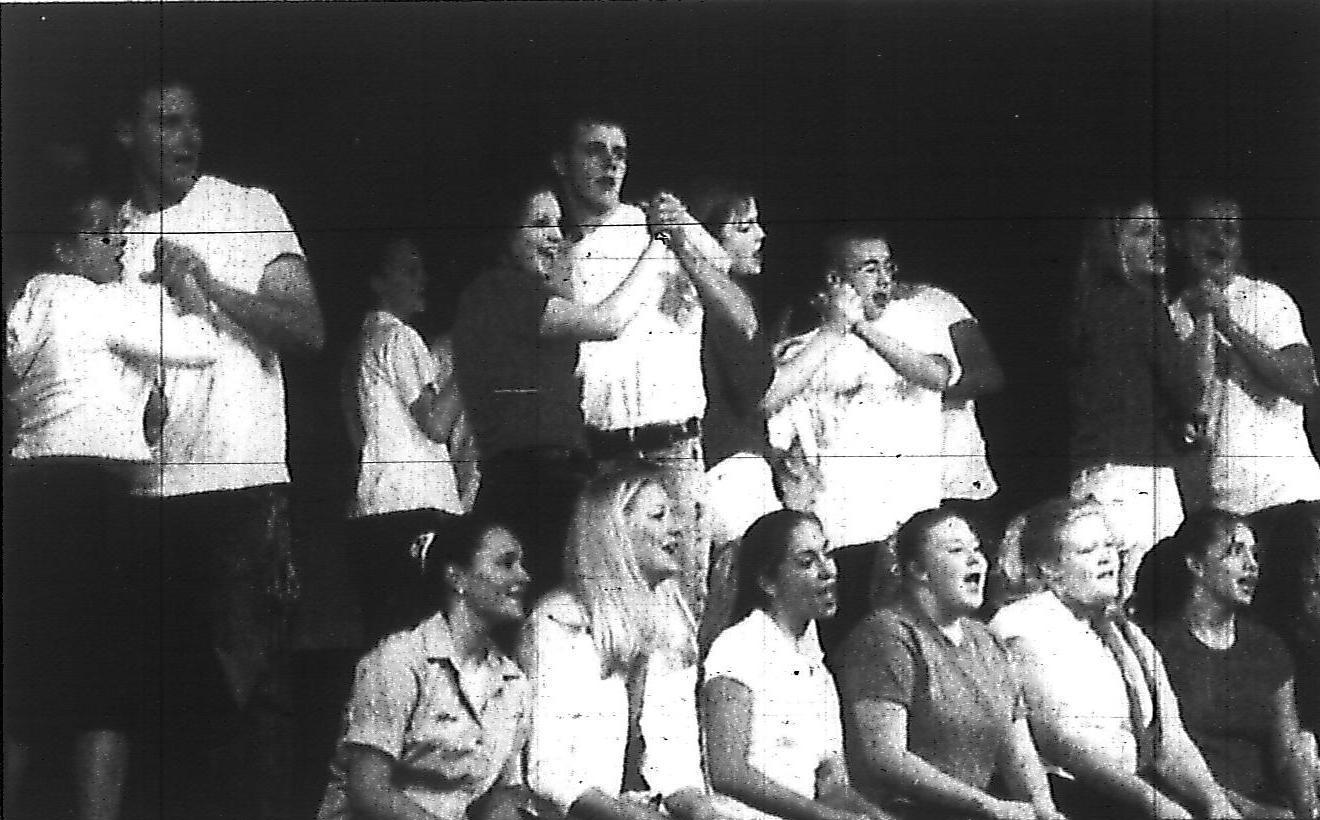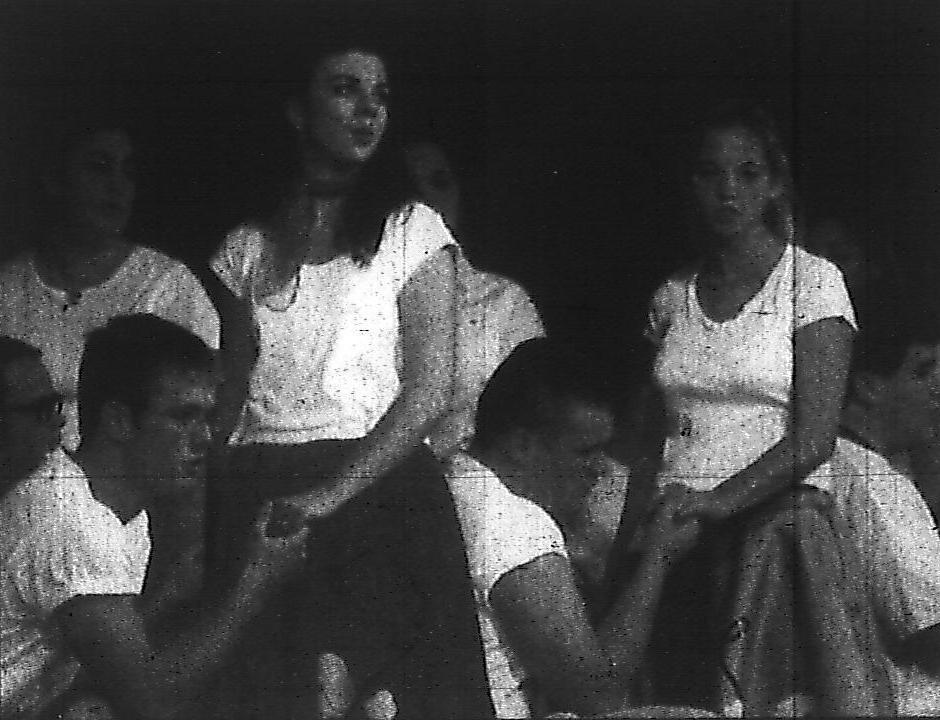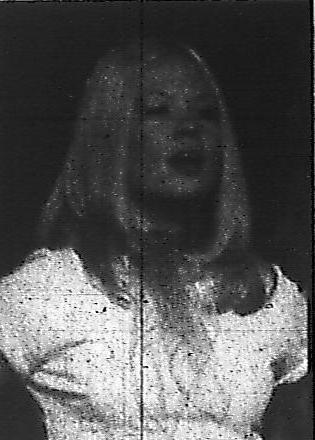 An ensemble of choir students at Bullitt Central performed a medley of songs of the 1950's. Members who were named in the pictures included Lindsey Roy, Lauren Sweat, Jamie Masden, Melissa Keck, Felicia Paul, James Elliott, Adam Ogle, and Walter Crawley.
An open house celebration of her 80th birthday was held for Billie Roy Pennington at the Davidson Memorial in Shepherdsville.
The Bullitt County Woman's Club held a chili supper fund-raiser to support the Riverview School. Becky Billings presents Carolyn Dennison the check with Barb Plenge, Bunny Hardin, and Karen Young looking on.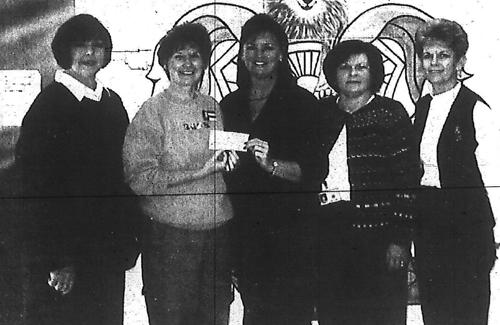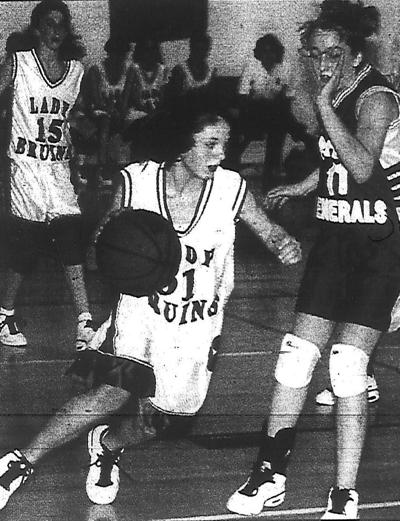 And the Bernheim Lady Bruins defeated Mt. Washington 39-26 to win the county championship. They were led by Emma Hall who led all scorers with 10 points.
1976 - 45 Years Ago.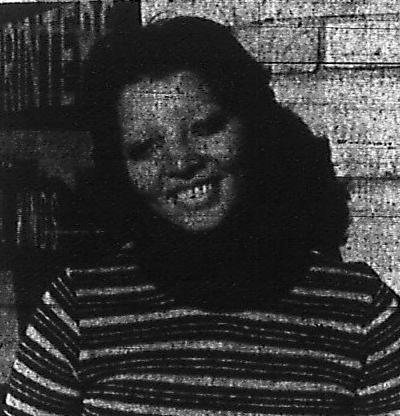 Lia Costa
In local school board races, George Bradbury was unopposed, Thomas Whitt defeated Jean C. Hall in the Mt. Washington district, and Bill Dawson was reelected over Don Hatfield in the Lebanon Junction/Bernheim district.
Miss Heliana "Lia" Costa was an exchange student from Brazil attending Bullitt Central and living with Mayor and Mrs. Sparrow of Shepherdsville. When interviewed, she said her home was near the equator, and she was looking forward to seeing snow in Kentucky.
At Pleasant Grove, Mr. and Mrs. Jimmy Butler and children, and Mr. and Mrs. Buddy Laster helped Rev. and Mrs. Laster celebrate Rev. Laster's birthday.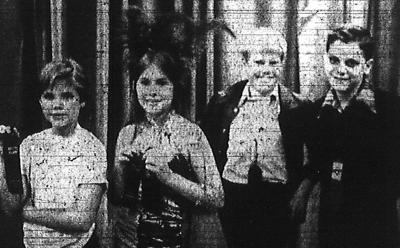 4-H Champions
Members of the school system staff and title 1 reading teachers attended a conference in Louisville. Attending were Karen Larimore, Louise Terry, Janice Stewart, Jan Grigsby, JoAnn Barr, Vernon Spurling, Nanette Abell, Karen Buckingham, Mary Ann Matthews, Naomi Parker, Verna Scott, Anna Sedoris, Eva Smith and Joetta Walker.
Jimmy Werkmeister, Carla Harvey, John Shafer, and Kim Davidson were chosen champions at the 4-H talent show held at Overdale.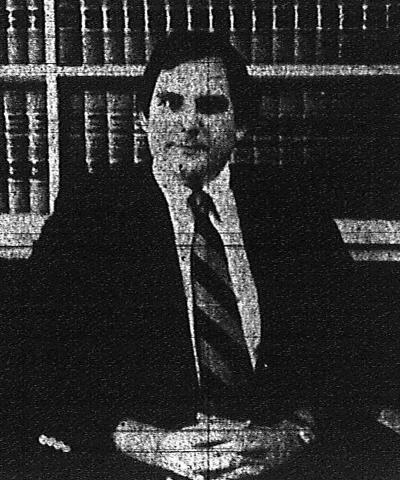 John E. Spainhour
Rev. William Beswick was called as pastor of Hebron Presbyterian Church.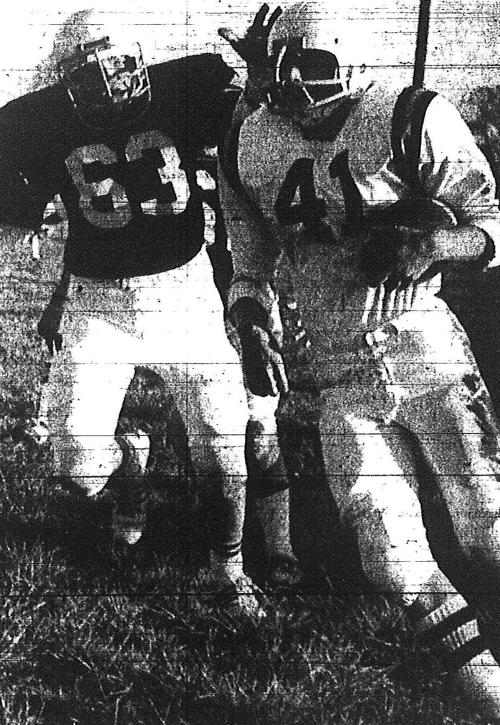 Johnny Lloyd #41
Thomas B. Givhan announced the addition of his son-in-law, John E. Spainhour to his law firm in Shepherdsville. Spainhour was a graduate of the Vanderbilt Law School.
Dennis DeWitt of Shepherdsville was selected as a member of the Berea College Choir.
The S.J.H.S. Rams defeated Hebron 20-0 to clinch the Bullitt-Nelson Junior High Football Conference championship. Halfback Brett Larimore rushed for 90 yards on 14 carries to score the team's three touchdowns. Dennis Johnson added a two point conversion to complete the scoring. But it was Johnny Lloyd of Shepherdsville who got his picture in the paper, as he carried the ball for a 15 yard gain and a first down.
Oretha Ridgway of Nichols was sorry to report that the home of Mr. and Mrs. John Franzell was destroyed by fire. She also reported that Rosemary Jones cut her hand while helping prepare lunch at Nichols School.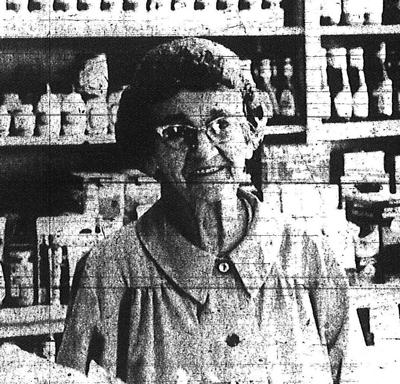 Alma Funk
She also reported on the funeral of James Ridgway. Jim lived all his life in Bullitt County, and was the last of the family of Elmer and Cora Ridgway.
Mrs. Alma Funk was pictured at her general store in the Nichols community. The Brown's Grocery had been in her family for years.
Mr. and Mrs. Harley Proctor and Ella Lois Simmons and her mother Clara enjoyed a supper meal at the Blue Boar restaurant.
In Lebanon Junction news Vickie Madison, daughter of Wanda McHargue, gave birth to a daughter. Proud great grandparents were Dorothy Ash of Colesburg and Mattie McHargue. Mrs. Annie Jackson is the great great-grandmother.
The Hebron correspondent wrote that "the Zoneton Homemakers met with Mrs. R. L. Farmer in her modern and tastefully decorated new home."
Jan Samuels & Oral Meredith
Sherri Crady won the hairpin lace afghan given away at the "Country Oak" Shoppe in Lebanon Junction.
Pam Napier and Tim Crumbacker were married at First Baptist in Shepherdsville. Connie Nalley was maid of honor, and bridesmaids were Kelly Newton, Susan Hardy, Lynn Firkins, and Toni Napier. Best man was Ronnie Crumbacker, and groomsmen were Tim Myers, Richard Fetty, Dennis Watson, and Hyman Ashby Jr.
And Oral Meredith was pictured receiving the first swine flu shot at the county health department. Jan Samuels administered the shot.
1946 - 75 Years Ago.
In Mt. Washington news, E. O. Carrithers purchased the farm of R. S. Hall. Vernon Mothershead attended a meeting of Boy Scout leaders at Camp Covered Bridge. Corinne Owen attended a National Postmaster's meeting in California. And Phyllis, little daughter of Mr. and Mrs. Ed Pound, was able to return to school following her tonsil operation.
Nine local musical artists performed at the Woman's Club meeting. They included Ina Charles, Hilda Ogle, Jean Higgins, Jerry Bergen, Frances Carolyn Carpenter, Nancy Kulmer, Betty Jean Johnson, Betty Lee Ireland, and Nancy Woods.
In Cedar Grove news, Mr. and Mrs. Alf Weller and children, and Mr. and Mrs. Arthur Harris and daughters helped Mrs. Sude Swearingen celebrate her birthday.
The newspaper mentioned that Mrs. Lida Smith of Columbia, Tennessee had bought the property known as the Mrs. Kitty Collins home at Lebanon Junction from Gabe Meredith, and would move there to make her home.
Robert Barger and L. M. Masden were standing in the election for the county school board. They were unopposed.
Eleven Bullitt County students were enrolled at the University of Kentucky. They included Thomas Carroll, Robert Farris, Charles Hamilton, William Hamilton, Bernie Milam, William Simmons, and Billy Snellen of Shepherdsville, and Robert Harned, Gerald Napier and James Snyder of Lebanon Junction.
James W. Smith of Mt. Washington, son of Mr. and Mrs. Emmett Smith, who had been employed as a mechanic at the Smith Garage, was now in Germany serving in the occupational Air Force.
In the Hebron community, Will Becker had recovered from a severe chest wound suffered when he fell on a corn stob in the field.
The paper listed those who had been appointed as election officials for the upcoming election. They included the following. In each precinct, the first two named were judges, the third was the precinct sheriff, and the fourth the clerk.
Shepherdsville No. 1 - Lida Armstrong (D), J. H. Boes (R), W. P. Foster (R), and Fronia Samuels (D). Shepherdsville No. 2 - Lillian Stallings (D), Mack Jones (R), J. W. Divine (D), and Pinkie Minter (R). Brooks No. 3 - J. M. Havey (D), S. C. Sanders (R), James Beghtol (R), and Mrs. Lee Hatzell (D). Griffin No. 4 - Gladys Shepherd (D), J. E. Burden (R), Roy Shepherd (D), and Mrs. J. E. Burden (R).
Cupio No. 5 - John Marcum (R), R. B. Ridgway (D), Archie Whiteman (R), and Mrs. George Atkisson (D). Salt River No. 6 - T. D. McAllister (R), C. A. Masden (D), S. B. Foster (R), and Mrs. Jess Hardaway (D). Mt. Washington No. 7 - Leda Barnes (D), Mrs. Statira Mathis (R), German Branham (R), and Mrs. Lillian Parrish (D). Mt. Washington No. 8 - S. B. Owens (R), S. O. Armstrong (D), J. B. Proctor (R), and Mary Fisher (D).
Zoneton No. 9 - D. J. Crumbacker (R), W. A. Ladusaw (D), Maud Gentry (R), and Mrs. George Wigginton (D). Cedar Grove No. 10 - Mrs. Lee Close (R), K. F. Bolton (D), Elmer Cundiff (R), and Mrs. Edna Lane (D). Leaches No. 11 - R. J. Clark (R), Ed R. Ash (D), Milton Clark (R), and Mrs. H. D. Rouse (D). Clermont No. 12 - Ray Morris (R), John Shaw (D), Mrs. Charles Fernback (R), and Mrs. Georgia Duvall (D).
Lebanon Junction No. 13 - Mrs. Minnie Fisel (R), Hansford Ricketts (D), Mrs. N. E. McMillen (R), Mrs. Christine Boone (D). Lebanon Junction No. 14 - Andrew Mann (R), Vina Roby (D), Mrs. Tillie Vanfleet (R), and Mrs. J. W. Starks (D). Belmont No. 15 - Fred Goodrick (R), Mrs. Luke Ryan (D), George Ashbaugh (D), and Gladys Bradbury (R). Beech Grove No. 16 - Otto Cundiff (R), Kathryn Carpenter (D), Mrs. Anna Cundiff (D), and Mrs. Mayme Cundiff (R).
And the Lebanon Junction correspondent wrote, "We were sorry our football boys lost the game to the Perryville players, but the boys brought back a good supply of Boyle County mud which may be a help to our gardens."
1931 - 90 Years Ago.
In Lebanon Junction news, Mrs. John L. Thompson took the Baptist Church R.A. boys on a trip to the Kentucky Baptist Orphan's Home, and while there the youngest son of Mr. and Mrs. J. B. Roller fell out of a swing and broke his arm.
Out Needmore Road way, a horse kicked Harley Proctor on the leg, giving him a lot of trouble. His wife and daughter, Ella spent a day with her father, Charles Stallings.
Zollie, Brad, and Gussie down at the Bradbury & Swearingen store were advertising rubbing alcohol at only 39 cents a pint.
In the Victory community, Mr. and Mrs. John Lane's family joined Mrs. Katie Bolton and children in a visit with Mr. and Mrs. H. T. Grant. and Thelma Close made the eighth grade honor roll at the Victory school.
Down around Wilson Creek, R. N. Masden and Rev. M. H. Masden were having some sorghum made. Also a large crowd attended the funeral of McKinley Ricketts at the Mt. Carmel church.
William McKinley Ricketts was 34 when tuberculosis took his life. He died at his Bardstown Junction home, leaving a widow, Lula, a daughter Dorothy Lee, a son, Walter, two brothers Melvin and James, three sisters Mrs. Elmore Hatfield, Mrs. Joe Hogland, and Mrs. Leslie Midigan, and a host of friends to mourn his passing.
Gladys Edington and Billie Cundiff made the fourth grade honor roll at the Beech Grove school.
In the Personal column we learned that Tom Cochran, who had been laid up with a broken collar bone was able to get out and about. We also read that Irene Carroll and Kate Greenwell attended the funeral of Mrs. Bazel Horine, and then were guests of Fred Hatzell and family. Also, Pete Philpot and family moved on Lee Street in the house recently vacated by Sheriff Croan.
In Cedar Grove news, Howell Young was painting the Cedar Grove Church; and Mae Bolton visited with her sister, Howell's wife.
Mildred Hall and Linda Harned, teachers at the Oak Grove school, listed the following members of the school honor roll: 1st grade - Lillie Cheatham, Margaret Horning; 2nd - Evalena Bergen, Obie Horning, Radford Patterson; 3rd - Russell Chertoam and Nadine Richardson; 4th - Vernon Patterson; 5th - Agatha Dever; 6th - Edward Maraman, Austine Richardson, Lillian Dever; 7th - Lucille Bennington and Lana Lee Raymer; 8th - Eva Mae Lee, Virginia Bergen, Loyce Bergen, Ophelia Harris, Stanley Lynch, Dexter Hatfield, and Emment Harned.
And Pauline Daugherty, teacher at Culver Springs, listed her honor roll students too. Rita Osterholt, Ethel Mae Lee, Valear McCubbins, James Lee, and Marjie Etherton were her first grade honorees. Dorothy Etherton represented the third grade, while Marian Osterholt, Ruth Roby, and Mary Ruth Thompson were the fourth graders on the list. Completing the list were 6th grader Doris Beard and 7th grader Jessie Katherine Thompson.
Myrtle Ruth Stansbury and Ralph Cundiff, teacher and trustee of the Beech Grove school were having their school painted.
At Lebanon Junction, Mr. Dobson, better known by the school children as "Uncle Otis," was called to Pennsylvania due to the illness of his daughter. The children were anxious to have their school janitor back.
In Mt. Washington, Rev. Chriswell of the Louisville Seminary was called as pastor of the Baptist Church.
In the Hebron column we read of a "Red Letter Day" at the Beech Grove school with some 500 friends assembled to enjoy the program. As part of the program, Dr. Holsclaw, who first attended the school in 1857, was called on to speak and voiced his disapproval of the new name "Zoneton School."
And the Hebron correspondent also wrote, "Among the workers at the polls here none were more active than Miss Ruth Thornberry who used her sedan all day in taking people to vote and returning them home."
---
Copyright 2021 by Charles Hartley, Shepherdsville KY. All rights are reserved. No part of the content of this page may be included in any format in any place without the written permission of the copyright holder.
---