It Happened in November
The following article by Charles Hartley originally appeared in The Pioneer News on 25 Nov 2019. It is archived here for your reading enjoyment.
---
We will be looking back 24, 50, 75, and 100 years to see what was being printed in The Pioneer News in 1995, 1969, 1944, and 1919 in the month of November.
1995 - 24 Years Ago.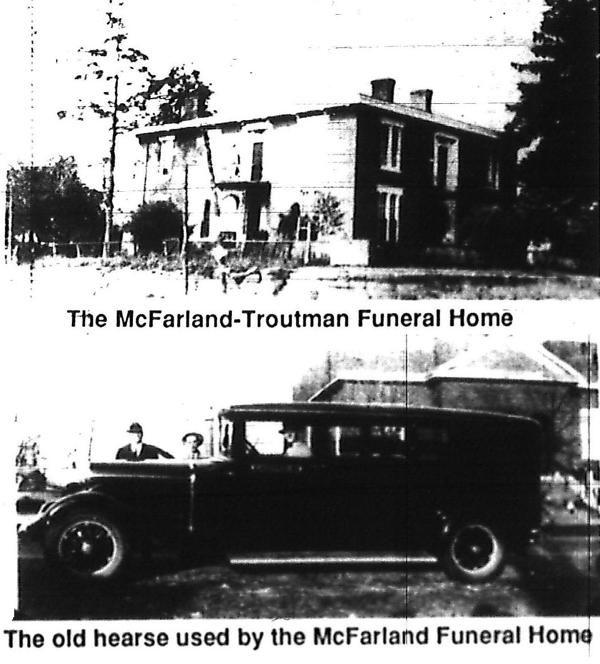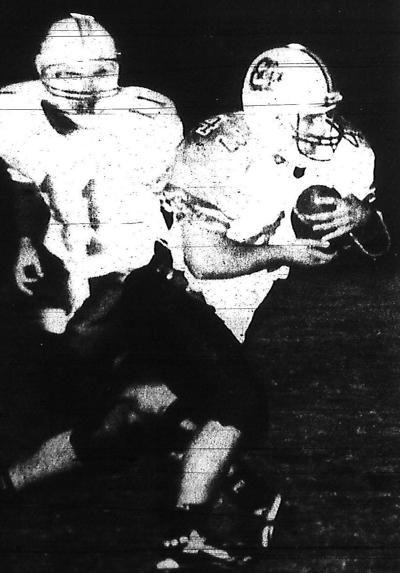 Jason Calvert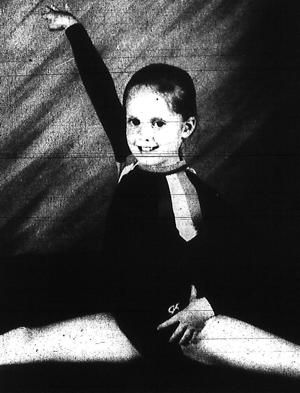 Amber Walters
The Bullitt County Genealogy Society announced that its history book was nearly complete, and they were taking orders. To highlight it, the newspaper article featured one of its family and business histories: the McFarland-Troutman Funeral Home. Did you order your copy a quarter century ago?
Mike Farner wrote about Jason Calvert, the Bullitt East running back who was then leading the state in rushing yards, and had already broken the school season and career rushing records.
Young Amber Walters, daughter of Joe and Vickie Walters, was quite a gymnast. At the Derby City Gymnastics competition she placed first in balance beam and floor, fourth in vault, and fifth in uneven bars for an overall first place finish.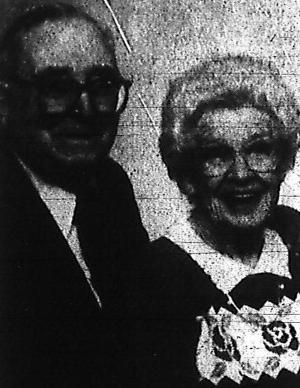 66 Years!
J. M. and Naomi (Bishop) Thomas of Kings Church Road celebrated their 66th wedding anniversary. They had lived in that community since 1944.
In the Pleasant Grove newsletter, we learned that Dorothy Armstong and Willie Mae Simmons delivered fruit to the shut-ins from their Sunday School class; that Mrs. Lois Wilkin's son took her out to the Banquet Table for her birthday (remember that place?); and that a group of friends took Mrs. Evelyn Owen to Ponderosa for her birthday. Also, Lois Simmons was pleased that the area had had a beautiful fall with leaves and mums before the first snow fell.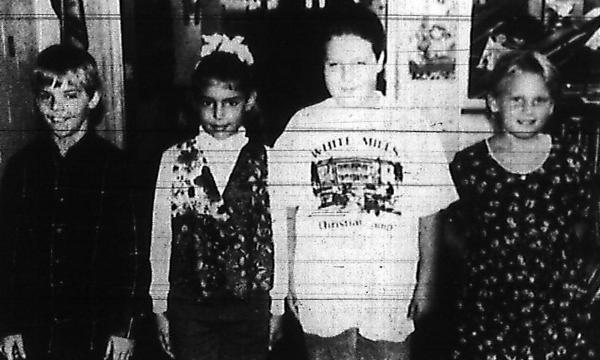 Pumpkin Carvers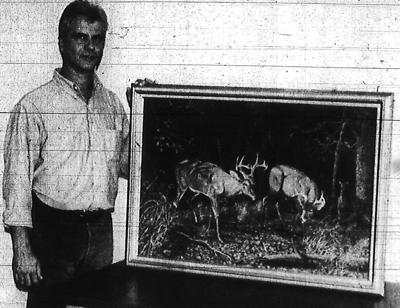 Fred Perry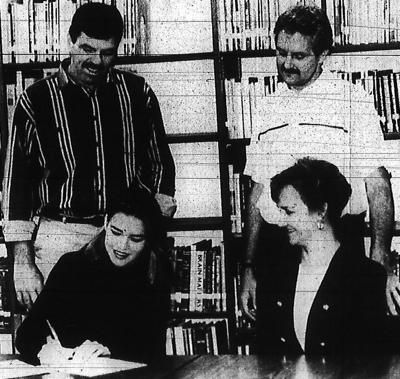 Allison Bass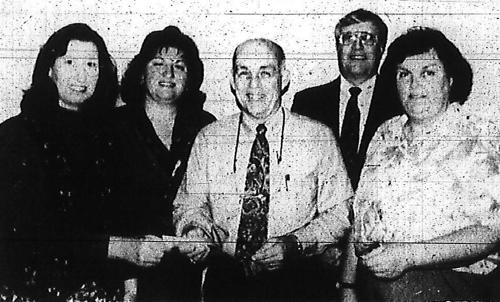 Womans Club Check
Cedar Grove School's Mary Lou Neel was selected as Bullitt County's elementary teacher of the year.
Mt. Washington Elementary fourth graders visited the Pumpkin Patch and then held a decorating contest at the school. Philip Johnson's Cinderella Carriage Pumpkin won first place. Kristen Williams placed second with her Angel Pumpkin. Placing third and fourth were Bobby Carney and Jessica Newton.
Fred Perry combined his love for the outdoors and for art by painting wildlife scenes. The Brooks resident was pictured with one of his creations.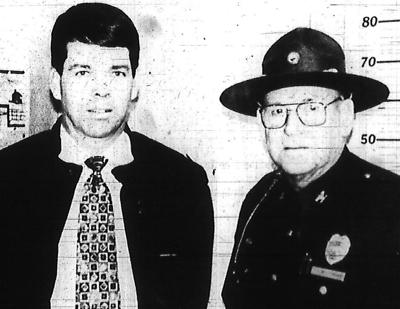 Police Chaplain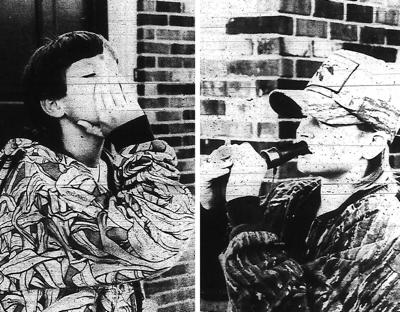 Karl and Travis
Tom Hughes, pastor of the Lebanon Junction First Baptist Church, became that community's first police force chaplain. He was pictured with Bob Brian, the police chief.
After years of being at the corner of Buckman Street and Highway 44, the Bullitt Lodge 155 F. & A. M. moved to new quarters on what was known as the Old Gap-N-Knob Road. (Raise your hand if you knew that this was the original name of High School Drive.)
Alison Bass signed her letter of intent to attend the University of Louisville as her parents and Bullitt East Coach Jerry Troutman looked on.
Karl Lausman Jr. and his brother Travis traveled to the World Goose Calling Championships in Maryland and came back champions. Thirteen year old Travis finished third, and fourteen year old Karl topped that, finishing first!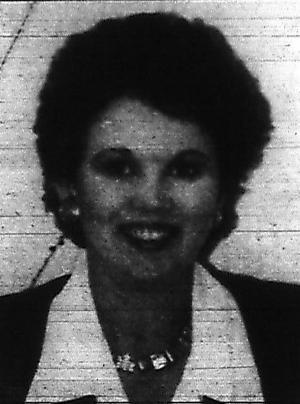 Bonita Franklin
Kathleen Kallaher and Linda Rayhill of the Bullitt County Woman's Club presented Riverview principal Ray Smith with a contribution of funds collected at their annual homecoming parade chili supper. Included in the presentation were Leon Remington, Joyce Crigler, and Carolyn Dennison.
She taught for six years at Mt. Washington Middle School, and was a counselor for six years at Maryville Elementary, before becoming assistant principal at Hebron Middle School. Then in 1995 she became the Brooks Elementary principal. By now you probably know I am talking about Bonita Franklin who would take on additional roles before retiring as the principal of Eastside Middle School. A fine lady, and a good friend; she has touched the lives of a lot of Bullitt County children!
1969 - 50 Years Ago.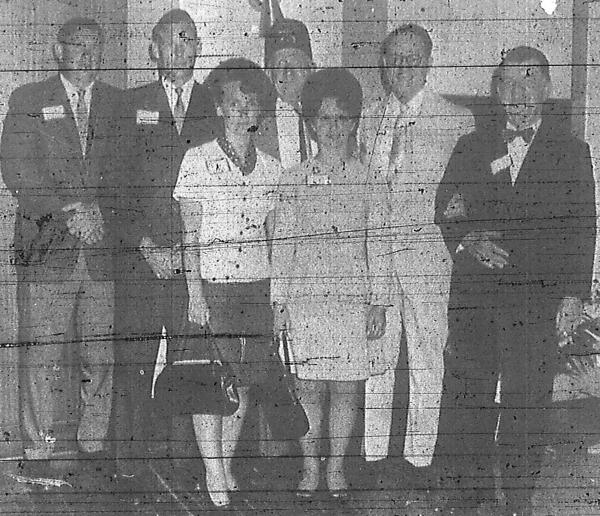 Saddle Club Presentation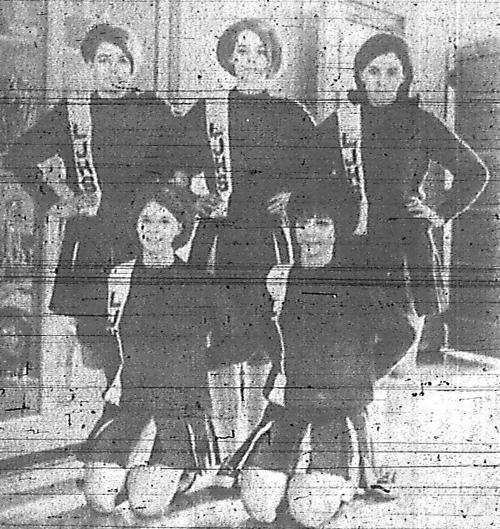 LJ Varsity Cheerleaders
The Bullitt County Saddle Club presented a check to Kosair. Pictured in the paper were Stuyler M. Harris, C. J. Hyde, Ike Neal, Mr. and Mrs. Norman Stallings, and Lloyd and Arbadella Dooley.
In local elections, Nancy Strange easily won re-election as Circuit Clerk, carrying every precinct in the county. Arson Moore was nearly as successful in his bid for the County Judge seat, losing only precinct #4 to his nearest challenger, Christian Glanz.
In other elections, Leonard Light was elected Sheriff by 2,000+ votes; and Billy Roy Shepherd was elected County Jailer by even more votes.
In the magistrate races, Ralph Bleemel, Forrest Moore, Russell Crenshaw, and Walter Magruder were each victorious in their respective districts.
And in the constable races, J. W. Armstrong, Everett Cook, Charles Raymond, and George Brown were the victors.
In the Pleasant Grove community news, we learned that Mr. and Mrs. Oldham were moving to Leitchfield; and that Steve Fagenbush, choir leader at the church, caught his hand in a door, breaking a finger.
In Hebron news, the writer mentioned that the new Brooks school was opening, and encouraged the bus drivers to be "alert and very careful with our children."
The Lebanon Junction varsity cheerleaders were pictured in the paper. They included Rita Phillips, Debbie Sweat, Denise Johnston, Beverly Masden, and Roberta Bowan.
The Shepherdsville Rams football team prepared to play their final game, and the final football game ever for S.H.S. Senior players included Larry Hodge, Rick Sims, David Clark, Walter Crawley, James Snell, Tim Crumbacker, Kirk Gillenwater, Terry Willis, Clinton Sears, Ronnie Price, Larry Hilton, Gary Shanks, David Anderson, and Eric Cundiff.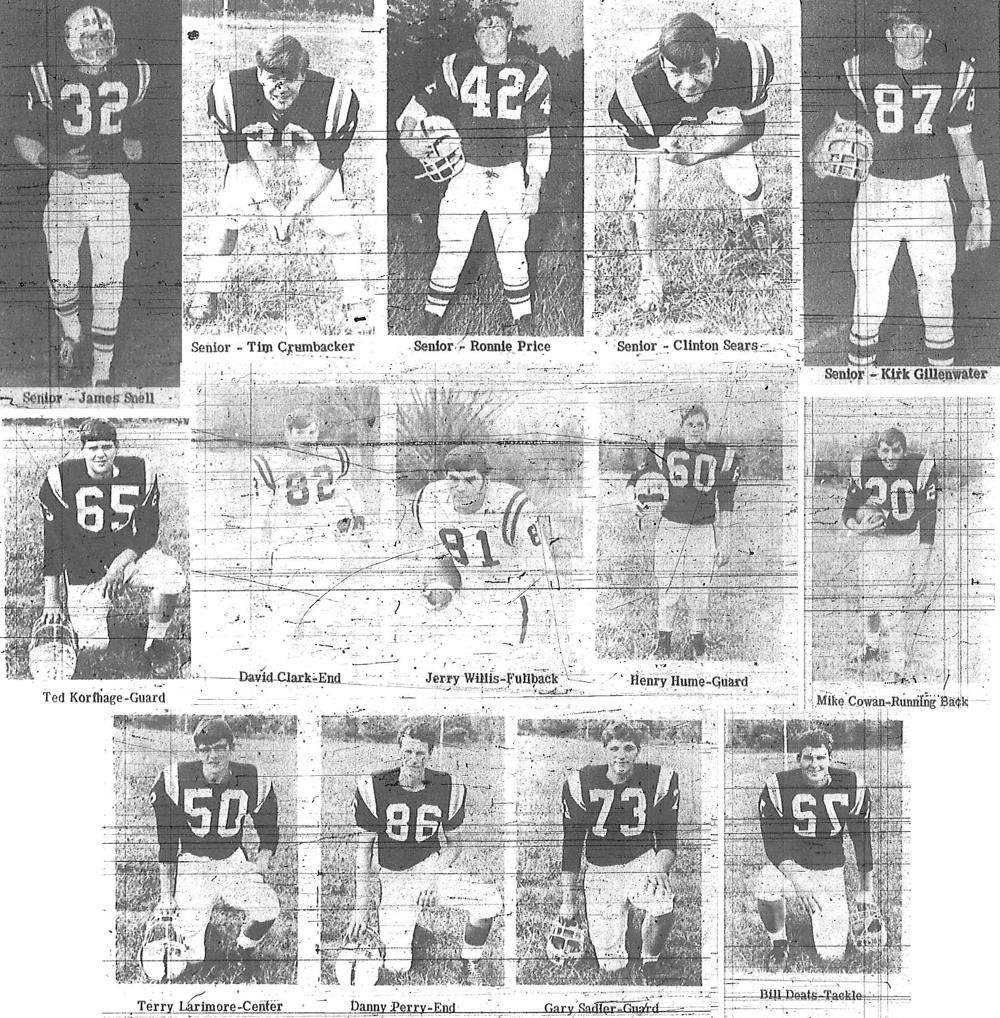 SHS Football Team Members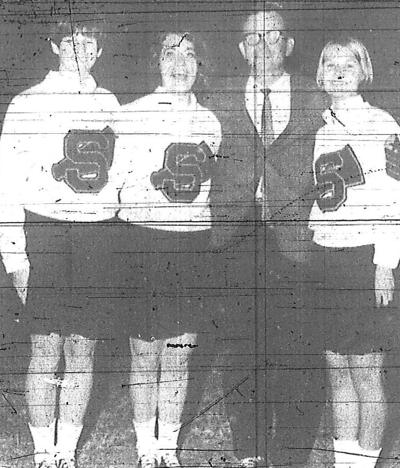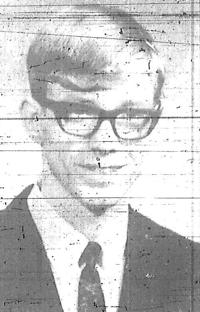 Roger Cravens
Senior cheerleaders, Susan Crumbacker, Donna Holt, and Sheri Mullins were pictured in the paper with Coach Henry Powell.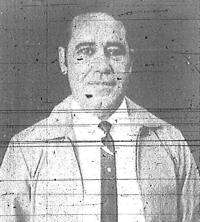 J.C. Thompson
J. C. Thompson, manager of the Harold W. Hardy Super Market in Shepherdsville, was appointed as agent for the Kentucky Growers Insurance Company.
In the Personal column, we learned that Mrs. Walter Crowe, Mr. and Mrs. Joe Moser and Mr. and Mrs. Tom Trunnell drove to Greenville to visit with Professor Jack Sanders who, they reported, was fine, was substitute teaching, and as chipper as ever. He was living with his daughter Margaret.
And Roger Cravens, a senior at Lebanon Junction High School, had his poem published in the National Beta Club Journal. Here it is.
GOING THERE by Roger Cravens
For fifteen years I've been heading the same way,
Step by step and day by day.
People ask, "You're going where?"
And all I can say is I'm going "there."
"There" is a place I'm not exactly sure of,
It's just a place of happiness and love.
It's where hate is gone and people care,
That's why I'm going "there."
A few times I thought I found the place of which I've dreamed,
But a closer look showed it wasn't what it seemed.
Some times the road is rough and hard to bear,
But I must not give up, cause I'm going "there."
So I'm gonna keep living as well as I can,
And face hardships like a man.
Living like that in today's world is rare,
But if I do, I'm sure that when I die, I'll be "there."
1944 - 75 Years Ago.
Mr. and Mrs. Arvol Bridwell of the Needmore Road area gave a Halloween party for their daughter. Guests included "Betty and Leola Armstrong, Marion and J. O. Smith, Gordon and Ella Proctor, Mary and Wilda Hall, Valeta and Billy, Ruby and Louise Stallings, Floyd, Emery, Adrain and Glendon Hall, Louise Cox, Nina Ridgway, Mary Margaret Shawler, Treacy, Billie Joe, Roy, Ralph Bleemel, Sam Raymon, Russell Smith, Welford Breaden, Sammy Gentry, and Nodman Owen." (Yes, I know some names are missing.)
In Lebanon Junction news, Dr. W. S. Napper died in late October, age 85. "His patients always felt like when Doctor came they would get better from his medicine and his jolly disposition."
Election officials were named for the November election. The first two named served as judges, the third as sheriff, and the fourth as clerk.
Shepherdsville #1: J. W. Goldsmith, Fronie Samuels, Lida Armstrong, W. F. Joyce; Shepherdsville #2: C. T. Farris, Mrs. E. G. Quick, Mack Jones Sr., Blanche Howlett; Brooks #3: Harvey Owen, J. M. Harvey, James L. Beghtol, Mrs. Lee Hazlett; Knob #4: W. P. Foster, Gladys Shepherd, Ed Shepherd, Essie Holsclaw.
Cupio #5: Albert Abel, Joe Samuels, Rufus Able, Mrs. George Adkisson; Salt River #6: T. D. McAllister, (second name missing on microfilm), Mrs. Dee Bergen, Mary G. Hardaway; Mt. Washington #7: German Branham, Mrs. Tom Parrish, John L. Walls, Margaret Grigsby; Mt. Washington #8: S. B. Owen, S. O. Armstrong, J. B. Proctor, Mary Fisher.
Zoneton #9: Mrs. John Oliver, Mrs. George Wigginton, Mrs. Margaret Wigginton, Mrs. Ella Pope; Cedar Grove #10: Tom Close, K. F. Bolton, Elmer Cundiff, Mrs. John Lane; Leaches #11: R. J. Clark, Ed. R. Ash, Milton Clark, Mrs. Hyte Rouse; Clermont #12: Henry Fearnbach, Alex Riley, Mrs. Charles Fearnbach, Mrs. Charles Robinson.
Lebanon Junction #13: Mrs. Winnie Fisel, Hansford Ricketts, Mrs. N. E. McMillen, Mrs. Christine Boone; Lebanon Junction #14: Andrew Mann, Mrs. Vina Roby, Mrs. Tillie Van Fleet, Mrs. J. W. Stark; Belmont #15: Gladys Bradbury, Luke Ryan, George Ashbaugh, Mary Bradbury; Beech Grove #16: Kenneth Edington, Frank Carpenter, Mrs. Annie Cundiff, Mrs. Arthur Cundiff.
The election commissioners were J. W. Hardaway, C. E. Rodgers, and F. B. Smith.
The Hebron correspondent wrote, "On October 23, 1894, Miss Etta Hedge and Joseph N. Brooks were married at Hebron Presbyterian Church by Rev. Richard Priest, brother-in-law of the groom." Fifty years later, the couple celebrated their Golden Wedding anniversary. Henrietta lived until 1953; Joe until 1967, dying at the age of 99.
In Lebanon Junction news, Arthur Thompson, a retired railroad conductor, died at his home on November 1st. He was survived by a son, Edward.
On a happier note, Margaret Jo Shearer, daughter of Mr. and Mrs. William Shearer was married to J. D. Raney at the home of the bride's grandmother, Mrs. D. B. Monroe.
1919 - 100 Years Ago.
The State Board of Education approved the High School course of study at Belmont and made that school an accredited High School. It was in charge of Prof. Hardesty and Miss Ethel Wise and had the largest attendance it had ever had.
W. L. "Uncle Barley" Hall died on November 1st. He had been a member of Bethel M. E. Church for 53 years, having united there by letter in 1866. He was a faithful attendant at church services while his health permitted. He served as steward and trustee in his church for a number of years. He left a widow, Mrs. Edna Hall, one daughter, Mrs. Louis Mothershead, and three sons, Bert, Hal and Tom Hall.
The Cedar Creek correspondent reported that the heavy rain that fell recently did much damage as Salt River covered nearly all the corn in the bottoms, taking away a large portion and all the pumpkins.
Miss Frona James gave a social in honor of her nieces, the Misses Trunnell, of Shepherdsville. Those present were Misses Alleen Swearingen, Bertha Trunnell, Helen Harris, Hazel Trunnell, Texia Swearingen and Miss Woods, Messrs Milton Clark, Bennie Roby, Willie Hilton, W. E. Dacon, Oscar Hilton, Mr. and Mrs. Lem Swearingen, Mrs. Frank Lee, A. V. Greenwell, Jode Harris and J. D. James.
William Simmons stated that if Morrow won the governor's race he would shave off his mustache. True to his word, his face was now sporting no mustache at all.
William Swearingen lost a fine brood sow that died from eating too many green butterbean hulls.
Ed Rhea, while catching some chickens, fell and broke his right arm.
Dave Crumbacker lost a valuable young mule by getting its neck broken while haltered in a stall.
Willie May Ridgway was called to Louisville on account of the illness of her father, Dr. S. H. Ridgway, who recently had an operation performed on his throat. The Doctor was at the Deaconess Hospital and was doing well.
Later, in the Mt. Eden section, we read, "The friends of Dr. S. H. Ridgway are glad to know he has been able to return home after having his tonsils removed. This section of Bullitt County hasn't a doctor to spare even for a short while."
In the Personal column we read that "Capt. J. H. Linn, of Buchel, spent Friday here." This is the gentleman who built the home on Blue Lick Road known as Dingley Dell.
And the Mt. Washington correspondent wrote, "We have been told there is a stock law in Bullitt County but if our officers around here ever come to town they must surely be suddenly blind, for hogs and cows are seen from early morn until milking time roaming our streets and walking wherever a gate can be found unlatched."
---
Copyright 2019 by Charles Hartley, Shepherdsville KY. All rights are reserved. No part of the content of this page may be included in any format in any place without the written permission of the copyright holder.
---