It Happened in May
The following article by Charles Hartley originally appeared in The Pioneer News on 28 May 2018. It is archived here for your reading enjoyment.
---
We will be looking back 25, 50, 75, and 100 years to see what was being printed in The Pioneer News in 1993, 1968, 1943, and 1918 in the month of May.
1993 - 25 Years Ago.
What did Jayda Freibert, Sarah Elizabeth Price, Tara Michelle Coleman, Brandy Israel, Leslie Pennington, Jennifer Belden, Lisa Vowels, Melissa Smith, Julie Coy, Kenzie Herron, Cortnea Hardy, Julie Ann Roemele, Joni Neighbors, Raina Chesser, Amy Spears, Kim Carnes, Kathy Milby, Beth Hettinger, Erin Ashbaugh, Karen Grigsby, Kristi Hess, Margo Compton, and Casey Wade have in common? They were all contestants in the "Young Woman of the Year" contest sponsored by the Bullitt County Woman's Club.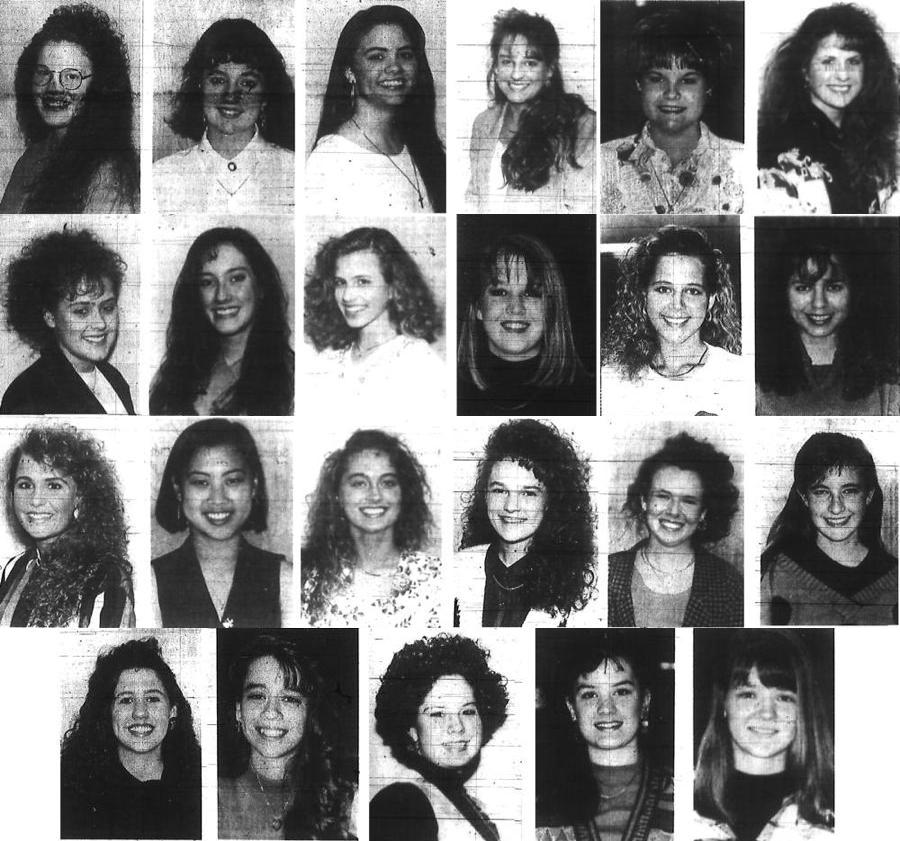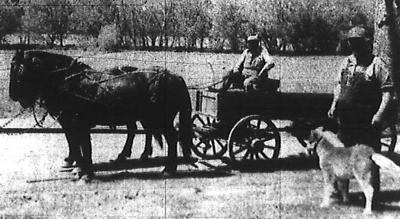 The overall winner was Beth Hettinger of Bullitt Central High School. Finishing a close second was Raina Chesser, followed by Erin Ashbaugh. The awards were presented by Krista Webb, the previous year's winner.
Jean Cox wrote that Robert Lee Ashbaugh stopped by to "shoot the breeze" with Jim. They appeared in a picture, comparing the size of Robert's team of horses with Jim Cox's miniature one.
In Lebanon Junction news, Robbie Renfrow and Adam Walker split the $10 prize, as both completed 42 miles in the St. Jude's Bikeathon. Also, Bridgett Etherton passed her state boards and became a licensed paramedic.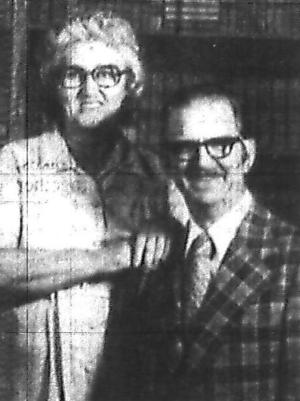 The Greenwells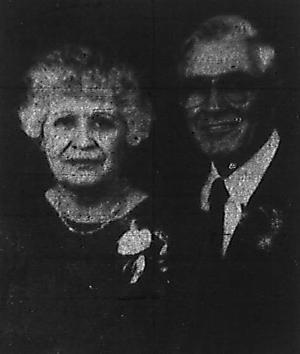 The Maramans
Father Kamber of St. Benedict celebrated his 40th anniversary in the ministry.
Preston Greenwell, a Bullitt County native, and his bride, the former Mary Evelyn Wise, were planning to celebrate their 50th wedding anniversary in early June.
Also celebrating fifty years were Millard and Lucy (Rachel) Maraman. (They would reach 66 years before Millard passed in 2009.)
Out Nichols way, Gertrude Able received a basket of plants for being the oldest mother in her church. She sent the flowers to the hospital for Oretha Ridgway to enjoy.
Doris (Cox) Owen, Cassy (Owen) Caswell, Juanita Owen, and Mary Francis (Clark) Richardson visited Mrs. Myrtle (Shake) Wheeler, their former first grade teacher.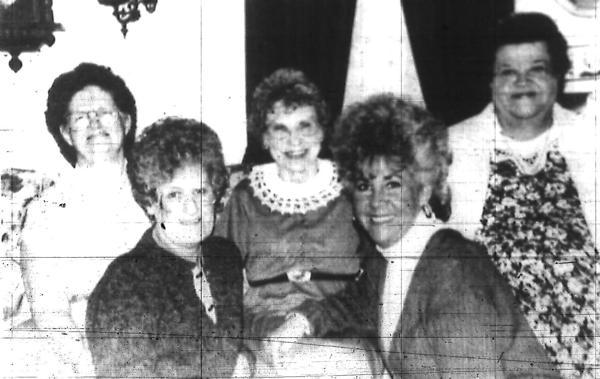 Accompanying the Cedar Grove/Solitude column was a picture of Elaine Wilson with her brother's family and friends on a visit to Cox's Critters.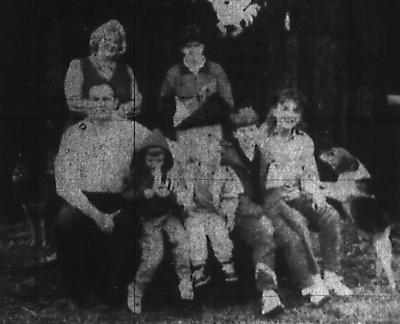 The Bullitt County Homemakers planted a weeping flowering cherry tree at the Bullitt County Health Department. Participating were Virginia Francis, Mallie Jo Werkmeister, Barbara Garmon, Betty Stivers, Mary Evelyn Farmer, Marie Sadler, Edna Hardin, and Liz Coleman.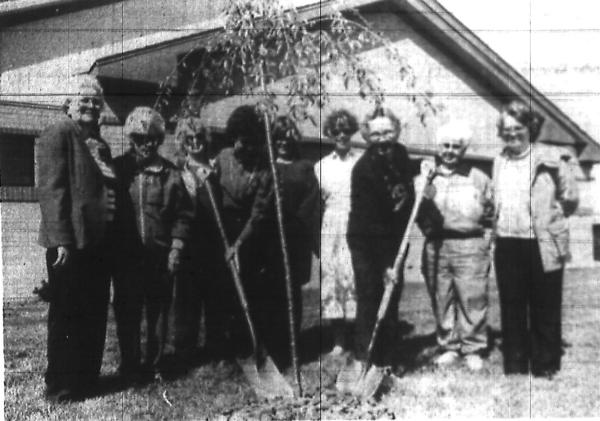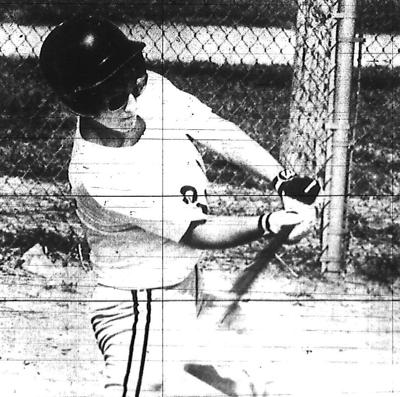 Bullitt Central junior Angie Dunagan was pictured getting a key hit in their 2-1 victory over North Bullitt.
The Bullitt East Lady Chargers extended their winning streak to 19 games with an 11-0 win over Carroll County. In that game, Julie Feeback had three hits including a double and triple, and Kristy Hardman added two singles.
And according to Louise Bischoff, little Desirae Patrice Cloutier celebrated her second birthday at her grandparents, Garland and Pat Higdon's home.
1968 - 50 Years Ago.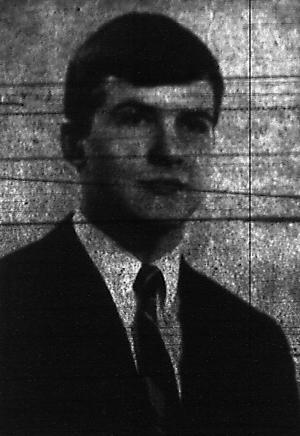 Charles Cecil Cash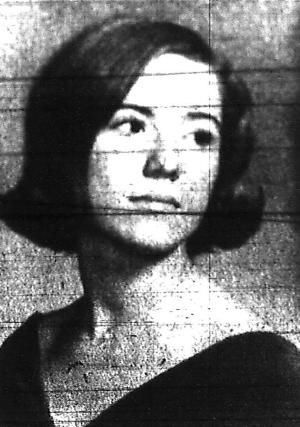 Rebecca Sandra McMillen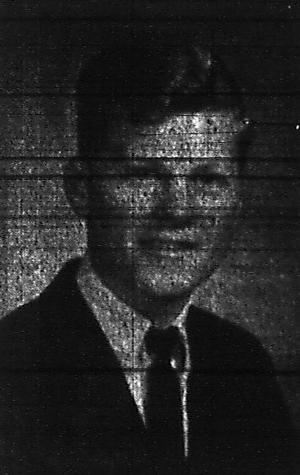 Pat Wise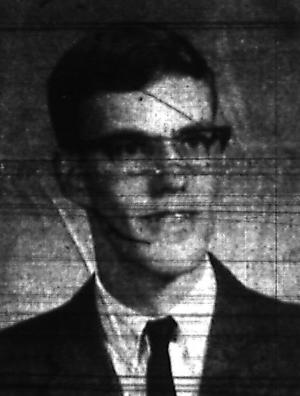 Jerry VanVactor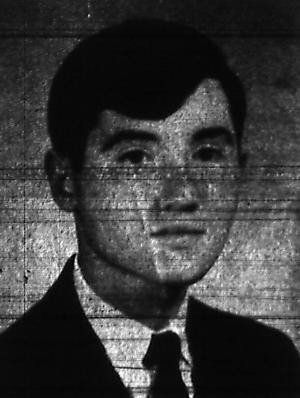 Les McIntosh
At the annual Cancer Memorial Dinner held in the Shepherdsville High School cafeteria, Harold W. Hardy, a member of the State Cancer Society Board, was presented a National Award for Outstanding Services by a Layman in the Kentucky Division of the American Cancer Society.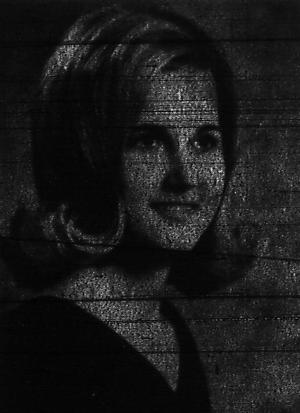 Diana Moore
Diana Moore, a senior at Shepherdsville High School, was selected as a flag-bearer for the University of Kentucky band.
Sharon Fischer, a junior at Shepherdsville High School, was elected president of the Louisville District of the F.H.A. She was also a candidate for state 2nd vice-president.
Dr. and Mrs. Millard J. Cundiff hosted a luncheon at their home for the teachers of Roby Elementary School.
Hebron Presbyterian Church hosted The Agape Singers, a group of high school singers from the greater Louisville area, in a Sunday afternoon performance.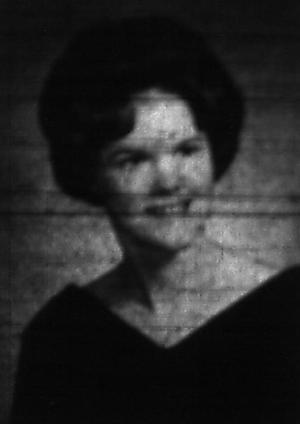 Karen Lynn Shaw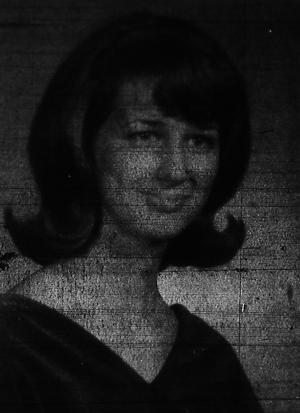 Linda Engle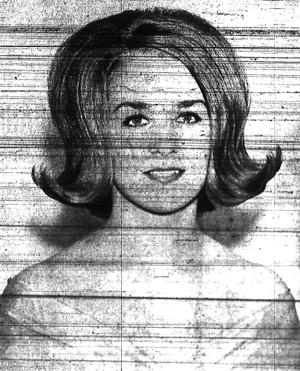 Gwinn Thompson
Shepherdsville High School announced that Charles Cecil Cash was the Valedictorian of the 1968 class. The school also announced that Rebecca Sandra McMillen was the Class Salutatorian.
Lebanon Junction High School's top two students were Valedictorian Karen Lynn Shaw, and Salutatorian Linda Engle.
Pat Wise, son of Mr. and Mrs. Hayden Wise of Lebanon Junction, won the PTA Council Scholarship given annually to a deserving high school senior.
The Hebron correspondent reported that Robert Holsclaw spent part of his vacation in bed with the flu; that Overdale Scout Troop 20 got a blue ribbon for its Indian Lore display at Scout-O-Rama; and that Rev. Overstreet had returned from Georgia after holding a revival there.
Cub Scout Pack 333 of Mt. Washington also received a blue ribbon at Scout-O-Rama according to their scoutmaster, Eugene O'Bryan.
In Clermont news, Mrs. H. B. Sedoris assisted Mrs. William Snellen in setting out 15 rose bushes. Also, Mr. and Mrs. Bobby Cox were moving into their new home at Clermont.
Robert E. McDowell, author, historian, and an authority on early Bullitt County history, was present at the dedication of a new historical marker near the site of the historic Belmont Iron Furnace.
The Nichols Elementary School music department presented a "Stephen Foster" musical in the West Point gym. They were led by Deborah Murrell, with Anna Faye Dawson providing direction on scenery and costumes. Soloists in the production included Susan Shepherd, Cheryl Underhill, Shiela Underhill, Kay Burden, Dennis Shepherd, Nancy Dockery, Steve Alford, Ricky Hodges, Steve Nall, Bobby Bailey, Dean Shepherd, Roger Burden, Mike Faulkner, Barry Willson, and David Murphy. Howard Horine played a trombone solo, and Leta Miller played a piano solo.
Gwinn Thompson, a college junior from Mt. Washington, was crowned Queen of the Spring Festival held at Campbellsville College.
Jerry Wayne VanVactor, son of Mr. and Mrs. Luther VanVactor of Lebanon Junction, received the Eastern Kentucky University Scholarship and Leadership Award as an outstanding graduating senior of Lebanon Junction High School.
And Leslie B. McIntosh, a student teacher at Roby Elementary School, received the first Richard E. Jaggers Award, an award given by Kentucky Commission on Teacher Education and Professional Standards. Les was the outstanding male graduate of a Kentucky college or university who planned a career in teaching.
1943 - 75 Years Ago.
Shepherdsville High School graduated 20 seniors, including Martha Harned, Anna Bell Harris, Mary Alma Huffman, Inez Masden, Lillian Pearl Smith, Geraldine Williams, Frances Nooe, Gabe Bealmer, Jimmie Bosson, George Bradbury, Ray Dawson, Tom Ericson, Ack Hill Harned Jr., Delbert Kelly, Hansford Milligan, Gerald Napier, Lloyd Patterson Jr., Robert Price, J. C. Thompson, and Charles Franke.
Mt. Washington High graduated 10 seniors including Lula Hope Crenshaw, Imogene Hall, Haley Irene Lewis, Myrtle Hessey, Elizabeth Cook, William Jasper, Mary Hannah Shelburne, Gene Hayden, Mayelene Roby, and Mattie Frances Lewis.
In military news, William F. Porter, son of Mrs. C. A. Porter of Mt. Washington, was promoted to Sergeant at the Army Air Base in Casper, Wyoming; Vernie Druin, who had attended the Pitts Point School, and whose wife was living in Shepherdsville, was promoted to Technician Fifth Grade at his Central California post; and Charles T. Miller of Lebanon Junction had reported to the U. S. Naval Training Station at Great Lakes. Also, Thomas L. Montgomery of Lebanon Junction was enrolled in the Naval Training School at Miami University in Ohio; and Penrhyn J. Phelps of Shepherdsville was promoted to Technician Fifth Grade at Camp Lee's Quartermaster Replacement Training Center. Also reporting to the Great Lakes facility were Shepherdsville recruits Edward T. Carr and Jesse T. Kelly.
Continuing with the military, PFC Vernon Patterson, son of Mr. and Mrs. Clyde Patterson of Shepherdsville, graduated as an expert mechanic, working on the B-24 Liberators.
In the Needmore Road column we learned that Miss Elizabeth Cook spent a Sunday evening with Irene and Frances Lewis; that Miss Christine Owens was a weekend guest of Dortha Alcorn; and that Miss Valeda Mae Stallings spent a Sunday night with her cousin Trulaverne Cook.
Out near Cupio, the children of the Nichols school had an Easter egg hunt in the back grove on Mrs. Hassie McPherson's farm. The drizzling rain didn't slow down the eager hunt for decorated eggs.
In Salt River community news, we read that Misses Geneva and Millie Hoagland spent a fews days with their aunt, Mrs. Beulah Maraman; That Mrs. B. B. Dunaway and baby spent a few days with her parents, Mr. and Mrs. Ben Crenshaw and sister, Wilma Hatfield; and that Mr. and Mrs. Paul Simpson and children of Victory spent a Saturday night with her aunt and uncle, Mr. and Mrs. Wash Smothers.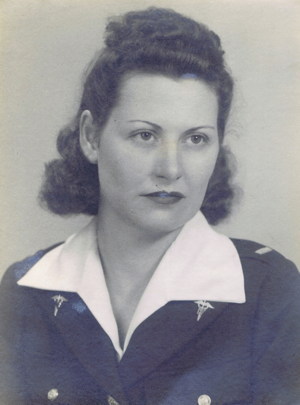 Bernadeen Wheatley
The Bullitt County Board of Education met in May and elected the following teachers for these schools: Nichols - Junia Mae Kneisler, Julia Rogers and Sylvia Barrall; Sunny Side - Lillian Pearl Smith; Mt. Elmira - Ruth Evelyn Wise; Pleasant Grove - Beryl Porter and Nell V. Porter; Mt. Washington - Raymond Fields (principal), Ruth Franklin, Madeline Rapier, Anna L. McGee, Kathleen Harris, Frances Simpson, Myrtle R. Harris, Martha Weller, and Myrtle Shake; Cedar Grove - Eulah Mae Wise, Mary Theresa Smith, and Thelma Roby; Clermont - Lillie Vertrees; Cane Run - Augusta V. Dawson; Belmont - Mary B. Hill, Zardetti Dawson, and Christine Cruise; Shepherdsville - H. T. Peterson (principal), Antoinette Waller, June Vinson, Lanye Wigginton, Sara Fay Myers, U. G. Salter (grade school principal), Myrtle Frick, Mary F. Jones, Susan Avritt, Evelyn Masden, Ida Lee Sellers, Sarah W. Rouse, Carolyn Muir, Nell Miller, Annie L. Jenkins, and Catherine Applegate; Bowman's Valley - Thelma Hall and Mattie Owens. There were no applicants for the schools at Mt. Olivet, Brooks, Cedar Glades, and Beech Grove.
William Dawson, former high sheriff of Bullitt County, celebrated his 95th birthday in May.
And Lieutenant Agnes Bernadeen Wheatley, daughter of Mr. and Mrs. J. K. Wheatley of Shepherdsville, was serving as a nurse in Northern Ireland. Her brother, Sgt Russell Wheatley was in London with the medical corps.
1918 - 100 Years Ago.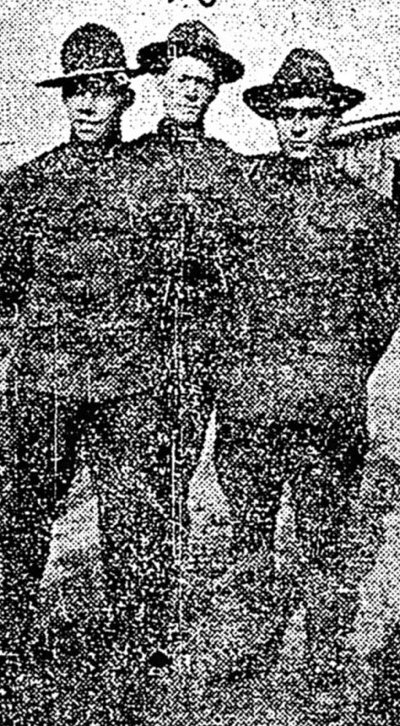 Irving D. Snellen
(center)
Mary Jane Trunnell, who was a substitute teacher for Bullitt County the past year, was offered a place in the Lebanon Junction Graded School for the coming year. Also, Lillian Thompson of Shepherdsville, and Amelia Lee Oaks and Lillian Mooney of Bardstown Junction, would be continuing to teach at Lebanon Junction.
An effort to raise funds to repair the Preston Street Pike brought out a number of supporters including Senator Zimmerman, Judge Bradbury, Prof. Charles Bridwell, J. C. Holsclaw, William Howlett, Tom Cochran, Dr. G. W. Kirk, Edward Tyler Jr, Robert Shanklin, H. A. Nusz, and W. G. Jenkins. They needed to raise $1500 to match an equal sum appropriated by Fiscal Court.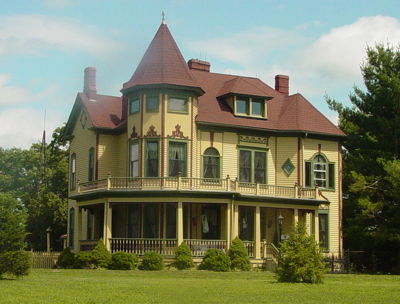 Dingley Dell
Irving D. Snellen sent the paper a photo of himself along with two fellow soldiers, Roger Hordman and Roy Applegate, taken in France. Irving was a son of Mr. and Mrs. R. D. Snellen of Brooks. Snellen was one of the first to enlist from Bullitt County.
The paper reported that Captain J. H. Linn, owner of Dingley Dell, had sold the property to J. Monroe Garr of Shelby County. (The Conways have restored that fine home to its former glory.)
The Hebron correspondent reported that Rev. Gordon of Hebron Presbyterian Church would be leaving. Rev. Gordon would graduate from the Presbyterian Seminary in Louisville later that month, and return to Mississippi.
Mrs. Harry Wells' dog was lost. He was black with a white face and a bob tail, and answered to the name "Mike."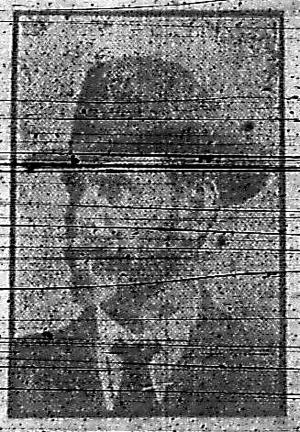 Dr. David Smith
Hardy Cruise posted a notice to stockmen that Bruno Munson and Brown's Orphan Boy were available as sires.
Dr. David Smith, the local veterinarian, included a small photo in his newspaper advertisement.
The friends of J. R. Buckman were glad to know he had gone to work again and that he would have the largest crop of strawberries this year than he had ever had.
The editer reported, "Uncle Ben Crist was here one day the past week. The girls are always glad to see Uncle Ben."
The editor wanted to know, "Have you seen James Hardaway with his new auto? Jim spent one day last week in the city and said it was all he could do to keep the machine from running on the sidewalks."
C. C. Lee, whose farm was near the Wooldridge Ferry a few miles below Belmont, advertised for sale 18 head of dairy stock at public auction. The reason was that he couldn't find enough workers to keep them milked. James Roney was to be the auctioneer.
Misses Inez Kirk and Elizabeth Bailey attended the Presbyterial in Louisville, as delegates from Hebron Mission Band.
Mr. and Mrs. Bailey Taylor, and their eight months old son, Athol Lee, were visiting Mrs. Taylor's parents, Mr. and Mrs. J. B. Swearingen. The Taylors were living in Texas at the time.
And the paper reported, "Mr. and Mrs. Henry Trunnell were attending lodge when a man stole his horse and left. Jim Hardaway, Jailer Monroe, J. R. Zimmerman, and Henry Trunnell took a machine and started for Louisville. Near Camp Taylor, they came up on the horse and driver. At that time, a woman was in the buggy. They were arrested by Jailer Monroe and brought back to Shepherdsville and landed in jail where they would board in the rock mansion for a while."
---
Copyright 2018 by Charles Hartley, Shepherdsville KY. All rights are reserved. No part of the content of this page may be included in any format in any place without the written permission of the copyright holder.
---