It Happened in May
The following article by Charles Hartley originally appeared in The Pioneer News on 25 May 2015. It is archived here for your reading enjoyment.
---
We will look back 10, 20, 40, and 80 years to capture glimpses of what was happening in Bullitt County in each of these years. Today we will focus on the month of May.
2005 - 10 Years Ago.
Stephen Thomas wrote about Bullitt East senior Stephanie Orr and her mother Lisa, and about how they ran marathons as a part of Team in Training associated with the Leukemia Society. Also preparing to participate was another Mt. Washington resident, Bryan Redick.
Bullitt East senior Daniel Alcorn signed his letter of intent to play basketball for the University of West Florida in Pensacola.
Do you remember when the Shepherdsville postal employees dressed up as characters from The Wizard of Oz in honor of a newly-issued stamp honoring E. Y. "Yip" Harburg, an American songwriter who created many of the songs used in that show? Postmaster Donna Thompson portrayed Dorothy, Maui Cundiff was the Wizard, Jennifer Higgins the Scarecrow, Peggie Nemeth the Tin Man, Beck Bolton the Cowardly Lion, Debbie Shaw the Wicked Witch, Lorin Self as Glenda the Good Witch, and Alice Hill as Auntie Em.
Debra Shaw and her mother Patsy Karr of Shepherdsville were selected to decorate Galapalooza horses for Louisville's Operation Brightside.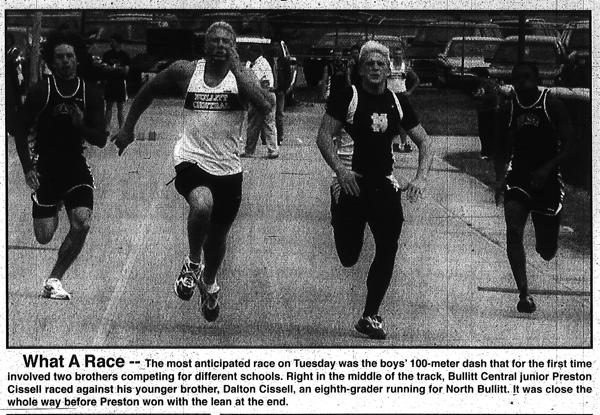 100 Meter Race
In the All-Bullitt County Track and Field Championships, Bullitt East junior Lance Biddle had a big day as he won two distance events, and was on both of the winning distance relay teams along with Josh Clardy, Brandon Clardy, and T. J. Devore.
The most anticipated race of the day was the 100 meter dash. Competing were brothers Preston and Dalton Cissell, and throughout the contest they were never more than a yard apart. At the finish line Preston, a junior at Bullitt Central, leaned just ahead of Dalton, an eighth grader representing North Bullitt.
Bullitt Central senior Nic Owens won all four of his events, the high jump, long jump, triple jump, and 300 meter hurdles.
North Bullitt got wins from R. D. Reynolds in the 200 meter dash, and Jared Aubrey in the 800 meter run.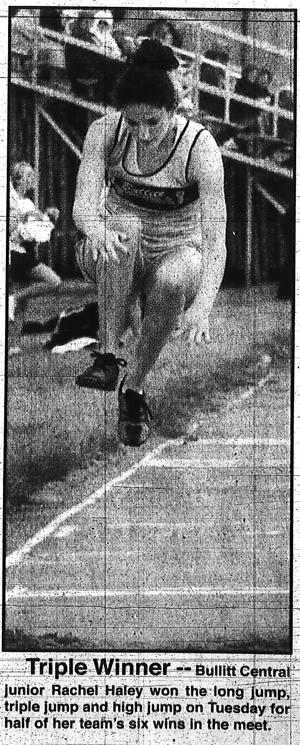 Rachel Haley
On the girls' side, Rachel Haley of Bullitt Central won the high jump, the long jump, and the triple jump. Jesse Mattingly added a win in the shot put, and Felicia Welsh won the 400 meter run for the Cougars.
North Bullitt freshman Betsy Heines won both the 1600 and 3200 meter runs. Her team also placed first in the 300 meter hurdles (Cherita Keene), and the 800 and 1600 meter relays.
James and Alice Rogers celebrated their 50th wedding anniversary at the Cedar Grove Baptist Church.
Samantha Burress of Bullitt East earned a full four-year scholarship to the University of Louisville. A 2004 Governor's Scholar, Samantha was also a black belt in martial arts.
Kenny Blair, with a metal detector, and Jesse Walls on a back hoe spent time searching for the bits of remains of an old iron manufacturing operation located along Salt River in what is now the Shepherdsville City Park.
Zachary Drane, a 6th grader at Hebron Middle School, won the Conservation Essay Contest and advanced to state competition. Megan Smith of Bullitt Lick was second, and Kylie Meiser of Freedom Elementary was third.
In the Conservation Poster Contest, Tabby McPherson of Roby placed first, Damien Bruce Lyvers of Nichols was second, and Brittany Scott of Overdale was third.
The newspaper reported that Jaitlyn Marie Peace, a junior at North Bullitt High School, was crowned Bullitt County Junior Miss in the last competition to be held for that event.
And Adrain Jones and Henry Powell were honored for their long time service to the Shepherdsville Lions Club.
1995 - 20 Years Ago.
The Bullitt County Woman's Club Scholarship recipients for this year were Janel Richardson of North Bullitt, Derek Hall of Bullitt Central, and LeaAnn Burden of Bullitt East.
Louise Bischoff of the Hebron/Zoneton community reported that Joyce Bischoff had been awarded a plaque at Publishers for four years of perfect attendance.
Bullitt County Bank announced that Christopher Chad Floyd was to receive a $4000 scholarship to Campbellsville University. Chad, a student at Bullitt Central, is the son of Carroll and Betty Floyd.
Joshua Jackson, Corey Redmon, Johnna Wimsatt, Crystal Wilson, and Samantha Jones were school winners at Lebanon Junction Elementary in the Young Authors' competition.
Lois Simmons of the Pleasant Grove community reported that sisters Bonnie Waters and Karen Stel came to visit their parents, Mr. and Mrs. Arther Waters. Ruth Waters was still in the Green Meadow Home, and Mr. Waters reported that their home was almost repaired from the fire in January.
In the 1995 All-Bullitt County Boys Track Championship match, Bullitt Central easily won, outscoring both North and East combined.
For Central, Mike Clark won the 110 meter high hurdles, 100 meter dash, and 200 meter dash; Stephen Bartsch took the 1600 meter and 800 meter runs; Steve Blankenship finished first in the 400 meter dash; Jeremy Foley took 300 meter low hurdles; Dennis Holland the 3200 meter run, Chris Caudill the discus, and Barry James the triple jump. David Collins won the long jump and tied with Brad Stivers of North in the high jump. Jeremy Bible, Jason Close, David McDaniel, and Brian Woosley of Central won the 400 meter relay; Brad Stivers ,Greg Stout, Jason Stout, and Jason Sheppard of North took the 3200 meter relay; and Greg Stout, Brian Denton, Justin Morgan, and Jason Stout of North were victorious in the 1600 meter relay. And Willie Foster of East won the shot put.
And in the girls' match, North Bullitt easily won over the other two schools, totaling 103 1/2 points.
For North, Beth Hoffman, Kelly Vowels, Casey Murrell, and Angie Hoffman won the 3200 meter relay; Shelly Blake took the 100 meter low hurdles; Michelle Cannon won the 100 meter dash and the 200 meter dash; Cara Link, Shelly Blake, Rebecca Bean, and Michelle Cannon won the 800 meter relay; Angie Hoffman won the 1600 meter run; Cara Cimilluca, Angie Purvis, Jennifer Belcher, and Michelle Cannon took the 400 meter relay; Beth Hoffman won the 400 meter dash; Shelly Blake took the 300 meter low hurdles; Kelly Vowels won the 800 meter run and the 3200 meter run; and North won the 1600 meter relay with Rebecca Bean, Angie Hoffman, Beth Hoffman, and Casey Murrell. North also won the long jump (Misty Durall) and shot put (Christina Tuttle). Central's Casey Murrell took the high jump.
1975 - 40 Years Ago.
Clara Simmons of Pleasant Grove reported that James R. Stallings' little girl Laquita had her tonsils removed, and was doing fine. Also, Mr. and Mrs. Rodney Grant entertained Mr. and Mrs. Charlie Gaddie, Mr. and Mrs. Tommy Grant, Mr. and Mrs. Kenneth Grant and son Kendall for Sunday dinner.
G. K. Bass of Mt. Washington reported a number of people in the Louisville hospitals including Maude Wigginton, Kenneth Smith, Sue Swearingen, Betty Cardwell, Mary Burnett, Clyde Eldridge, Marie Shelman, and Ray Rouse.
The following Bullitt Central students were to represent the school in National Speech competition and the National Student Congress: David Pike, son of Mrs. Nell Sanders Pike, Kathy Strange, daughter of Mr. and Mrs. O. V. Strange, Kevin Sturgill, son of Mr. and Mrs. Alfred Sturgill, and Gary Browning, son of Mr. and Mrs. Larry Browning.
Debbie Gayle Troutman, daughter of Christine Troutman, won the Conservation Essay Contest. She was a student at Roby Elementary.
Patty Wick, daughter of Mr. and Mrs. Charles Wick, a fourth grader at Overdale Elementary, won the Jim Claypool Conservation Poster Contest.
Ralph Coomer of the Cedar Grove community was presented with the Master Conservationist Award for carrying out at least 90% of his Conservation Farm Plan.
Oretha Ridgway of Nichols reported that the Jack May family bought the farm of Henry Sanders.
With the construction of the new jail behind the courthouse, parking was becoming a problem. J. C. Thompson, owner of the Hardy Market and Bullitt County Hardware helped to solve part of the problem by graveling in three acres across the alley behind his store. The front part was for his customers, but the rest was available for the general public.
The Hebron correspondent reported that 22 boys and 5 leaders from Boy Scout Troop 20 spent the weekend at Camp Horine. I wonder how many snakes they saw?
She also wished Cora Ney Hardy a happy birthday.
The paper also reported that Dickie Lawson and Larry Squires of Troop 20 were presented with their Eagle Scout awards. Quite an accomplishment!
Bullitt Central's production of Fiddler on the Roof was well received. Gary Browning starred as Tevye, and Dinah Pike as his wife Golde. The B.C. Band, led by Joe Herde, supported the cast by providing the music for this musical play.
In the May primary election, Julian Carroll, Thomas Givhan, and Nancy Strange were victorious in Bullitt County.
And the Lebanon Junction correspondent reported that Miss Kathy Beeler had graduated from U.K. and would begin teaching at Maryville in the fall.
1935 - 80 Years Ago.
The S.H.S. Senior Class play, "Here Comes Charlie," was well received. Seniors taking part included Millard Cundiff, Charlotte Froman, Marshal Welsh, Lou Alice Spears, Martha Croan, Harry Baldwin, Emma Philpott, Charles Lee, William Lee Hatfield, and Betty Hibbs.
The Shepherdsville Town Board signed a contract with Henry Bickel Co. of Louisville for the construction of the Municipal Water Works. According to the paper, "After the Plant is complete, the community will have a pure dependable supply of water for all domestic use as well as for the prevention of the fire hazard."
Bro. McKinley, G. L. Troutwine Jr., Charles Magruder, and Lounette Stansbury went to Glendale and presented music and music at the Baptist Church there. The service was well received.
The paper reported that Raymond and Marie Arnold were the proud parents of twin boys, Carroll and Calvin.
Clyde E. Roby, a teacher in the Mt. Washington school, secured a summer position in Long's Cash Store in Mt. Washington.
Miss Elelia Holsclaw of Hebron was mourning the death of her parrot that had been her pet for 21 years.
Out Needmore Road way (wherever that was), Thomas Gentry and his wife moved to the farm of Mr. Vonderhide; J. O. Smith spent a Saturday with Adrian Jones; and then Adrian spent a Friday with Millard and Gordon Proctor.
In Cedar Grove, Mrs. Henry Crenshaw had been real sick, and Mrs. George Bolton paid her a visit. Also, Howell Young and his son Ernest were doing some painting for Henry Maraman.
In Court News, Mrs. Gertie Heffley was granted a divorce from her husband William in the April term of Circuit Court.
In the Personal Column we learned that Miss Jennie Carpenter and Mrs. Hallie Armstrong visited their sister, Mrs. Elsa Whitledge. Also, Mr. Minnow and his family all have the measles.
Burton Johnson had a new ground plow for sale or trade. He wanted $7.00 or 10 bushels of corn or one BIG iron kettle.
The Woman's Club of Bullitt County sponsored the restoration of the Old Shepherdsville Cemetery. Anyone interested in helping could show up on May 15th.
Stanford Harris, a senior at the Mt. Washington High School, traveled to Madison, Wisconsin to enter the National Musical contest as Kentucky's representative on the trombone.
Mr. and Mrs P. H. Henderson celebrated 50 years of marriage on May 6th. They were life-long residents of Bullitt County.
And Homer Meyers of Brooks Station lost his wagon and team of mules when they were hit by the train. Meyers failed to see the oncoming locomotive until Harry Farmer got his attention just in time. The mules were killed and the wagon cut in half, but Homer survived unharmed.
---
Copyright 2015 by Charles Hartley, Shepherdsville KY. All rights are reserved. No part of the content of this page may be included in any format in any place without the written permission of the copyright holder.
---