It Happened in May
We first covered months of 1998, 1983, 1953 and 1923 in articles published in The Pioneer News in 2013. Now ten years later, we take another look back, this time 25, 40, 70 and 100 years with a refreshed look at the month of May in these years.
---
1998 - 25 Years Ago.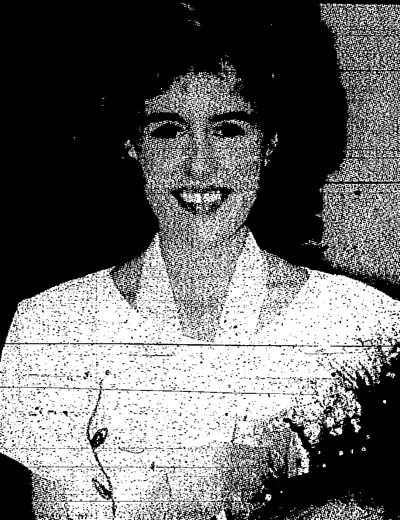 Leslie Dorris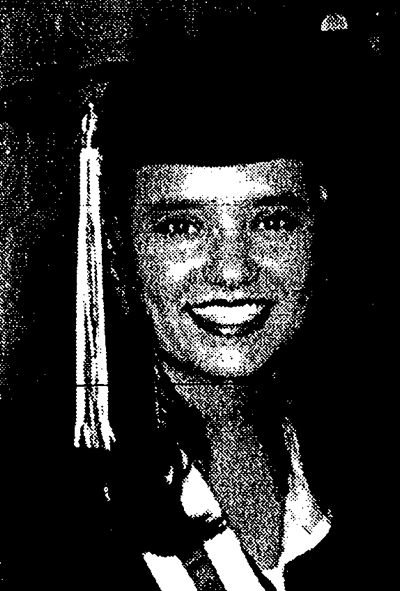 Michelle Fackler
Forest Ranger Sammy Allen, an '81 Bullitt Central graduate, was honored with an "outstanding employee award" by the Kentucky Natural Resources and Environmental Protection Cabinet after his first year on the job.
Leslie Dorris, a junior at Bullitt East, won the Bullitt County Junior Miss contest with several individual category awards. Other category award winners included Melissa Herron, DeVonna Bailey, Holly Saling, and Rebekah Underwood.
In the May primary election Ken Rigdon won the nomination for County Judge Executive over two opponents, Joe Laswell and Rip Carter. In the sheriff's race Paul Parsley won over Buddy Shepherd and Rodney Hockenbury. Danny Fackler won the jailer race, outdistancing Charles Mann and Tim Seng. Walt Sholar and Rodney Burress competed for the County Attorney spot with Sholar coming out on top.
In the primaries for state representative, Allen Maricle defeated Russell Webber for the Republican nomination, while Larry Belcher won over Joe Wells for the Democratic spot in the fall election.
Michelle Fackler graduated with honors from EKU, and looked forward to working at the University of Tennessee Medical Center in the fall.
Chad Floyd, a Bullitt Central grad, was named drum line section leader for the Campbellsville University band.
Fiscal Court granted a request by the Maryville Baptist Church to move the grave of Miriam Cameron from their site to the Cedar Grove Cemetery where she would rest beside her husband.
McDonald's in Shepherdsville reopened on May 13 following the fire that gutted the building in January.
Kelli Mudd, a Bullitt Central grad, completed her work at University of Louisville School of Medicine, graduating in the top ten percent of her class.
With Steven Downs and Eric Scroggin hitting home runs, North Bullitt defeated Spencer County 10-2 to win the 29th District tournament.
Norman Lemme announced that his client Miller Billboard Advertising had received state approval for the five billboards along the interstate at the Shepherdsville exit.
David Strange wrote a letter to the editor thanking the candidates in the primary races for running campaigns relatively free of mudslinging and dirty tricks.
Bullitt East won both titles in the All-Bullitt County Track and Field Championships. on the boys' side, Wayne Livers and Michael Whitfill together won eight events. The girls were led by Jamie Sacra and Hannah Cunningham.
The top five vote-getters in the Shepherdsville City Council race were Steve Troutman, Don Cundiff, Bill Bishop, Margaret Moore and Bill Goodin. At Mt. Washington, the leaders were Barry Armstrong, Frank Sullivan, Brent Wheeler, Debbie Smith and Sam Beichler. And in Hillview, the top five were Dale Russ, Bud Eadens, Dan Whitis, Rita McGlasson and Bonnie Williams.
And the Shepherdsville High School class of 1958 held its 40th year reunion at the Country Cupboard restaurant.
1983 - 40 Years Ago
Andy Anthony of Bullitt East placed first in the Girls' State Track Meet in three events: the discus, the 100 meter hurdles, and the 300 meter hurdles.
Kara Longacre, Susan Morrison, and Paula Ritter advanced to the sectional track meet at Owensboro, representing Bullitt Central in the high jump, 100 meter hurdles, and the 1600 meter run respectively.
Cecilia Conlan of Bullitt Central advanced to the state golf tournament to be held in Elizabethtown.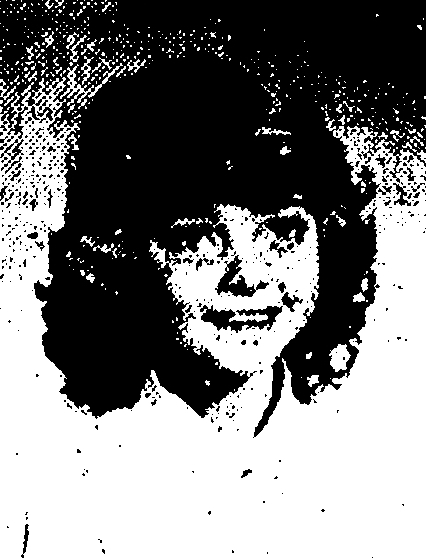 Kimberly Helms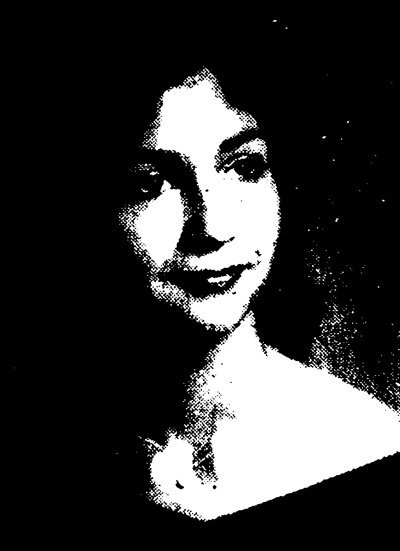 Paulita Keith
Amy Falk of Bullitt East was selected to participate in the summer's annual Kentucky-Indiana All-Star games.
The Bullitt Central FBLA selected officers for the coming school year. Among them were Kim Valentine, president; Beth Priddy, vice-president; Julie Huffman, secretary; Ray Thurman, treasurer; Beth Boone, reporter; Dione Losch, historian; and Lucy Rosa, parliamentarian.
Heavy rains in early May caused some flooding in Shepherdsville, but the Taylorsville Lake dam was credited with saving the town from another flood like the one in 1964.
Cliffa Foster received a special scholarship at the Blue Mountain College in Mississippi where she was a junior. The former Bullitt Central graduate was a member of the school's basketball team.
Kimberly Helms, 8 year old daughter of Rodney and Jeannie Helms, got her picture in the paper when she was honored by her church as the "Gleaner" of the month.
Paul Whitworth and Glenn Armstrong were each honored by their fraternities at UK for maintaining high scholastic averages during their four years at the school.
Paulita Keith of Shepherdsville was named valedictorian of Bethlehem High School in Bardstown.
The North Bullitt Marching Eagle Band was selected to participate in the Kentucky Derby Festival Pegasus Parade.
The Kentucky Department of Transportation announced that a hearing would be held on the proposed addition of ramps off I-65 onto Cedar Grove Road.
Assistant Superintendent Raymond Terry announced his retirement from the Bullitt County school system after spending 32 years here in such roles as principal of Roby and Overdale, as well as many years as assistant superintendent.
William Lee announced his retirement after 22 years in the Bullitt County school system including many years as Cedar Grove's principal.
Bullitt Central's speech team led by Barbara Elliott did well in two tournaments with eight members advancing to Nationals in Chicago. They included Karen Bleemel, Brian Waddle, Chris Sears, Lisa Carlton, Monica Shepherd, Kenny Higdon, Maiko Chambers, and Rafael Rosa.
Larry Wayne Boblitt, son of Mr. and Mrs. Virgil Boblitt of Lebanon Junction, was a writer for the Morehead University's television news broadcast, and a staff writer for the student newspaper.
And Jailer Billy Roy Shepherd was urged by Third District Magistrate Chris Glanz to bill the state for the cost of housing state inmates in the local jail. County Attorney Tom Givhan concurred, along with the remaining members of Fiscal Court.
1953 - 70 Years Ago
In early May the General Henry Crist Chapter of the Daughters of the American Revolution met in the home of Miss Sallie Pope. The following officers were elected for the coming year: Mrs. Henry C. Hamilton Sr, Regent; Mrs. Newton B. Helm, Vice-Regent; Mrs. Jesse Lee Hardaway, Chaplain; Mrs. H. H. Combs, Recording Secretary; Mrs. Charles Hamilton, Corresponding Secretary; Mrs. Henry Maraman, Treasurer; Miss Sallie Pope, Registrar; Mrs. Harley T. Perkins, Historian; and Miss Winonah Maraman, Librarian.
A crew of F.F.A. boys, including Richard Crigler, Lloyd Maraman, Doyle Eskridge, C. L. Lane, Silvie Hodge, and James Burden, erected street markers at Third and Plum, Third and Abbott, and Third and Lee streets. Their leader was Elihu Meador.
Lebanon Junction High School seniors receiving diplomas included David Bishop, Coleman Crady, Clifton Goodlett, Freddy Hoagland, Billy Larkin, Neil Masden, George Newman, Jimmy Thompson, and Ralph Welch. Welch delivered the Valedictory Speech. The Salutatory was given by Masden.
"The Campbells Are Coming," a three-act hillbilly comedy, was presented by the senior class at the Shepherdsville High School Gym. Performers included Rogna Wagnor, Betty Weller, Alice Bogard, Victor Franke, Donnie Garr, Lemo Hester, Wayne Armstrong, Dot Burden, Donald Glenn, and Barbara Kneisler.
After serving for more than 40 years, Howard Roby resigned as mail carrier of the Lebanon Junction rural route.
Dr. Bernard Popham of Lebanon Junction was to report to California where he was to be attached to a Marine Division and sent overseas.
Delores Inez Hoskins was Valedictorian of the S.H.S. Senior Class. Margaret Austine Roby and Elizabeth Jeanette Yeager were its Salutatorians. At M.W.H.S. Glenda Moore was Valedictorian and Shirley Luckey was Salutatorian.
Johnny Samuels, a Lebanon Junction sixth grader, was the best grade school speller in the county in its annual Spelling Bee. Audrey Klapper of Mt. Elmira School placed second. Alice Froman of Brooks School was third. Glenda Moore of Mt. Washington won the high school event. Larry Ward of Shepherdsville was second. Gelinda Fay Greathouse was chosen as winner in the Bowman's Valley School.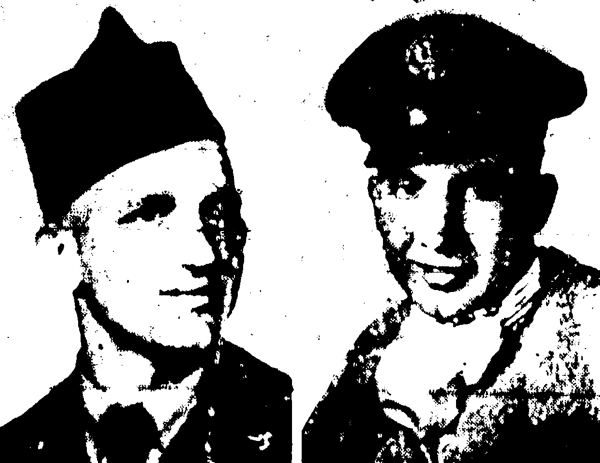 Raymond & Donald Graham
Kentucky Attorney General, and Bullitt County native J. D. Buckman reminded folks that the law requires motorists to stop when approaching a school bus loading or unloading students.
The paper printed pictures of the two sons of Mr. and Mrs. O. C. Graham who were in the armed forces. They included Pvt Raymond C. Graham and Staff Sgt Donald Lee Graham.
And at the first session of Shepherdsville's newly established Police Court two fines were levied. We'll spare the guilty, and just mention that Tom Givhan was City Attorney, Burlyn Pike was Police Judge, and Alf Weller was Police Judge Pro Tem.
1923 - 100 Years Ago
The newspaper editor made a plea for a good road over Martin's hill and down to Richard Miller's where it would intersect the road leading up Knob Creek.
E. H. Mathis of Shepherdsville was selling his Ford "with 3 good tires." He'd also trade it for livestock.
Miss Annis Smith, of Hebron, spent a weekend at Shepherdsville, the guest of Miss Hazeldell Trunnell.
The Lebanon Junction school closed with the graduating exercises at the Masonic Hall. There were six graduates: Anna Lee Bandy, Bertha Westerfield, Fanny Essex, Frances Monroe, Evermont Fisel and Herman Johnson.
At Shepherdsville the graduates were Crumbacker Jenkins, Ruby Bowman, Hewitt Harned, Lillian Roney, Mary Engle, Clarence Stansbury, Lora Mae Deacon, Elizabeth Harned, Evelyn Adams, Thelma Masden, Pauline Crenshaw, Vernon Quick, Stanley Muir, Mary Triplett, Dorothy Samuels, Audley Hatfield, Kathryn Taylor, Rosalee McKinney, Charles Lee Bradbury, Jerome Monroe, Kenneth Bailey and Lynton Weller.
Elizabeth Weller, daughter of Mr. and Mrs. Stony Weller of Shepherdsville, returned to the University of Kentucky after a trip to Columbus, Ohio to attend the Annual National Conference of Woman's Student Government Councils.
McKinley Norman, pastor of the Shepherdsville Baptist Church, announced a special "Homecoming Sunday" with a goal of 300 in attendance. Former pastor, S. P. Martin was scheduled to speak.
Mrs. Abbie Atkisson of Medora advertised a 64 acre farm for sale two miles north of Knob Creek. She declared it to be good tobacco land.
Charles Howlett out on Pitts Point Road had 25 tons of clover and timothy hay for sale. And Mrs. H. G. Masden was selling pure bred Ancona eggs at $1.00 per setting of 17 eggs.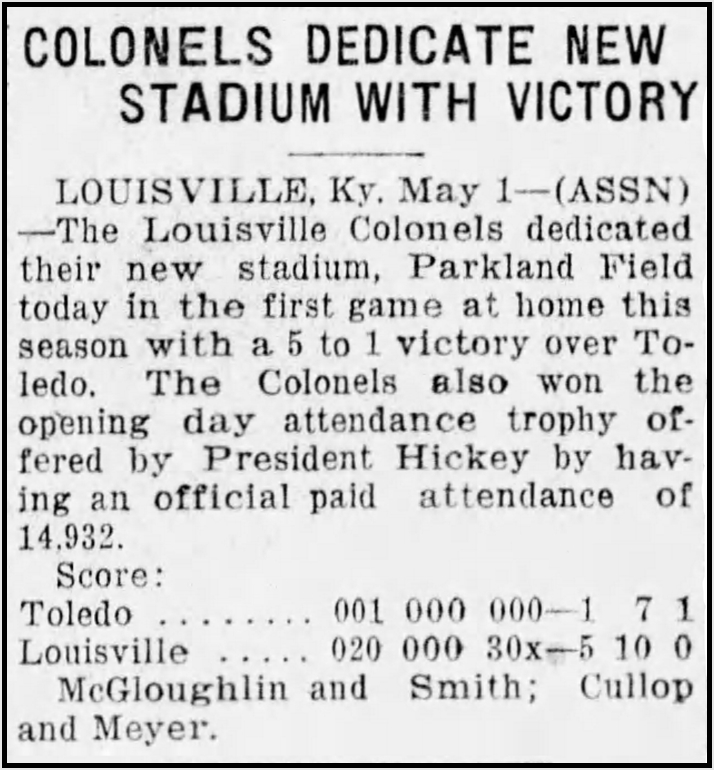 The newspaper noted that the O. W. Pearl family had just returned from wintering in Florida. Several other Bullitt Countians enjoying the Florida sun included Jess Buky, Charles Daniel & wife, Len Daugherty & wife, Mrs. Maud Bowman and her son, and Millard Daughterty, all down in the Fort Pierce area. Note that getting to Florida in 1923 was a mite more difficult then now.
Joe Chappell of Shepherdsville was offering to sell his 1921 model Maxwell Touring Car cheap, or trade it for any kind of stock. Wonder why?
The 1923 newspaper editor shared a brief commentary on the paper's front page about cigarettes. He wrote, "Cigarettes may not injure the health, but they have destroyed manners. In the olden days, when the old fashioned gentleman wanted to smoke a cigar or pipe in the presence of ladies, he asked permission, but now days when our modern smokers of coffin nails want to smoke, they ask nobody. They take it for granted that everybody likes their odor." Enough said.
And Hugo Rouse, Bud Combs, C. F. Troutman, Tom Martin, Charles Morrison and other fans from Shepherdsville attended the season opening game of the Louisville Colonels baseball team, and helped the team win an attendance trophy.
---