It Happened in May
We will be looking back 20, 45, 75, and 90 years to see what was being printed in The Pioneer News in 2001, 1976, 1946, and 1931 in the month of May.
2001 - 20 Years Ago.
The Bullitt County Junior Miss Scholarship Program contestants included Kristen Nicole Romans (NB), Keisha Lynne Wooley (BE), Maria Joy Rosenbarger (BE), Stephanie Rebecca Way (BE), Jenn Ann Rosell (BE), Tiffany Marie Kremer (BE), Katherine E. Williams (BE), Christene Nichol Theiler (BE), Stefanie Anne Sellers (BE), Crystal Rose Groce (BE), Courtney Nicole Frye (BE), and Ashley Taylor Smith (NB). The winner was Keisha Lynne Wooley, with Christine Nicole Theiler as first runner-up and Ashley Taylor Smith as second runner-up.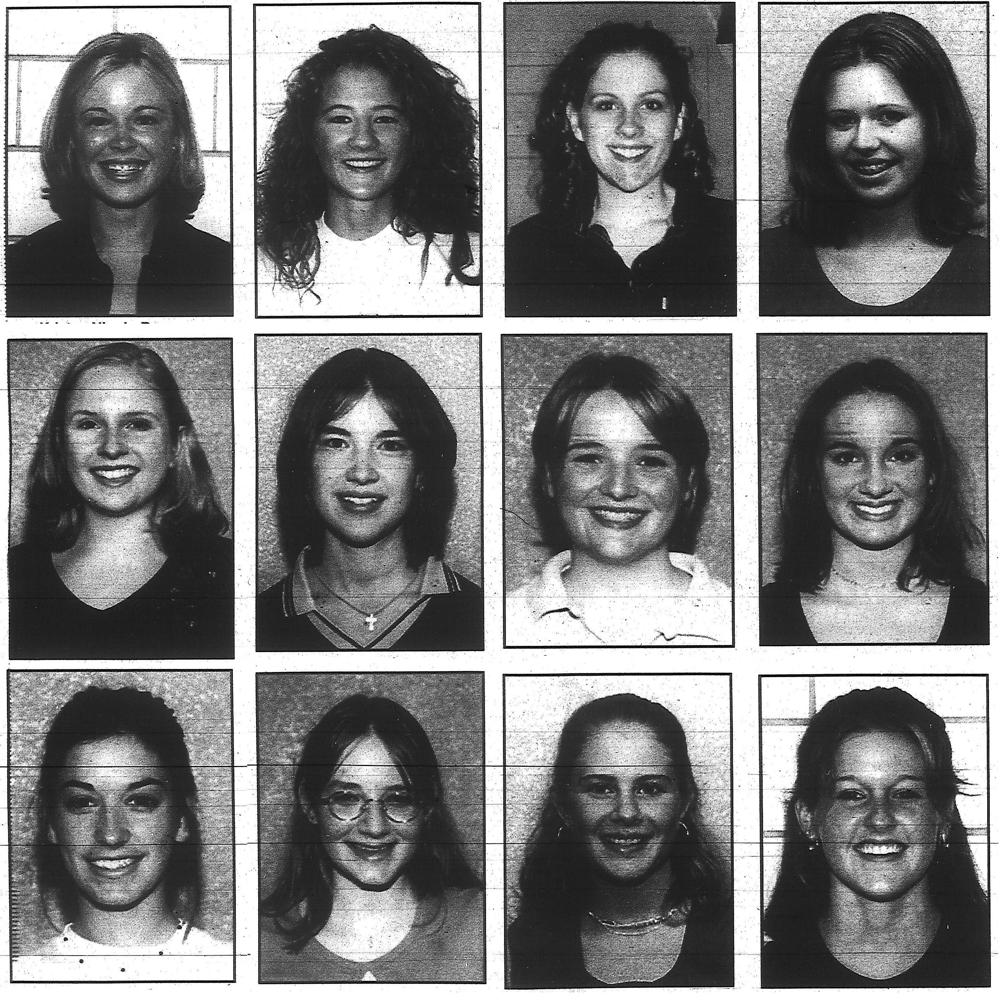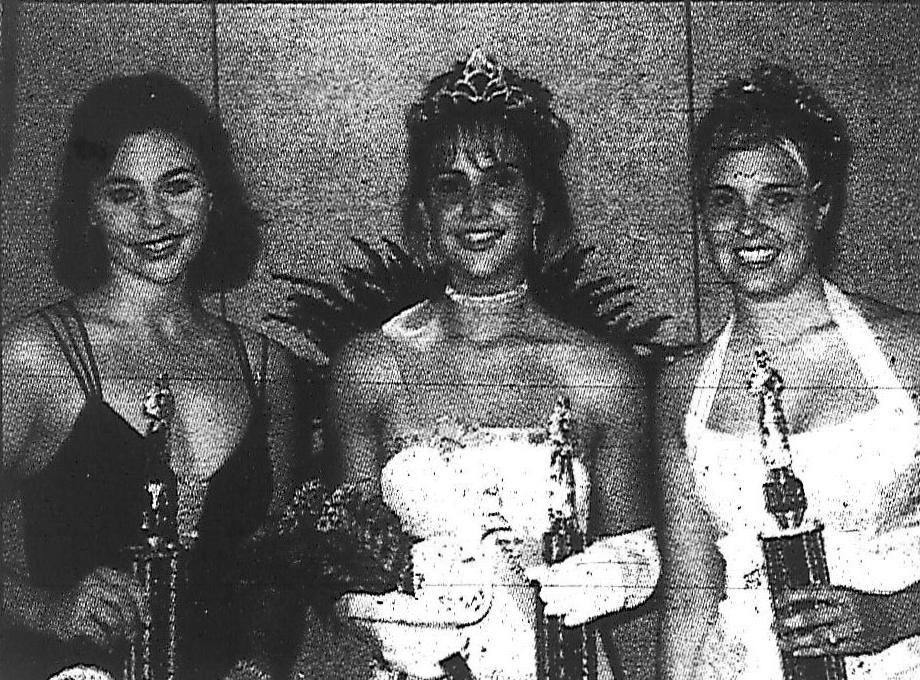 Ashley Smalley was crowned Miss Mount Washington at the town's spring festival. Second was Brittany Kerr, and third was Tiffany Smith who was also voted most photogenic. In younger categories, Jessica Smith was crowned Junior Miss Mount Washington, Lauren Grimes was Miss Mount Washington Pre-Teen, and Samantha Wilson was Little Miss Mount Washington.
North Bullitt's cheerleaders participated in the Pegasus Parade in Louisville as part of two floats. Team members included Katie Willis, Ashley Smith, Kari Lindsey, Kaci Hite, Kara Rodgers, Noelle Lewis, Amanda Robinson, Brittney Jaggers, Cassi Jessie, Karissa Lewis, Dawn Still, Kalynn McGrew, Brittany Arnel, Stephanie Sowders, Krista Masterson, Ashley Meredith, Channell Ferguson and Jessica Bard. The team sponsor was Susan Hatchett, and Kathy Willis was president of the booster club.
At regional competition the Bullitt East FBLA students earned four first places, six second places, and two third place prizes. Michael Fox (business math), Becky Firesheets and Brandon Pollett (desktop publishing), Tiffany Smith (Miss Future Business Leader), and Cristal Nester (most entertaining talent) were the firsts; Hannah Cunningham (accounting), Kristen Williams (intro to business), Ashley Clements (job description manual), Ashley Dorris (word processing), Lauren Maddox and Brittney Milby (bulletin board composition), and Kimberly Rogers (local chapter newsletter) were the seconds; and Ellen Krawjewski (intro to business communication) and Kristen Meadows (Accounting II) took the third places.
It was a three team battle at the boys' All-Bullitt County Track Championships with Bullitt East coming in first by 13 points. Some of the winners were Jarred Meadows (BE) in the 1600 and 3200 meter races; Matt Cottner (BE) 800 meters; Shawn Holbert (BE) in the 100 meter dash; Timmy Johnson (NB) long jump, triple jump, and high jump (tie); Evan Napper (NB) 400 meter; Shawn Marshall (BC) 110 meter high hurdles and 300 meter low hurdles; David Huff (NB) 200 meter dash; Brian James (BC) discus; and Matt McCubbins (BC) shot put.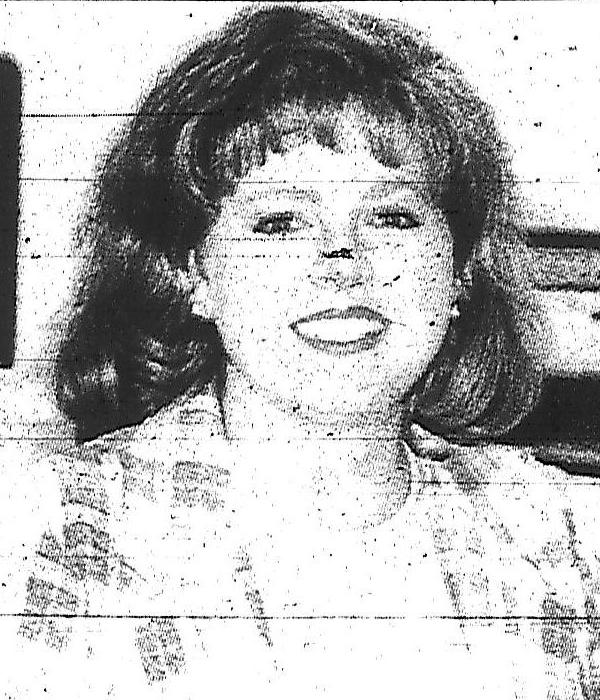 Beth Cassity
On the girls' side, Bullitt East easily won the meet, scoring 94 points, more than the other two schools combined. First place finishers included Angela Marenger (BE) 100 meter and 300 meter hurdles; Hannah Cunningham (BE) 100 meter dash; Heather Smith (BE) 400 meters; Robin Tedder (BC) 800, 1600 and 3200 meter runs; Kelly Close (BC) 200 meter dash; Jamie Sacra (BE) high jump and shot put; Whitney Faust (BE) discus; Heather Brown (NB) triple jump; and Natalie Biesel (BE) long jump.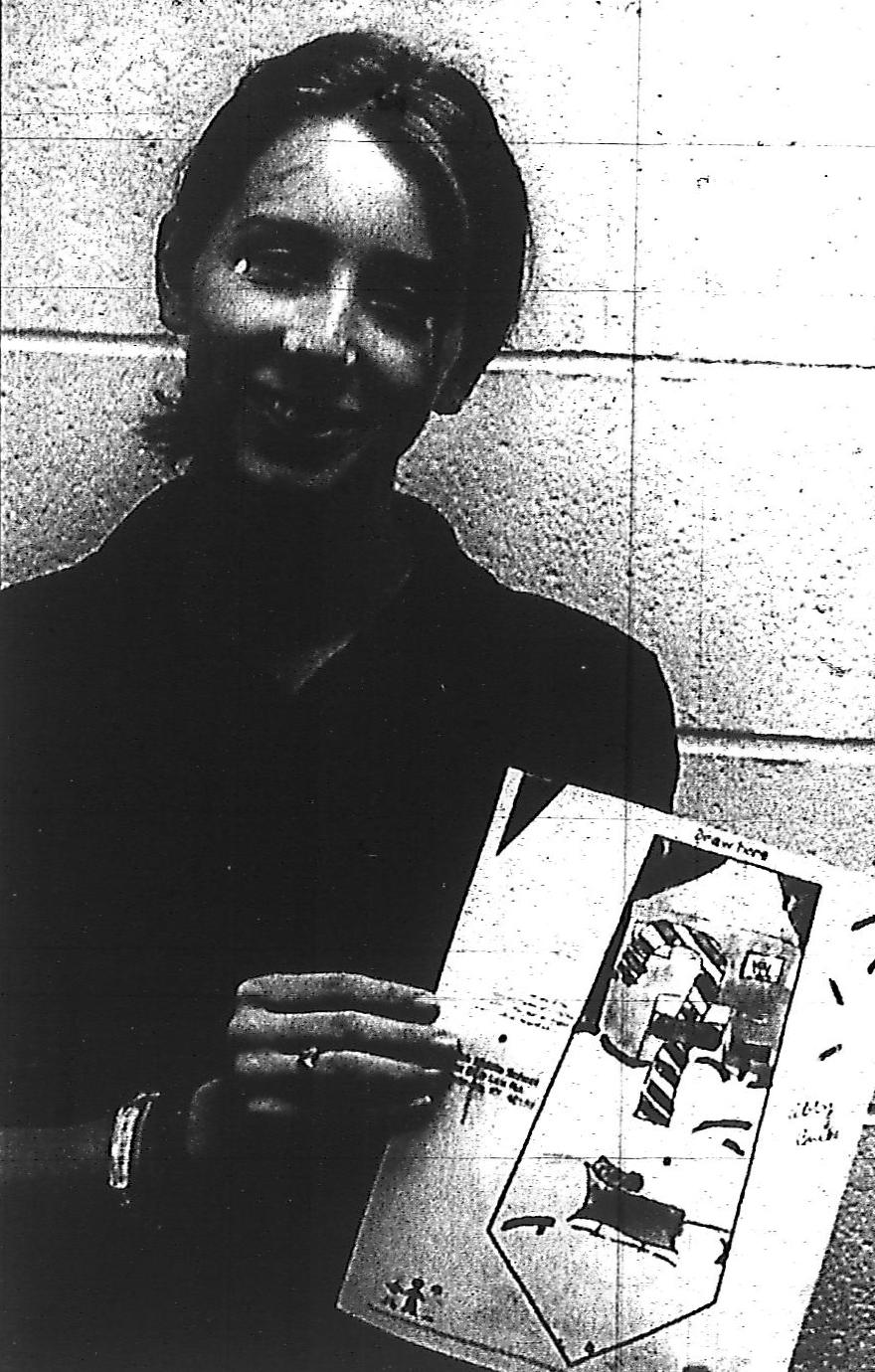 Abby Burke
Beth Cassity became the new executive director of the Bullitt County Chamber of Commerce.
The Pioneer News went online beginning May 15th.
Kings Baptist Church welcomed a new pastor, Dr. Michael Hail.
Chad Lynch joined the county health department as a Health Educator, joining Cynthia Brown in that role.
And Abby Burke, daughter of Ted and Lisa Burke of Shepherdsville, won the National Save the Children Art Contest with her necktie design titled "Santa's Place" which depicted a snow-covered house with a large candy cane pole. A student in Becky Sharp's art class at Bullitt Lick, she earned a $500 savings bond.
1976 - 45 Years Ago.
Bullitt Central's drama department put on the play, My Fair Lady, with Becky Hunt playing Eliza Doolittle, David Darst as Henry Higgens, Troy Ross as Colonel Pickering, Gary Browning as Alfred Dolittle, Bobby Sewell as Freddy, Clara Lewis as the maid, and Donna Crank as Higgens' mother. Set design was handled by Tim Stapleton; Lynn Firkins was in charge of choreography; Joe Herde and Don England were in charge of the music, and Barbara Elliott was the director.
Mrs. Jane Williams hosted the women of Hebron Presbyterian Church.
The Shepherdsville Jaycees elected these officers for the upcoming year: John Newton, president; Dave Bernard, internal vice president; Danny Anderson, external vice president; David Huff, secretary; Jim Cox, treasurer; and Steve Ashbaugh, Joe Price, Phil Bischoff, and Mike Mayes as directors. Additionally, Bill Ryan was appointed administrative assistant to the president; Ken Fox was state director, and Ted Korfhage as parliamentarian.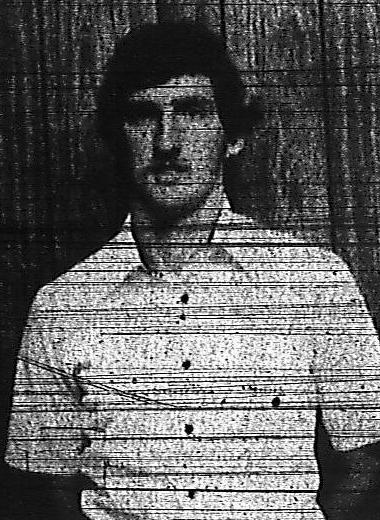 Randall Mefford
Fiscal Court hired recent Campbellsville College grad Randall Mefford to be parks and recreation director. He was married to Tara Jasper of Mt. Washington.
Mary Whitworth of the Cedar Grove area wrote that Maggie Waters had returned to her home in Salt River after breaking a hip.
Gladys Shepherd of the Bullitt Lick community wrote that Mrs. Minnie Pearl celebrated her 93rd birthday. She also reported that the local church sent 88 dozen eggs to the Glendale Baptist Home for Easter.
C. D. Sweat of Lebanon Junction married his sweetheart, Lula Belle Monroe, on 16 May 1926, and they celebrated that marriage 50 years later. He retired from the L. & N. in 1968.
Barbara Shelton wished her grandmother, Mrs. Ollie Grace Crump a happy Mother's Day, writing that "Ma" and her deceased husband Leslie Porter Crump had 4 daughters including Mae Tinnell of Clermont, Maudie Shelton of Shepherdsville, Mildred Reynolds of Lebanon Junction, and Edith Hibbs who had recently died; and two sons, Bobby Crump of Clermont and Delmar Crump who died in 1975.
Oretha Ridgway of Nichols expressed regret in the passing of Roy Applegate, an active member of the Knob Creek Union Church. He and his wife, the former Zula Cook, had lived on their farm on Weaver's Run Road for about 50 years. She mentioned that he and Mr. Haycraft had spent considerable time in the previous two years caring for and cleaning the Knob Creek Cemetery.
Mary Kay Shepherd of Lebanon Junction wrote that J. I. and Lillian Samuels wished to thank the following for working on the cancer fund drive: Betty Roney, Clara Ann Whitehead, Jane Walker, Becky Carnes, Sharon Sweat, Nancy Harned, Josephine Wethington, Mary Richardson, Onita Mattingly, Joyce and Rhonda Ritter, Pauline Arrowwood, Laraine Dragoo, Maxine Meadows, Bonnie Yager, Lee Cox, and Barbara an Debbie Hilton.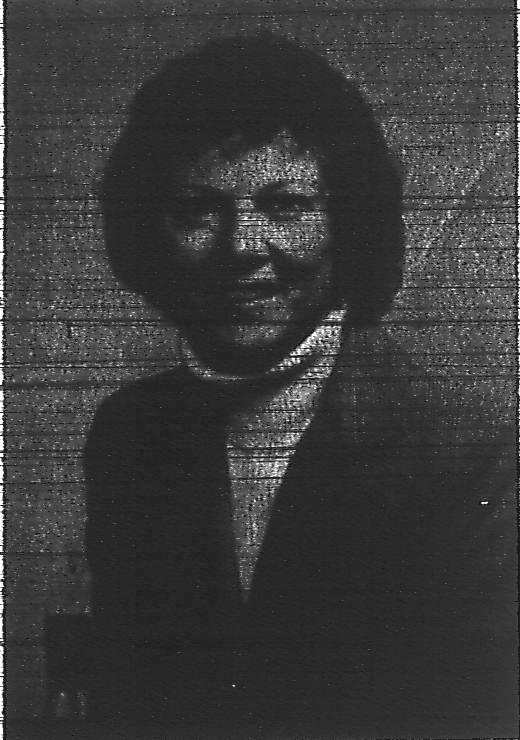 Anne McAfee
Do you remember seeing Mt. Washington mayor Sidney Griffin dressed as George Washington while serving as grand marshal for the bicentennial parade? Or, did you spend 10 cents for a bar of Mary Neal and Arletta Walker's homemade lye soap?
Anne Wigginton McAfee, daughter of Mr. and Mrs. Lindsay Wigginton, and wife of Bill McAfee of Mt. Washington, earned her Juris Doctor degree. She had previously graduated from Mt. Washington High School in 1967, and then Transylvania University.
Bill Schott was hired to coach basketball at Bullitt Central and teach driver's ed.
Bullitt County School Superintendent Frank Hatfield was named a member of the Kentucky Educational Television (KET) Task Force to set guidelines and advise on implementation of an equipment project for the entire state.
And according to Clara Simmons of Pleasant Grove, David Grant was a proud little boy because he won the tricycle race at the Mt. Washington fair. He was the son of Mr. and Mrs. Rodney Grant.
1946 - 75 Years Ago.
In the scholastic activities column, we found a listing of school personnel whose classes participated in the Easter Seal Drive. While it is incomplete, here are the names we found for each school. Nichols: Virginia Nichols, Louise Buck and Christine Whiteman; Sunny Side: Lillian P. Smith; Pleasant Grove: Beryl Porter, and Hilden Cornell; Mt. Washington: W. O. Anderson (principal), Bertha Anderson, Nell V. Porter, Inez Lloyd, Ruth Franklin, Sylvia McGee, Anna Goodwin, Lucille Insko, Mary G. Paris, Steven Hardin and Maurice L. Bates.
Continuing with Cedar Glades: Margie Ashbaugh; Cedar Grove: Thelma Roby, Alma Ratliff and Lena Roberts; Clermont: Ora L. Roby and Ophelia Morris; Woodsdale: Mary Belle Hall; Beech Grove: Maudie Cundiff; Belmont: Augusta Dawson, Zardetti Dawson and Mary B. Hill; Bowman's Valley: Mattie Owens.
Here is the Shepherdsville School list: H. T. Peterson (principal), Lillie Vertrees, Nell Miller, Laura Richardson, Nancye Masden, August West, Ruby C. Napier, Susan Avritt, Christine Cruise, Louise Bischoff, Myrtle Frick, Woodrow Masden, Alma Hardesty, Mary Dawson, Clara Myers, Eulah Mae Wise, Ann Taylor, Lucy Jackson, Mary H. Miller, Jane Black and Lanye Wigginton.
Only two names were given for the Lebanon Junction School: L. A. Johnston (superintendent) and Martha Dell Dant.
Seventeen seniors graduated from the Shepherdsville School in May, including Wilma Maraman, Mary Harned, Myrtle Roby, Loretta Tinnell, Norma Holsclaw, Ella Mae Maraman, Ferol Sims, Juanita Philpott, Margaret Williams, Betty Williams, June Harned, Kathleen Croan, Walter Franke, Harold Lanham, Russell French, Bernie Milam and Arthur Moody.
Betty Williams, daughter of Mr. and Mrs. Dick Williams of Hebron, was class valedictorian. Myrtle Roby, daughter of Mr. and Mrs. Trainor Roby, was salutatorian, and soon added another title when she married John Price in a ceremony officiated by her uncle, Rev. R. B. Cundiff.
Lebanon Junction native, Sergeant James Sprinkle was reported to be serving with the 701st MPs in Shanghai, China.
Mother's Day at the Trunnell House was special with four generations present including great grandparents Mr. and Mrs. Joe Trunnell; Mrs. Nancy Strange, grandmother; Ruth Duncan, mother; and little Ruth Ann Duncan representing the fourth generation. Also present were Mr. and Mrs. Curtis Smith, Bertha Trunnell, and Fronia Harris of Louisville.
Mr. Lee Masden, "one of the oldest men in Bullitt County to take active part in the Bullitt County Sportman Club," recalled hunting with his grandfather William Duvall, and watching him shoot squirrels and then reload his muzzle loader without dismounting from his horse. Lee was a son of Joseph and Lucinda (Duvall) Masden. His other grandparents were Dennis and Elizabeth (Howlett) Masden.
Jimmie Cruise, son of Mr. and Mrs. Hardy Cruise, won a big harness race, the $50,000 Pacing Derby at Santa Anita Track, driving the horse named Blue Again.
Eleven of the 18 members of the Shepherdsville High graduating class of 1930 gathered at the home of Jack Gardner for their annual reunion. Present were Mr. and Mrs. Claud Rodgers and son, Mr. and Mrs. Frank Laurita, Mr. Pete Trunnell, Mr. and Mrs. Harry Farmer and daughter, Mr. and Mrs. Robert Easton, Mr. and Mrs. Burks Williams Jr. and son, Mr. and Mrs. Charley Gunther, Mr. and Mrs. Jack Gardner and son, Mr. Jimmy Harned, Mr. Charley Farmer, and Mr. and Mrs. Clifton Hall. Coming the longest distance were Charley Farmer from California, and Jimmy Harned from Panama.
And how often do you see a century old "Last Will and Testament" published on the front page of the newspaper? Mrs. Josie Zimmerman brought this original 1842 document of the last wishes of her great-great grandfather Archibald Magruder to the newspaper office and they published it. If you are interested, we have an image of the original will on the History Museum website.
1931 - 90 Years Ago.
The Shepherdsville High Senior Play was performed at the school by these students: Helen Bowman, Julius Cundiff, Frances Cruise, Martha J. Haefer, Helen Conniff, J. D. Buckman Jr., Lucile Triplett, Cecil Cash, Robert G. Hardy, Wallace Harned, Carolyn Shepherd, Doris Purcell, Forrest Shepherd, Lillian Hatfield, Beulah Philpot, and Chester Bradbury.
The following local students who were attending the Western Kentucky Teacher's College signed a letter to the local school board from the college inviting the superintendent and board members to visit that school: A. J. Beeler Jr., Ruth Weller, Catherine Triplett, Martha Weller, Nellie M. Triplett, Mary Triplett, Pauline Daugherty, Clifton Hall, Anna Laura Jenkins, Ida Lee Ball, Gertrude Collard, Ruth Crenshaw, Stella Simmons, H. Russell Jenkins, Logan A. Murray, Jack Gardner, and W. J. Crumbacker.
In news from the Wilson Creek area, we learned that John Dragoo and J. F. Ricketts shipped some hogs to Louisville; and that the Ricketts family entertained Rev. T. L. Mattingly after he filled his regular appointment at Mt. Carmel.
In the Needmore Road area, Mrs. Hubert Cox was ill, and received the following well-wishers: Mrs. R. F. Owen, Mrs. Leonard Owen, Mrs. Ronald Jones, Mrs. Theo Nelson, Mrs. Jess Ridgway, Mrs. Clay Whitledge and Mrs. H. C. Tyler.
On May 1st, the editor reported that "unannounced and almost unknown, the famous old classic known as the Bardstown train was pulled off last week and is no more." He went on to name Captain Sweeney, Nat Crouch, George Cheacheir, Bob McGill and his son, Ike Wright, and Captain Thomas C. Coleman as being among those who, over the years, had been a part of that train's operations.
In another part of the paper, he wrote, "Last Tuesday we visited our old friend, Mrs. Elizabeth Crigler, who is about 87 years of age." He named her living children: Joe Crigler, Mrs. Lydia Munford, Mrs. Louise Triplett, and J. L. "Proc" Crigler; and told that she went to school "just across the road from Bob Simmons', and Miss Pattie Pope and her brother Benjamin F. Pope were schoolmates; the last living members of that school.
Elizabeth was born 24 May 1844 to David and Sarah (Buckman) Henderson. She married John Lewis Crigler in 1860, and they reared a large family in Bullitt County. Elizabeth would see one more Christmas before dying on December 29th.
In the Clermont news column we read, "Our managing Forester, Mr. T. W. McKinley and foreman, Leyton Hodge motored to Louisville April 14 to see the opening game between the Louisville Colonels and Minneapolis."
In more railroad news, we read "We regret very much to hear of the L. & N. Railroad terminal being removed from Lebanon Jct. This is our largest town and has reported a population of from 1200 to 2000 which has grown to its present size as a result of railroad activities."
G. C. Logsdon was advertising his farm for sale; 50 to 60 acres, mostly cleared, good pasture and running water; good log house and good stock and tobacco barn; located next to both church and school on Cedar Grove Road.
The Lebanon Junction High School graduating class included Frances Mae Charleston, Virginia Rainey, Mildred Ludwick, Lula Harp, Madeline Hagan, Wilma Steele, William Sweat, Paul Sweat, Elmer Masden, J. T. Pipes Jr., Edward Thompson, John Johnson, Raymond Fallis, and Joseph Rexroat.
At Mt. Washington, 16 graduated including Cecil Bridwell, Dale Carrithers, Iverna and Susan Crenshaw, Fronie and Roy Crenshaw, Ina Fern Gentry, William Hall, Bessie Marie Harris, Doreatha Harris, Amelia Hayden, Corine Owen, Margaret Owen, Sallie Parrish, Dorothy Pound and Charles Swearingen.
And Mt. Washington was happy to welcome the "new and up to the minute" Standard Oil garage and filling station on Main Street next door to the Masonic hall. It would be operated by Patrick Pope, and Leo C. Harris will serve as mechanical manager. Pearl King and Nolan Mothershead did the brick work on the new building.
---
Copyright 2021 by Charles Hartley, Shepherdsville KY. All rights are reserved. No part of the content of this page may be included in any format in any place without the written permission of the copyright holder.
---