It Happened in May
The text below is taken from parts of four articles that originally appeared in The Pioneer News in July and August of 2020. It is archived here for your reading enjoyment.
---
We will be looking back 24, 50, 75, and 100 years to see what was being printed in The Pioneer News in 1996, 1970, 1945, and 1920 in the month of May.
1996 - 24 Years Ago.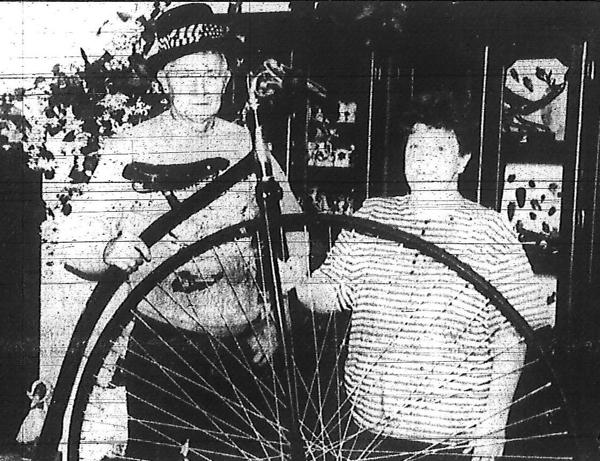 Carroll and Faye Arnold were pictured with one of their cycles as they prepared to ride in the Kentucky Derby Festival Parade. Carroll began riding a unicycle 30 years earlier before building his own high wheel cycle. At least 12 members of the family participate riding.
Dr. Charles T. "Chuck" Crume, noted naturalist and wildlife artist, died after an illness. He had taught at W.K.U., been a naturalist at Bernheim Forest, and gained a fine reputation with his wildlife prints.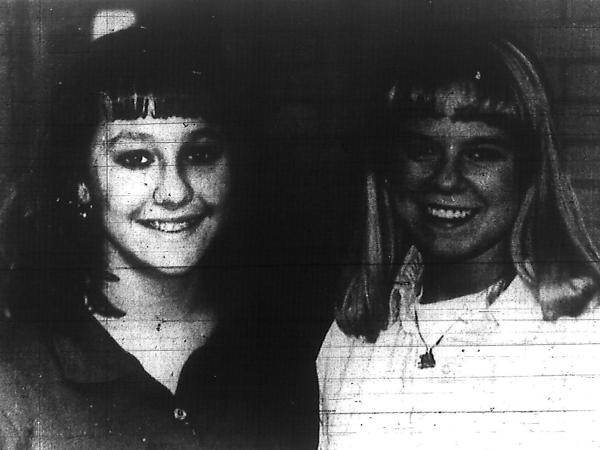 Amy Reid & Stephanie Melcher
Tae Kwon Do instructor Kevin Shellman led his students in a competition at the University of Louisville. Participants included Terry Holmes, Joe Swanson, Tim Miller, Mike Whitaker, David Pendleton, Ron Kuhn, Karen Kerman, Dana Reynolds, Seth Lentz, Jared Pendleton, Joe French, Art Redeman, and Justin Allen.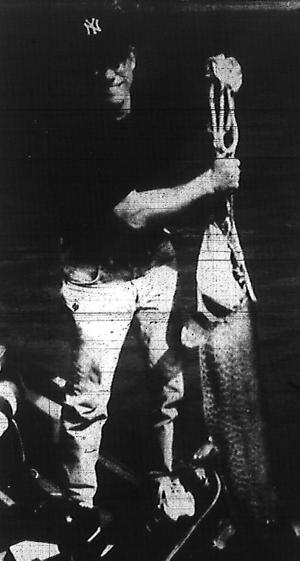 Bullitt East cheerleaders Amy Reid and Stephanie Melcher were part of the Gymtyme Senior All-Star squad that won a national competition in Dallas, Texas.
The Bullitt County Thoroughbreds included students from both Mt. Washington Middle School and the St. Aloysius School. This young group of volleyball players included LeAndra Chapman, Sarah Murray, Jessica Clements, Nicole Davis, Jamie Tabeling, and Heather Phelps from Mt. Washington, and Whitney Faust, Michelle Simon, and Jessica Simon from St. Aloysius. Their coaches were David Bryant and Mike Murray.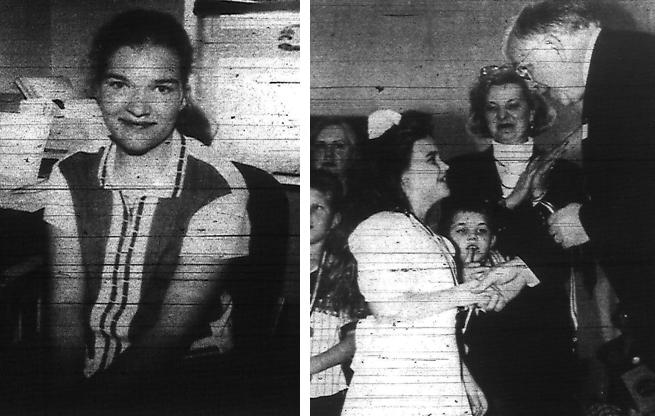 Staci Maynard | Ashley Holland
Barry MacDonald of Mt. Washington hooked a 33-pound Muskie at Dale Hollow on an 8-pound line!
Bullitt Central's Lady Cougar tennis team maintained their undefeated record with victories over North Bullitt. Winners for Coach Mary Ann Smith's team were Johnnie Newton, Stephanie Sollman, Jamie Clark, Tara Webb, Amy Doan, Leslie Baker, and Leigh Logan.
Kenneth and Virginia (Fowler) Lane of Lebanon Junction celebrated their golden wedding anniversary. Also celebrating 50 years were Edward and Edith (Howlett) Sears of Shepherdsville.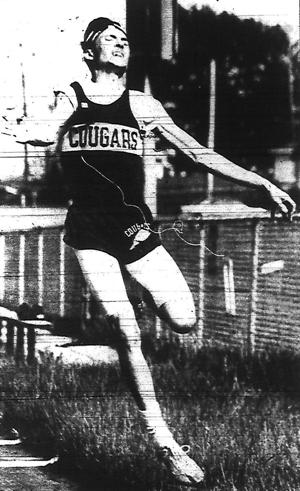 David Collins
Both Staci Maynard of Bullitt Lick Middle School, and Ashley Heather Holland of Nichols Elementary were state winners in the Young Author's competition.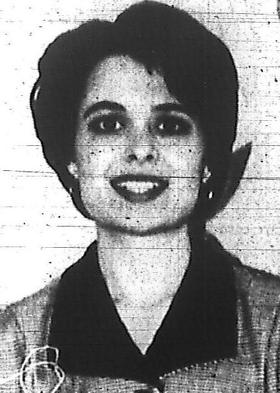 Eva Floyd
Eva and Chad Floyd of Shepherdsville, and Lee Kendrick and Margo Compton of Mt. Washington returned to the county as their Campbellsville Collegiate Chorale and Handbell Choir performed at the Pleasant Grove Baptist Church as a part of their spring tour. Senior Eva Floyd, an excellent pianist, was the principal accompanist for the group, as well as singing and playing in the handbell choir.
Eva was also selected as Miss Campbellsville University.
Led by Mike Clark, David Collins, and Chris Caudell, the Bullitt Central track team easily won the All-County Track Championship. Clark won both hurdles events and the 100 meter dash; Collins took the high jump, long jump, and triple jump; and Caudell performed well in the discus and shot put.
Four technical school students earned high marks in the VICA competitions. They included Amanda Leonhardt who placed first in Food Service Technology, Crystal Hayden who captured second in the regional level, Josh Miller who took first in Graphic Arts, and Jason Woodsen whose knowledge of Visual Communication Arts captured first in pin design and second in advertising and design.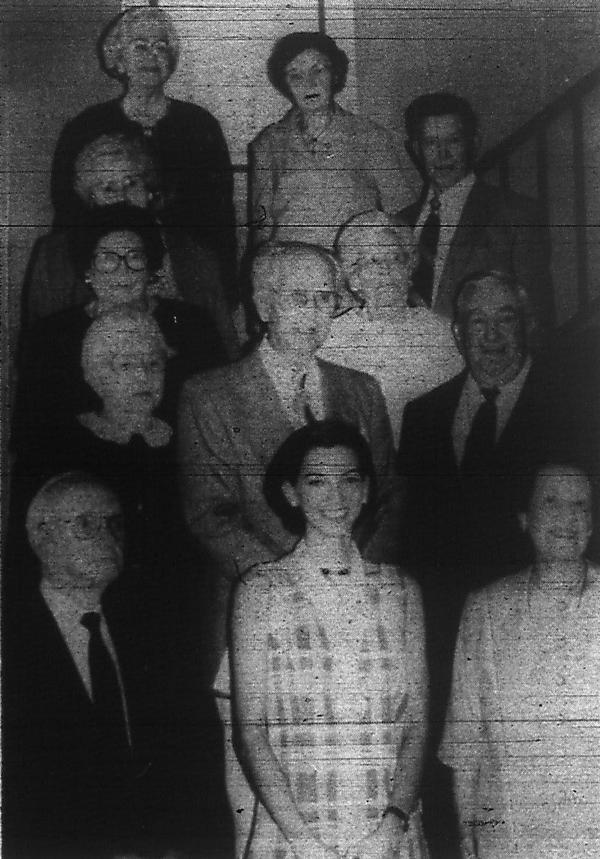 The Bullitt East Lady Chargers easily defeated Owen County 14-0 in the 8th Region Softball Semi-Finals at Carrollton with Amanda Duncan pitching a no-hitter. She had pitched a one-hitter in a district win over Spencer County.
Bullitt County Junior Miss Julia Sander joined in a photo opportunity (shown here) with the attending members of the S.H.S. Class of 1932's 64-year reunion.
Teachers Virginia Gunther and J.T. Underwood were present for the reunion.
Members of the class still living at the time of the reunion included Kathryn Harned Alderdyce, Robert Erman Becker, Eudora Evans Burns, Margarita Crenshaw Dunaway, Frances Cundiff Jobe, Tommy and Julia Joyce, Beulah Richardson Keifer, Frances Binford Lake, Margaret Riley Luvisi, Woodrow Masden, Esther Mann Myers, Homer Myers, Wanda Garr Rodgers, Rua Larimore Shouley, Eva Maraman Whittle, Burks Williams, Lounetta Stansbury Williams, and Ruth Spears Woosley.
Deceased members included Carl Burklow, Maudie Mathis Cundiff, Matilee Rice Hatfield, Blanche Stansbury Jenkens, Stanley Lee, Victor Lee, Louise Miller, Ollie May Dawson Mann, Sara Fay Lee Myers, Charles Ratliff, David Rhea, Charles Vernon Sanders, Russell Wheatley, Frank R. Whitman, and Lewis Earl Colvin.
And Principal Larry Belcher had previously kissed a pig, and sat on the school roof before this time taking pies in the face at Roby Elementary. But it was all for good causes; and this time the school was raising money for the Red Cross.
1970 - 50 Years Ago.
The local Senior Community Service Aides Project was able to match a number of senior adults as aides to various schools and community organizations. The staff of the project included Judge Arson Moore, School Superintendent Frank Hatfield, Delma Nusz, Rev. Douglas Wilson of Methodist Church, and Addison Schiefelbein. Through this project, Jody Younger assisted at the Public Assistance Office, Lucy Terrell at the Ridgway Library, Lillian Lowry at Roby Elementary, Nancy Skaggs at Brooks Elementary, Alice Lay at Shepherdsville High School, and Clora Sparrow with the Fellowship of Concern.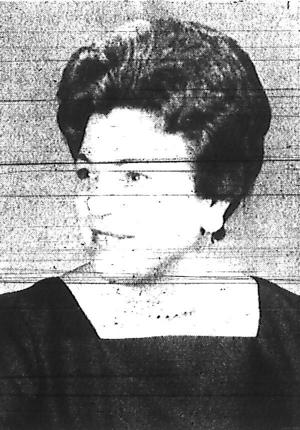 Mrs. Hartsell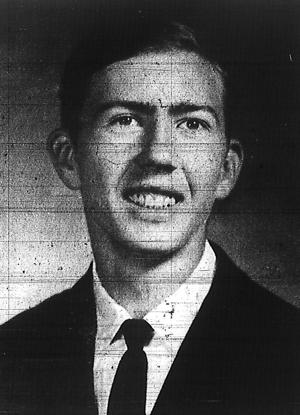 Robert Richardson
Mrs. Dorothy Hartsell and members of the Shepherdsville High School band provided a concert at Roby Elementary to benefit the Ridgway Memorial Library. Mrs. Hartsell provided a number of classical music pieces, while the band shared a number of familiar more modern tunes.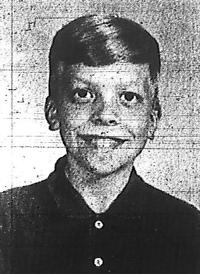 Gerald Muir
Tim Crumbacker, who won the 1970 Barry Watson Memorial Scholarship, played shortstop for the S.H.S. Rams. In a victory over Mt. Washington, he had two triples, and knocked in five runs, as well as making a circus catch. Tim joined Mike Phillips and Danny Perry as recipients of the scholarship.
Gerald Stanley Muir, a seventh grader at Lebanon Junction, represented his school at the North Central Kentucky Elementary School Spelling Bowl.
Robert Richardson of Shepherdsville High School was awarded the Bullitt County Parent-Teacher's Scholarship. Robert participated in sports (basketball, track, cross-country), and had a part in the school play. In church he sponsored a group of Royal Ambassadors.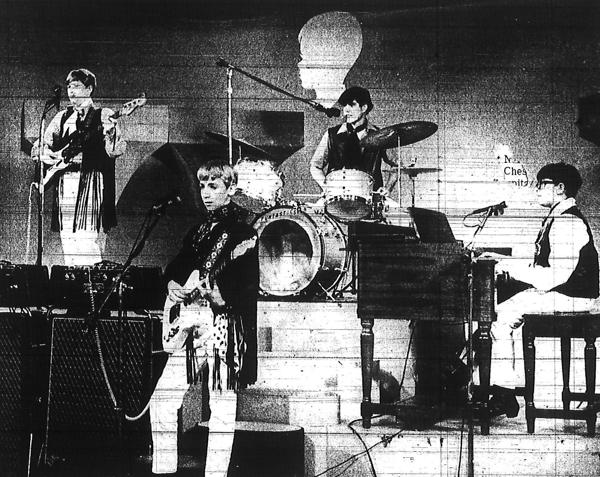 The Funtastics
In Mt. Washington society notes, G. K. Bass wrote that Mrs. Essie Roby hosted a Stanley Party at her home; that Vickie Ann Sprinkles was hostess at an outdoor barbecue at her home; and that Maylene and C. N. Tichenor hosted a Rook game at their home with her parents, Angeline and Louis Roby, and Paul B. and Margaret Roby.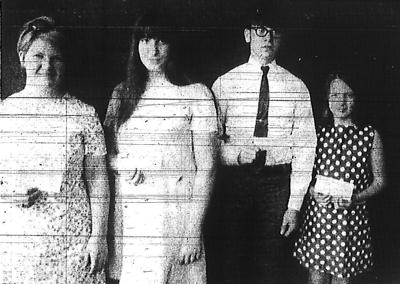 Music Poster Contest Winners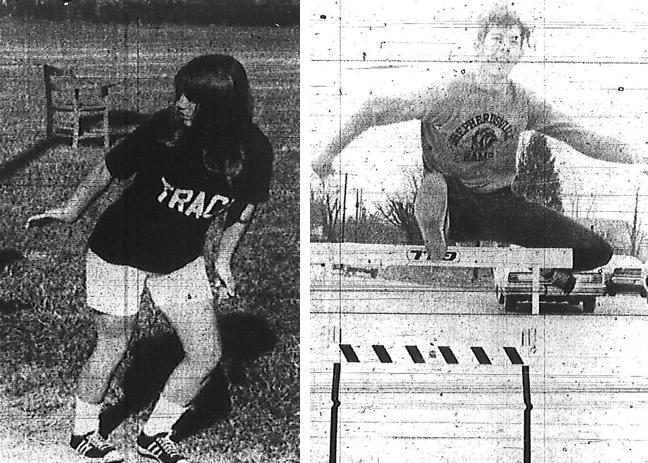 Judy Hilton | Ricky Sims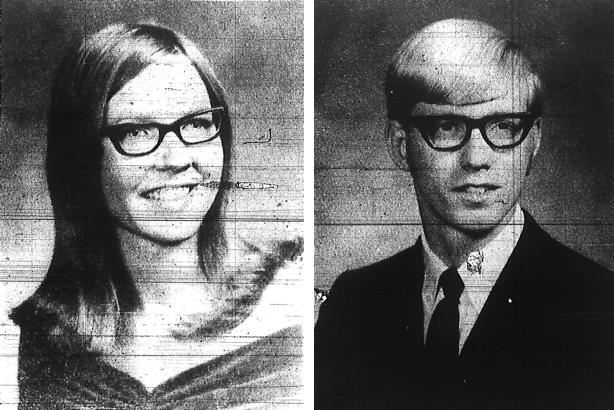 Teresa Bryan | Roger Cravens
The winners of the Woman's Club National Music Week Poster Contest were Karen Tracy and Edwina Cline of S.H.S., Tony Foster of Mt. Washington, and Cheryl Hunt of Brooks.
The Funtastics won the contest to appear on the Crusade for Children telethon. Their members included Phillip Keith, lead singer and lead guitar, Gary Myers on drums, Billy Hardy on bass guitar, and Curt Firkins on the organ.
We learned in the Personals column that a dinner was given in honor of Thelma Welch Mabey by Mary Bell Lee. Those present included Mrs. Hallye Hibbs, Mr. and Mrs. Lee Edgar Howlett and Ronald, Robert Howlett, Zelma Dever and Cathy, Martha Hickerson, Lillian Osborne, Edith Devore, Beulah Coakley, and Betty Larimore.
Judy Hilton, a Shepherdsville Junior, won the regional long jump, and was the first Bullitt County girl to go to the state competition. Joining her at state was Ricky Sims who won the region in high and low hurdles, and placed second in the triple jump.
Lebanon Junction Seniors Teresa Bryan and Roger Cravens were pictured in the paper, having earned college scholarships. Teresa planned to enter Catherine Spalding College and study nursing. Roger had a choice of either U.K. or Centre College, but attended Centre. His high school dream was to be a history teacher.
In the last graduating class of Shepherdsville High School, Elise Givhan was Valedictorian, and Michael Tatchell was Salutatorian. The remaining members of the top ten actually numbered ten more due to ties. They included Brenda Snellen, Carolyn Jackson, Donna Holt, Tommy Skaggs, Brenda Hall Burks, Brenda Lloyd Downey, Debra Lee, Marcia Leffler, Donna Walls, and Linda Hart.
Pete Nusz, Juanita Beghtol, and Jerry Myers were pictured in the paper as a result of scholarships they received. Pete, a S.H.S. junior, received a grant to participate in a summer program at the University of Kentucky Agriculture School. Juanita, a Shepherdsville senior, was going to attend Midway Junior College. Jerry, another senior, was to attend Kentucky's Agriculture School also.

Pete Nusz | Juanita Beghtol | Jerry Myers | Diana Moore
And "Tot" Moore's daughter, Diana was elected Chapter Sweetheart by the Kentucky Chapter of Farm House Fraternity at U.K.
1945 - 75 Years Ago.
The war effort continued on the minds of nearly everyone. And there was cheering when the paper's headline on May 11 declared that "All of Germany Surrenders, May 8th Proclaimed as V-E Day."

Dr. David Smith, who was a well respected veterinarian in Bullitt and Jefferson counties, died from complications of pneumonia. Before becoming a veterinarian, he was a blacksmith in Shepherdsville. His survivors included his widow Mrs. Lida Gruber Smith, a daughter, Mrs. Ruth Parrish, and three sons, Dave, Carl, and Alec Smith. David's parents, John and Isabelle (Murdock) Smith were both natives of Scotland.
Jennie Hibbs married T. J. Bolton in 1876, and they reared a large family. T. J. died in 1910, and his widow survived him another 35 years, dying at her Cedar Grove home near the end of April 1945. Surviving her were three daughters, Mrs. Mae Grant, Mrs. Nettie Ash, and Mrs. Cora Young, and three sons, Claud, Kennie, and Lee Bolton. Also surviving her was a sister, Mrs. Levie Swearingen of Shepherdsville, and a brother George Hibbs of Union County.
The Personal Column was always filled with the comings and goings of folks. P.F.C. Charles G. "Jerry" Bridwell, accompanied by his wife and little daughter, returned to California after a 15 day furlough with his parents, Mr. and Mrs. Arvol Bridwell. And Mr. and Mrs. "Pete" Trunnell and daughter, Sue, Misses Cora Ney and Margaret Hardy, Winston Hardy and Misses Martha Lee and Juanita Patterson were the guests of Mr. and Mrs. Owen Roby.
The column also reported that Mr. and Mrs. Dee Bergen and Mrs. Kenneth Tipton and son, and Mrs. Fletcher Hagan were guests of Mr. and Mrs. Leland Brickle and daughters of Frankfort on a Sunday.
Raise you hand if you remember the "Jukebox Ramblers." Its charter members were Billy Hill, Elizabeth Bealmear, Eleanor Moody, Arthur Lee Moody, Delores Settles, Marilyn Maraman, Jippy Hatzell, Edith Roby, Jean Barger, Mary Charles Smith, Bobby Zimmerman, James Hilary Hardy, Charles Fearnbach, Dick Pope, Harold Boyd, Adrian Jones, Virginia Williams, Mildred Ellegood, Boyd Carter, Joyce Carter, Kathleen Mattingly, Jack Duvall, Joan Higgins, Betty Jean Johnson, Billy Ray Snellen, Jane Ridgway, and Norma Jean Ridgway.
At their second meeting they were joined by nine new members: Neil Brooks, Clara Lee, Eva Lee, Albert McAhron, Betty Williams, Catherine Weller, Swearingen Weller, Jack Kahler, and Wilbur Raymond.
Dr. Paul F. Orr, the district health officer, wrote a column about the need in Shepherdsville for a modern sewer system. He began with these words: "There are 122 open surface privies, 20 septic tanks and 33 cess pools in Shepherdsville. On the other hand there are only 24 connections to a short inadequate sewer. There are no storm sewers, only open drainage ditches."
The family of Dr. Henry P. Beeler arranged a birthday party for him on his 73rd birthday. The entertainment was a string band of which Dr. Beeler was a valued part. The others included J. R. Ball, Frank Frick, Theodore Young, and Mr. Hukle and two sons. Dr. Beeler had been a practicing dentist until his eyesight failed him. This would be his final birthday party as he died in September.
The Hebron correspondent wrote that J. R. Ball had another birthday, and described him as "one of our indispensables whose life work is to create beauty for decay, build instead of destroy, as many attractive homes and barns, garages, poultry houses, etc. all over our own and adjoining counties are monuments to his skill and artistry."
I never had the honor of knowing this Joseph Robert Ball, but I have know his fine son and grandson of the same name.
1920 - 100 Years Ago.
The 1920 graduating class of Shepherdsville High School included Glacie Orms, Katie Melton, Margaret Combs, Cora Cash, Martha Lee, Ruth Smith, James Collings, Theodore Combs, Thomas Trunnell, Robert Barger, Dorsey Hecker, Tom Stallings, and Johnson Ash.
C. C. Weller, 88 years old, died at his home in Leaches. Surviving him were two daughters: Mrs. W. M. Stallings and Mrs. George Bradbury; and two sons: J. E. Weller and W. R. Weller. Mr. Weller spent much of his life as a farmer, but also served as a Justice of the Peace on occasion. As a young man he had been admitted to the bar.
The County School Board members, including T. L. Mattingly, H. M. Trunnell, E. Z. Wigginton, W. J. Leslie, and Ora L. Roby, advertised for someone to haul school children from Zion to Hays and from J. L. Quick's to the residence of the late William Foster near Shades. This was necessary because the Zion school had only 17 pupils, and the Chappell Ridge school had lost much of its district when Camp Knox expanded there.
Hugo Rouse, who had served as Circuit Court Clerk for about twelve years, resigned and was replaced by R. P. Smith who was appointed to serve until the next election.
The Victory correspondent wrote that Mrs. Arp Harmon was surprised when a lot of folks came to help her celebrate her 76th birthday. Those present included her children, Will Harris and family who reside with her, Mr. and Mrs. Henry Jones, Mr. and Mrs. Lem Swearingen, Mr. and Mrs. I. L. Jones, all from the Victory community, Mrs. Will Magruder and daughter of Deatsville, and James Harris.
It appeared that the town of Shepherdsville may have been slow in paying its light bill, as the Bullitt County Garage & Light Company advertised that "after the 16th, there will be no street lights unless the Town Board makes contract for same."
George Weller of Shepherdsville advertised "a good two horse spring wagon with pole or without or both and good set of harness in first class condition."
The Mt. Washington correspondent wrote that Mr. and Mrs. Wigginton, and Mesdames T. R. Parrish and Jennie Gentry were in Louisville, visiting Miss Mabel Parrish at St. Joseph's. They reported that she was improving nicely and was expected to leave the infirmary within the week.
A new set of school trustees were elected, including Arthur Ice at Shepherdsville; Dr. J. G. Dodds at Bardstown Junction; William Logsdon, E. L. Bradbury, and T. L. Coakley at Belmont; and R. C. Langley and R. A. Collings at Lebanon Junction. These would be the last elected trustees, as under the new law, the County School Board would appoint trustees in January 1921.
Catherine Griffin, daughter of Mr. William N. Griffin, of Shepherdsville, and Gabe Bealmear of Zoneton, son of the late Ben Bealmear, were married at the home of Mr. and Mrs. Roy Maraman, of Salt River, Saturday evening, May 15 . Rev. Henry K. Deacon, of the M. E. church performed the ceremony.
The editor wrote, "The bride has been one of the County's most successful teachers and is a most excellent young lady, while everybody knows and likes Gabe Bealmear."
The first teachers examinations for the year of 1920 and the first one sent out by the new State board were held in Shepherdsville in May. The following teachers were enrolled: Willie May Ridgway, Charles Hardesty, Neva Magruder, Zardetti Dawson, Mary Stallings, Martha Lee, Hallie Wise, Virginia Duvall, Claudie Duvall, Clorene O'Nan, Estelle Landers, Arla Allison, Mary Belle Howlett, Nettie Lutes, Ruth Smith, Agnes Wise, Fanny Belle Melton, Mrs. Margaret Sanders, Mrs. Mary Belle Crenshaw, Hallie Ellingsworth, Ora Lea Long, Bertha Trunnell, Lillian Thompson, Mary Weller, Augusta Dawson, Marge Redman, Lillian Wigginton, Thelma Lee, Eula Funk, Gertrude Forrest, Mrs. Ruby Perry, and Goebel Conner.
Lebanon Junction High School graduated four students: Augusta Dawson, Garnett Masden, Maymee Carter, and Ruth Masden.
---
Copyright 2020 by Charles Hartley, Shepherdsville KY. All rights are reserved. No part of the content of this page may be included in any format in any place without the written permission of the copyright holder.
---