It Happened in March
The following article by Charles Hartley originally appeared in The Pioneer News on 30 March 2015. It is archived here for your reading enjoyment.
---
We will look back 10, 20, 40, and 80 years to capture glimpses of what was happening in Bullitt County in each of these years. Today we will focus on the month of March.
2005 - 10 Years Ago.
Former state representative and retired educator Larry Belcher was selected by Bullitt Fiscal Court to lead the Bullitt County Joint Planning Commission. He replaced Daryl Lee who had retired.
Jimmy and Neva Milam, and Enoch and Rosa Cornett celebrated being married for 50 years. Nice milestone!
Kevin Bowen, Mark Cornett, Jacob Carter, Jacob Franklin, Nathan Owen, Zachary Paine, Andrew Wagner, were all part of Cub Scout Pack 333 of Kings Baptist Church as they were awarded the National Summertime Pack Award. Leaders included Nathan Owen, Carl Carter, and Jamie Franklin.
Easter Week services at First Baptist in Shepherdsville were to be led by different pastors each day. They included Deke Rigor of Shepherdsville Christian Church, Paul Hines of Eastside Baptist, Rev. David Naylor of St. Aloysius, John Vaught of Davidson Memorial Methodist, and Gary Hardin of First Baptist.
Mt. Washington Middle School's Math Counts team placed fifth among 28 teams in the Louisville area. Team members included Andrew Adkins, Matt Hardin, Sean Fowler, and Matt Okruch.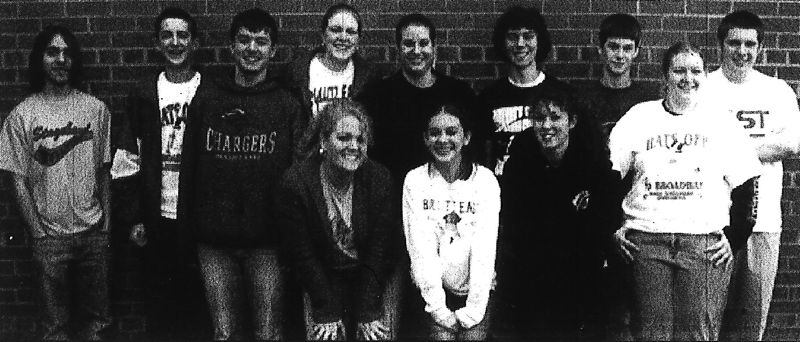 Twelve Bullitt East musicians were part of the State Honors Band. They included Lindsay Anderson, Lance Biddle, Bridgette Branham, Nick Brown, Ada Daugherty, Katrina Emberg, Tyler Hall, Beth Jacoby, Steven Kurk, Laura Mann, Adam Norris, and Spenser Smith.
Bullitt Central senior Sam Riley became the first local wrestler to ever medal at the Kentucky State Championships when he finished seventh in Frankfort.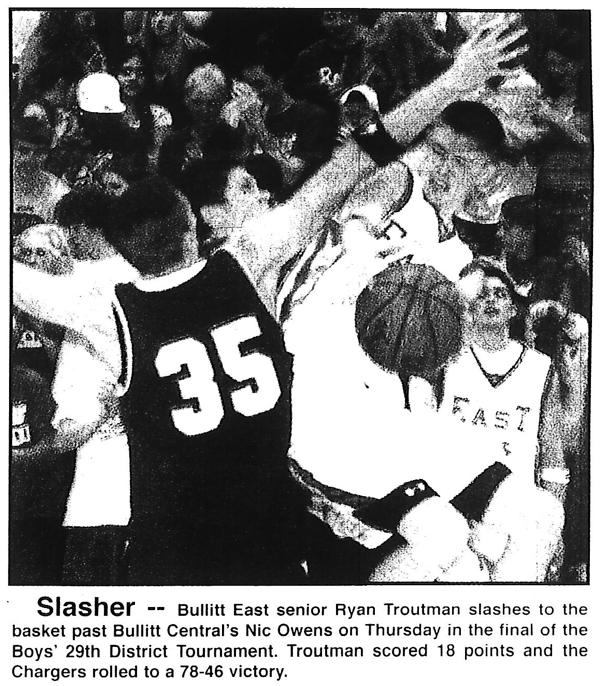 This was to be the last year that the Bullitt County schools were a part of the 29th District in basketball, and the paper printed several remembrances of previous tournaments.
Joe Barger remembered the 1958 tournament in which Daryl Lee made the winning shot in a big game.
The tournament was held at S.H.S. In the first game, John Conlin led the L.J. Bulldogs with 18 points as they defeated the Mt. Washington Generals 56-43. John Carnes and Jack Lloyd each had 13 for the Generals.
In the final game between S.H.S. Rams and L.J. Bulldogs the Bulldogs had a 9 point lead at the half. However, the Rams came back and Daryl lee hit a last second jump shot to tie the score. He was fouled, and scored the winning point when he hit his free throw. Jame Jones led the Rams' scoring with 24, and Joe Barger added 13. Pat Jenkins leg the Bulldogs with 20.
In the 2005 "last edition" of the 29th District tournament, Bullitt East swept both boys and girls' events.
In the 8th region tournament, Bullitt Central, 29th District runner-up, shocked Henry County in the first game, winning 82-69. The Cougars were led by Josh Jarboe with 30 points.
This was the high point for the Cougars, but not for the Bullitt East Chargers. They went on to win the 8th region, defeating Scott County 68-56 behind the scoring of Ryan Troutman (30) and Daniel Alcorn (23).
1995 - 20 Years Ago.
Kara Shoulders and Natasha Smith were pictured in the paper as part of Carolyn Campbell's art class at Roby Elementary.
Louise Bischoff's Zoneton/Hebron report sounded like a "sick call." Among those mentioned as either ill or getting better were Margaret Bell, Elizabeth Crumbacker, Pat Higdon, Coleman Robison, David and Juanita Frick, Lawrence Frick, and Dorothy Schroeder.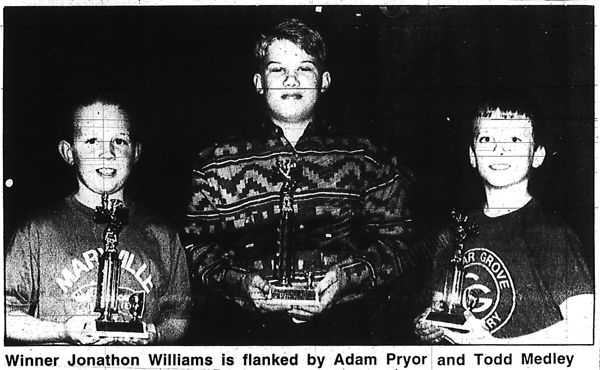 Lois Simmons' Pleasant Grove report was similar. Parlee Armstong fell and cut her arm. Mrs. Inez Manion, Mrs. May Bell Whitledge, and Mrs. Mabel Shoulders were all on the sick list. And Shirley Armstrong said his grandbaby Brandon was doing fine after eye surgery for tear ducts.
Lois did share that the Journeymen had their 16th annual concert at Pleasant Grove Church with a large crowd. Miss hearing those young men sing!
Jonathan Williams of Mt. Washington Middle School won the county spelling bee. Adam Pryor of Maryville Elementary placed second, and Todd Medley of Cedar Grove was third.
Five-year-old Shane Kalbhin knew just what to do when his mother fainted and hit her head in their kitchen. He dialed 9-1-1 and told the dispatcher that his mother needed an ambulance, and told where he lived. Dispatcher Mark Richardson said it was fortunate to get an address from someone so young.
Melody Beverly and Jeanette Branson were honored by the Peoples Bank of Mt. Washington for their service.
John Roberts wrote about Bullitt Lick Middle School seventh-grader Phoenix Freeman who would be spending three weeks in Australia as part of a People to People program involving U.S. youths as student ambassadors.
The Bullitt East Lady Chargers used a smothering defense to easily defeat Grant County 72-23 in the first round of the 8th Region tournament. They were led by Lisa Mason and Alison Bass, each with 14 points. Kelly Karnes added 12 to the total.
However, Lee Remington's 13 points weren't enough as East lost their next game to Oldham County 62-50.
Alison Bass and Lisa Mason of Bullitt East, and Tabitha Gibson of Bullitt Central all made the Eighth Region All-Tournament Team. On the boys' side, Tim Couch and Steve Mudd of East made that tournament's team.
The following students at Mt. Washington Elementary were winners in the Young Authors competition: Ashley Waddell, Justin Lowe, Brandon Ray, Steven Hunt, Ryan Cecil, Brain Figg, Cathleen Theiler, Larry Spray, Megan Eason, Courtney McMillin, Justin Hall, Bridget Spencer, and Leslie Davis.
And, did you go see and hear Randy Atcher at the Country Palace Music Show in Mount Washington? Bet you remember him from Hayloft Hoedown and the T-Bar-V show.
1975 - 40 Years Ago.
The newly formed Jaycees held their Charter Night banquet at the Best Western Motel with several honored guests including Judge Arson Moore, School Superintendent Frank Hatfield, State Representative Tom Givhan, City Judge Art Hartlage, School Principal George Valentine, and Roy Kulmer, a member of the Shepherdsville City Council.
The following officers were sworn in: Frank Smith, President; Richard Fetty, Internal Vice-President; Jim Simms, External Vice-President; Tim Meyers, Secretary; Ted Korfhage, Treasurer; Ken Fox, State Director; Danny Anderson and Pat McGruder, Directors; and Bob Fagan, Parliamentarian.
Gayle Troutman announced that he had purchased the McAfee Funeral Home in Mt. Washington. The funeral home would now become the McFarland-Troutman Funeral Home. Gayle, son of Vernon and Alberta Troutman, married Eleanor McFarland, daughter of Grigsby and Elizabeth McFarland.
Clara Simmons, the Pleasant Grove correspondent, wrote that "we are having our winter in March this year." Sound familiar?
She also reported that Mrs. Lilburn Robinson visited her sister, Miss Gladys Alcorn, over the weekend.
Mary Whitworth, Cedar Grove correspondent, wrote that Mrs. Meg Waters and Mr. Berly Jackson canned 114 quarts of potatoes last week.
She also wrote that Hugo Maraman treated his wife to lunch at the Kentucky Kitchen in honor of her birthday.
The Hebron correspondent wished a happy birthday to Mrs. Alberta Kinnaird who celebrated her 94th birthday in March. The correspondent also congratulated Mr. and Mrs. J. T. McGruder who were celebrating their 50th wedding anniversary.
Sherman Tinnell received an award for song lyrics he wrote titled, "She Hurts, But No One Can See."
Oretha Ridgway, from Nichols, wrote that Steven, Kenny, and Tracey Sumner stayed at Clarence Dawson's home for a week while the water was over their road.
Gladys Shepherd of Bullitt Lick reported that Stephanie Troutman has the mumps. She also said that Mr. and Mrs. Chester Shepherd had visited the Holy Land, and was to show slides of this at the Mt. Eden Church.
In an article about the Belmont community, we read that Mr. and Mrs. Lewis Etherton, life-long residents of the place, recalled the time there were four schools nearby: Zion, Hayes, Culver Springs, and the Belmont school. That building was still standing, and was being used as as flea market. It had closed as a school with grades 1-8 twelve years earlier.
Jim Troutman of Mt. Washington, who helped the Bullitt Central Cougars to a 10-1 season, signed a National letter-of-intent to attend Morehead State University.
Abby Jockell placed first in a model car contest at Hebron Junior High School. Randy Fox was second and Jody Fowler third.
Barbara Owen of Mt. Washington received the Irene Carroll Scholarship award. She plans to enroll at the University of Kentucky and major in Special Education. Previous winners of this scholarship have been Carolyn Coleman, Debbie Ray, and Vickie Caddock.
And Glenna Spratt, the popcorn lady, was recognized in the paper for her volunteer work at the Cedar Grove school. Can you smell that popcorn?
1935 - 80 Years Ago.
Miss Jennie Carpenter was chosen by the State Department of Education to begin teaching an adult education class for those who cannot read or write.
Upon the recommendation of the State, the following schools were to be merged beginning with the 1935-36 school year: Sugar Valley to Mt. Washington; Zoneton to Hebron; Hobbs to Clermont; Harned to Cane Run; and Victory, Pleasant Hill, and Woodsdale to Cedar Grove.
J.D. Buckman, clerk of the Circuit Court, and a graduate of S.H.S., was attending the Jefferson Law School in Louisville. The paper reported that he had recently been appointed a Kentucky Colonel by the governor.
The Shepherdsville High School debating team defeated Male High School 2-1. Millard Cundiff, Evelyn Masden, and Tommy Carroll were the S.H.S. debaters.
John Brachey was offering a $20 reward for the arrest and conviction of the thieves who stole 27 hens and 3 roosters from his hen house.
The Victory correspondent reported that Ralph Greenwell and family had moved to Mr. Allie Greenwell's place on the Ridge Road; and that Oscar Hilton had moved to Mr. Allie's place at Pleasant Hill.
The Mt. Washington correspondent wrote that Rev. Raymond Cornell and wife and Miss Stuart Troutman were dinner guests of Mr. and Mrs. Clyde Troutman at Smithville.
The Needmore Road correspondent shared that Adrain Jones, and Mr. and Mrs. George Clark were guests of Mr. and Mrs. Harley Procter.
She also wrote of the death of Mrs. Ellen Clark Ridgway who was born 1 May 1856 and died 18 Feb 1935. She had married Warren Ridgway in 1876, and they had 8 children, 4 of whom were still living: Mrs. Jess Alcorn, Mrs. Alfred Gibson, Ambrose and Levy Ridgway.
The paper reported the deaths of a mother and daughter on the same day. Mrs. Mollie Dever, wife of Robert Dever, died at 3 A.M. on March 5th. Her mother, Mrs. Bettie Troutman Mathis, died at 8:30 the same morning at the home of another daughter, Mrs. John Boes. Mrs. Mathis had been living with her sister, Miss Annie Troutman for several years.
The Salt River correspondent wrote that Miss Evalena Bergen spent a day with Miss Florence Tinnell; and that Mrs. Dee Bergen visited with Mrs. Cleve Masden.
In the personals column we read that Mrs. Fred Sipes of Gap-in-knob spent a day with Mrs. Minnie Pulliam; and that Mrs. Delbert Waggoner was ill with appendicitis at the home of her parents.
Also, Professor Russell, principal of the Shepherdsville School, had developed pneumonia.
Allard Armstrong was advertising his fine Black Percheron Stallion named Dude to stand stud at his place on the Shepherdsville-Mt. Washington road.
Lots of music going on at the Baptist Church in Shepherdsville. They reported four additions to their orchestra: Mrs. Eugenia Stansbury (pianist), Eloise Hardy (eb alto saxophone), Howard Holsclaw (cornet), and Harold Hardy (drums). Also, Emma Philpot, Eva and Ida Maraman, and Martha Jane and Helen Croan have joined the choir. They also have a young saxophone quartet composed of Eloise Hardy, Charles Magruder, Dortha Holton, and H. Evan McKinley Jr.
The Lebanon Junction correspondent reported that Miss Mary Quin Harned, who is taking nurse's training in Louisville, spent time visiting with her parents Mr. and Mrs. Fisher Harned, and her grandparents, Mr. and Mrs. S. P. Smith. She also reported that many children were still sick with the measles.
The Belmont correspondent wrote that Miss Estelle Bradbury spent the weekend with her parents, Mr. and Mrs. Will Bradbury. Estelle was attending school in Campbellsville.
Principal Russell reported that while the 29th district basketball tournament held at Shepherdsville was a financial success, unfortunately the local teams were eliminated in the first round.
And once again, fire claimed a building in Shepherdsville. It was an old two-story frame building in back of the Bullitt County Bank. The fire damaged parts of the bank and of the residence of T.C. Carroll as well. The destroyed building was owned by Jim Collings who had rented it to Harry Ashe who was operating a beer joint and restaurant there.
---
Copyright 2015 by Charles Hartley, Shepherdsville KY. All rights are reserved. No part of the content of this page may be included in any format in any place without the written permission of the copyright holder.
---