It Happened in March
The following article by Charles Hartley originally appeared in The Pioneer News on 26 Mar 2018. It is archived here for your reading enjoyment.
---
We will be looking back 25, 50, 75, and 100 years to see what was being printed in The Pioneer News in 1993, 1968, 1943, and 1918 in the month of March.
1993 - 25 Years Ago.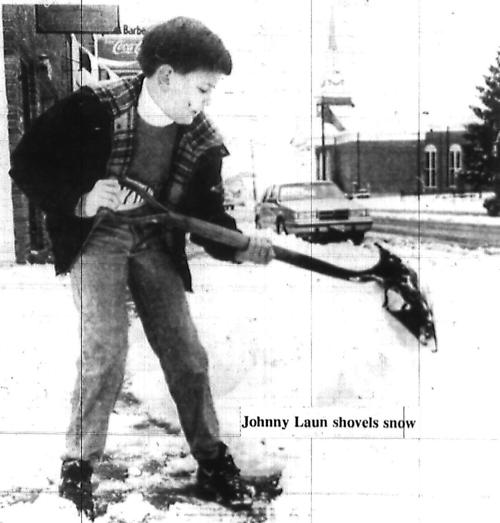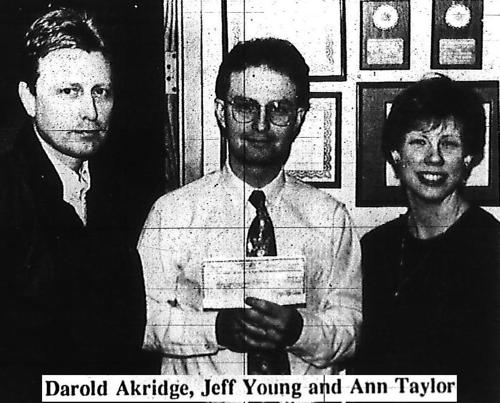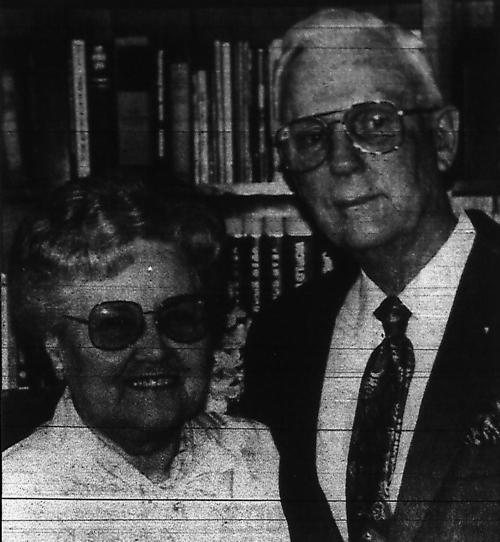 The Clarks
After a late snow, young Johnny Laun was pictured shoveling snow off a Buckman Street sidewalk.
The Bullitt East Lady Chargers captured their seventh victory in eight games, defeating Oldham County 75-61 behind Alison Bass's 32 points. Kristy Hardman added 12, and Monica Reed 13 in support. The team played again the next evening against Jeffersontown, winning 59-55. Charger scoring included Bass with 14, Carrie Johnson and Michelle Simms with 11 each, and Hardman with 9. This improved East's record to 23-4 on the season.
Later in the month Bullitt East's boys' team won the 29th district tournament, defeating Bullitt Central 86-68. East was led in scoring by Kerry Hollifield with 24, followed by Eddie Hunt with 17, Mike Sims with 13, and Scott Collins with 10. Central scoring was balanced, with Bryan Bates collecting 17 points, Jimmy Westwood and Jason Post had 16 each, and Craig Shuffitt adding 12.
Coach Bill Schott of the Cougars announced his retirement after 17 years at the head of the Bullitt Central program.
Meanwhile the Lady Chargers continued their winning ways by defeating North Bullitt 66-36 to take the district title. Monica Reed led East's scoring with 20, while Kristy Hardman and Alison Bass each collected 14. North was led in scoring by Trudi Beard with 15.
Darold Akridge, Jeff Young, and Ann Taylor of the Bullitt County Extension Office were pictured along with an article about radon detection.
Milton and Mary Clark celebrated fifty years of marriage on March the eighth. They went to school together in Mt. Washington, but did not get married until he was serving in the Coast Guard in Seattle. She retired from teaching in the Bullitt County schools in 1983, and he retired from teaching carpentry at the Elizabethtown vocational school two years later.
Gerald Tamme was appointed mayor of Lebanon Junction following the resignation of Gene Bryan. Tamme had been mayor of L.J. from 1972 until 1989.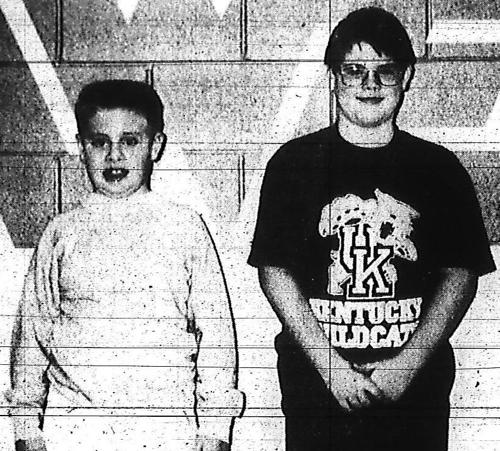 Jason Thompson and T. J. Thomas were pictured in the paper as winners in the spelling bee at Mt. Washington Elementary School.
And Jerry and Pauline Hawkins rescued B.J. after a vicious storm, and later found that he imitated the telephone ring very well. You see, B.J. was a Bluejay who had just hatched out of his egg when the nest was knocked to the ground. Jerry found him and together they cared for him as he grew up. B.J.'s telephone ring imitations fooled a lot of folks it seems.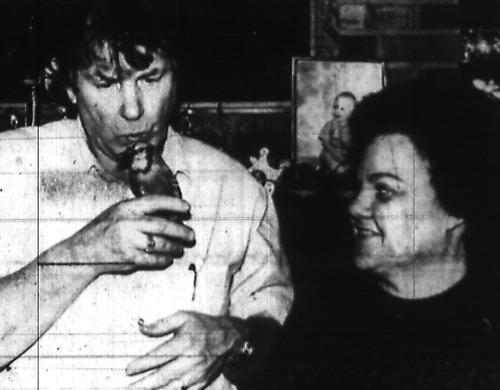 1968 - 50 Years Ago.
Sam Hardy, Red Cross Campaign Chairman for Bullitt County, announced the following workers as campaign leaders: Dr. Norman Troutman, Billy Howard Smith, and Jim Bunce in Shepherdsville; Mrs. M. S. Daughtery and Mrs. Eugene Kirsh in Lebanon Junction; Mrs. Gale Troutman in Mt. Washington; Mrs. James Lanham, and Mrs. Roy Troutman, also in Shepherdsville; J. D. Garr in Zoneton; Harold Trammell in Brooks; Mrs. Ronald Thompson at Nichols; Mrs. Eva Fernback at Clermont; Miss Anna Faye Dawson at Bardstown Junction; and Mrs. Sue Logsdon at Belmont.
Circuit Court convened in March with the following individuals serving on the Grand Jury: Leon Grigsby, Hubert L. Clay, Ray W. Edwards, Margaret Stout, James S. Cruise, Gladys Shepherd, Bryant Harris, Garner Dooley, Harold Seay, Marvin Dawson, Elizabeth Bridwell, and Robert Crady.
Citizens selected to serve on various petit juries included Judson D. Garr, R. Lee McAfee, Vernon A. Edmonds, Sterling Fisher, Isaac H. Hines, William C. Greenwell, Marvin Masden, John Isgrigg, Sr., Birdie Lee Moore, Albert Bowman, George T. Neighbors, Mack Holt, Richard B. Cundiff, Mary Ellen Bivens, Frank Scroggins, Lillian Stallings, Homer Myers, W. B. Charlton, Bryant Crenshaw, Lyndol Nutt, Henry E. Hasty, Carroll T. Korfhage, H. Saumel Houck, Ray Brasher, Acie L. Moore, Ernest L. Thomas, Marvin C. Crenshaw, Lewis L. Simmons, Jene Martin, and Jeane P. Chancellor.
The Circuit Judge was William R. Gentry; Commonwealth Attorney was Shelby Howard who was assisted by County Attorney Thomas B. Givhan and Circuit Court Clerk Nancy Strange.
The Hebron correspondent reported that Mr. and Mrs. John Meyers spent a Saturday at Rough River getting their cabin in order for summer vacation. She also reported that the Hebron Church folk had begun a six week study on the Gospel of John. (Sound familiar, George?)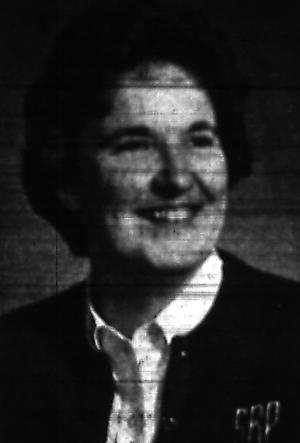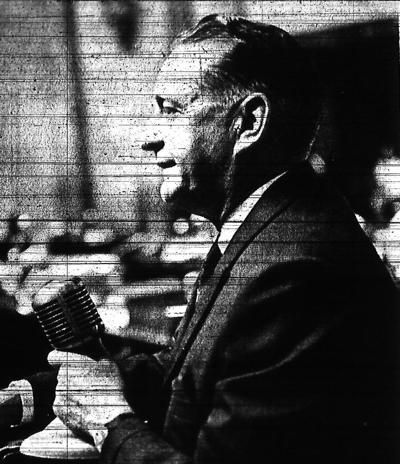 Sue Powell and Leo Bleemel
The S.H.S. cheerleaders took first place at the 8th region tournament and were participating in the State Competition at Freedom Hall. Members of the squad included Carol Korfhage, senior and captain, daughter of Mr. and Mrs. C. T. Korfhage; Karen Cundiff, senior and captain, daughter of Dr. and Mrs. M. J. Cundiff; Pat Hodge, senior, daughter of Mr. and Mrs. Irwin Hodge; Brenda Heath, junior, daughter of Mr. and Mrs. William C. Heath; and Sheri Mullins, sophomore, daughter of Mrs. and Mrs. Edgar Mullins.
Mrs. Sue Powell was selected as chairman of the Easter Seal Drive.
State Representative Leo Bleemel, of Mt. Washington, was pictured at work in the General Assembly.
Mrs. Lanham of Cedar Grove reported that Annie Bolton celebrated her 80th birthday at the home of her daughter, Mrs. Clifford Bell. Guests present included Mr. and Mrs. Humphrey Jefferies, Mr. and Mrs. Enock Webb, Tommy Bolton and son, Mr. and Mrs. Jack Grant, Mr. Bob Grant, Mr. and Mrs. Joe White, Mr. Hubert White, and Mr. and Mrs. Matt Bleemel.
In Lebanon Junction news, varsity players Merrell Coleman, Edgar Sullivan, and Kevin Miller were named to the All-District team. Also Karen Shaw, a senior at L.J.H.S. won the Betty Crocker Award.
Also, the Junior Class presented a comedy entitled "Off the Track" with a cast that included Danny Meadows, Kevin Miller, Donna Hart, June Halk, Sadalia Samuels, Christine Hoagland, Rosalie Moutardier, Danny Thurman, Bennie Hartlage, Stanley Hefley, Denealta Etherton, Glenda Booth, and Rita Mattingly. Lee Nalley was state manager; Carolyn Travis was prompter, and Mrs. Hattie Halk was director.
And Sharon Fischer, a junior at S.H.S., appeared on WAVE-TV's Morning Show, representing the F.H.A. Sharon, a daughter of Bill and Mary Fischer, was also an active Candy Striper at St. Joseph Infirmary.
1943 - 75 Years Ago.
Shepherdsville High defeated Willisburg 34-30 to advance to the semi-finals of the regional basketball tournament before bowing to Campbellsville 40-38. Harold (Goat) Dawson made the all tournament team. Jimmy Hardy was tied with three others for the final spot on that squad, but lost out on a coin toss.
Virginia Bergen, daughter of Mr. and Mrs. Dee Bergen, and Kenneth Tipton of Shelbyville were married in Louisville.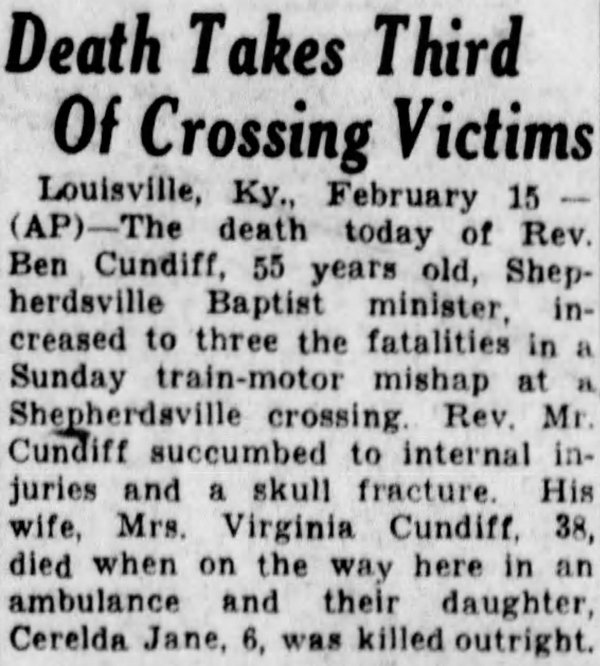 The Cincinnati Enquirer
, Tuesday, 16 Feb 1943
Private Fletcher Hagan of Memphis, Tennessee was home on a furlough; as were Private Hillary (Buddy) Hatfield, PFC Theodore Harris, and S-Sgt M. D. (Buster) Rodgers.
The Salt River correspondent wrote, "Everything sold well at the Cundiff sale. We still miss these good neighbors. It will be something we will long remember just how they were killed." She was referring to Rev. Benjamin H. Cundiff, his wife Virginia, and their daughter Cerelda Jane who were killed when their car was struck by a train at the Highway 44 intersection in February.
Rev. Cundiff was brother to Mrs. Mary Stansbury of Shepherdsville, and had five brothers, George, Will, Harve, Arthur, and Walter of Belmont.
The March 26th paper reported that the county had experienced its worst flood since '37 with the crest at Shepherdsville reaching 35 feet, 10 inches, making it about equal to the 1884 flood. The report said that the river flooded more than 30 homes and 12 businesses before receding.
And the paper reported that Luke Briscoe was killed in action in North Africa in February 1943, and indicated that he was the husband of Dora Montgomery Briscoe. A bit of digging turned up some interesting information about the Montgomery family.
Dora's parents were Mont and Ezra (Dugan) Montgomery of Lebanon Junction, and she had a number of brothers and sisters. Of these, her brother Charles was a sailor aboard the U.S.S. Quincy when it went down in the Battle of Savo Island in August 1942. He was listed as M.I.A. for many months before being declared deceased by the navy.
Dora's brother Louis was a radioman in the South Pacific. Her brother Dugan was an Army Air Force radio instructor, and another brother Jack had joined the F.B.I. before the war began.
In a newspaper report in December, it was stated that Dora's sister Ann was a student nurse at St. Joseph's Infirmary, and intended to go into the navy. And their sister Mary Rose was a printer third class in the Waves, stationed in Washington.
Dora herself joined the Wacs, after giving blood multiple times, for the war effort. She met and married John C. Jones in 1944. They were stationed at the Malmstrom Air Force Base in Montana until his discharge in 1962. They lived in Great Falls for 20 years before retiring to Lebanon Junction in 1982. Dora passed in 1997, and John followed a decade later. I'm sure folks in Lebanon Junction remember them.
1918 - 100 Years Ago.
R. E. Lee's step-son Ira Wallace died at his home near Shepherdsville of tuberculosis. He was only 21 when he died. According to the paper, as a youth he sold the Louisville newspapers in town, and later worked as the night operator at the telephone exchange.
The Shepherdsville Normal Class began with the following participants: Edyth Clark, Edyth Howlett, Maggie Wise, Mollie Roby, Effie Johnson, Eula Funk, Georgia Whittinghill, Theodosia Westerfield, Bertha Wallace, Pearl Laswell, and one or two others, not named.
Dr. Roscoe I. Kerr bought a new auto. So did Sheriff Croan.
Dr. S. W. Johnson, a former Bullitt County boy, wrote a nice letter to the editor about his travels. According to the paper, Dr. Johnson was currently the mayor of Sullivan, Illinois.
The Salt River column reported that John Boes had moved to Leslie Masden's place, where Jimmie Greenwell lived, and Jimmie had moved to the place he bought from Wilfred Lee, just across the road.
Folks continued to visit with Howard Maraman as he tried to recuperate from his train wreck injuries. Among those who came to visit were Mrs. H. W. Weller, Ernest Hodge, John Buckman, and several of his Maraman kinfolk.
A variety of news was shared in the Personals column. For starters, and I quote, "Tom Hibbs thinks he is bigger than anyone just now." Not sure what that meant. Also, Miss Sue Pope and Miss Sallie B. spent a day shopping in the City. And John Nicholson, J. D. Moore, and J. T. Ferguson of Cupio spent a day in Shepherdsville.
In Mt. Washington news, we learned that Misses Elsie Reed and Mabel Chowning of Louisville spent time with their grandparents, Mr. and Mrs. Pate Wigginton over the weekend. Also, Mrs. Elizabeth Parrish, age 83, was dealing with what everyone hoped was a light attack of pneumonia.
Also in Mt. Washington, Marion Rouse, age 16, died from complications following an appendicitis operation. She was a daughter of Mr. and Mrs. Herman Rouse.
H. S. Porter of Bardstown Junction had a gray percheron horse for sale. It stood 17 hands high, was kind and gentle, and a good breeder.
In the Mt. Washington road community, Albert Fisher and his wife provided dinner for the following guests: Mr. and Mrs. Claude Owen, Mr. and Mrs. Pearl King, Mrs. Mary Fisher, Charles K. Fisher, Mrs. Elizabeth Owen, and Edward Owen and his family.
That columnist also reported that A. F. Owen had LaGrippe. This was another name for the so-called Spanish Flu that was reaching epidemic proportions in 1918.
With the war effort continuing, government administrators were setting prices that merchants could charge for various foodstuffs. Sugar was 10 cents a pound, potatoes were 15 lbs. for 55 cents, and navy beans were 20 cents a pound.
And George W. Maraman and sons, who owned the old American Hotel for some time, began tearing it down to put up a brick building on the site to use as an implement house and storage room.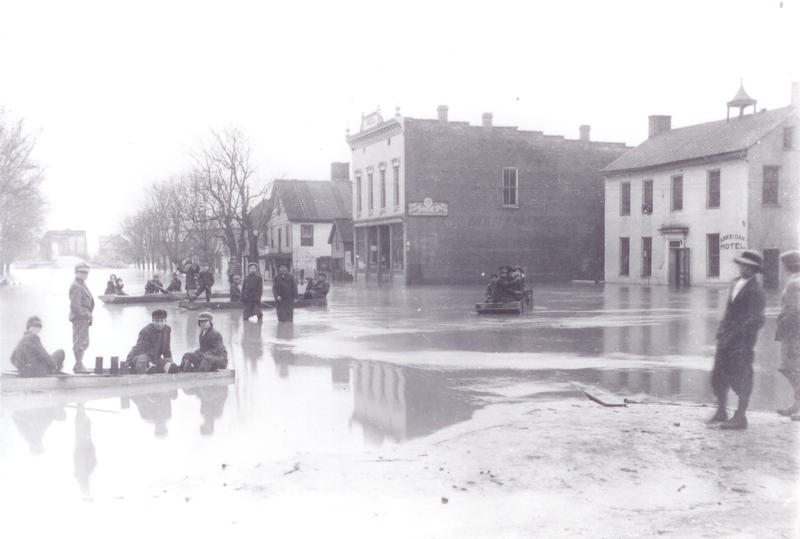 1909 Flood. American Hotel is white building on the right side of photo; Maraman Store to its left.
---
Copyright 2018 by Charles Hartley, Shepherdsville KY. All rights are reserved. No part of the content of this page may be included in any format in any place without the written permission of the copyright holder.
---