It Happened in March
We will be looking back 20, 40, 60, 80, and 100 years to see what was being printed in The Pioneer News in 2002, 1982, 1962, 1942 and 1922 in the month of March.
2002 - 20 Years Ago.
It was March, and Sports Editor Mike Farner was busy covering the basketball tournaments.
He wrote about the Bullitt East coach Bob Blackburn who coached his team to a district championship victory over Bullitt Central despite suffering with the flu. The Chargers were led by John Stover with 20 points in the 55-46 victory. Also contributing in double figures were Dusty Lewis and Travis Kotheimer with 10 each. The Cougars' scoring was led by Todd Spencer with 13 and Herbie Rowe with 12.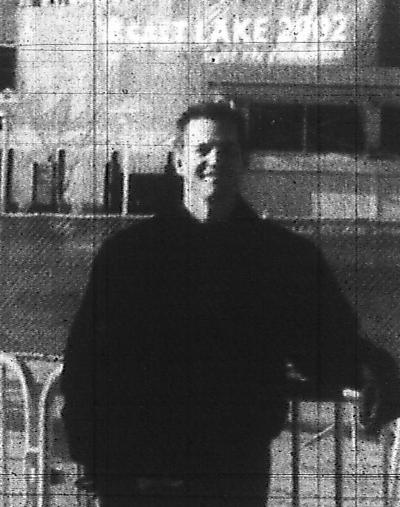 Rick Taylor
The Bullitt Central Lady Cougars were more successful with a 55-47 victory over Spencer County to take their district championship. This was a big upset, as the Spencer County team had won their first two encounters.
Going into the game, Coach Christy Coulter had called for her seniors Ashley Reynolds, Krista Yocum, Tiffany Allen who scored 15 and Erin Culver who scored 14 to step up and lead the team to victory, and they did.
Shepherdsville native Rick Taylor played a unique role in the Winter Olympics as a dancer in the opening ceremony where the Bullitt Central graduate played a dancing, enchanted tree.
Members of the Campbellsville University Handbell Choir, including Bullitt Central graduate Becky Beasley, performed at the First Baptist Church in Shepherdsville.
In elementary school academic competitions, Bullitt County's schools were divided into three districts. In the first district, Brooks Elementary was the overall winner with Cedar Grove placing second.
Winners in that district included Carter Sibley of Brooks in math, Brent Hale of Cedar Grove in science, Crystal Perkins of Lebanon Junction in composition, Michael Wilson of Roby in social studies, Megan Riley of Roby in language arts, and Autumn Allen of Brooks in general knowledge.
The Brooks future problem solving team of Krista Hefty, Carrie Wohleschlegel, Christina Dilley, and Katie Brannon won that event. In quick recall Cedar Grove's team of Patrick Thorne, Joanna Crise, Tanner Greenwell, Brent Hale, Garrett Fowler, Craig Spriggs, and Jake Veatch placed first.
In the second district, Overdale placed first with Nichols coming in second.
Individual winners included Chelsy Clark of Overdale in composition and also in social studies, Addison Thomas of Maryville in general knowledge, Krystine Patenaude of Nichols in language arts, Eric Kuchenbrod of Overdale in math, and Tyler Finley of Nichols in science.
Nichols won the quick recall event, and Overdale took first place in future problem solving.
In the third district, Mt. Washington Elementary placed first and Old Mill placed second.
Individually, Brandon Nidiffer of Pleasant Grove won the composition event, Sean Fowler of Mt. Washington took the general knowledge category, Other first place finishers included Matthew O'Kruch of Old Mill in science, Taylor Pickett of Old Mill in math, Tyler Foster of Pleasant Grove in language arts, and Alex Nutt of Mt. Washington in social studies.
Old Mill won the quick recall competition, and the Mt. Washington future problem solving team of Jordon Nutt, Jeffrey Smallwood, Lauren Smith, and Megan Willey took that event.
Bullitt County natives Amy Hettinger and Traci Rupard had singing roles in the Bardstown Community theatre production of Kiss the Boys Goodbye.
Susan Brashear was the only Bullitt County participant in the Old Kentucky Home Festival of Quilts. Her entries included an antique quilt she inherited from her great-great-great grandmother.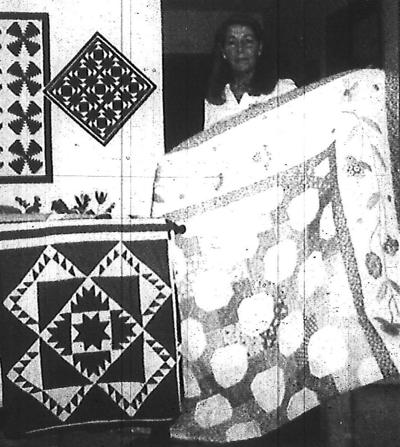 Susan Brashear's Quilts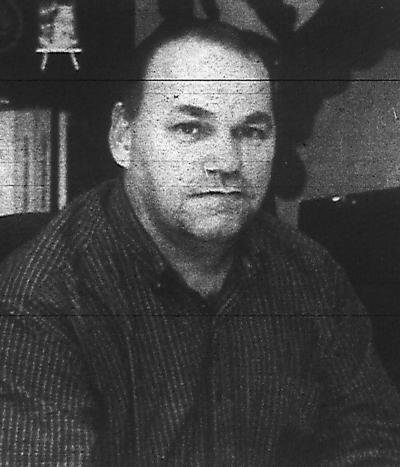 Bruce Johnson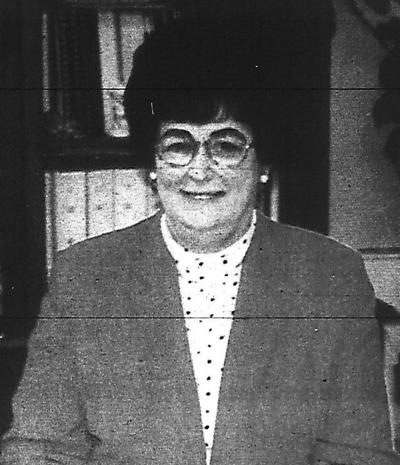 Rhonda Keith
It's interesting to note that Bruce Johnson was taking over the PVA job with Rhonda Keith's retirement.
And Carl Curtsinger, a former Pioneer News employee, was named 2002 Employee of the Year by Baptist Hospital East.
1982 - 40 Years Ago.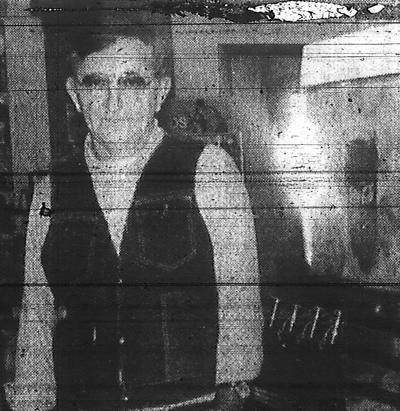 Bill Beeler
June Harrington wrote a nice piece on Beeler's Pharmacy in Lebanon Junction, the store that "could float out of town on root beet sales alone." She interviewed the owner Bill Ament Beeler and learned that his grandfather A. J. Beeler had begun the business in 1898 in Eastview, Kentucky, moved it to Leitchfield for a time, and then to Lebanon Junction in 1922. The first Lebanon Junction store was built near the railroad tracks and remained there for 38 years before moving in 1960. Bill Ament started working in the store when he was 12. He and his wife Jane had four daughters, Ann Maria, Ellen, Johanna, and Margaret; and hoped that some of them might take over the store soon so he could enjoy some vacation time.
Bo and Gail Prosser and their children Jamie and Katie Beth were leaving Shepherdsville and their work at Shepherdsville Baptist Church for Georgia where Bo would continue his work in a church there.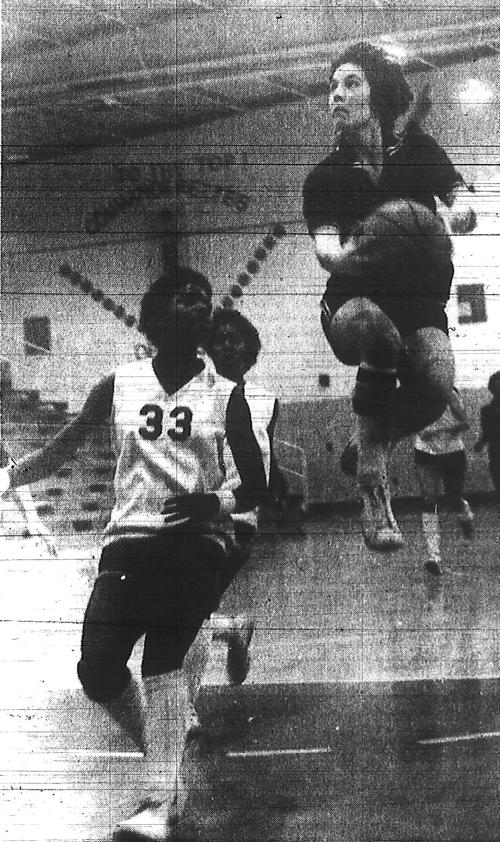 Rosanne Conlan
Helen Jones, Doris Armstrong, Ruth Moore, Adrian Jones and Ruth Payton were all winners in Melton's Food Market's $100 grocery give-away.
Elizabeth Worley of Lebanon Junction congratulated Pam Weed for winning first place in both ceramics and Christmas decorations in the Cultural Art Contest for Bullitt County.
Rosanne Conlan took over the all-time lead in points and assists for Bullitt Central's Lady Cougars, breaking the records of Stephanie Falk and Cliffa Foster.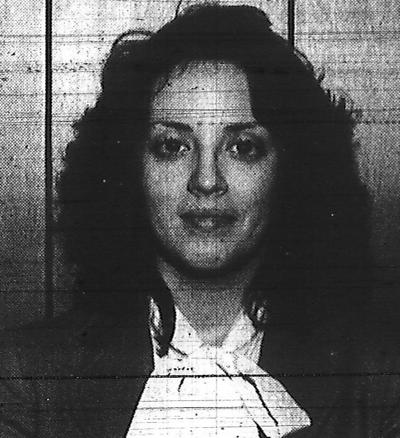 Lisa Ann Capps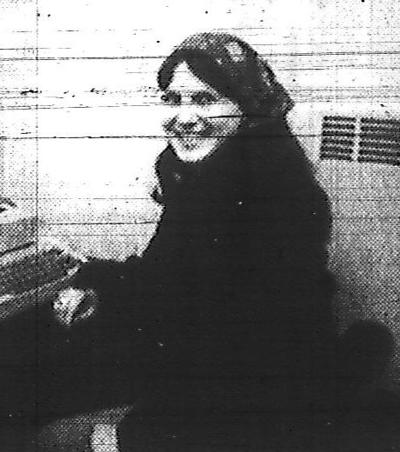 Carol Meadors
Grace Elden, in her Shepherdsville column, congratulated Robert and Anita Beasley on the birth of their daughter, Rebecca Mae.
Lisa Ann Capps, daughter of Mr. and Mrs. James E. Capps, was named one of Western Kentucky University's outstanding campus leaders in the 1982 edition of "Who's Who in American Universities.
Jan Porter Grigsby received an award from KASA for her administrative work in the Bullitt County School System. She credited her mother Nell Porter for much of her success.
Libby Faw and Randy Holt joined the staff of Brooks Baptist Church; Libby as education minister and Randy as music minister.
And the Baptist Church in Lebanon Junction welcomed a new minister of music, Dennis Phillips and his wife Elissa.
I wonder if any of the students in Mrs. Reesor's Business Law class remember the mock auction by Lavon O'Dell?
In the "Around Nichols" column we learned that Carolyn Sander, Bernice Blakely, June Dawson, and Marlene Abell attended PTA Legislative Day at Frankfort and had lunch with Rep. Frank Smith.
Mrs. Carol Meadors was pictured in the paper in honor of her volunteer work at Roby School. She and her husband Terry had two childern, Christopher and Phillip.
Janice Trowbridge was chosen basketball homecoming queen at North Bullitt. Her escort was senior basketball player Larry Woolridge.
Ellen Napier, president of the Bullitt County Woman's Club, presented a check to Ray Smith for the Bullitt County Close-Up program which sends high school juniors on a trip to Washington, D.C. for a study of the nation's capital.
And a wedding was held by the Family Living classes at Bullitt Central as part of a lesson in wedding preparations. The lucky [pretend] bride and groom were Lisa Braughard and Jeff Brewer.
1962 - 60 Years Ago.
Nancy June Dawson was the winner at St. Benedict School in the knowledge and attitude test at her school in the Betty Crocker Search for the American Homemaker of Tomorrow contest.
Mrs. W. A. Hessey, the Mt. Washington correspondent, described the wedding of Miss Shirley Lewis, daughter of Mr. and Mrs. Marvin Lewis, to Mr. Roy Vernon Cornell, son of Mr. and Mrs. William Cornell.
She also reported that Mrs. W. O. Anderson, Mrs. Janet Tinsley, Mrs. Janice Porter, Mr. Anthony Devoto, and Mr. and Mrs. Amos Brown all received certificates of achievement at a civil defense adult education class taught by Miss Joyce Farmer of Shepherdsville.
Mrs. Joe Hedges, the Sunnyside News writer, reported that Sharon Bishop and Rebecca Sample were over their cases of measles. She also reported that Mrs. Christina Whiteman was feeling well enough to go shopping at Bacon's.
Bill and Mary Fischer advertised that fresh bakery goods were available daily at their Shepherdsville grocery next to the ice house. They would go on to build a very successful sporting goods business further north on Buckman Street.
Members of Boy Scout Troop 132 of Lebanon Junction visited the Patton Museum at Fort Knox. Included were Larry McCubbins, Jackie Williams, Tony Roberts, Ted Murray, Bobby Tracy, Gregory Bryant, Leonard Ice, Dennis Whitehouse, Darrel Mann, Roger McCubbins, Bobby Mullins, Gary Rexroat, Edgar Sullivan, Wayne Doan, Elbert Lee Davis, Harold Davis, Dennis Fleming, Roger Smith, Gary Wilson, Tim Fleming, Gary Whitehouse, and Douglas Roberts. James Wilson was their scoutmaster, and Kenneth Daughterty was the assistant.
Ethlyn Mae (Maraman) Crenshaw died in late February. Born in May 1873 near Shepherdsville, the daughter of Charles and Sue Henderson Maraman, she was the widow of J. Ewing Crenshaw who had died in 1932. Her siblings included Mrs. Sallie Masden, Mrs. Gertrude Masden, Mrs. Josie Foster, Will Maraman, and James Maraman.
The Shepherdsville 4-H Teen Club members visited the home of Miss Mansfield, a missionary to India, for a program about that land. Present were David Williams, Jimmy Poppell, John Lee, Francis Parker, Jimmy Dawson, Martha Jane Hickerson, Linda Light, Sammy Edwards, Becky Becknel, Bill Becknel, Janie Robards, Melvin Wheatley, Larry Magruder, Janet Myers, Judy Robards, Linda Howell, Steve Plenge, Nan Williams, Charles Williams, Mrs. Pauline Willliams and Mrs. Warren.
The flag flown from the Shepherdsville High School's staff was donated by Lindsay Jones as a memorial to his brother, Robert "Dutch" Jones who graduated from the school in 1925.
Myra Williams of Mt. Washington High School, Lois Anita Mulligan of Lebanon Jct. High School, and Diane Carol Meredith of Shepherdsville High School were each honored by the local D.A.R. Chapter with their annual "Good Citizen" awards.
The Park and Recreation Board proposed new developments to the Shepherdsville park including a play lot, tennis courts, and a pavillon suitable for skating and other public events. Members of the board included the mayor, Dr. B. C. Moser, W. H. Powell, Denzil Ramsey, Mrs. Jack Plenge, and Adrian Jones.
Work on the new bridge over Salt River at Shepherdsville had begun, and was expected to be finished by November.
And Kit Neal and Ronnie Parker were married at the Bullitt Lick Baptist Church. A fine couple indeed!
1942 - 80 Years Ago.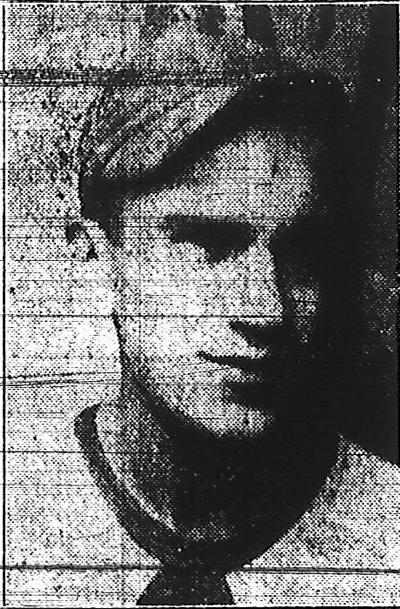 Bobbie Lee
Bobbie Lee, sportswriter for the paper for several years, was inducted into the army. The editor regretted losing Lee's talents as a writer.
In Mt. Washington news, we read that Alan Parrish, son of Paxton and Ruth Smith Parrish, was selected as editor of the "Crimson," the school magazine of duPont Manual High School in Louisville.
In the same column I read about a former college professor of mine, Rev. Paul Horner who was then taking a graduate course at the seminary while his wife taught typing, English and music at the Mt. Washington school. She was the daughter of Mrs. Marion Porter.
The next week's Mt. Washington column reminded us of the effect the war was having on families as it reported that Henry Lutes had three sons in war service, Larry, Coolidge, and W. A. Lutes; and Emmett Carrithers also had three, Adam and Woodrow in the navy, and William who was in camp. Before this war was over, many more families would see their sons go off to fight.
The Personal column reported that Ruth Strange and Stanley Johnson attended the Electricians' Banquet in Louisville.
In the Lebanon Junction notes column it was reported that Mr. June Hendricks, a conductor of a freight train, was killed by falling from the train at Lebanon Junction. Working for the railroad was often a dangerous occupation, and the folks around that town saw more than their share.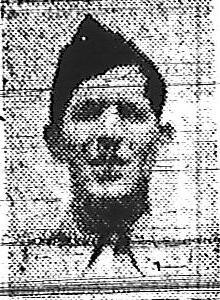 Jarriet Moore
The Valley View correspondent reported on a fire at the home of Ed and May Weaver that was fortunately prevented from spreading. It had started in a room where their sick daughter Mary Elizabeth was lying, and after getting her daughter safely out of the house, she used a large kettle of water to douse the flames. The correspondent wrote that it was fortunate that the kettle of water was nearby on the stove for their water supply was far away from the house.
The paper reported that the expansion of Fort Knox had taken the following farms in Bullitt County: Stiles farm, known as John Chambers farm; Jim Croan, known as Tydings farm; R. K. Beard, known as Jim Miller farm; Henry Dever and wife, Fred Losch, John Guigiliana, H. S. Routen, Bernie Lee, Charles Newman, Jim Newman, Emmett Coakley, Ida Roby farm, Fannie Powers. There would be others.
Jarriet Thurman Moore had joined the service in January 1941, and was serving in the radio corps in the Philippines when he died the day after Pearl Harbor was bombed. The son of Curtis and Sarah Moore, and brother of Dexter, Arson, and Haskell Moore, Jarriet was the first Bullitt County boy to die on active duty during the war.
1922 - 100 Years Ago.
The March 3rd issue of the paper reported, "The fire here last week destroyed nearly $100,000.00 worth of property with insurance of less than half of this amount. The heaviest losers are: Boes, Hall, Ice, Patterson, Weatherford, Armstrong, Tuckers, Smith and Co., Lutes & Co." According to the paper, the only walls left standing in that part of town were the old brick walls of the first jail Bullitt County built over 115 years earlier. A couple of weeks later, the paper reported, "The old brick walls left standing after the fire have been pushed down by the boys and the last of Bullitt's first jail is about gone."
To learn more about a series of destructive files that destroyed many Shepherdsville buildings in the 1920s, visit the History Museum website and search for "Shepherdsville Fires in the 1920's."
A Shepherdsville High girls' basketball team made up of Beulah Lee, Janice Harned, Mary B. Hill, Thelma Hatfield and Martha Hill defeated a strong Louisville team 8-7.
Gabe Summers, Charles Bradbury, Ray Walker, James Stallings, Perry Mumford Jr., Patrick Pope, Robert Simmons, Brooks Tyler, and Hobart Roby traveled to Lexington for a basketball tournament. They split the two games they played.
Dr. George Barrall wrote to the paper telling of meeting Abram and Neal Brooks at a Kansas City automobile show. They were representing Mercury Body for Fords that was made by Ellsworth McCormick, another Bullitt County man.
H. G. Elliott, of near Brooks, had a ewe to give birth to four lambs, all of which lived. After they were about 8 days old, he took two of them and will raise them on a bottle.
Jack Morrison, who made his home at Bardstown Junction for several years, sold his home there and with his family moved to his farm a few miles below Belmont. He was the father of Jimmy Morrison who died in the 1917 Shepherdsville train wreck.
Dr. J. G. Dodds, a well known physician of the county and a trustee in the Bardstown Junction school, sold his house and lot and moved to Ohio where he would engage in farming. His property was purchased by Attorney A. E. Funk of Brooks. Dr. Dodds was also aboard the train in 1917 and sustained serious injuries.
Hattie Haskell, a Louisville nurse, came home to Solitude to care for her brother J. V. Rouse and his wife, both of whom were ill with the flu.
Sam Ridgway of Shepherdsville was elected captain of the 1923 University of Kentucky basketball team at a meeting of the five letter men. Ridgway, guard on the Wildcat squad in 1920 and 1921, was a member of the team that won the Southern championship.
And Rev. W. B. Gwynn wrote to the paper's editor requesting to extend his subscription four more years for he was "deeply interested in the welfare of all those with whom I was ever so closely identified." Rev. Gwynn had started The Pioneer News some 40 years earlier, the first newspaper in Bullitt County. He was also the professor at Pitts Point. You can read more about him and his brothers by visiting the History Museum website and searching for "The Brothers Gwynn."
---