It Happened in March
The text below is taken from parts of four articles that originally appeared in The Pioneer News in March and April of 2021. It is archived here for your reading enjoyment.
---
We will be looking back 20, 45, 75, and 90 years to see what was being printed in The Pioneer News in 2001, 1976, 1946 and 1931 in the month of March.
2001 - 20 Years Ago.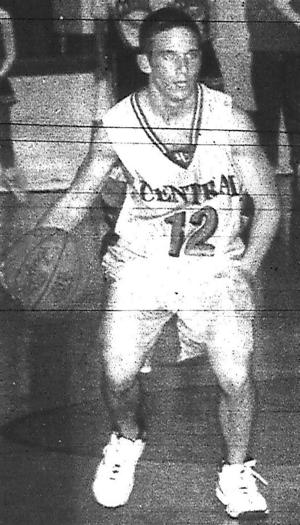 Adam Mitchell
Okay, it's March, so naturally we have basketball to report.
The Lady Cougars easily defeated North Bullitt 49-28 in district play to advance to the regional tournament. They were led in scoring by Tonya Jacobs with 17, and Amber Coy with 16.
Joining Tonya Jacobs on the District All-Tournament team were Erin Schuler and Staci Hunt from B.C.; Courtney Wooldridge, Melanie Keith, and Lauryn Hatchett from N.B., Whitney Faust and Amanda Dixon from B.E., and Amye Geary and Courtney Hall from Spencer County.
Meanwhile, the Cougars were in a battle with Bullitt East before coming out on top 74-69 to earn their trip to regionals. Jason Rheaume scored 18 and Todd Spencer tallied 13 to lead the Cougars, while the Chargers were led by Jeremy Vogel with 19 and John Stover with 15. The Cougars were lifted to victory largely due to the efforts of Adam Mitchell who came off the bench to score 10, 8 of them in the fourth quarter.
Joining Rheaume, Spencer, Mitchell, Vogel, and Stover on the All-Tournament Team were Dusty Lewis from B.E., Jonathan Smith and Roger Clark from N.B., and Darren Edwards and Nick Burns from Spencer County.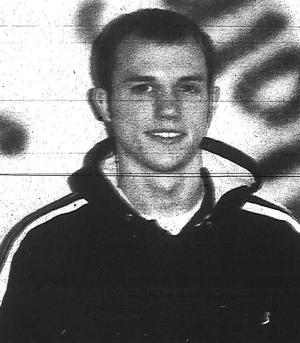 Russ MacDonald
In regional competition, both Bullitt Central teams won their first games. The boys defeated Anderson County 66-61, and the girls won a 3-overtime thriller over Trimble County 63-61. Sadly, both went down to defeat in the semi-final round.
In other sports, Russ MacDonald, a Bullitt East senior, brought home two championship trophies from the State Swimming and Diving Championships in Lexington. He placed first in both the 100 yard breaststroke, and the 100 yard freestyle.
Judge/Executive Kenny Rigdon got his picture in the paper again as he signed another proclamation; this one designating a week as "Read Across Bullitt County Week." Joining him this time were members of the media association including Ellen Swigart, Pat Hall, Phyllis Breuer, Kim Sego, Nancy Vance, and Christine McIntosh.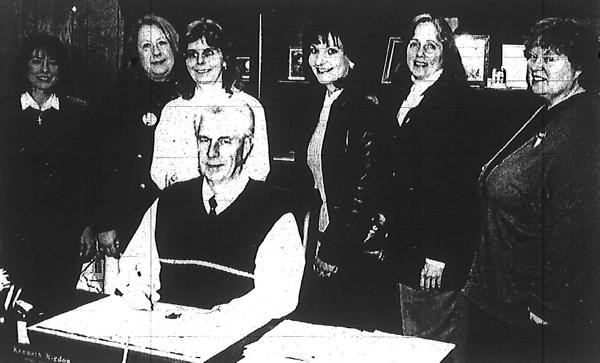 Junior Girl Scouts Samantha Clemons and Victoria Kmiec of Shepherdsville Troop 1274 were presented religious awards at the Catholic Girl Scouts Religious Awards Ceremony in Louisville.
The newly formed Young Composers Club at Bernheim Middle, visited Lebanon Junction Elementary and shared a concert in which Ann Thompson performed a solo piano act of Beethoven music; Corey Beaulieu performed on the electric keyboard; Brittany Woods and Nichole Basham played a flute duet; Sam Holcomb played the baritone horn; Emily Hasty on the flute and Amanda McCall on the clarinet played a piece called "Butterflies," and McCall also performed a piano solo; Brittany Reynold performed her own piece titled "Mellow Moods" on her flute; Ashton Wurzel played "Electricity for Keyboard" as her contribution; along with other performers including Kate Sutton, Crystal Worman, Ricky Shaw, Shane Williams, Nicholas Caldwell, and Kim Marshall.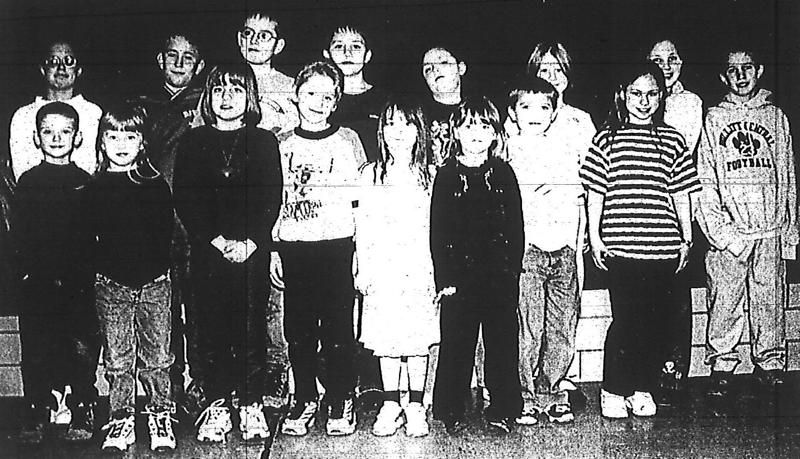 I wonder if these folks remember being "Students of the Month" at Nichols Elementary? They included Seth Hurst, Shelby Alford, Dana Fox, Matthew Vincent, Ashley Neidlow, Jessie Atkinson, Isaac Baldwin, Tiffany Bott, Amanda Williams, Michael Johnson, Joey Bentley, Dylan Fuller, Jamie Blakely, Danielle Biven, Krystine Patenavde, and Anthony Dockery.
And Austin T. Byers, age 10, had plans to attend Harvard and maybe study law or be a plastic surgeon; but what he was really in to was singing country music. Wonder how that turned out?
1976 - 45 Years Ago.
Members of Boy Scout Troop 5, Shepherdsville, braved the chilly weather for a weekend campout on Bill Fischer's property above Floyd's Fork. The campout themes were pioneering and archery, with junior leader Alan Fischer leading the archery instruction. Participants included Gerry and Tom Breeding, Dale Taylor, Alex and Phillip Horton, Todd Robinson, Tom Kallin, Tony Lacefield, Joe Mayes, Steve Karr, Rusty Kerr, John Reid, Milton Price, Robbie and Ronnie Bischoff, and adult leaders Eric Fischer, Tommy Baker, and Mike Freeman.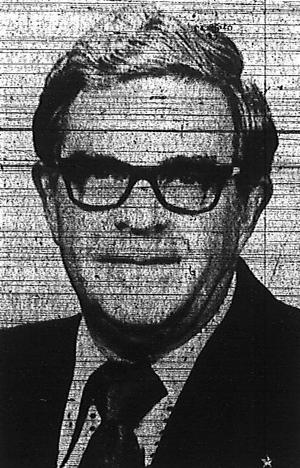 Bill Bacon
William R. "Bill" Bacon, who had served as the General Manager of Echo Telephone Company before it was acquired in 1971 by Allied Telephone Company, was named Vice President of the company. Always community-minded, Bacon had served as Shepherdsville mayor for six years, was past president of the Shepherdsville Lions Club, and past chairman of the Louisville Area Red Cross.
The Bullitt Central Cougars won their first 29th District tournament, defeating Anderson County in the final game. Howard Miller led the team with 24 points and 10 rebounds. They would go on to place second in the regional tournament. Then, in a surprise, Coach Norman Weaver resigned his position as coach and teacher to devote his time to his real estate business.
Mary Ann Elam's varsity cheerleaders also placed first in their district competition. They included Beth Walker, Helen Stevens, Suzie Bryant, Terry Phillips, Carla Hourigan, Lois Metcalfe, Rene VanVactor, and Vicki Ingram.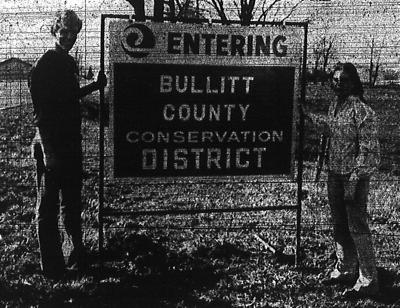 The Bullitt and Spencer County Junior Conservation Boards together purchased a sign marking their respective districts. Placed at the county line, it announced Bullitt on one side and Spencer on the other. Eddie Rogers and Paula Shepherd were pictured displaying the sign's Bullitt County side.
Intramural basketball at Shepherdsville Junior High enjoyed a four week season with multiple boys' and girls' teams participating. In the final week, three champions were crowned. In the girls' tournament, the Robins easily defeated the Cardinals 24-10 with Regina Tabeling leading all scorers with 8 points, while Judy Hammon of the Cardinals scoring 6.
In the 7th-8th grade boys' match the Eagles defeated the Wildcats 44-40. Dennis Johnson, whose 28.8 average was tops in the tournament, led all scorers with 26. Wildcat scoring was balanced with Terry Wilson having 11, John Elway 9, Duane Price 6, and Harold White 5.
In the final three games for the 9th grade boys' teams over three days, the Panthers beat the Wolves with Jimmy Williams scoring 21 for the Panthers, Russell Greenwell tallying 20 for the Wolves. The Panthers next beat the Elks 71-63 with Jimmy Burden scoring 28 for the Elks. This set up a re-match between the two teams which was won by the Panthers 49-45, with Williams and Billy Ritter each scoring 15, and Billy Arrowood added 13 to lead their team to victory. The Elks' James Howard scored 19 for his team.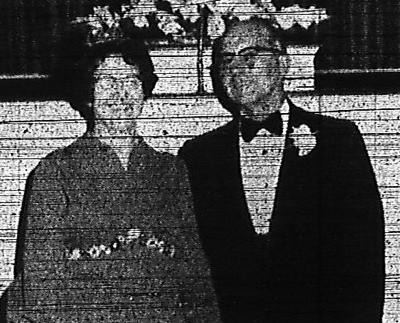 The Bains
Jacob and Lucille Bain were pictured celebrating their retirements. He had spent 39 years with L. & N.; she was retiring from the Hebron School.
Led by Beth MacCracken as General Chairman, a number of Bullitt County Woman's Club members chaired committees in preparation for the annual dinner and style show, including Gay Cox, Helen Underwood, Penny Pack, JoAnn Barr, Carolyn Waller, Mary Lou Hackett, Kim McConnell, Betty Porter, Marion Farris, Barbara Plenge, Connie Shuffett, and Donna Stout.
And the Shepherdsville Junior High FHA chapter sponsored their annual talent show at the school with 21 total performers. Performing dance numbers were Angie Jett and Donna Laymon, Theresa Slayton, and Denise Phelps. Singers included Mark Webb, Judy Noll, David Goodman and Wayne Hatcher, Connie Evans, Cathy Taylor and Carrie Blissett. Performing on the piano were Alice Rogers, Virginia Harned, and Myra McCoy. Perhaps the hit of the show were Mark Huffman on the banjo and John Huffman on the guitar playing "Dueling Banjos" and "Foggy Mountain Breakdown."
1946 - 75 Years Ago.
It was spelling bee time again, and Elizabeth Sheeley, daughter of Mrs. Leona Sheeley from Sunny Side School won the Grade contest. Her teacher was Miss Lillian Pearl Smith, a recent graduate of Shepherdsville High School. The runner-up was Glecia Ann Ratliff from Woodsdale whose teacher was Miss Mary Belle Hall. Other contestants in this division included Hazel DeMarsh (Nichols), Joyce Smith (Pleasant Grove), Van Nutt (Mt. Washington), Kathleen McCubbins (Clermont), Merrill Cundiff (Beech Grove), Delores Bradbury (Belmont), Georgia Clark (Shepherdsville), Leonard Mattingly (Lebanon Jct.), and Charles W. Crenshaw (Bowman's Valley).
In the high school division, Leola Armstrong of Mt. Washington won, with Juanita Philpott of Shepherdsville and Mary Lucy Marr of Lebanon Junction tied for second.
In the Belmont community column we learned that Mr. and Mrs. J. H. Hardy and sons Billy and Sammy of Cedar Grove, along with Mr. and Mrs. Frank Durbin of Shrewsburg TN were guests of Mr. and Mrs. George Bradbury and family. Mrs. Durbin, the former Mary Lee Hardy, and husband were moving to Pennsylvania to live.
The Hebron correspondent reported that the Hebron Auxiliary met with Mrs. Kate Brooks and Mrs. H. T. Williams where a book on Africa was taught by their president, Mrs. Russell Jenkins.
An interesting description of Ralph Scrogham's tour of duty was published in the paper. He was inducted in June 1943, trained in Georgia, sailed from New York to Liverpool, England, and crossed the English Channel on a Liberty ship. After a month in Normandy, his unit went to the front under the command of Gen. Patton and took Metz. Next they moved to Luxenbourg and took part in the Battle of the Bulge. Next they joined the 7th, crossed the Rhine, and stayed with them until the end of the war. After a long wait for transport, Ralph reached New York on January 15th, and received his discharge on February 5th.
Paul Tyler, age 3, son of Willis and Amy Tyler of Star Route, Shepherdsville, wandered off leaving no clue of his whereabouts. By dark the entire neighborhood were out searching for him. As the night deepened, the search became more frantic, especially with Salt River being nearby. It continued into the next morning without success until Sam Deacon found him a few miles from Shepherdsville at Bowman's camp house on Salt River. Or rather, Paul found Sam, for he heard Sam's radio and followed the sound to the camp which was about two and half miles from the boy's home.
And Bobbie Lee wrote an exciting description of the Shepherdsville - Mt. Washington basketball game in the 24th district tournament. The Generals' Walter Mathis opened the scoring with a jump shot and Paul Smith added a free throw for a 3-0 lead. The Rams' Walter Franke then scored a basket making it 3-2. With Arthur Moody, Sam Raley, and Harold Boyd scoring for the Rams and Mathis, Smith and Charles Rogers for the Generals, the score was 12-10 Generals at the end of the quarter.
The Generals controlled the second quarter which ended with them up 21-15. In the second half, Ralph Lutes scored his only basket before Boyd and Raley scored to cut the lead to just five points. The score was 27-20 when Boyd and Moody scored baskets to draw within three points as the third quarter ended.
The Generals regained a five point lead on a basket by Gentry, before Raley hit a jump shot, Boyd tipped in a rebound, and Moody sank a free throw to tie the score at 31 with 45 seconds left in the game. Then Gentry was fouled and sank the free throw. Then with fourteen seconds left Franke was fouled by Lutes and tied the score with his free throw, ending regulation play.
Ray Cunningham, who had first entered the game near the end of regulation, gave the Rams a spark in overtime. Moody started the scoring with a crip shot before Gentry hit a foul shot followed by two by Cunningham, giving the Rams a 38-35 lead. Then Smith and Rogers combined to tie the score again at 38. Then, just before the buzzer went off, one of the Rams grabbed the ball under the Generals' basket and heaved a long pass to Cunningham all alone at the other end of the floor, and he sank the shot, giving Shepherdsville a 40-38 victory.
I have to tell you, I got really excited just reading Bobbie Lee's description of this game!
1931 - 90 Years Ago.
Quite a number of Bullitt County young people were attending school in Bowling Green at Western. On March 16th, they gathered at the Cedar House for a social time. Present were Dr. and Mrs. M. L. Billings, Mr. and Mrs. J. H. "Jack" Sanders, Sylvia Barrall, Pauline Daugherty, Ruth Weller, Martha Weller, Thelma Moore, Ida Lee Ball, Ruth Crenshaw, Linda Lee Harned, Elizabeth Wigginton, Loraine Wheatley, Gertrude Collard, Katherine Triplett, Mary Triplett, Nellie Mae Triplett, Elizabeth Whitman, Clifton Hall, Walter Crumbacker, Logan Murray, A. J. Beeler Jr., Roy Masden, Clyde Elmer Roby, Jack Gardner, and Lindsay Jones.
The Bernheim Interest was already making its presence felt by contributing the needed funds to allow the school at Clermont to remain open an additional month.
Harley and Maggie Proctor of the Needmore Road community entertained the following guests with a musical: Mr. and Mrs. Claud Stallings, Beulah Thuston, Floyd Stallings, Mr. and Mrs. Hubert Cox, Daphney and Elmira Cox, Mr. and Mrs. Bill Bleemel, Mr. J. B. Proctor, Mr. and Mrs. Theodore Nelson, Elizabeth, Birdie and Earl Bass, Geneva and Russell Stalling, Joe Fulz, Arch Trigg, Bill and Hazel Tyler, Lilburn, Gladys and James Alcorn, Mrs. Rose and Frances Simmons, Margaret, W. C., and Baxter Owen, Corine Ridgway, Mabel Whitledge, Marvin, Ruby and Marie Brumley, Jack Clark, Cecil Bridwell, and Waldo Gentry. Sounds like fun.
Out in Cedar Grove, members of the P.T.A. including Mrs. Ben Waters, Mrs. Henry Greenwell, Geneva and Easter Mann, Mrs. W. C. Lanham, and Mrs. George Bolton met at the home of Mrs. S. A. Shelton to complete a quilt to be given away.
J. B. Summers of Route 2, Shepherdsville had "one awful nice Jersey cow" for sale cheap. Otis Porter of Bardstown Junction was set to rent out 40 acres that had both woods and pasture along with good water. And Mrs. Clarence Dawson would sell you Rhode Island Red eggs at 45 cents for 15, or $2.75 for a hundred.
In the Personals column we learned that Jimmie Harned was brought home from Western Normal school was scarlet fever. We also found out that the Rickett brothers had sold their place on Wilson Creek. It had 400 acres of good land.
E. E. McCormick, clerk of the Bullitt Fiscal Court, advertised for bids on a new concrete bridge to be built on Knob Creek across Sugar Tree Run.
The Hebron school was closing with a program that included a mock debate on the topic, "Resolved that the Suez Canal has been of more value to the World than the Panama Canal." Speaking for the affirmative were Bruce Miller, Hal P. Hedges, and Harold Gentry. Taking the negative were Neal Williams, John Wigginton, and C. F. Robards.
The school's 8th graders, including Jack Frick, Geraldine Shepherd, Irvin Robards, Harold Gentry, Florence Ball, and Mary Anna Lockwood, would be attending the Shepherdsville Graded School.
Nellie Mae Dawson, teacher at the Pitts Point school, reported that five of her students had perfect attendance for the school year. They included Margaret Stovall, Ervin Corum, Naoma Dawson, C. F. Phelps, and Robert Philips.
And in the scholastic activities column we learned that 100 copies of the Salt River Tiger, neatly bound in book form, were then available in the Shepherdsville library being kept by the librarian, Malcolm Harmon. This had been a gift by Wallace A. McKay who was reared in Bullitt County. I sure would like to see a copy. Anyone know where one might still be?
---
Copyright 2021 by Charles Hartley, Shepherdsville KY. All rights are reserved. No part of the content of this page may be included in any format in any place without the written permission of the copyright holder.
---