It Happened in March
The following article by Charles Hartley originally appeared in The Pioneer News on 30 Mar 2020. It is archived here for your reading enjoyment.
---
We will be looking back 24, 50, 75, and 100 years to see what was being printed in The Pioneer News in 1996, 1970, 1945, and 1920 in the month of March.
1996 - 24 Years Ago.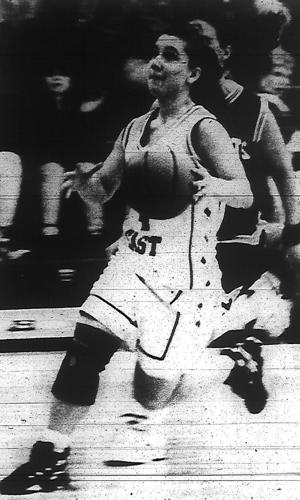 Kelly Karnes
District and Region High School basketball was in full swing in March. In boys' district play at Spencer County, Bullitt East defeated North Bullitt 71-64 to advance to the finals against Bullitt Central. East was led by Damon Walston and Brian Miles, each with 14 points, and T. J. Whitfill with 11. For North, Kyle Wise scored 20 points, followed by Jarad Neighbors and Joey Tipton, each with 12.
Bullitt Central advanced to the finals by defeating Spencer County 70-60, led by B. J. Close with 18, Steven Bartch with 15, and John Sherlock with 10. Spencer's Jimmy Stout poured in 31 points, but it was not enough to defeat the Cougars.
In girls' district play, the first round easily went to Bullitt Central and Bullitt East. The Lady Cougars' April Steinius scored 18 and Stephanie Crable added 11 in their 48-7 victory over North Bullitt. Meanwhile, four Lady Chargers scored in double figures in East's 75-36 win over Spencer County. They included Alison Bass with 19, Kelly Karnes with 14, Carrie Johnson with 13, and Lee Remington with 10. Jenny Peak led Spencer with 17.
In the girls' district finals, Alison Bass scored 21 to lead the Lady Chargers to a 65-33 victory over Bullitt Central. Adding to the East total were Lee Remington and Kelly Karnes, each with 13, and Carrie Johnson with 12. Central's scoring was led by April Steinius and Tabitha Gibson, each with 8 points.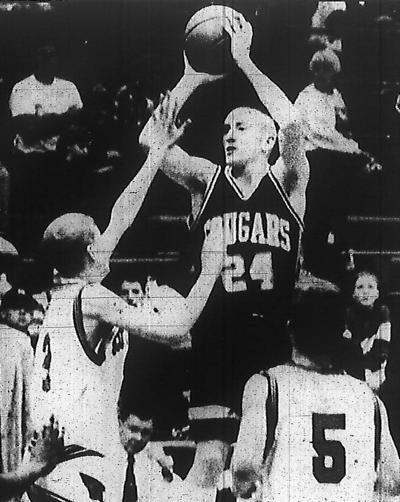 Bobby Hartlage
Meanwhile, on the boys's side, Brian Miles dropped in 22 points, and T. J. Whitfill added 15 to lead the Chargers past the Cougars 62-48. Scott Giles led Central's scoring with 13, followed by B. J. Close with 10.
In girls' regionals, Carrie Johnson's 16 points led East to a 59-34 first round victory over Henry County. Meanwhile, Bullitt Central fell to Scott County, 60-36 to end their season.
Scott County proved to be too much for the B.C. boys as well. Despite B. J. Close's 22 points, the Cougars fell 76-65. The B.E. Chargers also dropped their game to Owen County 54-50, ending their season as well.
The Lady Charger's season finally ended with an overtime loss to Oldham County 55-53. Mike Farner wrote that "the Lady Chargers played as close to 100 percent of their ability as any team to ever wear the red and gold." High praise from someone who has witnessed a LOT of Bullitt County sports.
Alison Bass and Carrie Johnson of Bullitt East, and Tabitha Gibson of Bullitt Central were selected for the All-Region team. Receiving honorable mention were Kelly Humphrey (B.C.), Stephanie Crable (B.C.), Kelly Vowels (N.B.), Delores Lowe, (N.B.), and Lee Remington (B.E.).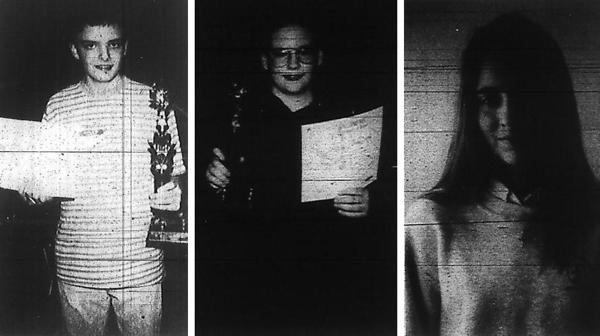 Gabriel Hodges, Daniel Sherrill, Sandra Amshoff
On the boys' side, Brian Miles of Bullitt East was the only Bullitt County player selected.
In other news, Gabriel Hodges of Mt. Washington Middle, Sandra Amshoff of St. Aloysius, and Daniel Sherrill of Bernheim Middle were the final three contestants in the annual county spelling bee. As pronouncer Barbara Elliott gave each word, the audience held its collective breath as the young spellers spelled it. After several rounds for the three spellers, finally Hodges correctly spelled "osprey" to win the contest.
Robert Lee Farmer and Mary Belle Gentry were married in March 1946 at Little Flock Church. Fifty years later Monk and Sis were back there to celebrate their anniversary with family and friends.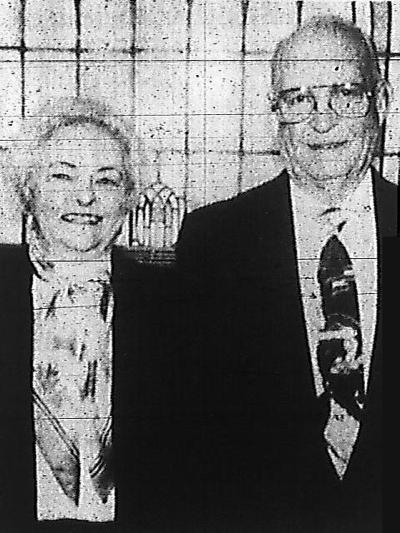 Monk and Sis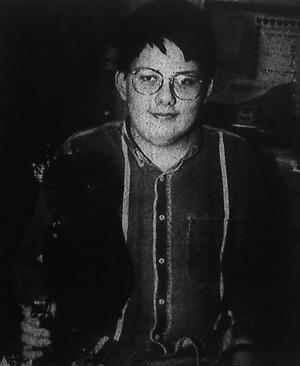 Fred Paul
Rod Firquin, former assistant principal at Mt. Washington Middle School, took the lead as the new principal of Old Mill Elementary, replacing Helen Harrah who moved to the Board. Mr. Firquin expressed gratitude to former supervisors who had helped prepare him for this role, including Sue Powell, Mary Lou Smith, Cecil Mattingly, and Debbie Atherton.
Fred Paul knew his science. The Hebron seventh-grader placed second in the state in science written assessment, quite an achievement.
The Roby Raiders "B" team cheerleaders placed first in the Greater Bullitt County Youth Football League competition. Members included Kasie Bastin, Kendra Burgin, Angie Foster, Nicole Karr, Dawn Pine, Jeanna Richardson, Beth Thompson, Shelly Weber, Cristin Wilburn, and Tiffany Wilburn.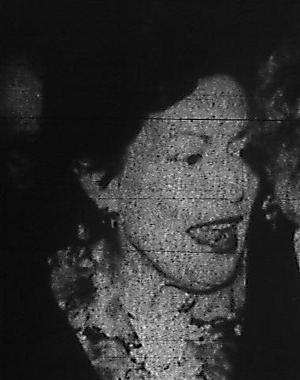 Peggy Nutt
Bullitt East Junior, Kenneth Sallings led his team to a third place finish in the state chess tournament. He was undefeated in all of his matches.
After 30 years of work at Farm Bureau Insurance, Peggy Nutt retired at a special celebration in her honor.
And Bernard Bischoff celebrated his 84th birthday with a surprise dinner prepared for him by Kit Parker of the Country Cupboard in Shepherdsville. Yum! Yum!
1970 - 50 Years Ago.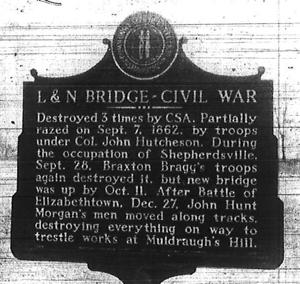 Burlyn Pike was chairman of the historical marker program in Bullitt County as the latest marker was erected just south of the Salt River bridge in Shepherdsville.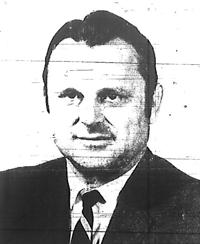 Neil Farris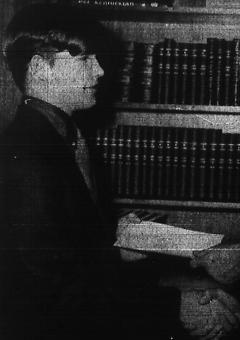 Mike Perry
Former County Judge Neil Farris was appointed Area Specialist in Community Resource Development by the University of Kentucky College of Agriculture.
The Bullitt Circuit Court convened with Judge Charles R. Richardson presiding. County Attorney Tom Givhan assisted the Commonwealth Attorney, Shelby M. Howard, as they met with the Grand Jury which included Robert L. Ashbaugh, Cecil Belcher, William Glenn Dawson, Aca Lee Fulkerson, Roy L. Graham, Ben B. Hardy, Francis Jenkins, Marvin H. Masden, James E. Nichols, J. E. McDonald, Kenneth R. Price, and Walter Sallings.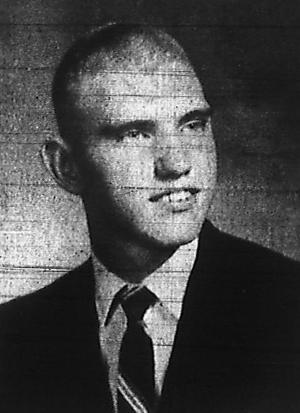 Mike Tatchell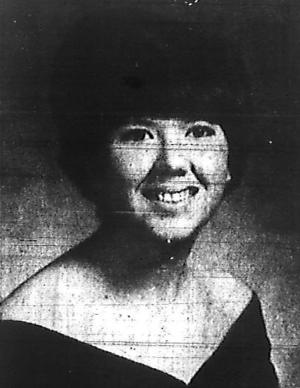 Theresa Sweat
Mike Perry, son of Mr. and Mrs. Raymond Perry of Shepherdsville, and a Freshman at UK, received a Keeneland Scholarship Award from Curte Ferguson, Director of College Relations at the Ag school.
Linda Kay Tate, daughter of Dennis Tate of Shepherdsville, received a scholarship check for her studies in home economics at UK.
Michael Tatchell of Pioneer Village was awarded a Presidential Scholarship at EKU. He ranked in the top three in his SHS graduating class.
Theresa Sweat was selected to represent SHS as a semi-finalist in the Armor Center Civic League essay contest.
G. K. Bass of Mt. Washington congratulated Tommy Roby for making the Dean's List at Western State University. Also, in that column, we learned Nelline Roby received a Kentucky Colonel commission; that Wayne Votaw and his mother Donna visited his great-grandmother Mrs. Louis Roby, Sr.; and that Ruth Hatfield and Hilden Cornell visited Ed Naecker who was convalescing at the home of his aunts following surgery.
In the "Around Nichols" column we learned that Chester Rice had just entered the service, that Gary Ruphe was in Vietnam, and that Erbie McNutt was taken to the hospital.
The Hebron correspondent informed us that Neil Brooks, Jr. and Mr. and Mrs. Chester Cooper Jenkins were on a tour of the Holy Land; that Rev. and Mrs. Joe James visited Billy Horrell in Owensboro where Rev. James taught a special class for the youth; and that the Hebron Presbyterian Church was having special Lenten services.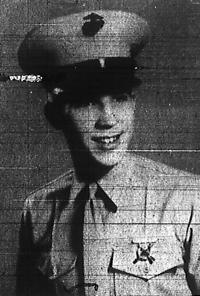 Melvin Allen
Mrs. W. C. Lanham of Cedar Grove reported that Mrs. Henrietta King of California visited her parents, Mr. and Mrs. Frank Bishop; and that Mr. E. G. Dillander remained in the hospital.
Mrs. Essie Holland of Mt. Eden reported that Mr. and Mrs. Omar Watkins had as dinner guests Bro. and Mrs. David Royalty, Bro. and Mrs. M. L. Holland, Anita Holland, and Mrs. Holland's mother, Mrs. Burgess.
Clara Simmons of Pleasant Grove reported that Elbert Bass was the early gardener that year, having his garden made already.
Marine Sgt. Melvin D. Allen, Jr. received the Navy Commendation Medal for Meritorious Service in Vietnam. He was the son of Mrs. Betty Allen of Brooks.
At the awards dinner given by the Bullitt County Soil Conservation District, Johnny Crump was the county essay winner, with Sylvia Davidson second. School winners included Janice Wiedemer (SHS), James Russell (Cedar Grove), Kimberly Sewell (Roby), Donna Heyback (Overdale), Barry Bates (Brooks), and Deborah Gutermuth (St.A).
And Matt and Bill Bleemel were pictured keeping an eye on the 100 head of holstein heifers they had imported from New York and New Jersey.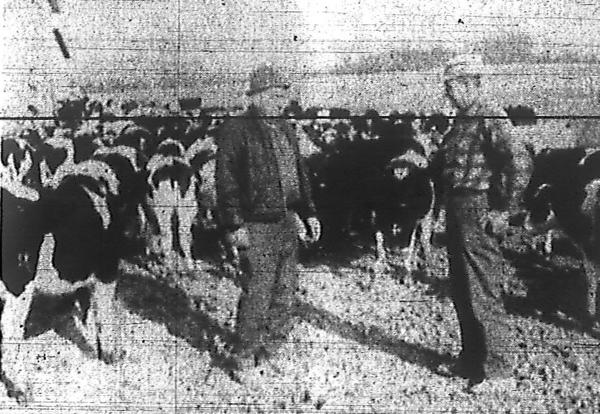 1945 - 75 Years Ago.
The 1945 Red Cross War Fund drive began in Bullitt County with Lindsay Ridgway as chairman. An early donation came from the Standard Oil Company through their local representative, Stanley Lee.
The correspondent from the Solitude community in eastern Bullitt County wrote that Mr. and Mrs. Arch Rayman reported that their son, SSgt. H. T. Rayman, who had been wounded in action, was recovering.
At the other side of the county, over in Cupio, a buffet supper was given in honor of the birthday of Mrs. L. W. Nichols. Those present included Mr. and Mrs. Pete Monroe, Mr. and Mrs. Roy Applegate, Mr. and Mrs. Cornell Logsdon, Mr. and Mrs. Charles Ridgway, Mrs. Thelma Sipes, Darlene and Carole Sipes, Patsy Logsdon, and June and Janet Ridgway.
Rev T. R. Omer, pastor of the Christian Church in Lebanon Junction, and his wife were the proud parents of a baby boy.
The Mt. Washington correspondent wrote that "Mrs. Stanford Harris looked very charming and pleasant at church Sunday morning wearing a shoulder bouquet of beautiful red roses, part of a dozen sent as a love gift from her husband who is stationed in Tennessee on their second wedding anniversary."
Clyde Roby, chairman of the used paper collection drive, reminded folks to bundle their collected paper and put it on the side of the street to be collected. He reported that the county had collected about two tons in February.
Among the news reported in the Personals column, we learned that SSgt. Walter Myers had been wounded in Belgium, and was recovering in an English hospital.
Another report was that Sgt. John E. Brown, Jr. was missing in action over Germany in February.
The Mt. Washington report included the announcement of the death of Cpl. Thomas Armstrong, son of Mr. and Mrs. Dave Armstrong, formerly of that town. He died of fatal burns received in battle.
Also, PFC Thomas C. Bowman, who had been reported as missing in action, was actually a prisoner of war in Germany.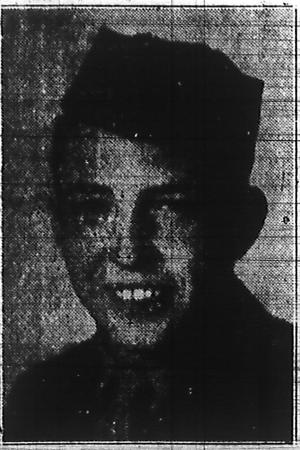 Dewey Woods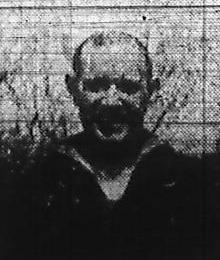 Chick Williams
Two servicemen were pictured in the paper. Mrs. Dewey Woods had received word that her son, PFC Dewey Woods Jr., had arrived in France. And S1C Ernest (Chick) Williams had been on leave at Bardstown Junction with his wife, Inez Bergen Williams, and their two children before returning to his ship at New York City.
On the last day of February, the Salt River at Shepherdsville was nearly at flood stage. It would get worse before receding. Flood waters crossed Main Street on March 6th, cresting two days later.
In Lebanon Junction, most of the dwellings west of the railroad tracks were inundated. Trains were moving southward from there, but northbound trains were halted due to flooded tracks around Bardstown Junction where nearly every home was inundated.
At its crest, water had entered the southern corner of the Court House yard in Shepherdsville. The Pioneer-News building, which was then on the east side of Main Street, and the The Peoples Bank on the west side (now the Hamilton Building), were the last two buildings entered by flood waters.
Water had entered every building west of Main Street and south of the alley between the bank and Daugherty's Store.
On the east side of Shepherdsville, both school buildings and three homes were flooded. This can be seen in an aerial photo taken by a Courier-Journal photographer and printed in the paper.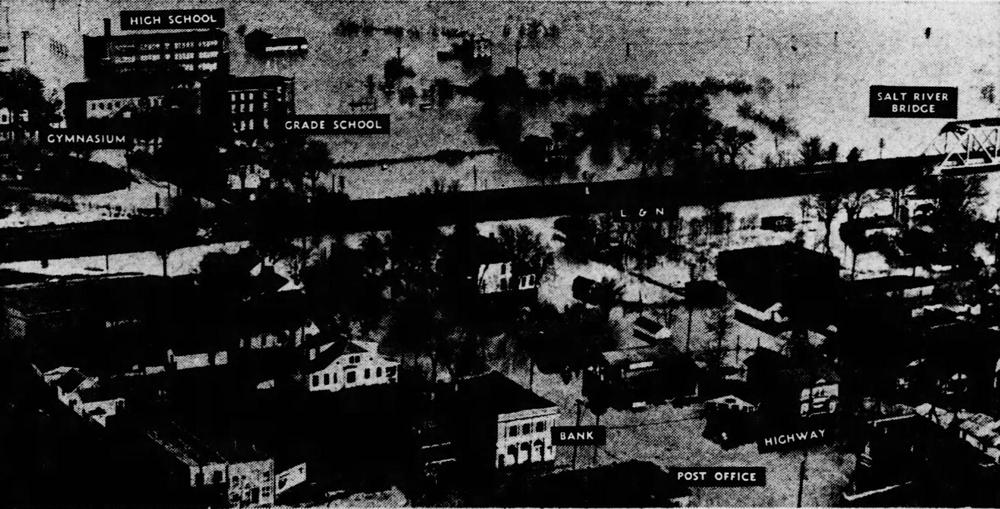 The paper called it the second highest flood in history, cresting ten feet below the 1937 crest.
1920 - 100 Years Ago.
Samuel H. Ridgway of Shepherdsville, a freshman at University of Kentucky, was making a name for himself as a guard on the school basketball team. At Shepherdsville High School, he was an active student, taking a prominent part in athletics and other school organizations. As a UK freshman, he made excellent grades in the College of Engineering. He would go on to become captain of the UK squad, serve in the military during WWII, and then retire as an assistant vice president of South Central Bell.
Mrs. Fred Rusch of Shepherdsville had eggs for hatching; pure bred Barred Rock, at $1.50 per setting of 15.
In Pleasant Grove news, Thomas Owen moved near Bethel Church, Mitch Moore moved to the Sauter farm he purchased, and Curtis Moore moved to the farm known as the K. K. Hall place, which is now the home of Mr. Moore. Mr. Flood and family have taken up their abode near La Grange.
In the Personals column we learn that Thomas Hornbeck, T. C. Carroll, Roy L. Maraman, W. N. Griffin, Woodford Troutman, Porter Bridwell and J. W. Hardaway went to Lebanon, KY where they took the Commanders degrees and are now full fledged members. Rousseau Engle, from Lebanon Junction, member of McNeil Lodge, also took the degrees.
Mrs. J. L. Laswell of Belmont, advertised "I have a full millinery line for ladies, misses and children's spring hats. Come in and see my stock before buying elsewhere."
A notice was printed that a congregational meeting would be held at Hebron Church for the purpose of calling a minister.
With Spring approaching, J. E. Chappell, Dr. Ridgway, Bob Zimmerman, Wax Simmons and other baseball enthusiastic fans were planning for a local team here. The editor wrote "As several promising youngsters are developing over at the high school and a few of the 'old heads' are beginning to feel young, we certainly have the material in the following players: Ridgway, Hardy, Bell, Monroe, Barger, Ashby, M. Funk, J. Funk, Troll, Summers, Trunnell, Noe, Cundiff, Ash, Weller, Hagan, Viers, Sanders, Bradbury and others."
With the prohibition law going into effect, the paper printed a list of what was legal to do and want was not. Among the legal things was the statement, "Buy a small bottle of whiskey every ten days from a druggist on prescription from your family physician if he believes it necessary to save your life during illness." We wonder just how many "life-saving" remedies were prescribed.
In school news, the following rural trustees met at the Court House: Shepherdsville, Division 1 - Bart King, Ed Rodgers, T. L. Mattingly, C. E. Funk, Owen Shepherd and Jasper Foster; Mt. Washington, No. 2 - J. O. Ridgway, J. M. Harvey, and E. Z. Wiggington; Leaches, No. 3 - G. B. Herps, Alex Riley, H. M. Trunnell, W. J. Shaw, and G. W. Taylor; Pine Tavern, No. 4 - Lee Dawson, William J. Leslie, S. H. Rickets, Claud Hill, H. C. Cundiff, O. H. Harned, R. M. Masden, and O. H. Masden; Colored - Frank Jones, Will Johnson, and Ed Swearingen.
The editor wrote, "As usual, Pine Tavern had the largest attendance at this meeting and this indeed speaks well for the good citizenship of that section."
And in another place the editor wrote, "Jim Hardaway was seen in Louisville last week with a beautiful blonde. We wonder who she is."
---
Copyright 2020 by Charles Hartley, Shepherdsville KY. All rights are reserved. No part of the content of this page may be included in any format in any place without the written permission of the copyright holder.
---