It Happened in June
The following article by Charles Hartley originally appeared in The Pioneer News on 27 June 2016. It is archived here for your reading enjoyment.
---
We will look back 25, 50, 75 and 99 years to capture glimpses of what was happening in Bullitt County in each of these years. Today we will focus on the month of June.
1991 - 25 Years Ago.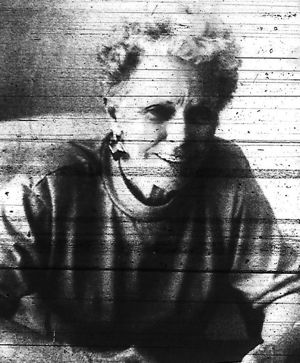 Doris Yager
Doris Yager was honored by the Child Welfare League of America with their Direct Service Social Worker Award for the 12 state Southern region. Doris was an 18-year veteran with the state agency.
Christy Coulter was coaching the under-14 AAU girls' basketball team whose members included Lee Remington, Kelly Karnes, Sherri Barnett, Kerri Burkhead, Emily Duvall, Alison Bass, Monica Reed, Lesly Dossett, Lisa Mason, April Kesterson, April Steinuis, and Tabitha Gibson.
Dr. Rick Cundiff was pictured explaining the expansion plans for Family Medicine's office. Among the guests present were Sheriff "Shot" Dooley, County Health Department Manager Ned Fitzgibbons, and retired physician Dr. Bruce Hamilton.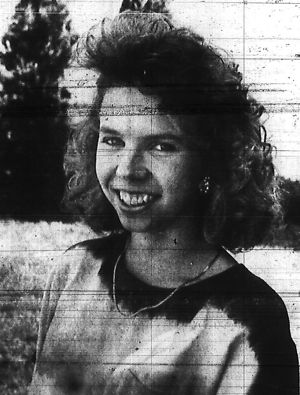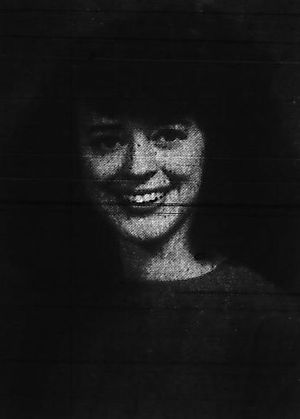 Amy Stewart & Patricia Keelen

Bus Drivers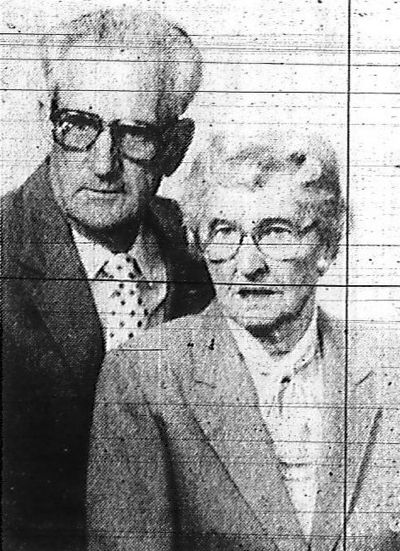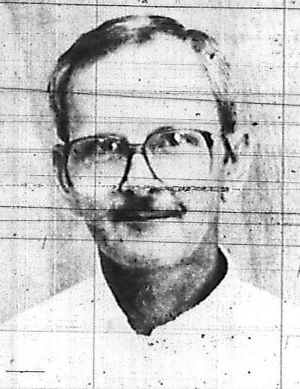 The Whittles & Jim Hatley
The previous Memorial Day, over two dozen wagonmasters saddled up their steeds and mares and travelled south from Belmont to visit gravesites on the Fort Knox reservation. Did you go on this adventure?
Andrew Wigginton's dream of studying zoology at the University of Florida got a boost with a scholarship from the National Merit Scholarship Corporation.
According to Louise Bischoff, the Hebron correspondent, Jody Ball graduated from the Southern Baptist Seminary and was then an associate pastor at a Lexington church.
Amy Stewart placed sixth in the National Catholic Forensic League's annual speech contest. Her topic was "stress."
Patricia Keelen, daughter of Lawrence and Carolyn Keelen, received a Bachelor of Arts degree in philosophy from Bryn Mawr College.
Fred Korfhage of the Shepherdsville Volunteer Fire Department was pictured out collecting for the annual Crusade for Children.
Bullitt County school bus drivers with 20+ years of service were honored and pictured in the paper. They included Ruth Leonhardt (25 years), Opalene Roark (24), Emma Dockery (23), and Doris Lewis and Bonnie Underwood, both with 20 years of service.
Anna Barrall Hawkins, the former longtime owner of The Pioneer News, and former Shepherdsville postmaster, passed away at age 78.
Noah and Eva Whittle celebrated their 50th wedding anniversary. As fine a couple as you would ever want to meet.
Amy Crumbacker was presented with the Homemaker of the Year award by Bullitt County Extension Agent Ann Taylor.
Jim Hatley was selected as coordinator of technology for the school system.
Sonya Lyn Smith was crowned Miss Bullitt County Fair at that year's event. Katina Chesser was declared Teen Miss Bullitt County, and Caleb Buege and Vanessa Brown were Little Mr. and Miss Bullitt County Fair.
James T. Yaste was pictured displaying his antique steam tractor at the Bullitt County Fair.
And Lloyd "Hog" Mattingly was pictured working on another one of his historical models. His model of the old Paroquet Spring hotel is on display at the Paroquet Springs Conference Center; and many of his models, including the 1917 train wreck model, may be seen at the Bullitt County History Museum in the courthouse.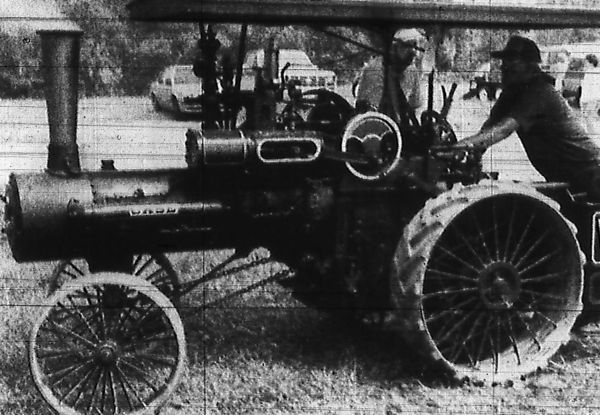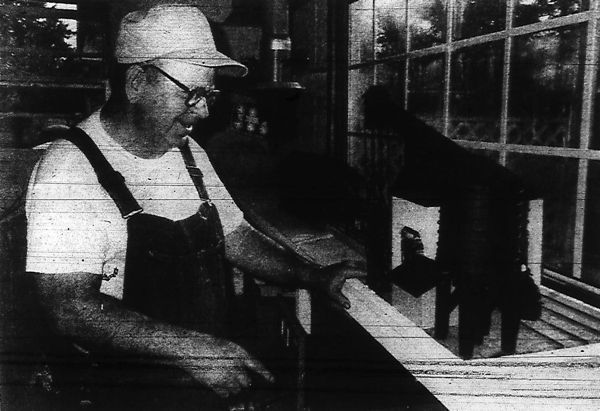 left: James Yaste and his tractor; right: Lloyd Mattingly
1966 - 50 Years Ago.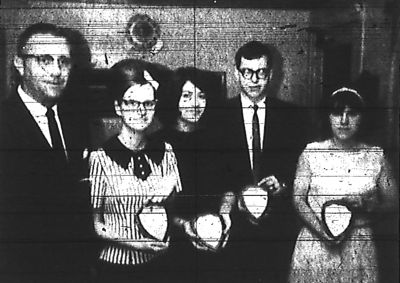 Ray Becknell, president of the Shepherdsville Lions Club, presented recognition plaques to the Valedictorians and Salutatorians of Shepherdsville High School and St. Aloysius School. They were Rhonda Hoagland and Sonia Lutz (S.H.S.) and Larry Robey and Diane Kraus (St. A).
In the L.J. and Colesburg news, Mrs. Hallie French and Pearl and her son, Ernest French and family spent Memorial Day weekend at their home place on Colesburg Road, where they entertained the Louisville band of which Mr. French is leader.
The following St. Aloysius High School students were the graduating class of 1966: James Berry, Peggy Brady, Marvin Dennis, Richard Gutermuth, Vickie Hodge, Diane Kraus, Mary Lucy Kenny, Daniel Morrison, Norma Pendleton, Ken Puckett, and Larry Robey.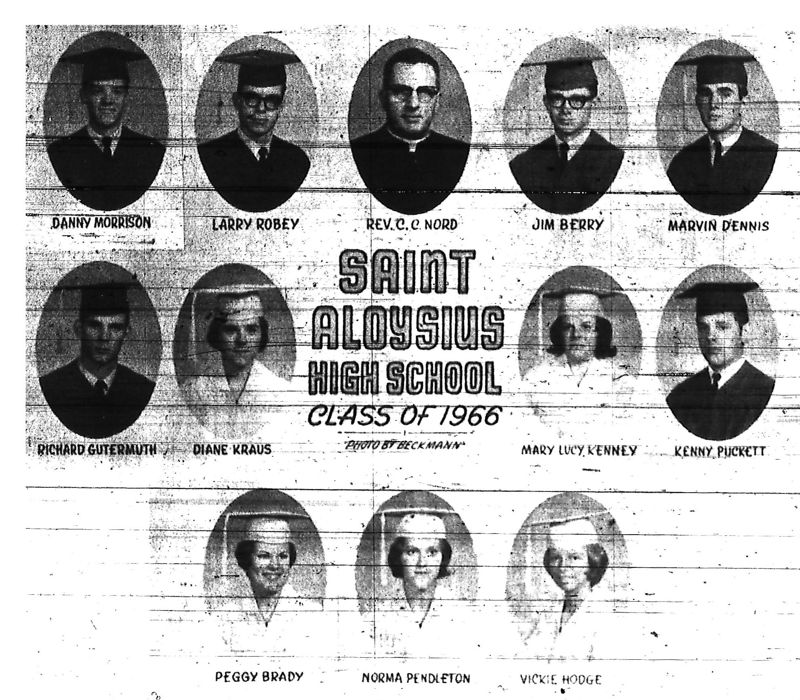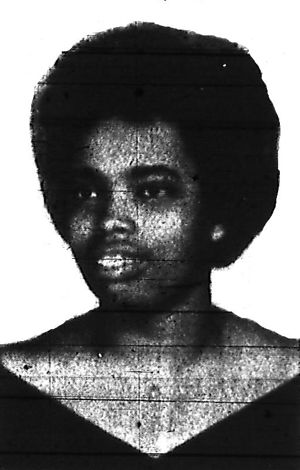 Frances Masden
Frances Masden, 1966 graduate of Shepherdsville High School, was awarded the Crisco Trophy for her outstanding achievement in Home Economics and the Future Homemakers of American organization. The award was presented to her at the F.H.A. Mother-Daughter Banquet by Mrs. Helen Underwood, her teacher.
The Shepherdsville Recreation Park provided recreation and handicrafts for children ages 6-12 under the supervision of Betty Hartley, a teacher at Shepherdsville High School.
The Mt. Washington Generals baseball team members were pictured following their trip to regionals. They included Billy Bass, Gary Middleton, Gary Armstrong, Tommy Fulkerson, Mike Owen, Aaron Armstrong, Murray Clark, Joe Johnson, Dale Gordon, Bob Switzer, David Marksbury, Joe Lentz, Bill Dawson, and Chip Wiggington. They were coached by Lloyd Mullins.
The six 4-H'ers from Bullitt County who were going to Europe were pictured in the paper. They included Charlene Holsclaw, Linda Tate, Gail Bechel, Jimmy Dawson, Becky Becnel, and Carol Metcalfe.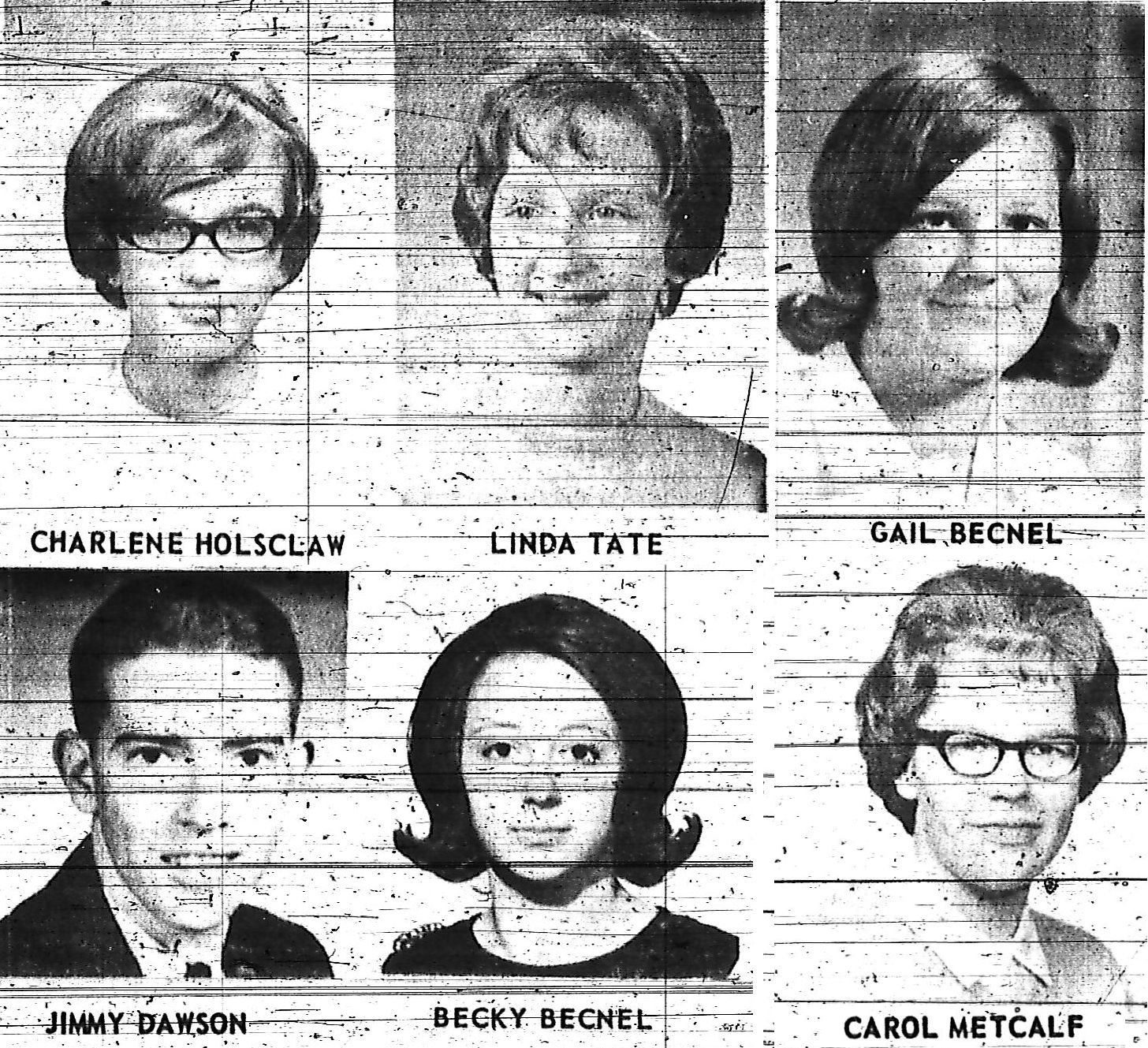 Charles A. Long opened a full-time insurance agency in Shepherdsville near the courthouse.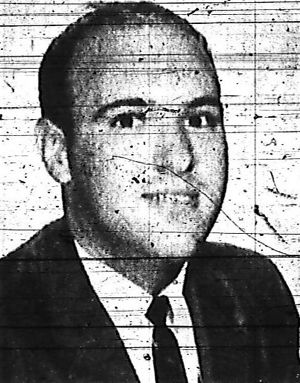 Sidney Myers
Peggy Troutman
Sidney Ray Myers graduated from the Southern Baptist Theological Seminary with a masters of religious education degree. Myers was a 1964 graduate of Georgetown College.
Leon Eskridge was sworn-in as Bullitt County Conservation Officer by Judge Neil Farris.
The Hebron Newsletter reported that a gasoline fire nearly destroyed the bus belonging to Little Flock Church. Also reported was that Dave Crumbacker celebrated his 91st birthday with some 50 members of his family.
Charlie Sanders of Brooks finished second in the College Athletic Conference golf tournament. He was a freshman at Centre College.
Jim Bruce Bunce of Clermont graduated from the Stockbridge School of Agriculture at the University of Massachusetts.
Miss Peggy Troutman graduated Magna Cum Laude with a degree in elementary education from Campbellsville College. Peggy, the daughter of Mr. and Mrs. Roy W. Troutman, was doing summer mission work in New Mexico.
A 48-inch rattlesnake was killed on the George Kipp farm near Belmont. It had 17 rattlers and a button. The Kipps lived on Horse Fly Hollow road near Fort Knox.
M. R. and Rose Hall opened their new jewelry store across the street from Roby School. My, how the time flies.
And the paper noted the celebration of the golden anniversary of a double wedding. Pictured were Mr. and Mrs. Walter M. Heizer and Mr. and Mrs. B. F. Bryant who were married in a double wedding ceremony on June 22, 1916. Mr. Heizer was with the Lebanon Junction bank before moving to Louisville. Mr. Bryant was a conductor for the L. & N. Railroad. The two ladies were sisters.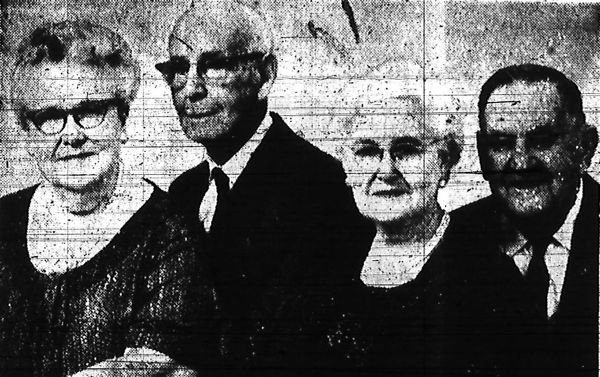 1941 - 75 Years Ago.
In Lebanon Junction news, Jack Bryant, who was home from college, was working at an A & P Supermarket in Louisville; W. B. Rexroat was in the hospital with an injured shoulder following a fall; and the service station owned by the VanVactors had been sold to someone from Bowling Green.
Miss Elsie McClain Cox, a music teacher at Mt. Washington High School, was married to Francis King Beeler of Lebanon Junction, who also taught at that school.
Clem Pope was declared the best Freshman debater at Purdue University.
Stanley Lee resigned as Farm Bureau Insurance Agent to become a local agent for the Standard Oil Company. Ben Robards took his place.
Six 4-H Club members were selected to represent Bullitt County at Junior Week at the University of Kentucky. They were Carl Hines of Cedar Grove, Ruth Cundiff of Nichols, Claud Cornell of Mt. Washington, and John Price, Geraldine Williams, and Betty Wigginton, all of Shepherdsville's club.
Mr. and Mrs. James Maraman entertained for dinner on Decoration Day [Memorial Day] the following friends and family: Mrs. Cleve Masden, Mrs. O. H. Masden, Mrs. Grover Maraman, Mr. and Mrs. Richard Maraman, Mrs. Ethel Crenshaw, Mr. and Mrs. Hugo Maraman and children, Mrs. Curt Harris and Mrs. Ida King of Mt. Washington.
Misses Reba Hall, Cora Ney Hardy, Juanita Patterson, and Mrs. Mary Evelyn Harned spent two weeks in Florida.
In Mt. Washington, Claud Barnes of Honolulu was visiting his sister, Mrs. Lizzie McGee.
William Sowders of Shepherdsville had two good work mules for sale, or he would trade them for cows, hogs, corn or hay.
J. W. Browne of the Bernheim Foundation at Clermont was looking for a good, reliable cook. Living quarters were furnished.
John L. Thompson, Jr. of Lebanon Junction graduated from the University of Kentucky Department of Agriculture.
A familiar face at the Shepherdsville depot was L. & N. conductor Jim Hunter who retired after 50 years service. He had worked the Louisville-Bardstown-Springfield branch intermittently from 1892 to 1898, and regularly since that time. He was promoted to conductor in 1905, and was 71 years old.
Tommy Joyce had a new Plymouth Sedan purchased from Parrish Motor Company of Shepherdsville.
Billy Manion of Lebanon Junction, who was studying at Fort Wayne, obtained a job in Chicago as a mechanical draftsman.
Mrs. Thelma Newman, and daughter, Clara, Miss Ethel Newman, Mrs. Josie Zimmerman and son, and Mrs. Ella Hardy traveled to Louisville.
Miss Willie Mae Grant and Mr. Dewey Simmons were married.
And at Belmont, Mrs. Pearl Laswell entertained Mr. and Mrs. Hobert Roby, Wilber Gray, Emma Wise, A. J. Kettler and Ola M. Gray at a card party.
1917 - 99 Years Ago.
High Schools in the county granted diplomas to the largest class of students ever in one year. The students included Georgia Whittinghill, Mayme Myers, Theodora Westerfield, Lula Cook, Lula Ashby, Mary Kirk, Willie Chickering, Lucille Wooldridge, Laura Daniels, Thelma Lee, Roy Childers, Ralph Henderson, and Buren Hardin.
T. L. Coakley, William Raney, Chester Hill, George Collings, Press Beauchamp, J. W. Etherton, Marion Starks, J. H. Lee, Harve McCubbins and O. T. Lee were ordained as deacons at the Belmont Baptist Church.
C. F. Troutman Sr and wife spent a Sunday in the city, and on account of the heavy storm spent Sunday night there rather than face the heavy winds which reached cyclonic velocity.
John Robert Hoagland, age 11 years, son of Mr. and Mrs. J. W. Hoagland of Bardstown Junction, was killed May 28, at about 4:25 p.m. by a freight train. The little fellow was walking on the north track when he was struck, dying instantly. His death would lead to a court case that brought his father to Shepherdsville aboard that fatal train crash in December.
Mrs. Lottie Brown McCullom and daughter, and Mr. and Mrs. Ewell Welch and sons, Hubert and Joe, were guests of Mr. and Mrs. Sarah O'Brien and Miss Maud O'Brien Sunday at the O'Brien Hotel.
Miss Lorena Robinson, remembered here as an excellent high school teacher, received her A.B. degree from the Louisville University where she had been taking special courses for several years.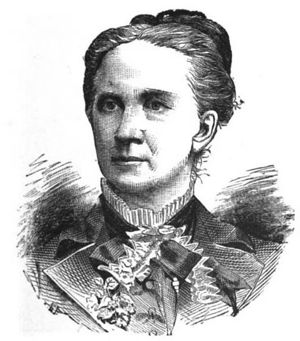 Engraving of Lockwood, ca. 1883
Misses Lula Ashby and Margaret Hardesty and Messrs Robert Hardesty, Earl Armstrong and Fred Quick were guests of Miss Gussie Quick one Sunday.
The paper reported that Belva Lockwood, the only woman who was ever a candidate for President of the United States died, aged 86. She was a candidate in l884 and again in 1888 and was the first woman ever admitted to practice as a lawyer before the United States Supreme Court.
J. R. Ball built an addition to the residence of B. F. Pope, in Shepherdsville.
W. A. Cook, who had charge of the Poor Farm, was in the newspaper office with some of the finest wheat seen that year.
Main Street from the river to the town limits was given a good coat of oil, with the hope that this would settle the dust.
Miss Violetta Roby, Messrs Howard Hardin of Gap-in-Knob, Orval Bridwell and Robert Hall, of Pleasant Grove, and Mr. and Mrs. Charles Ratliff spent a Sunday with J. A. Roby and family.
Vivian M. Shafer of Shepherdsville had three Shetland ponies for sale, one perfectly safe for a woman or child to drive.
Miss Tea Hays and Miss Peachie Thompson, teachers the past year at Belmont were in Shepherdsville, making a final report for that school for year ending June 30, l9l7.
In the Personals column, we read that Mrs. J. W. Clem was visiting friends at Belmont; that Mrs. Frances Bradbury, Mrs. Annette Carpenter and daughter, Jennie spent a Sunday with Mr. and Mrs. J. G. Armstrong; Mrs. Annette Carpenter visited her daughter, Mrs. Halla Armstrong; Mrs. Katie Slaughter and children visited Mr. and Mrs. George Shepherd; Miss Willie Mae Ridgway left for Mt. Vernon to visit Miss Blanch Crawford; Mrs. Nannie Gross spent a day at Brooks, the guest of Mrs. Barbara McElroy; Mr. and Mrs. Oscar Kulmer and daughter visited relatives near Cedar Grove; and Miss Margaret Combs was the guest of Mary Palmer Combs.
And Joe Welch, of Belmont, was in Shepherdsville on business. He was on the bachelor list and was looking for some good woman to take him off.
---
Copyright 2016 by Charles Hartley, Shepherdsville KY. All rights are reserved. No part of the content of this page may be included in any format in any place without the written permission of the copyright holder.
---