It Happened in June
The text below is taken from parts of four articles that originally appeared in The Pioneer News in July and August of 2020. It is archived here for your reading enjoyment.
---
We will be looking back 24, 50, 75, and 100 years to see what was being printed in The Pioneer News in 1996, 1970, 1945, and 1920 in the month of June.
1996 - 24 Years Ago.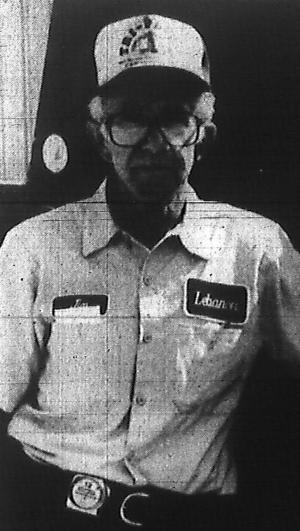 Jim Lucas
Fourth graders Mica Carter and Sarah Hughes, and fifth graders Ashley Brock, Felicia Casey, Willie Kline, Alicia Lambert, Jason Moore, and Lauren Parrish all made the Principal's Honor Roll list for the third grading period at Maryville Elementary School.
Meanwhile, at Brooks Elementary, the following fifth graders made the "A" Honor Roll: Kaycee Crecelius, Lauren Scott, Lindsay Seeders, Heather Thornton, Sarah Hornback, Jessica Hoyt, Bradley Maynard, Raquel Pearson, Chris Pendleton, Cassie Guenthner, Justin Odle, Crystal Powell, Barndon Stevenson, Nikki Miller, Kim Nugent, and Crystal Clark.
Jim Lucas of Lebanon Junction was retiring after 16 years as superintendent of the city's water and sewer department. He was also a member of the local volunteer fire department for 15 years.
Louise Bischoff of the Hebron/Zoneton community offered prayers and sympathy to the families of Standford Harris, John Lawton, Edith Crigler, and Mrs. William Bierman, each of whom had died recently.
Lois Simmons, over at Pleasant Grove, recalled that Mrs. Myrtle Ruth Stansbury Harris, widow of Standford Harris, had been her school teacher at the old Pleasant Grove School.
Clifford and Geneva (Masden) Samuels of Lebanon Junction celebrated their 50th wedding anniversary, having married in Lebanon Junction in 1946.
The candidates for Miss Bullitt County Fair Teen Miss were (top row, L-R) Terrah Elizabeth Ross, Alicia Bogard, Jennifer Nicole White, Chrystal Lea Etherton, Maranda Renee Harvey, and Christy Marie Riggs; (middle row, L-R) Sara Clark, Amanda Marie Simmons, Shawnelle Simmons, Heather Renea Hefley, Michelle Danielle Walls, and Eleschia Kay Eldridge; (bottom row, L-R) Tonya Fields, Sarah Ruth Yates, Angela Chrisla Elliott, Lesli Dayle Elzy, and Stephanie Trautwein.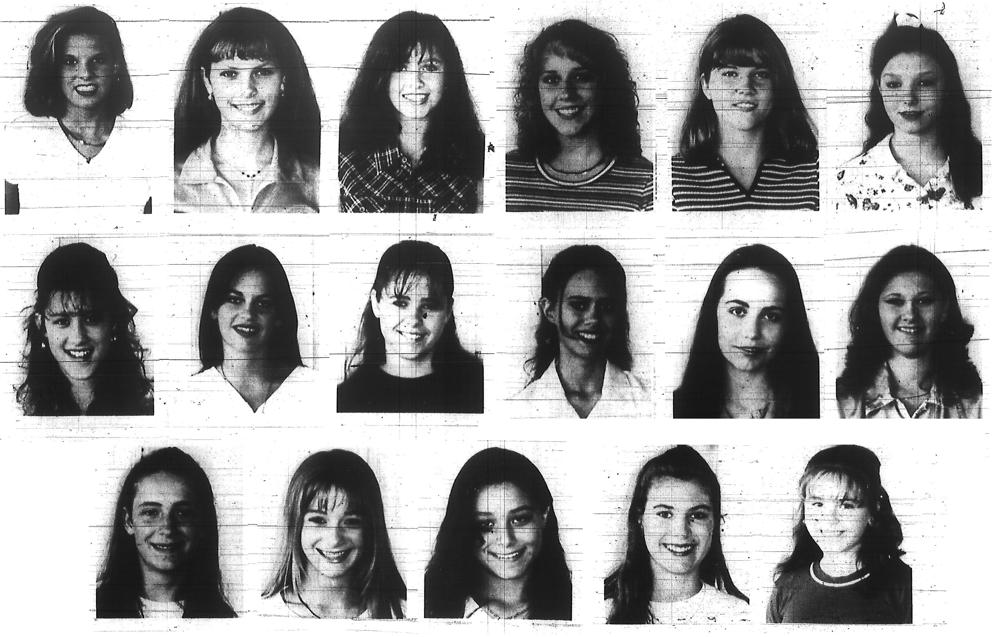 And the candidates for Miss Bullitt County Fair were (top row, L-R) Crystal Gayle Bentley, Kelly Michelle Johnson, Portia Reana Boone, Cristalle Dawn Maraman, and Shannon Clark; (middle row, L-R) Tabitha O'Neal Dever, Amanda Basham, Chrystal Lynn Pile, Aimee Beth Bowling, and Michelle S. Kelley; (bottom row, L-R) Abby McAllister, Trisha Lynn Watson, Cassandra Jean Owens, Kelly Blair McPherson, and Dara Ann Davenport; (not pictured) Amanda Rose Poppell. [Note that the images are taken from microfilm which isn't aways clear.]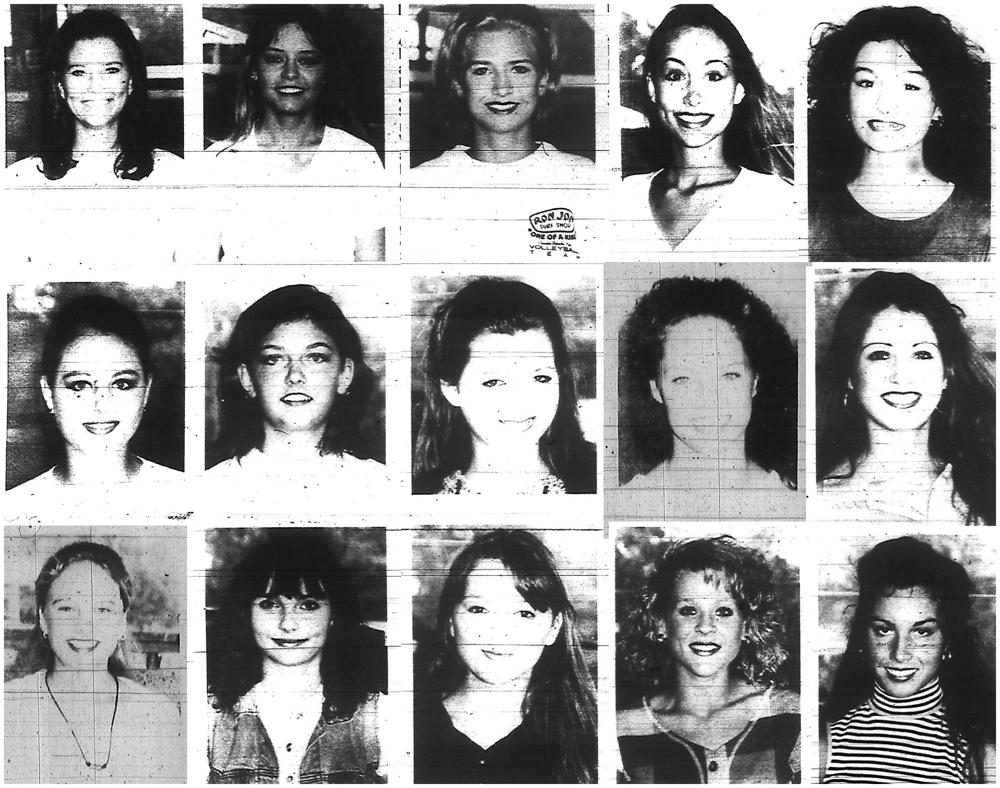 Cristalle Maraman was selected as Miss Bullitt County Fair.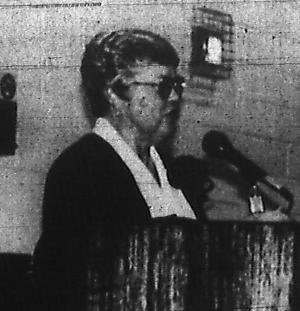 Barbara Elliott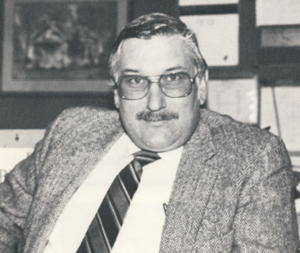 Joe Mills
Linda Waller, Supervisor of Social Services for the Bullitt County Schools, participated in the Kentucky Institute for Women in School Administration. She joined JoAnn Barr, Karen Travis, Dr. Helen Harrah, and June Maier who were past participants in the institute.
Bullitt Central Principal Barbara Elliott was pictured in the paper as she presided over her final commencement at the school.
And Joe Mills retired as principal of Bernheim Middle School after spending 28 years in the school system. On a personal note, Joe was as fine a man, and as good an educator as any I've ever known. It was my pleasure and honor to work with him for a number of years.
1970 - 50 Years Ago.
The paper managed to combine information about two different college graduates into one front page article. The headline and first part of the article were about Jewel Lutes, wife of Ralph Lutes of Mt. Washington. However, the picture and latter part of the article were about Linda Howlett Belcher, wife of Larry Belcher.
Jewel received her teaching degree from Spalding College, and was hired to teach at the Mt. Washington school. Linda graduated from Eastern Kentucky along with her husband, and both planned to return to Bullitt County to teach.
Fortunately, the paper corrected their error in the next edition.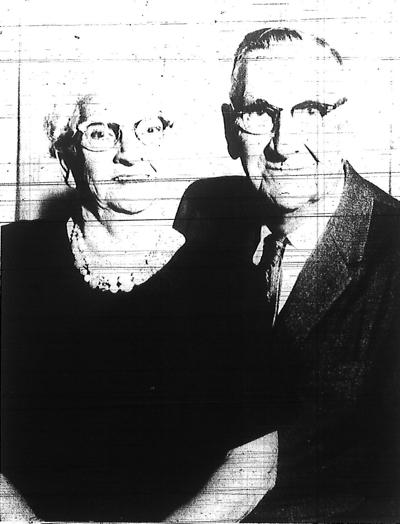 John and Grace Owens
John T. Owens and Grace Brown were married in June 1909. In 1970, they celebrated their 61st wedding anniversary, and were pictured on the front page of the local paper. They were in their 66th year of marriage when John died in 1974. John was a retired policeman. They resided in Bardstown Junction.
G. K. Bass noted several building projects in the Mt. Washington area. Leo and Virginia Bleemel were building a new home on Highway 44; Omar and Darlene Stallings were building a home near her mother, Mrs. Hilden Cornell; Lindsay Wigginton, a real estate man, was building two model homes on the Louisville Highway; and Billy Lloyd's real estate business also had a new building on that road.
Gail Anne Becnel, daughter of Mr. and Mrs. Leo A. Becnel of Shepherdsville, received her nursing degree from the Kentucky Baptist Hospital School of Nursing. Gail was a 1967 graduate of S.H.S.
According to the Hebron correspondent, Mr. and Mrs. John F. Wigginton, Mr. and Mrs. S. T. Salyer, and Mrs. Elizabeth Elliott motored to Pineville to attend the Mountain Laurel Festival. She also reported that Miss Susie L. Swearingen took Miss Ethel Ridgway and Mrs. Lula Durvall to the Mt. Washington Cemetery to decorate graves.
The following members of Boy Scout Troop 5 of Shepherdsville attended the Mohawk District Spring Camporee at Rough River: Mike Mayes, Eric Fischer, Chuck Phelps, Robert Stotts, Johnny Sneed, Mike Freeman, Biff Huckaby, David Hogue, Russell Forshee, Joey Sneed, Harold Masden, Glen Napier, Roger Phelps, Keith Phelps, Jimmie Losey, Doug Miller, Mark Warren, Alan Fischer, Ray Walls, John Masden, and Todd Hardy.
Shown below are the top eleven of the graduates of Lebanon Junction High School: Rose Marie Wise, Paula Rush, Charles Waters, Janet Travis, Susan Geoghegan, Juanita Moore, Preston Samuels, Amy Travis, Geneva Hodge Smith, Roger Cravens, and Rose Marie Hoagland.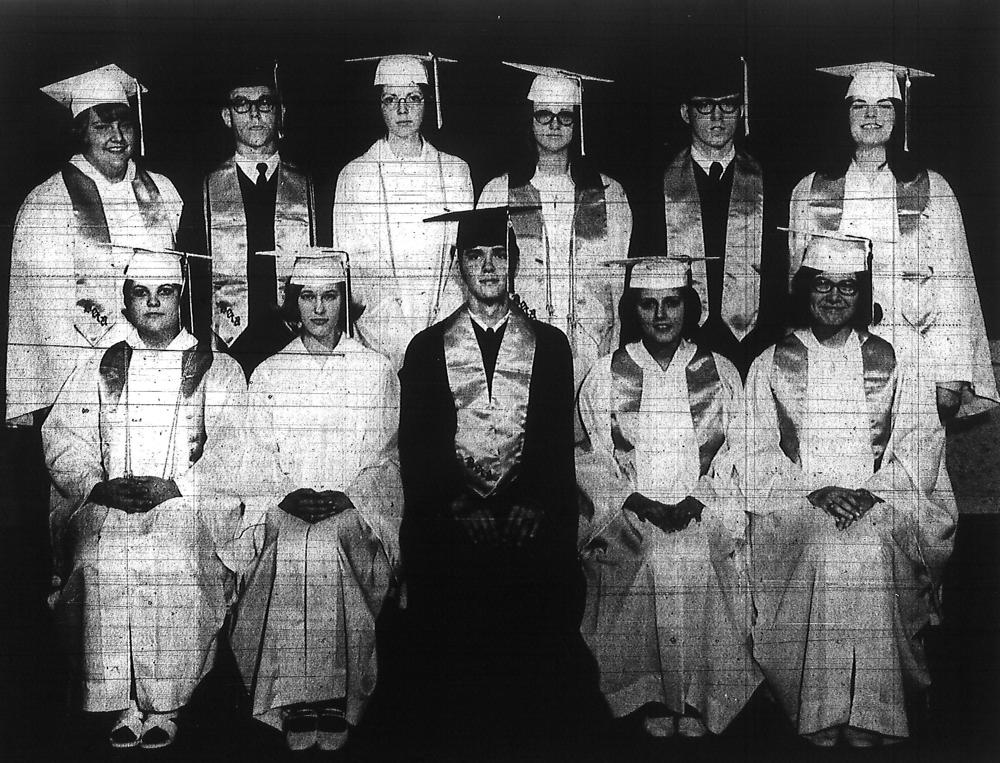 In community news, the Nichols column reported that Mr. and Mrs. Clarence Dawson, Mr. and Mrs. Bobby Belcher, Craig and Clay Dawson, Mrs. Charles Ridgway, and Marvin Hopewell attended a "Birthday Breakfast at Bernheim" for James Ridgway.
Meanwhile, the Pleasant Grove correspondent wrote that Mr. and Mrs. Joe Fultz, who then lived in Florida, stopped by to see his old friends at Pleasant Grove; and that Elbert Bass sang a Father's Day song at the Church Father's Day Banquet.
She also mentioned a kind deed done by Mrs. Armstrong and Mrs. Sue Grant who visited with Miss Arleen Devine, to stay with her while Mr. and Mrs. Walt Devine went out for supper.
The Hebron Newsletter shared that Susan Crumbacker and Marsha Neal had started classes at Sullivan Business College; that Brenda Garr was attending a music camp near Lebanon Junction; and that a farewell picnic for Rev. and Mrs. Joseph James of the Hebron Presbyterian Church was held at the Manse.
And she also reported that the Neil Brooks Jr. family spent a weekend in the Smokies; and that John and Mary Dell Meyer were vacationing in Wisconsin (fishing trip, no doubt).
1945 - 75 Years Ago.
An early June headline announced that SSgt Marvin Underwood had been liberated from a German prisoner of war camp. This was great news for his parents, Mr. and Mrs. Oscar Underwood of Shepherdsville. He returned home on furlough the next week.
The "Jukebox Ramblers" sponsored the first basketball game played in the restored S.H.S. gym. In it the school seniors' team defeated the underclassmen 33-29.
Some found time to do some traveling, including Mr. and Mrs. W. L. Napier and sons, and Mrs. Lawrence Frick and daughters who managed a weekend at Renfro Valley.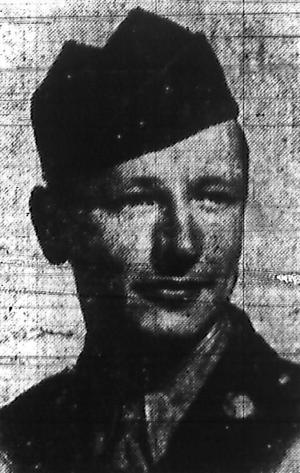 Russell Johnston
George A. Jones, pastor of the Bardstown Junction Baptist Church became the third local area pastor to enter the armed services as a chaplain. He joined Carmen Sharpe of New Salem, and Lowell Sodeman of Shepherdsville Baptist.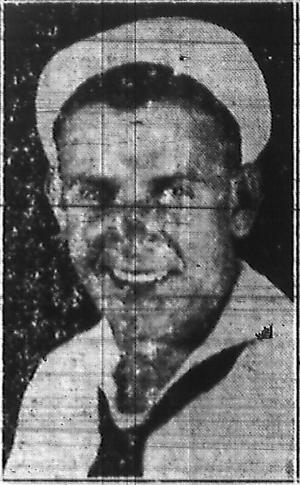 R. B. Armstrong
Russell C. Johnston of Shepherdsville, son of Mr. and Mrs. William R. Johnston, was promoted to sergeant. He was a B-24 aerial gunner stationed in Italy.
Another promotion went to Jerome W. Dawson, husband of Pauline Rose Dawson of Lebanon Junction. He advanced to 1st Lieutenant as an infantry officer serving in the Pacific.
The Hamilton boys were both home on leave. Charles "Gay" Hamilton was home while his ship was undergoing repairs; and Bruce had leave from the hospital in Virginia. Their parents were Mr. and Mrs. Henry Hamilton of Shepherdsville.
Robert Bennie "R.B." Armstrong was pictured in the paper. He was a Seaman First Class stationed somewhere in the Pacific.
SSgt Glendon C. Hall was home on leave after returning from overseas where he was wounded. He was a son of Mrs. Blanche Hall of Shepherdsville.
The Lebanon Junction correspondent wrote that the entire community was "sorely grieved" when they learned that their former high school football coach, Reason Newton, was severely injured on Okinawa. I'm pleased to report that he survived his injuries, and returned to coach football. He lived a long life, passing in 1995 after a career as a teacher and coach at Valley High.
Lt Herbert W. Lee Jr., son of Herbert and Mildred Lee of Shepherdsville, was an air force pilot serving in France. Before the war, he was a maintenance mechanic at the Schenley Distillery of Limestone Springs. He was credited with more than 13 combat missions. The paper also reported that his wife Mildred (Huffman) Lee gave birth to a boy in June.
While the war in Europe had ended, it continued in the Pacific. Another casualty was P.F.C. Johnny W. Bishop, son of Mr. and Mrs. Walter Bishop of Shepherdsville who was killed on Luzon, the largest of the Philippine islands.
The Cupio correspondent wrote that Mrs. Jane Friebert had gone to the City to await the arrival of her husband, Sgt Frank Friebert who had been overseas for three years.
1920 - 100 Years Ago.
The Division Boards of Education met and elected the following teachers: Nichols, no principal, Ada Monroe, Assistant; Mt. Olive - Eula Funk; Sunnyside - Marge Redman; Shades - Christine Armstrong; Woodlawn - Bertha Harshfield; Bullitts Lick - Willie C. Quick; Mt. Elmira - Hallie Ellingsworth; Needmore - Stella Simmons; Hebron - Lula Cook, Neva Magruder; Brooks - Mary E. Crenshaw; Beech Grove - Meta R. Cooper; Green Briar - Katie M. Ball; Mt. Washington - Bertha F. Engle, Emma M. Harris; Sugar Valley - Edyth Clark; Edgewood - Kathryn Melton; Whitfield - Mary C. Holsclaw; Cedar Grove - Susie Crenshaw; Victory - Mary Weller; Woodsdale - Ruby Perry; Hobbs - Ruby Monroe; Glen Ella - Bertha Trunnell; Pitts Point - Mary Dawson; Beech Grove - Blanch Engle; Hays - Ida M. Greenwell; Cane Run - Lillian Monroe; Harned - Maggie Wise; Mt. Carmel - Elizabeth Cash; Culver Springs - Ella Hardy; Oak Grove - Willie M. Ridgway; Shepherdsville (colored) - M. E. Jackson; and Bowman Valley (colored) - Louise Murphy; The following schools had no teachers yet assigned: Corinth, Cedar Glades, Pleasant Hill, Clermont, and Lebanon Junction (colored).
The Mt. Washington correspondent remarked on the nice wedding of Miss Sarah Elizabeth McGee and the Rev. Herman Johnson Fox. The paper reported that they were to soon leave for Japan as missionaries where they were joining his twin brother Harry. As a side note, they spent 21 years in Japan, returning home shortly before the attack on Pearl Harbor. After their return, Fox served as a consultant to the U.S. intelligence services during the war. Rev. Fox died in Virginia in 1960.
The Clermont correspondent reported that Wright and Taylor were quite busy in their bottling department, and had employed Edna Perkins, Virginia and Pearl Duvall, Ethel Duvall, Mrs. Willett, Claude Duvall, and Kathryn Taylor in the effort.
Four Pleasant Grove farmers, Judge Cassell, T. H. Wise, J. W. Lloyd, and Arch Magruder took a day off and made a trip to the state capital to see the sights. They shared a few amusing comments about it with the newspaper.
G. S. Patterson, a Shepherdsville merchant, sold half interest in his store to Mr. Rector John.
Rev. H. D. Burns tendered his resignation at the Bullitt Lick church after six years of service. He was continuing to serve at the Victory and Pleasant Grove churches.
In personal column news, Elizabeth Weller was home from the University of Kentucky to visit with her parents, Mr. and Mrs. Stoney Weller. Miss Ina Fern Foster was home from Arizona to visit her mother. Lillian Pittman, who had been in school in New York and Pennsylvania, was back for a visit. And Foskett Barrall, a local boy who had been working for Goodrich Tire Company in Akron, Ohio, had moved to Canada where he worked for the same company.
Mayme Stephens, daughter of Mr. and Mrs. S. B. Stephens, and Clifford Martin were married. She was a fine young teacher, and he worked for the railroad in Lebanon Junction. They made their home in Lebanon Junction.
Miss Mary Hardaway graduated from the Louisville Conservatory of Music.
The newspaper editor enjoyed making mention of Jim Hardaway's social affairs. In June he remarked, "Mr. James W. Hardaway, the handsome and urbane cashier of the Peoples Bank, was a dinner guest at the home of Mr. and Mrs. Horace Maraman Monday. Miss Julia King, a pretty young lady of Louisville, has been the guest of Mrs. Horace Maraman. She left for home Monday evening after promising Jim that she would be back again."
Not satisfied with that little dig, the editor also wrote that Jim had joined Arthur Newman and Porter Bridwell in calling on the young Rush ladies who had recently moved in the Oak Grove vicinity from Monroe county. It seems that Jim did get around, especially where the ladies were.
---
Copyright 2020 by Charles Hartley, Shepherdsville KY. All rights are reserved. No part of the content of this page may be included in any format in any place without the written permission of the copyright holder.
---