It Happened in June
The following article by Charles Hartley originally appeared in The Pioneer News on 24 Jun 2019. It is archived here for your reading enjoyment.
---
We will be looking back 25, 50, 75, and 100 years to see what was being printed in The Pioneer News in 1994, 1969, 1944, and 1919 in the month of June.
1994 - 25 Years Ago.
Contestants for the 1994 Miss Bullitt County Fair included (from top-left) Christina Abbott, Raina Chesser, Melissa Cissell, Michelle Dawn Gaus, Brooke Keller, Shana Dawn Maier, Jennifer Dawn Marcum, Lea Mattingly, Kathy McCarthy, and Christine Mitchell. Melissa Cissell was chosen for the honor.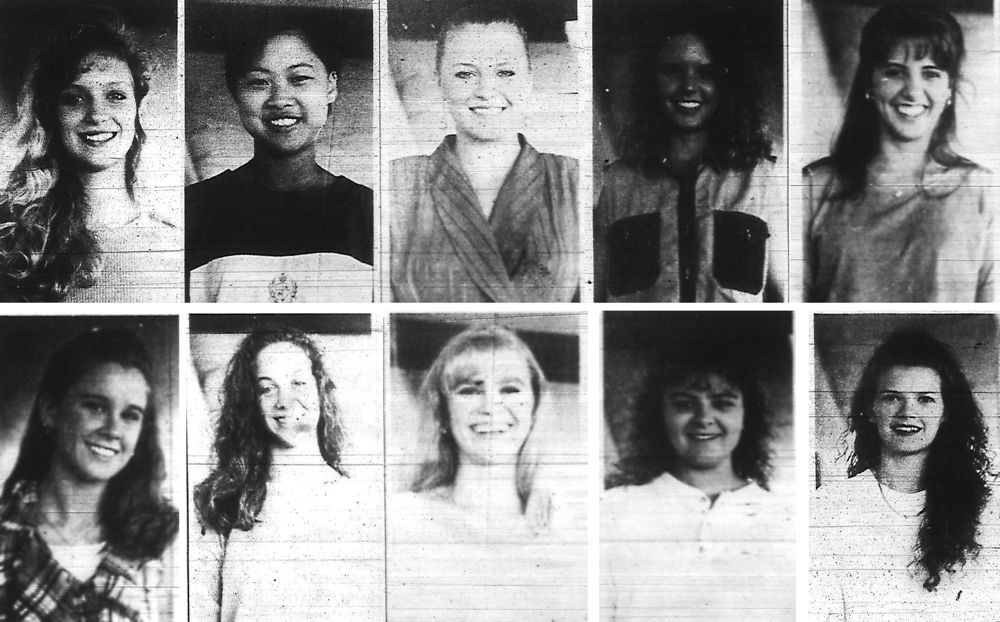 Bullitt Central's graduating class top ten academic students included five Valedictorians: Robert Campbell, Jayda Freibert, Beth Hettinger, Chris Kuhn, and Lynnae Woodrum; and two Salutatorians: DeWayne Frazier and Angela Hamblen. Rounding out the top ten were Tabitha Buege, Stacy Belk, and Tina Hartlage.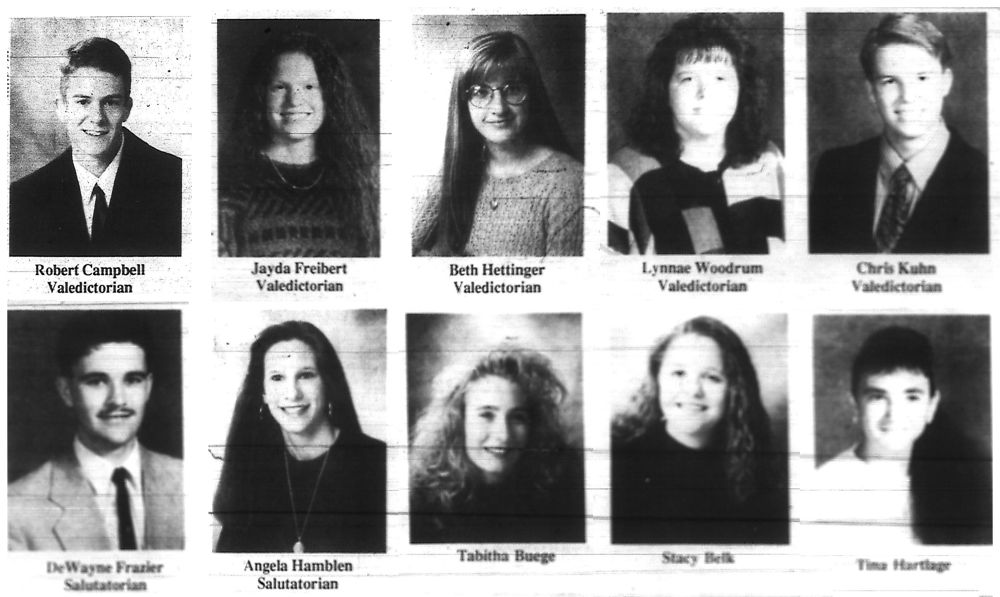 Crystal Hardin was the Class Valedictorian, and Amanda Ackridge the Salutatorian for the graduating class of Bullitt East. Rounding out the top ten were Amanda Snider, Sean McPherson, Julie Roemele, Karen Grigsby, Kim Carnes, Michelle Hand, Gayle Hill, and Jarrod Fuhrman.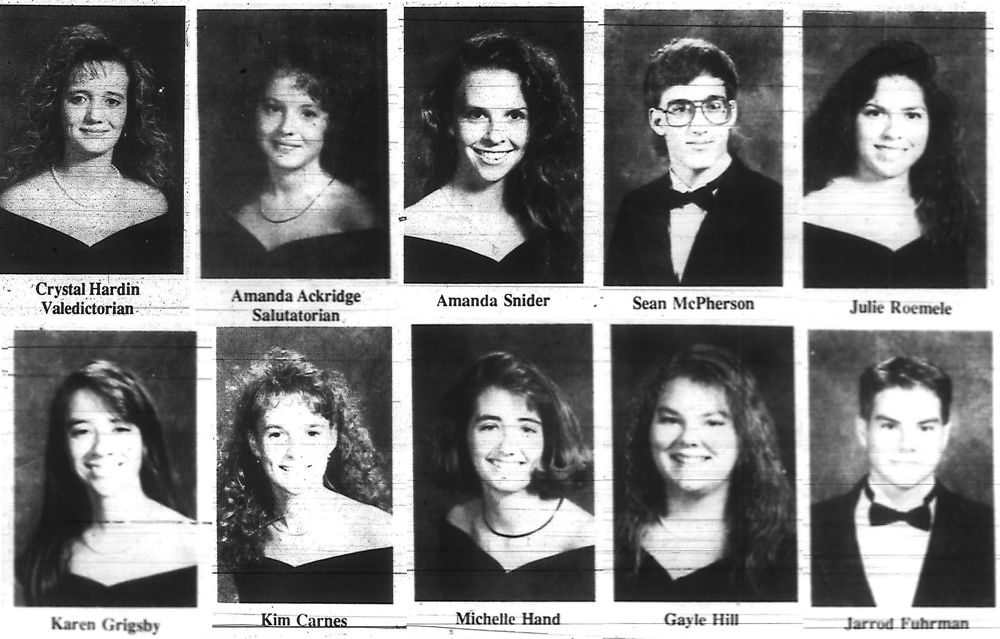 At North Bullitt, Eric Johnson was Class Valedictorian and Jason Schmidt was Salutatorian. Also included in the top ten academic students were Tonya Ortenzi, Tracey Conner, Kimberly Stewart, Jamie Marshall, Kathy Milby, Rebeka Phillips, Holly Kinsman, and Tara Coleman.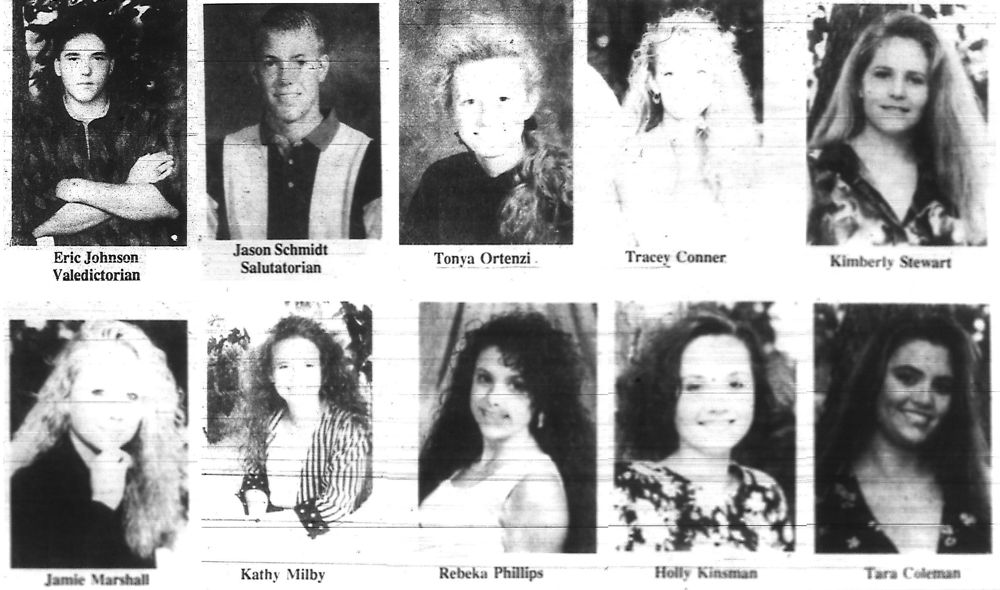 The S.H.S. Class of 1944 gathered again on their 50th anniversary. Present were 16 of the original 24 graduates, including Margie W. Ashbaugh, Elizabeth Bealmear, Harold Dawson, Mary Tyler B. Hamilton, Charles L. Hamilton, James R. Hardy, Marietta R. Howard, Alberta Maraman, Shirley L. Meiman, Clara Newman, Mary Catherine M. Phelps, W. T. Price, Wilbur E. Raymond, Mildred W. Russell, Thomas L. Stillwell, and Lula T. Thomas. Also present were two of their teachers: Mrs. Frances W. Hayes and Mr. James A. Hayes. A special observance was made in memory of their deceased Senior Sponsor Mrs. Annie Laurie Jenkins, and deceased classmates Martha R. Carrithers, John Raley, and Commie Leslie Robison who left school early to join the Marines.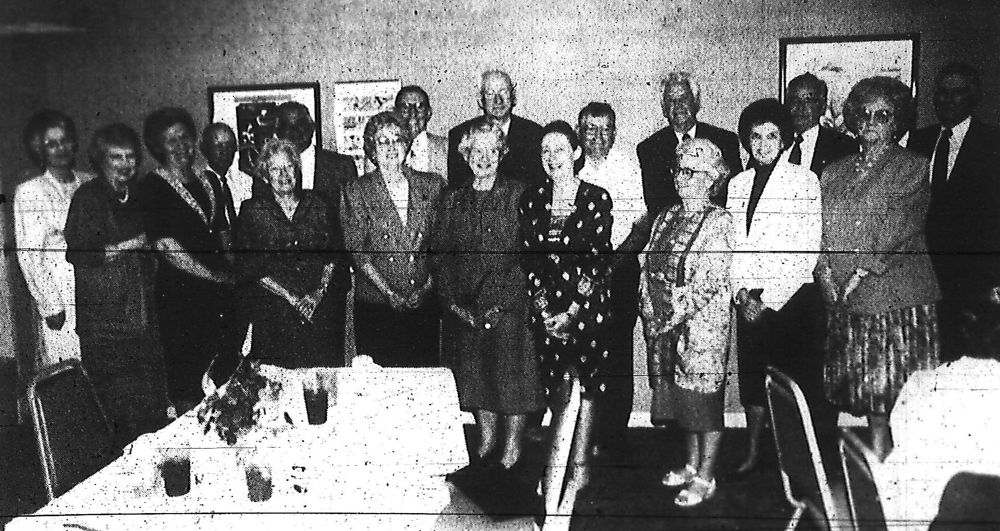 Shepherdsville High School Class of 1944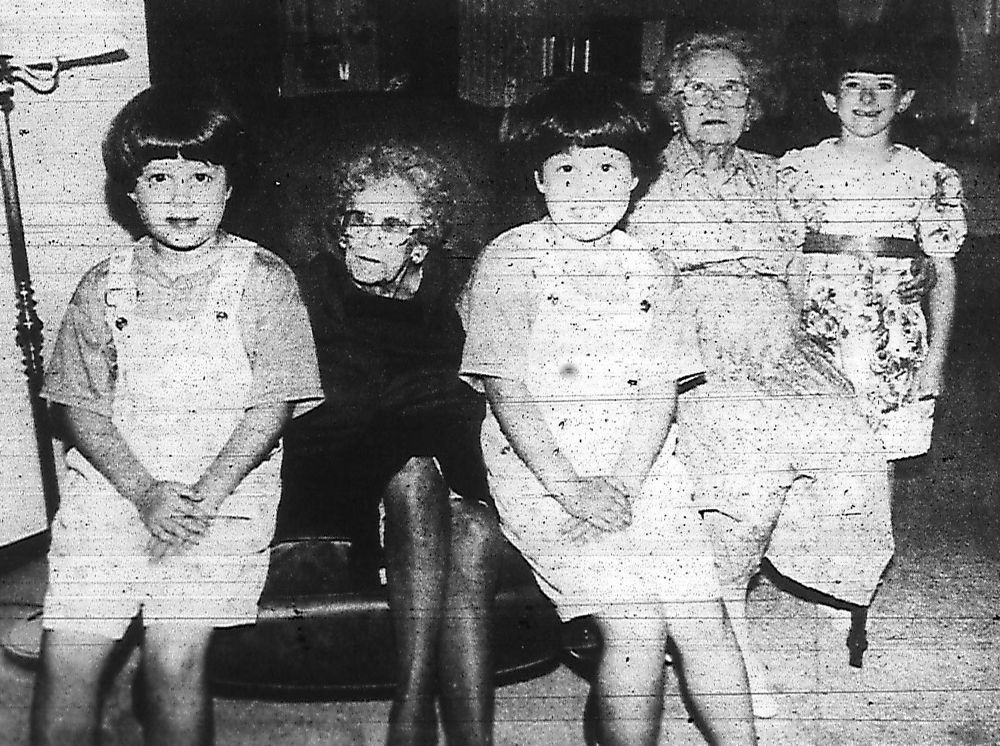 Eula and Eva with Great-Grandkids
Eula Monroe and Eva Bullock celebrated their 90th birthdays together, much the same way they'd spent their lives together as twin sisters. They were born five minutes apart in their Bullitt County home to Charles and Nanny Johnson in May of 1904. Both graduated from Shepherdsville High School in 1925.
Eula, the mother of former Bullitt County Judge Executive Clifford Haley, survived two husbands, Clifford Haley Sr., and W. J. Monroe, before dying in 1998 at the age of 94. Eva, who was married to John Clark Milton Bullock for many years until his death in 1993 at the age of 96, went on to live until the Fall of 2007, passing at the age of 103.
Kristy Dadisman, a Bullitt Central graduate, was honored at Berea College as a Scholar Athlete, lettering in track, cross-country, and basketball while maintaining better than a 3.0 grade average.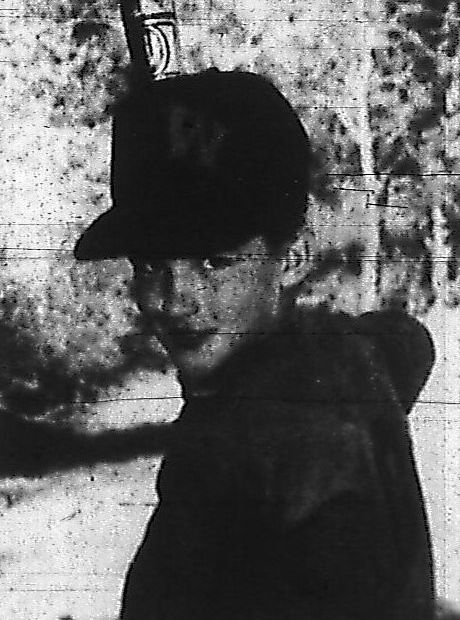 Kenneth Travis
Angie Dunagan, Tina Hartlage, and Michele Yorgy of Bullitt Central, and Joni Neighbors and Tonya Spears of North Bullitt were all named to the Eighth Region All-Tournament Softball Team.
Kenneth Travis, who played in the Mt. Washington 11-12 division Youth Baseball League, pitched a no-hitter for Coomer Saw and Lawn against the Stouts Building Center team.
Several couples celebrated their golden wedding anniversaries. They included Mr. and Mrs. Edward "Buddy" Gray of Mt. Washington, Lucile and Edward Skipworth of Shepherdsville, Edward and Lorna Ashby of Valley Station, and Ben and Elnora Hester of Brooks.
High School Juniors Jason Perry, Rachel Layman, and Brad Stivers of North Bullitt, Jason Chandler and Becky Franklin of Bullitt East, and Emily Korfhage and Anne Aligeier of Bullitt Central were all chosen as Governor's Scholars. They were to attend college programs during the summer.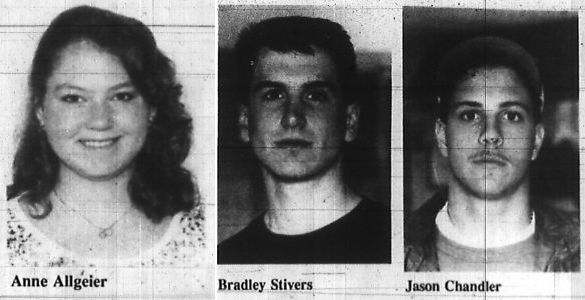 And the youth handbell choir from Shepherdsville First Baptist was preparing to attend The American Guild of English Handbell Ringers Young Ringers Conference in Niagara Falls, New York at the end of the month. Pictured were (front row) Kelli-Ray Troutman, Becky Beasley, Treshia Pepper; (second row) Julie Wise, Jeff Marcilliatt, Clayton Robertson, Josiah Qualls, Whitney Robertson; Bill Thomas, director.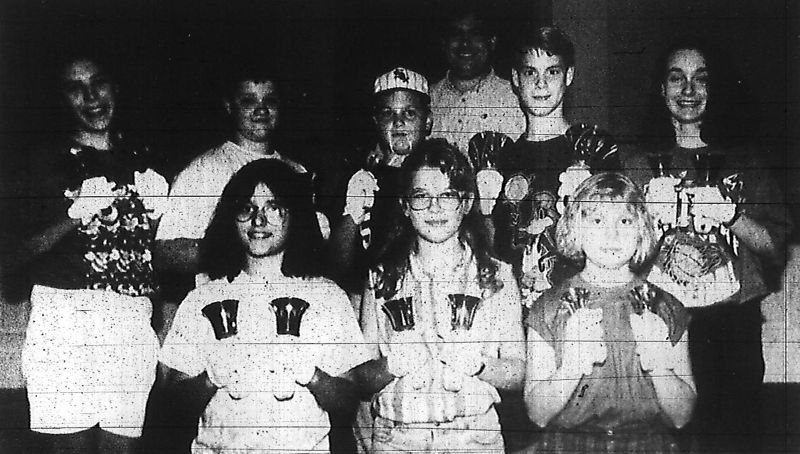 1969 - 50 Years Ago.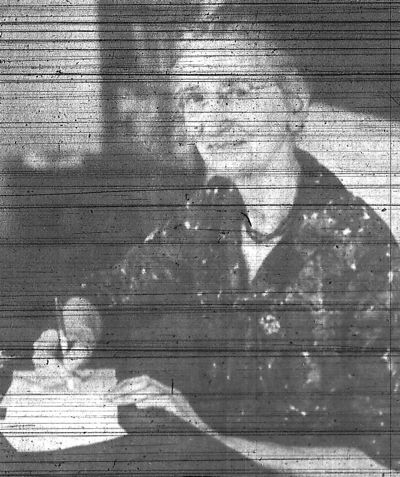 Miss Augusta Dawson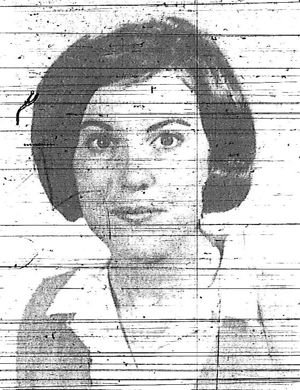 Elisé Givhan
Miss Augusta Dawson retired after 43 years, including the last 22 years at the Shepherdsville school. Her sister, Miss Zardetti Dawson had retired a year earlier after teaching for 44 years.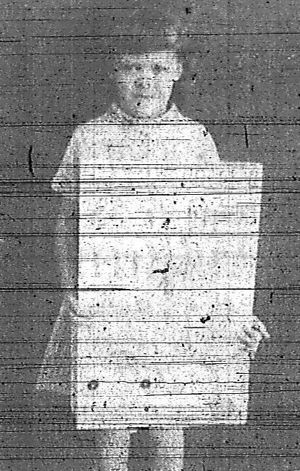 Janine Sohm
Janine Sohm was a second grader at St. Aloysius in Shepherdsville. Her safety poster won first place in the national poster contest, primary division, sponsored by the A.A.A. She was the daughter of Mr. and Mrs. John Sohm of Shepherdsville.
Elisé Givhan, a junior at S.H.S., was selected at Girls' State Assembly to represent Kentucky at Girls' Nation in Washington, D.C. At the State Assembly, she was elected Speaker Pro Tem of the House of Representatives.
The Mt. Washington community was saddened to learn of the death of S/Sgt Harold M. Brown in Vietnam. His widow was the former Judith Stringer.
In Cedar Grove community news, Mrs. Lanham reported that she spent a few days with her daughter, Mrs. Bud Hardin; and that Mrs. Mae Vincent spent a weekend with Mr. and Mrs. Oral Meredith on Bells Mill Road.
The Hebron correspondent expressed sympathy to the family of Alva Smith who died in Washington, D.C., and was buried in the Hebron Cemetery. His widow was the former Margaret Frances Beeler.
She also reported that Rev. Joseph James of Hebron Presbyterian Church had been appointed to represent Bullitt County on the Kentuckiana Educational Television Council.
Clara Simmons of the Pleasant Grove community reported that lightning had destroyed a television, radio, and telephone at Tommy Grant's home, and had broken the top out of a cedar tree at Carey Smith's place.
Dr. C. H. Skelton advertised the Fisher's Fun Farm, located near Mt. Washington, as a good place for boys ages 8 to 11 to enjoy swimming, fishing, games, and pony rides. He recruited Ricky Dever, Dennis Watson, and Billy Adkins as Junior Counselors at the camp along with the Camp Leaders, Rita Belcher and Danny Masden.
The paper reported that Bullitt County high schools graduated 283 students with 185 coming from Shepherdsville High School. Mt. Washington graduated 59, and Lebanon Junction added 39. The total number of graduates exceeded the previous year by 67, and 107 over the class of 1964. We've included microfilm images of the three graduating classes below.

Shepherdsville High School

Mt. Washington High School

Lebanon Junction High School
William Robert Rhodes, Jr., of Lebanon Junction, graduated from W.K.U. with honors.
Nine local students were identified by the paper for receiving financial aid to attend institutions of higher learning. They included Christine Hoagland, Cassandra Travis, Barbara Rummage, Lee Nalley Morgan, Danny Meadows, Dale Anderson, Richard Fetty, Mike Phillips, and Phillip Louis Noltemeyer.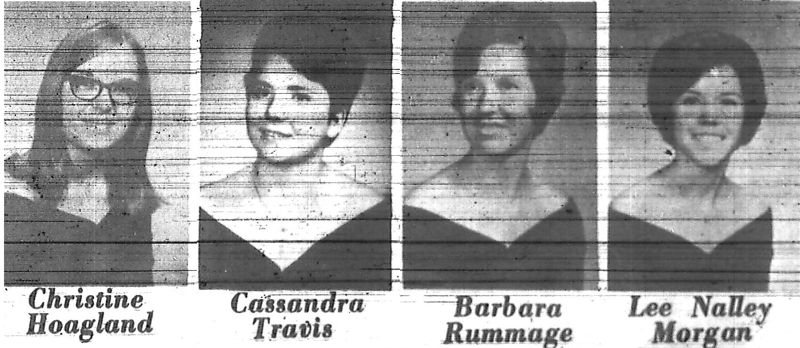 And eleven of the twenty-four 1944 S.H.S. graduates gathered for their 25th anniversary. Pictured from left to right, standing were John A (Jack) Raley, Howard Dawson, Martha Ridgway Carrithers, Marietta Raley Stovall, Charles Hamilton, and Jimmy Hardy. Seated were Mildred Williams Russell, Mary Tyler Bell Hamilton, Lula Thurman Thomas, Elizabeth Bealmear, and Shirley Lane Meiman.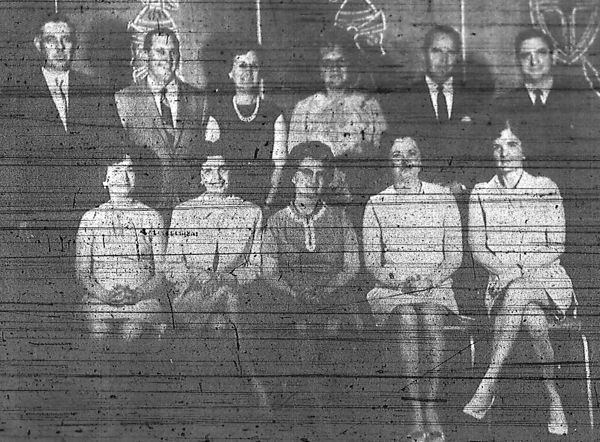 1944 - 75 Years Ago.
Cpl. Clifton Hall, Sgt. Robert G. Harned, PFC Jessie R. Foster Jr., Pvt. Noah E. Whittle, Pvt. Morris A. Lambe Sr, PFC Johnny W. Bishop, John B. Viers, Wathen E. Viers Jr., PFC Martin Ryan, Cpl. Earl T. Stottman, and Pvt. Roscoe Weller all wrote to the paper, thanking the editor for seeing that they received the local paper wherever they were.
The Lebanon Junction correspondent reported that Sgt. Bernard Mattingly was home on furlough and looking fine. Also, Mr. and Mrs. John Argenbright were the proud grandparents of a new grandson born to their daughter, Mrs. Seabrook Kile in Louisville.
In Red Cross notes, Miss Frances Trunnell, Mrs. Octavia Bradbury, Miss Reba Hall, Miss Cora Ney Hardy, Mrs. Mary E. Sodeman, and Mrs. Betty Larimore represented the N.Y.A. of the Baptist Church at the home of Mrs. H. H. Combs to fill 144 Red Cross apron kit bags for service men. Mrs. Pearl Lee of Shepherdsville had made 36 of the bags to be filled.
Bullitt County Court Clerk T. L. Cook posted a notice that anyone 65 and older could hunt and fish without a license if they had a signed affidavit of the place and date of their birth.
In Mt. Washington news, Pvt. Stanford Harris left to return to his camp in Alabama after a furlough with his family; Mrs. Jean Hall visited her husband Pvt. Jean Hall at Jacksonville; and Mrs. Leroy Moore left to stay with her husband Pvt. Moore at Ester Field in Louisiana.
Also, Major Samuel H. Ridgway, son of Mrs. Margaret Ridgway and the late Dr. S. H. Ridgway, became seriously ill in Pennsylvania, but was reportedly much improved.
In the Personals column, we learned that 1st Lieut. Otto Losch was home on furlough after being overseas for more than two years; that Mildred Williams and Jane Ridgway, recent graduates of the Shepherdsville school were employed as secretaries by the American Creasoting Company in Louisville; and that Wesley Ryan, who was somewhere in the South Pacific, had been promoted to PFC.
Mrs. Lena Troutwine of Bardstown and Mr. Orien Roby of Shepherdsville were married. They spent their honeymoon at Mammoth Cave.
In news from the Hebron community, we read that Joe Kelley, while putting a new roof on the home of Mrs. Maude Ridgway, fell from the roof, but his only injury was a hot foot from stepping in hot tar.
Anna Hawkins of Shepherdsville was looking to buy a used sewing machine with a long bobbin and in good condition. Call her at 107 (yes, that was her phone number).
PFC Allen R. Hawkins Jr. arrived home on furlough from Italy after being overseas for about a year. He was the former editor of The Pioneer News, and the husband of Mrs. Anna Hawkins.
And Mrs. T. C. Carroll was selected as the National Democratic Committee woman from Kentucky, a distinct honor.
1919 - 100 Years Ago.
The following canvassers were named by school district to conduct a drive to collect funds for the Salvation Army, and for the starving people in Syria and Armenia. We'll break the list up into several paragraphs, alphabetized by school district.
Bardstown Junction - Mrs. Ward, Miss Ethel Newman; Beech Grove - W. G. Thornberry, W. G. Jenkins; Belmont - Robert Purcell, Miss Constance Purcell; Brooks - Ed Quick, Dr and Mrs. R. L. Hackworth; Bullitt's Lick - Ed Mattingly, Tom Mattingly.
Cane Spring - Ewing Crenshaw, Will Shaw, Hansford Harned, Wm. Whitehead; Cedar Glades - Bur Roby, Ed. R. Ash; Cedar Grove - C. E. Crenshaw, Willie Swearingen; Chappell - John L. Quick, Roy Masden.; Clermont - W. F. Knight, Ed Hess; Corinth - Bart King, Charlie Nichols; Culver - L. L. Roby, John Lee.
Edgewood - W. T. Carrithers, Len Taylor; Glenn Ella - A. Davis, H. Trunnell; Greenbriar - R. K. Hall, Will Gentry.; Harned - S. H. Ricketts, J. H. Harned; Hays School House - Frank Harned, W. T. Hill; Hebron - Herman Williams, Mrs. Ella Pope, Mrs. J. R. Holsclaw; Highland - R. B. Ridgway, A. A. McKinley; Hobbs - Jack Clark, C. V. Muir.
Lebanon Junction - W. T. Stephenson, R. M. Hocker, Miss Mary Ray; Mt. Carmel - J. R. Burchiell, Rodney Ricketts, John Dragoo; Mt. Elmira - E. T. Colvin, C. K. Kneisler; Mt. Olivet - C. E. Funk, Richard Moore; Mt. Washington - Revs. Wilhoyte and Peak; Nichols - W. B. Nichols, Miss Eunice Ridgway; Oak Grove - O. H. Masden, Ora Roby, Cleve Masden; Pitts Point - Jesse Dawson, Miss Mary Dawson, H. D. Shafer; Pleasant Grove - Roy Stallings, Tom Bridwell; Pleasant Hill - J. V. Rouse, S. S. Barger, Mr. and Mrs. Smith Harris.
Shepherdsville - J. H. Sanders, C. L. Croan; Solitude, Auxiliary ARC - Mrs. J. V. Rouse, Mrs. A. L. Harris; Sugar Valley - Burr Harris, Polk Bros.; Sunnyside - J. M. Barrall, Richard Miller.; Victory - Mrs. Oral Basham, Miss Fronie James, Lem Swearingen; Whitfield - Sam Wallace, Tom Carlin; and Zion - Crawford Craig, John Greenwell.
J. R. Zimmerman, county chairman for the drive, pointed out how much the Salvation Army had done for our troops serving overseas during the war. He also called on folks to help the unfortunate victims of the war.
A Masonic Banquet was held at the McNeil Lodge in Lebanon Junction. During the conferring of degrees, the Master's chair was occupied by R. M. Hocker, George Bache, T. L. Mobley, Lindsay Ridgway, George I. Rennison, T. C. Carroll and J. R. Zimmerman.
In Mt. Washington, the funeral services of Miss Susie McFarland were held at the Methodist church, lead by her pastor, D. R. Peak, assisted by Rev. Wilhoyte.
A. M. Garr of Shepherdsville had about 1500 feet of good used lumber for sale.
And a cow belonging to Mrs. Fannie Hall gave birth to twin calves. Both were growing nicely.
---
Copyright 2019 by Charles Hartley, Shepherdsville KY. All rights are reserved. No part of the content of this page may be included in any format in any place without the written permission of the copyright holder.
---