It Happened in June
We will be looking back 20, 45, 75, and 90 years to see what was being printed in The Pioneer News in 2001, 1976, 1946, and 1931 in the month of June.
2001 - 20 Years Ago.
The following young ladies were contestants in the 2001 Miss Bullitt County Fair pageant: April Dawn McCubbins, Ashley Twilly, Jessica Dawn Cunningham, Angela Brooke White, Stephanie Lynn Bohannon, Kari Marie Lindsey, Tashia Marie Rash, Elizabeth Renee Thompson, Sara Brangers, and Jessica Moore who was crowned Queen.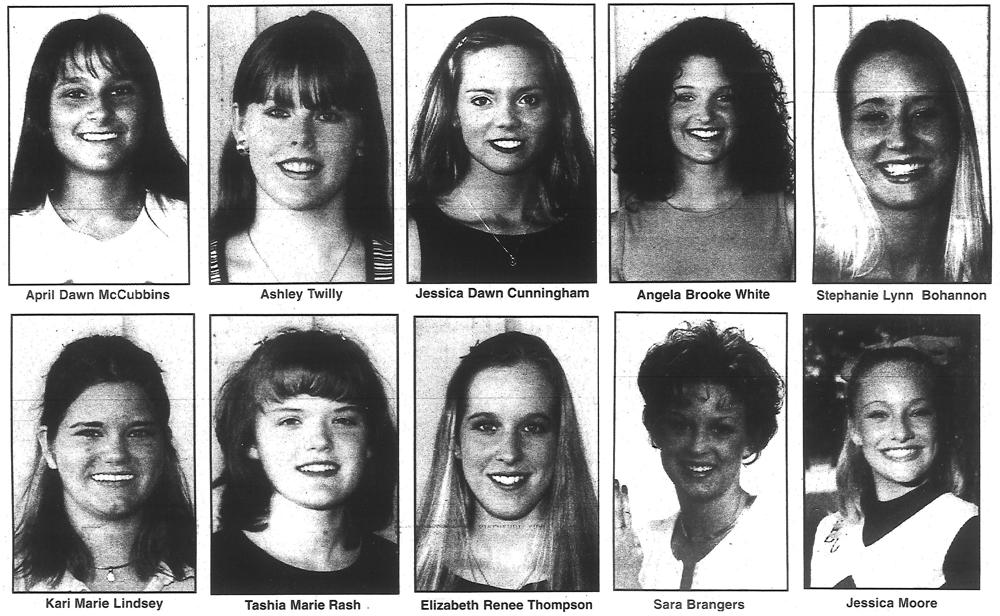 The Teen Miss competition included Jessica Leigh Kearney, April Danielle Bowling, Tori Clardy, Shelly Weber, Tami Jean Farmer, Ann Marie Tinnell, Shana Newsome, Crystal Hinton-Quire, Stephanie Kay Johnson, Melissa Jean Rummage, Holly Dafler, Natasha Cole, Pamela Nichols, Brandy Johnson, Candace Coots, and Patrissa Richard. The winner was Tori Clardy, daughter of Troy and Sharon Clardy.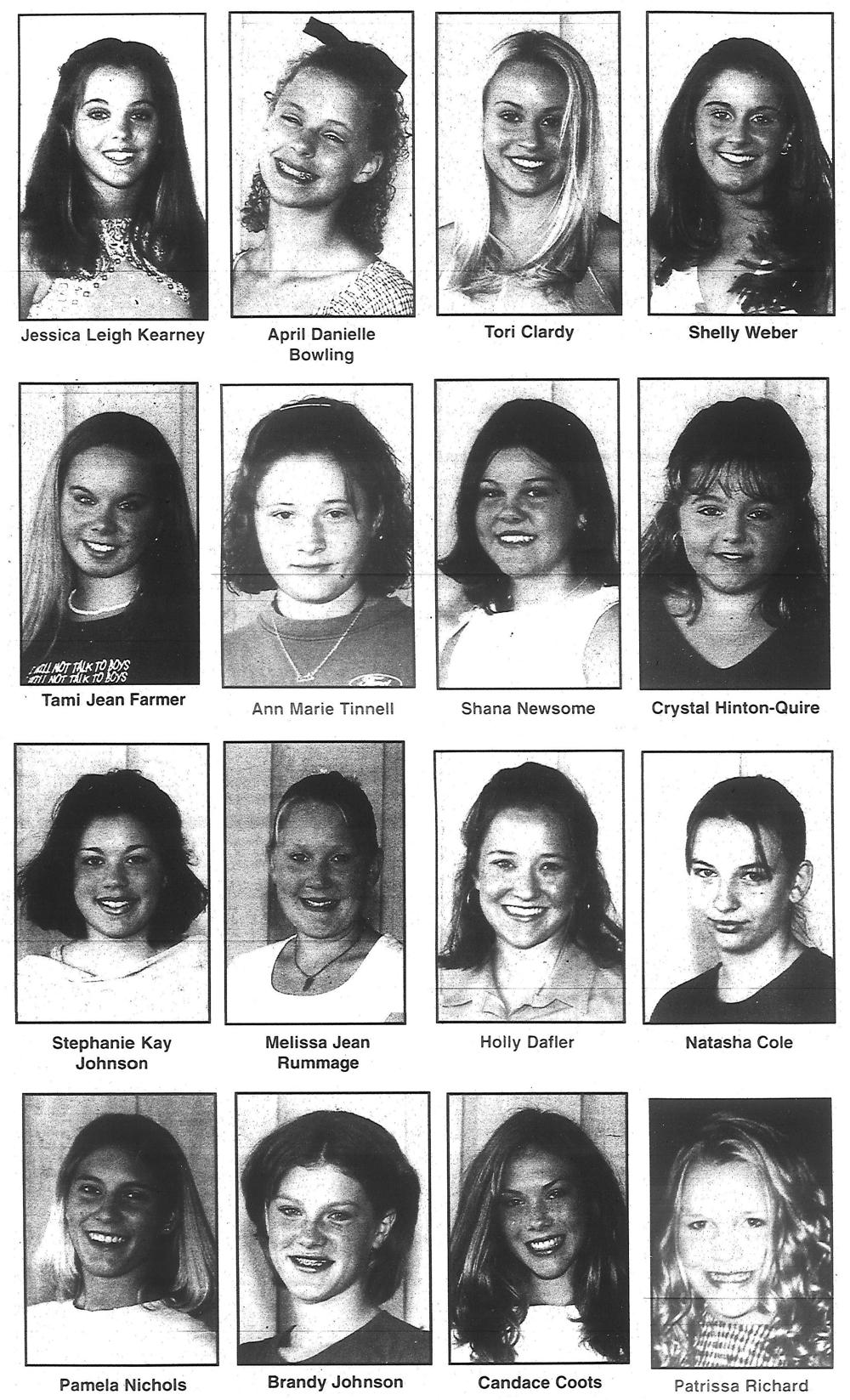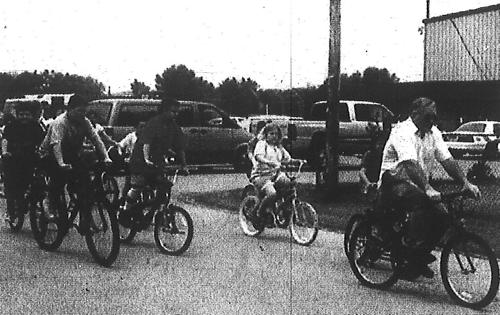 Mayor Leemon Powell was pictured leading the bike rally parade though the city of Hillview.
Bill Robey died. A native of Missouri, he was active in many Bullitt County groups and organizations including serving as the chairman of the local Democratic Party, being a board member of the American Cancer Society, a member of the Fellowship of Concern, and many others.
Beth Renfrow played the clarinet, Justin Ysunza the trumpet, Chris Giadina the trombone, and Alex Austin the tuba in a jazz quartet at Bullitt Lick Middle School's grand recital following the band's superior performance at a Music Showcase Festival in Ohio.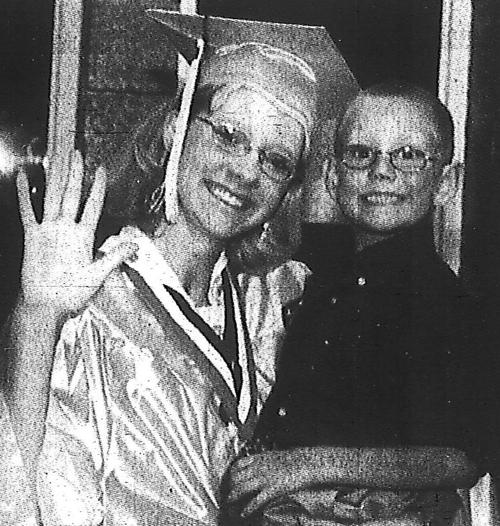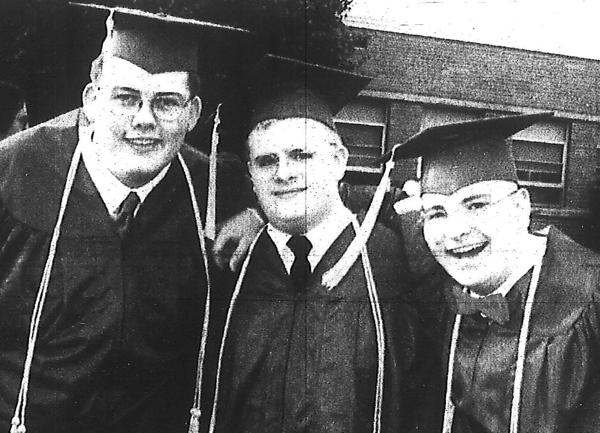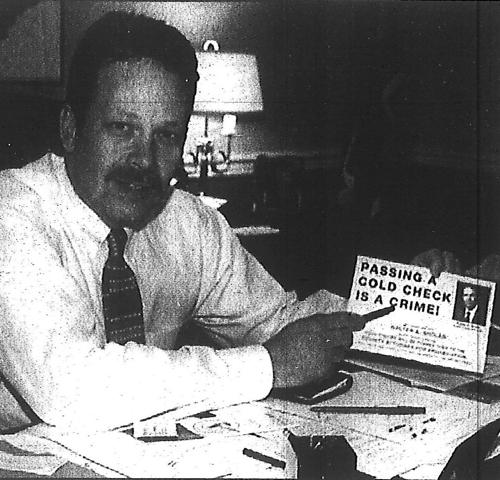 Tiffany Graham was pictured with her nephew before the North Bullitt High School commencement exercises.
Fred Paul, Jason Thompson and Jasper Smith posed for a picture at the Bullitt Central commencement.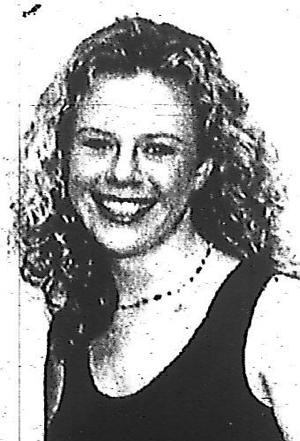 Lesley Rowland
In one of the public servant roles he has played, County Attorney Walt Sholar was pictured in an article about cracking down on writing bad checks.
Willie Maye Hackett died at the age of 93. Her pallbearers were James Sears, Roy E. Welch, Bob Bush, Steve Plenge, Ted Korfhage, and Jimmy Hamilton. Honorary pallbearers included Gay Hamilton, Clayton Sears, and Bruce Hamilton. She was one of the many people who lost loved ones in the 1917 Shepherdsville train wreck, losing her mother.
Leslie Rowland was presented the Outstanding Senior English Major Award at the Murray State Honors Day. I know John and Marilynne were justifiably proud.
Bullitt East senior Josh Chesser was selected to play in the East-West All-Star Football Classic.
Juliane Walter, Daniela Costa, and Julaluk Malaisiriratana traveled a great distance to spend time in Bullitt County where they briefly attended school here as exchange students.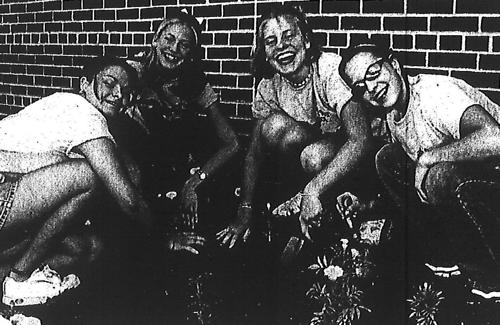 I wonder if Keisha Freelan, Amanda Robison, Britney Brown, and Amber Squires remember getting their picture taken while working to beautify their school grounds?
Staci Hunt of Bullitt Central signed to play soccer for St. Catharine College, instead of the basketball she had thought would be her college sport.
John Harper, former State Representative and former Bullitt County Judge Executive passed away at the age of 71.
The 29th District All-Tourney baseball team included Eric Sollman and Erik First of Bullitt Central; Joe Hager, Chris Childers and Norm Casse of North Bullitt; and Ryan Martin, Jeremy Thompson, Chris French, and Aaron Sollberger of Bullitt East.
On the softball side, the All-Tourney Team included Melanie Keith, Kelly Johnston, Tracy Loeffler, and Heather Carney of North Bullitt; Amanda Lucas, Lea Warren, and Angie White of Bullitt East; and Lindsey Seeders and Kelly Profitt of Bullitt Central.
Another death in the community was that of Jack Plenge, co-owner of Valley View Farms, and local land developer.
The Bullitt Central FFA Chapter, including Alan Foster, Lindsey Sneed, Tashia Rash, Kelly Staley, Brandon Beatty, Kerry Lavely, Josh Riggle, Cindy Blevens and Kyle Skidmore, was awarded the State Gold Emblem, the highest honor a chapter can receive on a state level.
1976 - 45 Years Ago.
Congratulations were offered to Rev. Don Smith who had recently graduated from the Presbyterian Seminary. He had been ordained at the Hebron Presbyterian Church on May 31st, and was soon to go with his family to Alaska for service.
We also learned from the Hebron correspondent that Mr. and Mrs. Sam Rhea and Mrs. Alice McAfee had been called to Missouri by the death of Mrs. Emily Payne.
The S.J.H.S. track teams won victories in the conference track meet at Bardstown. Kevin Davis set conference marks in the pole vault and the 70 yard high hurdles, and finished second in the 120 yard low hurdles. Billy Hogg won the 100 yard dash and 220 yard dash. Martin Adams and Corey Dunn placed first and second in the 880 run, and Steve Brown took honors in the mile run. Billy Arrowood won the 120 low hurdles, and placed second in the 70 high hurdles. Keith Herb won the 440 yard run. In field events, Bobby Walker set a new conference mark in the shot, and placed second in the discus. Keith Herb won the high jump, while Billy Ritter placed second in the triple jump. In the 880 relay, Shepherdsville set a new conference record with the team of Hogg, Davis, Ritter and Barry Conlin.
On the girls' side, Ginny Harned broke the conference record in the 60 yard hurdles, came in first in 80 yard hurdles, and placed second in the 220 yard dash. Mindy Watson placed first in the 50 yard dash. Holly Gaines took second place in both the 100 and 440 dashes, and finished third in the 880 run. Shepherdsville took first in the 440 relay with a team that included Holly Gaines, Ginny Harned, Mindy Watson, and Denise Goodrich. In field events Denise Goodrich won the high jump.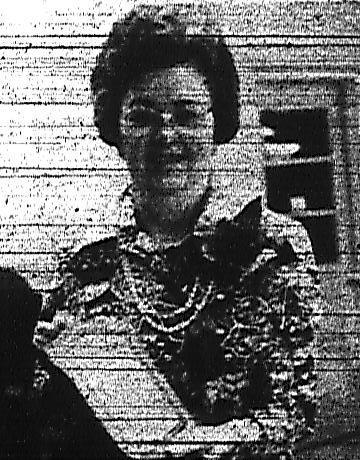 Hattie Halk
Other girls earning team points included Melanie Moser, Paula Crigler, Kathy Hester, Laura Troutman, Terri Combest, Joni Corrigan, and Angie Jett.
Mrs. Hattie Halk, librarian at Bullitt Central, retired after a 32 year career in education. A tea was held in the school library in her honor, hosted by Charlyn Roberts, Margaret Foster, Mona Tamme, Carolyn Odom, and Wilma Harper.
In the Pleasant Grove community, Carl Thomas and his wife had a cookout with Mr. and Mrs. Charlie Gaddie, Mr. and Mrs. Rodney Grant, Kevin, Karen and David and Kendall Grant as guests. Also mentioned in the column was Beulah Foster who had a very deep cold. (Who remembers the beautiful quilts made by her?)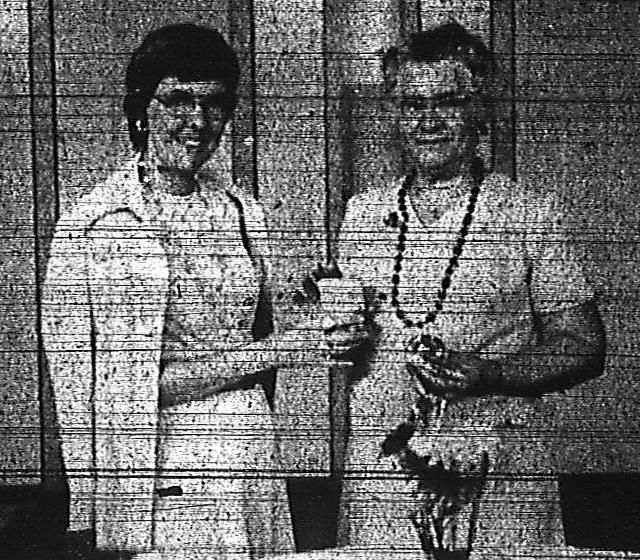 Louise Terry & Emily Robison
Fortitude and good fortune go hand in hand when a student successfully attends every single day of school in a year. Such was the case for these S.J.H.S. students: Michael Johnson, Robbie Bischoff, Ronnie Bischoff, Lauren Howard, Freddie Clan, Ronnie Burks, Denise Goodrich, Debbie Harlow, Virginia Harned, Debbie Hilton, Kathy Nichols, Mark Richardson, Donnie Schmidt, Christy Sturgeon, Keith Sturgill, and Barry Swanson.
Mrs. Louise Terry was pictured with Mrs. Emily Robison at Mrs. Robison's retirement after 30 years of teaching in Bullitt County.
The paper published a picture from the days when Sam P. Martin was pastor of the Shepherdsville Baptist Church between 1902-1911. Pictured were deacons and officers of the church including on the front row, Asa B. Davis, Andrew Nelson, William J. Phelps, Alonzo Lee, John Edward Weller, William Riley Weller, Cleveland A. Masden; and on the back row, Delbert M. Fulkerson, Samuel B. Stephens, Ora Lee Roby, Herbert H. Glenn, William Thomas Lee, James F. Collings, and Jack Sanders.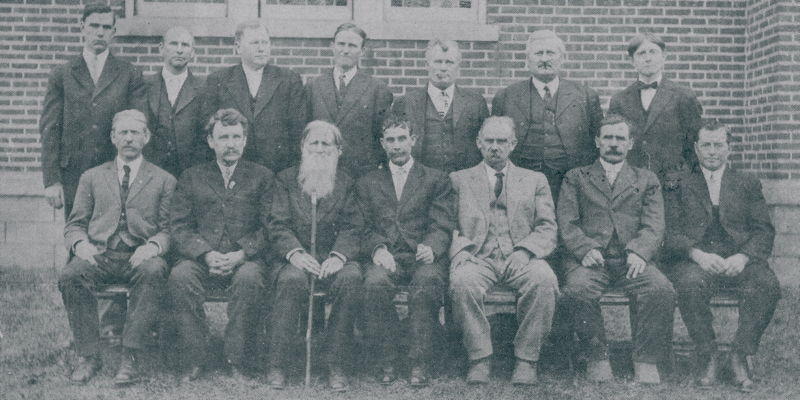 Landon Hadley was called as pastor by the Bullitt Lick Baptist Church. Hadley and his wife Mary Lou were both graduates of Campbellsville College.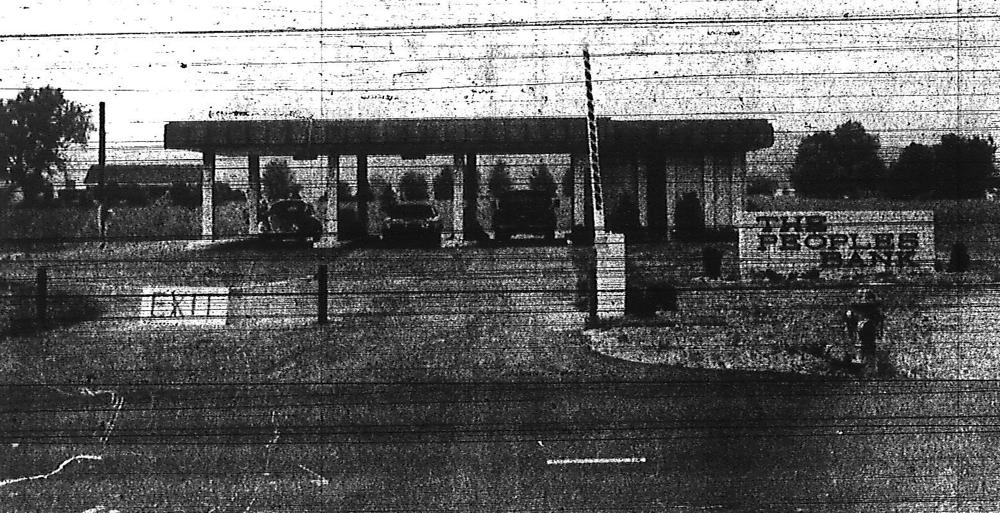 And do you remember when the Peoples Bank opened their three lane drive-up bank on 44E across from Tollview Drive? I bet Bill Hardy does.
1946 - 75 Years Ago.
Ed Frantz, local druggist and owner of Patterson Drug Store, purchased a Main Street lot from G. S. Patterson that lay between the lots of L. R. Mattingly and the Peoples Bank. It was thought that he planned to build there.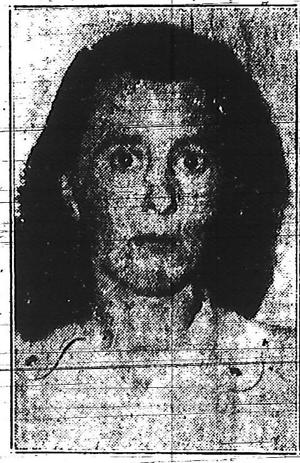 Gladys Bradbury
The local paper called Gladys Elizabeth a British war bride when she arrived in at her new home on her husband's farm at Belmont. She had been a widow with a small son, working in a Leicester, England textile mill when she met Pfc. Albert Bradbury in a movie queue. They were married in England, and were temporarily separated in November when Albert returned to the states with his unit. But they were soon reunited as Gladys arrived with her two children, James Francis Ragg and Ray Anthony Bradbury.
Miss Marion Smith, a piano major and honor student at the Bethel Woman's College at Hopkinsville, returned to Shepherdsville to spend the summer with her parents, Mr. and Mrs. Marion Smith.
We learned in the personals column that Mrs. Howard Roby was able to be out again after being painfully injured several weeks earlier when she fell down the basement steps. And in the Mt. Washington column, we read that both Mrs. Leonard Daugherty and Mrs. Vane Rouse sustained injuries by falls down stairs at their homes.
We also learned that Leland David Cundiff had returned to his unit at Memphis following a few days leave spent with his parents, Mr. and Mrs. Elmer Cundiff.
Geraldine Williams, daughter of Mr. and Mrs. E. L. Williams of Shepherdsville, graduated from Ursuline College with a major in home economics.
There was a big V.F.W. dance at the Old Deer Lake Dance Floor just west of Shepherdsville, sponsored by the V.F.W. Jarriet Thurman Moore Post No. 6720 of Bullitt County. Paul Barry's orchestra entertained.
There was also an ice cream supper and fish fry at the W.O.W. Hall at Clermont.
The people of the Bardstown Junction community met at the home of Mr. and Mrs. R. W. Childers for a "surprise farewell meeting." After 26 years in the post office and grocery business, they had sold their business and planned to make their home with their daughter, Mrs. A. E. Funk in Frankfort.
Tommy Sipes at Gap in Knob had a good male hog for sale. John Richards (The Goat Man) had for sale milk goats and kids. And Hugo Maraman of Shepherdsville would sell you a registered Hereford bull.
Bullitt County's magistrates included Hugh Samuels (Shepherdsville), C. S. Moore (Mt. Washington), A. P. Weller (Leaches District), and John I. Samuels (Pine Tavern District). Other county officials included Clyde E. Roby as tax commissioner, School Superintendent C. V. Foreman, and Coroner C. T. Bridwell.
C. P. Bradbury was county judge, Lindsay Ridgway was county attorney, Theodore Cook was county clerk, Tom Hibbs was the jailer, and Hobart Roby was sheriff.
Pat B. Cruise was master commissioner for the county, and Nancy Strange was circuit court clerk.
And there were quite a few wedding announcements in the paper including Martha Dawson to Albert Rodgers, Dolly Robison to Raymond Perkins, Daphne Cox to Charlie Parris, Mary Elizabeth Maraman to Elmer Eugene Laswell Jr., Sue Averitt to Neill Brooks Jr., Maxine Sowder to W. H. Meadows, Nancy Lunsford to Wathen Viers Jr., Charlotte Thompson to John Wade McAfee, Mary Coryell to Herbert Cundiff, Loretta Tinnell to Joseph Chester Thompson, and LaVerne Troutman to Charles E. McCubbins. (I'm sure there were more that I missed.)
1931 - 90 Years Ago.
Mr. and Mrs. Edward S. Rhea announced the approaching marriage of their daughter, Alice Cordelia Rhea to Mr. J. Vernon McAfee to be held at the Hebron Church on June 17. Miss Rhea taught English at the Mt. Washington school. Mr. McAfee was a prominent young farmer and undertaker in that town.
At the wedding, the Mrs. Inez Kirk Brooks provided the vocal arrangements, Miss Elizabeth Whitman played the organ, and James Harned played the violin.
There were 190 newspapers being published in Kentucky in 1931; 146 of them were published weekly, 14 semi-weekly, and 30 daily, with 13 of those having Sunday editions.
Miss Ida Mae Brown of Louisville spent several days at home with her mother at Belmont due to having a dislocated shoulder.
R. L. Horning of Shepherdsville advertised "painting and decorating of all kinds done in first class order." He also made window screens.
In Needmore Road news, Mrs. Ronald Jones, Adrain Jones, Elsie Pattric and Harley Proctor and family spent a Sunday with Mr. and Mrs. J. B. Proctor. That correspondent also noted that Mrs. James Ridgway, Mrs. George Armstrong, Mrs. Carey Smith, and Mrs. John Stallings were all on the sick list.
The paper published a list of teachers who would be teaching in the county schools. They included E. N. Pusey and Thelma Moore at Nichols; Robert G. Hardy at Mt. Olive; Mabel Snellen at Sunny Side; Gertrude Collard and Cathrine Triplett at Glen Meadows; Ruth Weller at Bullitt Lick; Georgie Alford at Mt. Elmira; Sylvia Barrall at Sharps; Clifton Hall at Pleasant Grove; Delbert Wagoner and Consuelo Simmons at Hebron; Marie Lutes at Brooks; Louise Cochran at Zoneton; Elizabeth Wigginton and Amelia Hoagland at Bethel; W. H. McFarland, Louella McFarland, Edna Stewart, Cecil Froman, Virginia Gardner, and Lurline Miller at Mt. Washington; Anna Garr at Sugar Valley; Jack Gardner at Edgewood; Ruth Crenshaw at Glades; Loraine Wheatley at Pleasant Hill; Geneva Mann at Cedar Grove; Thelma Philpot at Victory; Ida Mae Shaw at Woodsdale; Julia Ash and Roy Parker at Clermont; Ruth Stansbury at Beech Grove; Ida Mae Wise at Hays; Logan Murray at Zion; Clyde E. Roby at Cane Run; Roy Masden at Harned; Neil Triplett at Mt. Carmel; Estelle Bradbury at Culver; Mildred Hall and Linda Harned at Oak Grove; Mary B. Hill at Bardstown Junction; Corene Beeler and John Cruise at Belmont; and Henry Owens at Bowman Valley. This list didn't include those teaching at Shepherdsville and Lebanon Junction.
However, a later list of Lebanon Junction teachers included C. W. Campbell, Flora Cherry, William Lytle, Loraine Willis, Ida Roby, Herman Johnson, Lillie Lee Miller, Eddie Campbell, and Miskel Davis.
Two former Bullitt County teachers graduated from the Western Teacher's College in Bowling Green. They were J. H. "Jack" Sanders who led the Shepherdsville school for a number of years, and Samuel E. Hancock who, at 74, was the oldest teacher ever to graduate from Western. Professor Hancock was the principal at the Medora school when he died in 1936, having been a teacher or principal for 59 years.
And the trustees of the Isaac W. Bernheim Foundation met at the site near Clermont on June 15th. Present were Mr. Bernheim himself, R. W. Pond, Charles Hueline, Sidney Jenkins, James W. Brume, Arthur Lumis, Lewis Cole, and T. W. McKinley. The newspaper editor commented that "this is one of the largest estates in the country and is worth quite a lot for this county." Now, 90 years later, we can still agree with him, and be grateful for Mr. Bernheim's legacy.
---
Copyright 2021 by Charles Hartley, Shepherdsville KY. All rights are reserved. No part of the content of this page may be included in any format in any place without the written permission of the copyright holder.
---