It Happened in July
The following article by Charles Hartley originally appeared in The Pioneer News on 25 July 2016. It is archived here for your reading enjoyment.
---
We will look back 25, 50, 75 and 99 years to capture glimpses of what was happening in Bullitt County in each of these years. Today we will focus on the month of July.
1991 - 25 Years Ago.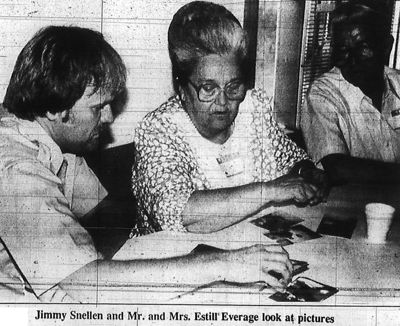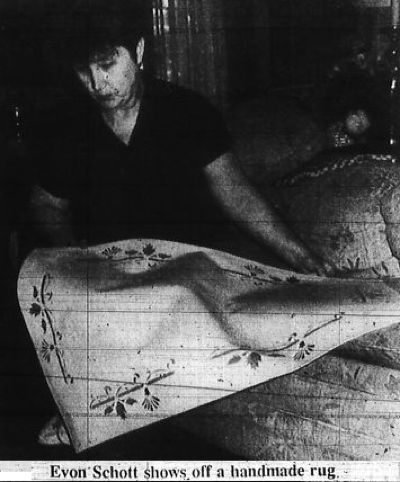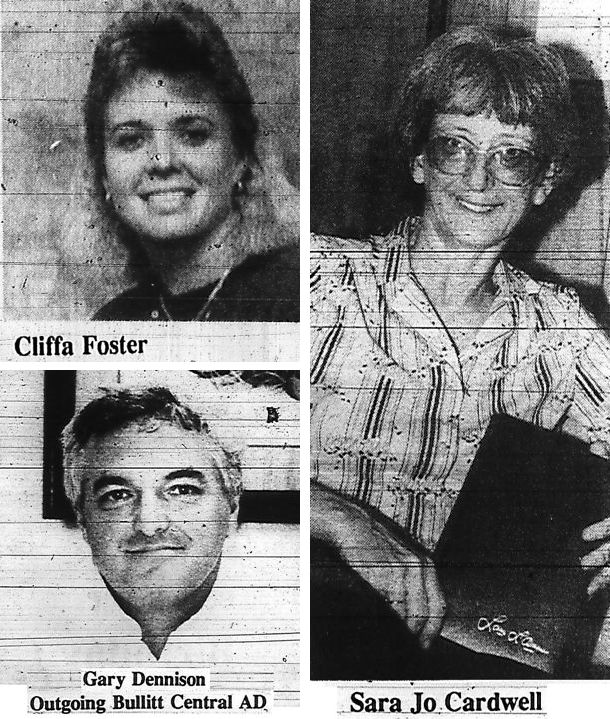 John Roberts wrote a nice article about the Nichols school reunion. Some of the folks named in the article were Viola Logsdon, Jimmy Snellen, Glenda Bradley Pryor, Mrs. Orka Cornett Everage, Jane Faith and her granddaughter LeAnna, Darlene Martin, Brenda Martin, Irma Jean Shelton, Emily Klapper Gatton, and Joe Maurmeier.
John also wrote about Jennifer Jackson, a 10-year-old who loved riding horses, and who had earned nearly 40 ribbons in 4-H competitions.
Missy Baxter wrote about Evon Schott's art, much of which you walk on. The floor coverings in her home are handpainted rugs. Her art work was on display at the Louisville Visual Art Association's Waterside Art and Blues Festival. Schott explained that painting rugs probably originated in the 1200's when women would take threadbare sails from ships and recycle them as rugs.
Linda Crady of Mt. Washington was honored for high academic achievement at Kentucky State University's honors convocation. The English major won her department's outstanding senior award.
Debra Cambron of Mt. Washington, a student at Speed Scientific School, was named to the Dean's List for the spring semester.
The paper reported that Cliffa Foster was traveling with the Christian Athletes in Action Women's basketball team touring Brazil and playing Brazilian professional teams. Cliffa, who was both playing and coaching the team, is the daughter of Clifford and Helen Foster.
Leon and Bessie Burkhead Arnold of Shepherdsville celebrated their 50th wedding anniversary.
Many were saddened to learn of the death of William "Bill" Bishop, long-time county school administrator. Bill graduated from L.J. High School, earned his degree from Georgetown College, and was principal first of Nichols and then Lebanon Junction Elementary. He started the Bischop Insurance Agency, served as mayor of Lebanon Junction. A good man, still remembered well.
Bullitt Central Athletic Director Gary Dennison moved to the Central Office to become co-director of pupil personnel.
The new officers of the Ladies Auxillary to VFW Post 5710 were President Emma Jean Wolf, Senior Vice President Mildred Hatfield, Junior Vice President Carol Dounglas, Treasurer Amanda Mann, Chaplain Thelma Morrison, Condustress Hautie Frye, and Guard Marsha Eldridge. Appointed officers were Secretary Lucille O'Daniel, Patriotic Instructor Anna Boss, and Historian Betty French.
Cheryl Duvall had several paintings on display at the Capitol Arts Center in Bowling Green.
And one of my favorite people, Sarah Jo Cardwell retired from Shepherdsville Middle School where she had been counselor for many years. Sarah Jo went on to experience life to the fullest, traveling, working at National Parks, and working with her local historical society in Simpson County. Sarah Jo recently passed away, and a lot of us will always miss her.
1966 - 50 Years Ago.
Mrs. Frank Koeberlein, 4-H leader, was pictured instructing Jackie Koeberlein, Mitchline Wheatley, and Linda Wiedemer in dog showmanship. Mitchline's German Shepherd dog "Swatz" placed first in her division at the Jefferson County 4-H Open Show.
Robert Bristow of Shepherdsville won the A.T.A. Kentucky Handicap Trap Shoot event at Vine Grove. He was also the runner-up in the State Singles Championship.
In social and personal notes, Mr. and Mrs. George Laswell purchased the Napier house on Lee Street in Shepherdsville; Mr. and Mrs. Charles Holsclaw spent a weekend at Cumberland Falls; and Audrey Jane Price became engaged to Norman Roy Kulmer.
From the Cedar Grove newsletter we learned that Mr. and Mrs. Hugh Maraman and Lenny and Davis and Don Maraman spent a Sunday with their daughter, Mrs. Paul Allen of Louisville. Other relatives present were Mr. and Mrs. Don Shelton, Mr. and Mrs. Charles Lambe, and Mr. and Mrs. Calvin Boyd.
Maynard D. Jasper, prominent Mt. Washington businessman, died July 2nd. He had retired from his firm of Mt. Washington Central Garage several years ago. He was one of the original members of the Mt. Washington town board following the town's incorporation.
In Lebanon Junction and Colesburg news, guests for Mrs. Myrtle Kappell for the 4th of July were her daughter Mrs. Sue Levin and her daughters Paula Ann and Lesa Marie of Des Plaines, Illinois. Other guests were Mr. and Mrs. Rex Kappell and son Dwayne, and Mr. and Mrs. Raymond Kappell.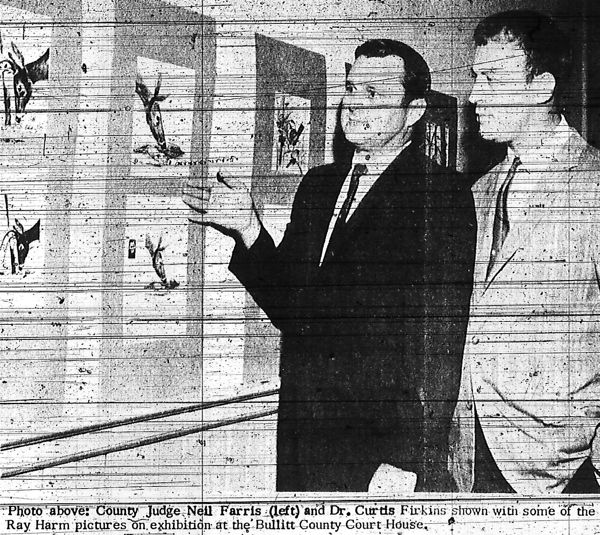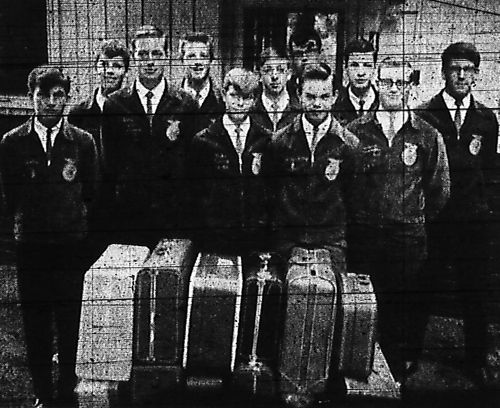 Mary C. Holsclaw reported from Hebron that Overdale Boy Scout Troop 20 was spending a week at Rough River. She also reported that Mrs. Fred Elder had completed her course as nurse's aide and was working at Methodist Hospital
In Mt. Eden news, Dwight and Dent Able spent a week at Kentucky Lake; the church girls from primary through intermediate were camping at Twin Lakes with Bro. and Mrs. Melvin Holland; and Mrs. Mary Dawson spent a weekend with Mr. and Mrs. Joe Meadley and family.
County Judge Neil Farris and Dr. Curt Firkins were pictured on the front page admiring the Ray Harm prints exhibition in the courthouse.
The officers of the Shepherdsville F.F.A. Chapter attended the leadership training camp. Those attending and pictured in the paper were Roy Hobbs, Gene Crigler, Mike Perry, Charles Tracy, Leeland Stevenson, Charles Bowman, Kenneth Young, Larry Miller, Daryl Bowman, Gerald Fulkerson, and John Price. Gene Crigler, president of the group, received the leadership award.
The Bullitt County Board of Education announced several changes in staff. Thomas Jeffries, school superintendent, was taking a leave of absence to complete his work on his doctorate degree, and Frank Hatfield, Shepherdsville High School principal, became acting superintendent. Roger Phelps moved up from assistant to the principal of S.H.S. His assistant would be John G. Lovell of Greenville. In addition, Billy Horrell, Roby Elementary's principal, moved to the central office as assistant superintendent, and he was replaced at Roby by Woodrow Masden who had been principal at Nichols. William Bishop, a Lebanon Junction teacher, became Nichols' principal.
And Mr. A. F. Armstrong, 85, was declared the oldest blacksmith in Bullitt County. Mrs. Albert Armstrong was also declared the oldest member of the Peaceful Valley Riders Association.
1941 - 75 Years Ago.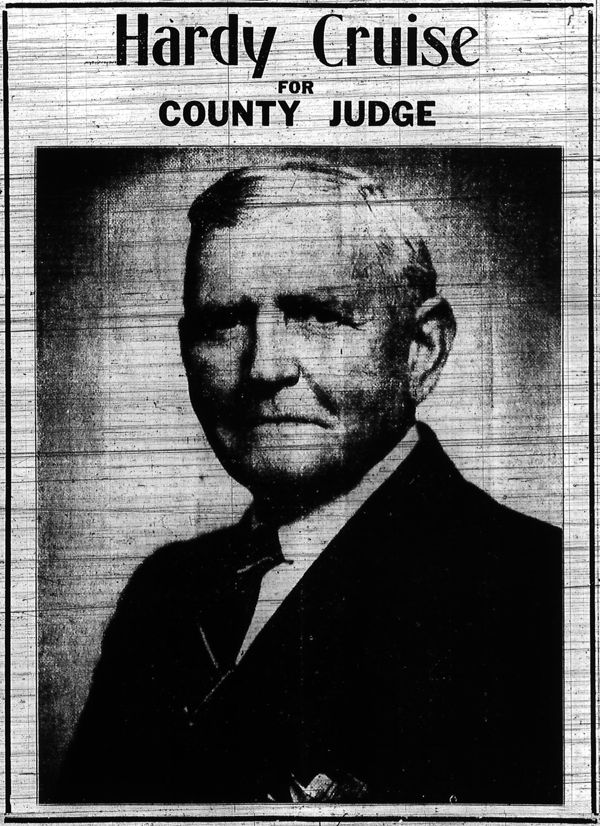 Hardy Cruise was running for County Judge, and placed several fine advertisments in the paper that included his picture, shown here.
Teachers Myrtle R. Stansbury, Myrtle Shake, Martha Weller, John B. Cruise, Ray Masden, Evelyn Masden, Frances Simpson, and Nancye Masden were attending classes at Western State Teachers College; while at Nazareth were Mildred Hall, Catherine Applegate, Pauline Williams, Louise Bischoff, Junia May Kneisler, Ida Lee Sellers, and Augusta Dawson. Beulah Tinius was at the University of Kentucky.
Harold Hardy bought Conrad Stalling's interest in their store, Hardy & Stallings U.B.C. Store.
Local marriages included Evelyn Adams and James Vernon Shaw, Jacquelyn Raymond and David Caple, Mrs. Janice Pulliam Johnson and Arthur Lutes, Pauline Masden and Jerome "Pin Head" Dawson, and Eva Maraman and Noah Whittle.
Circuit Court jurors came from the following pools. For petit jury were A. G. Foster, Alex Hardy, Claud Nutt, Henry W. Cundiff, G. C. Maraman, F. O. Sadler, Herman Williams Sr., Richard Maraman, Fred Quick, John L. Thompson, Waldo Gentry, Marvin Moore, S. F. Smith, Willie Griffin, Henry Maraman, Virgil Hibbs, O. E. Hall, Gabe Bealmear, Russell Hall, Hugh Magruder, O. H. Masden Jr., Robert E. Lee, Claud Owens, Thomas J. Owens, Clydie Parrish, Bert Brown, B. A. Parrish, E. W. Newman, N. T. Nusz, Chester Deacon, A. P. Weller, R. L. Roby, Garner Dooley, and Fred Hatzell.
For the grand jury, the pool included Ellis Cook, S. N. Brooks, J. R. Fall, O. L. Beard, H. H. Magruder, James Hougland, Horace Maraman, H. Crenshaw, Rudell King, W. R. Cornell, George Jones, Hubert Cox, George Essex, Paul Simpson, A. R. Nusz, Corbett Tinnell, Howard Crenshaw, O. P. Basham, C. L. Stansbury, Frank Bleemel, Ernst Funk, J. S. Tinnell, Sam Thurman and Ezra Myers.
In Lebanon Junction news, Mrs. Mollie Hocker, Mrs. Leona Coleman, and Mrs. Ethel McMillen attended the Eastern Star celebration. Also, Rev. and Mrs. W. E. Bryant returned home after attending meetings in Georgia; Mrs. Ida Gentry and Mrs. John Argenbright returned home from Hot Springs, Arkansas; and Mrs. W. R. Johnston and Mrs. Leona Coleman took the Christian Church Endeavor children on a weiner roast.
In the Personal Column, we learn that Mrs. Tillie Masden spent the weekend with her brother, P. H. Henderson; Mr. and Mrs. W. J. Mehne and son James Lee spent time at their camp on Salt River; and weekend guests of Mr. and Mrs. E. L. Straney were Miss Margaret Weatherly, Mr. Louis Winters, and Miss Alma Klotter.
An ice cream supper and fish fry was advertised to be held on the Cedar Grove Church Yard for the purpose of raising funds for improvements and care of the Old Cedar Grove Burying Ground.
And Red Hall and Hugh James were to run a foot race around the bases of the softball diamond to see which one was faster. I wonder who won?
1917 - 99 Years Ago.
Claud Smith found a basket with dinner and silverware on the Preston Street Pike on July 4, near the Little Flock Church. He said the owner could have it back by paying for the newspaper ad.
Ora L. Roby announced that he was seeking another term as county school superintendent.
The County School Board selected Miss Mary Jane Trunnell, of Bardstown Junction and Miss Pearl Laswell, of Belmont, to be substitute teachers for the coming school year.
In the Personals column we read that Miss May LaHue visited her mother for a few weeks; Mrs. John Harshfield has been the guest of Mrs. C. L. Croan; Miss Mary Elizabeth Bell, of Hubers, was the guest of the Misses Jeffries; Mrs. Ferguson and Miss Sue Pope visited their niece in New Castle; Miss Catherine Rouse spent a Sunday with Miss Martha McCormick; Rev. Prather and wife were guests of Mr. and Mrs. C. R. Smith; Mrs. Mattie Rennison was a guest of the Misses Hecker; Mrs. Henry Miller, of Lebanon Junction, was the guest of Mrs. Lula Monroe; Mr. and Mrs. Frank Monroe were guests of Mrs. Phelps; and Mrs. Harrie Miller, of Lebanon Junction, was the guest of Mrs. Frank Monroe. Lots of hospitable folks!
Miss Mary Kirk, of Hebron, returned from a visit to her school mate and friend, Miss Willie Chickering of Cupio.
Mr. and Mrs. P. L. Bradley and Miss Verna Miller, of Louisville, and R.A. Miller, of Detroit spent the 4th with their father, Edward Miller and family, near Belmont and celebrated Mr. Miller's 60th birthday anniversary. Mr. Miller received from his children a handsome rocking chair for a birthday present and all spent a most pleasant day.
Lindsay Ridgway, Clerk of the Bullitt County Court, announced that the following names would appear on the next election ballot.
For the Democratic Party, running for Representative were John R. Buckman, S. G. Thornberry, W. H. Hays, J. C. Drake, and J. W. Barrall; for County Judge - John A. Shelton, A. E. Funk, O. W. Pearl, C. P. Bradbury, Leroy Daniel, and W. W. Stallings; for County Attorney - R. H. Smith and T. C. Carroll; for Sheriff - A. L. Roby and J. W. Croan; for Jailer - E. T. Colvin, C. L. Troutwine, J. W. Clem, J. C. Dickey, J. R. Howell, W. F. Monroe, George Hough, and W. A. Crenshaw; for Assessor - Bert Shepherd, Preston Parish, and James S. Ridgway; for Coroner - J. H. Shafer and G. W. Kirk; for Surveyor - W. C. Herps and Chas. G. Bridwell, for Justice of Peace of District 1 - R. H. Miller, Richard Moore, C. R. Smith and J. A. Barrall; for Justice Peace No. 2 - W. A. Gentry and W. T. Carrithers, for Justice Peace No. 3 - M. F. Weller, J. H. Bolton, W. M. Swearingen and A. V. Greenwell; for Justice Peace No. 4 - T. W. Hoagland, Ben H. Cundiff, J. L. Kelly and J. C. Wooldridge; for Constable No. 1 - W. F. Lee and John Burris.
On the Republican Party side, Lawrence Baize and Dr. J. H. Hicks were running for the Senate.
Mr. Robert Davis sold his store at Belmont to W. W. Davis, the well-known merchant. Mr. Davis has been in the store business there before and his many friends were glad to see him back again.
And Mr. Clarence Holsclaw passed through with a load of peaches on his new truck. This was the first load and would bring a fancy price. Peach cobbler anyone?
---
Copyright 2016 by Charles Hartley, Shepherdsville KY. All rights are reserved. No part of the content of this page may be included in any format in any place without the written permission of the copyright holder.
---