It Happened in July
The text below is taken from parts of four articles that originally appeared in The Pioneer News in July and August of 2020. It is archived here for your reading enjoyment.
---
We will be looking back 24, 50, 75, and 100 years to see what was being printed in The Pioneer News in 1996, 1970, 1945, and 1920 in the month of July.
1996 - 24 Years Ago.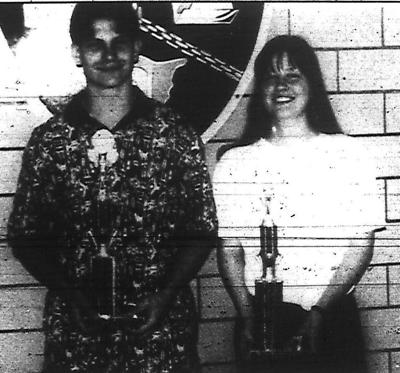 Billy McCrary and Mary Clark
Bullitt Central's Mary Clark and Billy McCrary were representing the school and state at the FBLA National Convention. Clark won the state competition in accounting, and McCrary finished second at the state in computer concepts.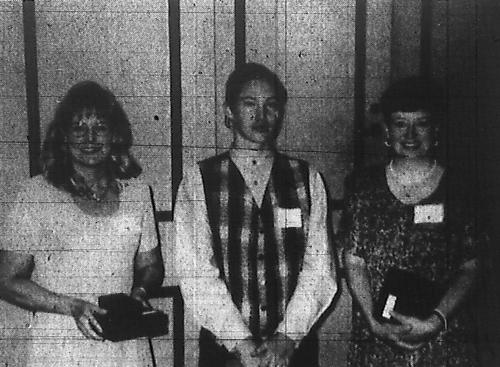 YMCA Honorees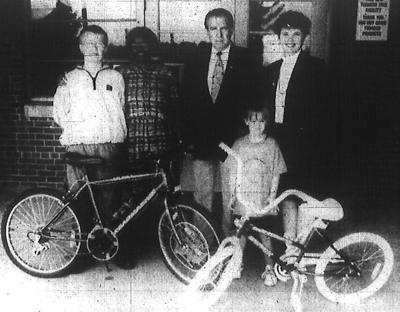 Bicycle Winners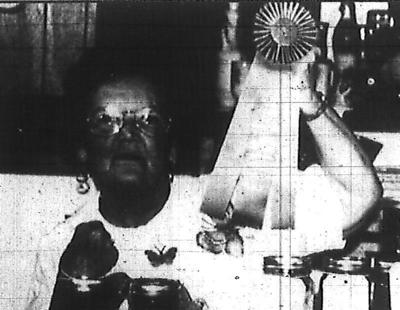 Alma Harbin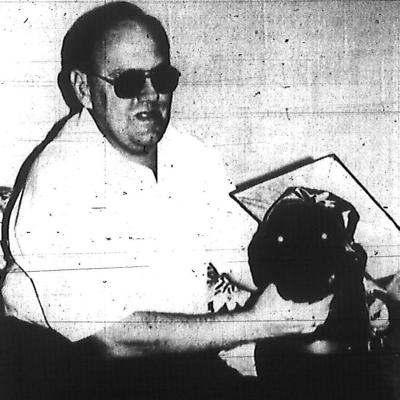 Jim and Ginger
Other B.C. students who participated at the state competition were LeAnna Faith, Chasitie Wakeland Simmons, Jamie Clark, and Andrea Ridgway. Sherry Reesor was their chapter advisor.
James and Addie Faye (Jones) Wilson of Lebanon Junction celebrated their 50th wedding anniversary.
Alice Harris, Taylor Broderick, Brinda Ritchey and Debbie Lentz were honored by the YMCA for their volunteer work with the organization. Alice had been a board member for seven years; Taylor was chosen Youth of the Year; Brinda was honored for her work in the Leader Club program; and Debbie had served four years as chairperson of the program committee.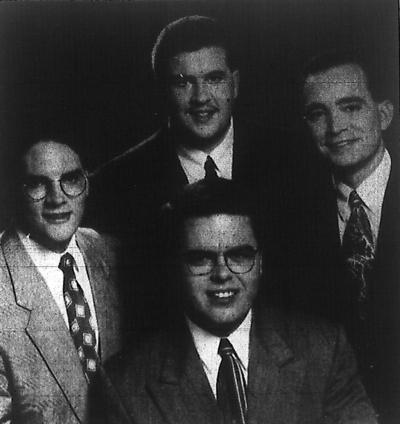 Journeymen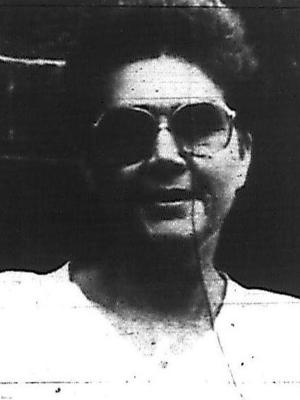 Brenda Eddington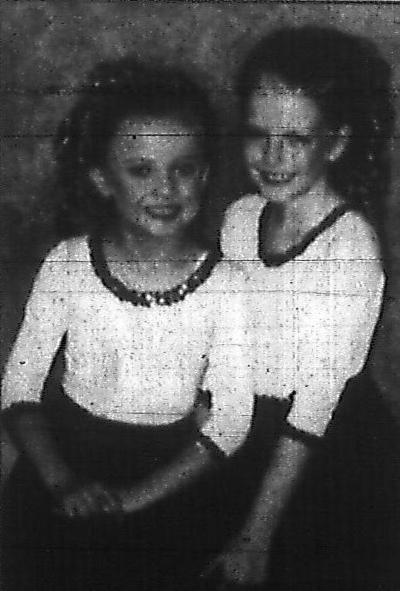 Brittany and Sara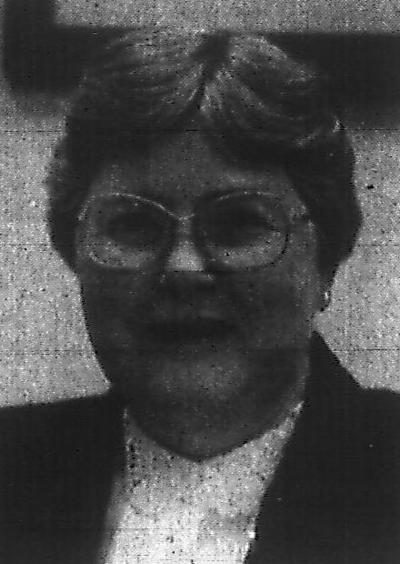 Barbara Elliott
Remember the Journeymen? They were in concert at the First Baptist Church in Shepherdsville. Their members included Dean Antle, Stacey Murphy, Michael Mardis, and David Grant.
Josh Tuttle, son of Wanda and Alan Tuttle, and Lori Rutledge, daughter of Larry and Paula Rutledge were pictured with their new bikes. They were selected from the group of Brooks Elementary students who had perfect attendance.
Losing half her home to the May tornado didn't stop Alma Harbin from entering the Bullitt County Fair, winning first place overall in the foods category. She won 10 first place ribbons and 10 second place ones. She also took three blue ribbons in sewing.
Brenda Eddington wore many hats, and the most recent was Bullitt County Homemaker of the Year for 1996. President of the Bullitt County Homemakers Extension Club, she was also a school bus driver, a guide for Toby Tours, and sold skin care products. Her most recent project was called Tasha's Hands, which was designed at U.K. to show children how germs spread from one person to another.
The 1996 All-Bullitt County Baseball Team was announced, and it included Maynard Thompson, Cory Roy, J. T. Burden, and Jason Thiel of Bullitt Central; Toby Grover, Corey McBride, Travis Crump, and Aaron Reid of Bullitt East; and Tom Cunningham, Chris Maiden, Kyle Wise, David Lewis, and Kenny Hudgins of North Bullitt.
Jim Haynes managed to earn his G.E.D. despite losing his eyesight. He was pictured in the paper along with his dog Ginger.
Sara Zimmerman and Brittany Forshee managed to make it to join the performance of the Diane Moore Dance Academy at the Crusade for Children, despite difficulties caused by the May tornado in their community.
The paper ran a number of articles about educators who were retiring. The first one was Rachel Russell, counselor at Bullitt East who had been a fixture at the school since it opened. Next was Opal Jeanie Adams who was one of the first staff members of the Bullitt County Day Treatment program. Then there was Sonja Whittle who retired from Brooks Elementary after a 31-year career.
Also featured was Barbara Elliott who was retiring as principal of Bullitt Central. Barbara's career highlights included her exceptional work with speech and drama students.
Shirley and Anita Hope Armstrong were delighted about their granddaughter Stephenie Judd's placing second in the "Walk and Trot" Pony Class at the Hardin County Fair.
Louise Bischoff reported that Bob and Jean Vittitow attended a family get-together at the home of David and Bonnie Strange in Tanglewood.
And do you have one of the Bullitt County Landmark Afghans that Dolores Raymond had for sale at Bo-Kay Florist? It included scenes of the Bullitt County Courthouse, the Mt. Washington school, the old Lebanon Junction railroad terminal, and the Hebron Presbyterian Church among others.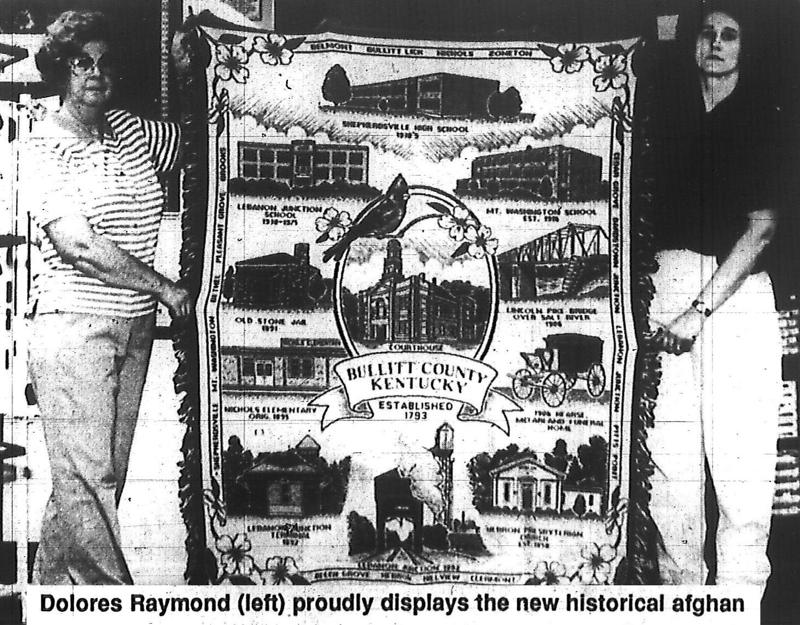 1970 - 50 Years Ago.
In the Hebron Newsletter we learn that Mrs. John Wigginton, Mrs. R. H. Kinaird, Mrs. Philip Reece of Louisville, and Mrs. George Jarboe and children enjoyed a picnic at Bernheim Forest; and that Mrs. Kinnaird "is quite proud of her great-great-great nieces."
The correspondent congratulated Harvey Garrett on his 85th birthday, and also wrote that Roger Barger was driving a new Dotson truck.
From Pleasant Grove, we learn that Alvine and Beulah Foster were on their way to the wedding of Benny Manion and Sue Fox when someone ran them off the road, so they never got to the wedding. They did however, over the Fourth of July weekend, travel halfway to where their son Larry was stationed to meet him since he could not make it all the way home in such a short time.
Clara Simmons also reported that Jacky Lloyd "believes in being a good neighbor who divides his roasting ears with all his neighbors."
In the Knob Creek Union Church News, we learn that Mr. and Mrs. Herbert Bailey and son Bobby visited friends in Texarkana, Texas, a daughter in Shreveport, Lousiana, a son in Baton Rouge, and went sightseeing in New Orleans before returning home.
The writer, Herbert Lovey, also wrote that Lemar Sinnett was injured when his horse slipped and fell on him. He had several stitches and bruises, but was not admitted to the hospital.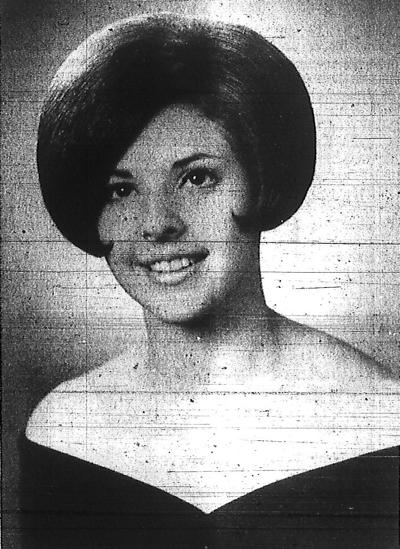 Barbara Plenge
Judy Kimball later wrote in the Knob Creek column that the church had a good V.B.S., and that the ladies of the church were scheduled to meet on Saturday afternoon to give the church a good cleaning after Bible School was over.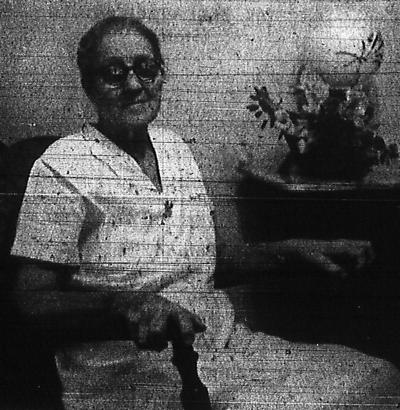 Myrtle Barrall
Well, I guess Steve and Barbara Plenge will be celebrating their golden wedding anniversary in September. Barbara was pictured in the local paper with an announcement of her engagement to Steve.
In the Personals column, we read that Mrs. Elizabeth Lee had as Sunday guests Mr. and Mrs. Headie Lee and sons Bruce, Steven, Kevin, and Timothy of Midland, Michigan, Mr. and Mrs. Edward Lee and children, Jimmy and Janice, Mr. and Mrs. Marvin Hack and daughters, Brenda and Lori, Mr. G. A. Bailey, and Mrs. Gilbert Nation and sons, Wendall and Russell. Quite a nice gathering.
Mrs. Myrtle Barrall, wife of the late J. W. Barrall, editor and publisher of the Pioneer-News, celebrated her 84th birthday, and got her picture in the paper.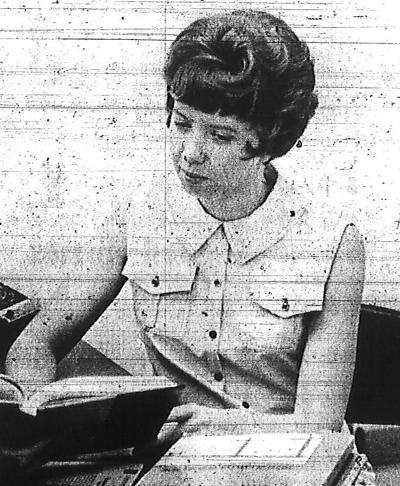 Peggy Troutman
In G. K. Bass' Mt. Washington report, we learn that things were going well for David and Mary Lou (Jasper) Mason. Both were getting ready to graduate from college, and David had been chosen head basketball coach at Fulton, Kentucky. The couple had also just moved into their first purchased house.
In 4-H Area Competition, Mark Gillenwaters and his horse won the first place trophy, making him eligible to enter his events at the Kentucky State Fair.
And Billy Miller and his junior yearling won Reserve Champion Holstein.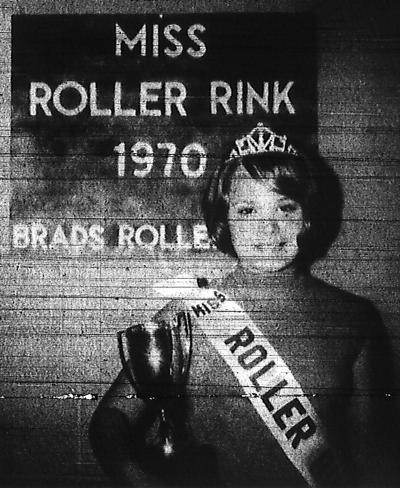 Jeannie Hogg
Miss Peggy Troutman accepted a position at a church in Henderson where she would be Children's Director and also Director of the local kindergarten.
Brad's Roller Rink was a busy place filled with speed skaters. In boys' 15 and over, Greg Skaggs was the winner, with Winston Skaggs the runner-up. Boys' 13-14 age group saw Roger Key place first, and Joe Porter second. Boys' 11-12 winner was David Mills, and placing second was Robby Hoskinson. And boys' 10 and under found a winner in Jimmie West with Tony McCubbins the runner-up.
In girls' competitions Patricia Berry was first, and Diana Mann second in the 13 and up category. Cecilia Wilson and Karen Cox were first and second in the 11-12 division; and Tawana Samuels placed first in the 9-10 category with Tammy Cox second.
But the happiest winner of all was Jeannie Hogg who was crowned Miss Roller Rink 1970, and received a gold trophy and a year's free admission to the rink.
1945 - 75 Years Ago.
The Shepherdsville town board purchased a lot on Second Street, just west of the post office, and planned to erect a building there to store a fire truck.
The paper noted that three brothers, Thomas, Carl, and Charles Edwards had met recently in the Philippines. Thomas and Carl were engineers in an Aviation Battalion, and Charles was with the Rangers. Their parents were Mr. and Mrs. Charles Edwards of Brooks.
James C. Shelburne died at the home of his son Roger in Shepherdsville. He was survived by his three sons, Roger, Collings, and Kearnes Shelburne. James was 72.
Neill S. Brooks died at his residence in Okolona. He was survived by his widow Mrs. Austine (Bell) Brooks, three brothers, Minor, Edward, and Frank Brooks, and a sister Miss Mary F. Brooks.
A third death reported by the paper was that of Mahalia Pace who died at the home of her daughter, Mrs. Evan Barbour at Salt River. She was also survived by her husband, Lee Pace.
The following were appointed as election officials for the primary election. Shepherdsville (No. 1): Lida Armstrong, W. S. Foster, John H. Boles, Mrs. Fronie Samuels; Shepherdsville (No. 2): Mrs. Nora Hill, Mack Jones, Duke Thompson, Pinkie Minter; Brooks (No. 3): J. M. Havey, Jim Beghtol, Steve Sanders, Mrs. Lee Hatzell; Knobs (No. 4): Gladys Shepherd, J. E. Burden, Ed Shepherd, Mrs. Essie Holsclaw; Cupio (No. 5): John Marcum, R. B. Ridgway, Harry Lewis, Mrs. George Atkisson; Salt River (No. 6): T. D. McAllister, C. A. Masden, S. B. Foster, Mrs. Jess Hardaway; Mt. Washington (No. 7): German Branham, Mrs. Tom Parrish, John L. Walls, Margaret Grigsby; Mt. Washington (No. 8): S. B. Owens, S. O. Armstrong, J. B. Proctor, Mary Fisher; Zoneton (No. 9): Mrs. John Oliver, Mrs. Louise Bischoff, Sam Morehead, Mrs. Ella S. Pope; Cedar Grove (No. 10): Tom Close, K. F. Bolton, Elmer Cundiff, Mrs. John Lane Jr.; Leaches (No 11): R. J. Clark, Ed R. Ash, Milton Clark, Mrs. Hite Rouse; Clermont (No. 12): Ray Morris, Alex Riley, Mrs. Charlie Fearnbach, Mrs. Charlie Robinson; Lebanon Junction (No. 13): Mrs. Winnie Fisel, Hansford Ricketts, Mrs. N. E. McMillen, Mrs. Christine Boone; Lebanon Junction (No. 14): Andrew Mann, Mrs. Viney Roby, Mrs. Tillie Van Fleet, Miss Corine Beeler; Belmont (No. 15): Gladys Bradbury, Luke Ryan, George Ashbaugh, Mary Bradbury; Beech Grove (No. 16): Gladys Shelton, Frank Carpenter, Mrs. Annie Cundiff, Mrs. Arthur Cundiff. Charlie Rodgers, Fred Smith, and J. W. Hardaway were election commissioners.
In the Personals column we learn that Mr. and Mrs. Prince Ryan entertained Mrs. J. E. Brown and son, Mrs. Josie Zimmerman, Miss Margaret Foster, and Mr. and Mrs. Walker and daughter at their Bardstown Junction home. We also learned that Mrs. Zimmerman had returned to the County Public Assistance office after a brief vacation.
Continuing with that column, Mr. and Mrs. Thurman Shouley and Mrs. Rua Shouley spent several days in Frankfort as guests of Mr. Shouley's sister. Also, Miss Bertha Trunnell and Mr. Lewis Jones spent a Sunday with her parents. And Mrs. Fronie Harris of Louisville visited with her sister Mrs. Sola Trunnell (Bertha's mother).
Mr. and Mrs. Ola L. Roby moved into their new home, the former John Buckman house, south of the Salt River bridge. And Mr. and Mrs. Howell Young sold their farm near Cedar Grove.
A chance meeting in the Pacific Theater found two Bullitt County boys getting acquainted. R. B. Armstrong, son of Mr. and Mrs. Clarence Armstrong, and Carl Sipes, husband of Mrs. Thelma Sipes didn't know each other before meeting, but found pleasure in talking about home.
Byron F. Pennebaker, superintendent of Lebanon Junction schools, accepted a job as a field executive for the boy scouts. He was replaced at L.J. by L. A. Johnston of Paducah.
The Lebanon Junction correspondent shared that two sisters, daughters of Mrs. Ruby Shearer, had daughters born on the same day. The proud parents were Mr. and Mrs Jack Darby, and an Mr. and Mrs. J. D. Raney.
Sad news continued as Mr. and Mrs. John E. Brown Sr. of Shepherdsville learned that their son, John Jr. had been killed in Europe in February. He had previously been listed as missing in action.
At the July term of the Bullitt Circuit Court, the following were chosen for the Grand Jury: Arthur Harris, Jess O. Ridgway, Albert F. Armstrong, Walter Mathis, Vance McGill, Fred Owens, Hansford Ricketts, Preston Shelton, F. H. Kulmer, Evan Patterson, R. L. Bridwell, and W. D. Ellaby (foreman).
Those available for the Petit Jury pool included Orvil Bridwell, H. C. Cundiff, George Jones, Henry Kneisler, W. E. Calvert, Roy Tinsley, Louis Mothershead, R. W. Childers, Dorsey Hall, Jesse Napper, F. L. Gentry, Clarence Drake, Charles Maraman, Roy Brashear, Charles Ratliff, Chester Deacon, Darrell Harris, Louis A. Crigler, and Henry Hamilton.
Raise your hand if you know where Needmore Road is. The correspondent from there reported that "Mr. and Mrs. Russell Stallings and family, Mr. and Mrs. Theo. Gentry and family, Mr. and Mrs. Louis Whitledge were one night last week till bed time guests of Mr. and Mrs. Waldo Gentry and had music."
She also reported that Beulah Stallings, Alvine Foster, Ailene Moore and Jene Hall spent a Sunday with Lois Stallings; and that Matt Bleemel and wife were called to Bowling Green due to the death of her Uncle Burr Dickey.
Lastly, she reported that Willis Tyler had been suffering with his eye, and went to a specialist who removed a piece of steel from his eye. Ouch!
1920 - 100 Years Ago.
Irene Brooks surprised her sister, Florence Bell with a birthday party. Present were all but two of their siblings including sisters Mary Priest, Laura Priest, and Martha Ridgeway, and brothers Joe, John, Clarence (C.P.) and Thomas (T.J.) Brooks. Only David and Charles Brooks were unable to attend. All of them were the children of Shepherd and Mary (Richardson) Brooks.
W. O. Kulmer retired as mail carrier on the Star Route, and wrote a thank you to the people on the route for their kindnesses. He then took on the job of county truant officer.
The editor wrote that old Uncle Dora Jackson, "the oldest man in Leaches," had died at his home in Jackson Hollow near Clermont. While the editor surmised that he was nearly a hundred years old, census records put him at about 91 when he died.
An ailment we think little about these days, took another victim when Miss Mary Lou Osborne died at the home of her uncle, William Stillwell, on the Pitts Point Road near Woodlawn schoolhouse of Typhoid Fever, after an illness of two weeks.
The following teachers were appointed by the County School Board to fill vacancies at Cedar Glades, Clermont, Nichols and Corinth that we mentioned earlier: Sylvia Phelps, Katherine Melton, Ethel Wise and Hallie Wise.
Hardy Cruise carried off the honors in the trotting and pacing events at the Red Men picnic at the fairgrounds in Shepherdsville.
Woodford Troutman, who had been over at University of Indiana, was at home for a few days. "Woody" was making fine progress at the University, where he was taking the summer course in medicine.
Margaret Hardesty and Charles Daniels were quietly married at the home of the bride at Mt. Eden by the Rev. William Foster. Both were well known and popular young teachers and after a short bridal trip, they made their home in Florida, where he was a teacher.
Robert Ice advertised that he had a new one-ton Ford truck to haul small loads, and still had his larger truck for big loads.
Lightning stuck a haystack on Andy Kulmer's place, burning it to the ground. Guess that bolt must have been attracted by the needle hiding there.
Miss Texia Swearingen and cousin, Miss Elizabeth Magruder, of near Deatsville, spent a Friday and Saturday with Miss Ollie Maraman, of near Lotus. Now don't you just feel better knowing that?
The paper reported that the largest fish ever caught in Kentucky waters was caught in Salt River near West Point, Kentucky. It was gigged by Emmett Crenshaw and after 40 long minutes of hard fighting and worrying with him, he was landed by Steve Simpson. The fish was an Alligator Garr weighing 161 pounds, measuring 7 feet, 2 inches in length and 37 inches in circumference.
Having given Jim Hardaway a gig or two in June, the editor turned his wit on another banker in July, writing "Mr. Harry Hyman Combs, the handsome, heart-smashing cashier of the Bullitt County Bank, is basking in the "Hoosier" sunlight this week, and incidently, in the smiles of some sweet lassies over about West Baden."
And we'll close this section with words about Richard "Dick" Moore who lived up in the knobs where he died in his 64th year. The paper reported, "Dick Moore, in many ways, was a classic. He was the strongest man in his friendships the writer has ever known. There was no burden too heavy for him to bear for his friends. He was an honest, kindly hearted neighborly man, true to his friends, devoted to his home and loyal to his country. He was a Bullitt Countian to the manor born and loved the Knobs as a child loves its mother. His entire life was spent there and at the close of life's day, his ashes were laid to rest in the beautiful little cemetery at Mt. Eden, whence so many of his friends and loved ones lie asleep."
---
Copyright 2020 by Charles Hartley, Shepherdsville KY. All rights are reserved. No part of the content of this page may be included in any format in any place without the written permission of the copyright holder.
---