It Happened in July
The following article by Charles Hartley originally appeared in The Pioneer News on 30 Jul 2018. It is archived here for your reading enjoyment.
---
We will be looking back 25, 50, 75, and 100 years to see what was being printed in The Pioneer News in 1993, 1968, 1943, and 1918 in the month of July.
1993 - 25 Years Ago.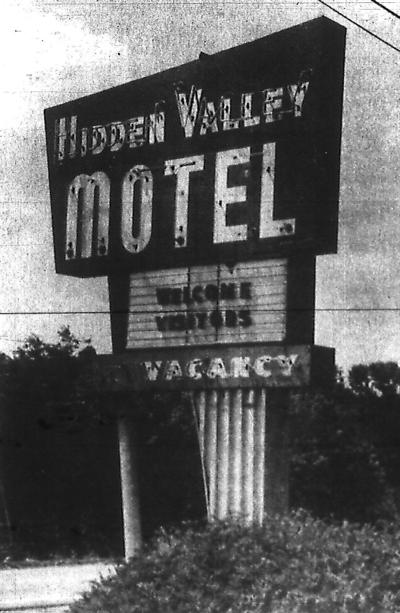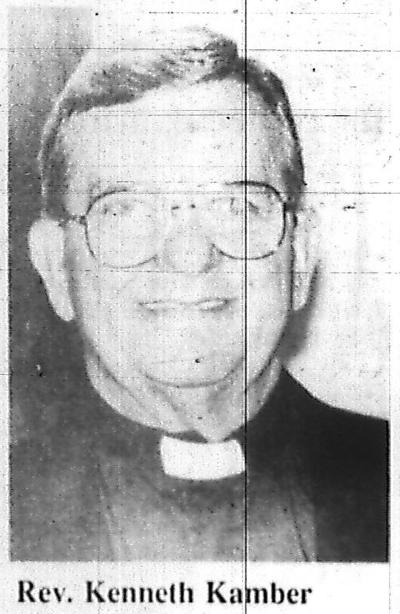 Carl Curtsinger wrote about the Hidden Valley Motel near Mt. Washington, and interviewed Phyllis Smith, its owner, about the future of the motel with the scheduled expansion of Bardstown Road.
Carl also wrote about Darrell Dickey's retirement after 16 years as Mt. Washington's City Clerk and Treasurer, and about the surprise celebration his wife Adeline and his fellow employees planned for him.
Carl was really busy as he ran down to Lebanon Junction Elementary School to see Judy Halk's class perform "We're Proud to be Americans" in front of the students and a special group of senior citizens. Students who participated included the following: Adam Back, Greg Boone, Kelly Brummett, Aaron Clark, Sara Clark, Daniel Cothem, Tiffany Cunningham, Stephanie Doan, James Goff, Chris Heath, Heather Hefley, Kristen Jenkins, Garett Mattingly, Benji Mann, Elizabeth Nalley, Darrell Newcomb, Brian Ogle, Ali Porter, Robbie Renfrow, Shauna Richardson, Sara Royse, Tammy Schmader, Derek Shawley, Greta Smith, Tonia Younger, and Amy Yasho.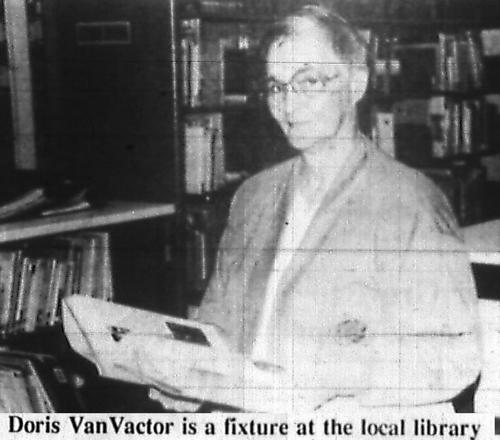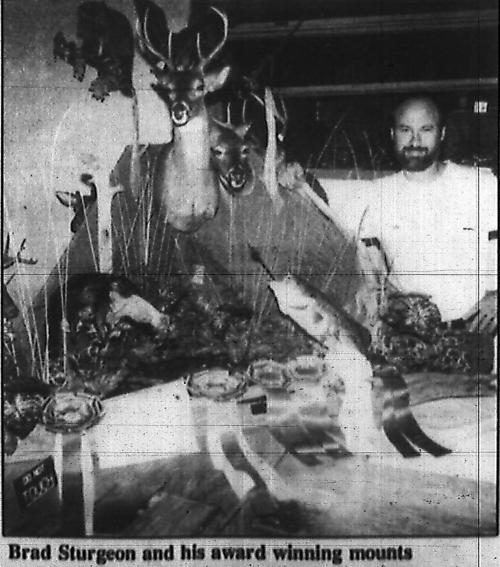 While in Lebanon Junction, Carl interviewed Rev. Kenneth Kamber, pastor of St. Benedict Church, who was celebrating his 40th year as a pastor.
He also interviewed Doris VanVactor who had reached 25 years of service in the library. She had been with the LJ library from its beginning in a corner of the senior citizens' room in the Eastern Star Building, through its time inside a converted bookmobile, and rooms in the Old Hotel, to its location next door.
Mike Riffe tendered his resignation as Bullitt Central's baseball coach and assistant basketball coach.
According to a John Roberts' interview, Brad Sturgeon had the right stuff, stuff that is to win honors for his taxidermy efforts. He won first place in the fish and the reptile divisions with his large mouth bass and his bullfrog, and also first place for two mounted deer. Sturgeon was also declared Wildlife Artist of the Year by the Kentucky Department of Fish and Wildlife.
Donna Sweat of Lebanon Junction congratulated "Pete" McCubbins on his retirement after 20 years at International Harvester. Donna was also excited about the new playground equipment at the elementary school. She also informed folks that they could rent videos at Moore's Ice Cream Shoppe, as well as at Minit Mart and 105 Mart. Best hurry to reserve your favorite.
Mollie Kate Jones, Lauren Maddox, Megan Mefford, and Terri Jewell were among the winners in the Bible Drill competition at Mt. Washington Baptist Church.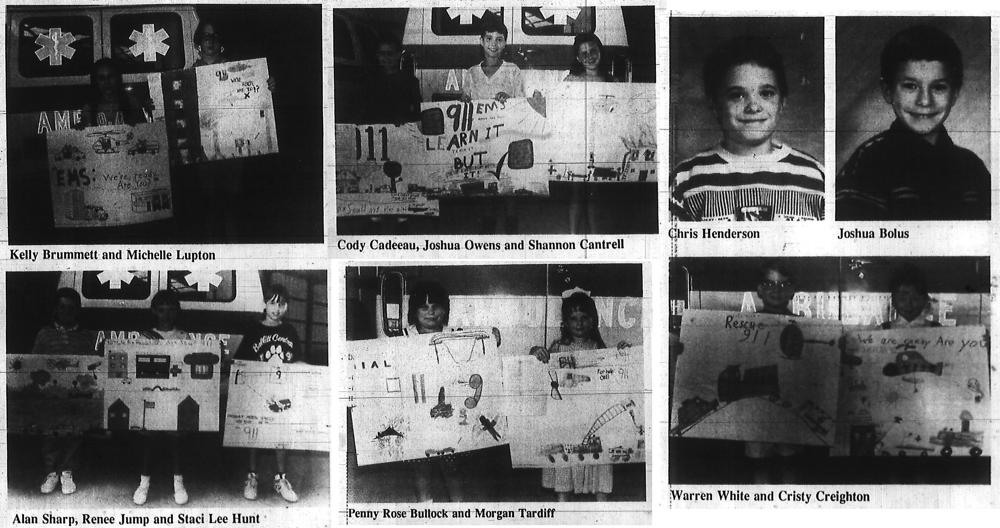 What do Penny Rose Bullock, Morgan Tardiff, Chris Henderson, Joshua Bolus, Kelly Brummett, Michelle Lupton, Alan Sharp, Renee Jump, Staci Lee Hunt, Cody Cadeeau, Joshua Owens, Shannon Cantrell, Warren White, and Cristy Creighton have in common? They all were pictured in the paper as they showed their prize-winning posters in the "We're Ready, Are You?" contest sponsored by the Bullitt County EMS.
Harry Feeback, Director of Transportation for the school district, distributed service pins to the bus drivers with Ruth Leonhardt (27), Opalene Roark (26), and Emma Dockery (25 years) receiving the highest level pins.
Brian Williams, an Englishman, had been at Bernheim Forest for two months learning lessons about nature when he cared for a one-week-old fawn, and John Roberts took his picture.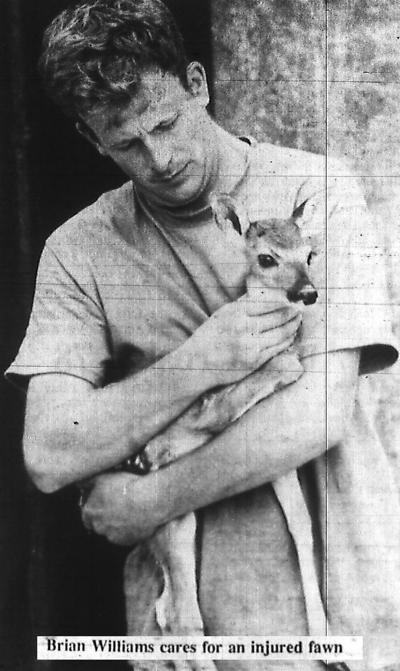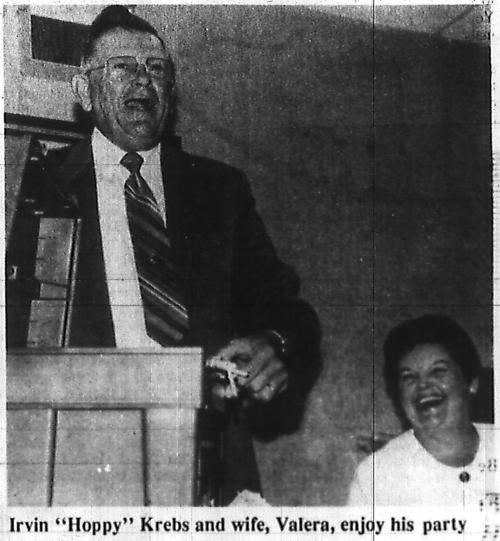 And Irvin "Hoppy" Krebs celebrated his retirement from the phone company after thirty-nine and half years on the job. When he started, the company was called Echo!
1968 - 50 Years Ago.
The newly formed Optimist Club of Shepherdsville elected its officers, including President David Winkenhofer, Vice Presidents Donald Sanders Jr. and James Wesley, Directors Richard Tetty, Herbert Robinson, Terry Gray, Leonard Light, Stanley Lee, and J. P. Hatzell, Jr. James "Bud" Hardy was appointed secretary-treasurer, and Lee Watkins sergeant-at-arms.
Gwinn Thompson, Miss Bullitt County, planned to enter the Miss Kentucky Pageant.
The Hebron correspondent congratulated Mr. and Mrs. Russell Jenkins on their 40th wedding anniversary; thanked Mrs. Bernard Bischoff for bringing her fresh vegetables from her garden; wrote that Mrs. Elizabeth Elliott was in California visting her daughter, Mrs. Jim O'Neil; and announced that Mr. and Mrs. George Howard Wigginton had returned from a three week tour of Europe.
Charlotte McAfee, ASCS office clerk for Spencer County, and Lounetta Williams, ASCS office manager for Bullitt County, enjoyed a box lunch while seated on a bale of straw while participating in the TAP sponsored farm tour.
On the same tour, Matt Bleemel, Homer Myers, and Cecil Cash were spotted inspecting a self-propelled picker-sheller on Raymond McGruder's farm.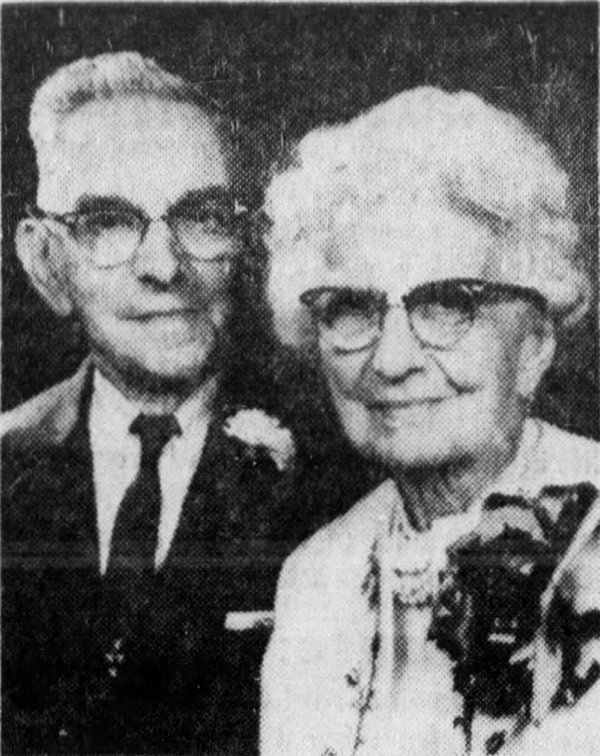 The Bashams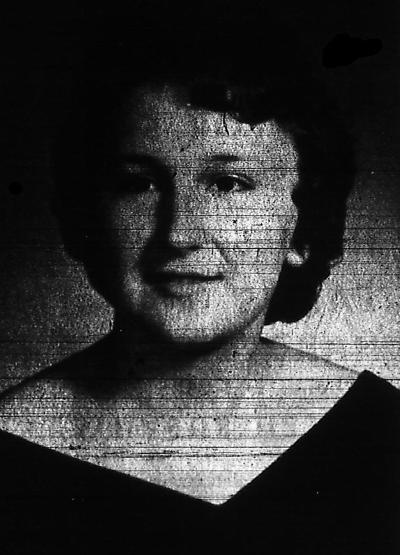 Mary Lee Mason
Two freight trains sideswiped one another near Bardstown Junction, but thankfully there were no injuries.
Jennifer Williams, a student at Shepherdsville High School, was named Miss Roller Rink 1968 at Brad's Roller Rink. In the competition at the rink the following were winners in their categories: David Mills and Cecilla Wilson (10 and under), Vickie Norris and David Crady (11-12), Craig Bradbury and Patricia Berry (13-14), and Suzi Williams and Dennis Sullivan (15 and up).
Oral Peyton Basham and Alma Nancy Jones were married on July 8th, 1908, and celebrated they 60th wedding anniversary in 1968 at their Ridge Road farm. Oral lived until March of 1972. Alma re-joined him almost four years later in January 1976.
Dr. C. H. Skelton announced a recreational program for day campers on the old Fisher farm, once the home of Albert and Mary Fisher.
Eighteen of the members of the S.H.S. Class of 1958 met at the Forrest View Restaurant for their 10-Year Class Reunion. Present were Dr. Ronald Masden, Jo Ann Belden Mercer, Ronnie Dowell, Jeanie Castle Owen, Johnny Warley, Margaret Hardesty Day, Joyce Cash Stansbury, Larry and Faye (Elder) Crumbacker, Jerry Davis, Carolyn Hester Moore, Quentin Johnson, Albert Koch, Barney Maraman, Verna Patterson Montgomery, Wanda Price Crumbacker, Janis Sadler Gentry, and H. T. "Dickie" Williams.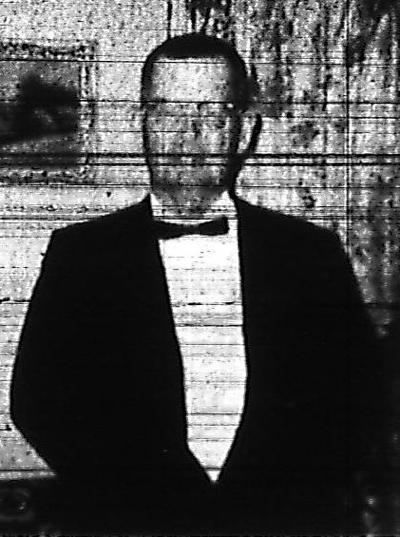 Delmer Eskridge
A very special couple were married at the Baptist Church in Shepherdsville when Mary Lee Price and Avis Mason joined in wedlock.
Delmer L. Eskridge was appointed City Police Judge at Lebanon Junction, replacing Fred Whitehead who resigned to become manager of the Kentucky Turnpike.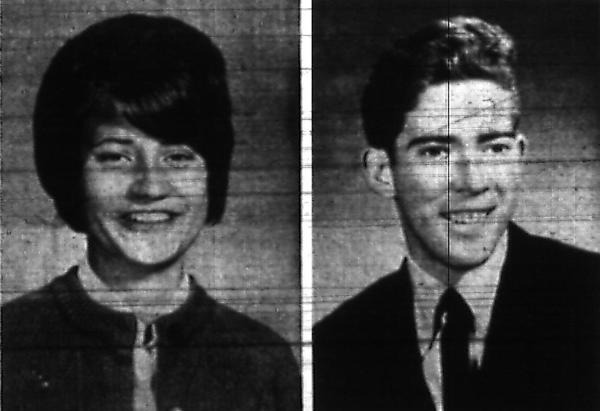 Two Bullitt County 4-H'ers, Jackie Koeberlein and Jimmy Dawson participated in People-to-People tours to Europe.
At Lebanon Junction, Mrs. Myrtle Kappell was visited by her mother, Mrs. Mary Bolton and a number of relatives including her sisters Georgia Drury and Bertha Mae Edlin.
And SSgt James C. Westerman was pictured with his 1928 Model A Ford that he drove from New York to Shepherdsville in 19 hours and 45 minutes without a single problem.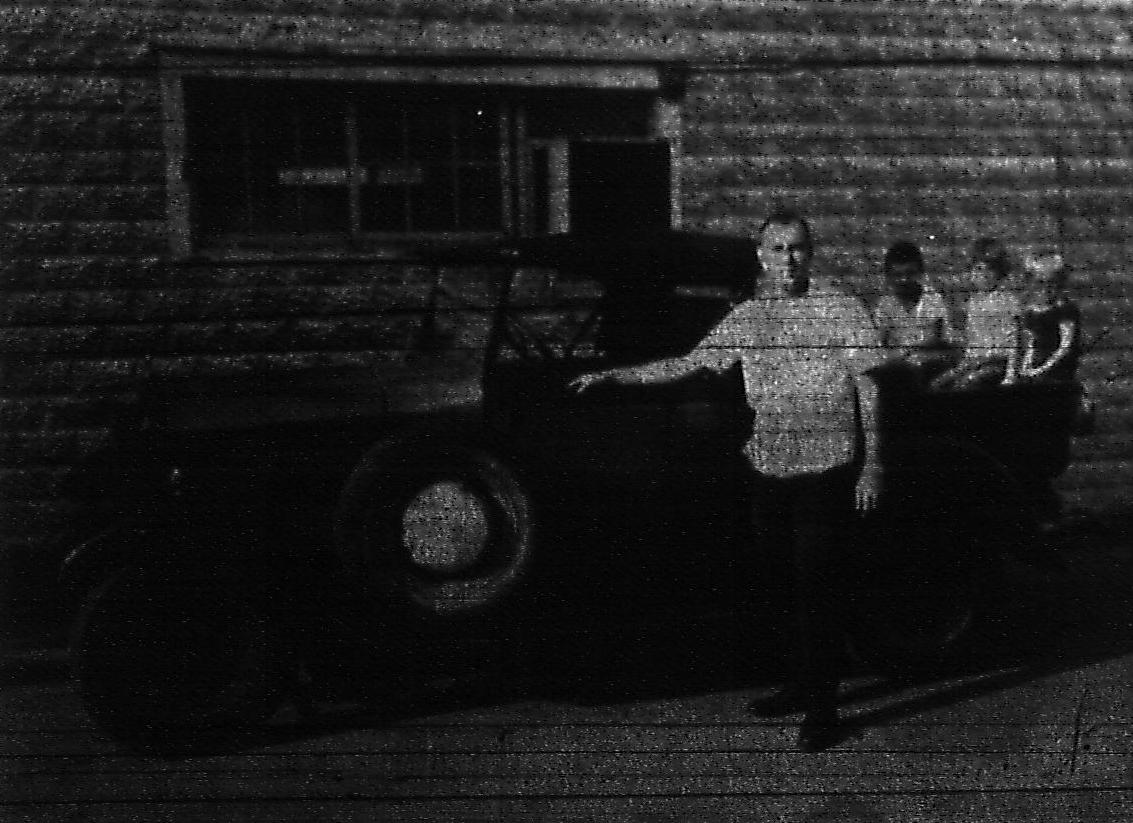 1943 - 75 Years Ago.
Lee Howlett, son of Charlie Howlett of Shepherdsville, received his Gunner's Wings in the Army Air Force, qualifying him to handle the machine guns aboard the big bombers.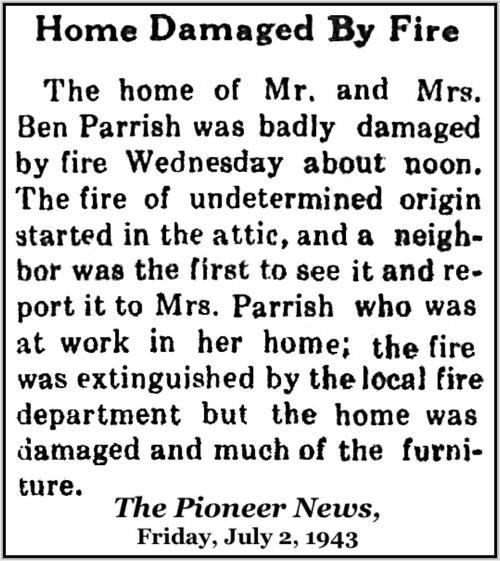 Hal Palmer Hedges had been released from his military duties to return to his father's farm because of his father's helplessness due to arthritis.
The home of Mr. and Mrs. Ben Parrish was badly damaged by fire about noon on Wednesday, June 30th. The fire started in the attic and a neighbor was the first to see it. Mrs. Parrish was at work in her home when the neighbor alerted her to the fire. The fire was extinguished by the local fire department, but the home was damaged and much of the furniture ruined.
Bert Hall of Mt. Washington and Cora B. Roby of Shepherdsville were appointed as local managers for the Donaldson campaign for governor.
The editor reported on the death of Ed Hardy in Memphis. Ed was a son of F. M. Hardy, former merchant and prominent Pitts Point land owner. The editor was reminded that Hardy was one of the last of the former leaders of the Pitts Point community, and that only James B. Dawson, James Collings, and William Dawson were left of that group.
Among those receiving degrees from the University of Kentucky from Bullitt County were James Brooks Williams with an electrical engineering degree, Lydia Eleanor Wilson with a teaching degree, and Herbert N. Ockerman with a master's degree in education.
The newspaper continued to receive thank you letters from those serving in the military who were grateful to receive copies of their hometown newspaper. Among those offering thanks were Clifton Hall, Guy Miller, Melvin Grant, Bill McFarland, W. C. Fiedler, Robert G. Harned, Lee McAfee, James V. Shaw, Raymond Coakley, W. N. Jackson, Jr., T. C. Harris, James E. Alcorn, Gordon Armstrong, and Daniel McNutt.
Alberta Hoagland, Tom's daughter, graduated with honors from the Bryant Stratton Business College.
In Cupio news, Mrs. Charles Ridgway and children were spending a few days with her father, Mr. James Hopewell, as they were being run out of their home by the shells that had been falling on their place from the Navy Proving grounds nearby.
Thelma Lee Welsh accepted a position as program director for the U.S.O. A graduate of the University of Louisville School of Music, she was a former teacher in both Bullitt and Jefferson counties.
Oliver Miller, son of N. H. Miller of Shepherdsville, graduated from the Hospital Corps School as a hospital apprentice, second class.
Mrs. Nancy Strange was happy to host her son, Wilbur, and five of his Fort Knox buddies over a weekend.
Roy Ireland, who with his wife had lived in Shepherdsville for several years, received a promotion to head inspector of the government alcohol tax unit headquartered in Louisville.
The marriage of Jr. Leader Billy Roy Maraman of Lima, Ohio and Lt. Lee Pennington of Camp Forrest, Tennessee took place in Louisville. Following the ceremony, Mr. and Mrs. Roy Maraman entertained with a wedding breakfast for the bridal party, including Lt. Dorothy Rice, Mrs. Raymond Coakley and Miss Frances Cruise. After a brief honeymoon the couple returned to their posts in Ohio and Tennessee.
And Corporal Barbie Lee and PFC Hillery Hatfield were happy to receive visits by their wives who traveled all the way out to California.
1918 - 100 Years Ago.
The war effort was on the minds of folks, as well as the fact that so many young draftees were unable to read and write.
The paper reported that there were more than four million illiterates over the age of 20 in the United States, including 700,000 men of drafting age.
It also reported that a local educator, Charles Hardesty, who had been inducted, was being held at Camp Taylor for some time teaching illiterate soldiers. It said, "The first regiment has 470 illiterates out of 3000 soldiers and these 470 will be taught, if possible, to read and write a letter back home before they are sent away from Camp Taylor."
Miss Verna Funk, a popular and well-known teacher at Brooks was quoted as saying, "I sincerely hope that the state and county officials can and will enforce the new school law for I am sick and tired of school children loafing around stores and depots."
Alex Smith enlisted in the Navy, although he was eleven pounds underweight. The paper said that he was "given credit for the experience gained climbing coon trees and cooning cat holes along Floyd's Fork, under Charlie Bridwell's instructions."
Mr. and Mrs. A. H. Settle, of Mt. Washington, received a card from their son, John Reubin Steele, telling them of his safe arrival over seas. He transferred into the 138 Field Artillery and was promoted to a First Class Gunman before sailing for France.
Mrs. Violetta Thompson received a letter from her husband in France. He stated he was well and would like to hear from the folks from Bullitt County. Any one wishing to write to him, address - Pvt. Horrie C. Thompson, Co. D, 120 Inf., 30 Division, AEF, France.
And Mrs. Ora L. Roby received a card from her brother, James Hilary Hardy, notifying her of the safe arrival of his ship overseas. That was welcome news, as many Bullitt County boys were members of his division and were supposed to have been on this ship.
In Mt. Eden news, Miss Margaret Hardesty had begun her school at Sunny Side; Mrs. Nannie Gross visited Mrs. M. J. Foster and family; Mrs. John Chambers, Miss Katherine and Mrs. Maggie Wise spent a day with Mrs. M. J. Foster; and Miss Gertrude Holsclaw returned home after spending some time with Mrs. Frank Goldsmith.
In the Cedar Creek area, Mr. and Mrs. Lem Swearingen and two daughters, Misses Alleen and Texia, and Miss Elizabeth Magruder spent Sunday with Mr. and Mrs. Jonce Clark. Also, The new church building which was being erected at Victory would soon be completed.
Mr. J. D. Buckman, who had been laid up for some time with small pox was out again.
In Mt. Elmira news, Ernest Gentry and Noah Ferguson called on Misses Hattie and Myrtle Klapper Sunday night; Mr. and Mrs. Charles Edwards and family were guests of Mr. J. D. Ferguson's family Sunday; and Uncle Sam called on Luther Martin, so he was going to help win this war.
And in lighter news, the paper's editor wrote, "My beloved fellow citizens of Bullitt County. Have you seen that lovely, invisible, downy, feathery, soft, silken mustache grown or being grown by young C. F. Troutman? If not, when you come to town, get a magnificent magnifying glass and take a look at it. Jim Hardaway caused it all. He began the cultivation of his dainty 'Chawlie' kimona for his upper lip just a few brief days since, and C.F., seeing how lovely it looked, could not resist the temptation to grow one of his own. Well, of course, it all comes and goes in a lifetime. Tom Martin hones his best razor every time he sees C. F."
---
Copyright 2018 by Charles Hartley, Shepherdsville KY. All rights are reserved. No part of the content of this page may be included in any format in any place without the written permission of the copyright holder.
---