It Happened in July
The following article by Charles Hartley originally appeared in The Pioneer News on 29 Jul 2019. It is archived here for your reading enjoyment.
---
We will be looking back 25, 50, 75, and 100 years to see what was being printed in The Pioneer News in 1994, 1969, 1944, and 1919 in the month of July.
1994 - 25 Years Ago.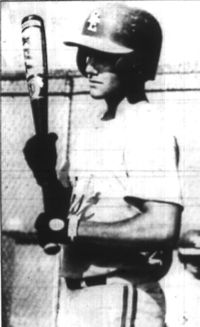 Jarrod Fuhrman
Jarrod Fuhrman, a Bullitt East senior, was selected as the player of the year in Bullitt County baseball. Joining him were Jason Reynolds of East as Junior of the Year, and Maynard Thompson of Bullitt Central as the year's leading sophomore.
Joining these three on the All-County team were Chris Bond, Mike Bass, and Aaron Reid of East; J. P. Hodges, Dwayne Stopher, and Jason Roy of Central; and David Lewis, Chris Malden, and Jeremiah Willis of North Bullitt.
Jean Cox thanked the following people for their help in making the Miniature Horse Show at the Fair a success: Nancy Miller, Bob, Darlene and Amanda Bohannon (Bardstown), Maria and Mark Jones (Nelson County), Carol Eldridge and Alice Waters (Shepherdsville), Debby and Eugene Wease (High Grove), Woody Marshell (Mt. Washington), and Miss Bullitt County Fair Melissa Cissell.
Lois Simmons of Pleasant Grove expressed sympathy to the family of Calvin Coolidge Lutes who had recently passed away. She also reported that Mack McAfee had just returned from a fishing trip in Alabama; that Luwell McAfee and Birdie Moore had visited Beulah and Alvine Foster and found them about the same; and that Beulah had celebrated her birthday on July 4th.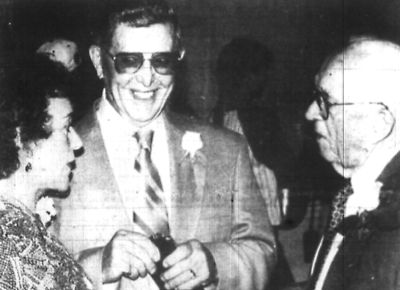 Rachel, Homer, & J. T.
The Knob Creek correspondent congratulated Albert Able Jr. for winning a blue ribbon for his homemade bread at the fair. She also reported that Hazel Weird had been very sick with tuberculosis, but was doing better. Finally, she apologized for misspelling Jeanie Blankenship's name in a previous column.
Louise Bischoff, the Hebron correspondent, reported that she won a beautiful flower basket door prize at the Bullitt County Retired Teachers meeting. She said that there were 44 members and some guests at the meeting, that Kit Parker catered the meal, and that Pat Higdon baked and decorated a birthday cake to go with the meal.
Rachel Hensley, Homer Myers, and J. T. Underwood were pictured at the 62nd class reunion of the 1932 graduating class of Shepherdsville High School.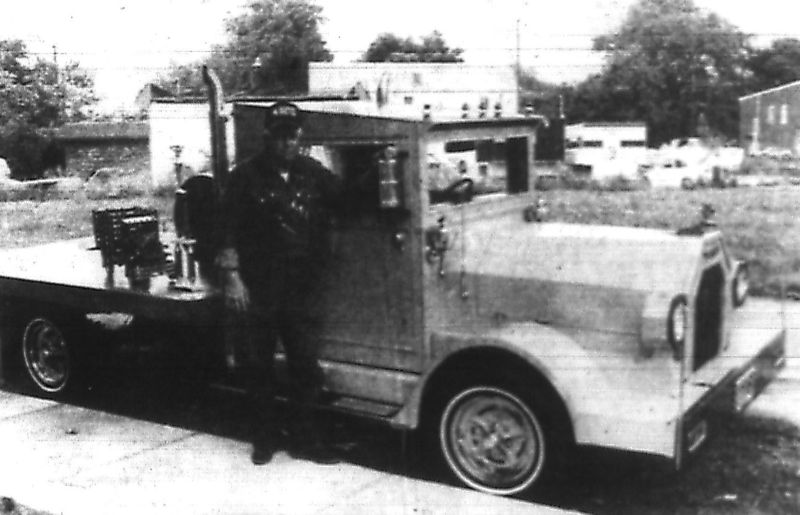 Ed Holbert & his truck
Ed Holbert called it a "Poor Man's Hot Rod" and it was turning heads of everyone who saw his bright yellow truck coming down the road. Holbert built it himself mostly out of wood together with an assortment of parts from old cars and trucks. In describing it, Carl Curtsinger said that it was a unique sight, from its 1935 Cadillac hood ornament to its wooden bumpers.
Sharon Larimore, Cecilia Snellen, Jardene McCubbins, Betty Heath, Bonnie Underwood, and Andilynn Korfhage all were honored for having perfect attendance behind the wheels of their school buses for the previous school year.
Also honored for service of 20 years or more were Opalene Roark (27), Emma Dockery (26), Bonnie Underwood and Doris Lewis (23), Betty Heath and Maureen Adams (21), and Robbie Cox (20).
Mitchell Elder was selected as Lion of the Year by the Mt. Washington club.
Tammy Richardson was hired as a full-time assistant to Bullitt County 4-H Agent Jeff Young.
Carl Curtsinger was back in Lebanon Junction where he interviewed Elaine Prince, a sixteen year old who had a passion for caring for horses, and sought a career in the horse industry.
Courtney Longacre, son of Morris and Barbara Longacre, was among the graduates of Cadet Class 71 of the Kentucky State Police.
Steve Masden accepted the appointment as Lebanon Junction's mayor following Donald Crady's resignation.

And the Bullitt YMCA honored its outstanding volunteers with a dinner cruise on the Star of Louisville. They were Greg Burton, Ken Foote, Tara Fox, and Jimmy Huckaby.
1969 - 50 Years Ago.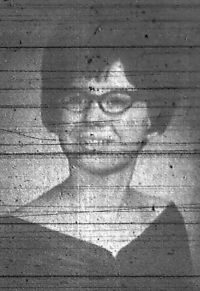 Julia Fowler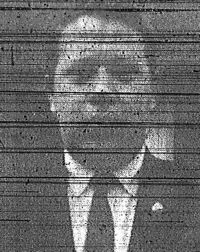 Daryl Lee
Julia Fowler, a 1969 Shepherdsville High School graduate, enrolled at Spencerian College, taking a secretarial course. Also at the college, Mary Lou Hamm, daughter of Mr. and Mrs. James Hamm of Brooks, was one of the recipients of the Nancy Taylor secretary award at her graduation.
Jerald Smith of Shepherdsville assumed his new duties as Assistant Dean at the University of Louisville School of Business.
The reconstruction of First Corinthians Baptist Church in Zoneton was nearing completion.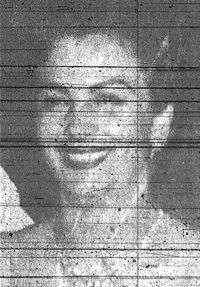 Mrs. Sparrow
Mr. and Mrs. Moise Napier, along with Pam and Toni, and Mr. and Mrs. W. H. Powell, all of Shepherdsville, visited the Citrus Tower at Clermont in central Florida.
Daryl Lee, son of Mr. and Mrs. Stanley Lee, was selected as the incoming president of the Bullitt County Jaycees. Other incoming officers included Vice Presidents Wendell Harvey and Terry Edwards, Secretary Jim Hatley, Treasurer Carl Payne, and Directors Frank Reams, C. E. Roby, Everett Waters, and Joe Reneer.
Mrs. James T. Sparrow, of Shepherdsville, was appointed to serve on the Executive Committee of the Jefferson Regional Department of Crime Council. She was a probation officer with the Bullitt County Juvenile Court.
Gladys Sprinkle of Mt. Washington reported that Susan Smoot Bowen and Edward Martin Bleemel were married in June at the St. Francis Xavier Catholic Church in Mt. Washington. She was the daughter of Mr. and Mrs. Stephen R. Bowen; he was the son of Mr. and Mrs. Frank Bleemel.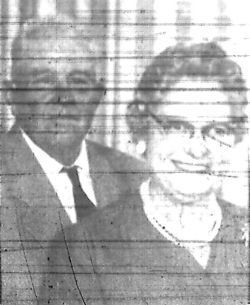 Mr. & Mrs. Berry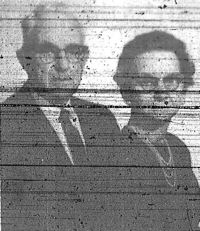 Mr. & Mrs. Moser
Mrs. W. C. Lanham of Cedar Grove reported that Mrs. Lonnie Hodge had arrived in Germany to join her husband who was stationed there. She also reported that Butch Raymond had a tonsillectomy; that the Forest Mann and Ernest Mann families spent some vacation time at Rough River; Mrs. Nancy Lunsford, Robin and Bernard, and Mr. and Mrs. Enoch Webb spent a day at Mammoth Cave; and that Mrs. Nancy Lunsford's guest, Mr. and Mrs. Philip Berman and son all enjoyed homemade ice cream.
Clara Simmons of Pleasant Grove reported that the community was hit by a storm on July 6th that did much damage to telephone lines, gardens, and trees, but the worst damage was to Paul Shepherd's trailer home that had its porch blown away and the roof torn loose.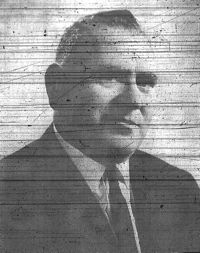 Stanley Lee
Mr. and Mrs. John Berry of Church Street in Lebanon Junction celebrated their golden wedding anniversary in July. Also celebrating fifty years of marriage were Mr. and Mrs. C. H. Moser.
Mrs. Betty Larimore, vocational teacher at Shepherdsville High School, was enrolled in a data processing class at the University of Kentucky.
Stanley Lee was appointed chairman of the Democratic Party's registration drive committee.
Sarah Nell Hamilton, Donna Holt, Susan Crumbacker, Paula Sue Cundiff, and Sheri Mullins, the Shepherdsville High School varsity cheerleaders, were pictured during an event at Vincennes University.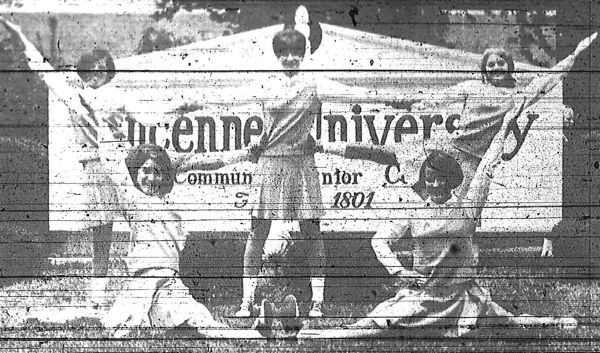 And the Hebron correspondent reported that Roger Barger had ripe tomatoes on June 13th, and wanted to know if anyone could top that. She also reported that Rev. Joe James of the Hebron Church had returned from Camp Cedar Ridge where he was the director of the senior high conference. Finally, she reported that John and Mary Dell Meyer had returned home from a vacation in Wisconsin where I'm sure they did a lot of fishing.
1944 - 75 Years Ago.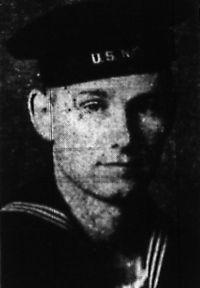 William Huber Lee
The Lebanon Junction correspondent expressed regret at hearing of the deaths of two old time former neighbors, Russell Thompson, a retired railroad conductor, and Felix McMillen, a retired telegraph operator, both of whom had lived in the town years earlier.
William Huber Lee, whose wife was living in Shepherdsville, was pictured on the front page along with a story about his military duties with the amphibious forces aboard an LST, the beach-hitting tank carriers.
In other war news, Mr. and Mrs. Tom Karr of Lebanon Junction received the news that their son Edgar Karr had received a purple heart after being wounded in action in May.
In Mt. Washington news, Mr. and Mrs. Billy Cornell gave a surprise birthday party for her father, Tom Porter, with a large crowd attending.
The paper continued receiving thanks from servicemen who were happy to receive the hometown newspaper. Those expressing their thanks included Samuel Ray Sadler, Curtis M. Deacon, Carl E. Powers, J. W. Bradbury, R. B. Hornbeck, and Willie Samuels.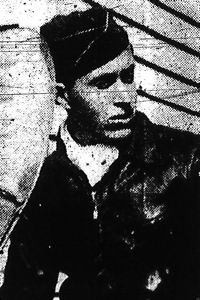 Joe Nevins Harned
Folks in the Knob Creek neighborhood were greatly concerned about their crops since it hadn't rained in sometime. The correspondent reported that the stork had visited Herman and Rozella Mann and left a girl they named Brenda Joyce.
The paper reported the sad news that Joe Nevins Harned, son of Mr. and Mrs. A. H. Harned of Bardstown Junction, had been killed in the fighting in Italy. He had graduated from the Lebanon Junction school in 1939, and was a member of the Christian Church in that town.
The Lebanon Junction correspondent reported the death of Cpl Clarence Warren Boulware in the Pacific area. He was the grandson of Mrs. Kate Haley.
The Bullitt County Board of Health declared a quarantine order for children under sixteen who were not to congregate in public places due to the prevalence of multiple cases of polio in the county and in the surrounding counties. The paper also encouraged everyone to be careful about the source of their drinking water.
The Needmore Road correspondent reported that Mr. and Mrs. Strause Hall gave a birthday party dinner in honor of their oldest son, Emery. Guests present included Mr. and Mrs. Ed Bridwell, Mr. and Mrs. Roselee Bridwell and children, Mr. and Mrs. Carey Smith, J. O. Marion and Joy Smith, Wilda Lois, Mary Hall, Trulavern Cook, Leola Armstrong, Ella and Gordon Proctor, Gilbert and Cecil Clark, Lloyd, Glendon and Adrain Hall, and J. P. Bleemel.
Kulmer's Service Station in Shepherdsville advertised that they were now equipped to vulcanize tires and tubes.
In the Personals column, we read that Mr. and Mrs. A. G. Foster and their son Alvine were the guests of her sister, Miss Lillie Thompson. We also learned that Mr. and Mrs. George Stottman had moved to a residence near the Bullitt Lick bridge.
Out at Cupio, tasty watermelon was on the menu as Mr. and Mrs. Cornell Logsdon and daughter visited Mr. and Mrs. L. W. Nichols.
And in the classified ads we learned that Tuffy was lost. He was a small collie and spitz mix with brown spots. If you see him call the newspaper office.
1919 - 100 Years Ago.
The Hebron correspondent wrote, "The singing of Miss Emma May Wigginton and Inez Kirk at the musicale in Shepherdsville evoked much praise. We are proud of these talented girls of ours."
Fiscal Court voted to call a special election for the purpose of voting on a tax of twenty cents on each $100 of property value to be used to improve the public roads of the county.
We learned that Miss Margaret Hardesty was operated on in Louisville. She had her tonsils removed.
The paper reported that Prof. Charles Daniel, who had been teaching school in the land of alligators and oranges, had come home and was happily located near Mt. Eden.
Robert Ice bought a new heavy truck and advertised that he was ready to do your hauling.
The Pleasant Grove correspondent reported that Robert Grant had purchased a cream separator, that Pleasant Grove Church had a new swinging lamp that gave a brilliant light; that school would begin at Pleasant Grove School in July with Miss Jennie Carpenter teaching; that Thomas and Robert Bridwell had visited their father who was ill; and Robert Hecker had just arrived from overseas, and was looking fine.
The next week, we found this obituary:
Mr. Hayden Bridwell died at the home of his daughter, Mrs. Thomas Alcorn, near Smithville, Monday morning, July 7, 1919. He was 82 years old. He was born and reared in this county having lived on a farm on the Mt. Washington road for a number of years. He was married to Miss Nancy Rayman in early life. He was a member of the Pleasant Grove Baptist Church. He leaves one daughter, Mrs. Thomas Alcorn, four sons, Simon, Thomas, Edward and Robert J. Bridwell, several grandchildren, one sister, Mrs. T. M. Hardy, four brothers, Taylor, George, Thomas and James Bridwell.
In Cedar Creek area news, we learned that Mrs. May Buky Smith, of Portland, Oregon, was spending some time in this vicinity visiting her many friends and schoolmates as this was once her home. Also, Mrs. Arp Harmon and Miss Texia Swearingen were spending a week with the former's daughter, Mrs. William Magruder of Deatsville.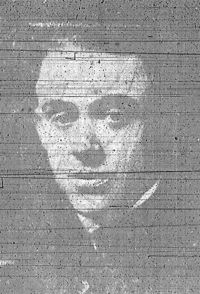 Leyton Ashby
A notice was posted encouraging all former military personal of the county to attend a meeting at the courthouse to organize a chapter of the American Legion.
Folks out on the Mt. Washington Road reported that Misses Erna Schweckendieck, Evelyn Lanyans, Jessie and Ada Harris, Messrs David Owen, Robert Lanyans, Claud and Waldo Gentry were dinner guests of Mr. and Mrs. Albert Fisher.
Robert Grant lost his pocketbook a few days ago which contained over one hundred dollars, but an honest man found it, J. W. Lloyd, and it was returned to the owner.
Bids were received on about 1,000 yards of stone to be crushed and placed upon the road leading from Cedar Creek Bridge near N. H. Miller's store and running east on said road, according to plans and specifications on file at Miller's Store. Committee included W. G. Jenkins, Harry Hesler, and S. G. Thornsberry, treasurer.
And the paper printed a photo of Leyton Ashby, son of Mrs. O. A. Lutes, who had just returned from overseas in the signal corps.
---
Copyright 2019 by Charles Hartley, Shepherdsville KY. All rights are reserved. No part of the content of this page may be included in any format in any place without the written permission of the copyright holder.
---