It Happened in January
The following article by Charles Hartley originally appeared in The Pioneer News on 25 January 2016. It is archived here for your reading enjoyment.
---
We will look back 25, 50, 75 and 99 years to capture glimpses of what was happening in Bullitt County in each of these years. Today we will focus on the month of January.
1991 - 25 Years Ago.
Mary Lou Bullock was honored as Bullitt County's Middle School Teacher of the Year. She taught at Bullitt Lick Middle School. She was also a certified Emergency Medical Technician.
At the Shepherdsville Fire Fighters annual banquet, John Huffman was named Officer of the Year, Don Whitaker was named Fireman of the Year, and Brian Whitaker was named Cadet of the Year.
Louise Bischoff, Hebron correspondent, reported that Mr. and Mrs. Happy Cahoe entertained the fair board directors and their guests. Also present were Mr. and Mrs. David Pike, and Mr. and Mrs. Tom Waller.
Lois Simmons, Pleasant Grove correspondent, reported that Jerry Bridwell visited Mr. and Mrs. Alvine Foster on Christmas Day for a spell. He said his mother, Mrs. Maggie Bridwell, wasn't feeling well.
Ann Taylor began serving as the Bullitt County Home Economics Agent in January. She replaced Mary Lloyd Lynn-Murphy at the county's agricultural office in Shepherdsville.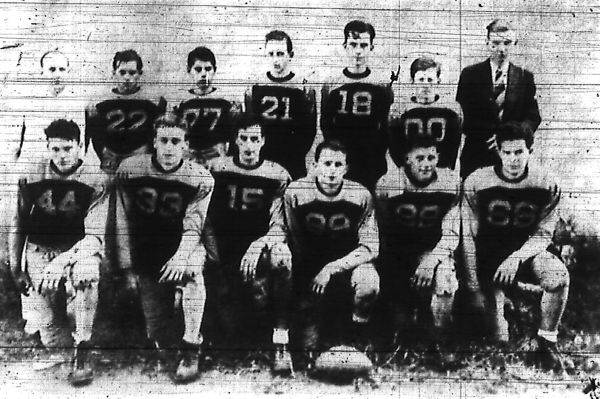 1939 Shepherdsville High School Rams
The paper ran a photo of the Shepherdsville High School Rams' football team, taken in the Fall of 1939. Pictured (front row, left to right) were Elmer York, John Armstrong, Clem Pope, Junior Daughterty, Bobbie Dever, Wilbur Strange, (back row, left to right) Professor Lassiter, Jerry Bridwell, J. W. Tinnell, Bruce Hamilton, James Hodge, Leonard Smith, and Coach Foster Sanders.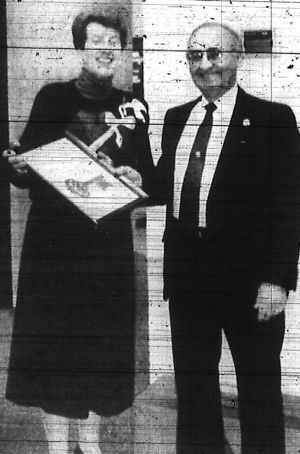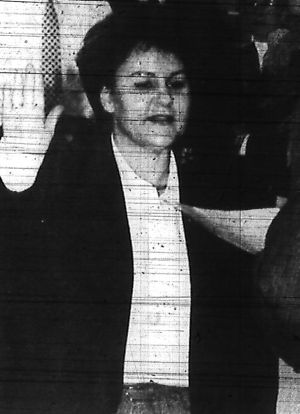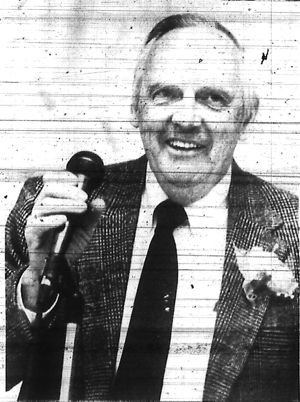 Penny Sanders and Ralph Lutes; Linda Sue Milburn; and Dr. Bruce Hamilton
Mt. Washington Mayor Ralph Lutes was pictured presenting the key to the city to Dr. Penny Sanders at her last day as principal of Bullitt East.
Linda Sue Milburn was sworn in as postmaster of the Lebanon Junction Post Office. She took over the reins once held by Phyllis Myers.
For Dr. William Bruce Hamilton, 1991 marked the end of long hours of doctoring, and more time with his family. His practice in Shepherdsville opened in 1954.
Hebron Middle School students Aaron Jackson, Chris Watchell, and Wendy Pilkington were honored for their work during the Kentucky Youth Assembly in Frankfort.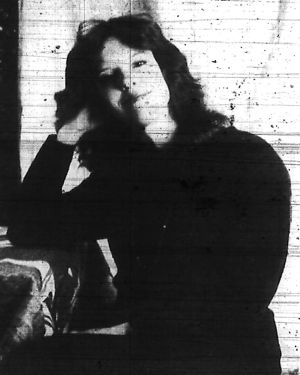 Taylor McCafferty
The paper published an interview with Taylor McCafferty regarding her new novel, Pet Peeves, which takes place in Pigeon Fork, a fictional place loosely based on both Lebanon Junction and Shepherdsville. Have you read it yet?
Oretha Ridgway of Nichols reminded her readers that we need to remember our shut-ins. Good advice for all of us.
Wendy Hodges of Brooks, and Pam Jarboe were pictured donating blood at the blood drive at Davidson Memorial Methodist Church.
After what some would consider a tumultuous relationship, School Superintendent Clark submitted his resignation to the school board. George Valentine, principal of Bullitt Central was named as interim superintendent.
And North Bullitt's Garry Dukes had the best night in school history, scoring 47 points as the Eagles defeated Nelson County 86-64. He hit two-thirds of his shots including eight three-pointers.
1966 - 50 Years Ago.
County officials; sworn in for the next four years; included Judge Neil Farris; Attorney Tom Givhan; Court Clerk T. L. Cook; Sheriff W. R. French; Tax Commissioner Clyde Roby; Jailer Everett Heffley; Coroner Walter "Pee Wee" Keith; Justices of the Peace (magistrates) Ralph Bleemel, Forrest Moore, Russell Crenshaw, and Walter Magruder; and Constables J. W. Armstrong, Frank J. Garey, Wendell Hawkins, and William Mullins.
In Lebanon Junction, the mayor was Dr. J. W. Roney; police judge was Fred C. Whitehead; and the city councilmen were Gerald Tamme, Joseph E. Bryan, William E. Smith, C. L. Ice, Jr., William E. Tanner, and Sammy Maraman.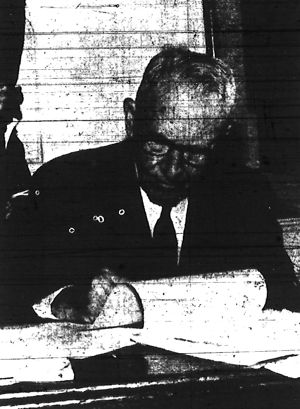 T. C. Carroll
In Mt. Washington, the police judge was W. O. Carrithers, and the town trustees were Marion Jasper, Bruce Clark, Lloyd Branham, Harold Seay and John Settles.
In Shepherdsville, the mayor was J. C. Thompson, the police judge was Arthur J. Hartlage, and the councilmen were Henry J. Troutman, Jr., Vernon Patterson, Arthur Weller, Carl McDaniel, L. R. Mattingly and Cecil Larimore.
Mr. and Mrs. Roy Kulmer and Mr. and Mrs. David Kulmer were among the guests at Mr. and Mrs. James Thompson's for New Year's dinner.
Mrs. J. W. Hardaway was announced as the year's Heart Fund Drive chairperson. Mrs. Ralph Henderson continued as the Shepherdsville Business Gifts chairperson.
T. C. Carroll was pictured signing the draft of the proposed new Kentucky constitution at the old State House in Frankfort.
The English department of Shepherdsville High School sponsored the Carriage House Player's productions of "Shakespeare in the Schools" with performances of Hamlet and Taming of the Shrew in the Shepherdsville Memorial Gym.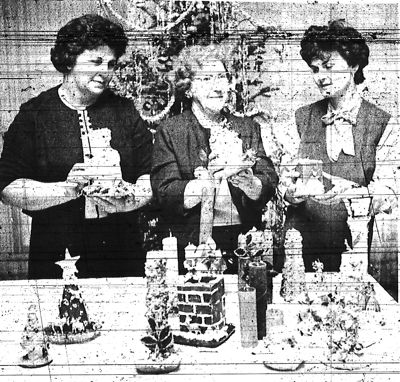 Candle Makers
A new boy scout troop was being organized at the Methodist Church in Shepherdsville. Wonder how that turned out?
Mrs. Charles Wheeler, the Lebanon Junction and Colesburg reporter, wrote that Amos Stringer had sold his barber shop, and would be missed.
The paper reported that as of January 1st, 1966, cigarette packs had to be labeled with the message "Caution: Cigarette Smoking May Be Hazardous To Your Health."
Mrs. Carl Joiner, Mrs. Anna Airgood, and Mrs. Pearl Wilson were pictured with some of the candles made by members of the Brooks Homemakers Club.
Sonia Lutz was selected as Shepherdsville High School's 1966 Betty Crocker Homemaker of Tomorrow.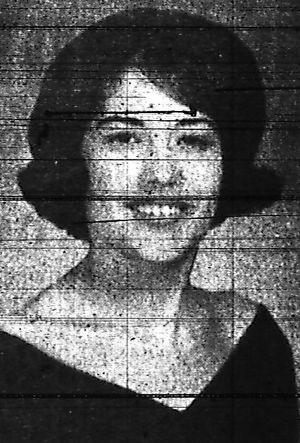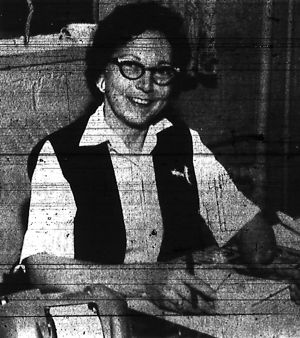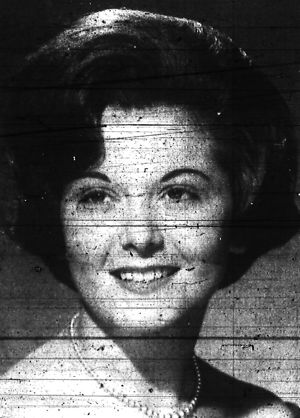 Sonia Lutz; Agnes Lee; and Burnell Pike
Mr. and Mrs. Tommy Shaw were entertained at dinner at Briarwood, the home of Mr. and Mrs. C. L. Lane.
Agnes R. Lee was appointed Quarterly Court Clerk and secretary to the county judge and county attorney. She had been the secretary at Shepherdsville High School.
Robert McDowell was a guest present at the dedication of the historical marker commemorating the naming of Bullitt County. Mr. McDowell did much of the early research on the history of our county.
Miss Burnell Pike's engagement to Mr. Norman Lemme was announced. A June wedding was planned.
And Mrs. Ida Holsclaw, "the world's oldest newspaper correspondent" was pleased to have Mr. and Mrs. Walter Crumbacker, Master Timmie Crumbacker, Mrs. Eva Garr, and Mrs. Betty Dever call on her on New Year's Day. Timmie played some hymns on his trumpet.
1941 - 75 Years Ago.
The largest hog ever killed by Maraman and Sons belonged to E. M. Frantz of Huber's Station. It was an 840 lb pure bred Duroc raiser, registered under the name "Shepherdsville Beauty."
Mr. and Mrs. W. T. Close had as dinner guests Mr. and Mrs. Roy Nall and daughter, Agnes; Mrs. Lula Cunningham and sons, Ralph, Billy, and Ray; Mr. and Mrs. Steve McCubbins, all of this community, and Mr. and Mrs. Frank Lile and daughter Evelyn of Louisville.
The paper identified the county's magistrates as Robert E. Lee of Shepherdsville, J. R. Cornell of Mt. Washington, A. V. Greenwell of the Leaches District, and John I. Samuels of the Pine Tavern District.
Adrian Jones returned to college at Bowling Green after spending the holidays with his parents, Mr. and Mrs. Ronald Jones.
John D. Harned arrived home after spending four years in the navy.
The Stitch and Chatter Club of Bardstown Junction celebrated its seventh birthday at the home of its president, Mrs. Ollie Larkin.
The Hardy & Stallings Cash Market encouraged its customers to come by and sample some Krispy Crackers. They were also selling a gallon of cherries for 54 cents.
Clarence Dawson of Shepherdsville had 30 mules, 20 horses, 300 tons of hay, 1,000 bushels of corn, and a ton and a half truck for sale.
Sheriff W. F. Monroe announced that he had the 1941 dog tags, and encouraged all owners to get theirs.
Sylvia Barrell decided to quit housekeeping and put everything from her cook stove to her feather bed up for auction by Troutwine and Hardesty, Auctioneers.
Mr. M. A. Harris, who lived near Mt. Washington had been on the county school board for fifteen years, and was now its chairman for the fourth year in a row.
Mr. and Mrs. T. H. Parrish had as dinner guests their son Frank Parrish of Louisville and Mrs. Geneva Mothershead.
Local farmers were encouraged to check out the demonstration plots of cover crops seeded in the fall at the following locations: Herman Owens place (Porter Farm) at Mt. Washington, the lot adjoining the post office in Mt. Washington, the plot on the Shepherdsville school grounds, Ike Mudd's farm at Belmont, O. M. Skaggs' farm at Knob Creek, Henry Hamilton's place at Cedar Grove, and Raymond Cox and A. J. Miller's places at Hebron.
The members of Mt. Carmel Baptist Church gave a surprise shower for Rev. Ben Lawton who was recently married.
Theodore Cook had been sick for more than a week, but was better, and able to go back to work as deputy county clerk.
In the news from Belmont, Rev. Walter Brown was accompanied by Carrie Napper, Minnie Coakley, Susie and Eva Roby, Henry Kneisler, and Ruth Roby on a trip to Bardstown.
Everyone was encouraged to go see "Gladrags," a four-act musical comedy presented by the Shepherdsville Alumni Association. Featured performers were Helen Lee, Minnie Buckman, Kathryn Rennison, Nancy Strange, Hattie Monroe and Ida Roby.
And F. E. Patterson's advertisement listed Pine Tar and Honey Cough Syrup for sale for a quarter.
1917 - 99 Years Ago.
Mr. E. W. Johnson, who for many years had a shop and general store at Mt. Eden, moved to Salt River, and opened a general blacksmith and repair shop at that place. The paper called him "a fine fellow and a good workman."
William Thomas Lee, prominent citizen, trustee of the Baptist Church, vice-president of the Bullitt County Bank, and a member of the Shepherdsville town board, passed away following a brief bout with pneumonia.
Miss Lena Rivers Ice and Mr. Curran L. Troutwine were married in Louisville on Christmas day. The attendants were Miss Monzelle Dawson and Mr. Jess L. Ice, and the wedding march was rendered by Miss Lee Fletcher. The ceremony was performed by Rev. R. L. Payne.
While in Louisville, one of Shepherdsville's prominent citizens saw "A Daughter of the Gods," which was being shown at the Mary Anderson. He said he enjoyed it very much. The house was crowded with the elite of the city, paying top prices for a chance to see Miss Annette Kellerman, the star, who was very conspicuous by the fine clothes she did not wear.
Twenty-nine splendid boys and girls of the Sugar Valley School taught by Mrs. Dora Harris did not miss a single day in December. They included Marian Rouse, Jack Rouse, Joe Baylor Rouse, Will Rouse, Ruth Tutt Rouse, Marie Rouse, all of Spencer County, and J. W. Tyler, Quincy Ray Tyler, Clarence Graham, Marion Jasper, Mildred Stansbury, Ray Tinsley, Lister Wyatt, Lillian King, Patience Boston, Herman Jones, Darrell Harris, Iverna Crenshaw, Mattie B. Harris, Beatrice Lutes, Markwell Stout, Charles G. Tyler, Mary D. Harris, Helen Harris, Harvey Hubbard, Marvin Hubbard, Willie Griffin, Walter O'Bryan and Priscilla O'Bryan, all of Sugar Valley.
And the paper reported that the recent snow was one of the deepest they had seen, with twelve to fourteen inches in places. Travel was almost blockaded on all the county roads, and trains were running from two to ten hours late around the state.
However, Shepherdsville witnessed a real example of public spirit. As people peered through their windows that morning, their hopes of attending Sunday School and church or anywhere else began to go glimmering. Then, Mr. S. C. Bridwell and sons appeared on the scene. Seemingly oblivious of the chilling wind which must have penetrated their very marrow, they came blithely along riding upon a wooden wedge shaped plow drawn by a stalwart horse and where ever this triumvirate went, the snow was bound to fly. All up and down the main streets and sidewalks, and even up the walks of private residences, these public benefactors came. Time nor cold seemed no object to them. As a result of their labor of love, their fellow towns folks went about their Sunday affairs as little handicapped as possible.
---
Copyright 2016 by Charles Hartley, Shepherdsville KY. All rights are reserved. No part of the content of this page may be included in any format in any place without the written permission of the copyright holder.
---