It Happened in January
The following article by Charles Hartley originally appeared in The Pioneer News on 26 January 2015. It is archived here for your reading enjoyment.
---
We will look back 10, 20, 40, and 80 years to capture glimpses of what was happening in Bullitt County in each of these years. Today we will focus on the month of January.
2005 - 10 Years Ago.
Dennis Johnson's Solid Concepts granite etching business was featured in a front page story about his portrayal of Muhammad Ali in an eight foot granite scene of the champ knocking out Sonny Liston.
The Hillview City Council honored Boy Scout Pack 20 for contributing over 400 food items to Operation Santa. Members of the pack were pictured in the paper.
Bullitt East's boys' basketball team won the Ashland Invitational, with Daniel Alcorn and Ryan Troutman leading the way. Both were named to the All-Tournament team, and Alcorn was named the tournament MVP.
Amy Etherton scored 20 points for Bullitt Central, and Jesse Mattingly added 11 points and pulled down 13 rebounds in a close loss to Carroll County. It was her fifth straight game with at least 11 rebounds.
Local singer Blake Stamper was one of the entertainers who traveled to Iraq to perform for the troops. Blake is the son of Art Stamper, Bluegrass legend, who died in January 2005.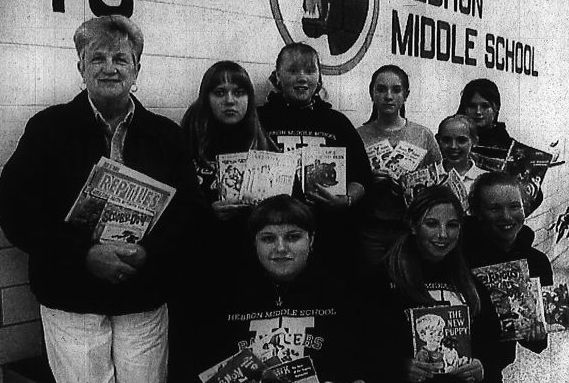 Hebron M.O.B.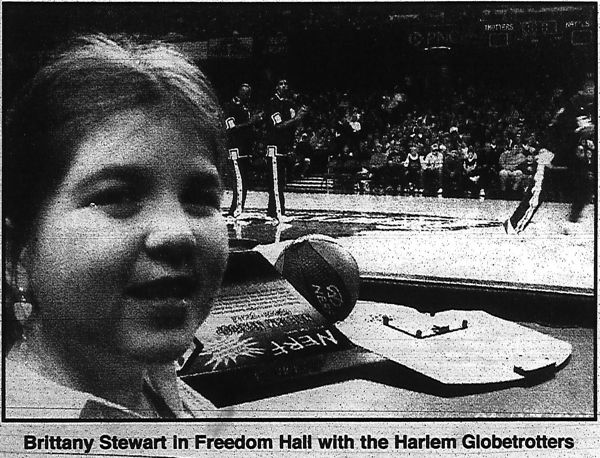 The Bullitt East Lady Chargers defeated Manual 52-44, led by Kasey Harrod's 13 points. Katie Followell added 8 points, and Kathleen Thompson made 7 more.
The Bullitt Central Lady Cougars beat PRP 61-44 behind Emma Hall's 26 points.
"Making Ourselves Better," a school organization at Hebron Middle School collected over 5,000 books for a Kosair Children's Hospital drive.
Tony Carney, Mt. Washington native, and TV personality in Thailand, found himself back in Thailand to help translate for the Thai government with western tourists during the disaster there following the recent tsunami.
Bullitt County native Charles L. Hamilton, former Kentucky Commissioner of Agriculture, received the Kentucky Farm Bureau's 2004 Award for distinguished service to agriculture.
The school board decided on names for the two new middle schools and the new elementary school: Zoneton, Eastside, and Shepherdsville Elementary.
And Fifth Grader Brittany Stewart was selected to sing the National Anthem at a recent Harlem Globetrotters basketball game at Freedom Hall.
1995 - 20 Years Ago.
After 14 seasons, two regional titles, and the 1988 State Softball Championship, North Bullitt coach Clyde Muncy announced his resignation.
Bullitt County native, Ed Stansbury was inducted into the Western Kentucky University Athletic Hall of Fame. Stansbury was raised in Bardstown Junction, and graduated from Shepherdsville High School where he played football, basketball and baseball.
Lois Simmons of Pleasant Grove reported that Clara Simmons celebrated her 94th birthday in December, and the family celebrated with a party of 15 family and friends present.
She also reported that Mrs. Birdie Moore, Madaline Porter, and Doris Ann Hall visited Mr. and Mrs. J. B. Proctor who were "about the same."
At St. Benedict, Darcy Wheaton, Charita Jennings, and Lindsay Harned were winners in the Conservation Poster Contest, while Cory Dickerson, Marcie Burba, and Jude McGuire were Conservation Essay winners.
Also at St. Benedict, Clayton Chapman won the school geography bee.
Mention soccer in Mt. Washington and the name Koprowski is sure to come up. Andrew Koprowski was pictured in the paper, and his brother Nathan was mentioned as being on the Campbellsville College team.
The Mt. Washington Quilting Bees celebrated their 12th anniversary as a club. Some of the members included Sandy McCoy, Thelma Moore, and Jean Wiley.
Tourism Coordinator Elaine Wilson announced that the Old Stone Jail was now open for tourists to visit.
Charlie Long related how "Zeke" Long was a frequent visitor to the jail, and managed to stay drunk throughout one particular visit because his friends kept slipping him liquor.
John McGregor High School from Canada showed up to play a couple of games against local teams. They defeated North Bullitt 52-47, but lost to Bullitt Central 59-58. In the first game, Kevin Gearlds led the Eagles with 13 points. In the second game, four Cougars scored in double-figures: Derek McClellen with 13, Lee Crump 11, and David Miller and Joe Pat Lee each with 10 points.
St. A. students Anton Payne, Patrick Deeley, Ryan Payne, and Todd Frisby participated as a team in a stock market game sponsored by the Kentucky Council on Economic Education. Their success netted them a second place finish among all middle school teams in Kentucky.
Bullitt East junior Alison Bass scored a school record 43 points as the Lady Chargers defeated Spencer County.
Tiffany Young of Mt. Washington was one of only 15 girls across the nation to be selected to Team America in the National Cheerleading Competition in Nashville.
Bullitt East students Heather Beckmann, Ryan Naylor, Matt Kurk, and Lesley Dossett participated in a special week of learning at Old Mill Elementary where they served as role models for the younger students. Good job!
And the Bullitt East Lady Chargers defeated Marshall County 67-52 to win the LIT in Louisville. They were led by Alison Bass with 24 and Lisa Mason with 22 points. Great job ladies!
1975 - 40 Years Ago.
Mrs. Charles Ridgway of Nichols reported that the Hill View Methodist Youth Group visited Brad's Skating Rink; and that Mr. and Mrs. Archie Foster of Lyndon spent Sunday with his parents, Mr. and Mrs. Dewey Foster.
Clara Simmons of Pleasant Grove reported that Shanda Armstrong was sick with the mumps, and was staying with her Grandmother Armstrong. She also reported that Hillery Bleemel was in the hospital at Suburban.
The Hebron reporter said that Dr. Larry Robey was a dinner guest of Mr. and Mrs. George Z. Wigginton; and that the Wiggintons visited Mr. and Mrs. Carl Beam.
Dr. M. J. Cundiff was elected as vice-president of Lincoln International, the company that operated the Bourbon Stockyards in Louisville.
The Good Folks of Hebron Church of Christ moved into their new building across from Hebron Junior High School.
Mrs. Mary Whitworth of Cedar Grove reported that Mr. and Mrs. Otis Ray Ratliff spent Christmas Eve with Mr. and Mrs. Boyd Carter and children, and then spent the night Christmas Eve and all day Christmas Day with Mr. and Mrs. Brooks Brown and David.
The paper reported that Reverend Noah Benningfield, City Clerk of Mt. Washington, passed away leaving a great loss to the community and county. He had been City Clerk for 12 years.
Coach Bob Carpenter was pleased with his team's 60-38 victory over Lebanon Junction. Mike Seaton led the SJHS Rams with 17 points, David Masden added 15, and Sammy Swearingen collected 10. Phillip Capps pulled down 8 rebounds while Robbie Williams had 4 assists and 4 steals.
Meanwhile, on the girls' side, Debbie Philpott scored 10 points to lead her team to an 18-14 victory over LJ. Cleda Greathouse had 6 points and Beth Korfhage added 2 points.
Donna Sweat, down at LJ, reported that Timmy and Tommy Kappel enjoyed their trip to Florida with their grandparents, Mr. and Mrs. Ollie Wall.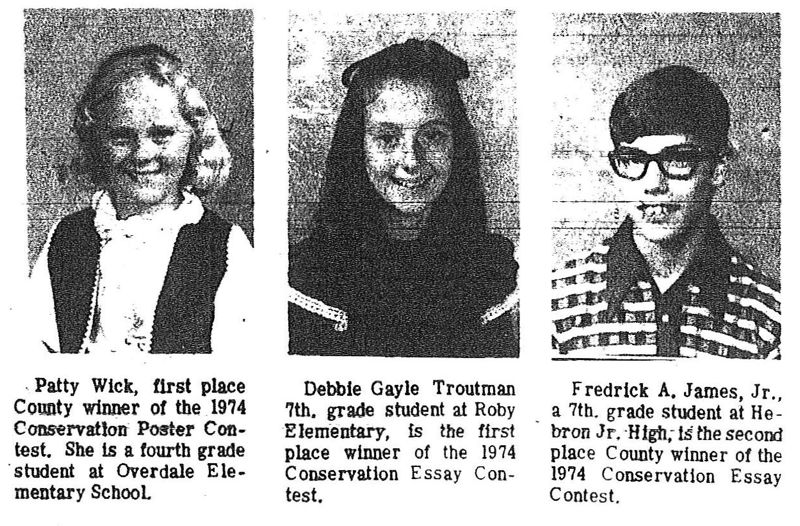 Patty Wick won first place in the Conservation Poster Contest. She was a fourth-grader at Overdale. Debbie Gayle Troutman, a 7th grader at Roby took first place in the Conservation Essay Contest; while Fredrick A. James, Jr., a 7th grader at Hebron placed second.
The County Board of Education elected Jean C. Hall as Chairman, and William L. Dawson as Vice-Chairman for the year. They also welcomed Marian Farris as a new member of the Board.
Out at Bullitt Lick, Gladys Shepherd reported that Mr. and Mrs. Raymond Montgomery celebrated their 29th wedding anniversary, and their son Ronnie took them out to dinner.
Ralph Lutes of Mt. Washington announced his intention to run for Circuit Clerk. He was elected as Mt. Washington Police Judge in 1973.
And twenty-eight scouts and four leaders of Boy Scout Troop 5 braved the cold, windy, rainy weather on their annual winter camping trip at Camp Covered Bridge in January.
Scouts participating were Milton Price, Alan Fischer, Russell Forshee, Daryl Hensley, Tom Breeding, Alex Horton, Paul Parsley, Junior Sanders, Tony Lacefield, Ronnie Shewmaker, Gerry Breeding, Barney Gatton, Wade Schroader, Robbie Bischoff, Ronnie Williams, Dale Taylor, Ronnie Bischoff, Mike Freeman, John Reid, Tom Kallin, Chuck Woodfin, Troy Hensley, Curtis Hensley, Steve Watkins, Bryan Oser, Dean Oser, Mark Taylor, and David Reid.
Their leaders were Assistant Scoutmasters Mike Mayes, Eric Fischer, and Tom Baker; and Scoutmaster Charles Hartley. (Great memories!)
1935 - 80 Years Ago.
The paper reported that the Shepherdsville High School class of 1932 had their annual reunion at Deacon's Restaurant. Present were Kathryn Harned, Rua Larimore, Sara Fay Lee, Beulah Richardson, Blanche Stansbury, Eva Maraman, Frances Cundiff, Frank R. Whitman, Burks Williams, Stanley Lee, David Rhea, Tommy Joyce, Victor Lee, Russell Wheatley, and Homer Myers.
David Rhea, Jack Gardner, Wallace Harned, and Cora Ney Hardy were part of a discussion at the annual Student's Night Program held at the Baptist Church in Shepherdsville.
County Court officials were named in the paper including County Judge C. P. Bradbury, County Attorney Lindsay Ridgway, County Clerk Tommy Wilson, Jailor Embra Deacon, Sheriff R. E. McAfee, and Deputies Hillary Hardy and Lee Booth.
The Personal Column reported that Mr. and Mrs. Ralph Cundiff had as six o'clock dinner guests, Mr. and Mrs. N. J. Cundiff, Mr. and Mrs. Henry Mathis, Mr. and Mrs. Sam Lee and family, Mrs. Cecil Cundiff and son, Mr. and Mrs. Bates Crigler and son, Mr. and Mrs. Grover Lee and family, Mrs. Amanda Crigler and son, and Mr. and Mrs. Herbert Cundiff and family.
J. W. Barrall, the paper's editor, wrote a thank you note to the community in which he said, "I wish to thank each and every Subscriber and all who have donated to the columns of the Pioneer News in 1934, and especially those who have been so kind and helped my daughter Anna Barrall make it a success for more than one year while I have been confined to my room. I am mighty glad to say I can sit up and hope that I can get out again."
Out at Belmont, members of the W.M.U., Mrs. Mattie Brown, Mary Bradbury, Fannie Powers, Mattie Easton, Mrs. Miriam Bradbury, and Minnie Coakley, gave a surprise party to Mrs. Napper.
The paper reported that Miss Margarita Crenshaw and Mr. Belvidere B. Dunaway were married on December 30th. Miss Crenshaw was the daughter of Mr. and Mrs. Ben Crenshaw. Also, the personal column reported that Ben Crenshaw had returned from a visit with his daughter Mrs. Guy Bergen in Atlanta.
Mr. E. W. Hess of Chapeze was taken to a Louisville hospital where he died of pneumonia.
Mrs. Thelma and Miss Ethel Newman and Miss Evelyn Dawson spent the day in Louisville shopping.
Little Billie Ray Bridwell returned from the hospital to her home in the Mt. Washington area.
Mrs. O. D. Hill of Belmont was offering for sale one super-hatch incubator for $6; and Ed. C. Tyler of Shepherdsville would sell some home-grown "Korean Lespedeza seed."
The S.H.S. Debating Team of Millard Cundiff, Marie York, and Evelyn Masden defeated Fairdale High School in a close match.
A sign of the times, Master Commissioner T. C. Carroll sold nine farms at the Court House door on one day.
And Mrs. J. W. Foster of Bells Mill Road had a pair of heavy grey horses for sale. She described them as gentle and ready to work anywhere. Any takers?
---
Copyright 2015 by Charles Hartley, Shepherdsville KY. All rights are reserved. No part of the content of this page may be included in any format in any place without the written permission of the copyright holder.
---