It Happened in January
The following article by Charles Hartley originally appeared in The Pioneer News on 30 January 2017. It is archived here for your reading enjoyment.
---
As we begin a new calendar year, it's time to select a new batch of years to share. Beginning with this month of January, we will be looking back 10, 30, 50, 70, and 90 years to see what was happening in 2007, 1987, 1967, 1947, and 1927.
2007 - 10 Years Ago.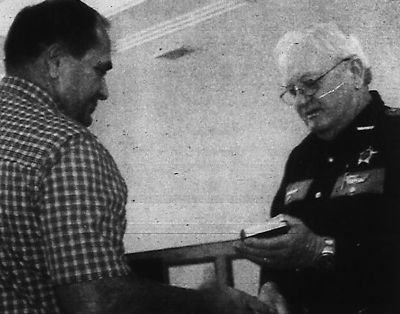 Paul Parsley and Jerry Corum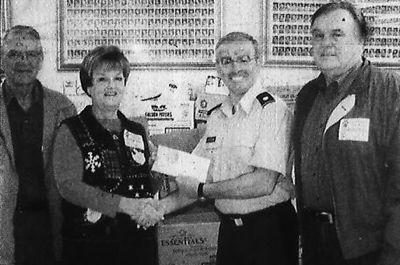 Jana Miller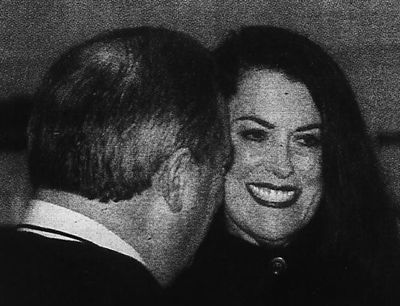 Judge Spainhour
Sheriff Paul Parsley was pictured honoring Deputy Jerry Corum. Both were retired from duty when Donnie Tinnell was elected sheriff.
Hebron Estates Mayor Jerry Clark was sworn in for a second term by City Attorney Mark Edison. Also pictured were the city's commissioners, Russell Forshee, Sandra Murphy, James Tucker, and David Allen as they were sworn in.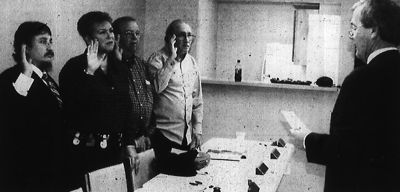 Hebron Estates Commissioners
Frank Hatfield and Sam Hardy looked on as Jana Miller accepted a check and over 4,000 canned food items from the Bullitt Central JROTC for the Christmas giveaway.
Elise Givhan Spainhour was sworn in as Bullitt County's first family court judge. She was pictured with Supreme Court Justice Minton prior to being sworn in.
Jim and Connie Ethridge celebrated their 50th wedding anniversary. Their sons, Mike and Kenneth Ethridge, along with their grandchildren and great-grandchildren helped them celebrate the occasion.
Also celebrating 50 years together were Bill and Jo Duncan, and Lawrence "Pie" and Glenda Watkins. That Glenda Watkins is one fine lady!
And celebrating 61 years were John and Doreen (Cox) Bunch, both natives of Shepherdsville.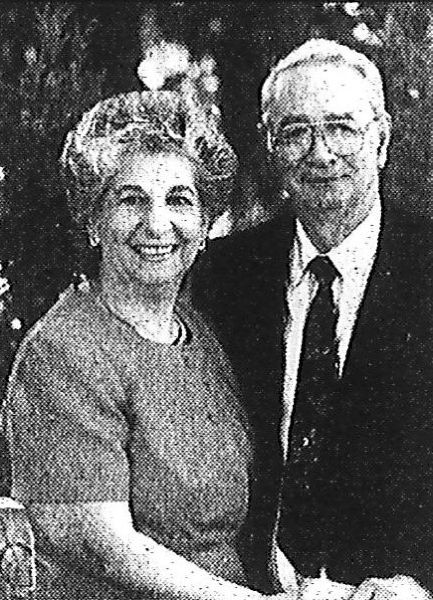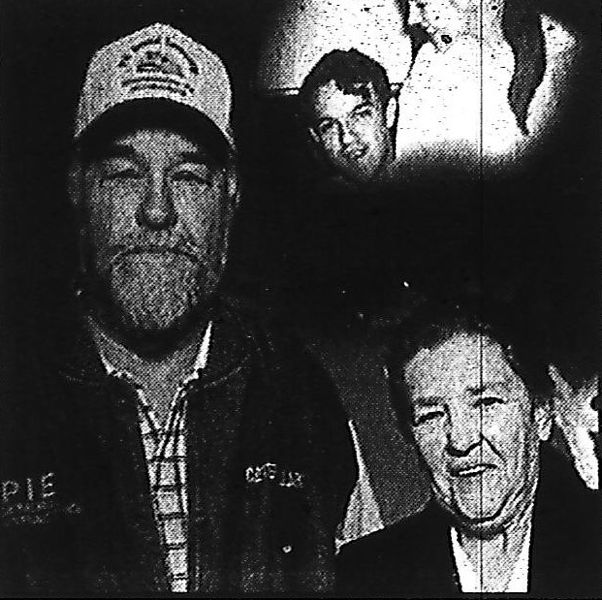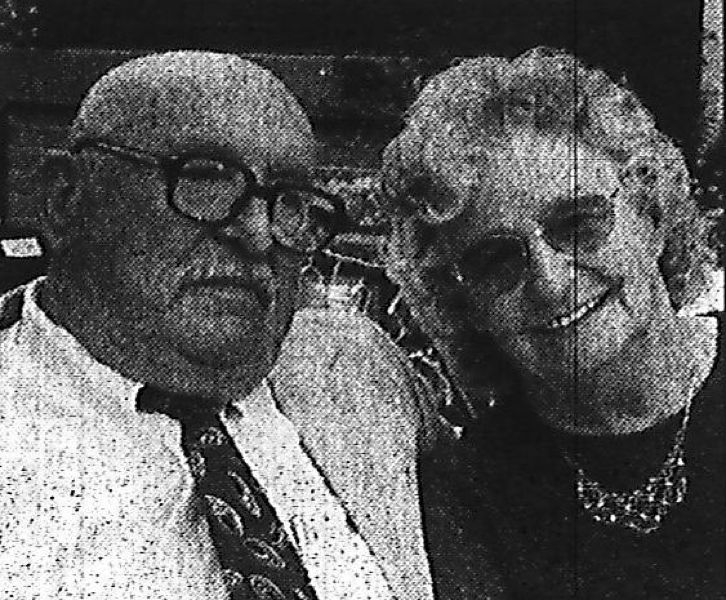 Duncan / Watkins / Bunch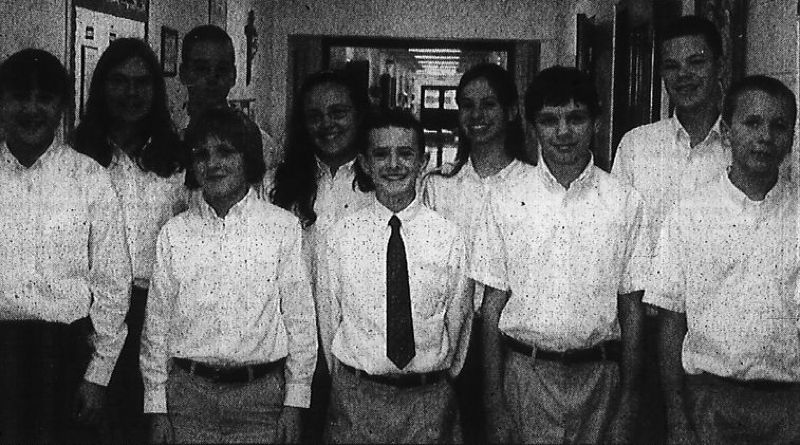 Ten 7th graders from the St. Aloysius school qualified to participate in the Duke Talent Identification Program. They were Gabrielle Adams, Nicholas Canchola, Adam Dant, Gabrielle Fong, Cathleen Gendron, Jessica Harris, Tyler Janes, Kurt Parks, Benjamin Quisenberry, and Brandon Ray.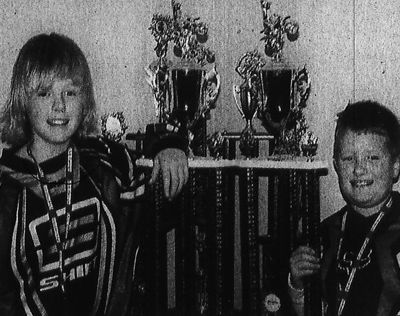 Campbell & Hurst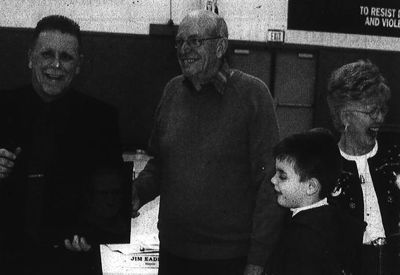 Dale Russ
Las Vegas was the destination for Dalton Campbell and Randy Hurst as they competed in motorcross racing.
Dale Russ was honored for 20 years of service as a member of the Hillview City Council.
Layne Abell and Karen Wood, outgoing members of the school board, were honored by the school system at their retirement.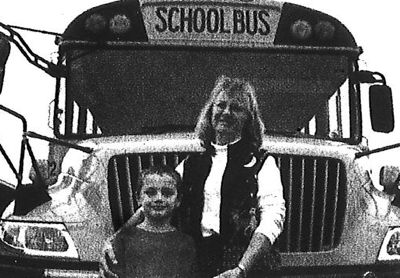 Glenda Spratt
Glenna Spratt was pictured with first-grader Trenton Davis in front of her school bus. Glenna retired after 32 years as a school bus driver, and during her time she transported some three generations of the same families.
Some of Lloyd "Hog" Mattingly's replicas were put on display in the Kentucky Museum of Art and Craft. (Visit the Bullitt County History Museum in the courthouse today to see many of his fine works.)
The Bullitt East Chargers had an opportunity to play a team from Australia, a game that ended with the Chargers winning 76-71. The Australians were also guests in the homes of the Bullitt East team for a few days.

Jennifer Brookshire, Judy Jackson, David Strange, Joyce Manning, Randy Matlow, Pam Polston, and Henry Robinson were pictured as members and staff of the County Library Board.

And who can forget when the CSX cars derailed and exploded alongside the Coral Ridge Road? Certainly not the nearby residents and schools that were so affected by it all.
1987 - 30 Years Ago.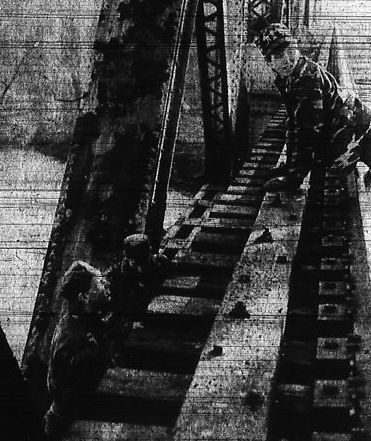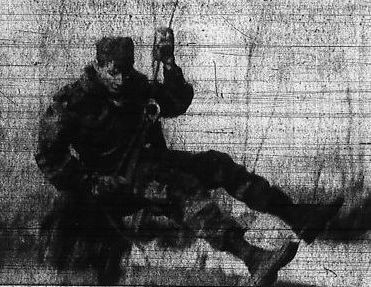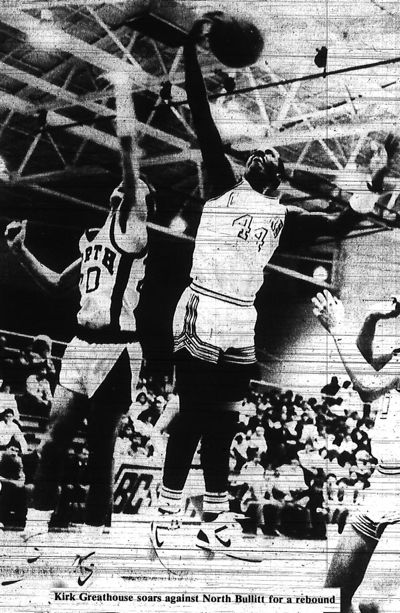 North Bullitt ROTC cadets Julian Patrick, Donnie Hilterbrand and Jason Jacobig were pictured practicing their rappelling skills from the railroad bridge in Shepherdsville.
State Representative John Harper announced his candidacy for Kentucky Governor.
Mary C. Holsclaw wrote from the Hebron community that Mr. and Mrs. Dudley Shelburne were celebrating their 50th anniversary, and that Mr. and Mrs. Joe Ball were celebrating their 25th. She also complimented Mrs. Ann Bates for preparing and taking Christmas dinner to Miss Sally Carrithers, calling it a gracious thing to do. She also noted that little Amy Crumbacker was recovering from the chicken pox.
Lois Simmons of the Pleasant Grove area wrote that Warner and Dolly Baumgardner and daughter of Germany were home to visit Dolly's parents, Theodore and Evelyn Gentry. She mentioned that Alvine and Beulah Foster hosted a dinner for Lanna Janzen and husband, Cliffa Foster, Larry Foster and family, Elaine Massey and her two children; and also told that Kenny Harden's family gave him a surprise birthday party at Mr. Gattis. His wife Bunny served everyone cake and ice cream.
Mike Farner wrote about Bill Schott's ten-year record at Bullitt Central; noting that Schott had won 60% of his games at the school. His teams had won the District title five times, and reached the Regional semifinals six times. Schott was pictured with his assistant Mike Riffe.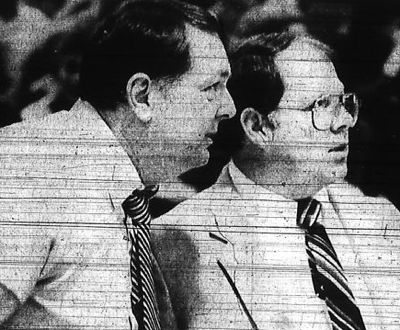 Bill Schott & Mike Riffe
Oretha Ridgway of Nichols reported that she and Marvin Hopewell visited Morris and Hazel Hopewell one afternoon. She also reported that Emily Vincent, Marlene Dawson, Dorte Carman, Daniel Thompson, Calvin Nichols, and Paul Blair were all having January birthdays.
Bob and Ginger Carter of Lebanon Junction reported that the Senior Citizen Center was having a yard sale, and you could contact Mrs. Simpson or Margaret Norris to have items picked up.
Terry Boyd, staff writer for the paper, interviewed Lorraine Taylor, and wrote an excellent article about her family's achievements. Her four daughters were among the first black children to be admitted to the county school system, and all four graduated from college, with two of them, Edie and Bobbye Taylor becoming teachers in the system.
Kirk Greathouse of Bullitt Central was pictured soaring for a rebound in a game against North Bullitt.
Chris Keith and Larry Lowe of Scout Troop 20 of Overdale were pictured building a signal tower inside Jefferson Mall. It was one of a number of scout projects in the Mall's annual Scout Fair.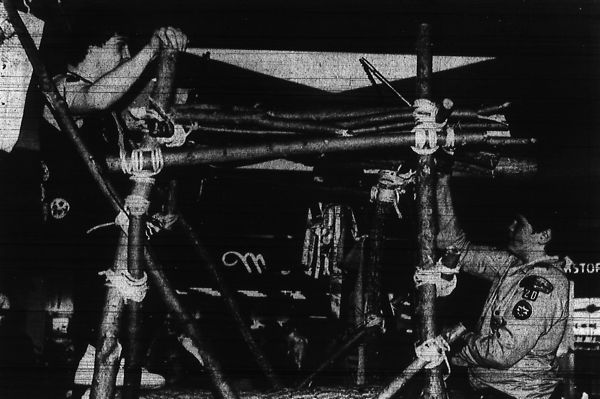 And I wonder how many students in Penny Pack's music class at Nichols remember when the jazz musicians filled their gym with the sounds of strings, bass, and vocals?
1967 - 50 Years Ago.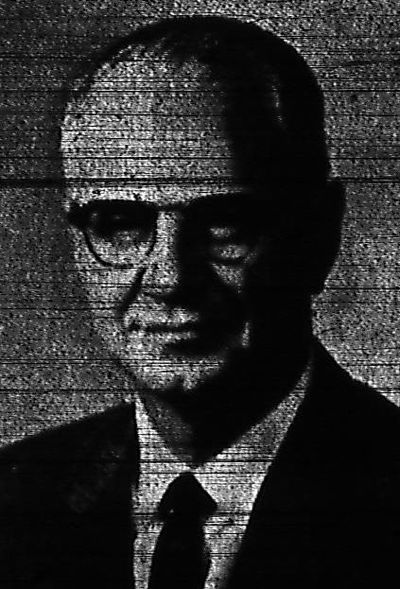 Sam Ridgway
Sam H. Ridgway retired after 43 years at Southern Bell where he was an assistant vice-president. He was a native of Shepherdsville.
Bill Hardy joined Stuart Beeler, Dr. M. J. Cundiff, Clarence Dawson, Leo B. Dawson, and Barret Murray as a director of The Peoples Bank of Shepherdsville. Bill had been with the bank since 1949, taking four years off to serve in the Air Force.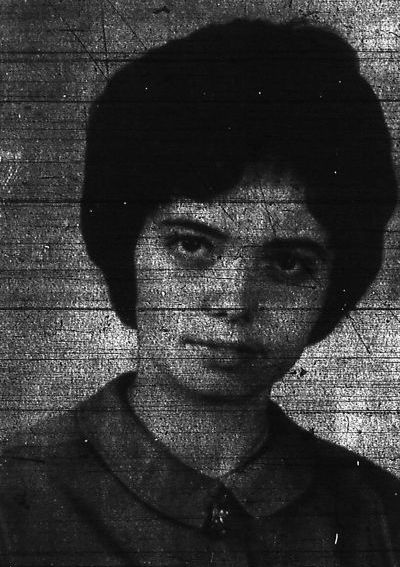 Delores Crenshaw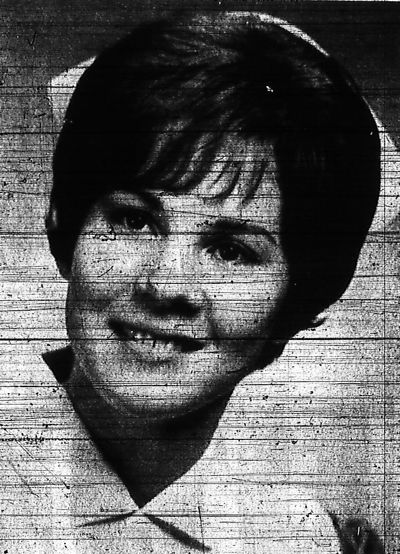 Linda Croan
Delores Crenshaw, daughter of Mr. and Mrs. C. R. Crenshaw, received honors from Nazareth College where she was completing her sophomore year. She was majoring in education.
Linda Croan, daughter of Mr. and Mrs. H. E. Croan, received honors from the Kentucky Baptist School of Nursing as she completed her freshman year at Kentucky Southern College.
Gladys K. Sprinkle of Mt. Washington reported on all the Christmas season gatherings, and especially mentioned that Mr. and Mrs. Bill French hosted a New Year's Eve party. Guests included Mr. and Mrs. Ted Owens, Mr. and Mrs. Truman Mills, Mr. Stephen Mills, Mr. and Mrs. Odie Martin, Mrs. Thelma Deweese, Mr. and Mrs. Ralph Lutes, Mr. and Mrs. Lewis King, Mr. and Mrs. Sammy Armstrong, Mr. and Mrs. Paul Alvin Roby, Mr. and Mrs. Paul Smith, Mr. and Mrs. Tommy Jasper, and Mr. and Mrs. Herbert Herbert Offutt.
Two obituaries of ladies whose names have appeared in the column in earlier years were listed. They included Mrs. Sudie F. Harris Swearingen of Shepherdsville, and Mrs. Pearl Buky Harris of Mt. Washington. Mrs. Swearingen, 89, was the widow of Lem Swearingen. Mrs. Harris, 91, was the widow of M. A. Harris.
In the Social & Personal Notes column we learned that Mrs. Nancy Strange, who had been in the hospital following an operation, had returned home. We also learned that Tot Moore's family were guests of the James Pryor family on Christmas day.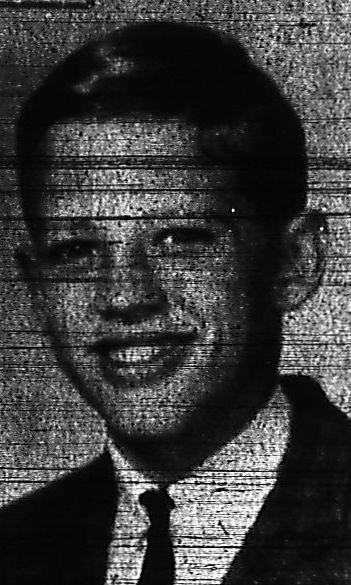 Scotty Morrison
In Lebanon Junction and Colesburg news, Brady Mooney of Bardstown Junction was seriously ill at Norton Infirmary; but Shelby Chadwick was doing some better. We also learned that Kaye Samuels of Louisville visited her parents, Mr. and Mrs. John P. Samuels over a weekend.
The Wilson Creek newsletter informed us that Isaac Masden was improving his farm by bulldozing and fencing.
And the Shepherdsville Rams basketball team won their homecoming game against Trimble County 66-50. Andy Dawson lead scoring with 19 points while David Cundiff added 18 points and 12 rebounds. Charley Pepper contributed 12 points and 11 rebounds, but the real surprise to fans was the performance of freshman Scotty Morrison who, in his first start of the season, scored 11 points and grabbed 9 rebounds.
1947 - 70 Years Ago.
In farm bureau news, Robert Henderson, S. O. Armstrong, Howard Hardin, J. W. Stark, A. H. Harned, Earl Dacon, S. N. Brooks, and Russell Jenkins were named as delegates to the state convention. Also, Walter Cundiff of Bardstown Junction was named as special agent to assist Frank Robards, general insurance agent.
In Needmore News, Mr. and Mrs. Matt Bleemel entertained Mrs. Herman Owen, Mr. and Mrs. Selbert Owen, Mr. and Mrs. G. C. Owen, Mr. and Mrs. Billie Bleemel, and Mrs. and Mrs. Harley Proctor on Christmas Day. Also reported was that Gordon Proctor and Jack Bleemel spent a day with Hubert Cox, and all went hunting.
T. W. Hoagland, Sr., of Bardstown Junction, had a family reunion on Christmas Day. Attending included Mr. and Mrs. Thomas Hoagland, Jr. and children, Mr. and Mrs. Chester Mayes, Mr. and Mrs. Charles Watts and children, William, Harry, Marguerite and Alberta Hoagland, and Mr. Henry Miller of Worthington.
The Belmont News reporter announced several births including James Michael Richardson, son of Mr. and Mrs. James Richardson; Rita Carol Etherton, daughter of Mr. and Mrs. Clinton Etherton; Audrey Faye Able, daughter of Mr. and Mrs. Leslie Able; and Michael Stanford Brown, son of Mr. and Mrs. Harlan Brown.
In the Personals column we learned that Mr. and Mrs. Henry Kneisler and Marie entertained Mr. and Mrs. Charles Croan, Mr. C. E. Kneisler, Miss Nancy Kneisler, Miss Hazel Kneisler, Mr. and Mrs. Earl Stinnitte, and Mrs. Thomas Crigler. We also learned that Mr. and Mrs. Hugo Maraman went to Coral Ridge to visit the Sheltons.
Dr. Millard J. Cundiff purchased the dental office of Dr. R. A. Weir who was retiring on doctor's orders. Dr. Cundiff was a graduate of Shepherdsville High School, Campbellsville Junior College, Western State Teachers College, and the University of Louisville School of Dentistry, after which he served as a military dentist for over three years.
In Mt. Washington news, the Salt River Lodge F. & A. M. held their annual election of officers. Rev. Noah Benningfield was elected Master, C. S. Harris as secretary, J. M. Collier as treasurer, and Rev. J. L. Coomer as chaplain. At the close of the meeting they all were invited to the Central Eat Shoppe where Mrs. Mattie Tichenor served luncheon.
And Herbert Lee, at the Shepherdsville pool room, was offering for sale hewed logs sufficient to build a three-room house, together with rock for the foundation, and brick for the flue. He would sell or trade for anything of value.
1927 - 90 Years Ago.
In the School News column we learned that Miss Mabel Ricketts, daughter of school trustee S. H. Ricketts of the Harned district was married to Owen Wright of Lebanon Junction by Rev. Richard Cundiff.
Rev. Cundiff performed another wedding, this one between Miss Paralee Lloyd and Mr. Allard Armstrong. She was a daughter of Mr. and Mrs. J. W. Lloyd; he was the son of Mr. and Mrs. Albert Armstong.
Katheryn Nusz and Robert Rennison were married by Rev. L. L. Burkhalter at the parsonage. Miss Etta Nusz, sister of the bride, and Lindsay Jones were the attendants. Katheryn was described as "one of our most beautiful and popular young school teachers." Both Katheryn and Robert were from Bardstown Junction, she the daughter of N. H. Nusz, he the son of George Rennison.
Mrs. Pete Bleemel spent a day with her son Matt and his wife.
The Hebron correspondent reported that Herman Crenshaw moved his family to a farm near Solitude.
The Lebanon Junction correspondent wrote that Miss Angela Fallis, daughter of Mr. and Mrs. Scott Fallis, had married Newman Bowles, a popular engineer on the Knoxville division. She also reported that W. B. Samuels had moved to Louisville where he went into the garage business. George Sidebottom moved also, and went to work for Samuels.
The paper reported on the death of Judge John D. Carroll, one of Kentucky's best lawyers, who was a brother to Charles Carroll, and uncle to T. C. Carrroll, both local lawyers.
In the Personals column we learned that Henry Trunnell was assistant mail carrier between the post office and the depot; that Mrs. Edwards of Boston spent time with her daughters, Mrs. Croan and Mrs. Younger; and that Mrs. Ed Quick underwent an operation but was better.
Mrs. J. L. Beghtol of Brooks was offering for sale pure bred Mammoth Bronze Toms, one year old. She would take $10 or exchange for two nice bronze hens.
Salt River crawled out of its banks in late January to invade the Shepherdsville area. Water street was all under water. The homes of Frank Maraman, Mack Maraman, Dr. Shafer, J. W. Croan, Clarence Hall, Bob Troutman, Charles G. Bridwell, J. H. Younger, Pflanz Hatzell, Hettie Lee, F. G. Teomas, Miss Gill, Bert Shepherd, Harve Milam, Thomas Martin, Ealem Martin, E. L. Dever, Henry Trunnell, and the old Holsclaw house were surrounded by water, but in most cases the owners stayed at home as the water didn't get in the houses.
And in Shepherdsville, the 198 graduates and friends of Professor J. H. "Jack" Sanders presented him with a Ford Touring Car for his 1926 Christmas present.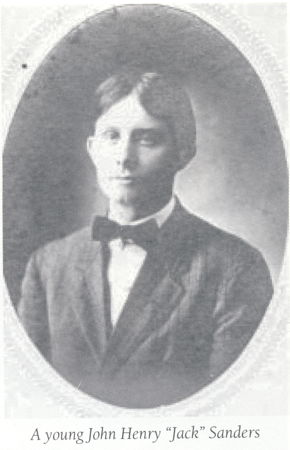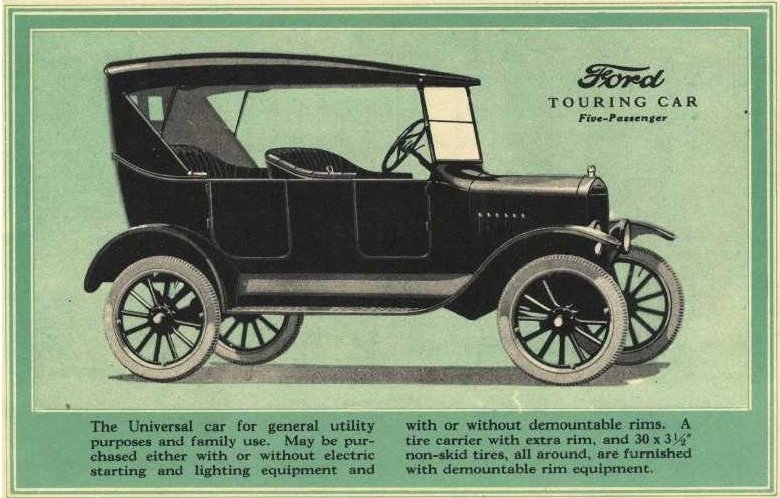 ---
Copyright 2017 by Charles Hartley, Shepherdsville KY. All rights are reserved. No part of the content of this page may be included in any format in any place without the written permission of the copyright holder.
---